Carrot Cake, or carrot cake is a real treat. why? Because this cake can simply do everything. Sweet, fruity, juicy and healthy. I would say that's as good as it gets. For those who prefer a chocolate cake, I have a few more suggestions later in the text. I have in any case already treated myself to a few pieces and hope that you like this recipe as much as I do. PS: Greetings to my brother, who has picked out the raisins. Next time I'll make a variation without.
Carrot Cake tart – moist, vegan and gluten-free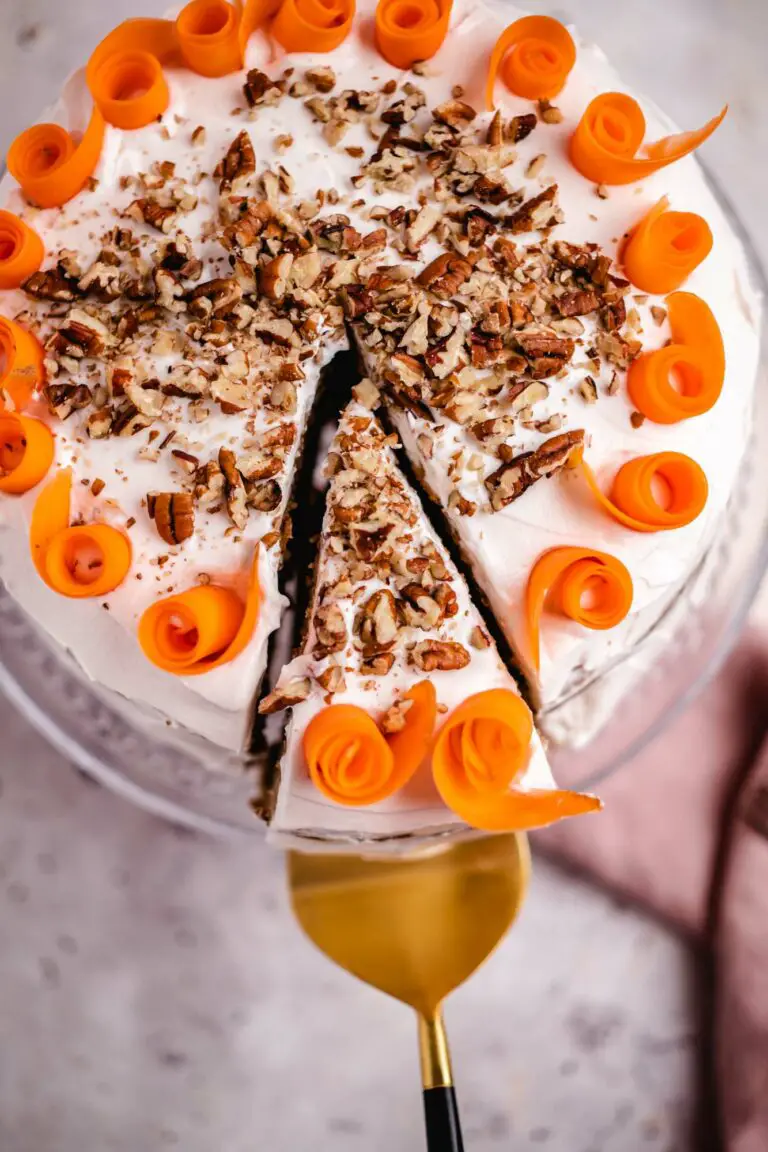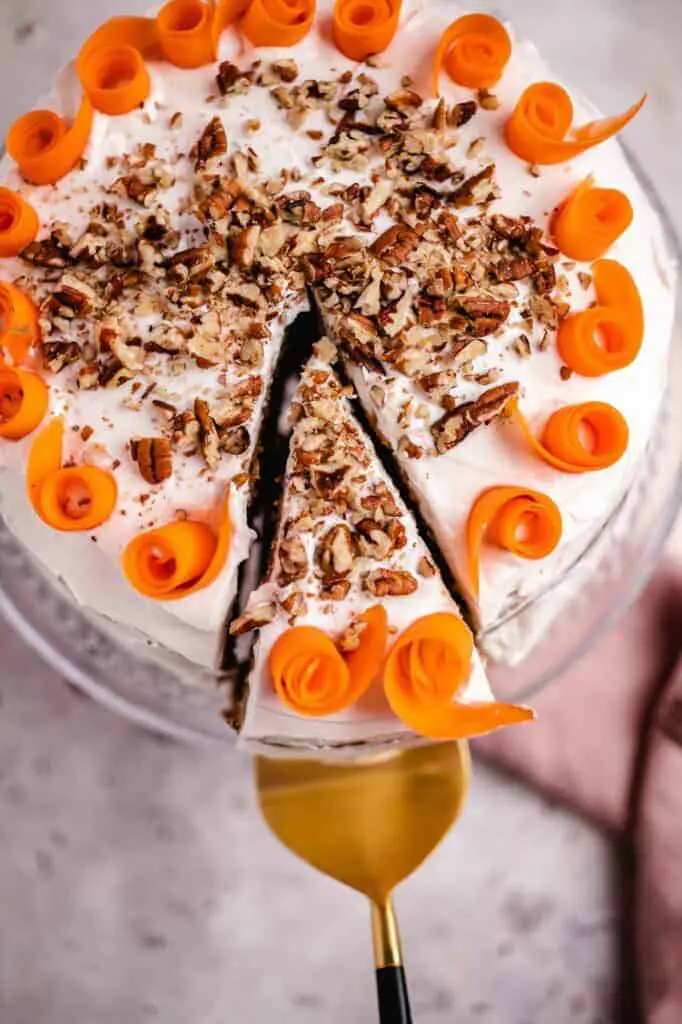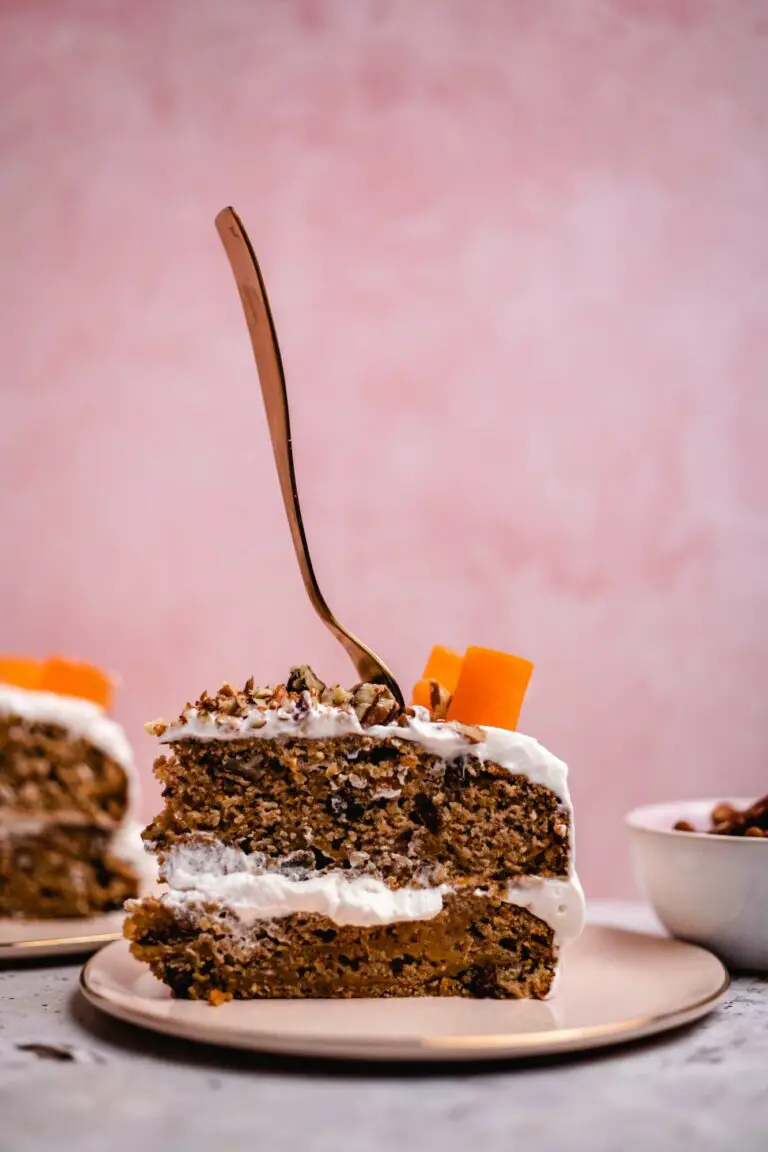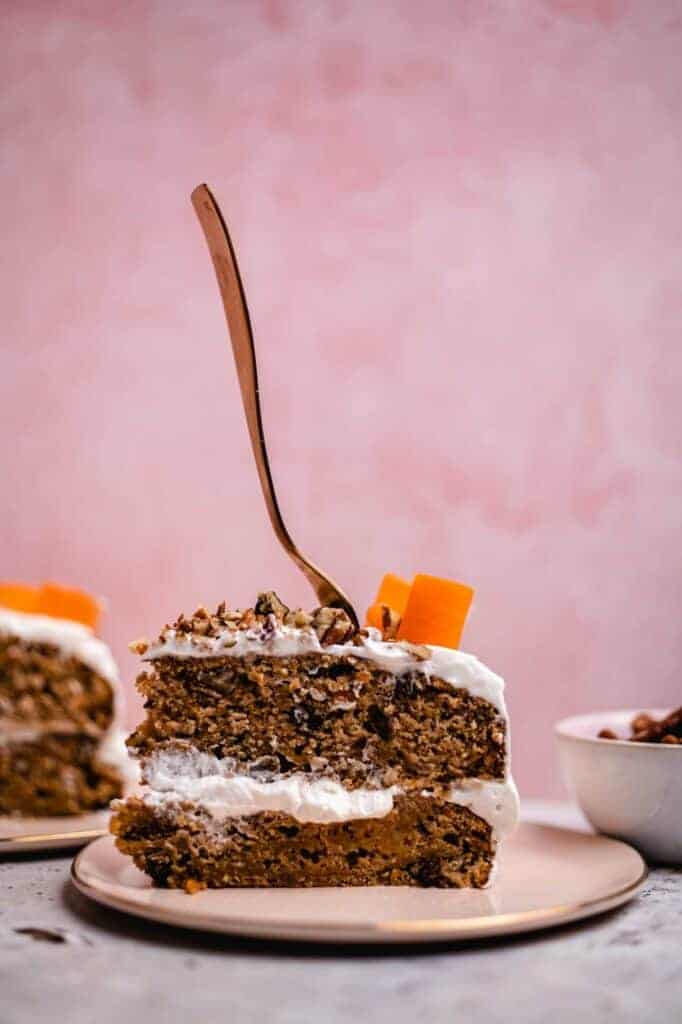 The production could not be easier. Flour, raw cane sugar, baking powder, baking soda, bourbon vanilla, cinnamon, ginger, nutmeg, cloves, salt and oat flour. So much for the dry ingredients, which I mix with the help of a whisk until everything is well combined and lumps have dissolved. Add to it vegetable milk, melted margarine (or baking oil) flaxseed eggs and apple cider vinegar.
At the very end, the most important ingredients are added to the dough. Grated carrots, raisins and pecans. After everything has been folded in and an even dough has formed, I distribute it in two springform pans and it goes into the oven. 40 minutes later everything is ready and the floors may cool.
Vegan and gluten free baking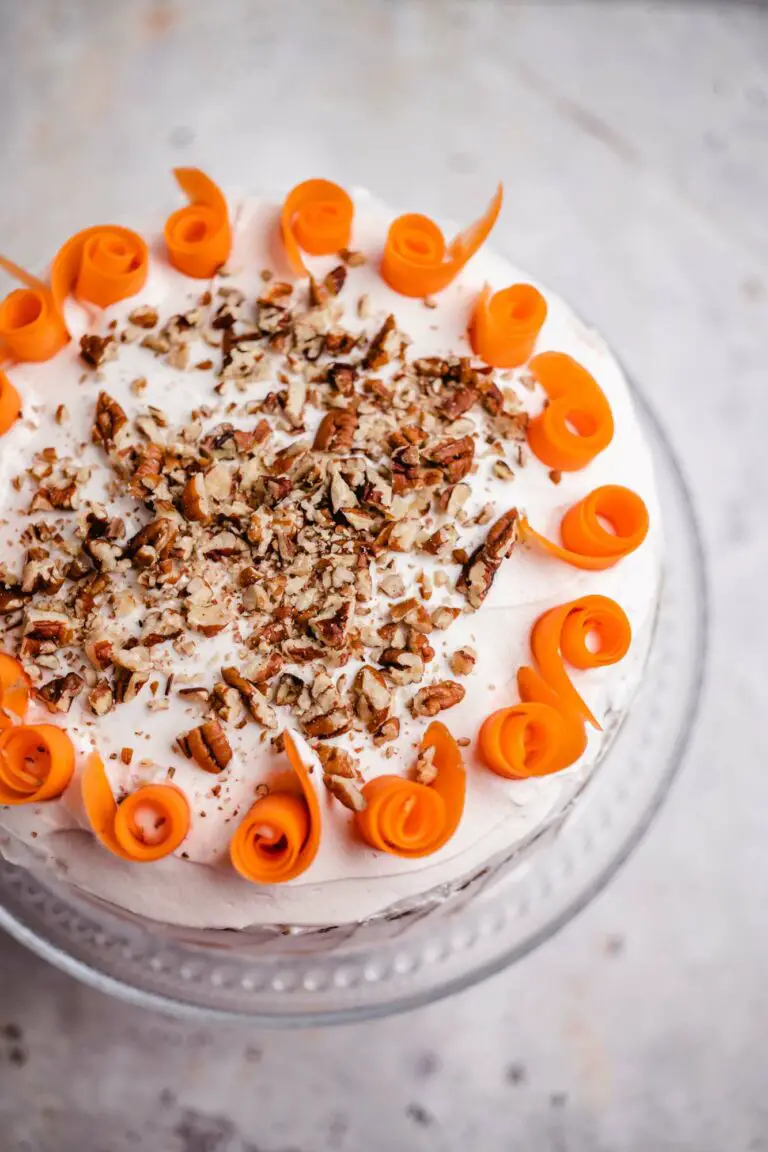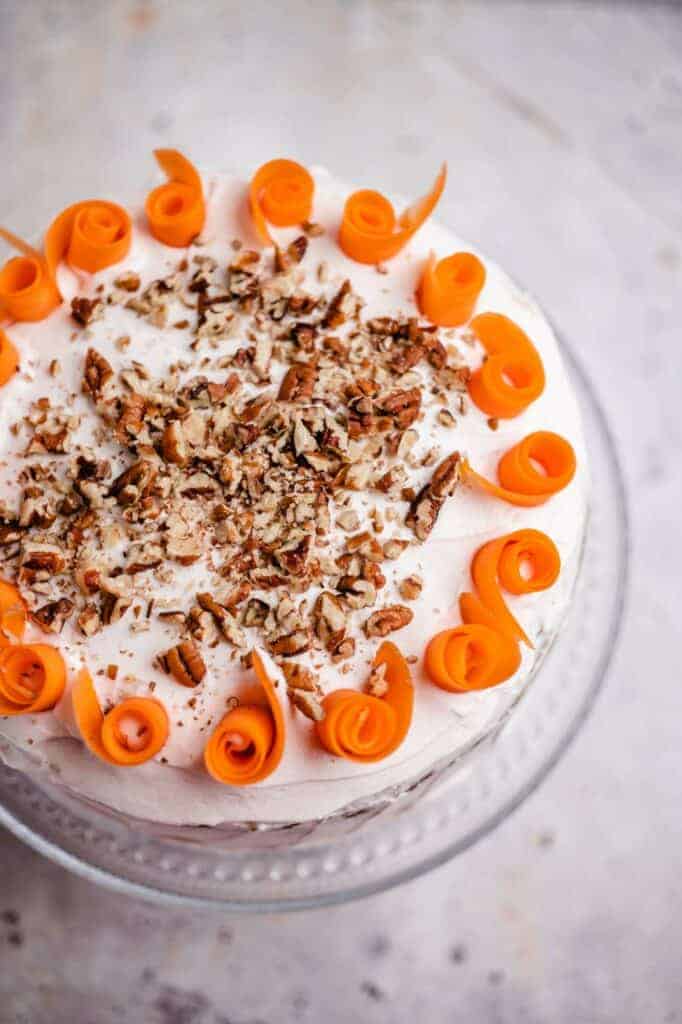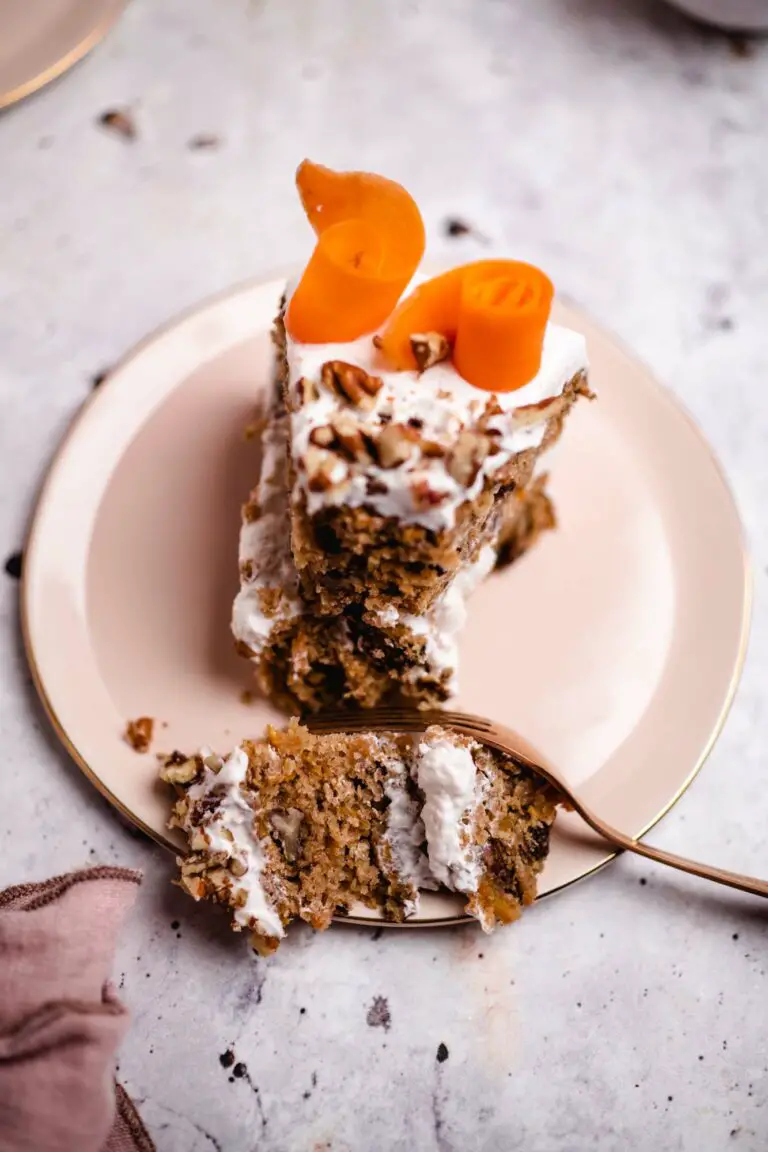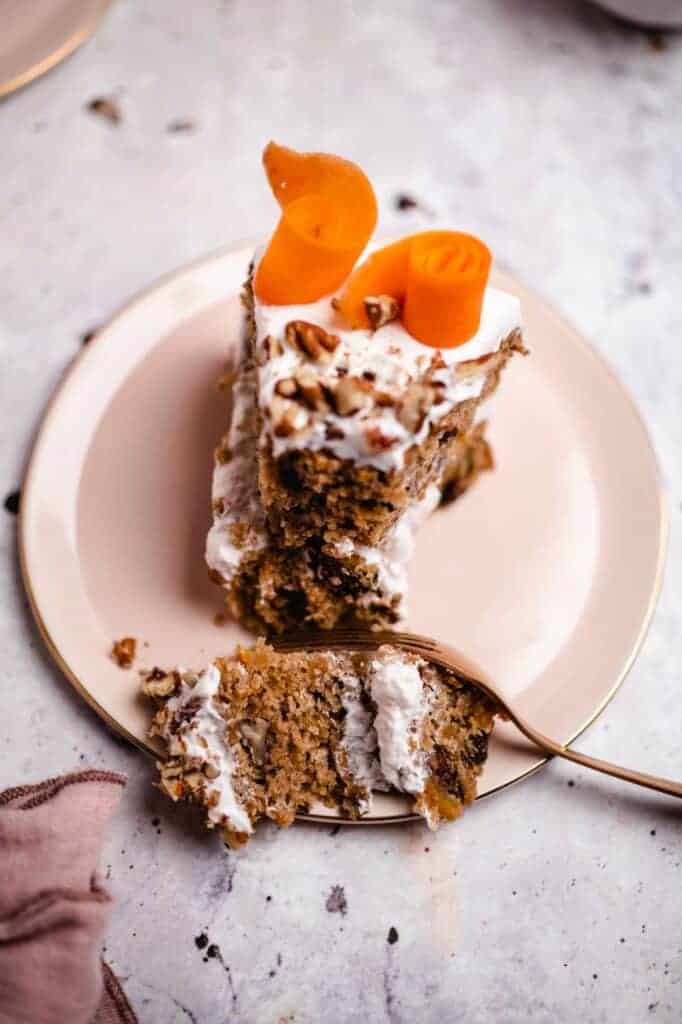 The cake works great with gluten free flour or a classic flour like wheat or spelt flour. For the frosting this time we go the easiest way and use vegan cream. I chose SOYATOO whipped cream(unpaid brand credit) because it's super easy to whip and stays stable. The cake is easy to spread with it and retains its shape even at room temperature.
When it comes to toppings, you can let off steam to your heart's content. I peel a carrot into thin strips and roll it up. I decorate the cake with this along with some chopped pecans and think it looks really nice. If you want to go one step further, small marzipan decorative carrots are also suitable(always make sure they are vegan quality here).
If you're in the mood for a different cake today, I recommend the following variations:
Let's get started with this brilliant Carrot Cake cake. I hope you enjoy baking and of course about a review at the bottom of this page. If you post a picture, use the hashtag #veganevibes.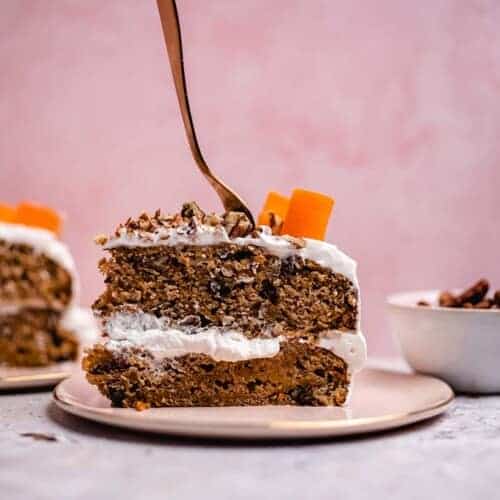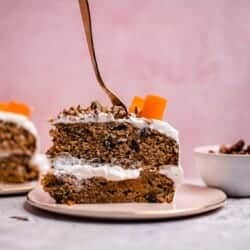 Carrot Cake Torte (gluten free)
Easy, moist, gluten-free Carrot Cake tart? Two-tier cake that will make all lovers of carrots, pecans and raisins beat faster. Ideal for Sunday coffee together with a delicious hot drink. Vegan, gluten free and easy to make.
AUTOR: VEGANEVIBES
AS TOPPING:
Cream

Pecans

coarsely chopped at will (alternatively: walnuts)

1

Carrot

peeled into fine strips
Anleitung 
FOR THE CAKE Preheat oven to 175 degrees and line two springform pans with baking paper.

Provide a baking dish. Add in gluten-free flour mixture, flaxseed eggs, raw cane sugar, baking powder, baking soda, bourbon vanilla, nutmeg, ginger powder, cinnamon, cloves, salt and oat flour and whisk until well combined.

250 g gluten free flour mix,

200 g Raw cane sugar,

2 tbspn Baking powder,

1 tbspn Baking soda,

1 tbspn Bourbon vanilla,

1 Pinch of nutmeg,

1 tbspn Ginger powder,

2 tbspn Cinnamon,

¼ Cloves,

¼ tbspn Salt,

90 g Oatmeal,

3 Piece Flaxseed eggs

Add vegetable milk, margarine, margarine, apple pulp and apple cider vinegar and mix to a uniform dough.

105 g Margarine,

185 g Apple pulp,

1 tbspn Apple cider vinegar,

250 ml Plant milk

Fold in grated carrots, pecans and raisins.

80 g Pecans,

150 g Raisins,

100 g finely grated organic carrots

NOTE: Do not stir too long, otherwise the driving force of the natron will disappear.

Pour batter evenly into both springform pans and smooth out.

Place in the oven, bake for 40-50 minutes and test with a wooden stick to see if the cake is done. When the wooden stick comes out clean, then the cake is ready. Remove from oven and let cool completely (preferably an hour).

IMPORTANT: The cake layers must be completely cooled before spreading with cream, otherwise the cream may run.

Whip the cream and let it set in the refrigerator. Note: SOJATOO needs 1-2 hours until it is well firm.

Place bottom cake layer on a plate or cake platter and straighten with a serrated knife.

Spread some cream on top and place the second cake layer on top. Spread remaining cream over the cake.

Roll up thin carrot slices and arrange in a circle on the outer edge. Spread chopped nuts in the center of the cake.

Cut and enjoy!

Store in an airtight container in the refrigerator for up to 5 days, keep frozen for a few weeks. However, fresh is best.
Nährwertangaben
Serving:
1
Piece
Calories:
351
kcal
Carbohydrates:
50
g
Protein:
6
g
Fat:
15
g
Saturated Fat:
2
g
Polyunsaturated Fat:
5
g
Monounsaturated Fat:
7
g
Sodium:
161
mg
Potassium:
332
mg
Fiber:
4
g
Sugar:
20
g
Vitamin A:
2645
IU
Vitamin C:
3
mg
Calcium:
75
mg
Iron:
2
mg