Vegan marzipan dessert are you ready? At the moment, the Christmas spirit is still somewhat subdued. What might that be due to? Perhaps because of the numerous other issues that are very present? Corona is way out in front, but it's also due to the uncertainty surrounding Corona rules at Christmas. Will we celebrate together with the relatives or all alone? It remains exciting. I'll provide you with lots of new ideas until then. Today's recipe you can super vorbeiten. Should the Christmas dinner then only take place alone or in a very small circle, then there is just more for you.
IMPORTANT TIP: On World Vegan Day, Nov. 1, 2020, a brand new baking book is out. I was allowed to volunteer and contribute to the total of 70 delicious recipes together with another 27 cooks. All proceeds from the book go to animal welfare projects. If you fancy winning a copy, head over to my Instagram channel @veganevibes (giveaway runs until Sunday, Nov. 8, 2020).
Christmas marzipan dessert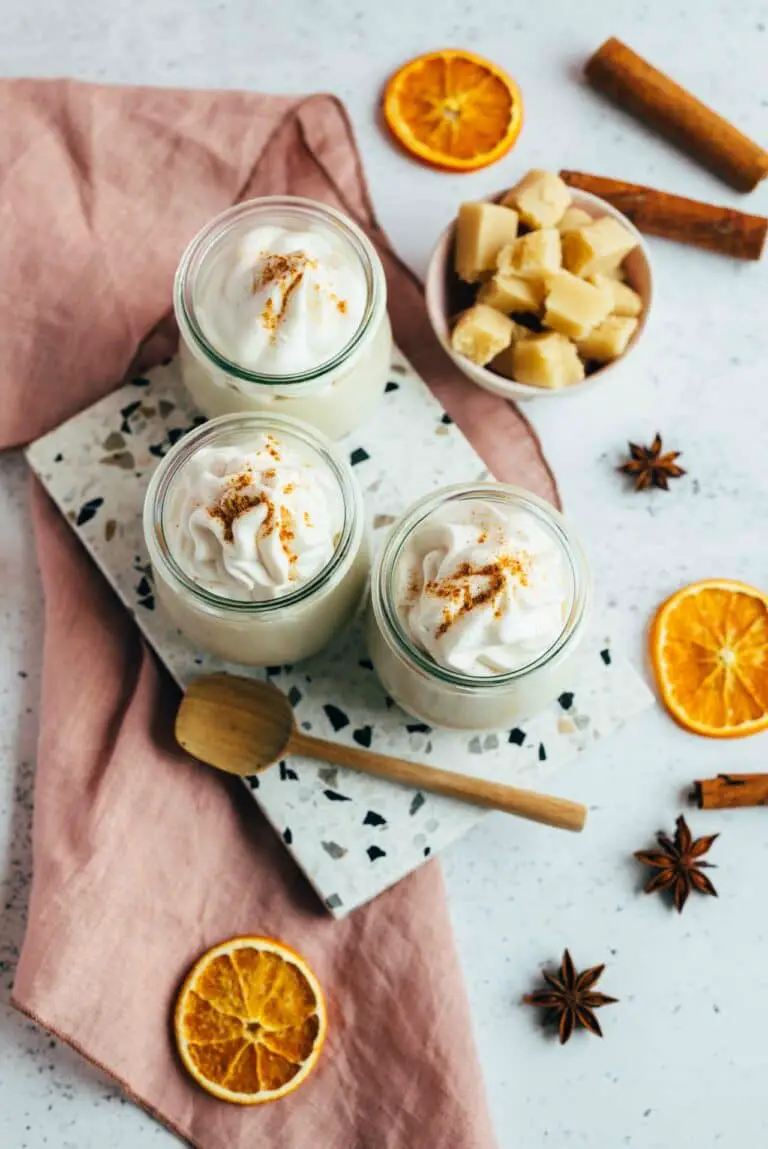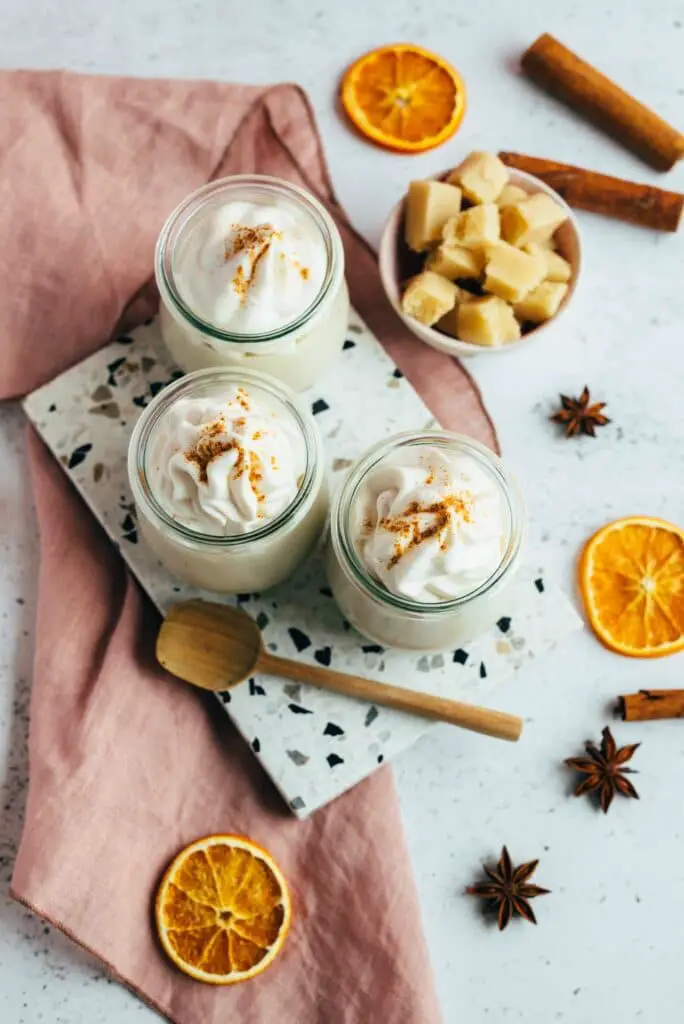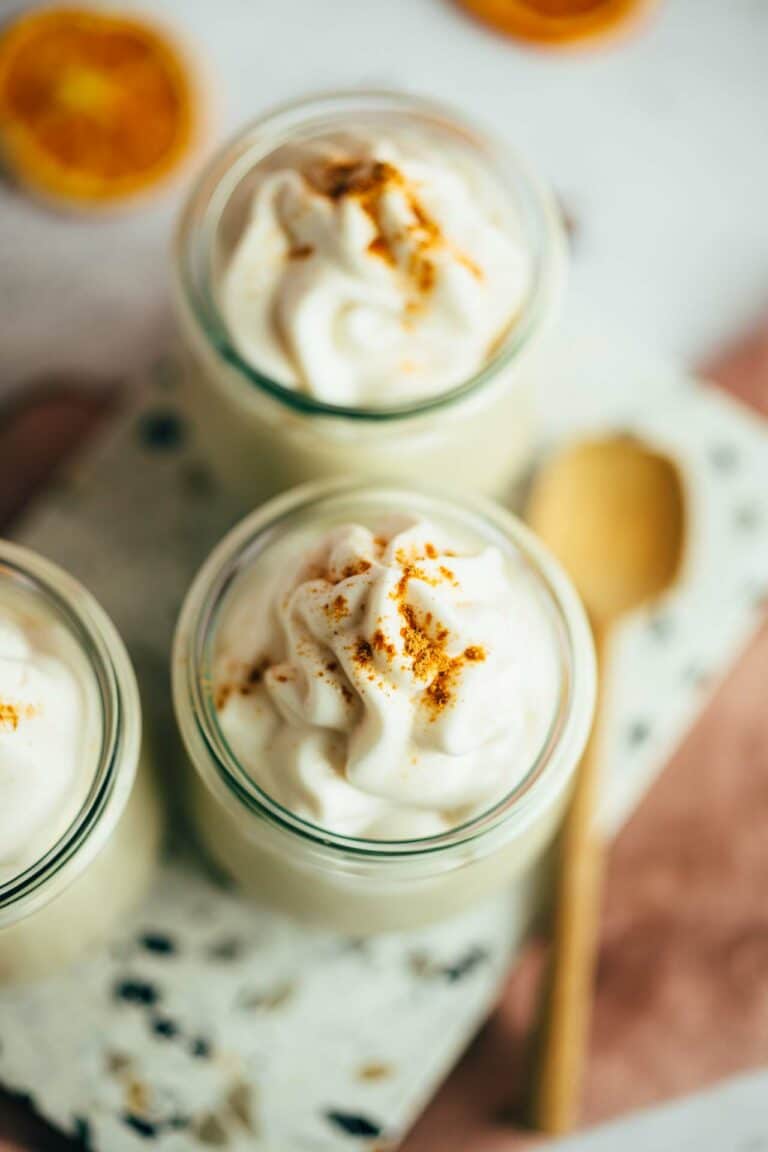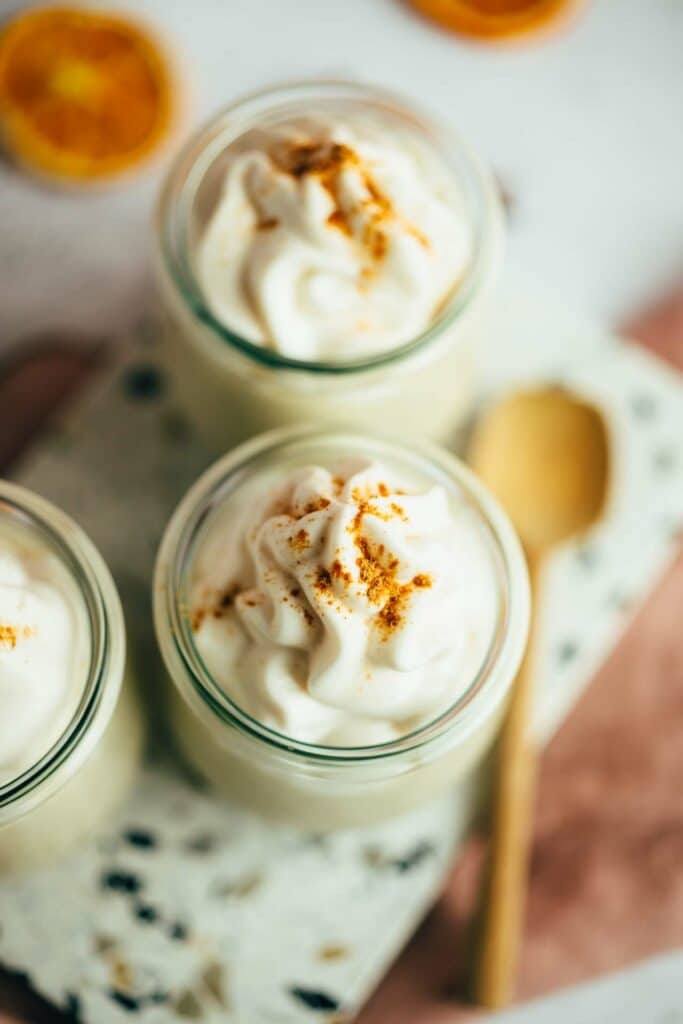 Christmas and marzipan go together really super well. What I still find very unfortunate, however, is that there are so few vegan marzipans in the stores. Drugstore chain DM (unpaid brand attribution) is once again leading the way in a big way, with a solid selection of vegan Christmas items in its seasonal displays. I have immediately stocked up and also already conjured up a few delicious things from it.
I promise you that this was just the beginning and I will make some more next year with the delicious raw material of almonds, sugar and rose water. Maybe soon there will be a recipe to make it yourself? Might be a good idea as long as there is a rather meager selection of vegan options.
Vegan desserts for Christmas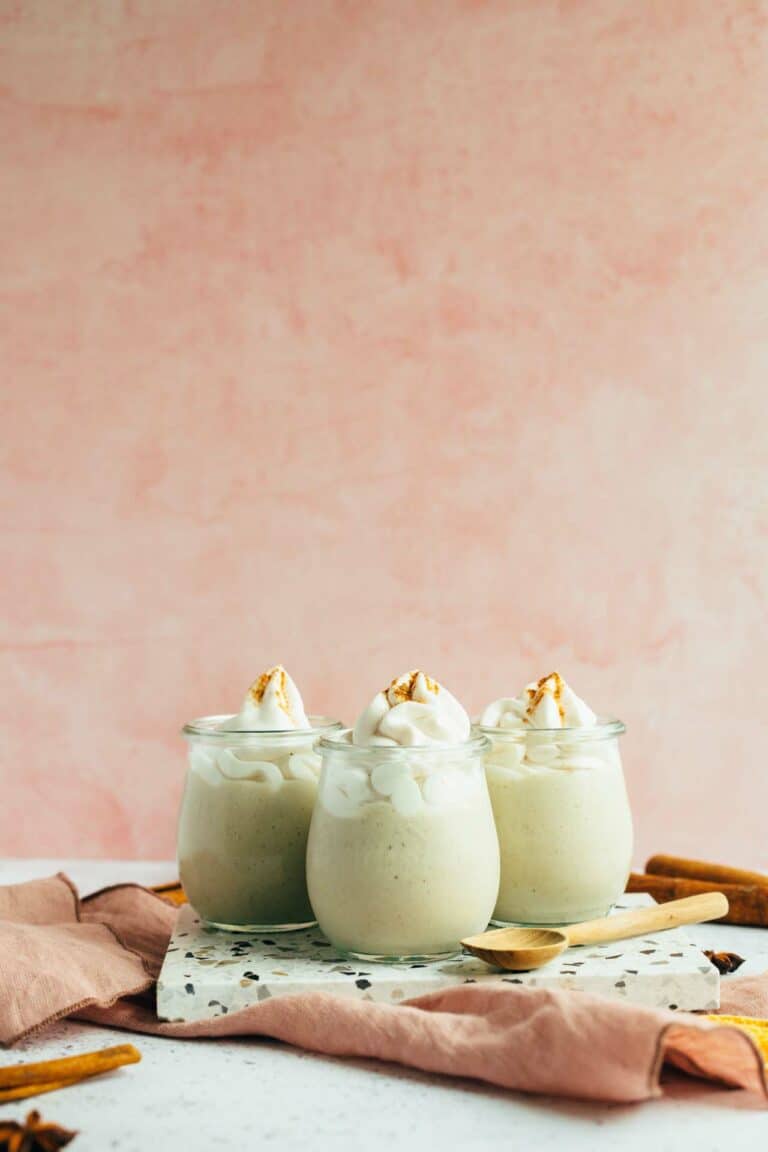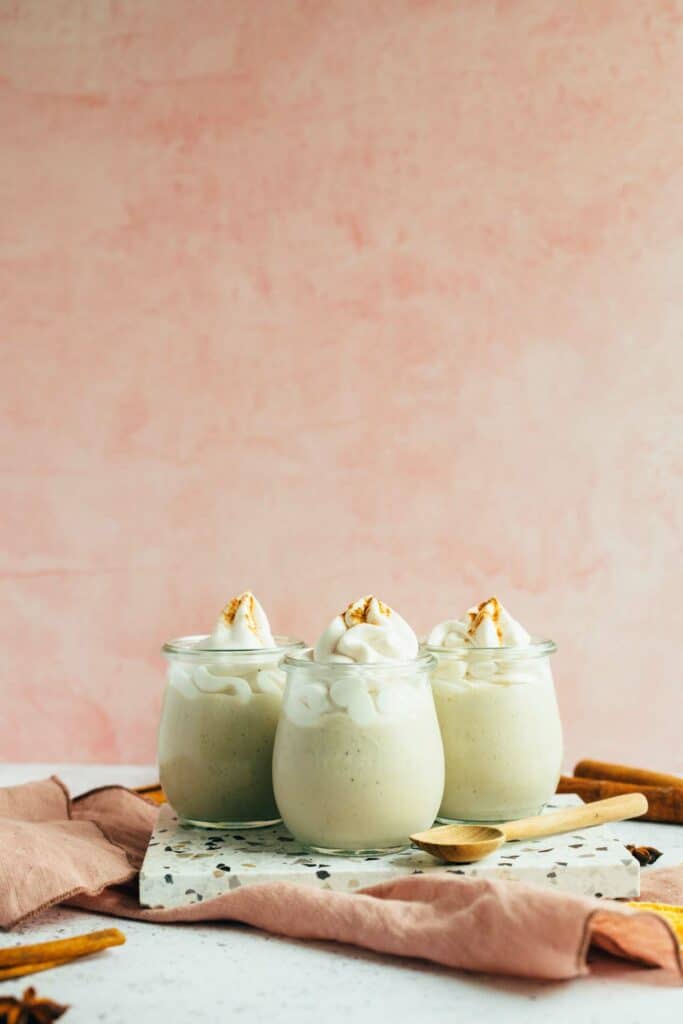 This recipe couldn't be simpler, because you only need a few ingredients. Vegetable milk, marzipan, cinnamon and xanthan gum (or starch). That's all there is to it. Once all together, place in high-powered blender, blend to a fine liquid, bring to a boil and bottle. If you don't have xanthan gum at home, I recommend the following alternatives:
Coconut oil: becomes solid when cooled and provides a stable cream that is not too liquid (2-3 tbsp.)
Cocoa butter: also becomes solid as soon as it cools down (2-3 tbsp.)
Agar-agar: This makes the dessert more like a panna cotta. Please do not forget to take a gelatinization sample. Dosage according to packaging instructions.
Marzipan and Christmas, an unbeatable combination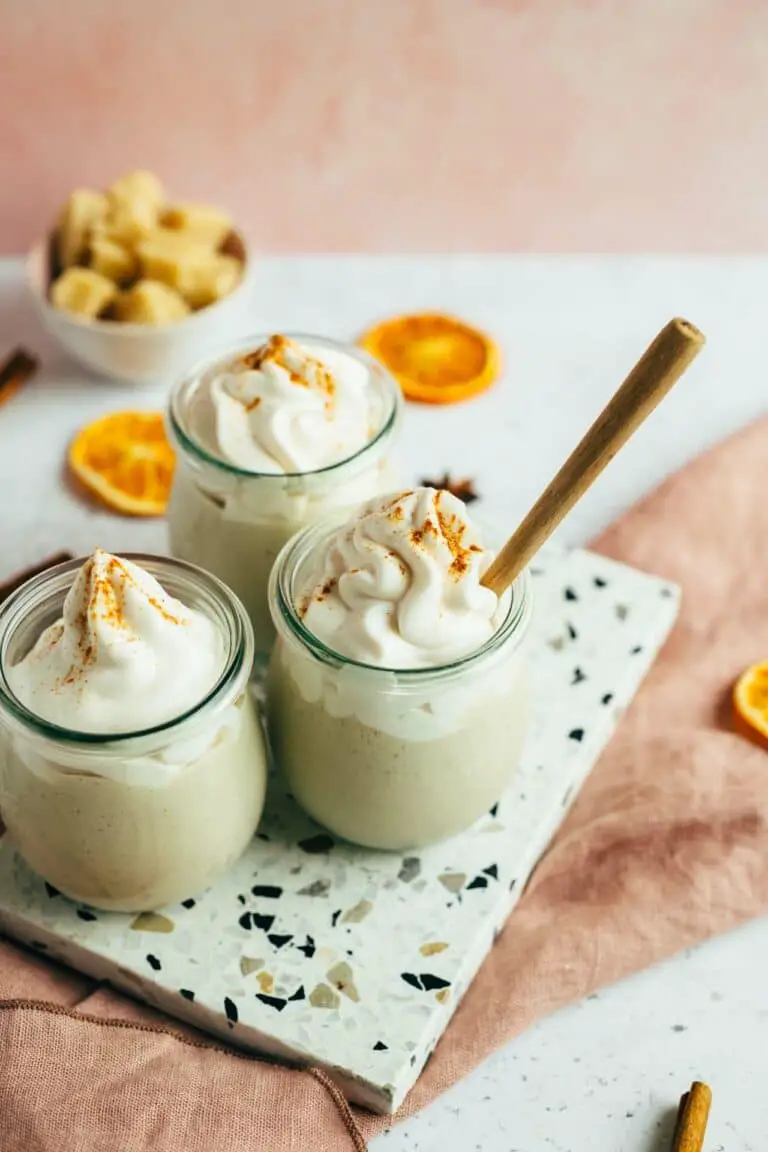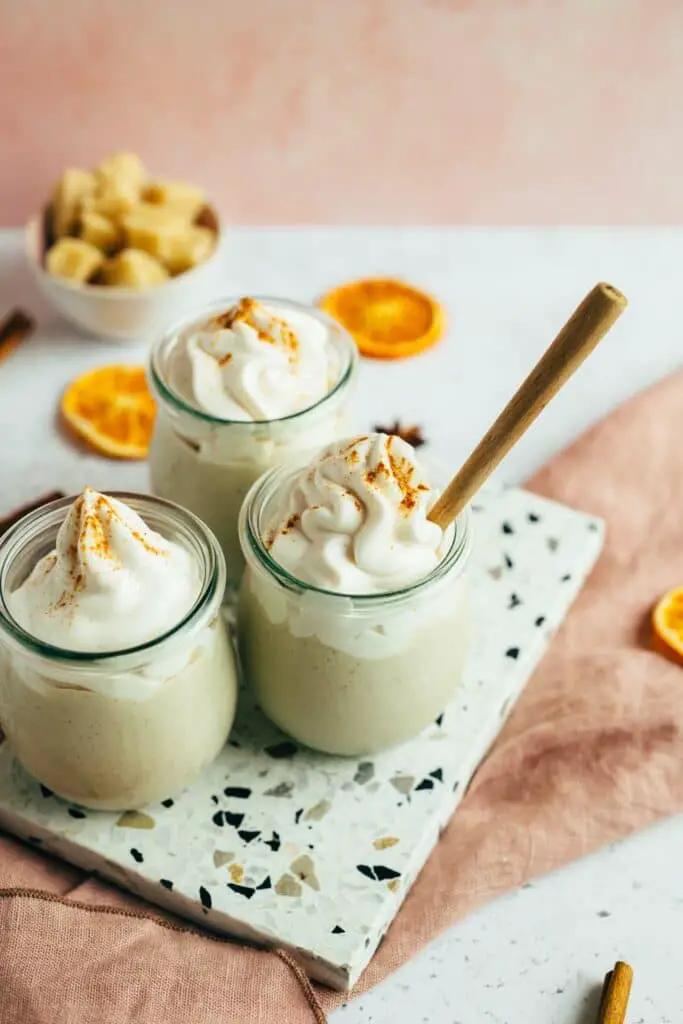 If you're looking for a vegan Christmas menu , I recommend a roasted cauliflower soup for starters, followed by a lentil roast with gravy and stir-fried spinach dumplings. Then the conclusion is this wonderful dessert. We'll do the alkaline fasting in January, I promise!
The vegan marzipan dessert is:
rich
Almond flavor
Pleasantly sweet
Creamy
Quickly made
I wish you in any case a lot of fun with the Nachkochen and of course about a review at the bottom of this page. If you post a picture, feel free to use the hashtag #veganevibes.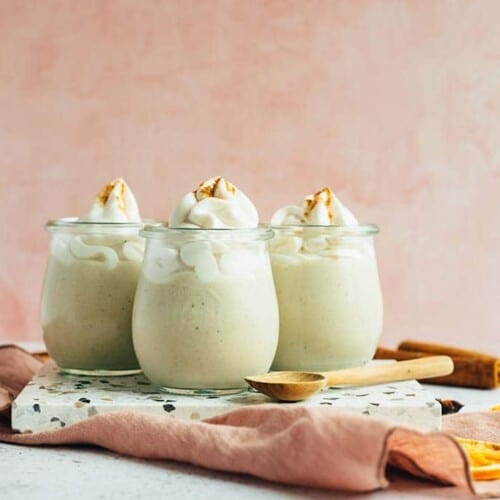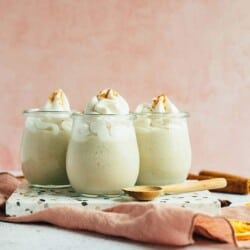 Vegan marzipan dessert
Christmas marzipan dessert made from marzipan paste, vegetable milk and cinnamon. Finished with vegetable cream, it's the perfect dessert for your vegan Christmas menu.
AUTOR: VEGANEVIBES
Anleitung 
Place vegetable milk, marzipan, cinnamon, and xanthan gum(or 40g cornstarch) in a high-powered blender and blend on high speed to a fine liquid.

500 ml Plant milk,

100 g Marzipan,

1 tbspn Cinnamon,

¼ tbspn Xanthan gum or 40g cornstarch

Place in a small saucepan and bring to a brief boil while stirring.

Note: Please heat carefully while stirring constantly, the liquid can easily burn on the bottom.

Immediately pour into clean dessert glasses and place in refrigerator.

Allow to set for at least

4 hours

or overnight.

If desired, refine with cream and sprinkle with a little cinnamon.

Vegetable cream to taste,

Cinnamon

Serve and enjoy!

Keeps up to 4 days airtight in the refrigerator.
Notizen
When using agar-agar, be sure to bring to a boil, otherwise it will not gel. Stir constantly and be careful, because the mixture can quickly burn and boil over. Make a gelatinization test, take a small amount on a plate and let it cool down. Readjust if necessary.
Nährwertangaben
Serving:
1
Portion
Calories:
235
kcal
Carbohydrates:
23
g
Protein:
9
g
Fat:
12
g
Saturated Fat:
1
g
Sodium:
97
mg
Potassium:
325
mg
Fiber:
2
g
Sugar:
18
g
Vitamin A:
655
IU
Vitamin C:
12
mg
Calcium:
253
mg
Iron:
1
mg