Spinach dumplings are one of my all-time favorites. I am in itself a great fan of Austrian and South Tyrolean cuisine. On the eggs and the cheese you can do without meanwhile well, because there are super many vegan alternatives. For the spinach dumplings, we don't need either of them, because we get the binding just fine. If it is somehow possible, my husband and I want to go to Austria again. So a tiny little mini-wellness vacation must still be in this year, right? After all, there are still areas that do not have a single Corona case. Good thing I'm not a fan of après-ski anyway and prefer to stay in quiet areas, without crowds. Let's see what else this year brings. When in doubt, it's called home spa!
Vegan spinach dumplings from the pan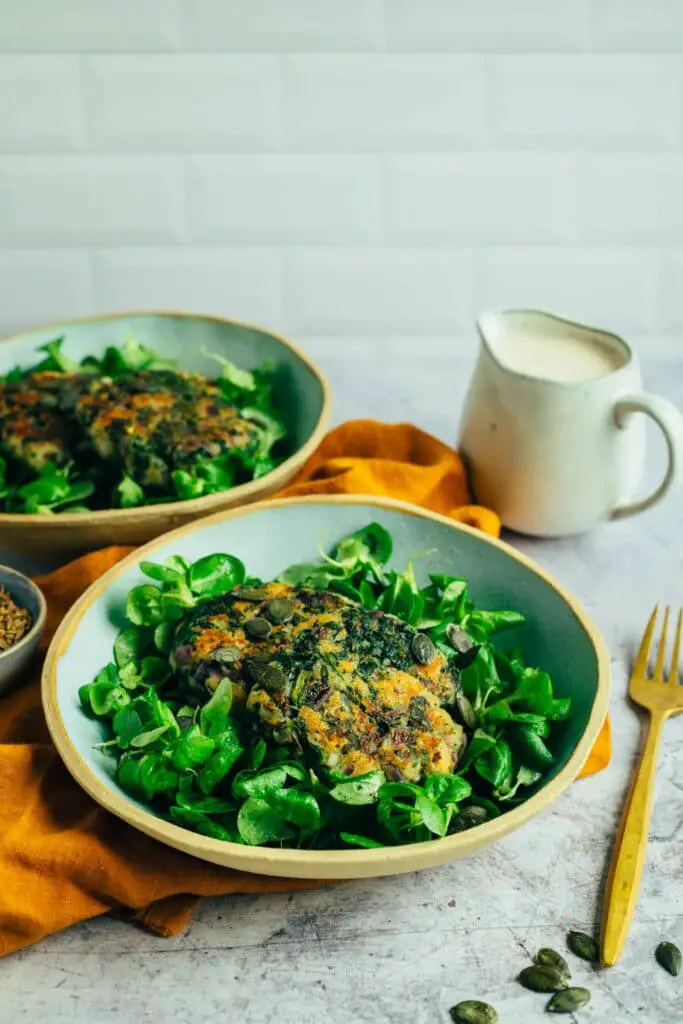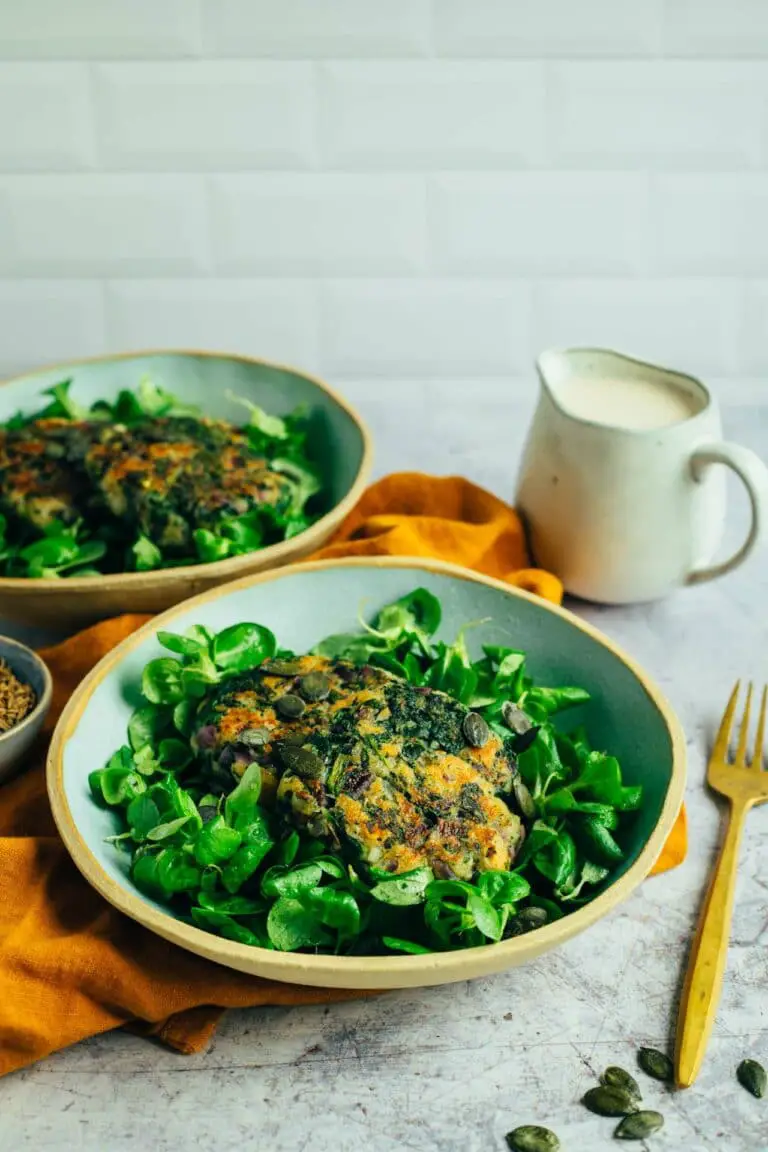 Quick and easy, just the way I like it. Dry rolls, as we say in Bavaria, are the basis for this recipe. For everyone else, they are rolls that should not be fresh for the day, but preferably 1-2 days old. Spinach, onion, vegetable milk, salt, pepper, cumin and starch. That's all. Onion, spinach and the spices go together in the pan and are steamed. Here, frozen spinach works just as well as fresh, both options do the trick. The bread rolls are cut into small cubes and mixed together with the vegetables, vegetable milk and starch. This is already our final dough. Shape into patties and off you go back into the pan.
TIP: my latest discovery that I can't imagine my kitchen without is tapioca starch. It is extracted from the tapioca root and is an ideal binding agent in vegan cuisine. Especially for the production of vegan mozzarella, the starch is a must. I've linked you my favorite product below.
What goes well with our spinach dumplings from the pan? I find a green salad, in my case a lamb's lettuce with homemade balsamic dressing is the perfect complement. Another handful of pumpkin seeds sprinkled on top for an extra serving of zinc, iron, magnesium and selenium. Perfect!
Vegan South Tyrolean recipes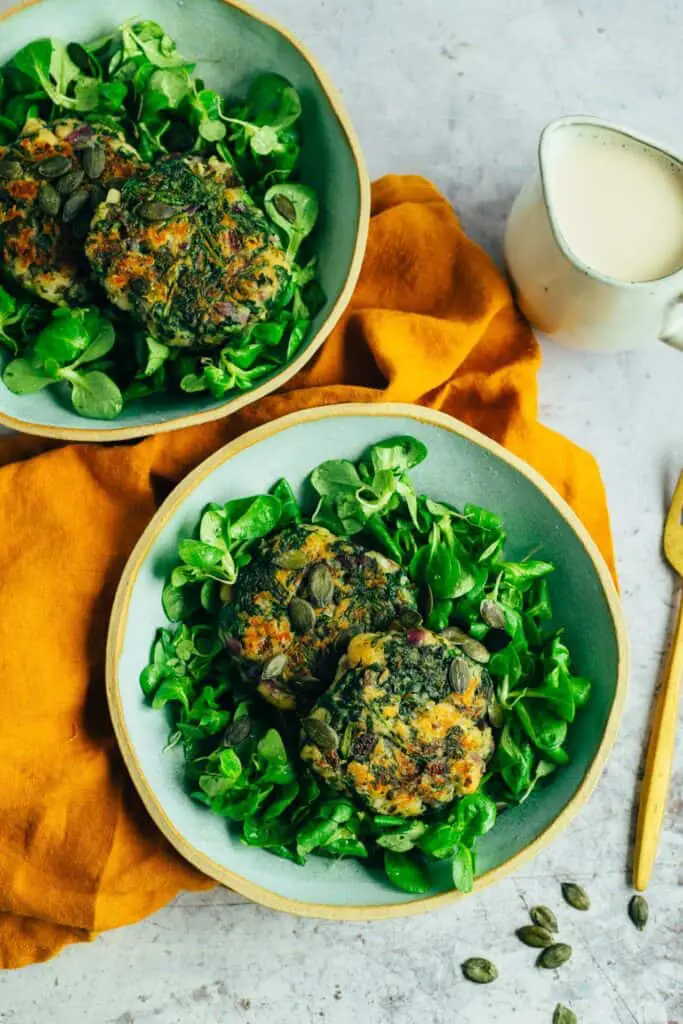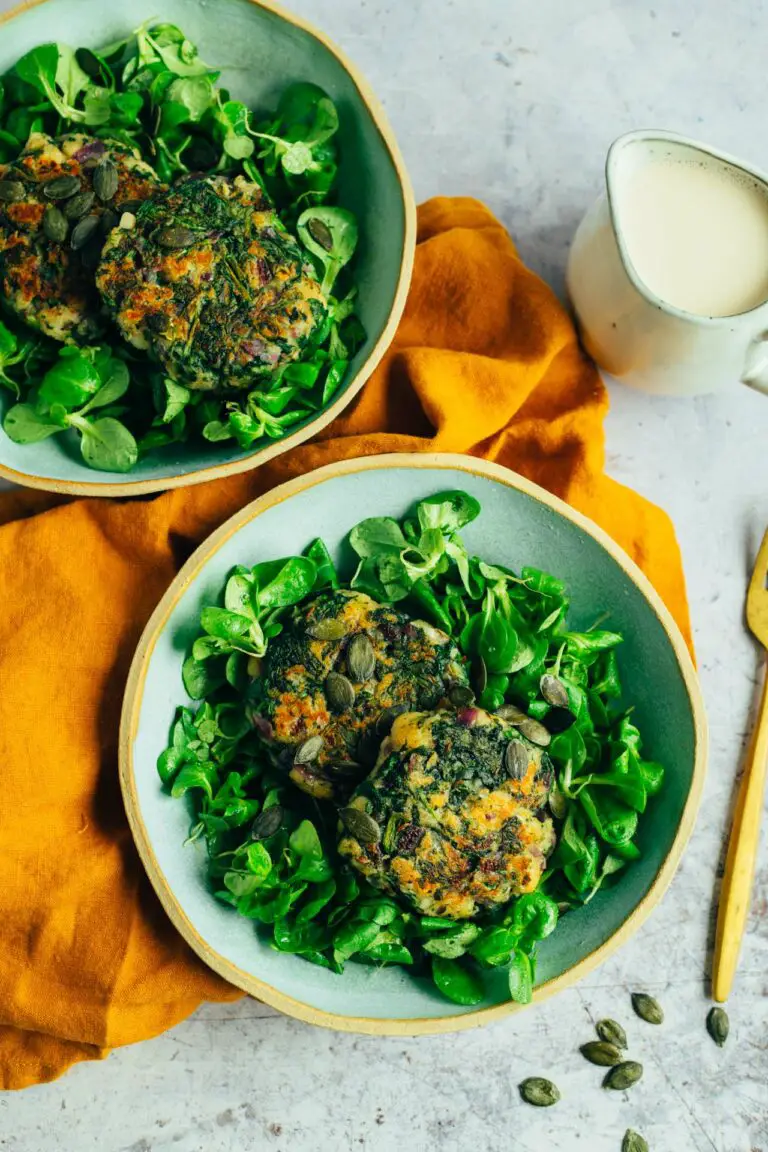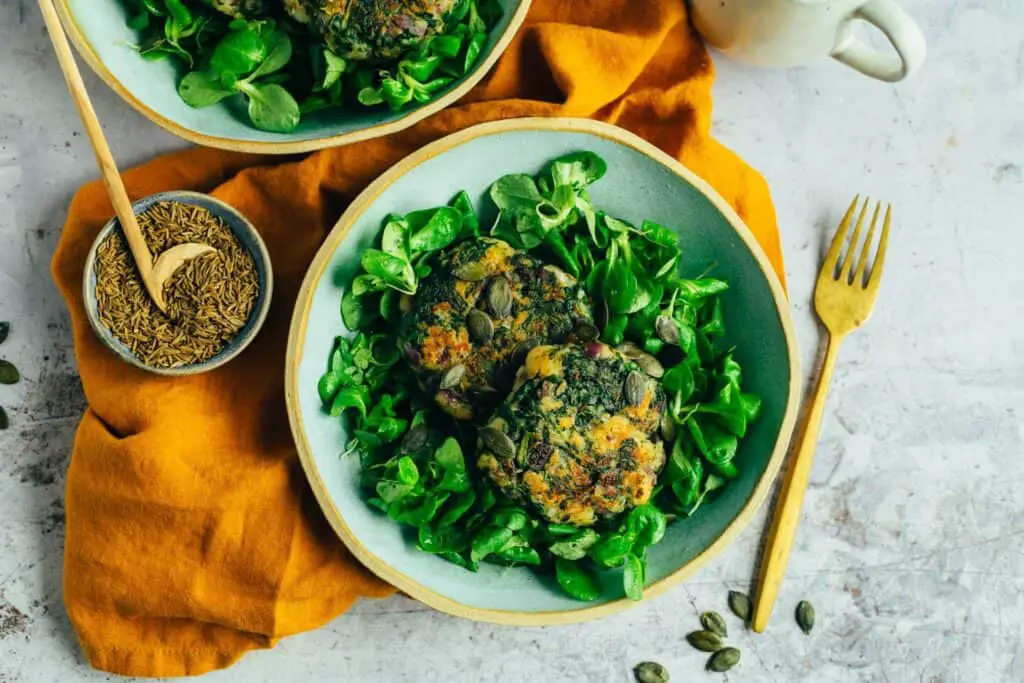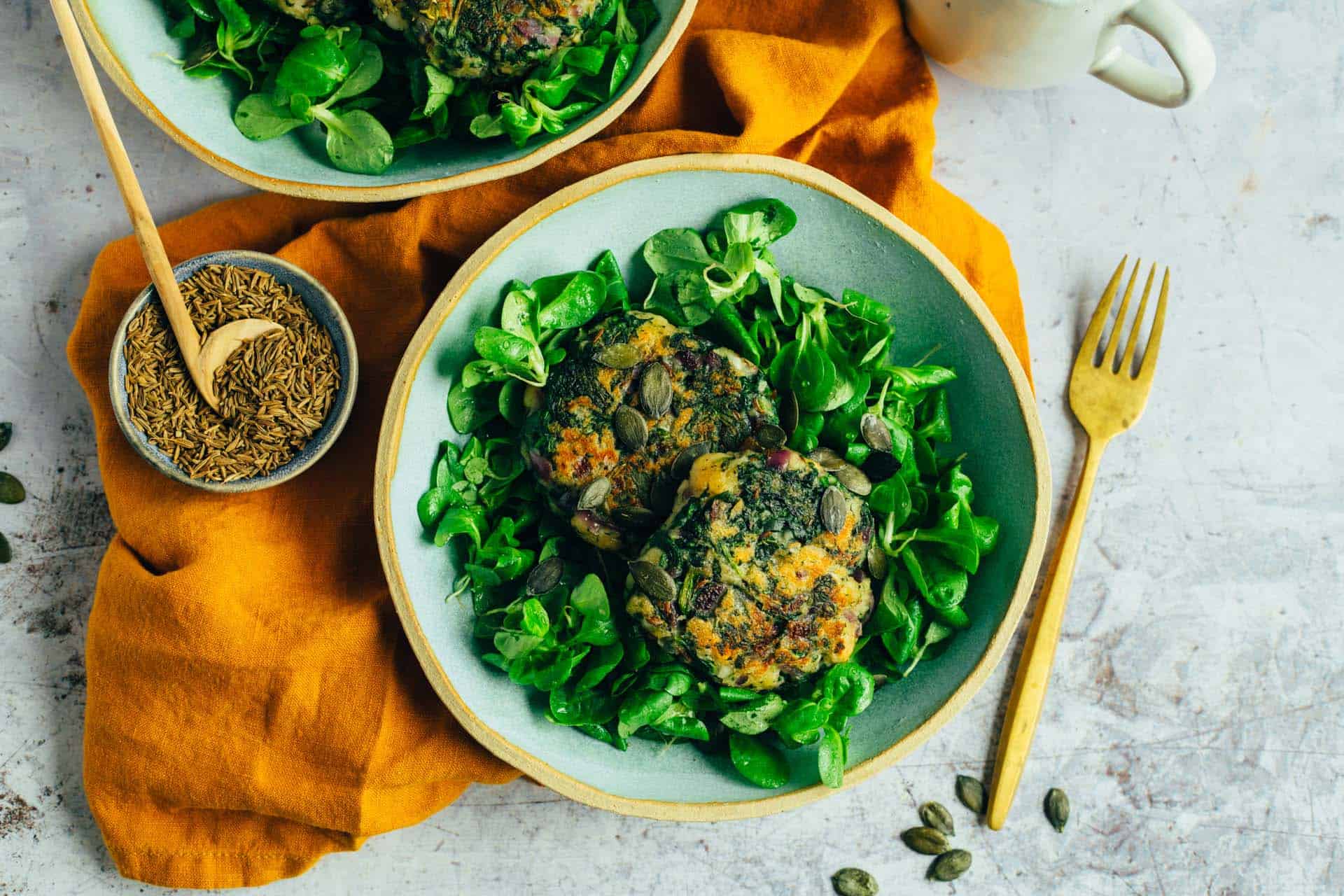 Do spinach dumplings originally come from Austrian or South Tyrolean cuisine? Who knows? I am of the opinion that they come from South Tyrol, but maybe you know more? Originally, the dumplings are boiled in water and then served with butter and Parmesan cheese. I'm doing it a little differently today and preparing them in the pan. This doesn't necessarily save time, but I like the crust so much that is created during frying. For sure a matter of taste and if you like then you can always boil them in salted water for 15 minutes and thus cook them in the classic way.
TIP: If you make the spinach dumplings in salted water, shape them into rounds and serve with some vegan melted margarine or olive oil. Very fine with it is vegan cashew parmesan.
What else is important in the preparation of spinach dumplings?
The rolls or buns should definitely be at least one day old, otherwise they still have too much moisture and do not absorb so well. This can be problematic in terms of binding. If in doubt, bake the bread cubes in the oven at 150 degrees convection for 10-15 minutes beforehand and let them dry.
Briefly taste the finished dough once, and check the salt content. Better at the beginning a little less salt and re-season.
If you like cheesy flavor, add 2-3 tablespoons of nutritional yeast flakes.
Do not let pan get too hot or dumplings may burn.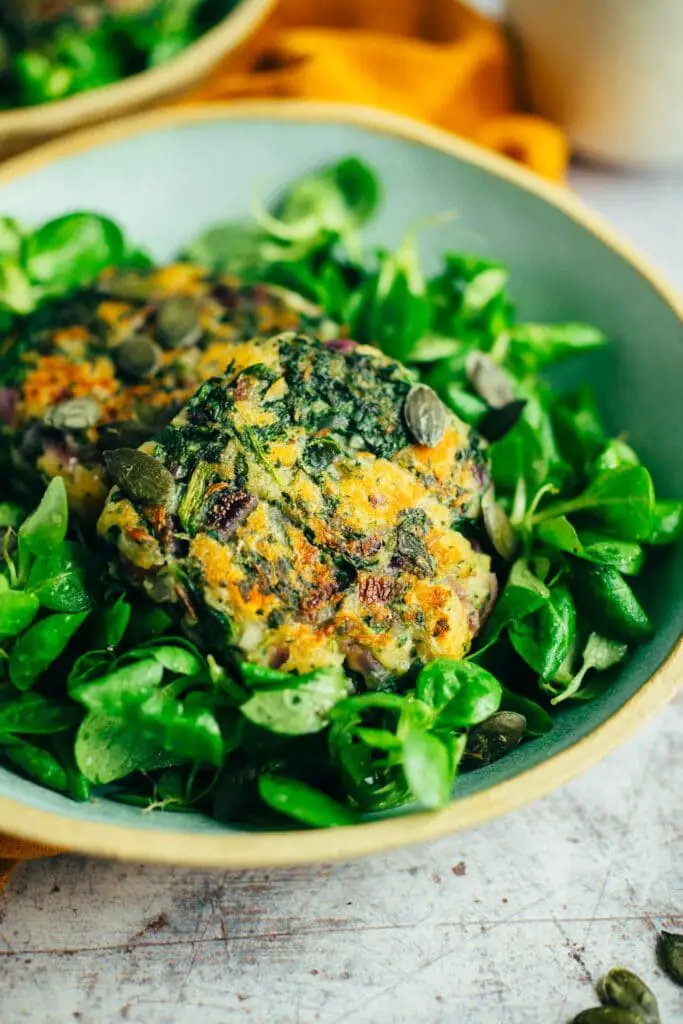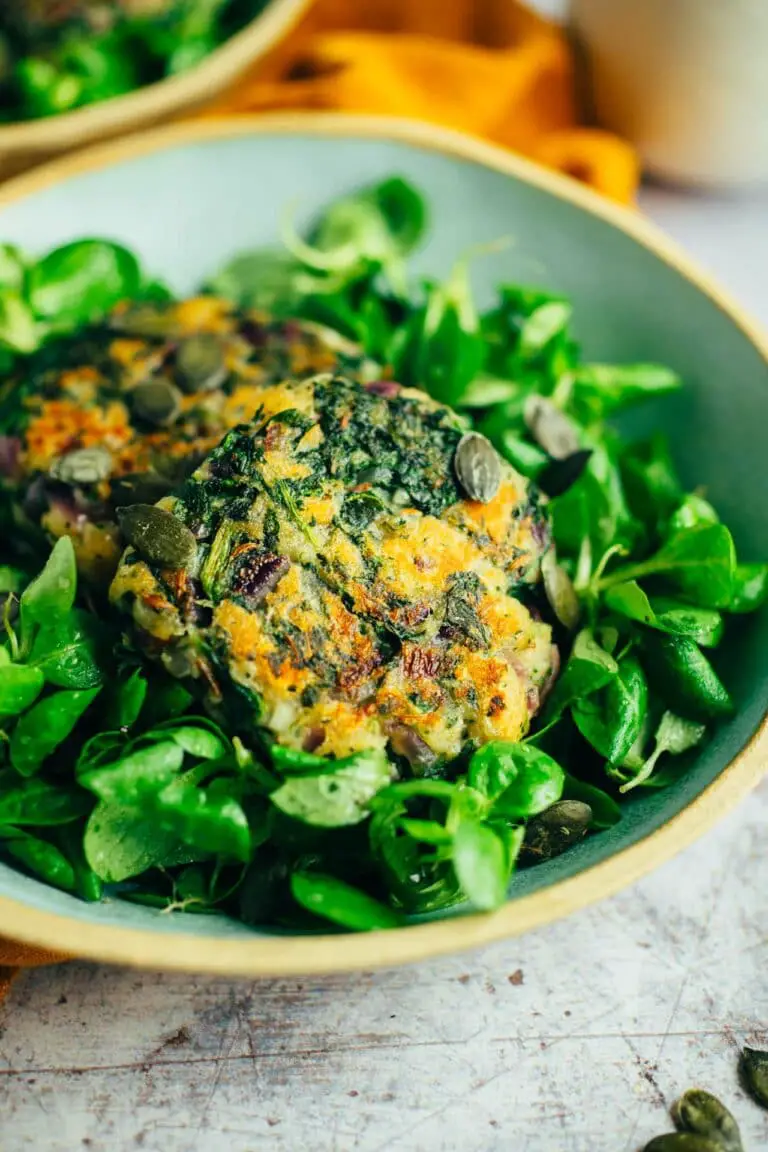 Perfect to the spinach dumplings fits a salad with vinegar-oil dressing, vegan parmesan and as a dessert? I recommend you my vegan Kaiserschmarrn.
Vegan spinach dumplings:
south tyrolean
hefty
spicy
saturating
Quick and simple
Are you ready this delicious vegan and hearty South Tyrolean dish? I wish you a lot of fun in recooking and of course a review at the bottom of this page. If you post a picture, use the hashtag #veganevibes.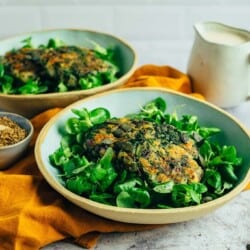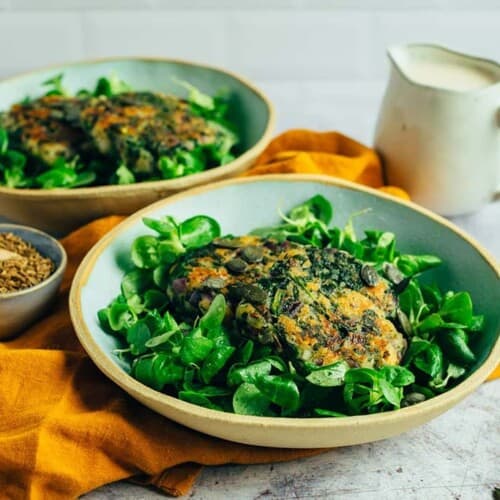 Vegan pan spinach dumplings
Quick, hearty and vegan spinach dumplings made in a skillet, served with lamb's lettuce and finished with a classic vinegar and oil dressing. A South Tyrolean classic for the whole family. Suitable for frying out in the pan or cooking in salt water.
AUTOR: VEGANEVIBES
30

ml

Frying oil or other high heat oil

feel free to omit if oil-free

1

red onion

peeled and finely chopped, alternatively 1-2 tsp onion powder

1

tbspn

Garlic granules

or 1-2 fresh garlic cloves, pressed or finely diced

260

g

Bread cubes

I use GLUTENFREIE BRÖTCHEN stale baked, cut into cubes, as soon as you use "normal" wheat or spelt rolls, the recipe is NO longer gluten-free

280

ml

Plant milk

I use oat milk

250

g

Spinach frozen

or 500g fresh

2

tbspn

Tapioca starch if NOT GLUTEN-FREE use wheat flour or other flour of choice, see notes for other gluten-free binders.

1

tbspn

Cumin

all over

1-2

tbspn

Salt
TO SERVE (optional):
200

g

Lamb's lettuce

1

Portion of balsamic dressing

Pumpkin seeds to taste
Anleitung 
Heat pan with frying oil.

30 ml Frying oil or other high heat oil

Add the onion and garlic (if you use fresh garlic, add it now) and sauté briefly while stirring.

1 red onion,

1 tbspn Garlic granules

Add spinach, cumin whole, salt and pepper and stir until everything is combined.

250 g Spinach frozen,

1 tbspn Cumin,

1-2 tbspn Salt,

Pepper to taste

Steam (preferably with a lid) for

3-5 minutes

until spinach is nice and soft and cooked through.

Remove from heat and set aside.

Place bread cubes in a large bowl, add vegetable milk, starch and spinach vegetables. Roll well with your hands until everything is combined into an even dough.

260 g Bread cubes,

280 ml Plant milk,

2 tbspn Tapioca starch,

250 g Spinach frozen

Heat pan again and add a little oil to taste.

Separate eight equal portions, shape into balls and flatten slightly.

Add to hot pan and sear for

3-4 minutes on

each side.

In the meantime, prepare the salad (if desired).

200 g Lamb's lettuce,

1 Portion of balsamic dressing

Spinach dumplings serve hot together (optional) with salad and pumpkin seeds, enjoy!

Best fresh.
Notizen
other gluten-free binders:
Guar gum
Psyllium husks
Chia seeds
Flaxseed
Agar-agar
Xanthan Gum
Nährwertangaben
Serving:
1
Portion
Calories:
311
kcal
Carbohydrates:
42
g
Protein:
12
g
Fat:
12
g
Saturated Fat:
7
g
Sodium:
522
mg
Potassium:
835
mg
Fiber:
5
g
Sugar:
7
g
Vitamin A:
9682
IU
Vitamin C:
44
mg
Calcium:
275
mg
Iron:
6
mg