Nograndma, I have not gone crazy, I just don't eat meat anymore and that's why I don't eat the roast. It could sound like this, or similar, when you tell your grandmother or your mother that you don't want a roast this year. christmas roast this year. I've already been through this part and my parents are also quite relaxed about it, since they now eat almost exclusively plant-based food themselves. For all those who do not want to miss a roast at Christmas want to do without and really eat their fill, I have created this recipe. Quickly it does not go this time, but to a roast one has just not on 15 minutes ready. Oh, and there's a delicious sauce to go with it, too.
Vegan at Christmas? No problem!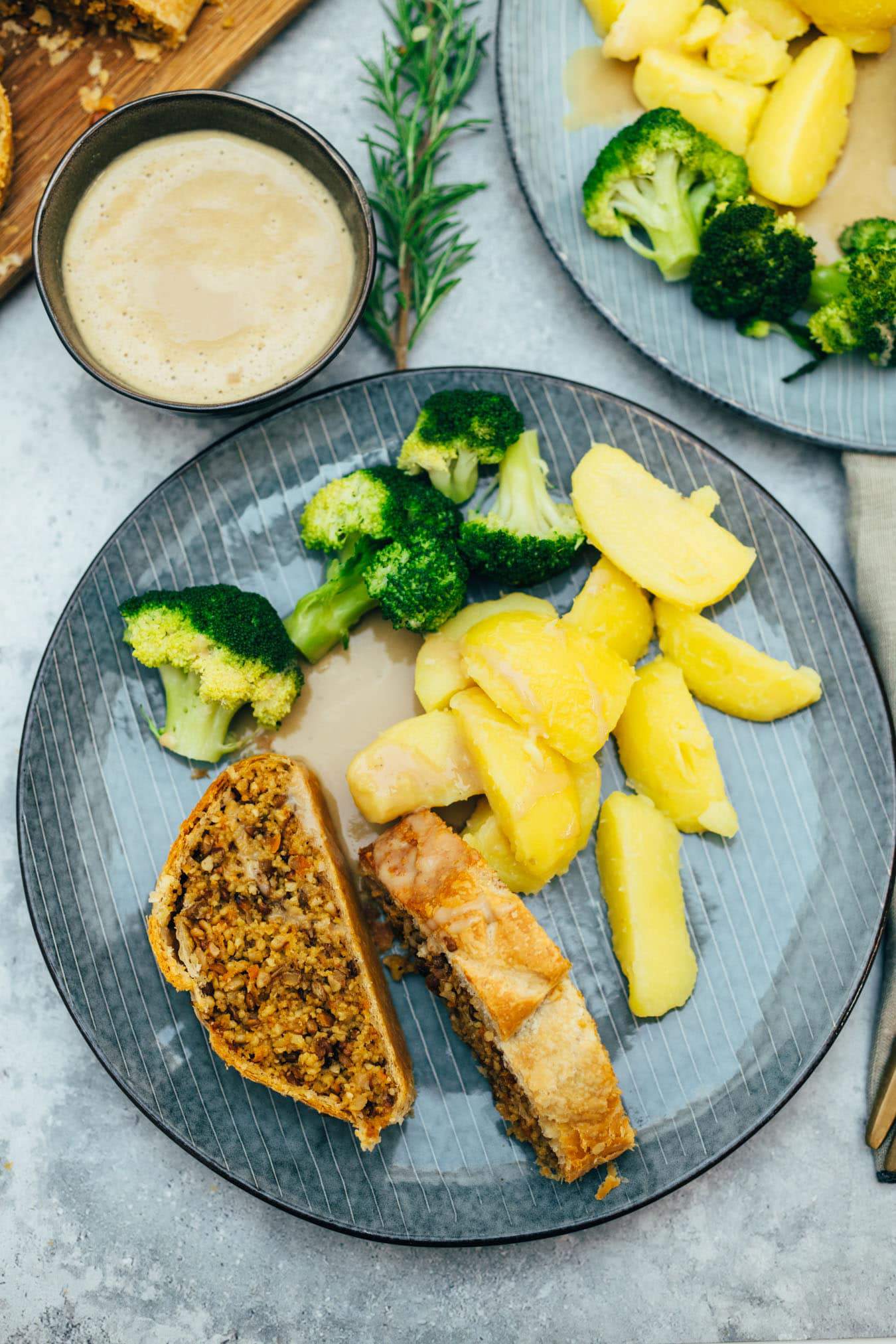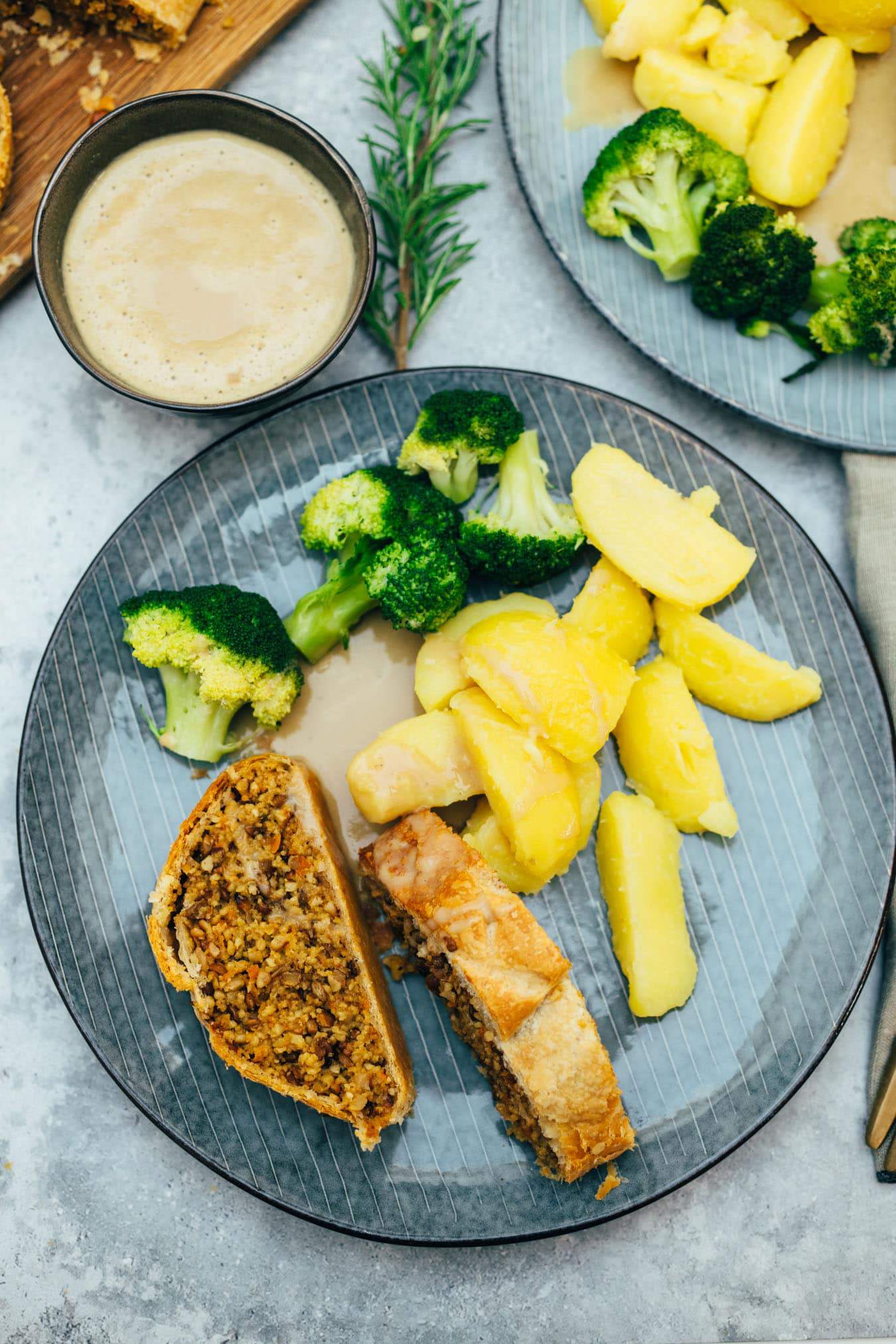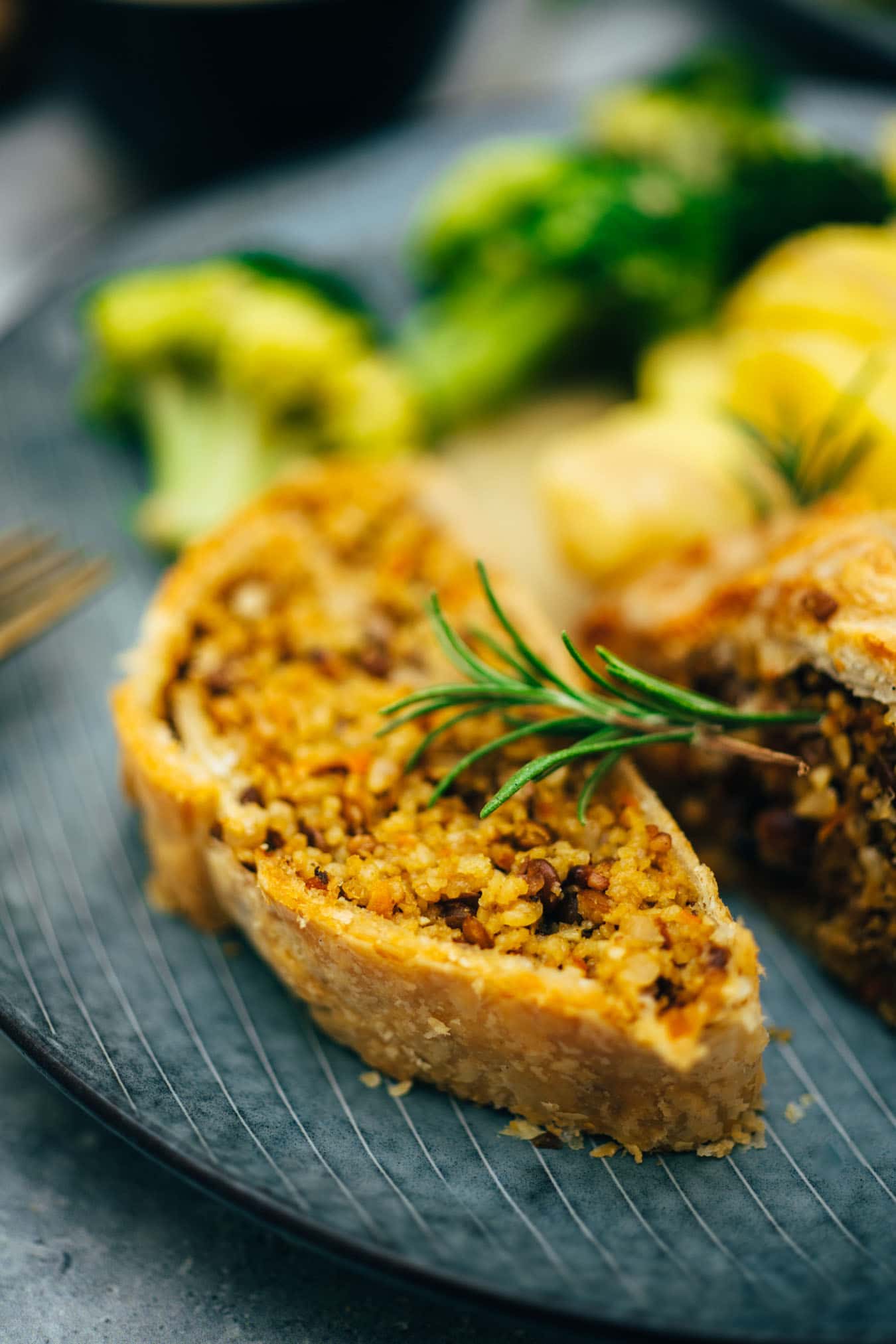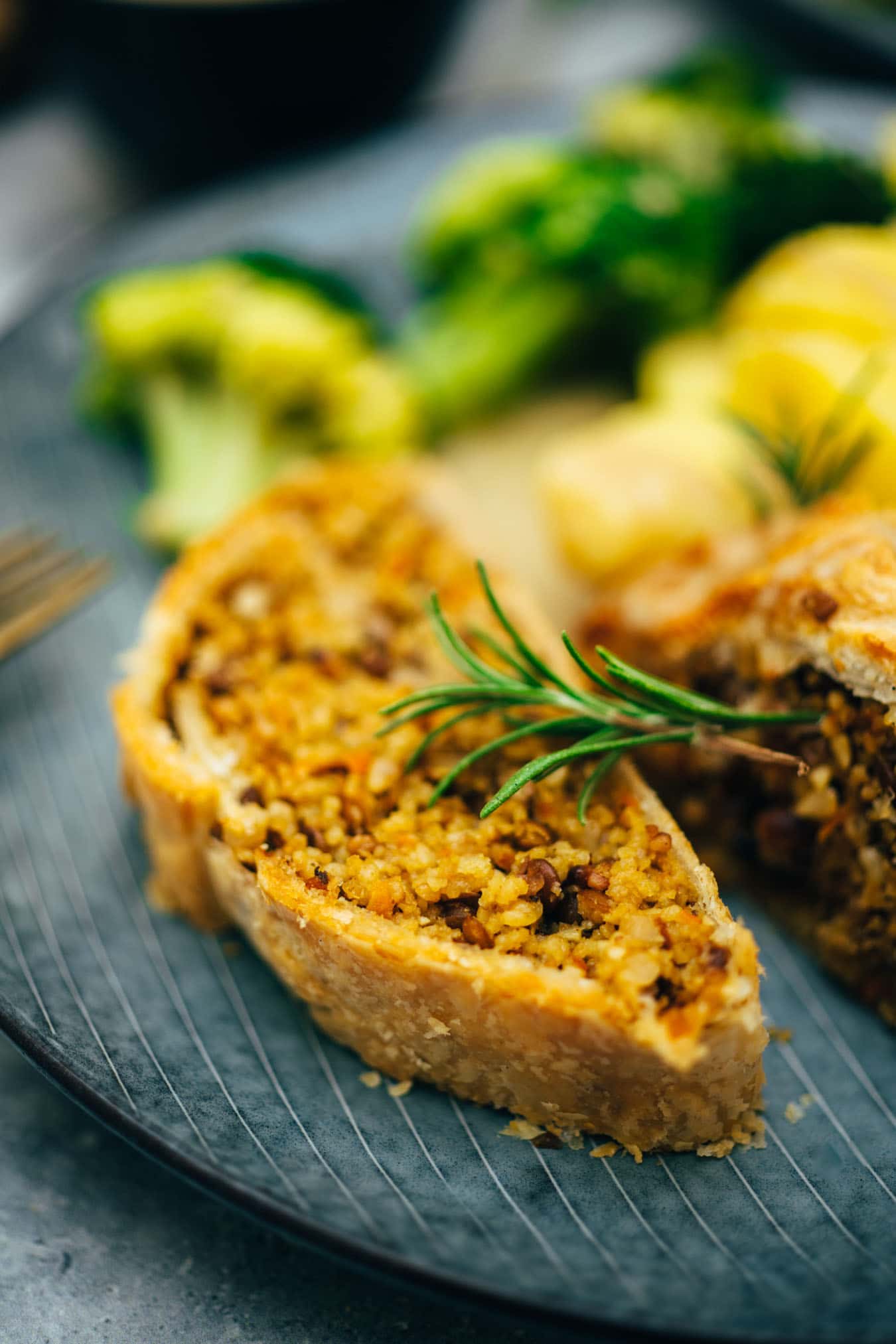 Vegan roast in only 60 minutes
The only thing I buy ready made is the puff pastry. Here you can see if there is a vegan version in your regional organic supermarket. Otherwise just google it. Here you find a vegan variant, which I discovered in the Net (Note: I have not yet tested this puff pastry myself).
It's best to order two at a time so you don't run out of dough while rolling (that would be pretty annoying too, wouldn't it?). Let's start with the cashews, which we first roast to get a great aroma. For the filling we need frying oil, red onion, garlic, celery, carrots, oatmeal, flaxseed, thyme, sage, cayenne pepper, tamari, a pinch of sea salt and black pepper. This is all sautéed together in a large skillet and tossed with Couscous and Lentils into an aromatic filling. If you like, you can replace some of the lentils with chestnuts for a nutty-sweet flavor.
Vegan gravy, what?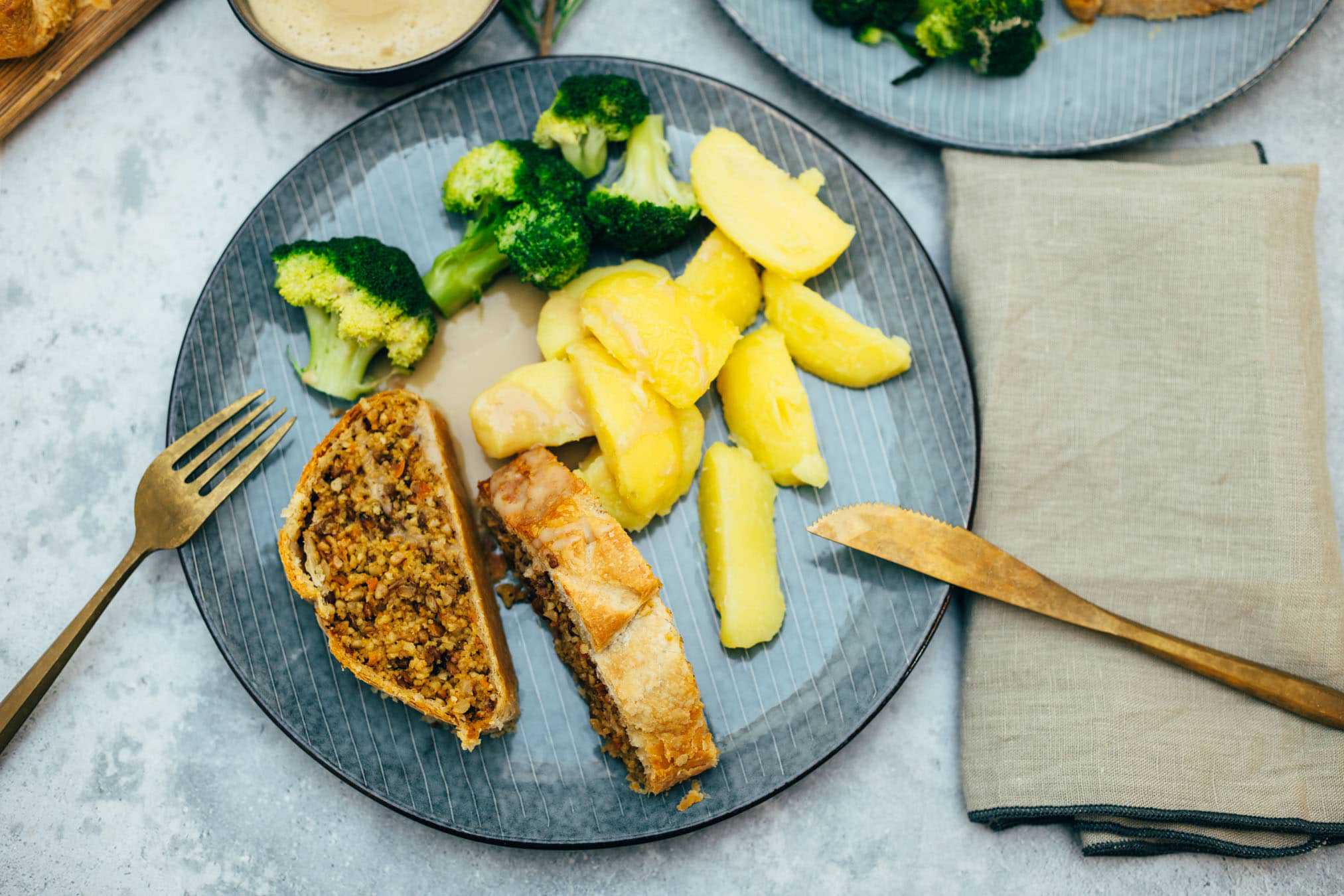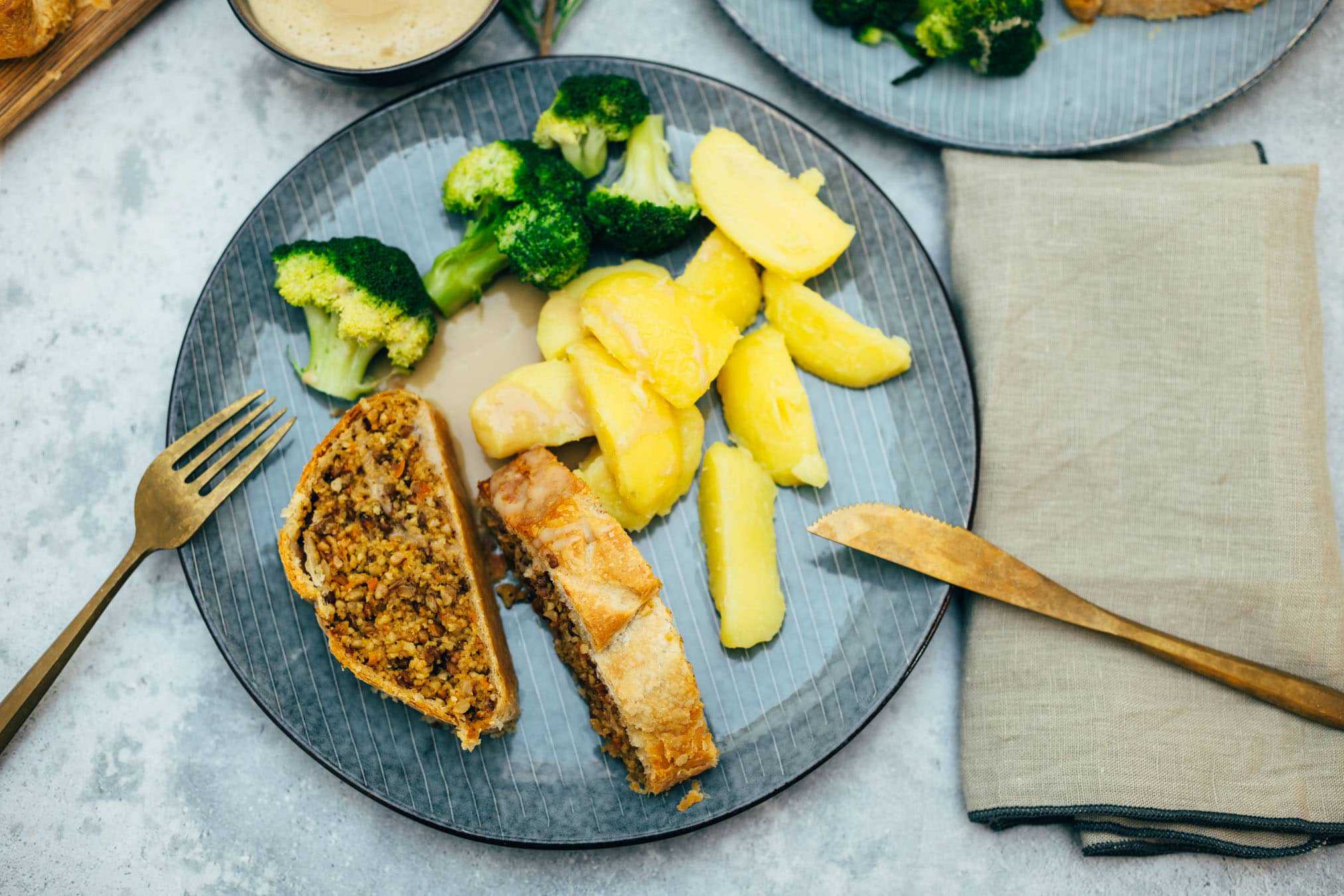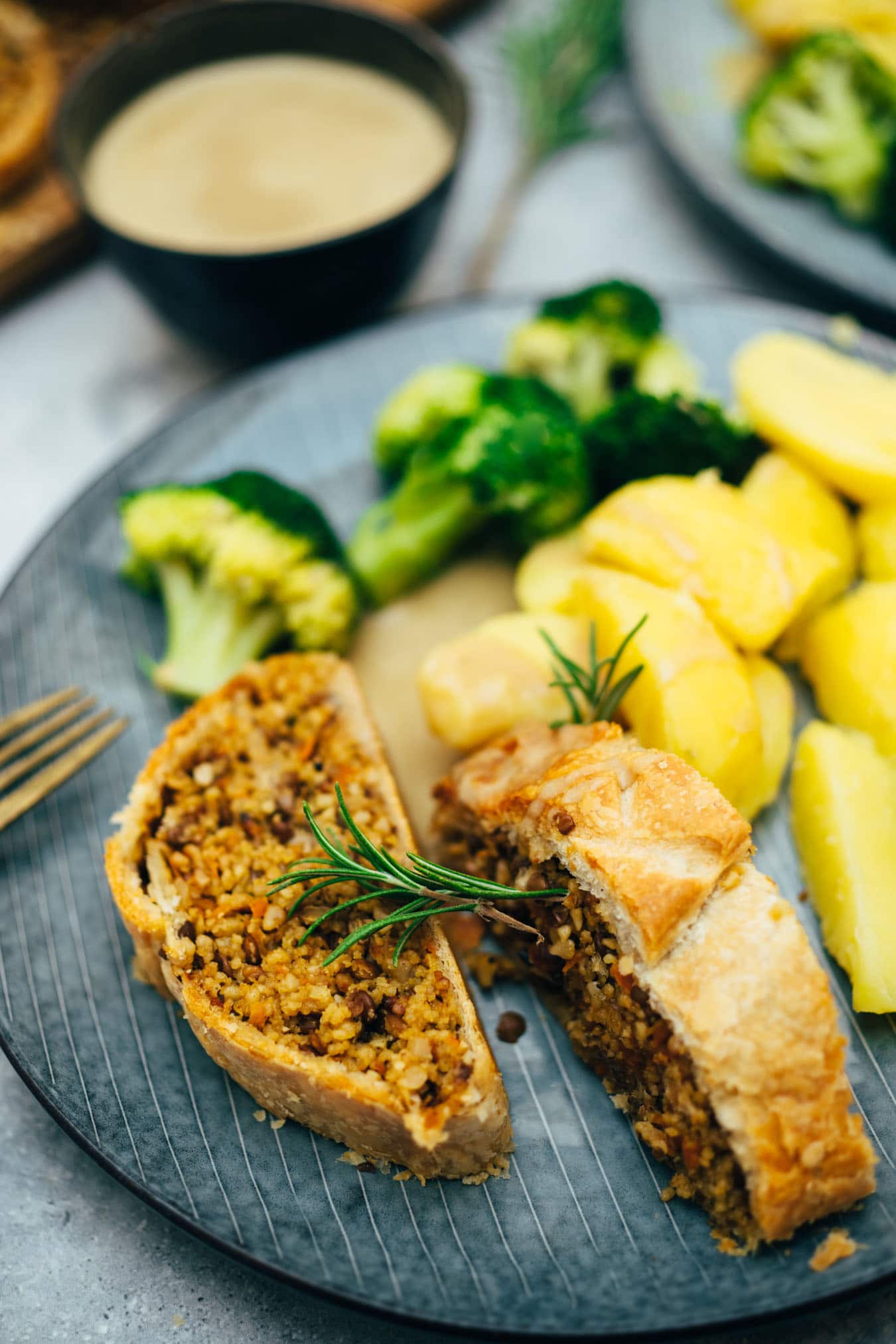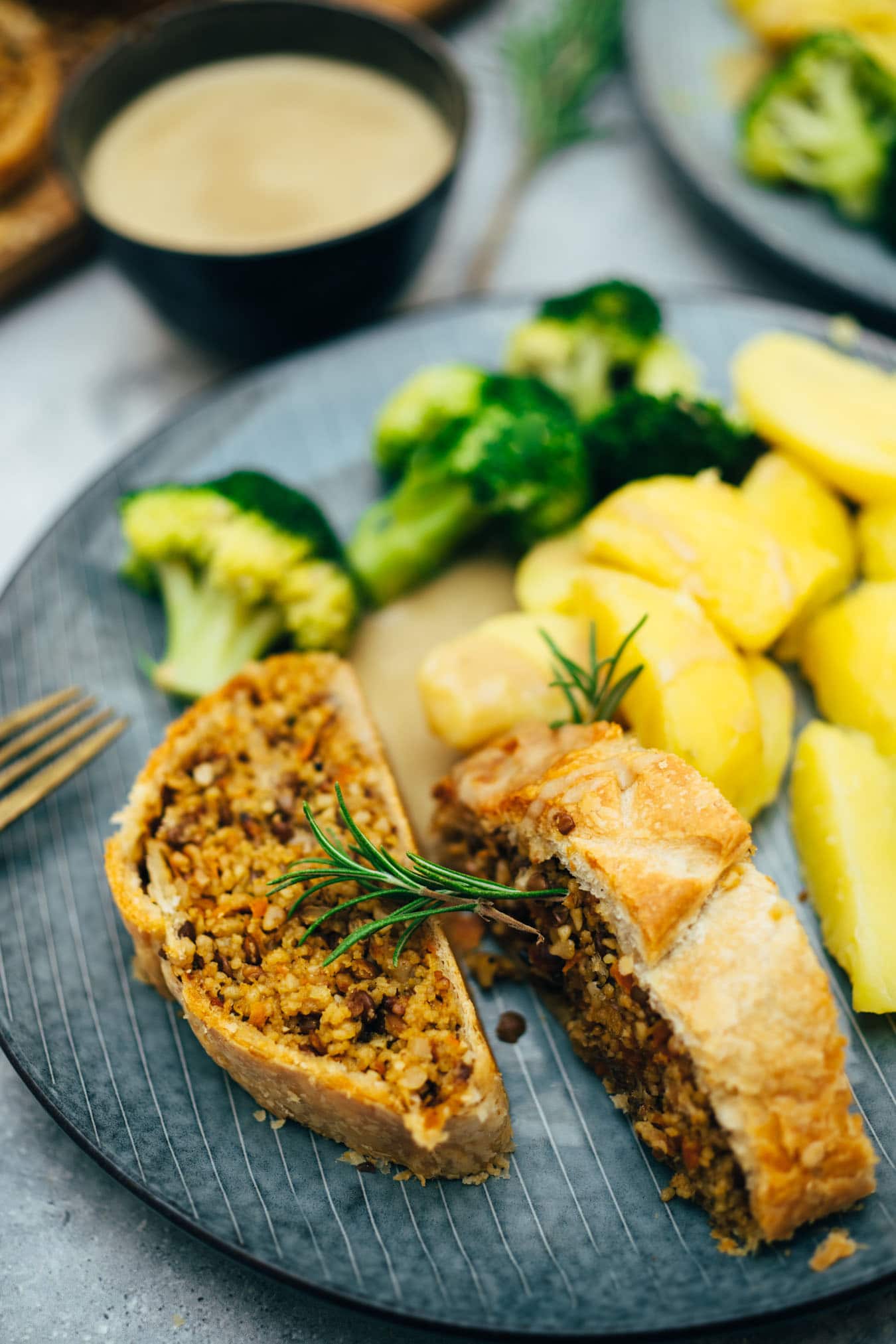 Yes! Of course, there is also a delicious vegan gravy to go with it. Homemade, incredibly easy to make and damn tasty. You only need 10 minutes for it, I promise! Complaints -should it not work- are always welcome. Frying oil, onion, garlic, mushrooms, vegetable broth, nutritional yeast, tamari, cornstarch, black pepper and (optional) olive oil. Voila! If you like the sauce a little runnier, leave it exactly as it is. For more creaminess, simply place in blender and blend at highest speed with a little soy cream.
Celebrate Christmas sustainably, my TOP TIPS.
At the latest since the climate change shows its first traces (there are still politicians with orange hair who deny this), many people are concerned about sustainability. It's bad enough that in vacation paradises like Bali or Mauritius, you now no longer swim with baby turtles, but in tons of plastic shell. Of course, you don't have to go crazy now and practice renunciation. However, it is worth trying to do small things differently and questioning. On utopia you can find what I think are great tips and suggestions for a more sustainable Christmas: https://utopia.de/ratgeber/weihnachten-tipps-nachhaltig/ (this link is not sponsored, but reflects my own opinion).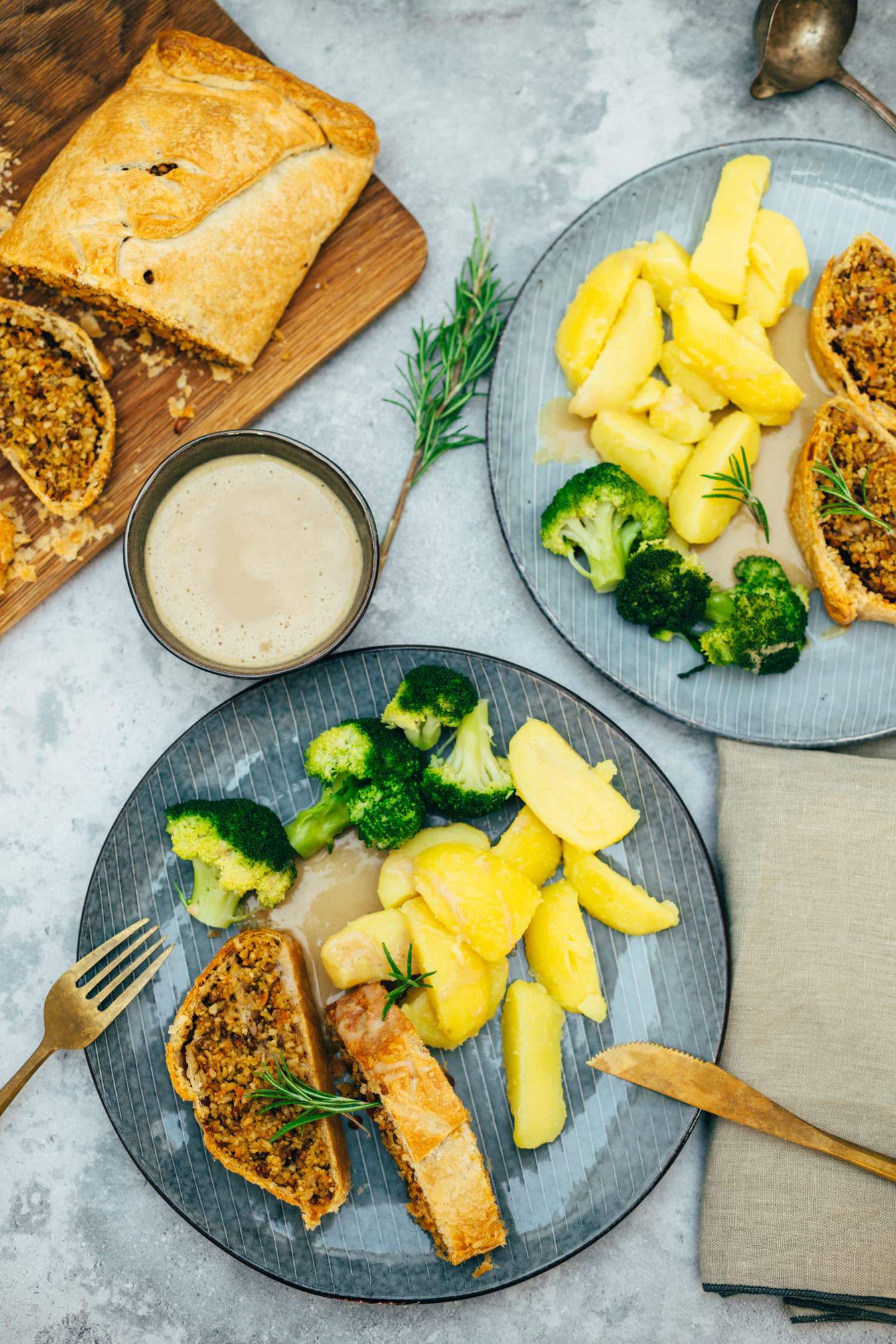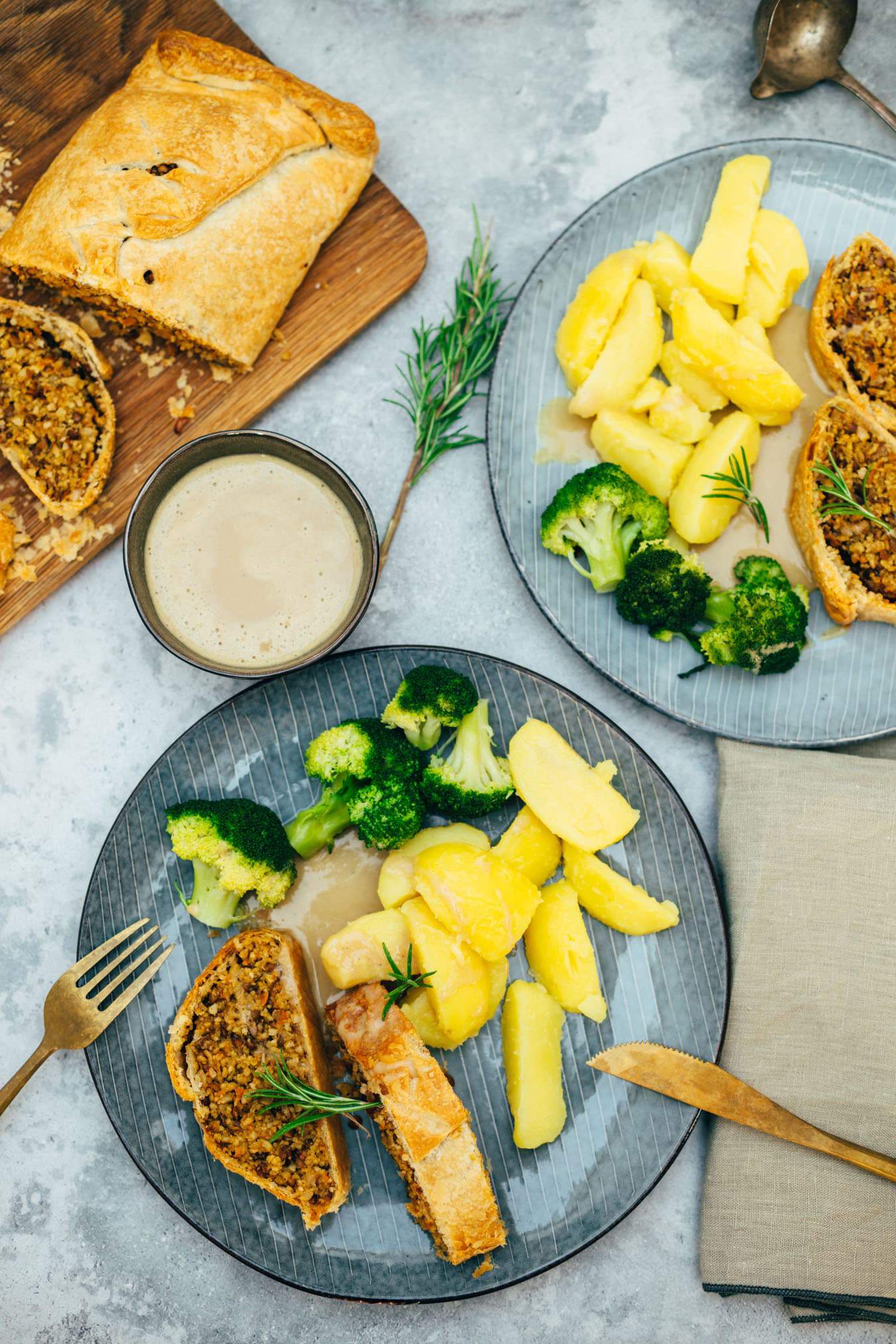 Let's get back to our delicious Roast with sauce, because something is still missing or? The side dishes! I have chosen Boiled potato and broccoli, but there are no limits to your imagination. red cabbage You can also use dumplings, spaetzle, wholemeal noodles, roasted vegetables or roasted Brussels sprouts. You have the choice!
Vegan roast with delicious sauce:
hearty
Easy to manufacture
filling
Festive
Firm consistency
Extremely tasty
How great, now you are perfectly prepared for your vegan christmas . Believe me, you won't be lacking intaste and since plant-based protein is easier to digest, you won't be totally overeaten falling asleep on the couch at prime time. I wish you a lot of fun with the re-cooking and of course I am happy about a review at the bottom of this page. If you post a picture, use the hashtag #veganevibes.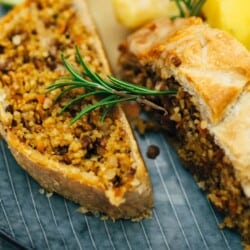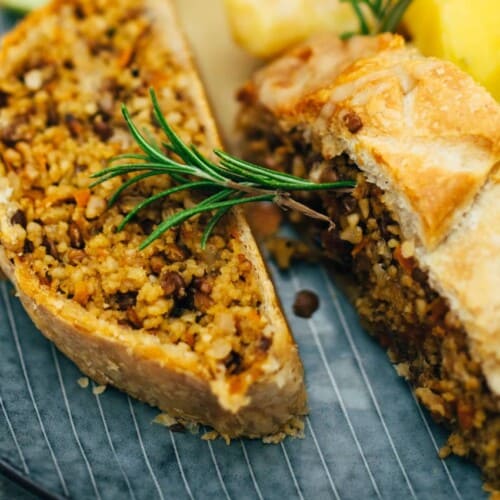 Vegan roast with delicious sauce (60 minutes)
Incredibly flavorful vegan roast with a filling of couscous, lentils and vegetables. Covered in a delicious puff pastry that makes this masterpiece really nice and juicy. Paired with a simple homemade sauce, this dish becomes a festive highlight.

AUTOR: VEGANEVIBES
FOR THE FRY:
200

g

Cashews

roasted

2

Puff pastry rolls

vegan, bought ready

30

ml

Frying oil or other high heat oil

+ extra oil for brushing

110

g

red onion

finely chopped (equivalent to a medium onion) alternatively white onion or shallots

1

Piece

Garlic clove

finely chopped or 1 tsp garlic granules

150

g

Celery

Tuber, finely grated

200

g

Carrots

medium carrots, finely grated

75

g

Oatmeal

I grind oatmeal for this in the food processor

25

g

ground flaxseed

Flaxseed meal or even more oatmeal

2

tbspn

Thyme

or a few branches fresh

1 ½

tbspn

Sage or a few leaves fresh

A pinch of cayenne pepper

30

ml

Tamari

or any other soy sauce of your choice

100

g

Couscous

prepared according to packaging instructions

240

g

Lentils, cooked

drained and washed, equivalent to a can or a jar, I use green lentils, beluga lentils or mountain lentils

100

g

Chestnuts

OPTIONAL: instead of the lentils take or mix chestnuts
FOR HOMEMADE GRAVY:
110

g

white onion

finely chopped (equivalent to a medium onion) alternatively shallots

2

Garlic cloves

finely chopped or 1 tsp garlic granules

62

g

Mushrooms

sliced

500

ml

Vegetable broth

4

tbspn

Nutritional yeast

1

tbspn

Tamari

plus more according to taste, or another soy sauce of choice

3

tbspn

Cornstarch

dissolved in about 3 tablespoons of water and stirred until smooth

Black pepper to taste

optional bay leaf

optional 30-60ml olive oil, 2-4 tbsp.
Anleitung 
FOR ROASTING Place cashews in a small saucepan and toast over medium heat.Caution: That the nut kernels do not burn and stir again and again. Set aside and allow to cool briefly. Then grind in a blender until small (as fine as you like).

Prepare couscous according to package directions. Set aside.

Heat a large frying pan. Pour in oil, add onion, garlic cloves and sweat for 1-2 minutes.

30 ml Frying oil or other high heat oil,

110 g red onion,

1 Piece Garlic clove

Add the celery and carrots. Continue to sauté until the vegetables have softened a bit. Add oatmeal, flaxseed, thyme, sage, cayenne pepper and stir once until everything is well mixed.

150 g Celery,

200 g Carrots,

75 g Oatmeal,

25 g ground flaxseed,

2 tbspn Thyme,

1 ½ tbspn Sage or a few leaves fresh,

A pinch of cayenne pepper

Deglaze with tamari, stir in couscous, lentils and ground cashews. Season once briefly and add a little more sea salt, pepper or soy sauce to taste. Set aside.


200 g Cashews,

30 ml Tamari,

A pinch of sea salt,

Black pepper to taste,

100 g Couscous,

240 g Lentils, cooked,

100 g Chestnuts

Preheat the oven to 180 degrees and line a baking tray with baking paper.

Roll out the puff pastry flat on the baking sheet and add the filling in the middle. Flatten a bit until it looks like the picture.

Be sure to leave the edges free.

Depending on the size of the puff pastry, you may need a second one. Fold in edges until filling is completely covered.

Depending on your preference, cut a check pattern with a knife (optional). Brush with a little oil and put in the oven. Bake for 40 minutes until golden brown. Remove from oven, let cool slightly, slice and serve quickly or return to oven and keep warm.

In the meantime HOMEMADE GRAVY Make.

Put the pan on the stove and heat with 2 tablespoons of frying oil.

30 ml Frying oil or other high heat oil

Add onion, garlic and mushrooms and sauté a little. Deglaze with vegetable stock and stir once. Add nutritional yeast, tamari and cornstarch dissolved in water and bring to a boil once. Taste once and season with fresh pepper and olive oil to taste.

110 g white onion,

2 Garlic cloves,

62 g Mushrooms,

500 ml Vegetable broth,

4 tbspn Nutritional yeast,

1 tbspn Tamari,

3 tbspn Cornstarch,

Black pepper to taste,

optional bay leaf,

optional 30-60ml olive oil, 2-4 tbsp.

(optional) with a little soy cream in a high-powered blender until a fine, creamy sauce is formed. I mixed them in my case.


To serve, place one or two slices of vegan roast on each plate, add broccoli and boiled potatoes and pour sauce over. enjoy!

Boiled potatoes,

Broccoli

Best fresh. Roast can be frozen for up to 4 weeks, preferably sliced.
Nährwertangaben
Serving:
1
Slice
Calories:
516
kcal
Carbohydrates:
43
g
Protein:
10
g
Fat:
34
g
Saturated Fat:
11
g
Sodium:
532
mg
Potassium:
353
mg
Fiber:
4
g
Sugar:
4
g
Vitamin A:
3525
IU
Vitamin C:
3.9
mg
Calcium:
40
mg
Iron:
3.2
mg