It comes in a hundred different varieties and everyone likes it differently. What are we talking about anyway? Potato salad! My mom makes it basically with vinegar, some season it with ready mayo (fie) and quite others (like me) make it vegan and super creamy. This side dish is simply brilliant with grilled food, makes you full and happy. Above all, the Salad also wonderfully pack in a canning jar and off you go to the picnic with friends. Long story short, a wonderfully delicious Summer dish . On your mark, get set!
Vegan potato salad with creamy cashew dressing, who comes?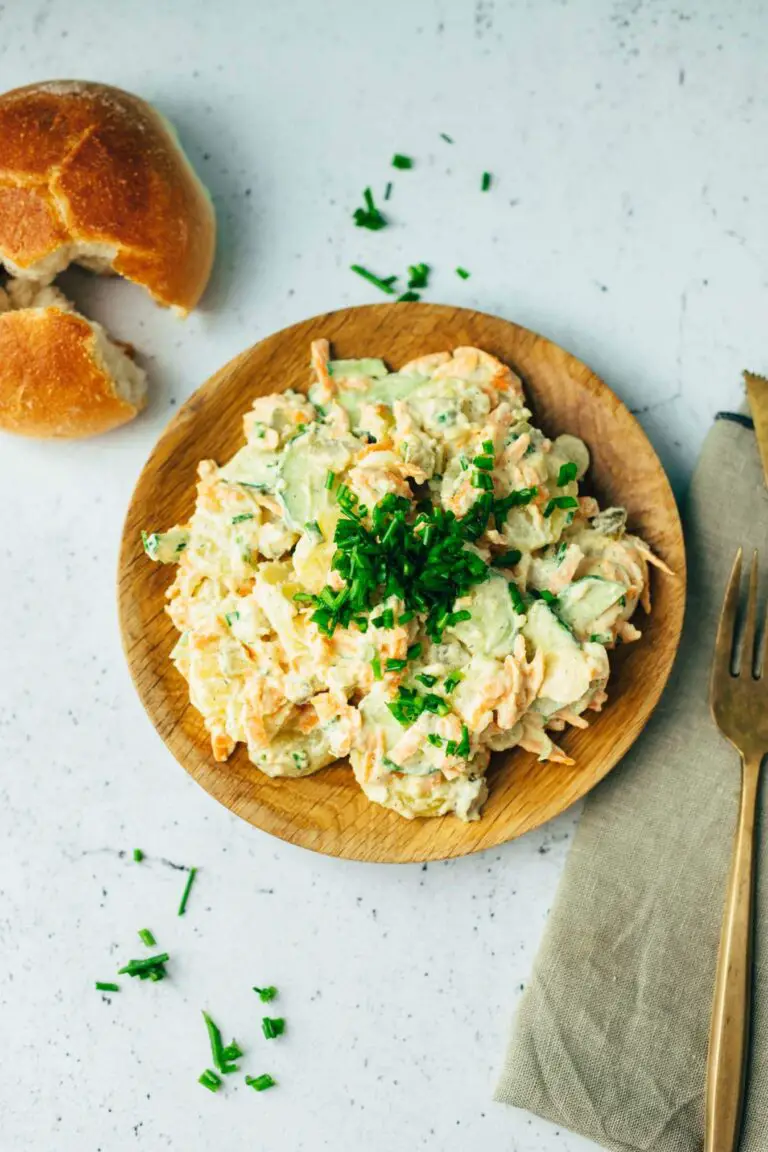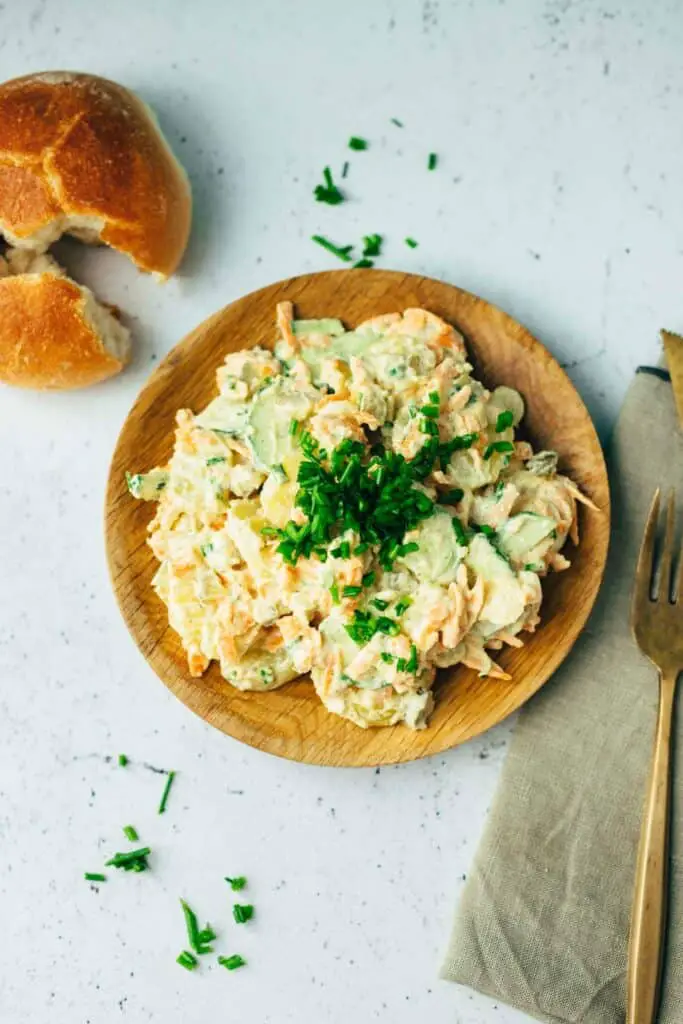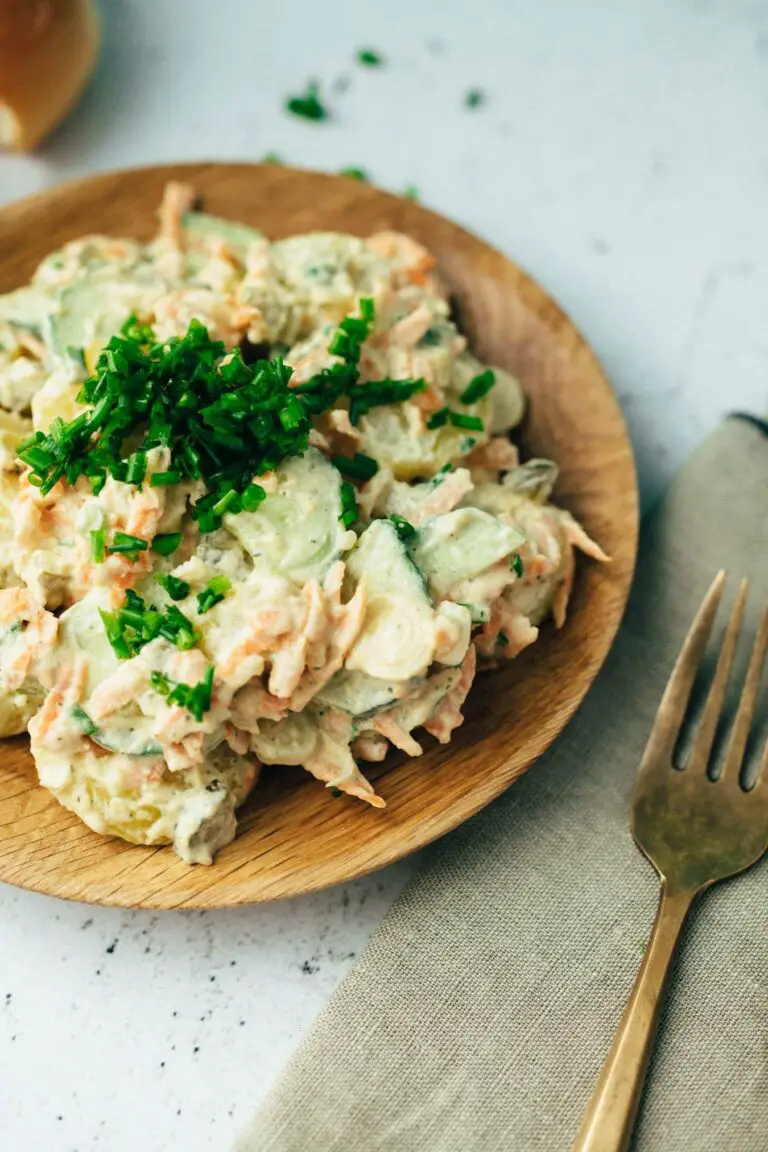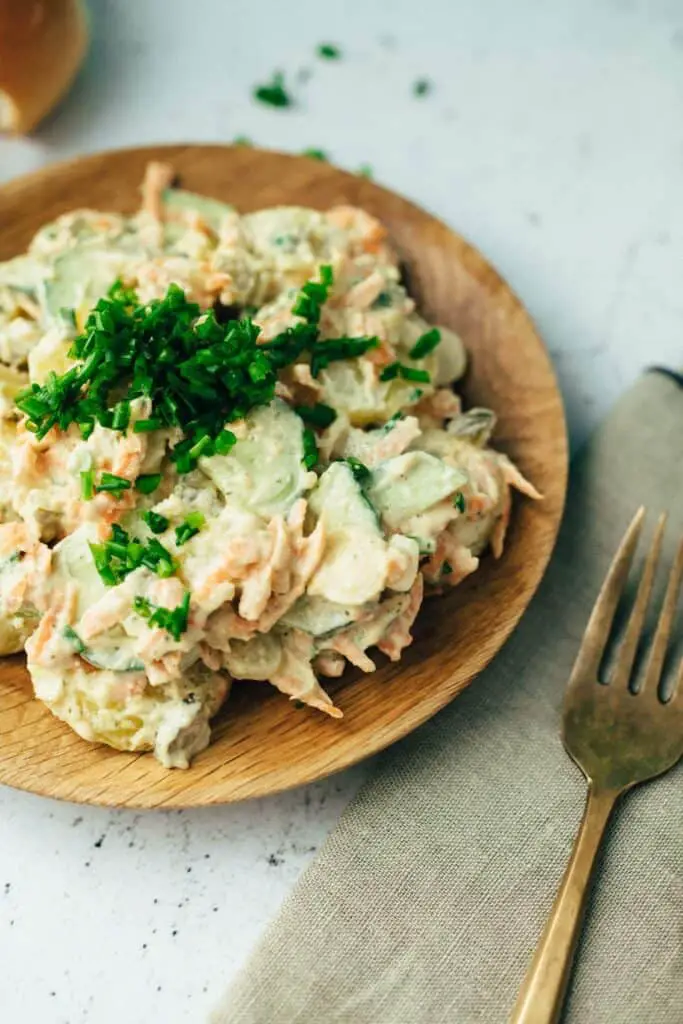 You are invited and should bring a Salad that really tastes good to everyone? Then you are simply right with this recipe. So far, it has really tasted everyone, whether at the barbecue or at the picnic nibbled from the jar. Let's start with the potatoes. Preparation is simple, boil water, brush a little potatoes and boil with the peel until soft. The Dressing could not be simpler with only 9 ingredients. Started with cashews, some Plant milk , olive oil, Dijon mustard, maple syrup, dill, salt, pepper and garlic.
Not missing here, of course, pickles and vegetables:
Paprika
Spring onion
Carrots
Cucumbers
Celery
These are just examples, of course, you can use all kinds of vegetables, depending on your taste. Be creative!
The perfect caramel salad for the vegan picnic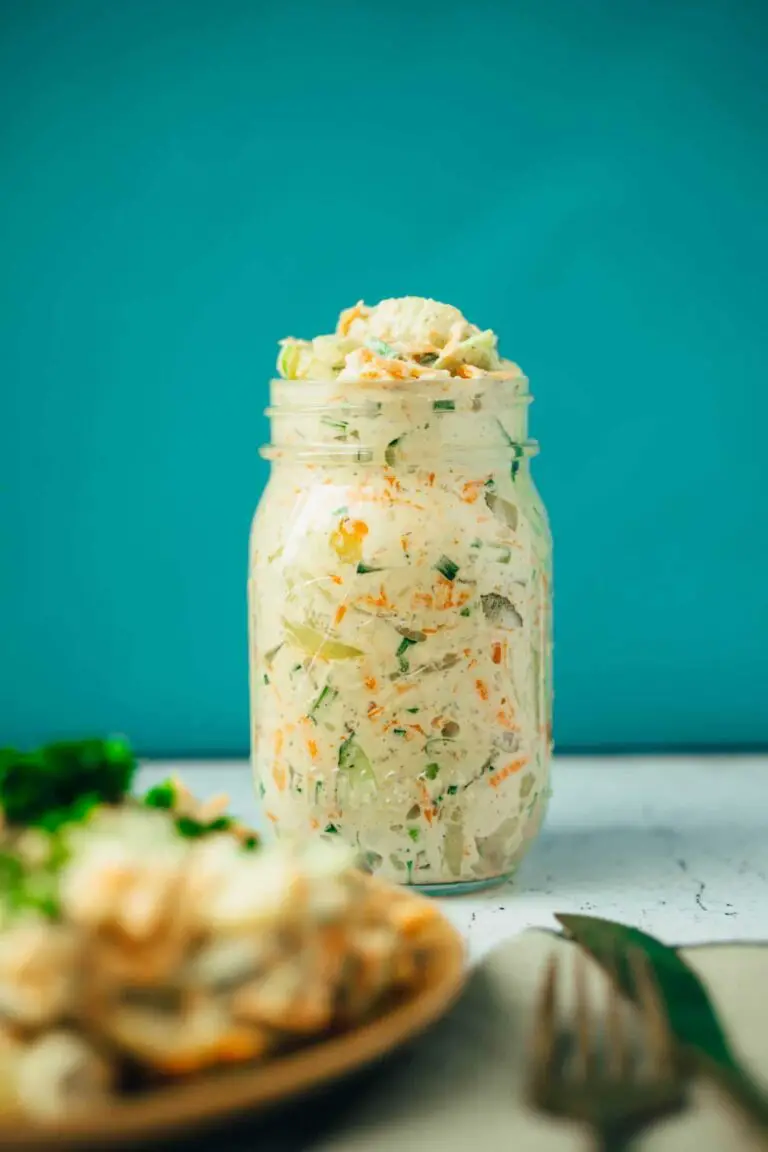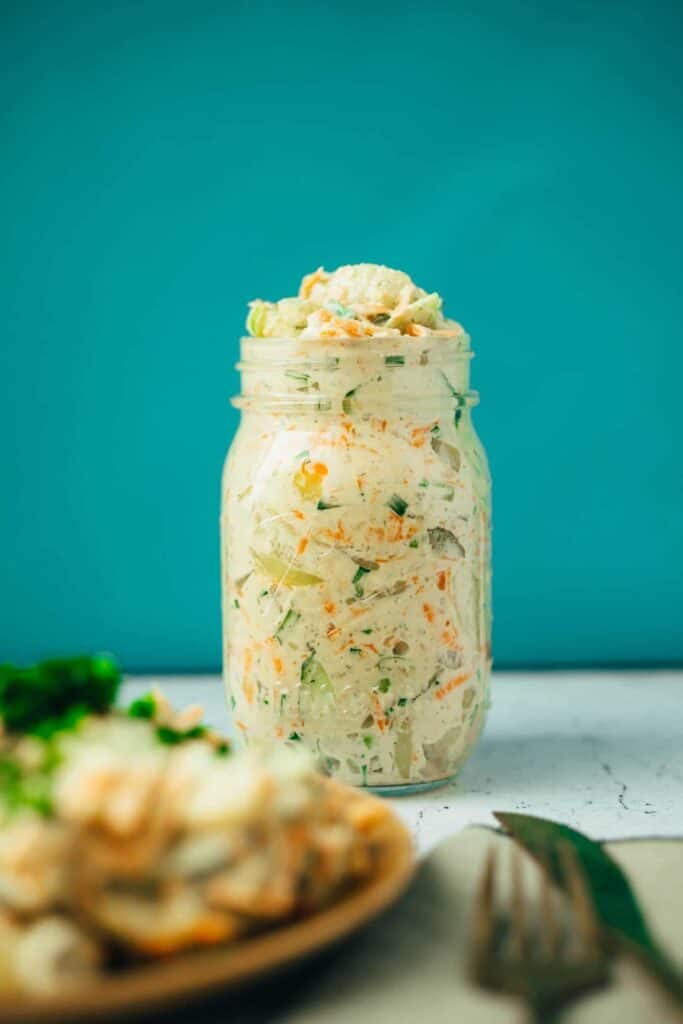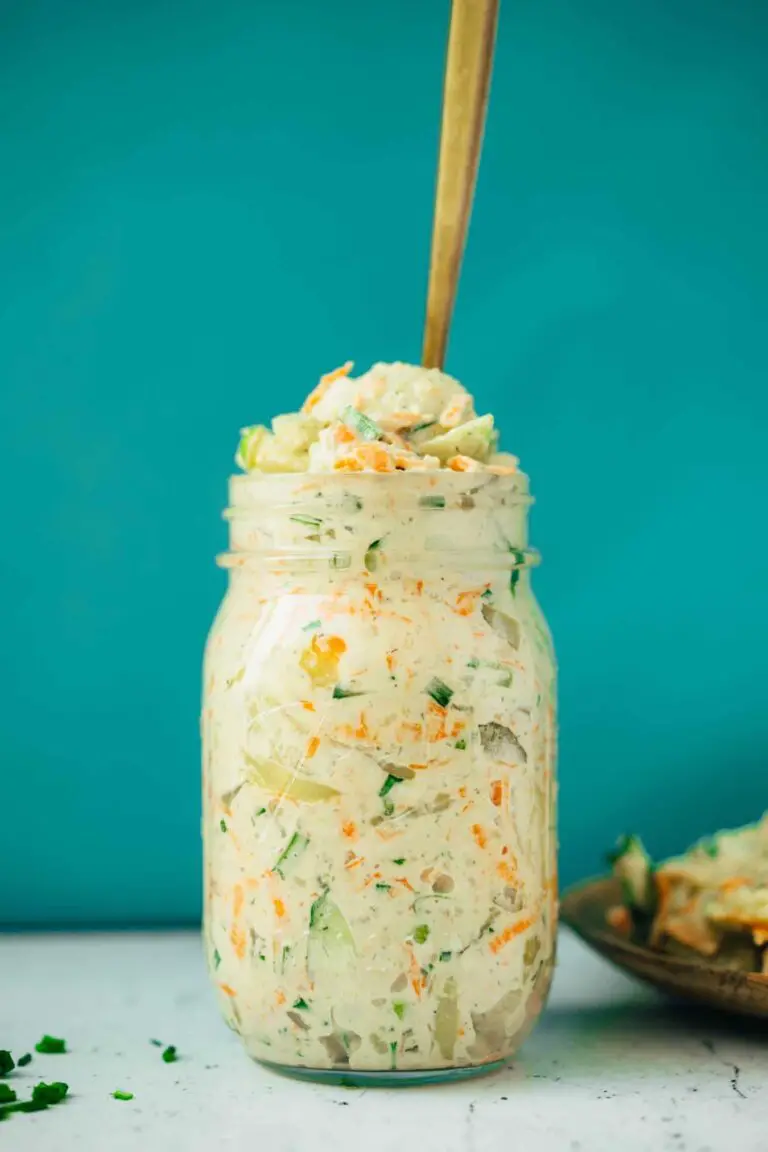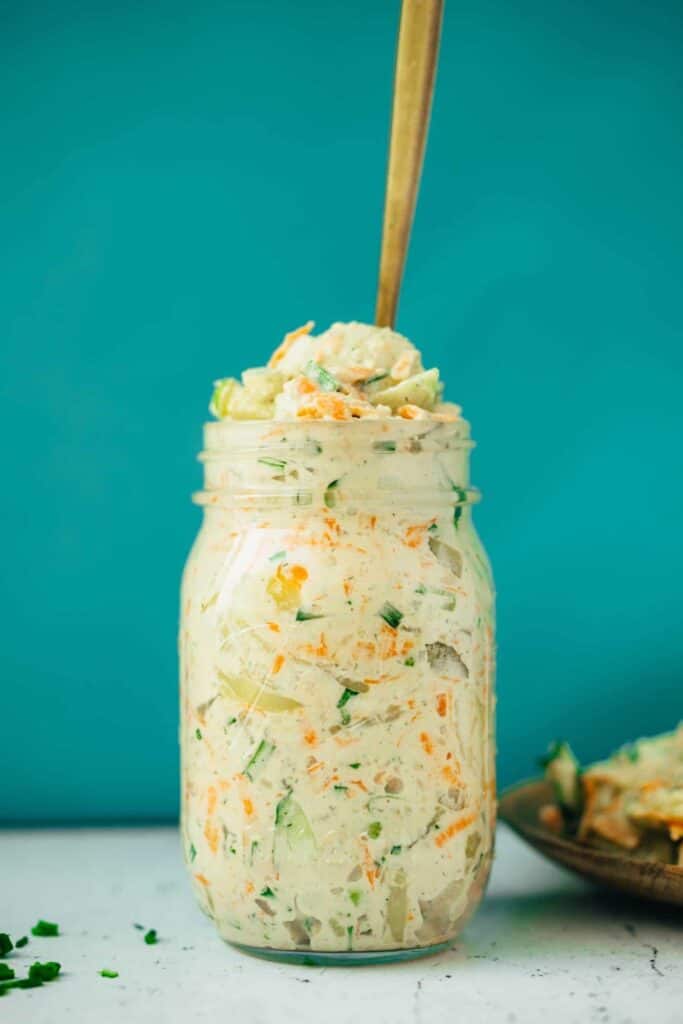 I find the vegan potato salad very practical for a picnic, as it is super easy to pack in jars or in eco-friendly transport boxes. The EU has finally made a start and banned plastic straws. However, each and every one of us can do a hell of a lot to avoid single-use waste. It starts with the fabric bag (sooo retro) and ends with the bamboo toothbrush. I think it's great that so many great projects are now working towards a cleaner environment. I think RECUP https://recup.de/ is a reusable coffee cup that you can have filled at different cafés in Germany(no sponsoring, but advertising because the brand is mentioned).
Are potatoes actually healthy?
But now back to our potato salad, because at this point I would like to clear up once again the rumor that potatoes are unhealthy. The good news is that potatoes are pretty darn healthy. It's the preparation alone that decides whether you want to make a french fry that is dripping with oil French fries from it or a healthy one Recipe healthy french fry.
Basically, potatoes are a wonderful, low-calorie food. Here again, the advantages summarized:
very low in calories, consist of 80% water
must be cooked so that the starch they contain can be digested
rich in high-quality protein, potassium, B vitamins and vitamin C
contain flavonoids and anthocyanins (valuable secondary plant compounds), which can protect against cardiovascular diseases and cancer
The only question is which is better, organic or conventional potatoes? Here the answer is clearly pro organic! why? Organic farmers have to do without synthetic mineral fertilizers and contain on average 30 percent less nitrate and many times less pesticide residues. But if you don't care and have to watch your wallet, you can always reach for conventional varieties from the region.
But now enough with theory and back to the taste (I hope I didn't bore you!).
Simple vegan potato salad:
hearty
Super nutritious
aromatic
Crisp
Perfect with grilled food and picnic
Well, did you get a craving for this delicious vegan potato salad? I wish you a lot of fun in recooking and of course a review at the bottom of this page. If you post a picture, use the hashtag #veganevibes.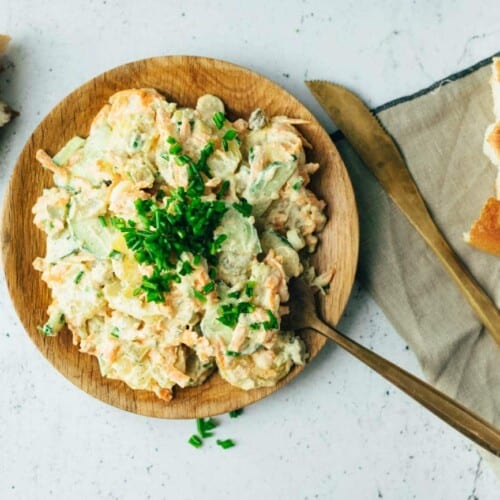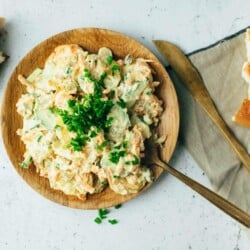 Simple vegan potato salad
Incredibly creamy, flavorful potato salad with delicious cashew dressing and crunchy veggies. The perfect side dish for grilled food or as a TO-GO salad for the summer picnic. Easy to prepare, damn tasty and healthy!
AUTOR: VEGANEVIBES
500

g

Potatoes at will

roughly cleaned (tip: the smaller the potatoes, the faster they are cooked)

350

g

Vegetables to taste

e.g. bell bell pepper, carrots, spring onion, cucumber, celery, cleaned and coarsely diced

50

g

Gherkins

diced

120

g

Cashews

soaked, see methods for soaking here.

15

ml

Olive oil or other vegetable oil

e.g. linseed oil

30

ml

Apple cider vinegar

20

g

Dijon mustard or other hot mustard

15

ml

maple syrup

5

g

dried dill

or 4 tablespoons fresh dill

5

g

Garlic granules

or 1-2 cloves of garlic pressed or finely chopped

A good pinch of pepper

Optional: chives to taste
Anleitung 
Heat a large pot with about 2 liters of water and bring to a boil with the potatoes. Cook for about 20 minutes until tender. Check with a fork or wooden stick. Rinse with cold water, set aside and allow to cool. Peel, slice and place in a large salad bowl.

In the meantime, make cashew dressing. To make this, combine the cashews with the oat milk, olive oil, apple cider vinegar, mustard, maple syrup, dill, garlic, salt and pepper in a high-powered blender to make a creamy dressing. Season and set aside.

80 ml Oat milk or another plant milk,

15 ml Olive oil or other vegetable oil,

30 ml Apple cider vinegar,

20 g Dijon mustard or other hot mustard,

15 ml maple syrup,

5 g dried dill,

5 g Garlic granules,

A good pinch of sea salt,

A good pinch of pepper,

120 g Cashews

Add dressing to potatoes, add vegetables and pickles and mix well until everything is evenly combined.

500 g Potatoes at will,

350 g Vegetables to taste,

50 g Gherkins

To serve, plate or pour into glasses, garnish with optional chives and Enjoy! Serve with spelt bread or rolls if desired.

Optional: chives to taste,

Grilled,

Spelt roll

Keeps up to a week in the refrigerator, best in the first 2-3 days.




* If your blender is not so powerful, no problem. Simply soak the cashews beforehand using one of the two methods below:

QUICK SOAK METHOD (duration 60 minutes): Place cashews in a heatproof bowl and pour scalding hot water over them. DO NOT COVER and leave to infuse for one hour. Drain and process.
LONG-SOAK METHOD (duration 6 hours): Soak cashews in cold water and cover. Drain and process after 6 hours or overnight.
Notizen
NOTES /HELPFUL ACCESSORIES:
Nährwertangaben
Serving:
1
Portion
Calories:
355
kcal
Carbohydrates:
42
g
Protein:
12
g
Fat:
17
g
Saturated Fat:
2
g
Sodium:
219
mg
Potassium:
924
mg
Fiber:
8
g
Sugar:
5
g
Vitamin A:
4510
IU
Vitamin C:
23.3
mg
Calcium:
104
mg
Iron:
7.2
mg