Healthy and fast it must go, at least at home. My husband is somehow always and constantly hungry and since we have two huskies, we are a good deal more active. What does it mean? More hunger! That is exactly why we need Noon a good portion of healthy carbohydrates and proteins. The good thing about this salad is that the easily digestible ingredients mean you won't fall into that nasty afternoon slump like you do with some other heavy lunches. This is especially advantageous if you have an office job. Oh yes, I know the lows after lunch too well, sometimes only tons of coffee helps.
A vegan salad with a difference with lots of delicious dressing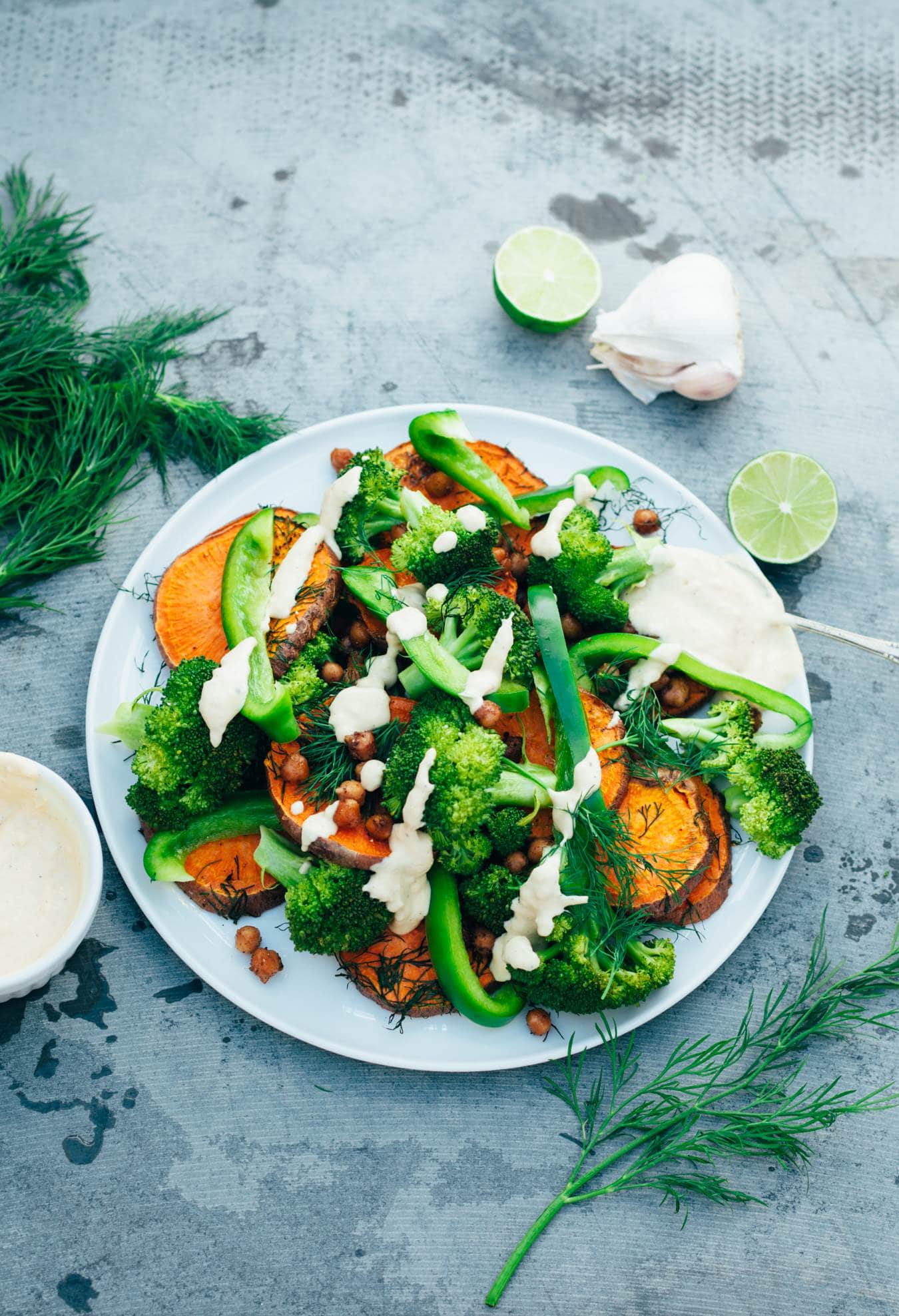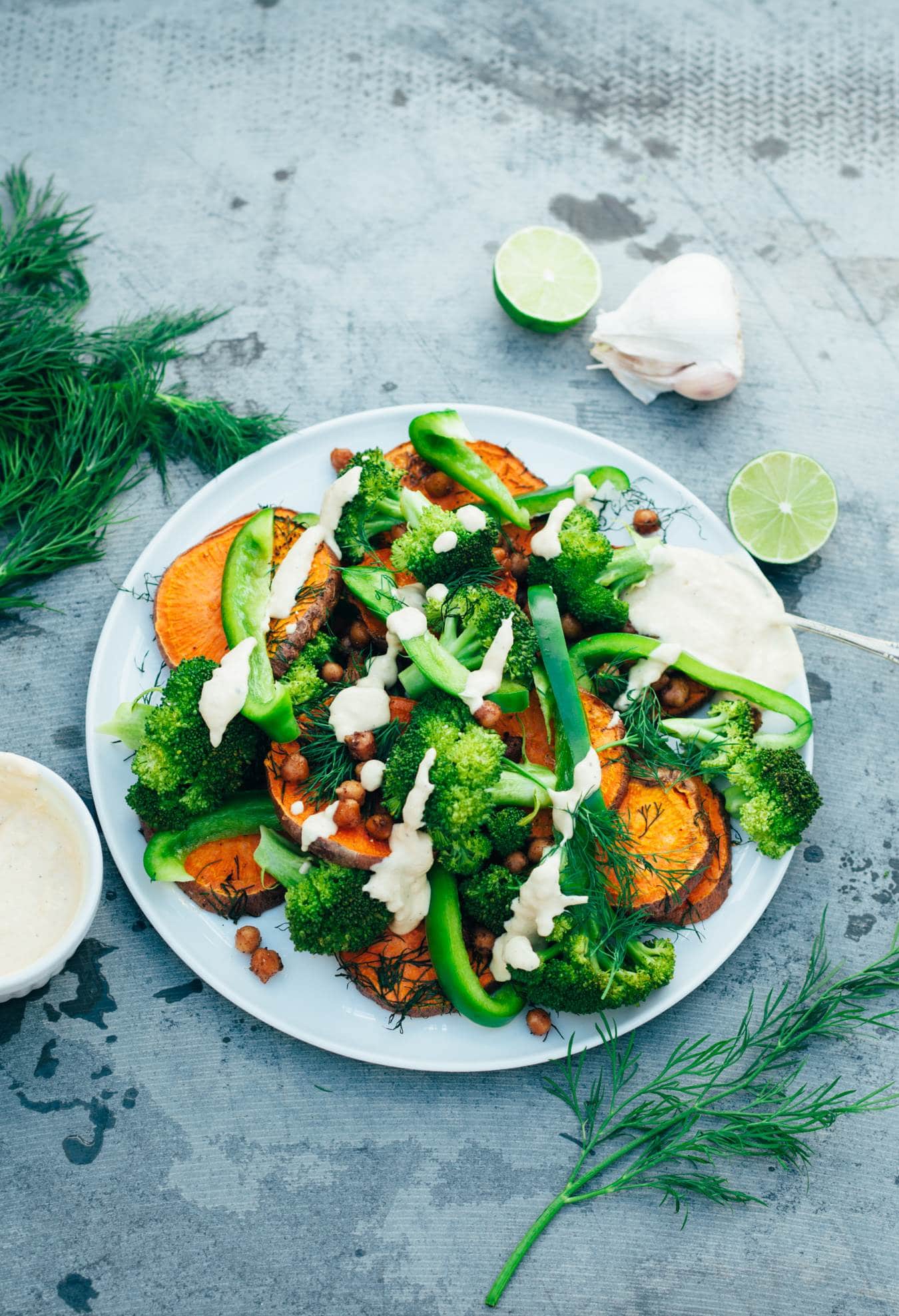 This salad consists of healthy vegetables pure, Sweet potatoes , broccoli, peppers and delicious dill.
Are sweet potatoes actually healthy?
Absolutely, because the yellow tubers are not only delicious, but also full of healthy ingredients:
They actually have nothing in common with the potato, except their name
They have a relatively high sugar content, but do not worry, this is easily digestible fructose, which provides quick energy.
Sweet potatoes are extremely low in calories and fat
the more orange the tubers, the higher the content of beta-carotene (precursor of vitamin A), which has a cell-protective effect and strengthens the body's defenses
They are full of healthy vitamins and minerals
A vegan salad with lots of vegetables, chickpeas and creamy dressing (bring it on!)
But something else makes the salad special: the oriental spiced and baked Chickpeas . Here you should definitely save the Chickpea water (aquafaba) because it's perfect for making a variety of treats, such as vegan strawberry ice cream , Straciatella, Cookie Dough or Chocolate Mousse Cake .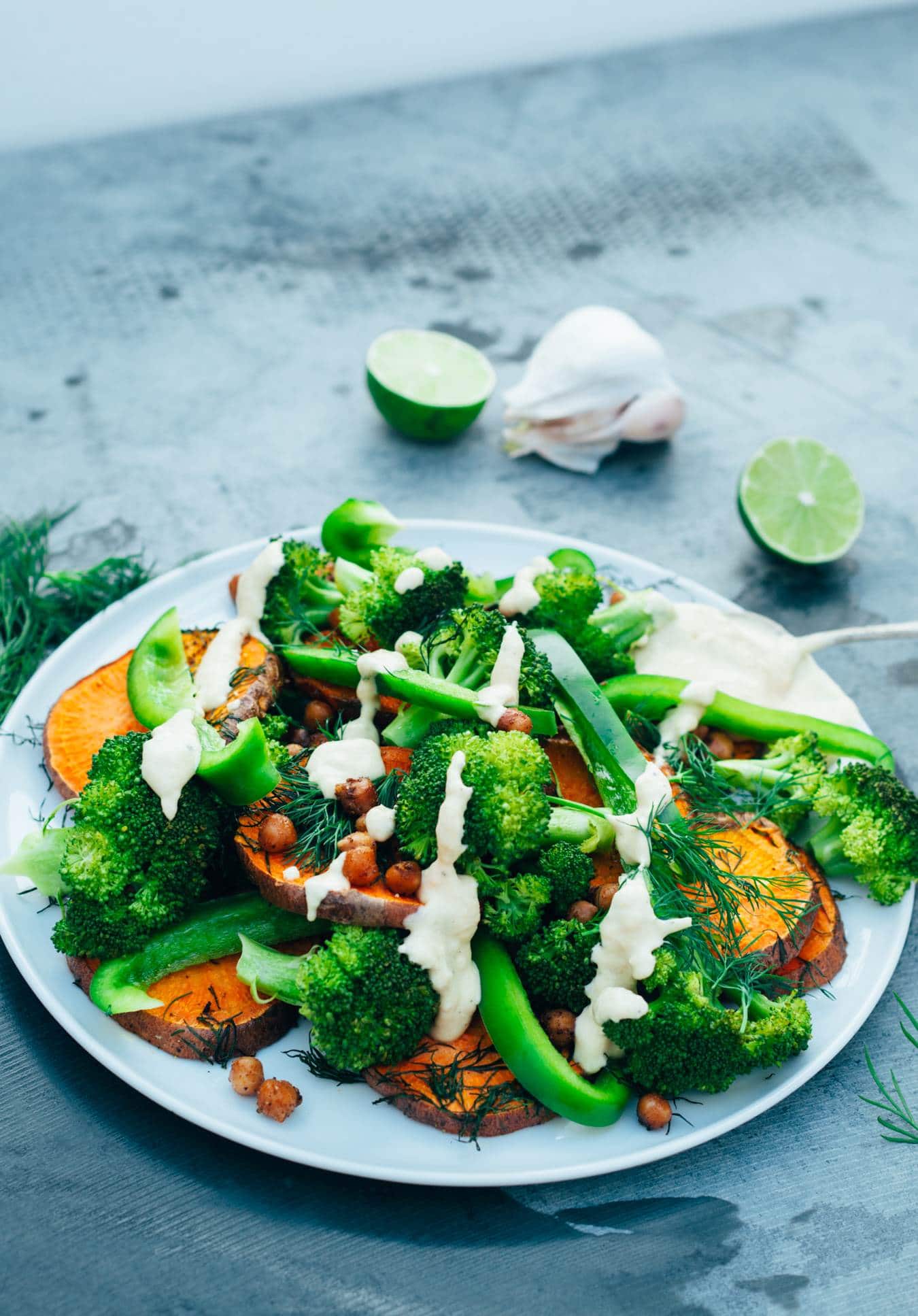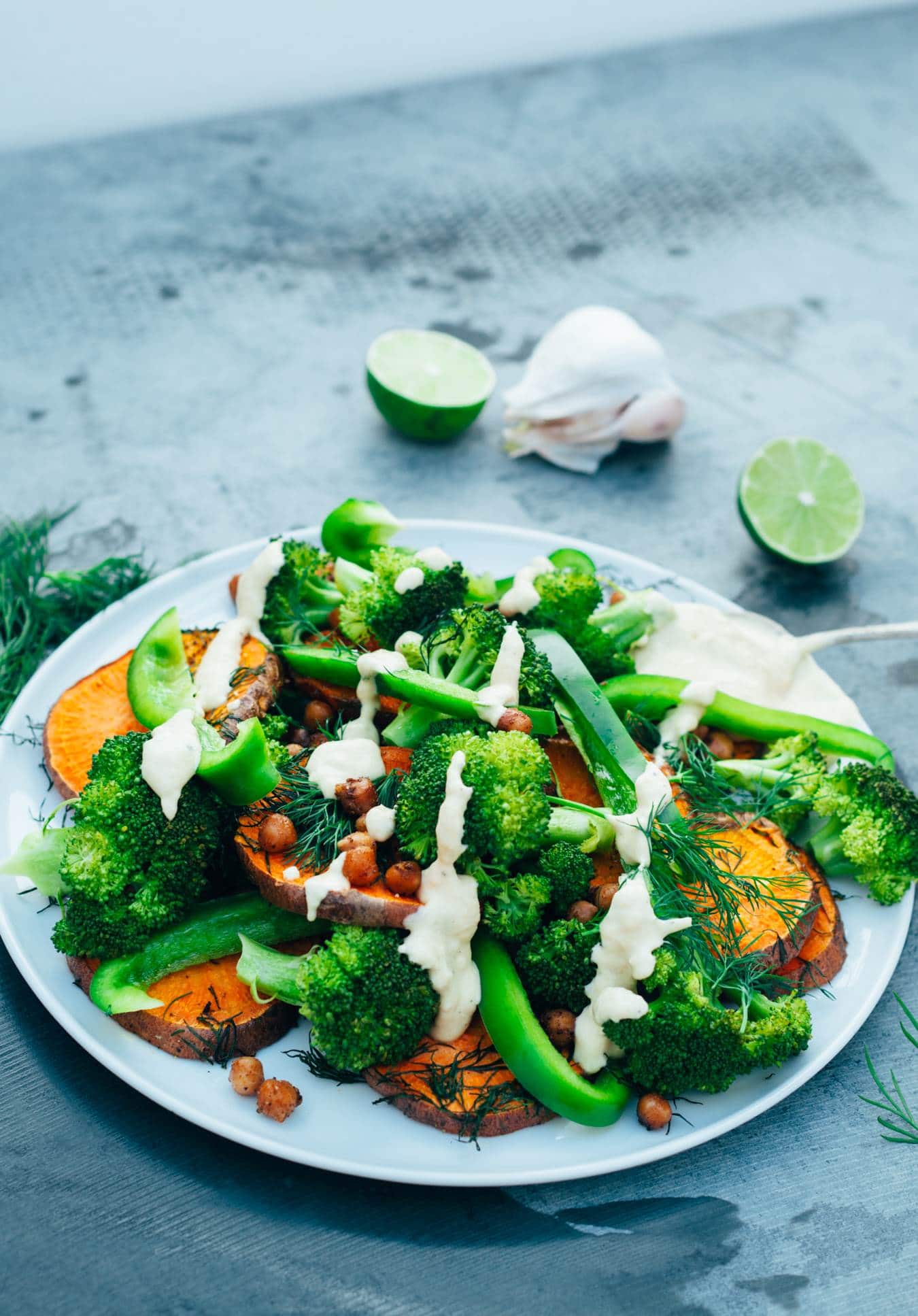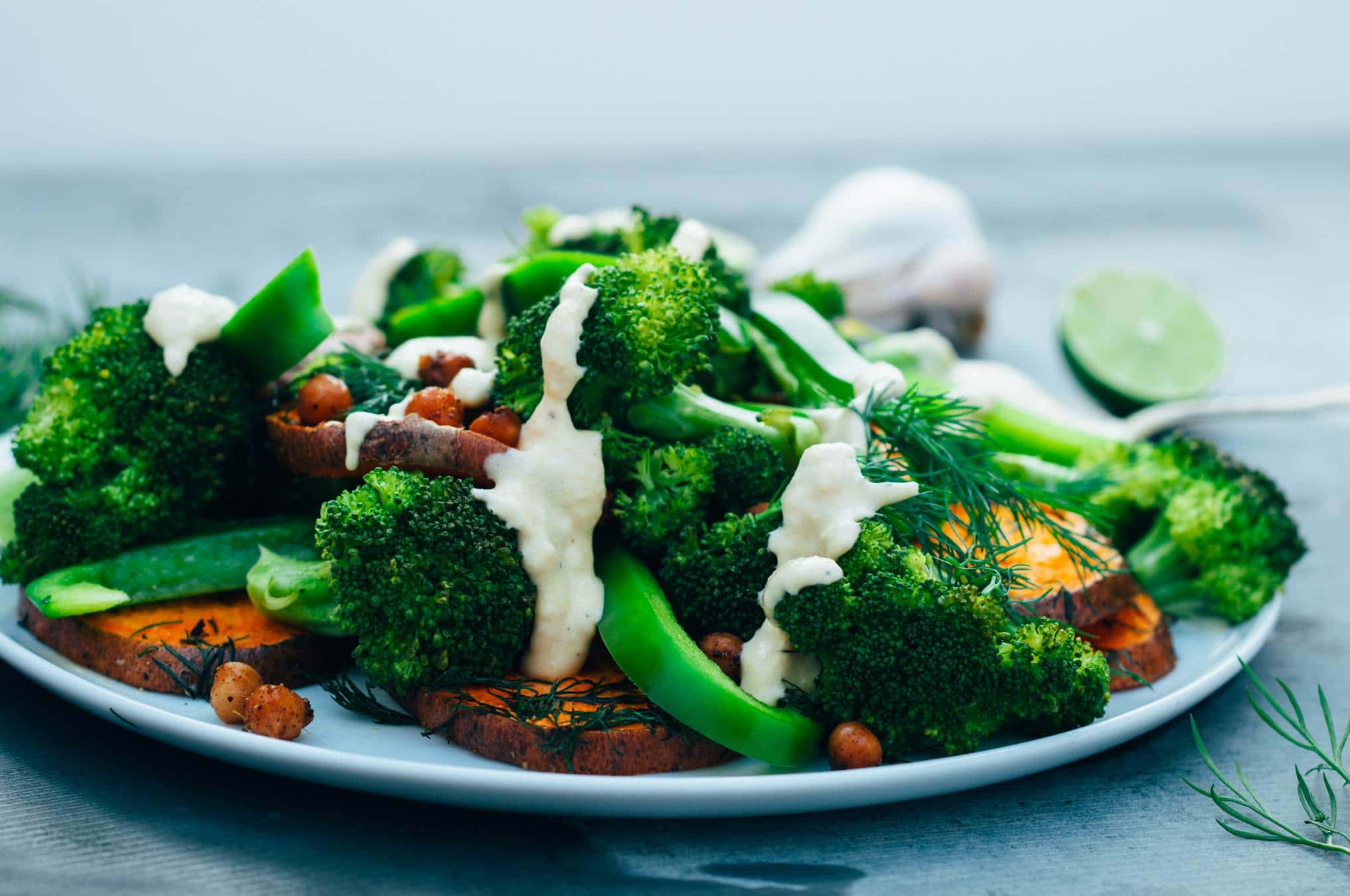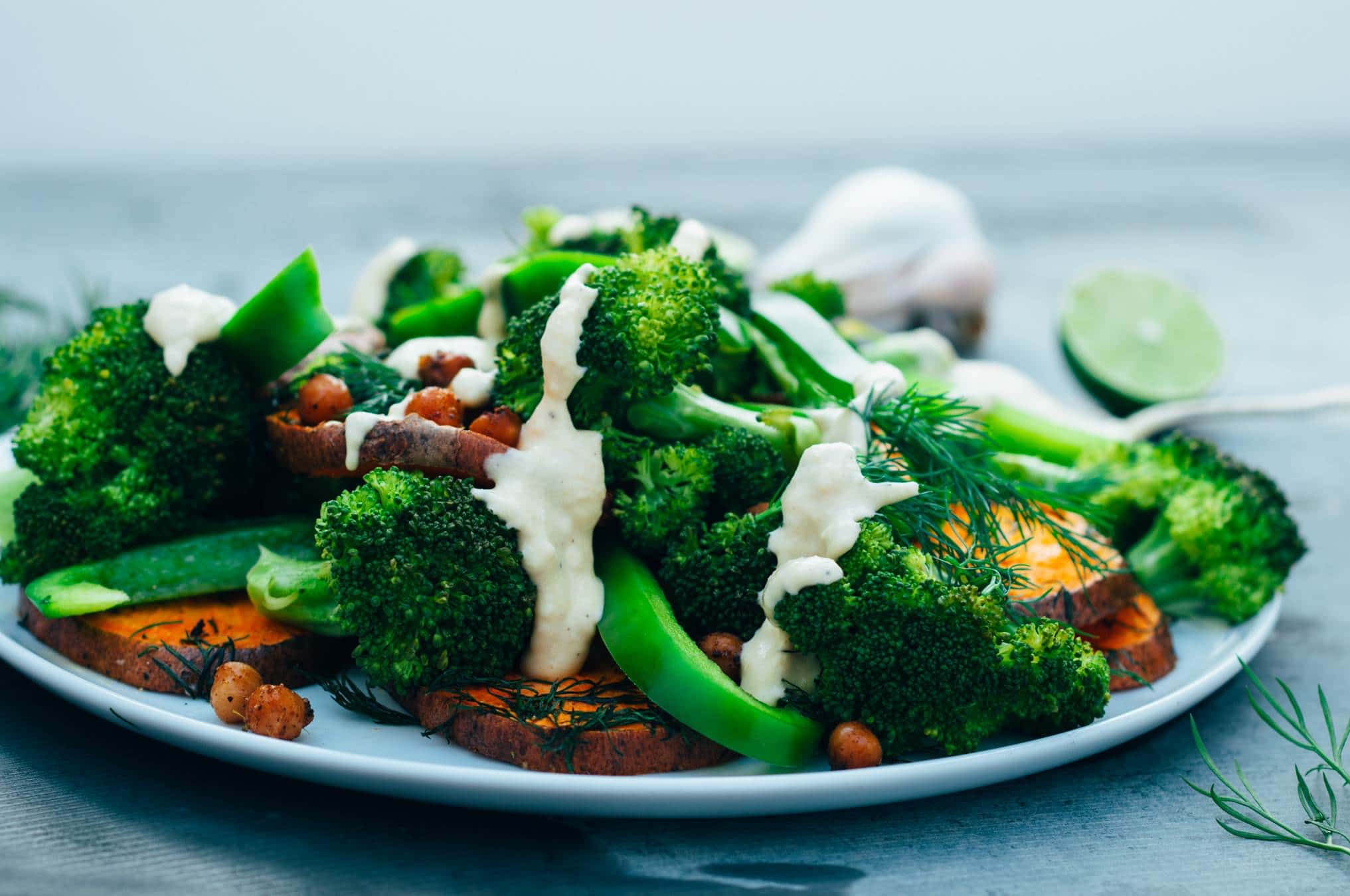 Now all that's missing is the finishing touch, and that's a creamy hummus-based dressing. You can either make it yourself, or buy it ready-made in the health food store, supermarket or at the oriental store around the corner. Add garlic, dill, lemon juice and a little water to dilute. If you want to make a real superfood salad out of it, I recommend adding plant-based protein powder. You can find the link to my favorite protein at the bottom of the preparation.
The sweet potato chickpea salad (30 minutes):
hearty
rich in proteins and fiber
aromatic
Oriental
creamy
Well, do you fancy this delicious vegan salad with creamy dressing? I wish you a lot of fun in recooking and of course a review at the bottom of this page. If you post a picture, use the hashtag #veganevibes.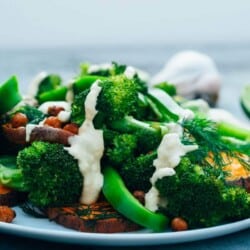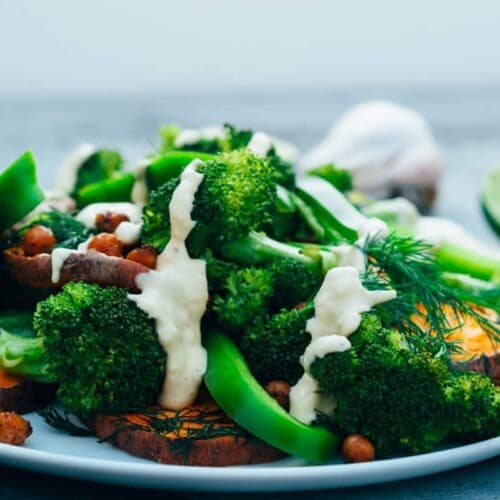 Sweet potato chickpea salad (30 minutes)
Incredibly flavorful, 30-minute salad with sweet potatoes and veggies, coated in a creamy hummus-based dressing. Quickly made and full of healthy vitamins and minerals. A delicious recipe, perfect for a light lunch or with extra protein added after a sports session.
AUTOR: VEGANEVIBES
Anleitung 
Preheat the oven to 190 degrees and line a baking tray with baking paper.


Put the chickpeas in a bowl and mix well with the remaining ingredients.

A large pinch each of sea salt and pepper,

425 g Chickpeas,

15 ml Olive oil,

7 g Tandoori Masala*,

1 big pinch sea salt,

1 Bird Eye Chili

FOR THE VEGETABLES Slice the sweet potato and place it on the baking tray with the chickpeas, broccoli and bell bell pepper. Season with salt and pepper and sprinkle with olive oil. DIVIDE CHICKER BEANS ON THE SAME Baking Tray, place in the oven and bake for 20-25 minutes. NOTE: If one baking sheet is not enough, divide between two sheets.

About halfway through baking time, turn vegetables and chickpeas once with tongs and mix lightly to brown evenly at all times.

1 large or two small sweet potatoes,

1 large broccoli,

1 green (or red) peppers,

30 ml Olive oil,

A large pinch each of sea salt and pepper,

1 tbspn Dill dried or 2 tablespoons fresh

For THE KNOBLAUCH DILL SAUCE put the hummus, garlic, dill, lemon juice, (optional) Muscle Power in a small bowl or blender and mix well. Dilute with water according to taste.

1 large clove of garlic or 1 tsp garlic granules,

1 tbspn Dill dried or 2 tsp fresh,

30 ml Lemon juice,

Optional: a little water for dilution,

*Note: Tandoori Masala is available ready to buy,

80 g Hummus

Remove vegetables and chickpeas from the oven and let cool briefly, then divide between two plates. Pour dressing over it and decorate with dill. Serve with optional side dishes and enjoy!


Spelt bread,

Spelt roll,

fresh lime halves
Notizen
NOTES /HELPFUL ACCESSORIES:
Nährwertangaben
Serving:
1
Portion
Calories:
949
kcal
Carbohydrates:
44
g
Protein:
13
g
Fat:
28
g
Saturated Fat:
3
g
Sodium:
292
mg
Potassium:
1383
mg
Fiber:
14
g
Sugar:
10
g
Vitamin A:
13030
IU
Vitamin C:
355.4
mg
Calcium:
176
mg
Iron:
3.8
mg