What is the most beautiful thing about spring? It's blooming, the winter jackets stay in the closet and the sun has really nice power. Is that all? No, the most important for me are two other highlights: Strawberries and asparagus. I am a huge fan of both and prefer them every day. Strawberries are just so delicious and have a unique flavor. It's hard to believe that many industrially produced foods no longer contain real fruit, but often only artificial flavors. Well, not with us I would say? This Recipe makes do with all-natural ingredients, tastes bombastic and leaves you wanting more.
Make your own vegan strawberry ice cream without an ice cream maker? No problem.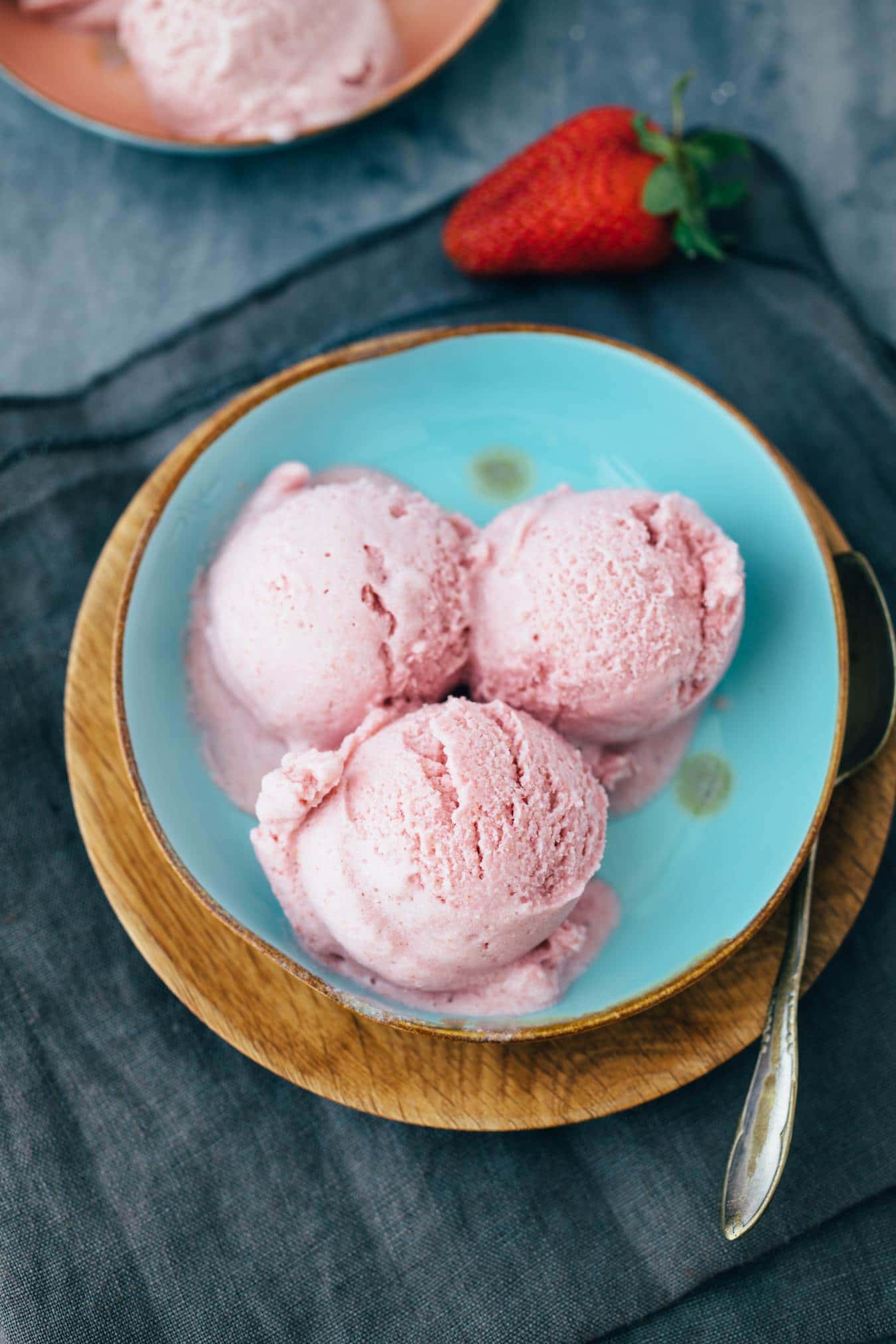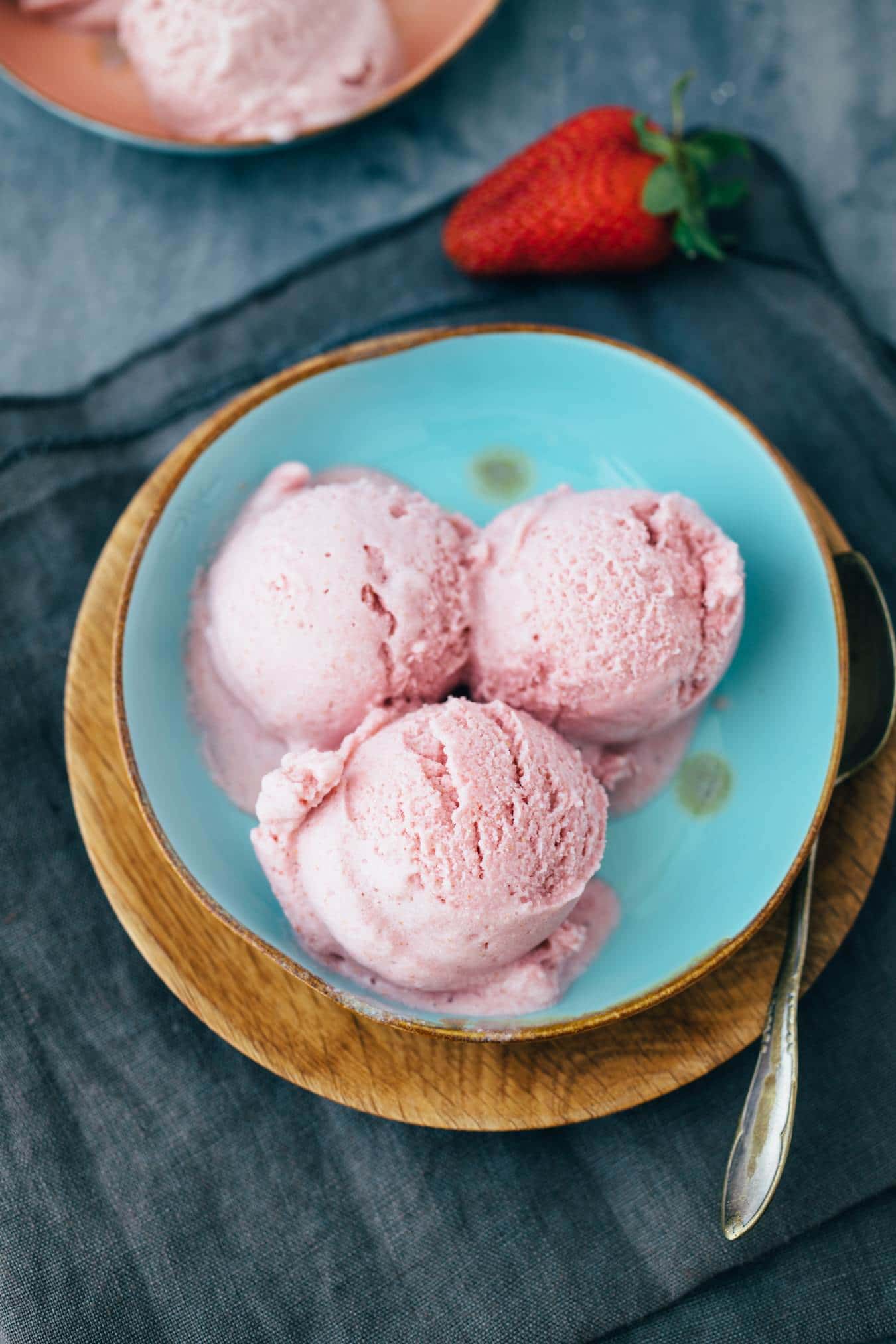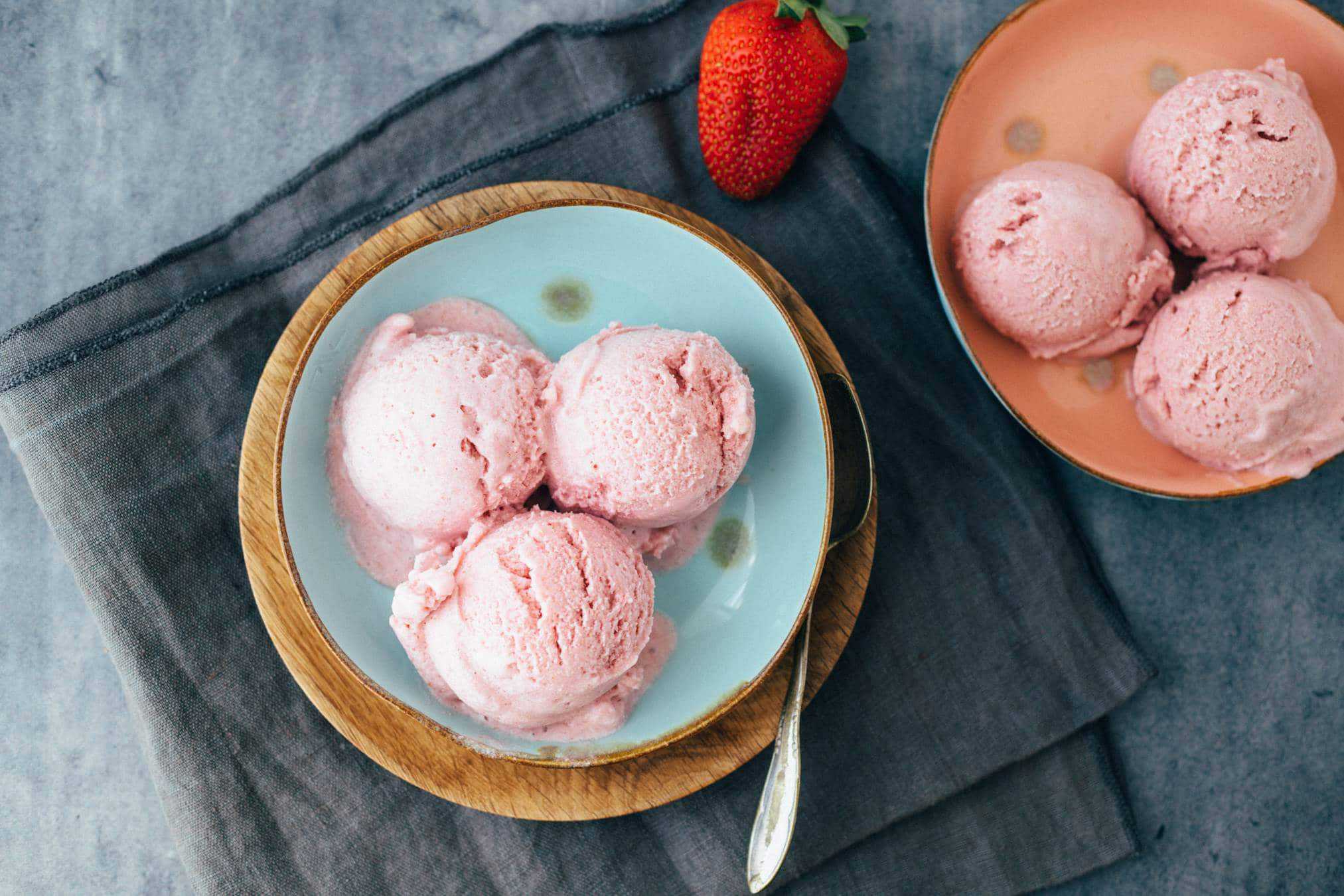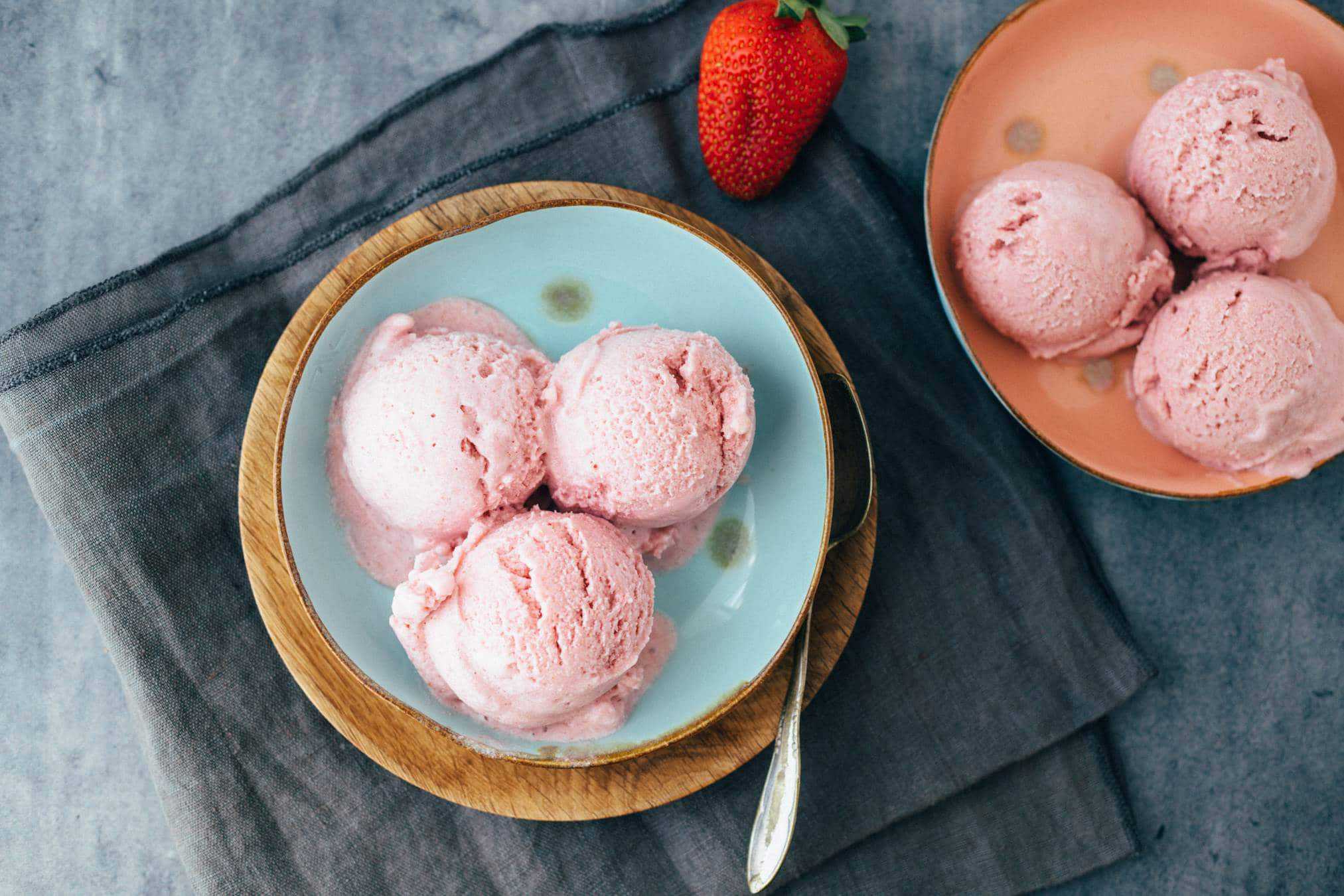 The base is once again my beloved giggle snow, which brings the necessary fluffiness into the Ice cream brings. To this is added coconut cream, that is, the solid part of the coconut milk, maple syrup, powdered sugar and a little lemon juice. Of course, the strawberries can not be missing and they should be ripe, sweet and super aromatic in the best case. Since this is often not the case in reality, I like to reach into the bag of tricks. More about this below! The beauty of this ice cream recipe is that it is simple and quick to make. I'd say it's ready to go!
Strawberry time? Then this creamy vegan ice cream can not be missed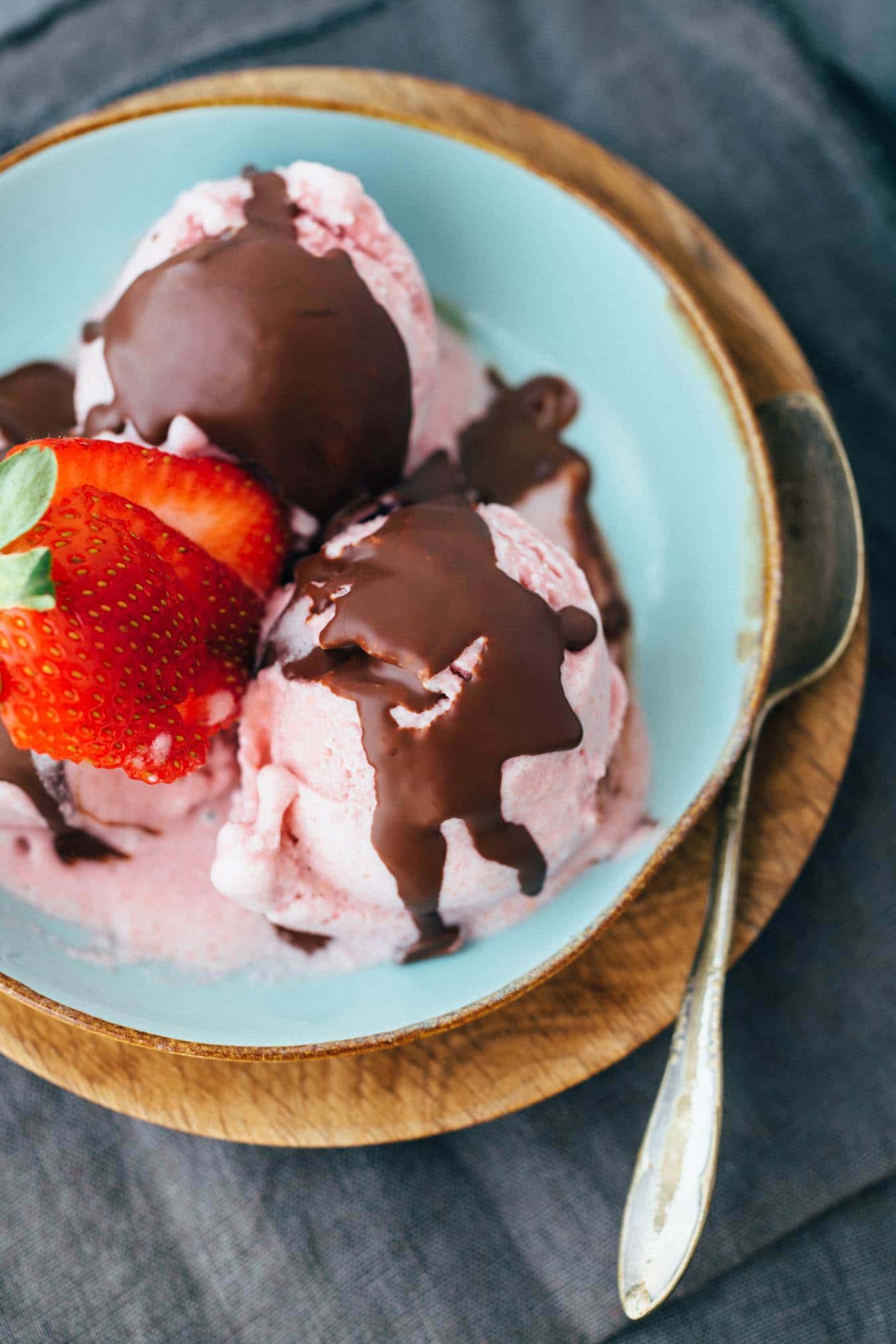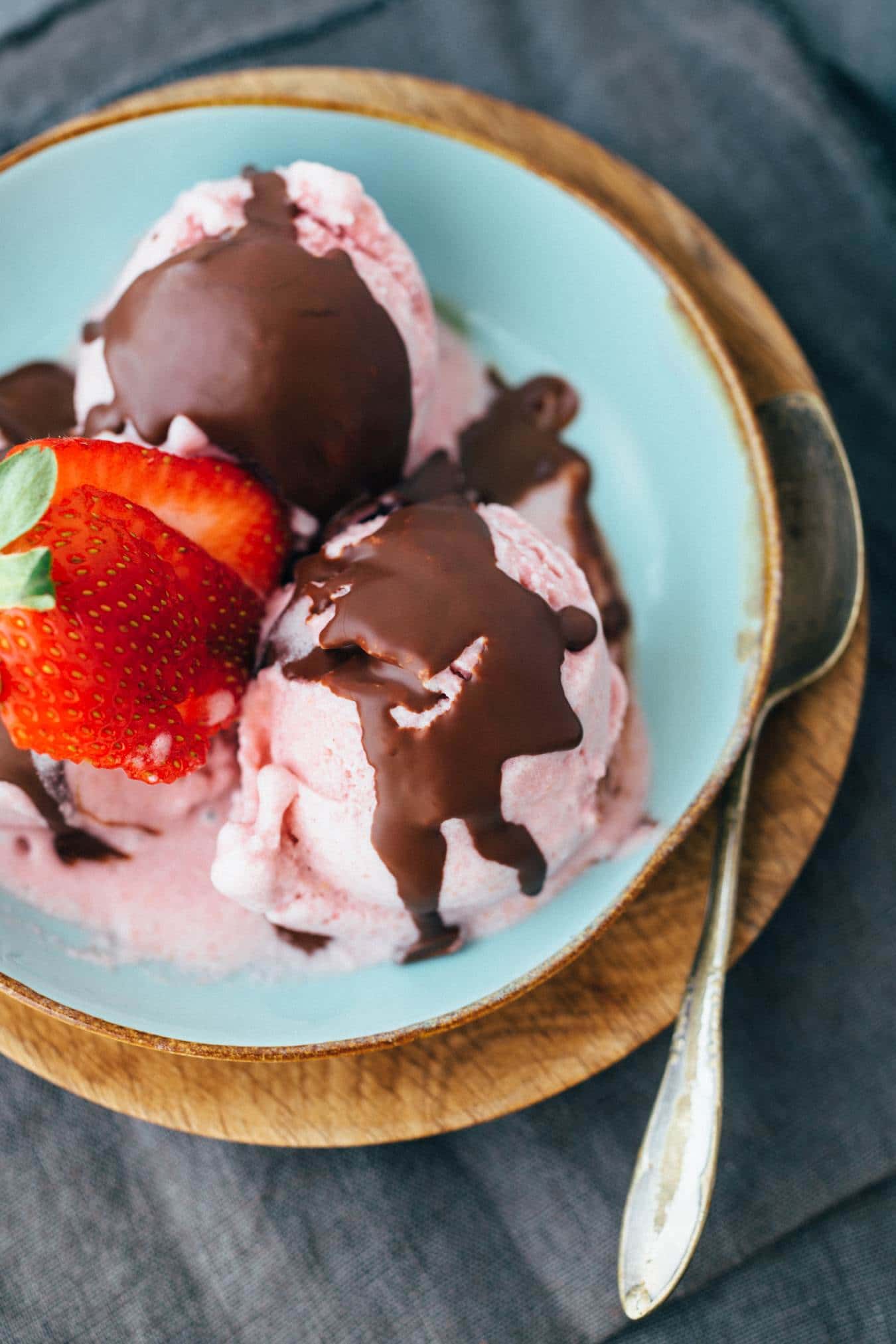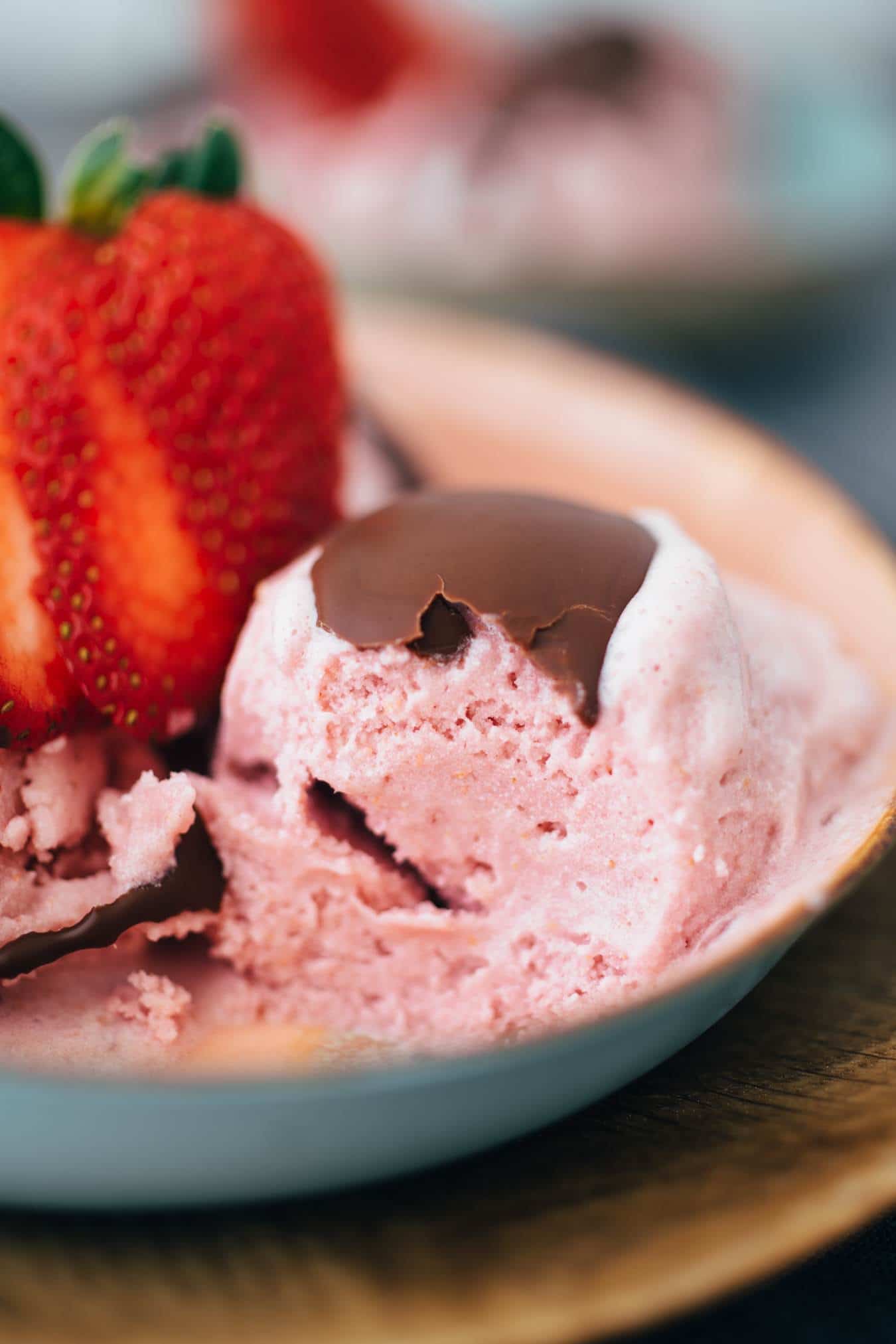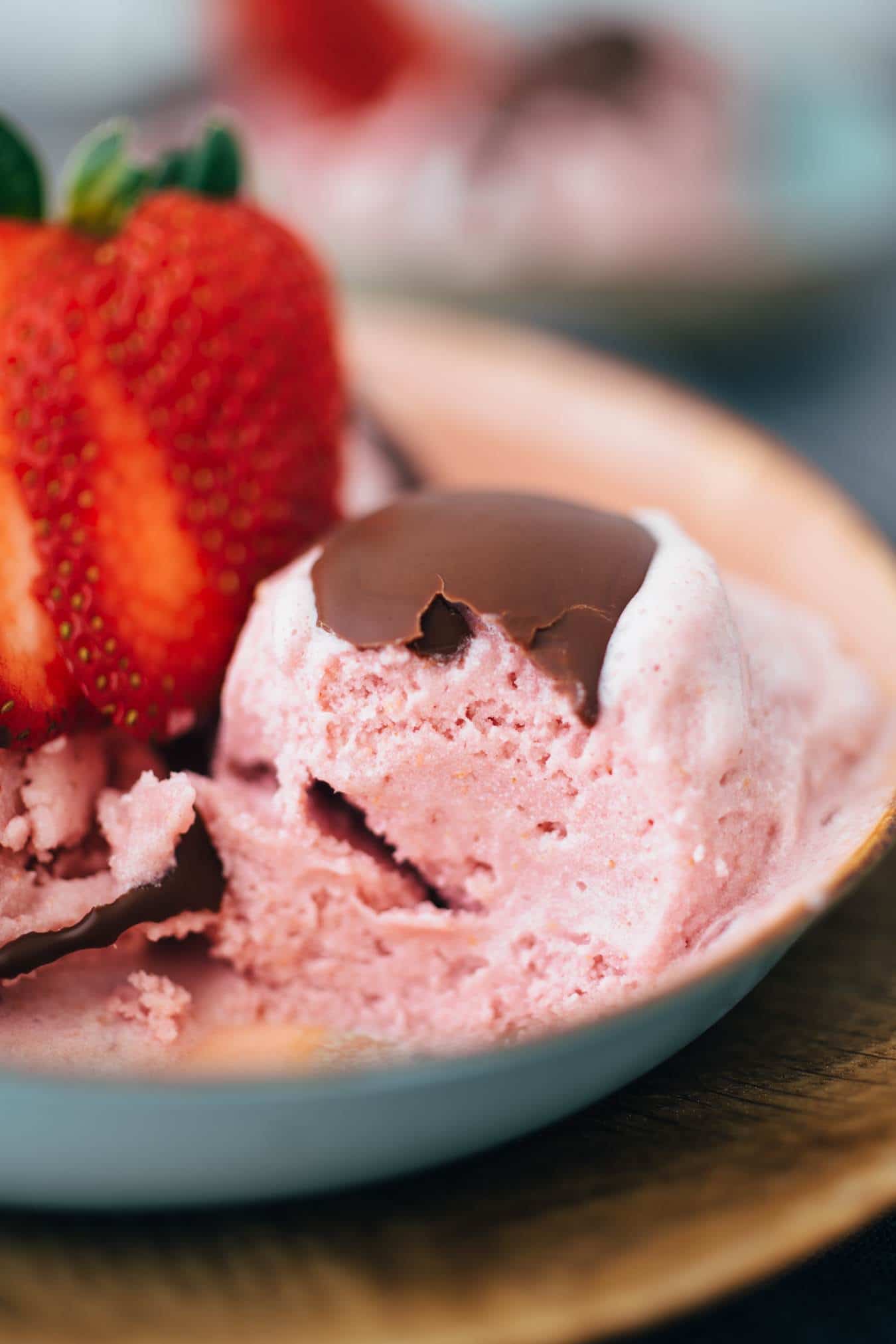 Now I would like to give you a few tips so that the ice cream succeeds in any case:
Aquafaba a tutorial on how to make fluffy Aquafaba you can find here .
The powdered sugar is important to give the giggle snow an extra tick of firmness.
The maple syrup gives the ice cream a slightly caramel-sweet note.
If the Strawberries are not 100% perfectly ripe and aromatic, it is worth adding some strawberry puree or jam to the mixture. You can find the link to my favorite product below with the ingredients. In general, with strawberries I always make sure that I buy organic quality. The tender fruits have only a very thin skin and absorb extra pesticides. Here it is worth spending a little more money for good quality.
Lifting is easy if you pay attention to a few things. I add the strawberry puree to the chickpea whites in one batch and then fold it in with a silicone spatula. I work here with a flowing movement from the bottom to the top. Not too frantically, but with a steady, calm hand. Once the puree is mixed in, the volume of the chickpea snow has usually been reduced by half.
Perfect! Now nothing can really go wrong.
Strawberry time is the most beautiful (vegan) time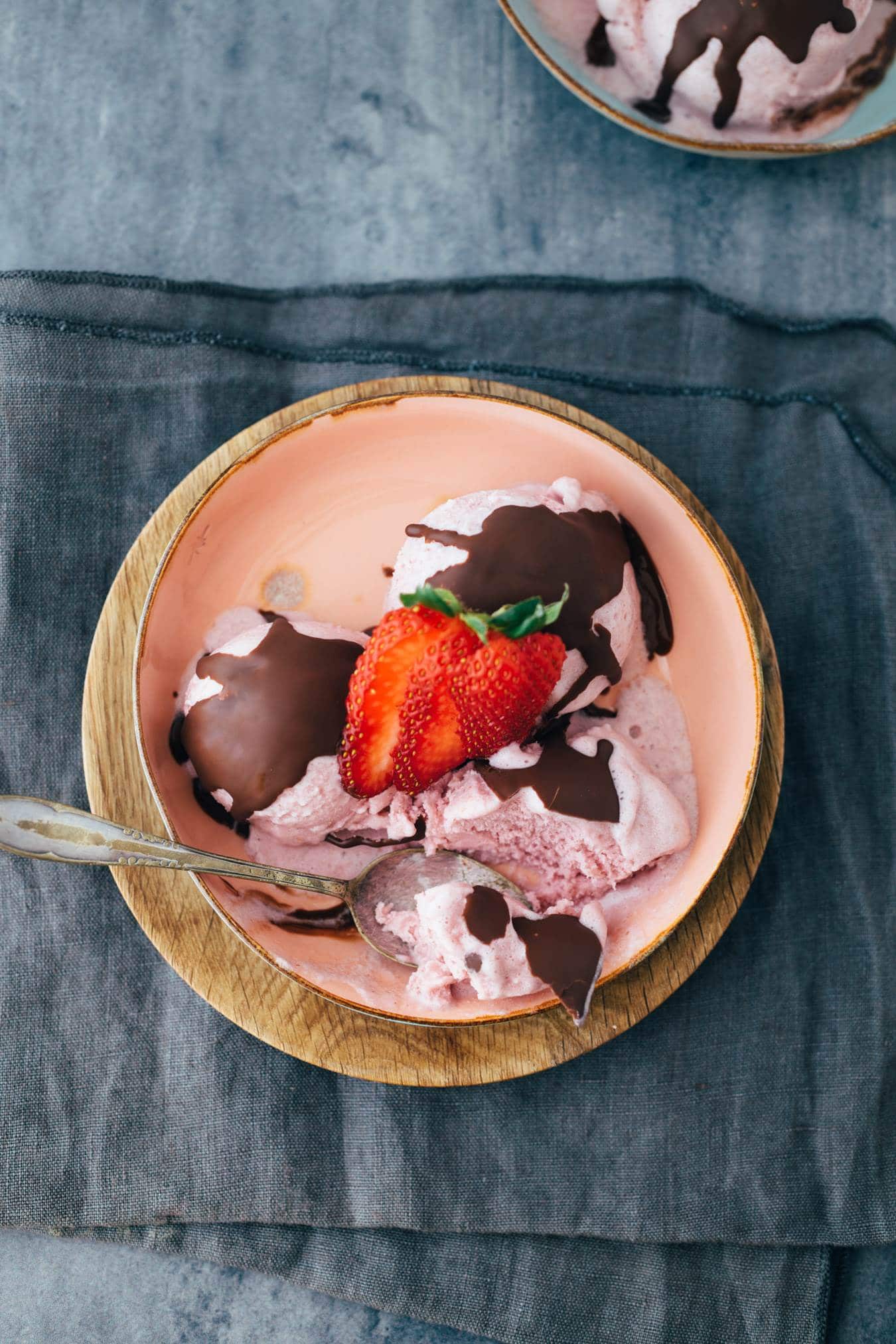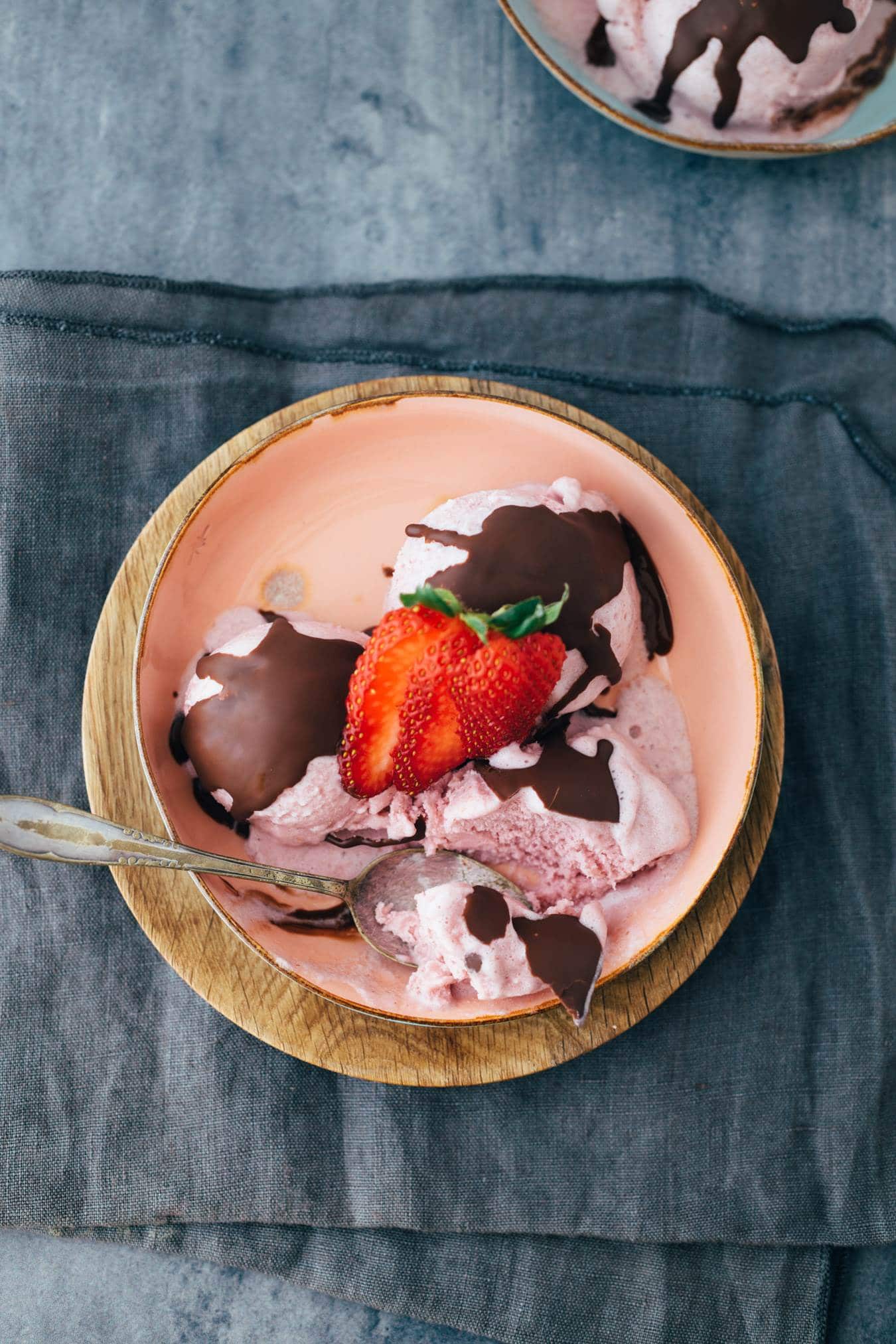 What actually makes strawberries so healthy? I have summarized the most important facts for you:
consist of 90% water
contain more vitamin C than oranges
contain cancer-preventing, secondary plant substances (pay attention to organic quality!)
high content of folic acid and iron
very low in calories with 32 kilocalories per 100g
This vegan ice cream is super creamy, fruity, low in calories and makes you want more. I have also tested the production with the ice cream maker and both variants turned out great. The result with the ice cream maker is even a tad creamier. However, it also works wonderfully without it by simply freezing the mass and letting it thaw briefly before serving.
If you want to serve the ice cream as a dessert, I recommend adding a blob of Coconut cream . Yummy!
The vegan strawberry ice cream with aquafaba is:
fruity
creamy
Light
Easy to manufacture
Delicately melting
If you Strawberries love them as much as I do, I'd be happy to see a review at the very bottom of this page. If you post a picture, use the hashtag #veganevibes.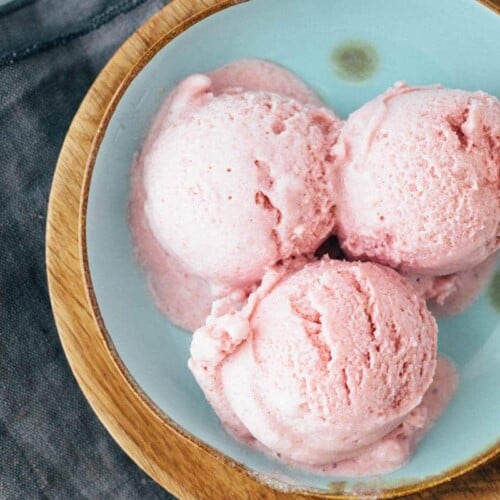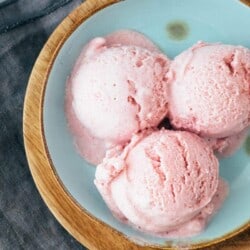 Vegan strawberry ice cream with aquafaba (without ice cream maker)
Vegan strawberry ice cream with aquafaba, for which no ice cream maker is needed. The preparation is simple and the list of ingredients is short. A sweet, creamy temptation, vegan, lactose-free and lower in calories than conventional ice cream.
AUTOR: VEGANEVIBES
425

g

Chickpeas

Strained and the water collected (this is the aquafaba!) yields about 120ml liquid

31

g

Powdered sugar

250

g

ripe organic strawberries

washed and stalk removed

60

ml

maple syrup

15-30

ml

Lemon juice

150-200

g

Coconut cream

solid part of a can of coconut milk Note: Be sure to chill coconut milk in the refrigerator at least 6 hours beforehand so that the liquid part separates from the solid part.
Anleitung 
Strain chickpeas and save the chickpea water – this is the chickpea water needed for aquafaba.

Put chick water in a clean and absolutely fat-free mixing bowl (of the food processor) and whip with the mixer (hand mixer or food processor) on the highest speed for 3-6 minutes, until the chick water has increased in volume and looks like beaten egg whites. If in doubt, continue beating longer and at the highest level rather than stopping too soon.


Add powdered sugar and beat again until well combined. Set aside.

Place strawberries, maple syrup, lemon juice, coconut cream, bourbon vanilla (optional), and strawberry jam (optional) in a high-powered blender and blend on high speed until a creamy puree forms.


250 g ripe organic strawberries,

60 ml maple syrup,

15-30 ml Lemon juice,

150-200 g Coconut cream,

Optional: ¼ tsp bourbon vanilla,

Optional for a more intense strawberry flavor: 1-2 tablespoons of high quality strawberry jam

Pour the strawberry cream into the beaten egg whites and gently fold in with a silicone spatula until everything is well combined.


Pour into a freezer-safe loaf pan (I just use a baking pan here), cover and place in the freezer.


Allow to set in the freezer for at least 8-10 hours.


Alternatively, process with an ice cream maker according to manufacturer's instructions.


To serve, remove, let thaw for 5 minutes, portion with an ice cream scoop and arrange in dessert bowls or an ice cream cone. Garnish with desired toppings and enjoy!

Notizen
NOTES /HELPFUL ACCESSORIES:
Nährwertangaben
Serving:
2
Ball
Calories:
1234
kcal
Carbohydrates:
158
g
Protein:
28
g
Fat:
61
g
Saturated Fat:
47
g
Sodium:
1196
mg
Potassium:
1617
mg
Fiber:
27
g
Sugar:
78
g
Vitamin A:
65
IU
Vitamin C:
157
mg
Calcium:
271
mg
Iron:
9.7
mg