I'll just ask specifically: who does not like strawberries. yes? No? Okay, if you're saying no now, then you shouldn't read any further at this point. However, you're missing out on the most delicious, creamy, fruity and crunchy Smoothie of all time. This drink really puts you in the mood, especially now at the beginning of the strawberry season. The little red fruits are so outrageously delicious, I really can't get enough of them. Ideal is the Smoothie after a training session, because I have included a good portion of extra protein. More on this below.
Creamy, vegan strawberry smoothie – who can say no here, please?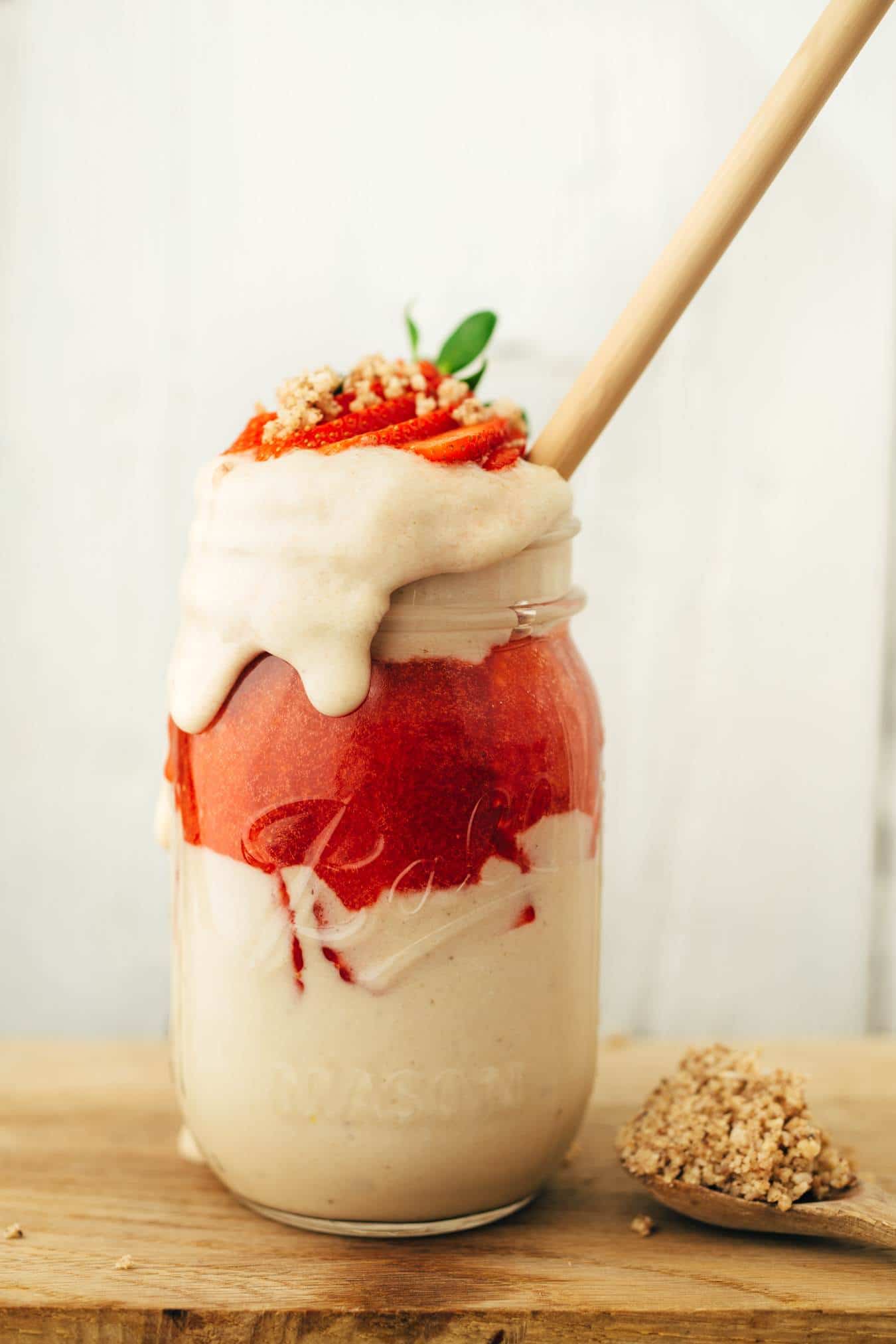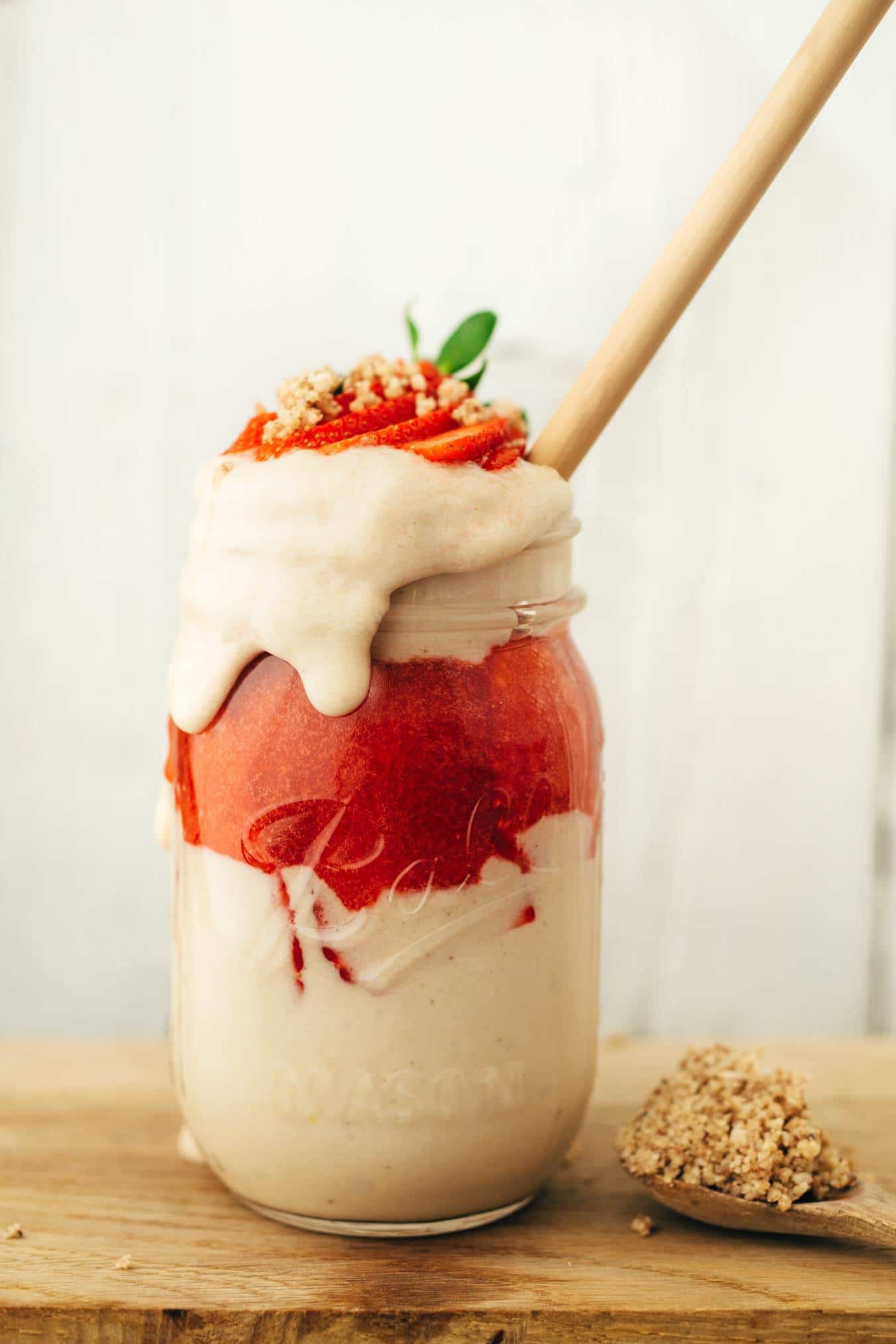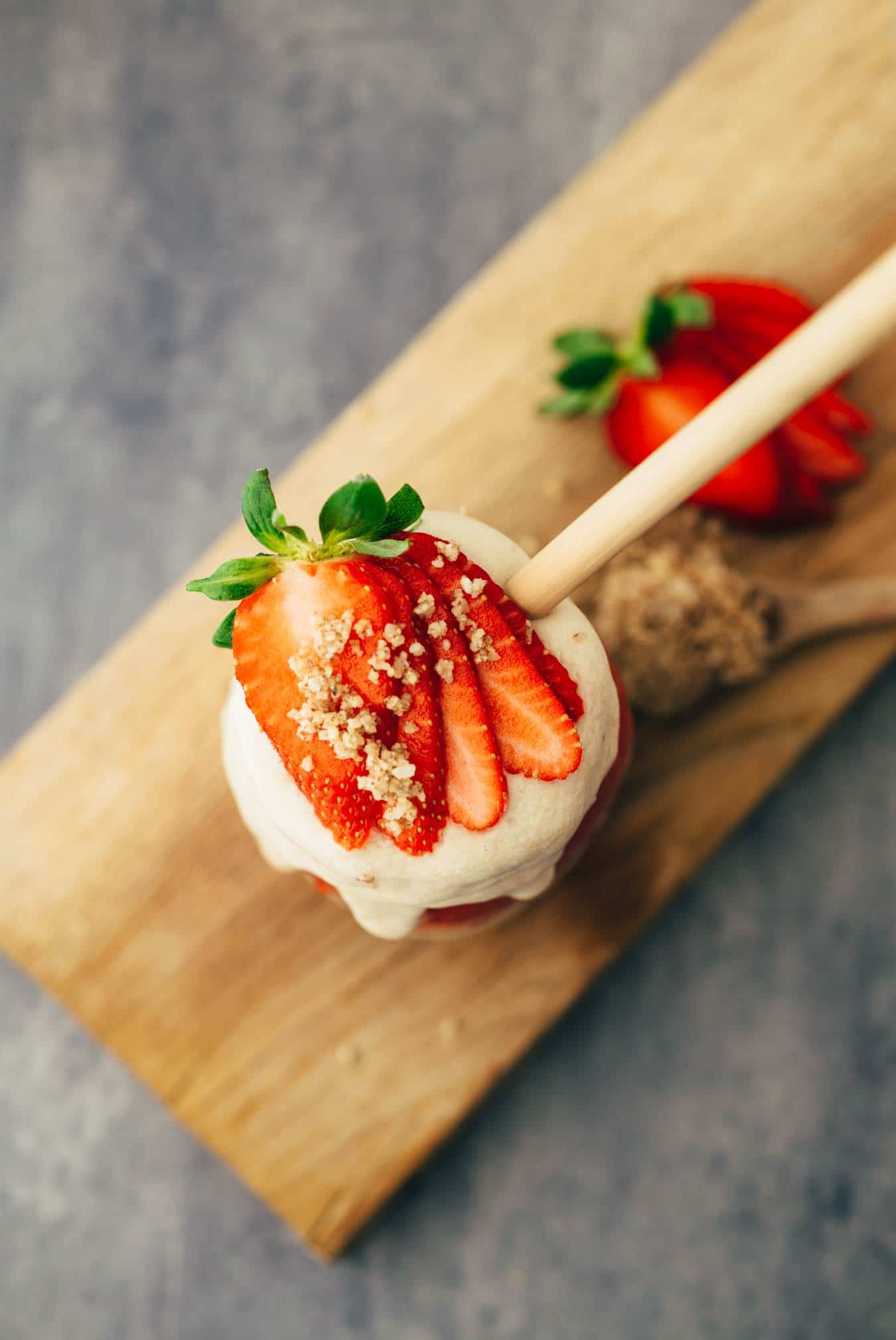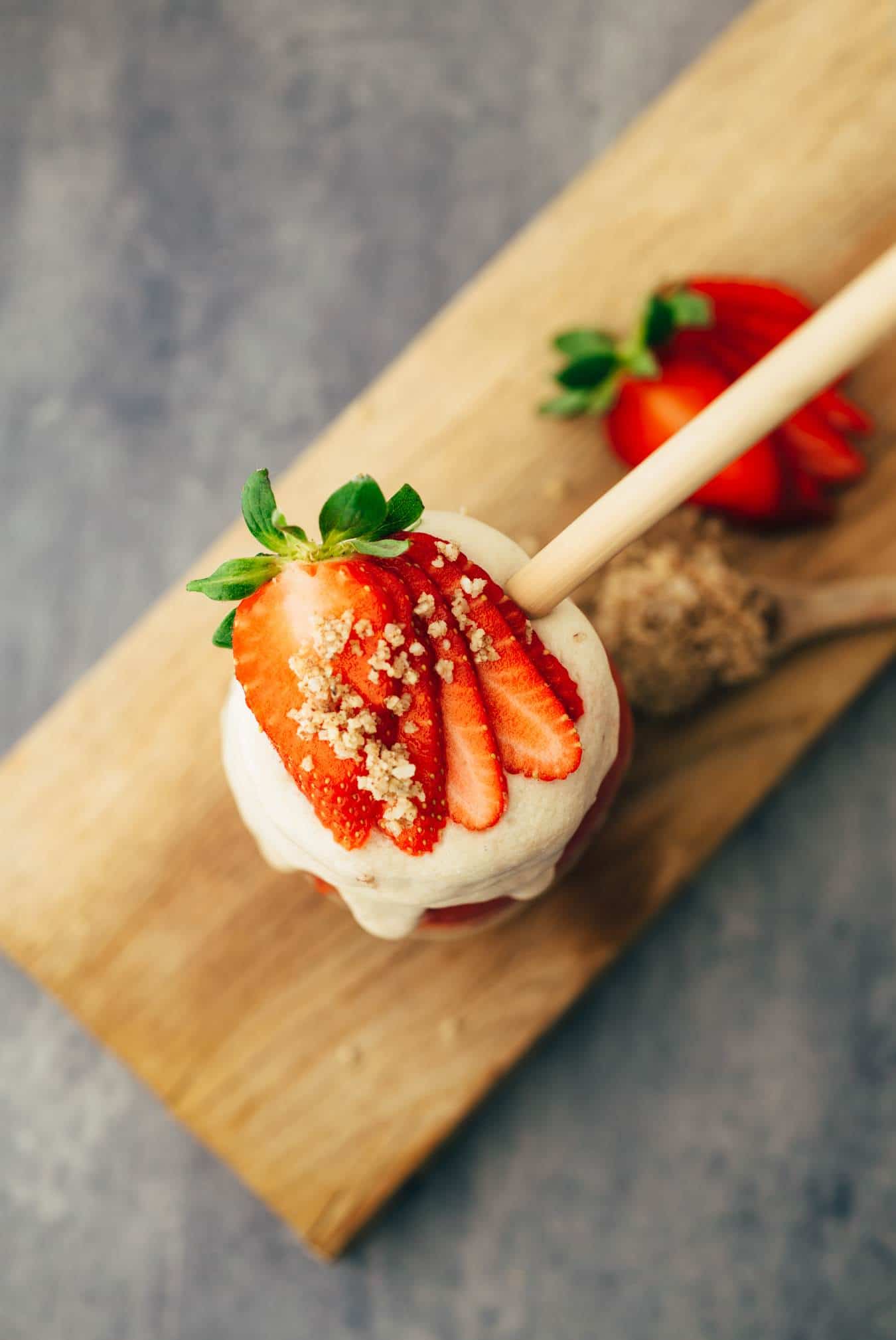 Strawberry season is the most beautiful time and if you are lucky, you will get delicious, ripe and especially sweet fruit at the beginning of the season. Sometimes they are still a little tart, so I add a little maple syrup to the strawberry puree. The creamy part of the Smoothies consists of frozen bananas, Almond milk , the solid part of coconut milk and a pinch of vanilla. Yummy! The only question left is what the nut crunch is all about. Every smoothie needs a little twist and the combination of walnuts and pecans, coconut flakes and coconut blossom sugar is perfect.
What can actually vegan vegetable protein?
I can answer this question very easily! Incredibly much, because your muscles need protein and not only when you are active in sports. The body constantly needs high-quality protein, because your muscles are constantly broken down, built up and rebuilt.
Here I introduce you to two of my favorite plant-based proteins:
Rice protein: This protein is excellent for building muscle and is a rich source of vitamin E. Made from whole brown rice, it has a protein content of 80% with a near complete amino acid profile. In addition, there is good news for those who want to avoid too much carbohydrates, the rice protein has a very low content of only 15-30% depending on the manufacturer.
Pea Protein: A whopping 85% pure vegetable protein and a very good amino acid profile with essential and non-essential fatty acids, characterizes this high-quality powder. At the same time it consists not of green peas, but also yellow shelling peas. The protein from the peas is extracted in a very complex process and remains, pure organic vegan protein for rapid muscle building. In addition, the powder has a high content of the amino acids arginine and lysine, which have a stress-reducing and performance-enhancing effect at the same time. Simply perfect as a natural food supplement.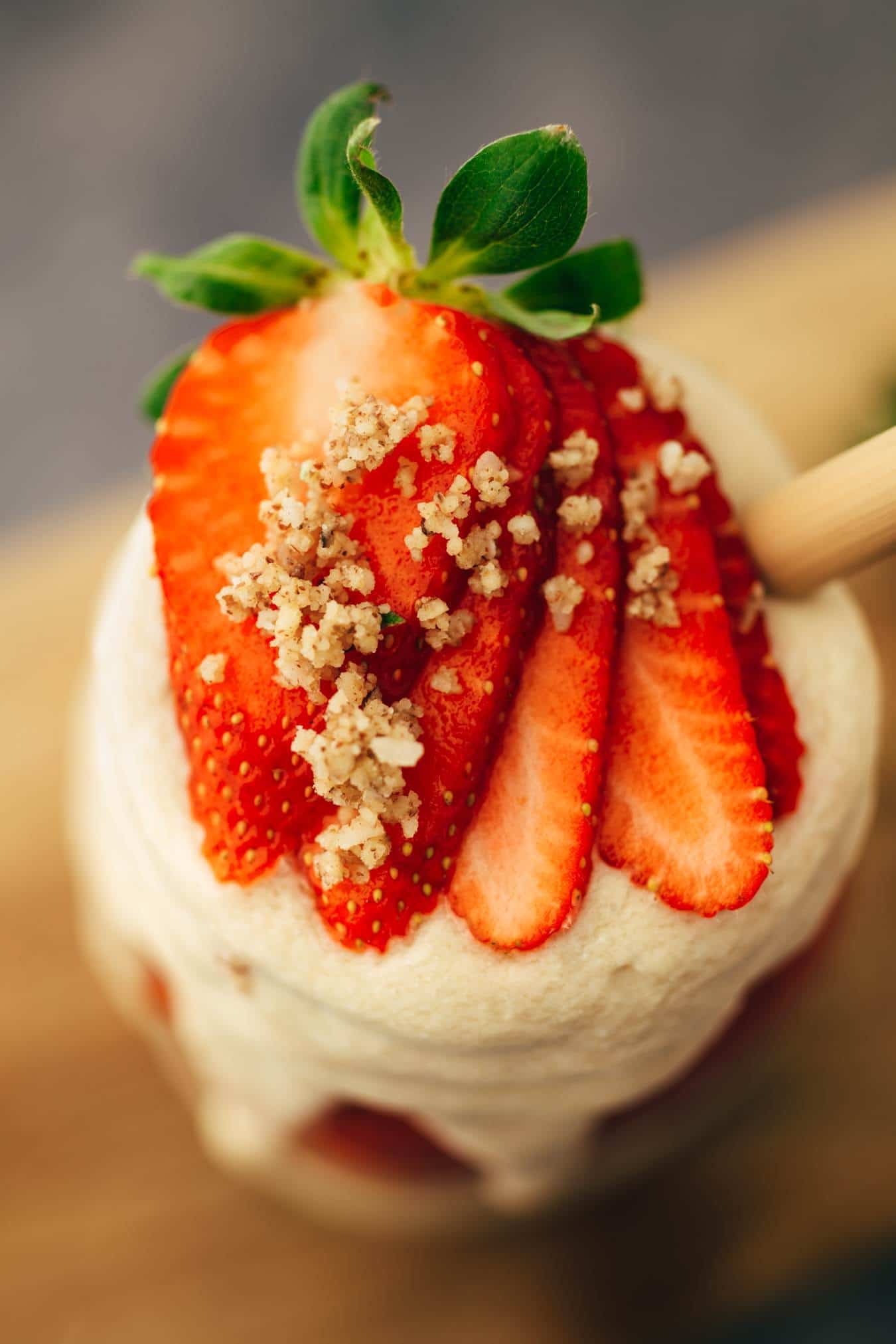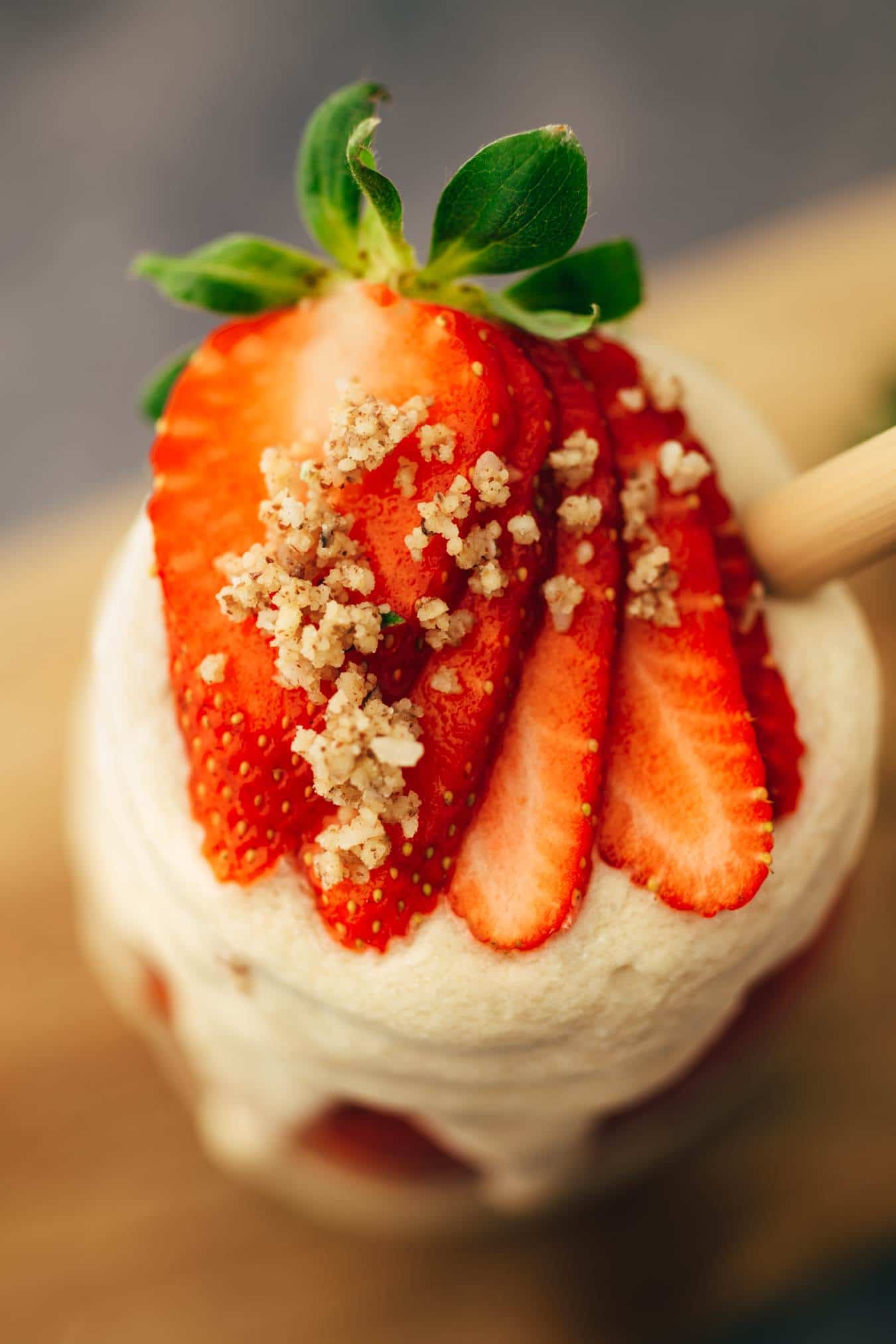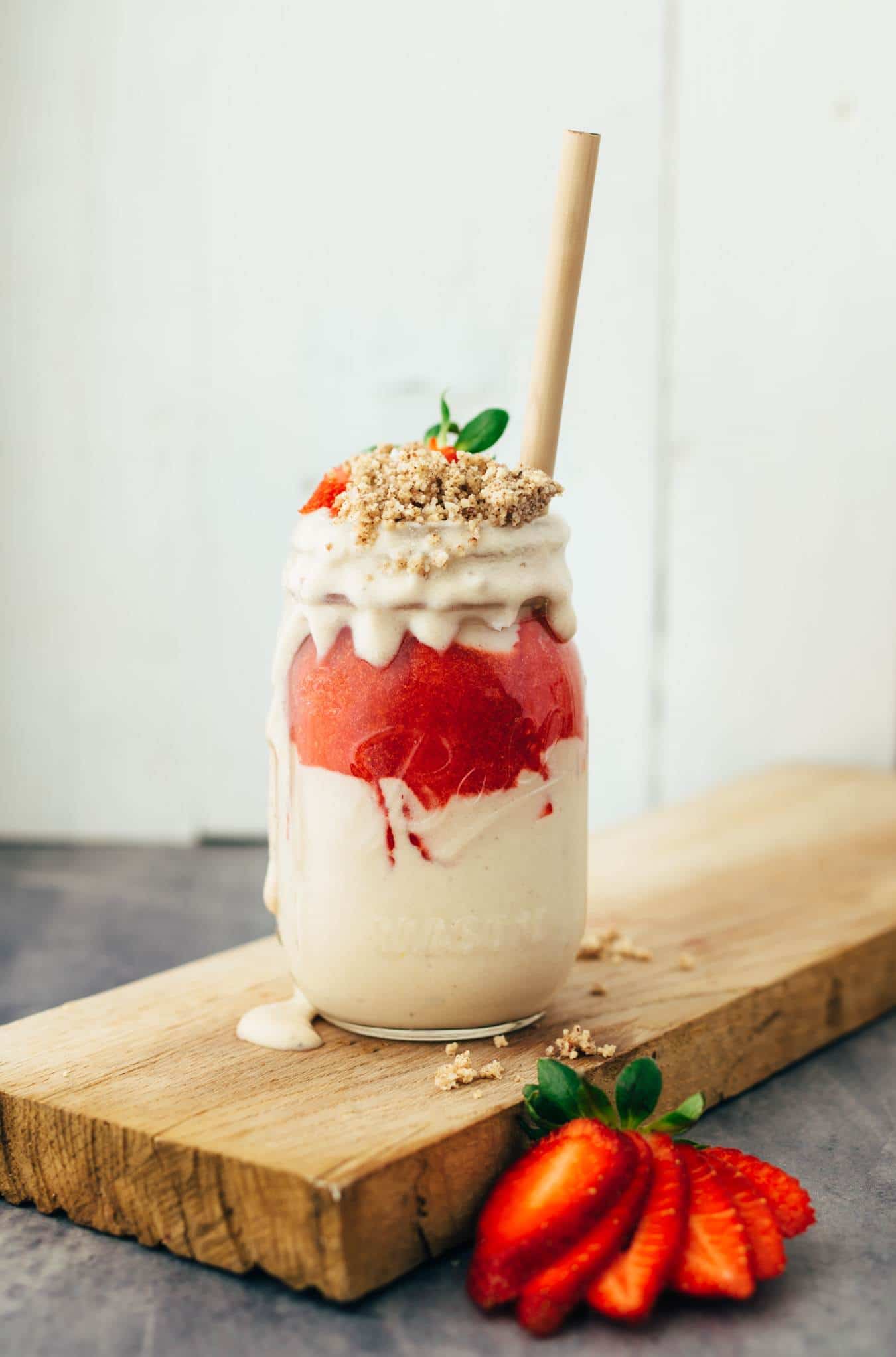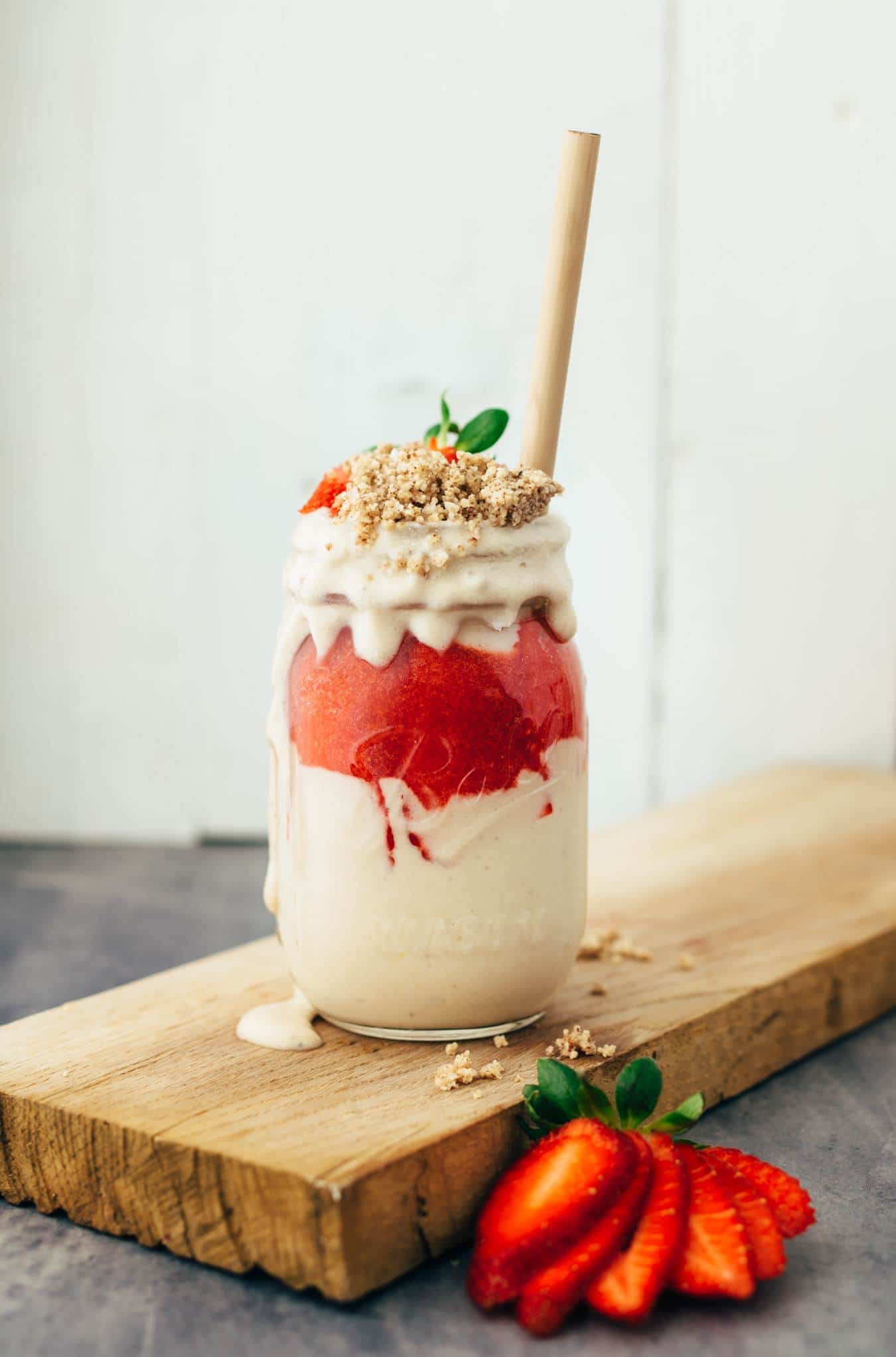 Back to our smoothie! Besides the ingredients, all you need is a good blender, smoothie glasses and straws. Since our planet is already choking on plastic anyway, I use sustainable bamboo straws. They not only look beautiful, but are also reusable and particularly easy to clean.
What goes perfectly with a sweet and fruity smoothie? Bliss Balls And raw snacks such as: Chocolate Cashew Butter Truffle , Chai Chocolate Truffle , 6-Ingredient Ferrero Rocher , or maybe a Cupcake with chocolate frosting ? Have fun and enjoy!
The strawberry protein SMOOTHIE WITH NUT CRUNCH is:
fruity
Protein-rich
Naturally sweet
Full of vitamins and minerals
creamy
Do you fancy this delicious vegan smoothie? Then I look forward to a review at the bottom of this page. If you post a picture, feel free to use the hashtag #veganevibes.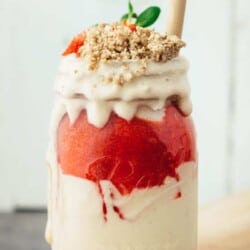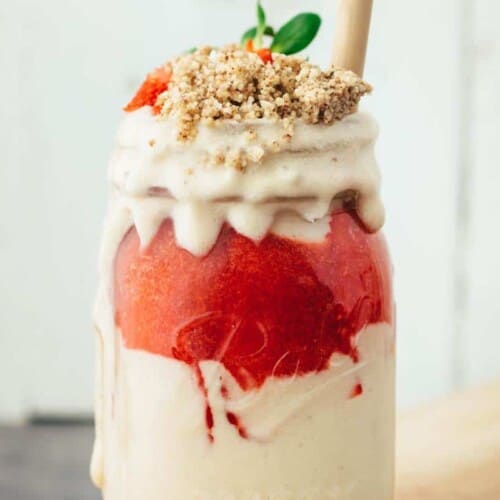 STRAWBERRY PROTEIN SMOOTHIE WITH NUT CRUNCH
Creamy, satisfying, strawberry protein smoothie with delicious nut crunch made from pecans, walnuts, coconut flakes and coconut blossom sugar. Fruity sweet smoothie provides you with healthy fats, proteins, vitamins and minerals.
AUTOR: VEGANEVIBES
FOR THE STRAWBERRY LAYER:
FOR THE PROTEIN VANILLA LAYER:
240

g

Banana

frozen and cut into pieces

180

ml

Almond milk

125

ml

Coconut cream

skim off the solid layer of a can of coconut milk

¼

tbspn

Bourbon vanilla

ground

2

EL

Protein powder of choice

please pay attention to a vegan quality
Anleitung 
In a high-powered blender, add in all ingredients for the NUT CRUNCH and blend until desired consistency is reached (I like it very fine). Set aside and rinse blender jar briefly if continuing to use the same blender.

1 tbspn Pecans,

1 tbspn Coconut flakes or shredded coconut,

1 tbspn Coconut blossom sugar,

1 tbspn Walnuts

As a second step, blend all ingredients for the STRAWBERRY LAYER blend on high speed until everything is evenly combined. Set aside, decant if necessary, and rinse blender jar one last time.

200 g fresh organic strawberries,

60 ml maple syrup

As the final step for the PROTEIN VANILLA LAYER put all the ingredients in the blender jar and blend on high speed to a creamy measure.

240 g Banana,

180 ml Almond milk,

125 ml Coconut cream,

¼ tbspn Bourbon vanilla,

2 EL Protein powder of choice,

Optional: 16g light almond paste

For the smoothie, first put a layer PROTEIN VANILLA into both glasses, then add some strawberry puree and Nut Crunch. Top with protein vanilla cream, remaining strawberry puree and decorate with more Nut Crunch and fresh strawberries.

Serve with a spoon and a reusable straw and enjoy immediately!

Notizen
NOTES /HELPFUL ACCESSORIES:
Nährwertangaben
Serving:
250
ml
Calories:
787
kcal
Carbohydrates:
56
g
Protein:
3
g
Fat:
65
g
Saturated Fat:
55
g
Sodium:
133
mg
Potassium:
650
mg
Fiber:
5
g
Sugar:
38
g
Vitamin A:
77
IU
Vitamin C:
69
mg
Calcium:
163
mg
Iron:
1
mg