Pumpkin smoothie, or what could be better suited to this autumn weather? When I look outside, I see gloomy weather and that doesn't exactly put me in a good mood. However, autumn also has its good sides and we should definitely take advantage of that. I think, for example, the delicious pumpkins in all colors and shapes. Personally, I'm a big fan of Hokkaido pumpkins and make a pumpkin puree with them every year. This serves as the basis for other dishes and even a pumpkin soup is made with it in no time. Quick and easy is the motto on this blog and I will stay true to it. Our smoothie today lines up nicely because it's creamy, sweet and quick to make.
Vegan pumpkin smoothie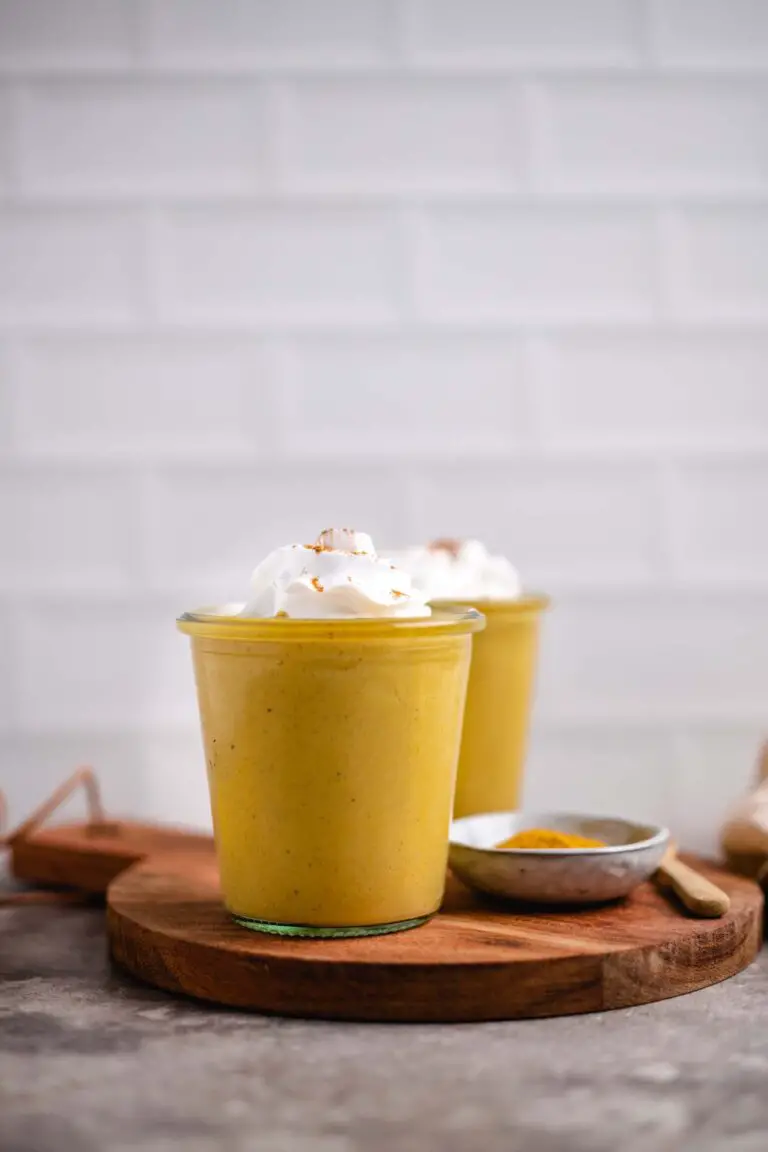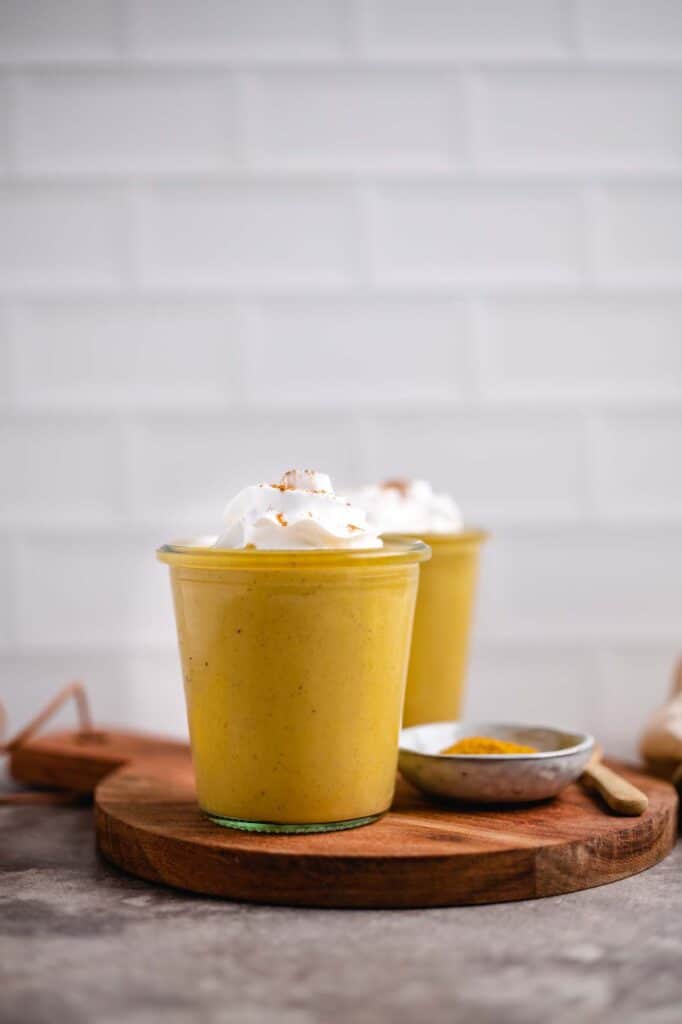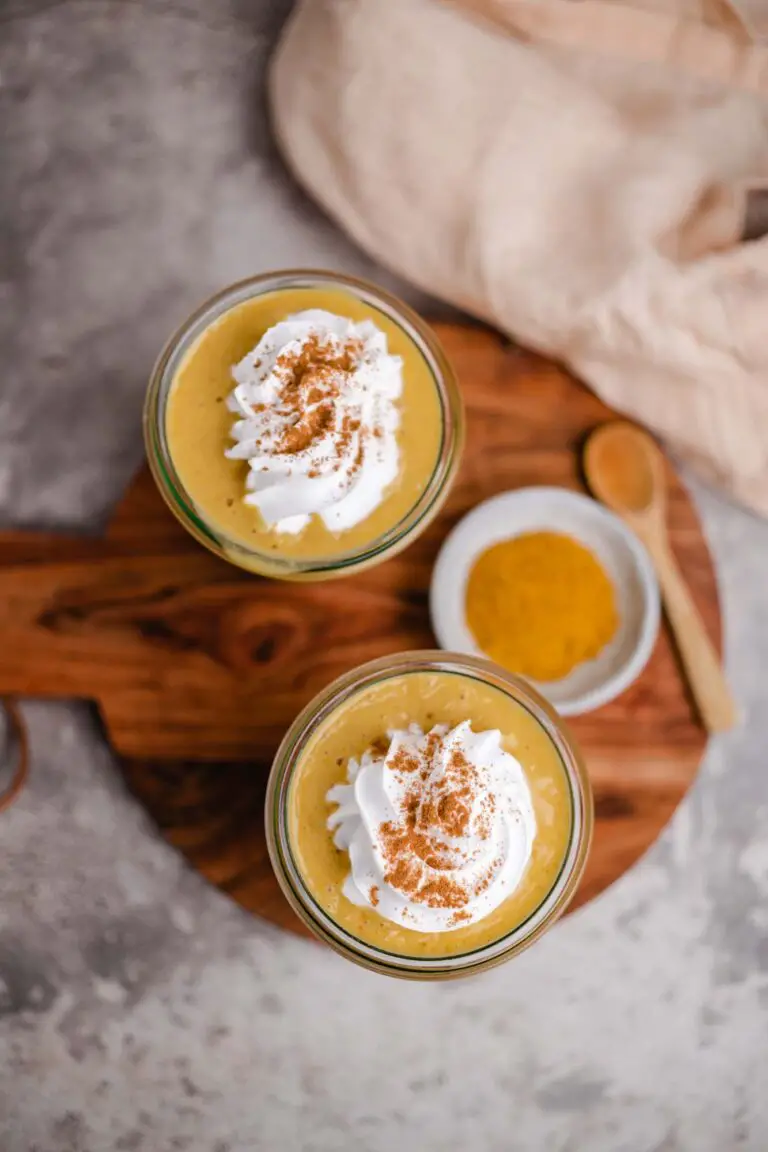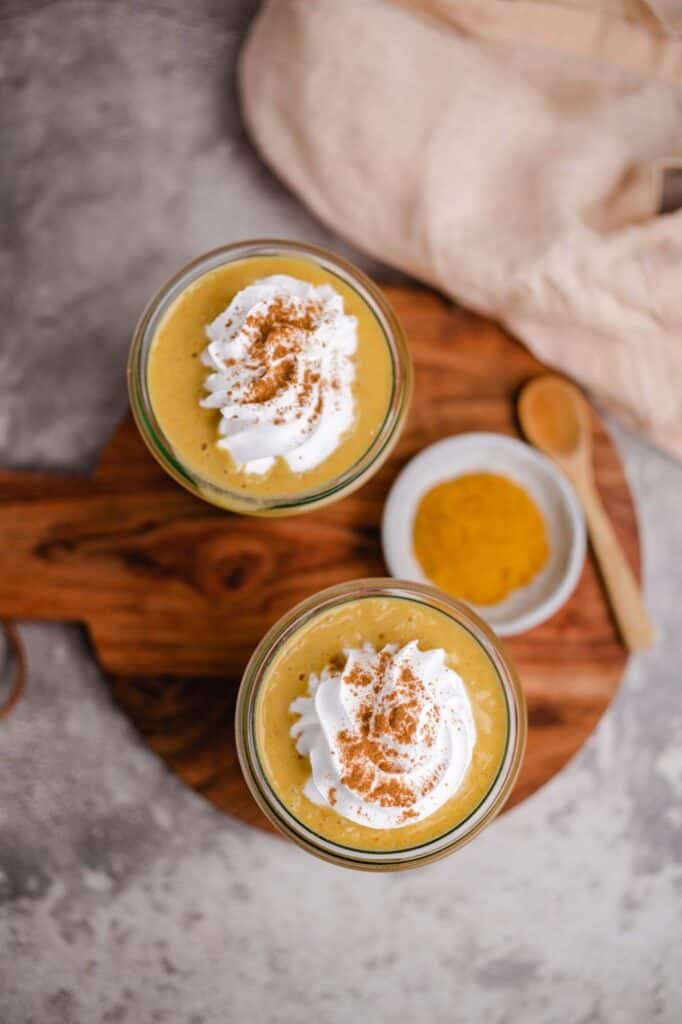 I love smoothies, especially as a healthy snack or straight up breakfast. Since discovering the Medical Medium diet, I've been having a Heavy Metal Smoothie for breakfast every day. Sounds a little suspect at first, but the smoothie is really delicious and is supposed to help eliminate heavy metals and other toxins from the body. If you want to know more about it, I recommend the following books "Heal your liver" or "medial medicine".
Let's get back to the topic at hand though, and that's today's pumpkin smoothie. Plant milk, frozen bananas, pumpkin puree, almond paste, maple syrup and pumpkin spice. These are the ingredients that come in this delicious smoothie. This all goes together in the blender and is processed into a creamy liquid. For refinement, a blob of vegan cream and some cinnamon is suitable. Very fine I imagine also a scoop of vanilla ice cream to it.
TIP: I use a ready-made pumpkin spice from Herbaria(https://amzn.to/3y5mFBK), but you can also easily make your own spice blend. You can find instructions for this here.
Autumn vegan smoothies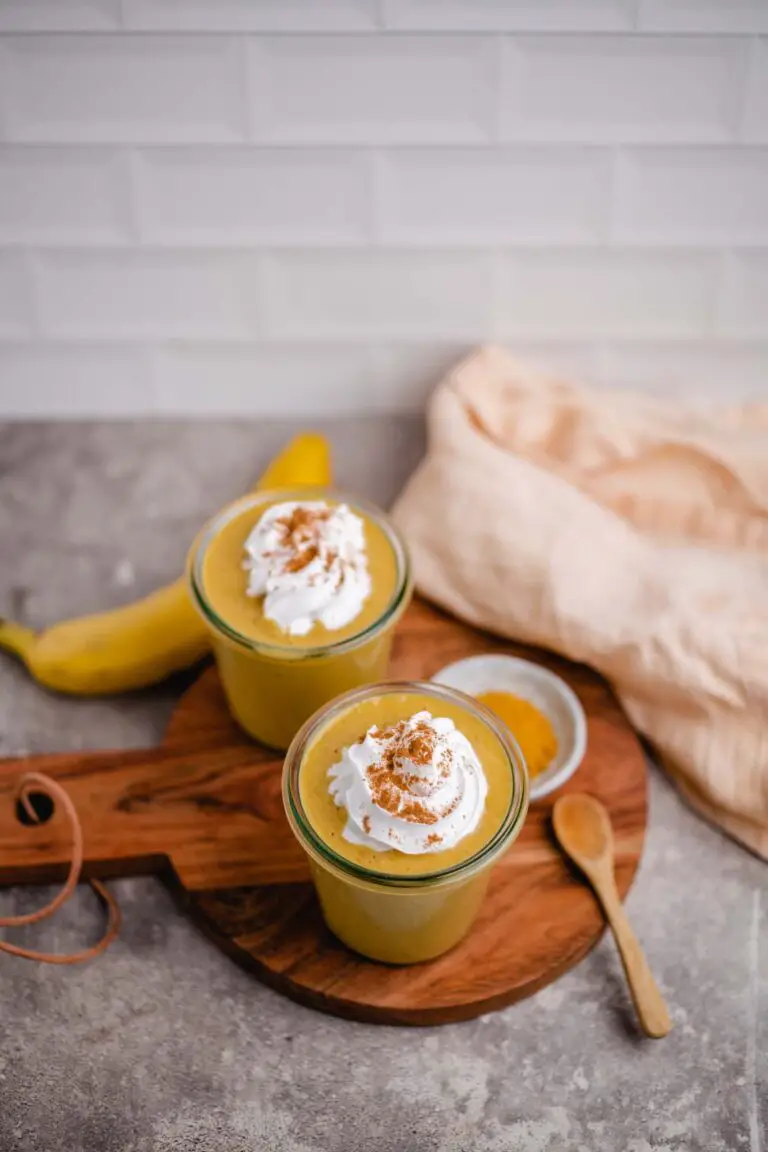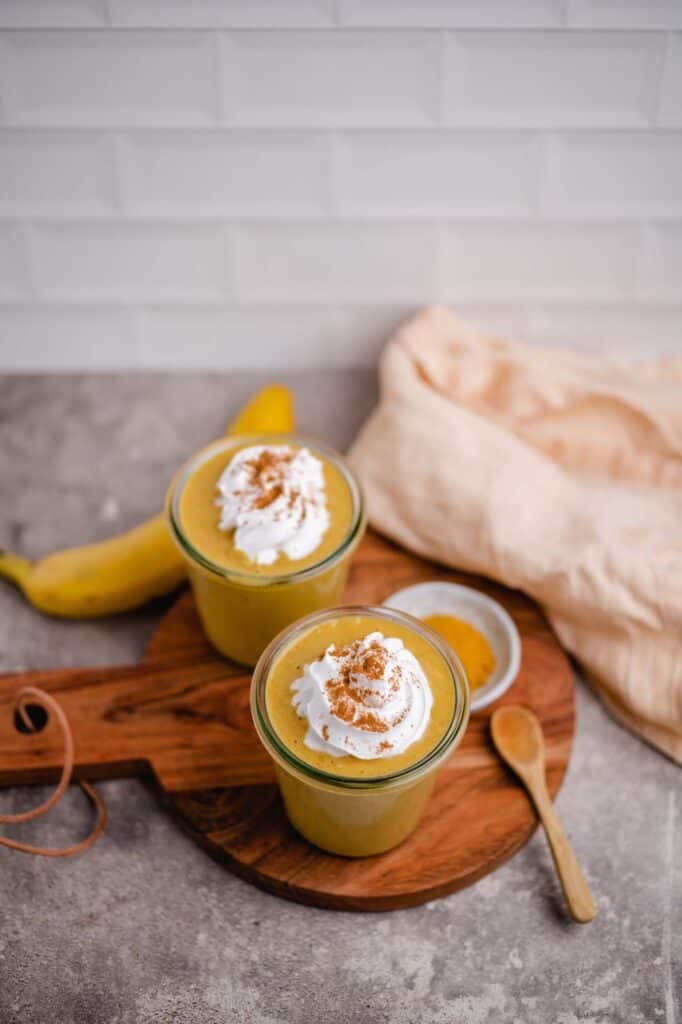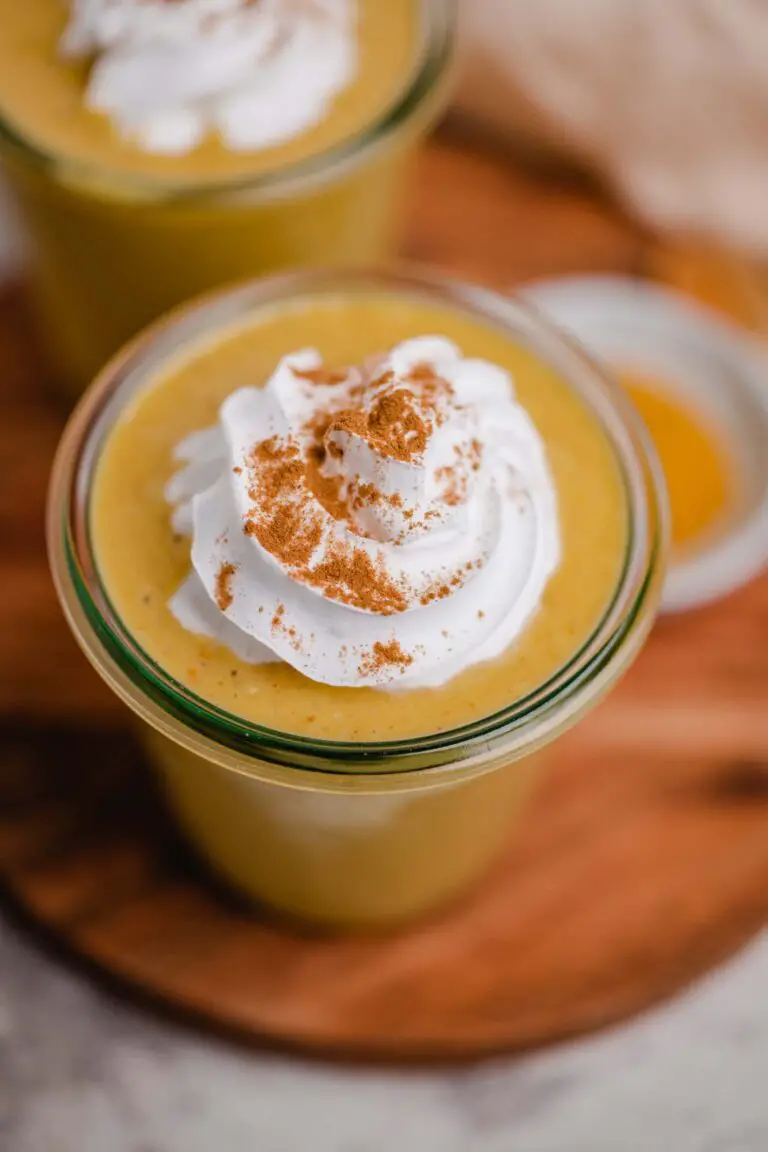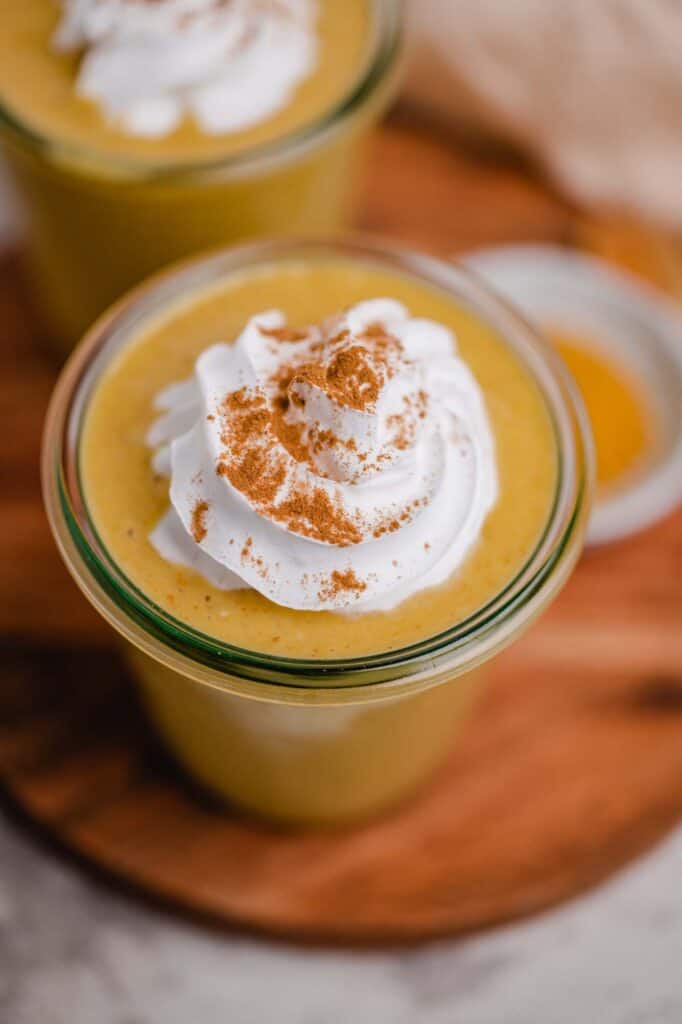 If you are looking for a different smoothie today, I have the following recipes for you:
Other than that, there's not much else to consider with this recipe because it's very simple and you really can't go wrong. Maybe a little tip about freezing bananas. I like to freeze them in chunks because they are so easy to portion. A whole frozen banana is not quite as easy to process.
The pumpkin smoothie is:
creamy
Pleasantly sweet
Pumpkin note
Healthy
Bananig
Well, do you fancy this delicious and creamy smoothie? Then I look forward to a review at the bottom of this page. If you post a picture, feel free to use the hashtag #veganevibes.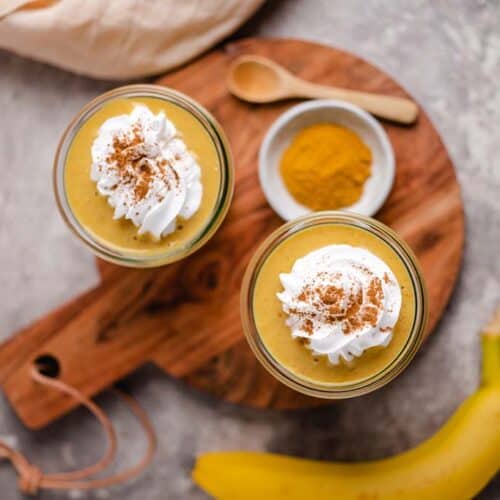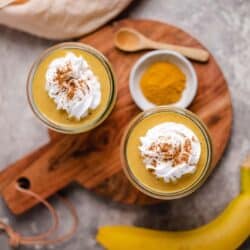 Pumpkin smoothie
Vegan pumpkin smoothie with fine pumpkin puree. Perfect as breakfast, snack or tempting dessert. Easy to make, delicious and full of healthy nutrients. Vegan, gluten-free, naturally sweetened.
AUTOR: VEGANEVIBES
TOPPING:
Vegetable cream

Cinnamon powder
Anleitung 
In a high-powered blender, blend bananas, plant milk, pumpkin puree, almond paste, maple syrup, and pumpkin spice on high speed until smooth and creamy.

300 g Bananas,

500 ml Plant milk,

45 g Pumpkin puree,

30 g Almond paste,

30 ml maple syrup,

2 tbspn Pumpkin spice

Pour into two smoothie glasses, garnish with desired toppings and serve.

Vegetable cream,

Cinnamon powder

Serve with a reusable straw and enjoy immediately!
Nährwertangaben
Serving:
1
Portion
Calories:
404
kcal
Carbohydrates:
62
g
Protein:
12
g
Fat:
14
g
Saturated Fat:
1
g
Polyunsaturated Fat:
5
g
Monounsaturated Fat:
6
g
Sodium:
131
mg
Potassium:
1100
mg
Fiber:
7
g
Sugar:
38
g
Vitamin A:
4580
IU
Vitamin C:
32
mg
Calcium:
444
mg
Iron:
3
mg