Pumpkin pancakes are perfect on autumn mornings. Whether it's a classic breakfast or brunch, you'll love these fluffy pancakes. I'm a big fan of pancakes and we have a ritual here at the house. Every once in a while when my brother comes over for brunch on Saturday, we always have pancakes. I then make double the amount of dough so that everyone is sure to be full. For baking out I work with 3 pans at the same time and that requires concentration. Put the dough in, turn them over, and yes, don't bake them too long or they can burn quickly or get dry. The finished pancakes are stacked and go directly into the warming drawer, so that they do not cool down. My pancakes are always well received and that really makes me happy.
Vegan pumpkin pancakes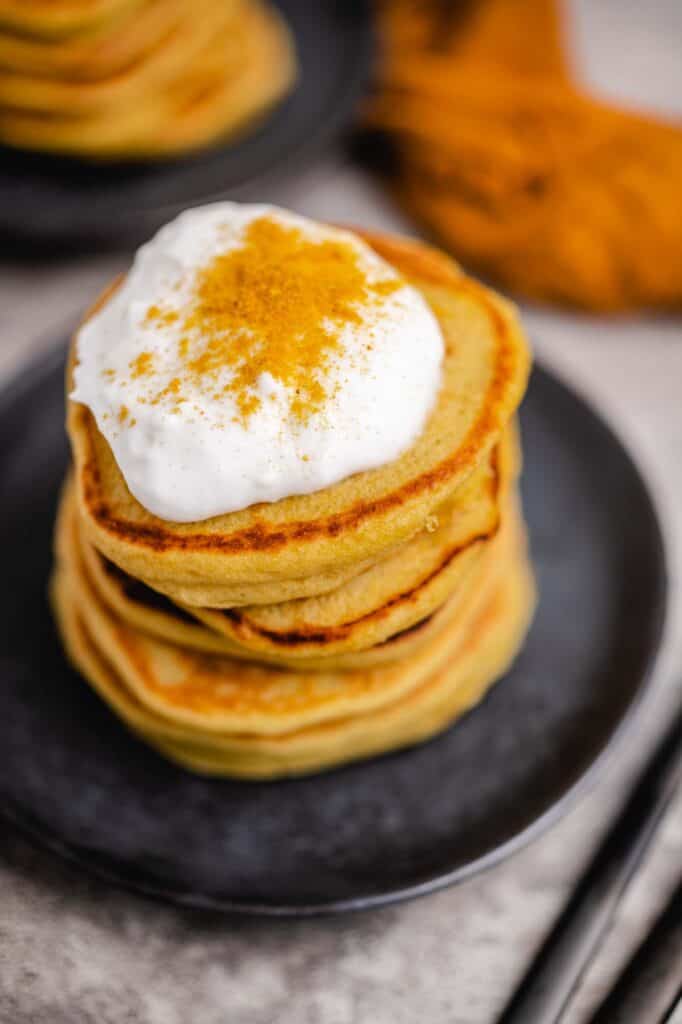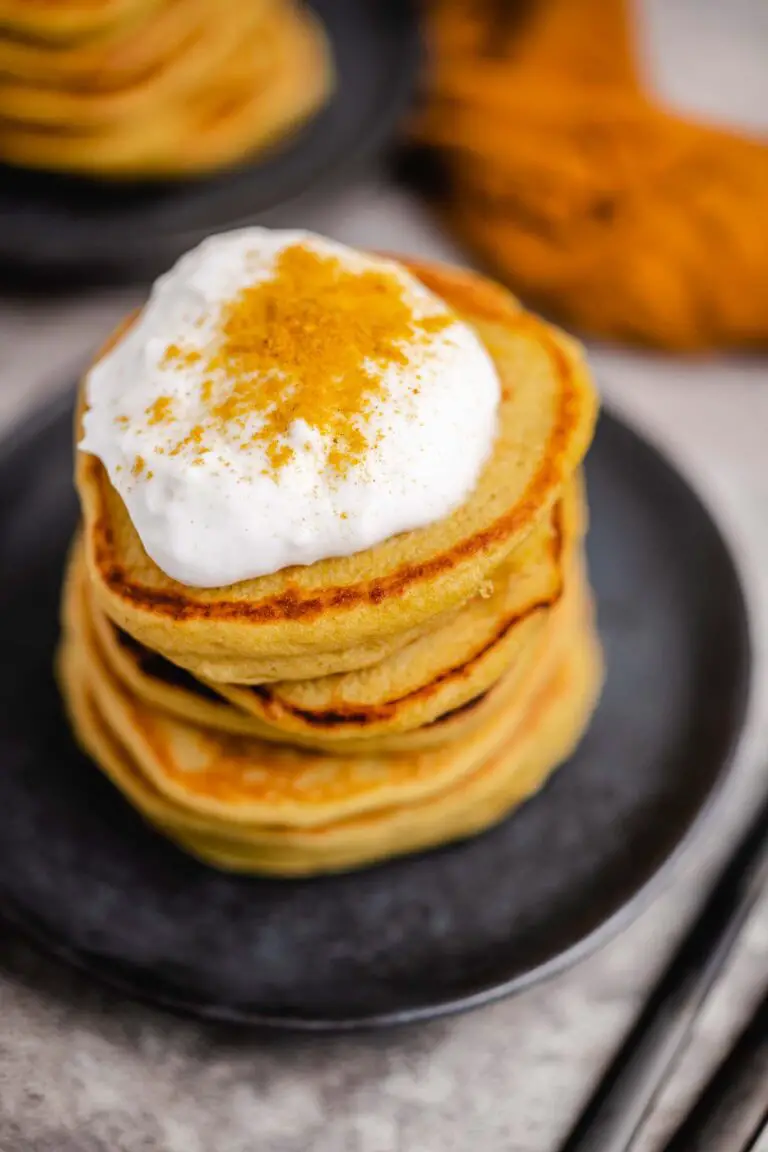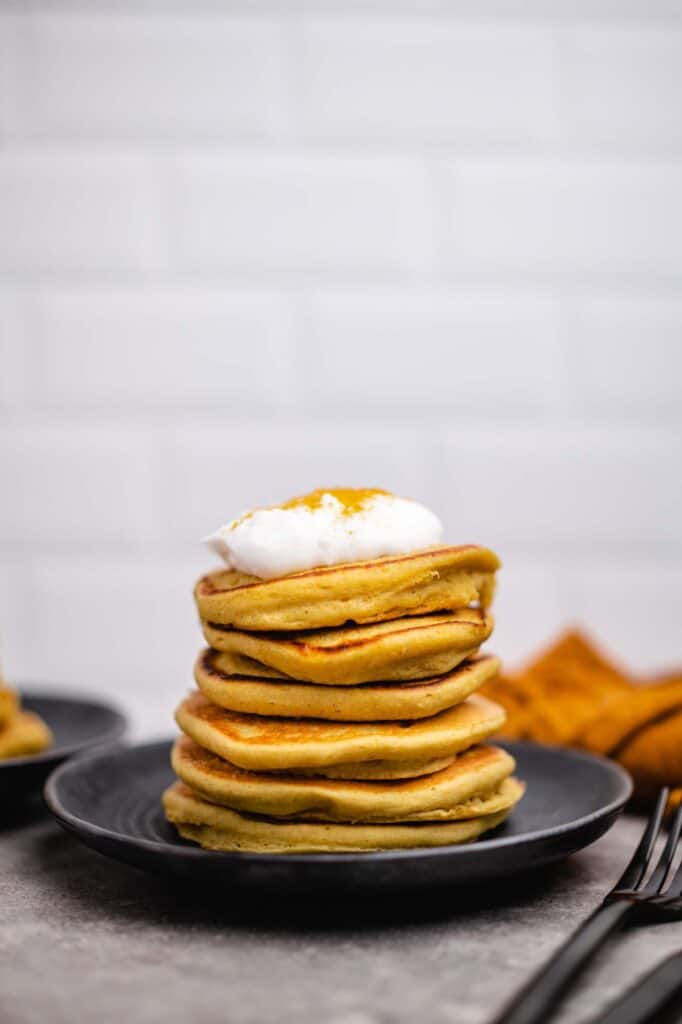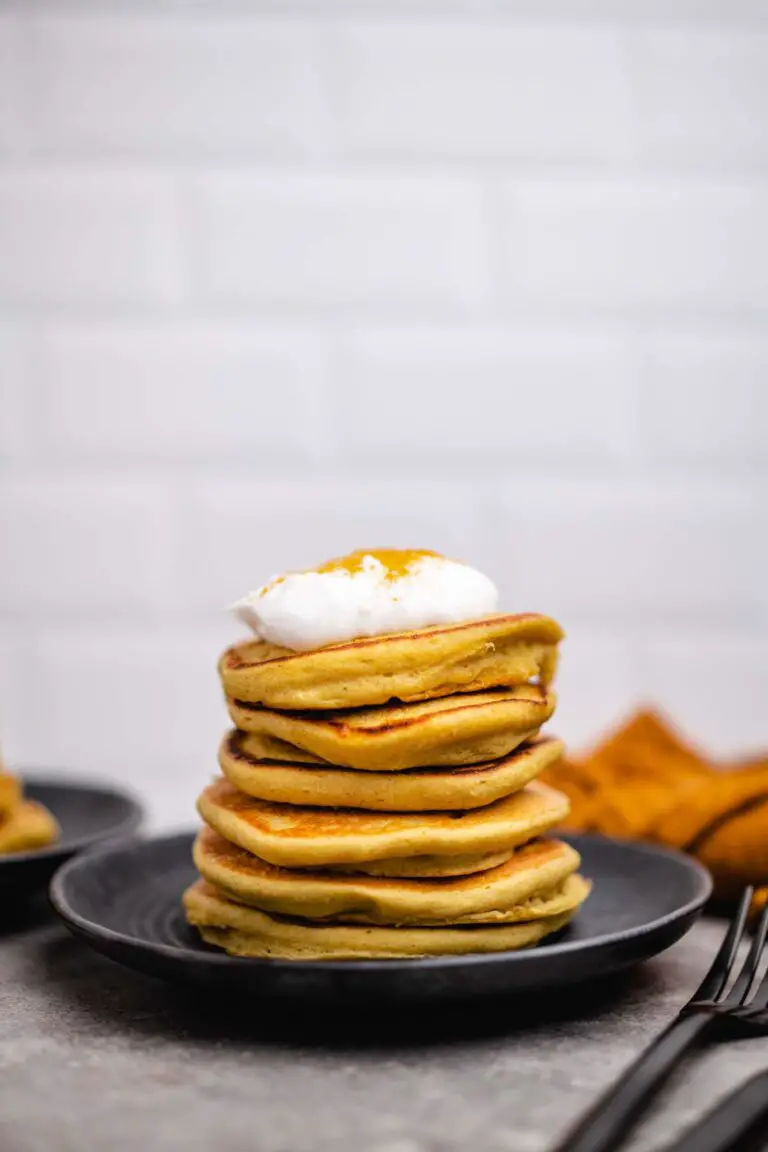 Vegan pumpkin pancakes are really fun to make because they're healthy and you only need a handful of ingredients. Banana, plant milk, pumpkin puree, gluten-free flour blend, buckwheat flour, gluten-free oat flour, baking powder and a pinch of salt. This all goes together in a baking bowl or blender and is blended into a smooth dough. I like to use the dough program on my high-powered blender for this, and it really makes the dough perfectly.
After that, the pancakes are baked. Here I have an important tip right away, because a bad pan can ruin the best batter for you. I always use good coated pans and only put in a very small amount of oil for baking out. For this I use a brush, which I dip only very lightly into the oil and brush the pan with it.
TIP: I recommend letting the dough set for a few minutes after mixing. This swells the flour a little and the dough becomes thicker and easier to bake out.
Make vegan pancakes quickly and easily yourself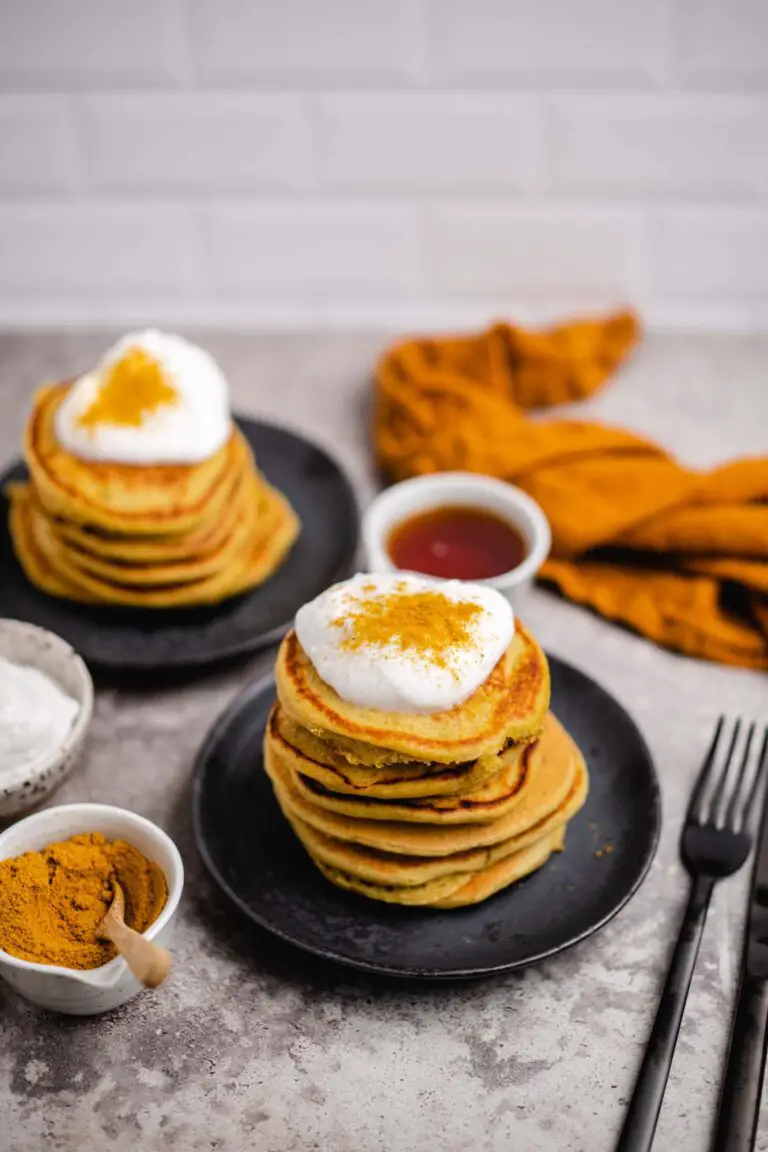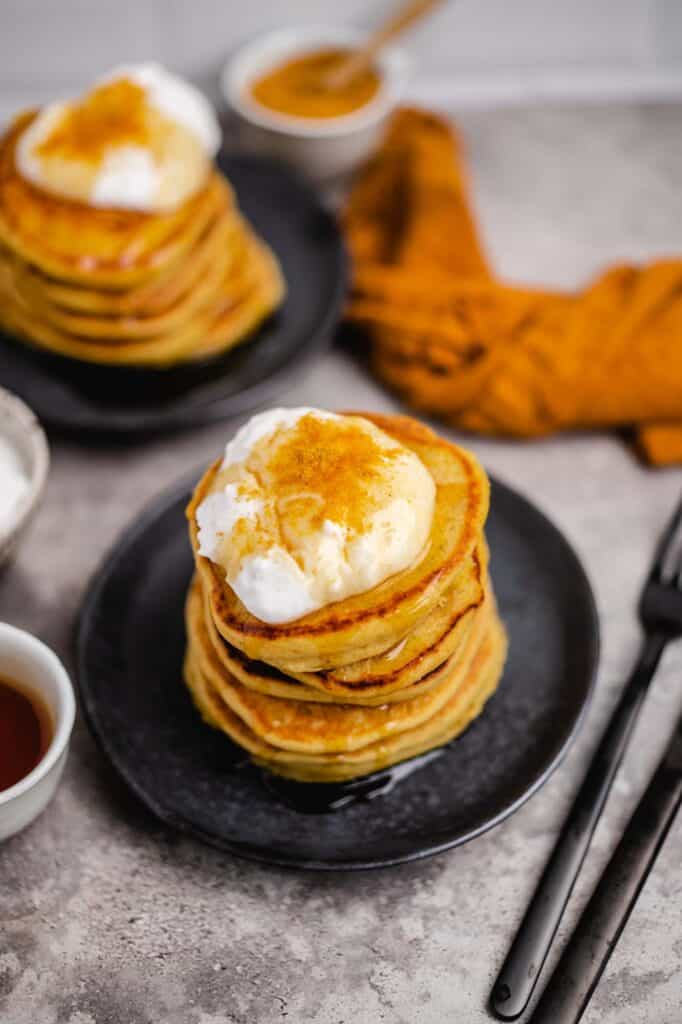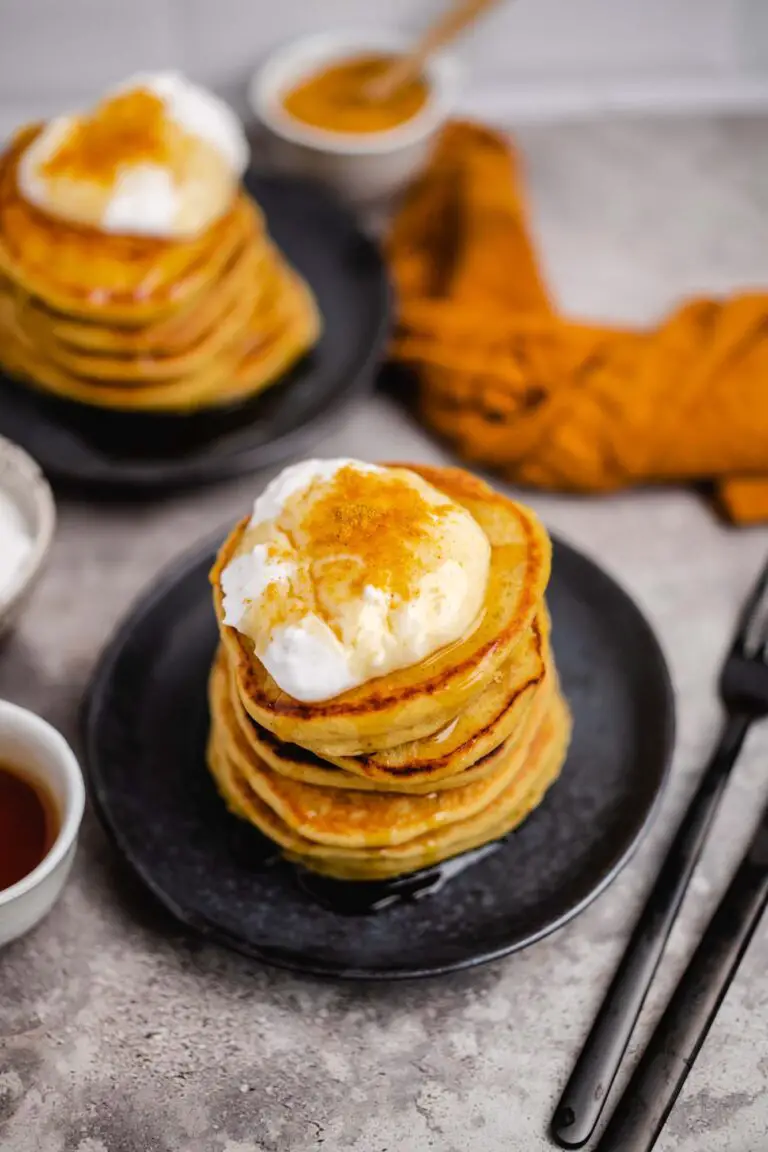 Baking vegan and gluten-free pancakes is easier than you think. I love this recipe so much and it is my absolute favorite when I have guests and want to cook for the family. For a cozy brunch, the beauties are absolutely suitable and I have not yet had a guest who did not like them. Especially the variant with pumpkin puree is a very tasty and dough incredibly fluffy.
Gluten-free doughs are at least as good and delicious as the versions with gluten-containing flour. For those who are not yet so skilled, I simply advise you to have patience and dare. Practice makes perfect!
If you're in the mood for some different pancakes today, here are my suggestions:
I would say we start off with these wonderful pumpkin pancakes. I wish you a lot of fun baking and of course a review at the bottom of this page. If you post a picture, use the hashtag #veganevibes.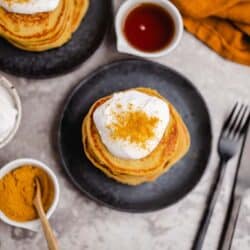 Pumpkin Pancakes (gf)
Natural sweetened, gluten-free and vegan pancakes with fine pumpkin puree. Perfect for an extended weekend breakfast or brunch with friends and family. Vegan, gluten-free and easy to make.
AUTOR: VEGANEVIBES
70

g

gluten free oat flour

I grind my own oatmeal in a high-powered blender

30

g

Almond flour**

2

tbspn

Baking powder

1

Pinch of salt

1

Piece

ripe banana

crushes

250

ml

Vegetable milk

I use a soy vanilla milk

30

g

Pumpkin puree (to the recipe)

30

ml

maple syrup

Some high heat oil for baking

I use high-oleic frying oil
Anleitung 
Prepare coated pan and a small key with high-heat oil and a silicone brush.

Some high heat oil for baking

Provide a bowl for the dough. Add in ripe banana, plant-based milk, pumpkin puree, maple syrup, gluten-free flour blend, almond flour, gluten-free oat flour, baking powder and a pinch of salt. Mix with a whisk until smooth, which should be slightly more liquid than an ordinary cake batter. Alternatively, use a high-powered blender with a dough program to make it.

1 Piece ripe banana,

250 ml Vegetable milk,

30 g Pumpkin puree,

30 ml maple syrup,

120 g gluten free flour mix,

30 g Almond flour**,

70 g gluten free oat flour,

2 tbspn Baking powder,

1 Pinch of salt

TIP: Let the dough sit for about

5 minutes

, so the flour can swell a bit. This makes the dough a little thicker and easier to bake out.

Dip the silicone brush into the oil and brush the hot pan with it. It can also be baked without oil, but then the pancake will be a little drier.

Skim off a portion of batter and place in pan. Bake for

2-3 minutes

until bubbles form and the surface becomes slightly dry. Carefully turn and bake for another minute.

Repeat until the batter is used up and it is best to stack them one on top of the other, this way the pancakes will stay warm longer.

Top with maple syrup, vegetable yogurt and pumpkin spice and enjoy! Best fresh.

Vegetable yogurt,

maple syrup,

Pumpkin spice
Nährwertangaben
Serving:
1
Portion
Calories:
276
kcal
Carbohydrates:
46
g
Protein:
10
g
Fat:
6
g
Saturated Fat:
1
g
Polyunsaturated Fat:
2
g
Monounsaturated Fat:
2
g
Sodium:
95
mg
Potassium:
347
mg
Fiber:
4
g
Sugar:
9
g
Vitamin A:
1412
IU
Vitamin C:
5
mg
Calcium:
159
mg
Iron:
3
mg