Buckwheat pancakes with chocolate cream are really heavenly. It's January and the weather is unfortunately not so good with us at the moment. Somehow I have the feeling since a few weeks to be stuck in the eternal autumn. At the moment it alternates between rain and sleet showers and I sweeten the time with new, delicious recipes. Then it's not so bad when I see the beautiful pictures of people on exotic islands on Instagram. Well, you can't have everything. For this, my first book will be published soon! Have you pre-ordered it yet? If not, then you can go directly to the store here.
Buckwheat pancakes with homemade chocolate cream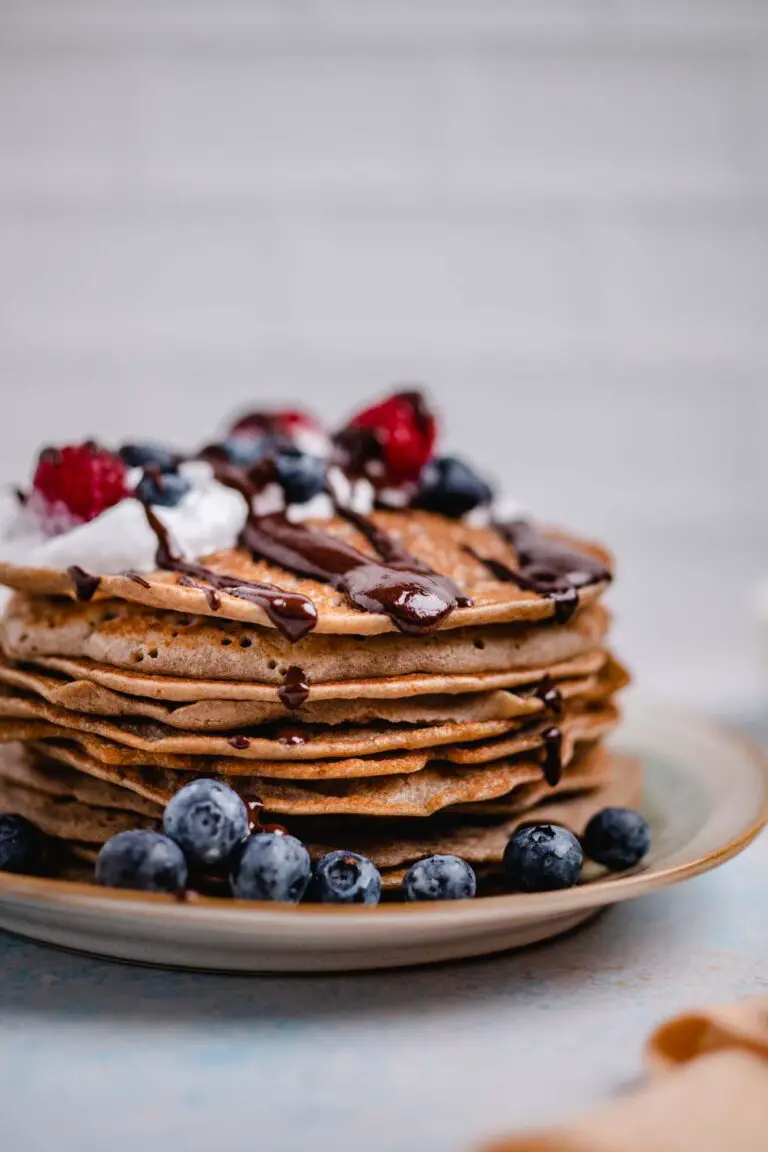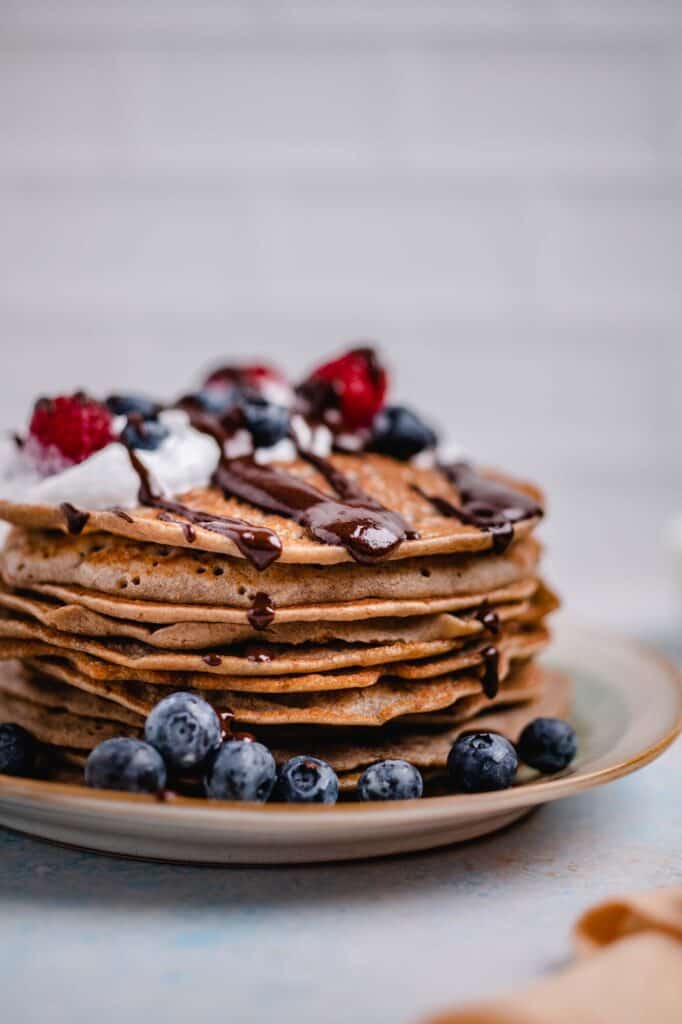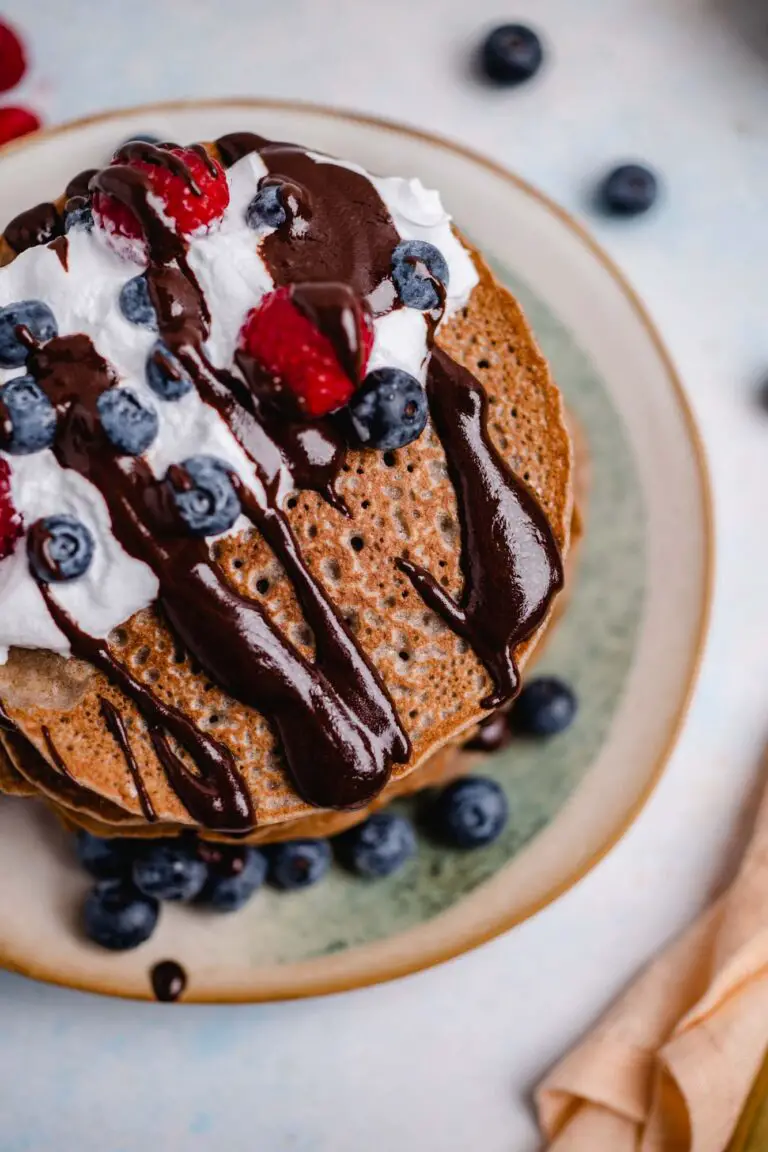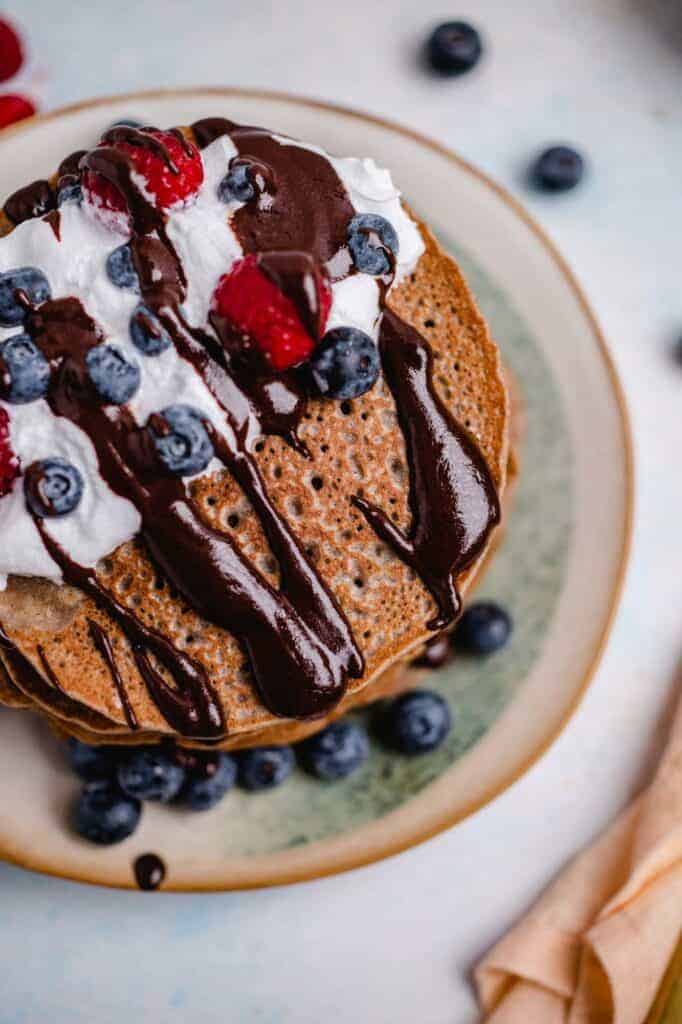 Buckwheat pancakes are really fun to make because they're healthy and you only need a handful of ingredients. Buckwheat flour, vegetable milk, baking powder, a pinch of salt, vanilla, maple syrup and applesauce. I use the latter for better binding and it gives the pancakes a nice, natural sweetness in addition to the maple syrup.
The ingredients all come together in a bowl or blender and are blended into a dough. I like to use the dough program on my high-powered blender, it really makes the dough perfect. For the topping, I put fresh berries, vegetable cream and a homemade chocolate cream on the pancakes. Click here to go directly to the recipe for the sauce.
TIP: I recommend letting the dough set for up to 5 minutes after mixing. This swells the buckwheat flour a bit and the dough becomes thicker and easier to bake out.
Make vegan pancakes quickly and easily yourself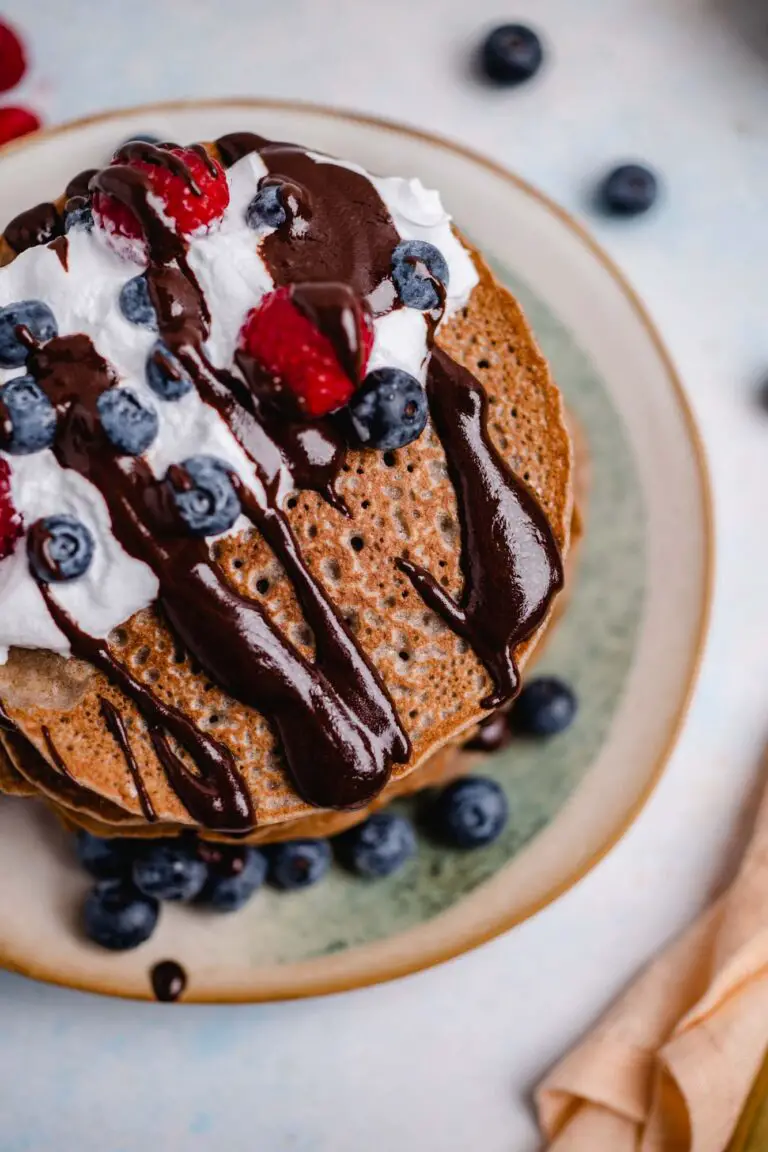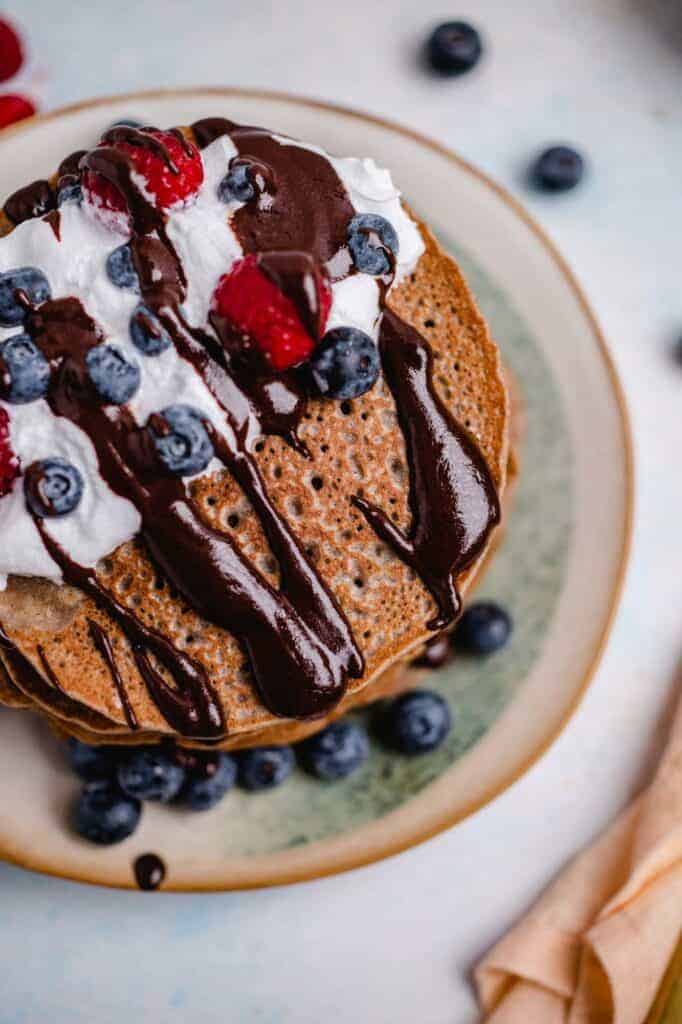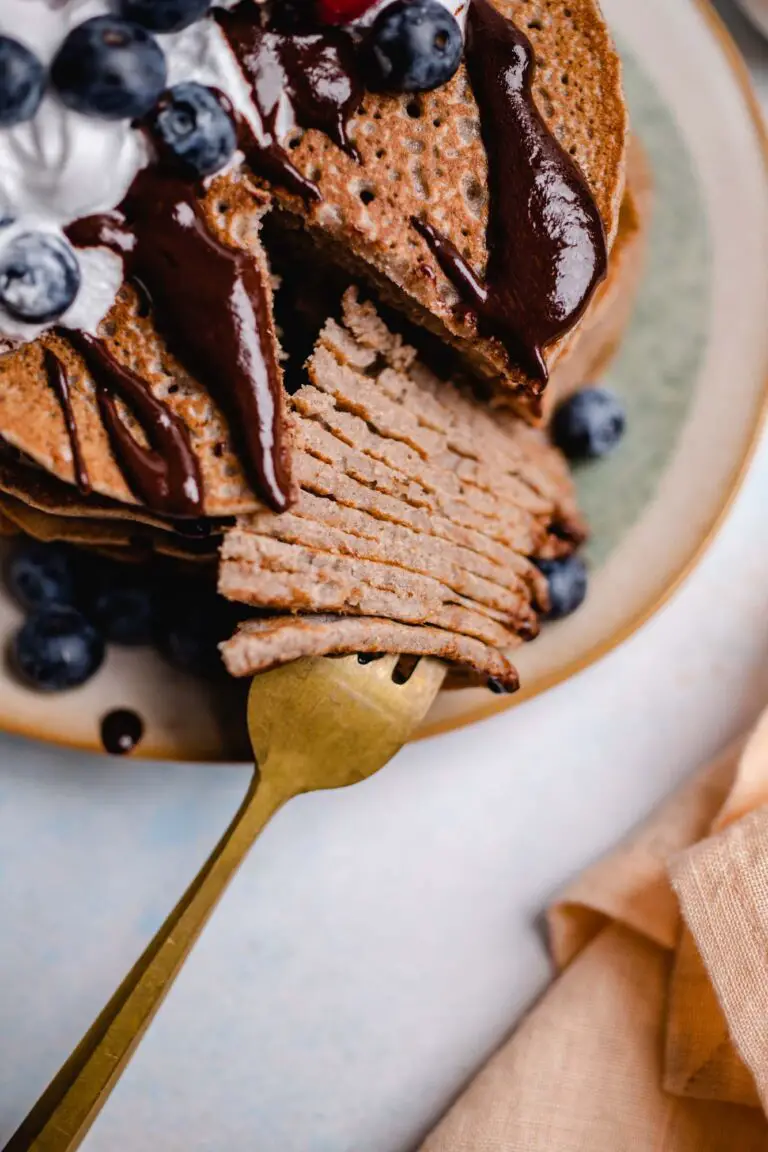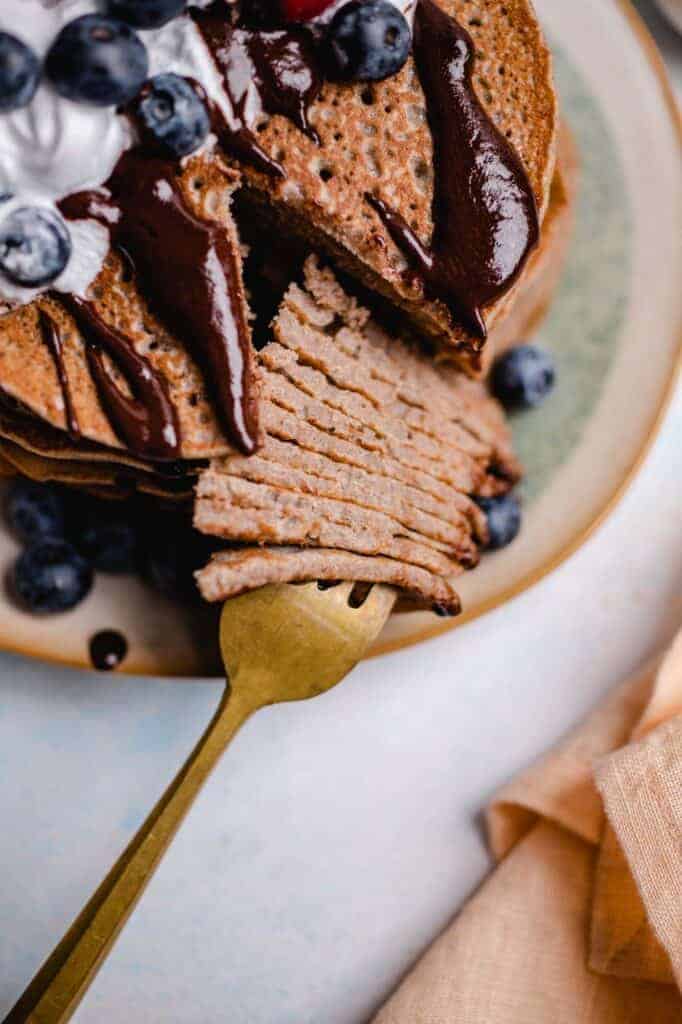 Buckwheat flour is really very fine and is naturally gluten-free. I have used for this recipe the buckwheat flour of Bohlsener Mühle from the Lüneburg Heath. The mill has been processing organic grain since 1979 and uses electricity from renewable energy sources. I am very happy to support local companies with local products that value short distances, local partnerships and fair prices.
Buckwheat is naturally gluten-free and very rich in nutrients. These include high-quality vegetable protein, B vitamins, minerals, iron and flavonoids. Ideal for a healthy and balanced vegan diet.
Tips for baking out the pancakes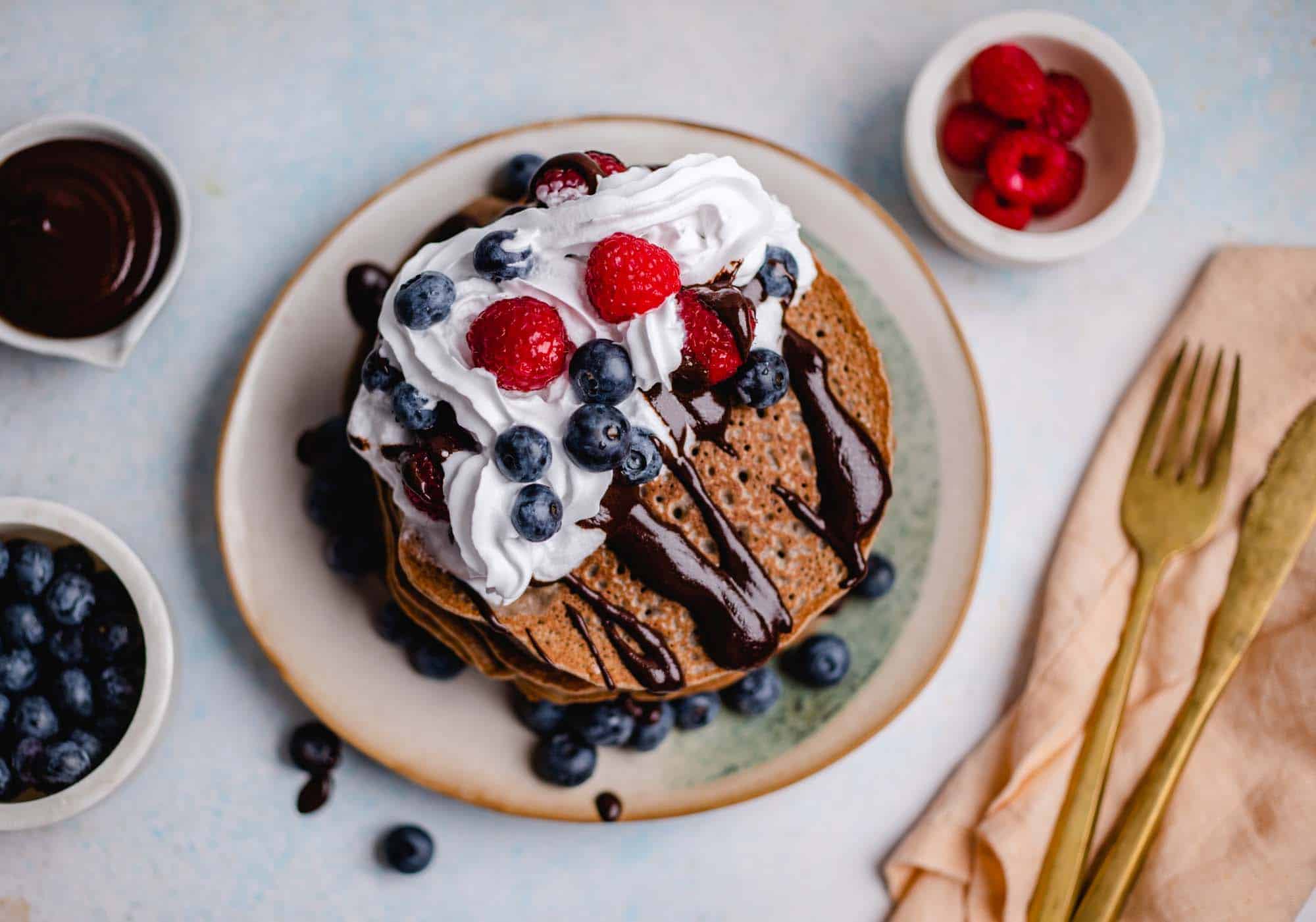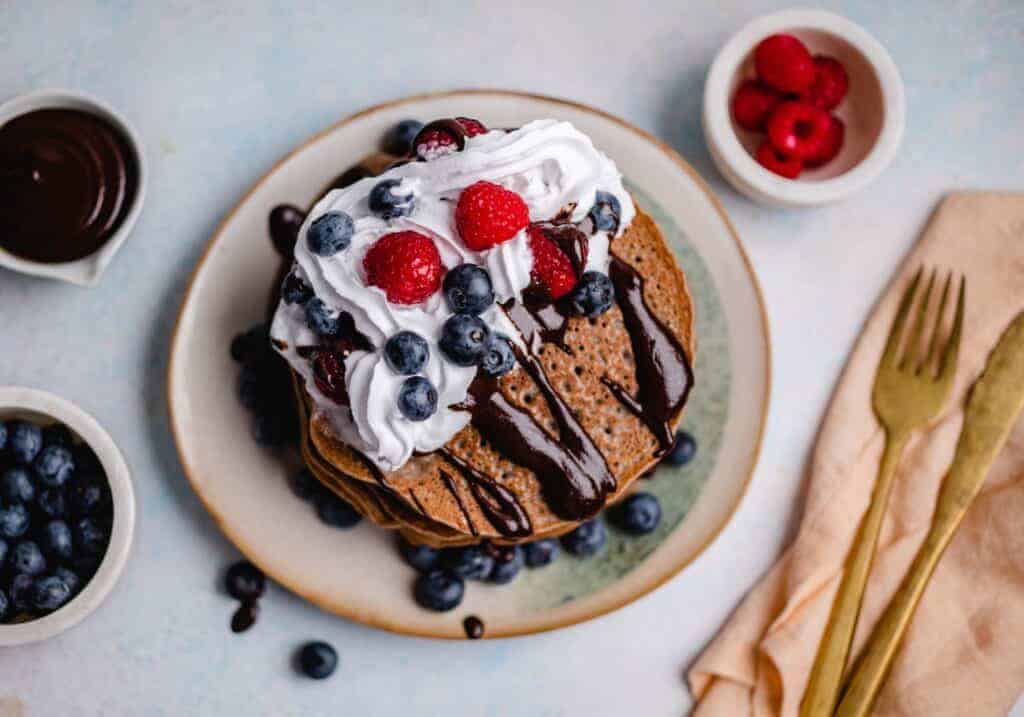 You might think that you can't go wrong with baking out pancakes. Unfortunately, things can still go wrong and that's why I want to share my best tips and tricks with you. The most important thing is a well coated pan. There are some bloggers who use a cast iron pan, however, I have not had such a good experience with it. I prefer to use a coated pan and coat it sparingly with oil. Do you have any other tips? Feel free to leave them below in the comments.
If you're in the mood for some different pancakes today, here are my suggestions:
I would say we start with these wonderful pancakes. I wish you a lot of fun with the Nachbacken and of course about a review at the bottom of this page. If you post a picture, use the hashtag #veganevibes.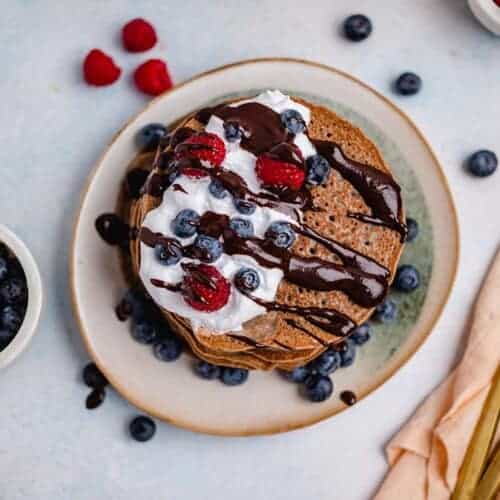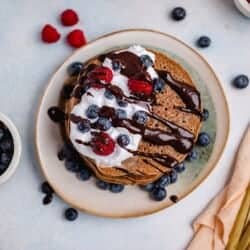 Buckwheat pancakes with chocolate cream (gf)
Natural sweetened, filling and natural pancakes made from precious buckwheat flour. Topped with fresh berries, vegetable cream and chocolate cream. Perfect for an extended breakfast on the weekend. Vegan, gluten-free and easy to make.
AUTOR: VEGANEVIBES
TOPPING:
Fresh berries to taste

Strawberries, raspberries, blueberries

Vegetable cream

homemade chocolate cream

To the recipe
Anleitung 
Prepare coated pan and a small key with high-heat oil and a silicone brush.

Some high heat oil for baking

For the dough, provide a bowl and put in all the ingredients in order. Mix with a whisk until smooth, which should be slightly more liquid than an ordinary cake batter. Alternatively, use a high-powered blender with a dough program to make it.

250 ml Vegetable milk,

125 g Wholemeal buckwheat flour,

30 ml maple syrup,

30 g Apple pulp,

1 tbspn Baking powder,

1 Pinch of salt

TIP: Let the dough sit for about 5 minutes, so the buckwheat flour can swell a little. This makes the dough a little thicker and easier to bake out.

Dip the silicone brush into the oil and brush the hot pan with it. It can also be baked without oil, but then the pancake will be a little drier.

Skim off a portion of batter and add to pan. Bake for 2-3 minutes until bubbles form and the surface becomes slightly dry. Carefully turn and bake for another minute.

Repeat until the batter is used up and it is best to stack them one on top of the other, this way the pancakes will stay warm longer.

Fresh berries to taste,

Vegetable cream,

homemade chocolate cream
Notizen
Calorie calculation without toppings
NOTE: The buckwheat flour was provided to me by Bohlsener Mühle as a product sample,
Nährwertangaben
Serving:
1
Portion
Calories:
78
kcal
Carbohydrates:
15
g
Protein:
3
g
Fat:
1
g
Saturated Fat:
1
g
Polyunsaturated Fat:
1
g
Monounsaturated Fat:
1
g
Sodium:
31
mg
Potassium:
145
mg
Fiber:
2
g
Sugar:
4
g
Vitamin A:
124
IU
Vitamin C:
2
mg
Calcium:
62
mg
Iron:
1
mg