Buckwheat Chia bread is one of my favorites. I was once again looking for a delicious recipe with buckwheat, as I use it far too little. Buckwheat is just wonderfully nutritious and at the same time. gluten free . It should be on the table much more often. Together with chia it is a dream combination. Try it!
Gluten free bread with buckwheat and chia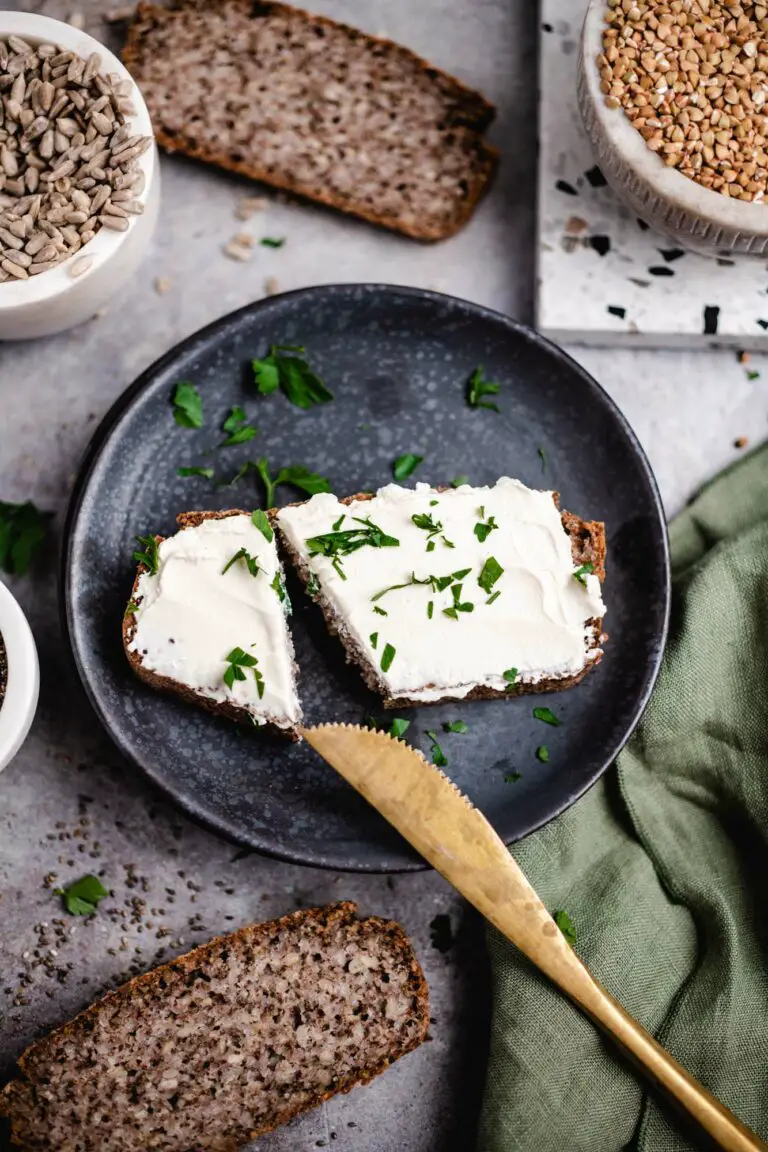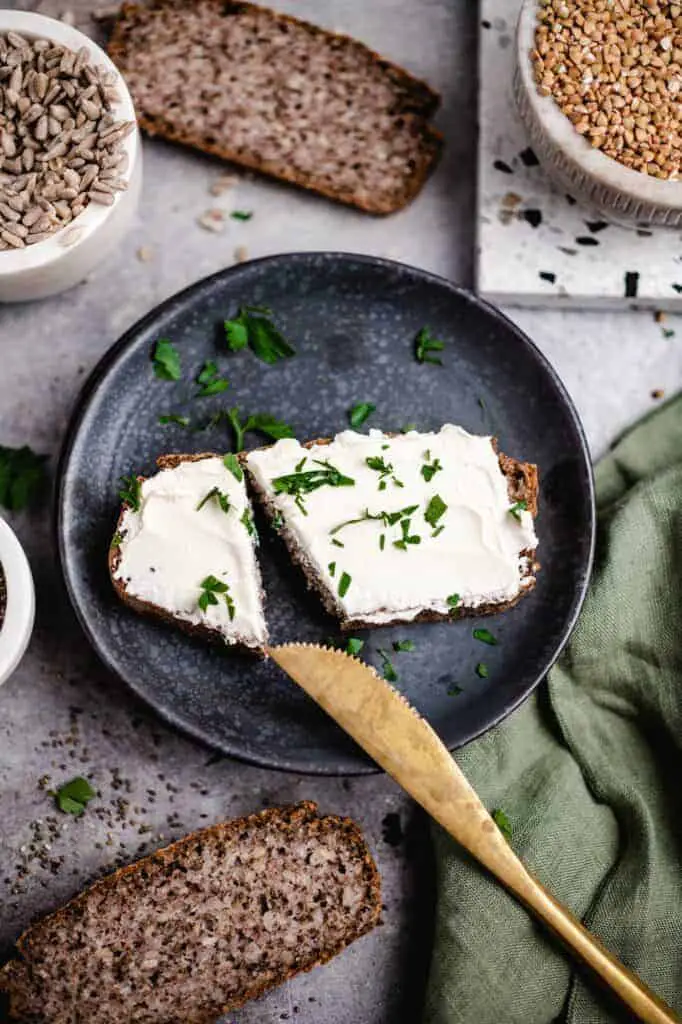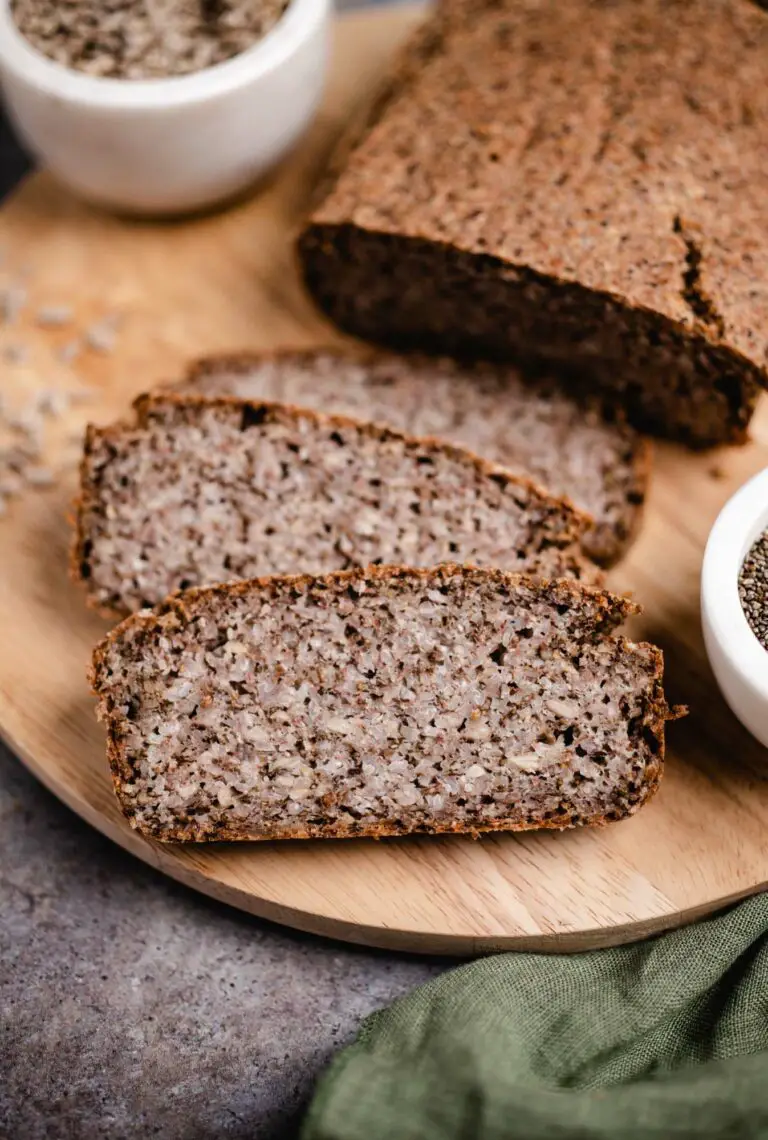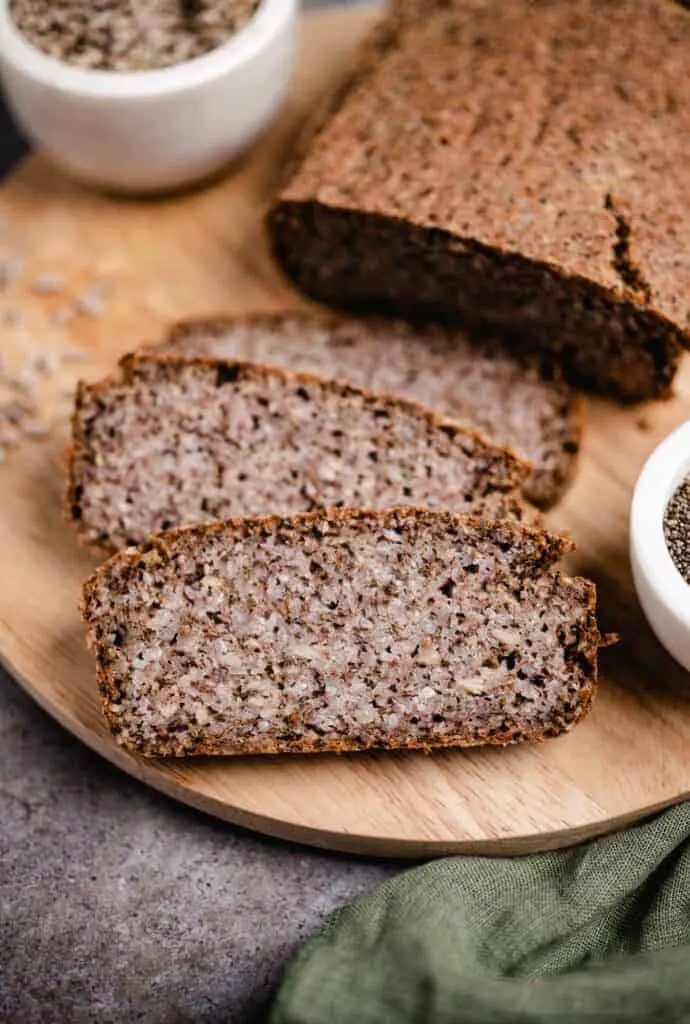 Maybe you feel more comfortable with a gluten-free diet and are looking for the right recipes? Then you are definitely right on this page and this bread is indeed the main prize. Juicy, crunchy, compact and nutritious. . For all those who are still oil-free on the road, of course, I also have a solution.
Let's take a brief look at the individual steps in more detail. First, soak the buckwheat in plenty of cold water for up to 2 hours. I then make a gel from the chia seeds and water, which thickens after 20 minutes. These two ingredients are sort of the basics for today's recipe. Strain the buckwheat, wash and place in a blender with the chia gel. Add sunflower seeds, flax seeds, oatmeal, baking powder, salt, olive oil and a little maple syrup. Mix one round and the dough is ready. Put it in the oven and after an hour of baking, the gluten-free bread is ready.
Bake vegan bread yourself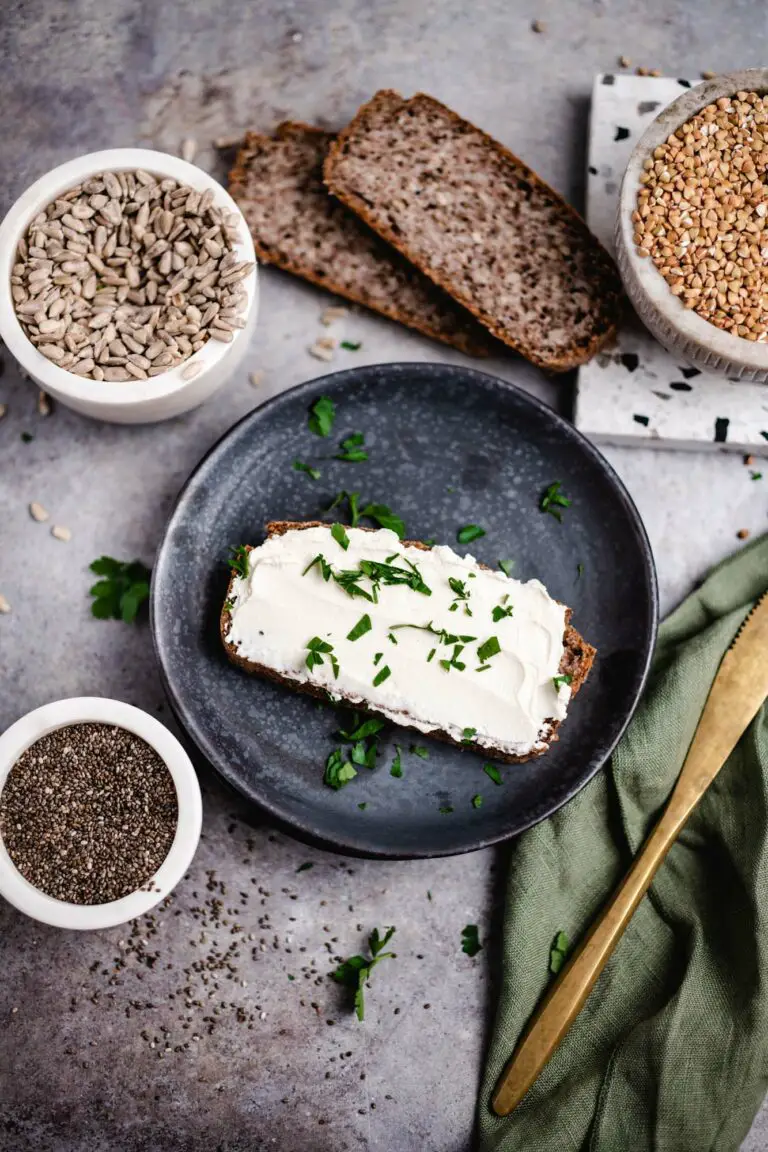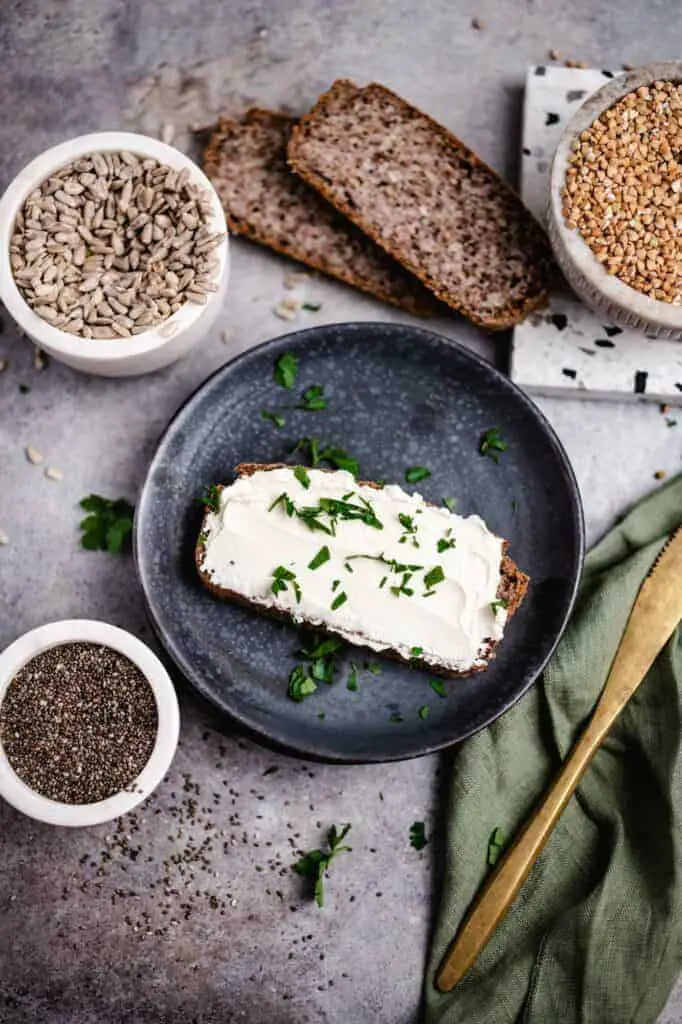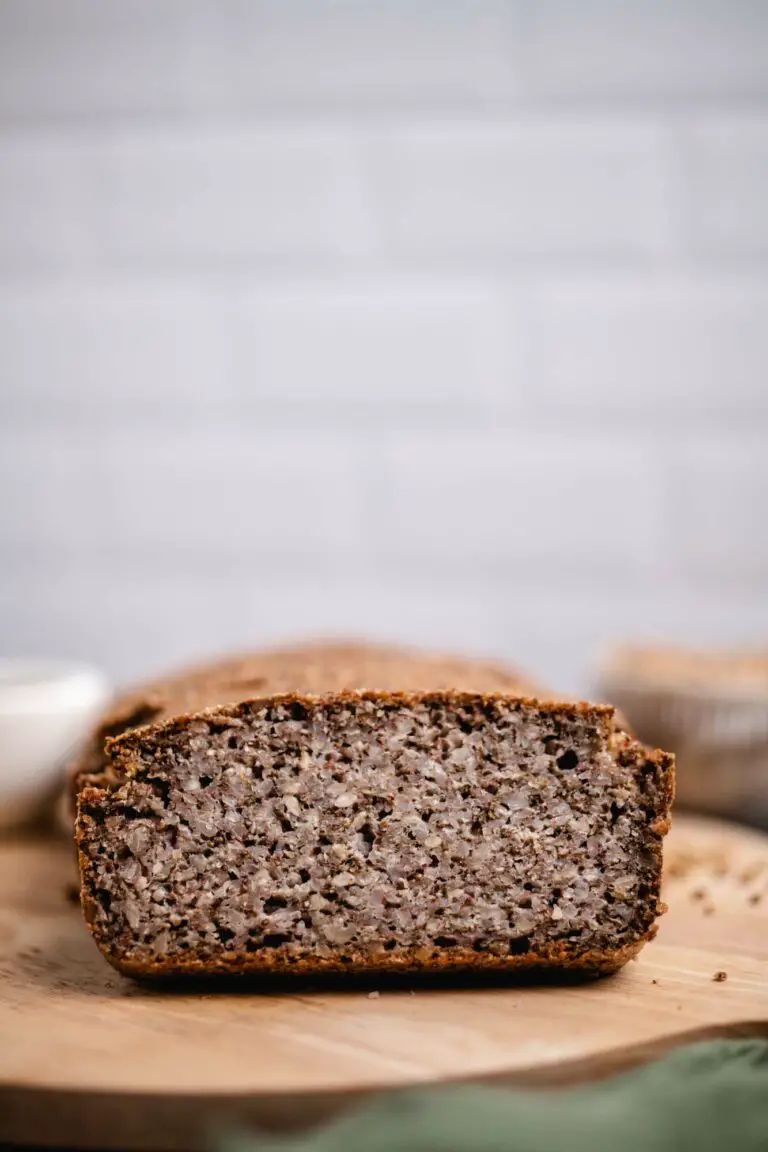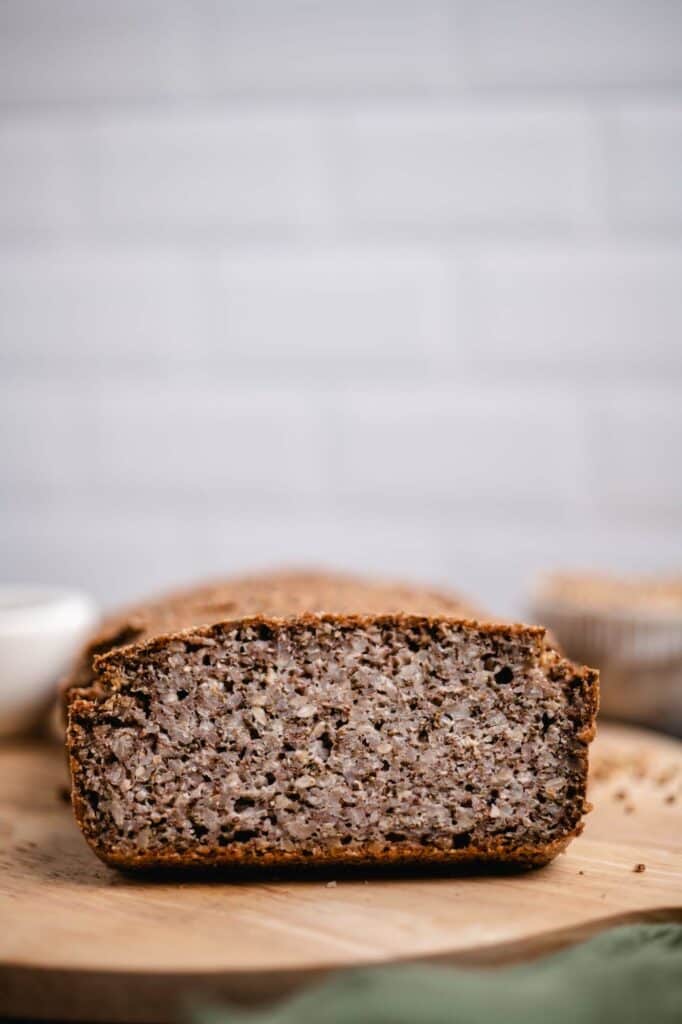 This bread is easy to make and absolutely sure to succeed. If you're looking for a different bread option today, I have the following suggestions for you:
Let's get started with this moist, gluten-free bread. I hope you enjoy baking and of course about a review at the bottom of this page. If you post a picture, use the hashtag #veganevibes.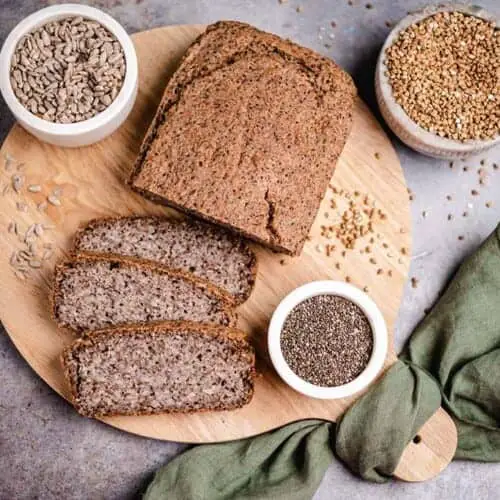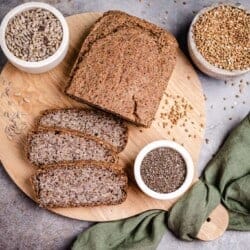 Buckwheat Chia Bread
Simple, moist and gluten-free bread made from buckwheat and chia. Ideal with sweet or savory spreads or as a side dish for a vegan breakfast, brunch or dinner. Gluten free, oil free option, quick to make and good shelf life.
AUTOR: VEGANEVIBES
Anleitung 
Place buckwheat in a large bowl and cover with plenty of water. Soak for 2 hours. At the end of the soaking time, strain, rinse with cold water and set aside.

Shortly before the end, make the chia gel by preparing a bowl and adding the chia seeds. Add 250ml and stir well to avoid lumps. Leave to infuse for

15 minutes

until a chia gel is formed.

Preheat oven to 175 degrees and line a 20cm diameter loaf pan with baking paper.

Provide a blender. Add in buckwheat, chia gel, rolled oats, flax seeds, sunflower seeds, olive oil, maple syrup, baking powder, and salt and mix until a uniform dough forms.

Pour into springform pan, smooth out and bake for

1 hour

. When the baking time is over, remove from the oven and let cool completely.

Cut into 12 pieces and serve.

Store in an airtight container at room temperature for up to 5 days.
Nährwertangaben
Serving:
1
Piece
Calories:
167
kcal
Carbohydrates:
21
g
Protein:
4
g
Fat:
9
g
Saturated Fat:
1
g
Polyunsaturated Fat:
2
g
Monounsaturated Fat:
6
g
Trans Fat:
1
g
Sodium:
86
mg
Potassium:
164
mg
Fiber:
4
g
Sugar:
1
g
Vitamin A:
2
IU
Vitamin C:
1
mg
Calcium:
43
mg
Iron:
1
mg