Buckwheat Blondies , what? Are the Holidays over again? This year was the second time in my life that I was at Easter was not with my parents. The first time was in 2006 when I was studying in Hawaii. I couldn't just fly home like that. I was too busy learning to surf and studying. Yes, my dears, I studied and successfully completed one semester at Hawaii Pacific University. There are those who claim that I was only on the island to party. I won't say anything about it and thanks to Corona it was the second time that I wasn't with my parents. The Easter was nevertheless over extremely quickly and we passed the time with walking, yoga (only me, not my husband) and biking. Besides I have much cooked and made the refrigerator times so really empty. I love it when I can use it all up once. Far too often, food accumulates and then disappears from the far front to the very back of the food cupboard. Since I have but immediately times the Buckwheat flour out and made something nice with it.
Buckwheat Blondies, quasi the healthy version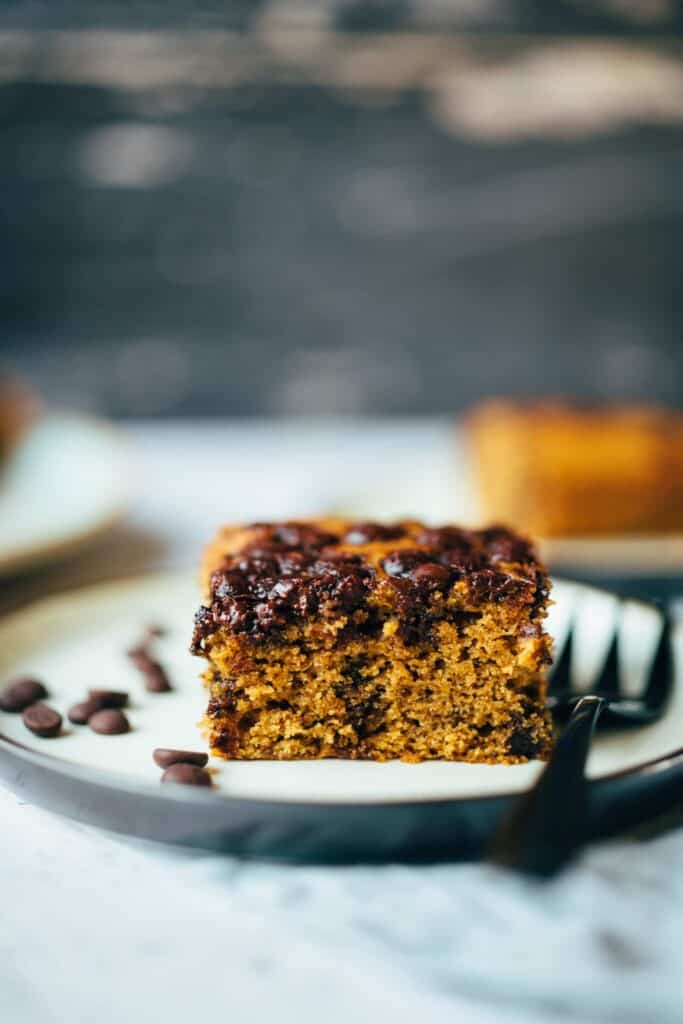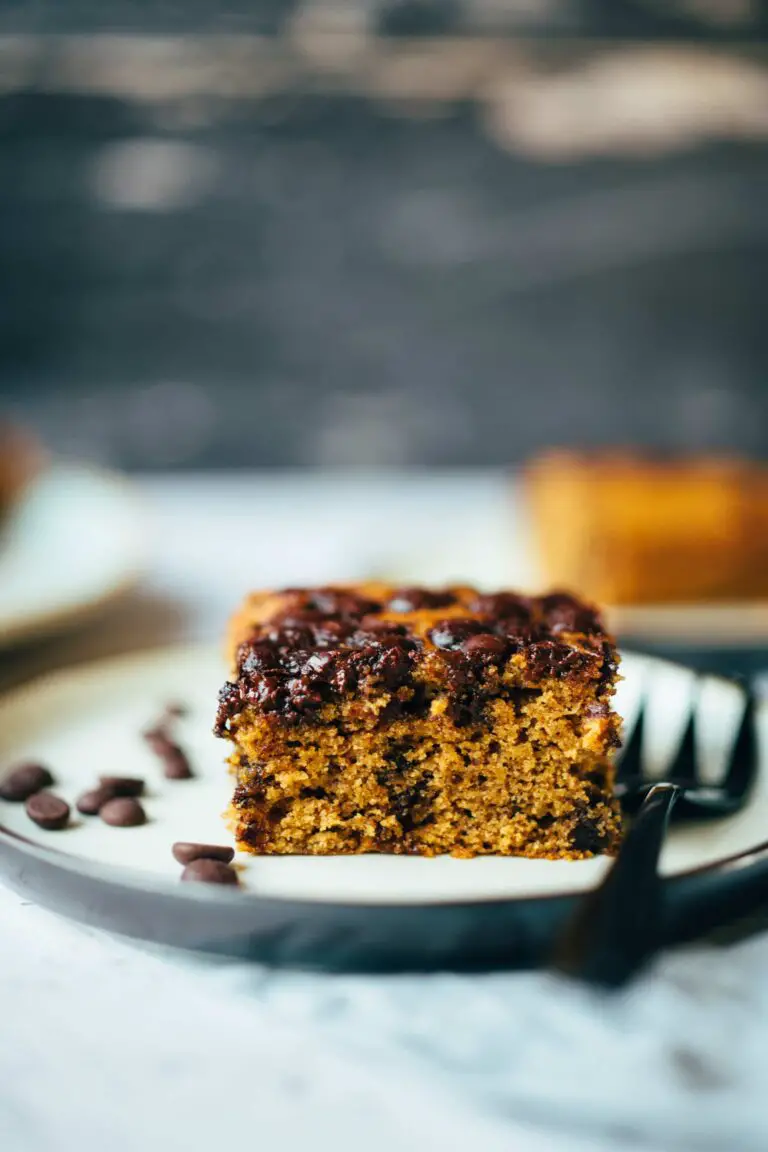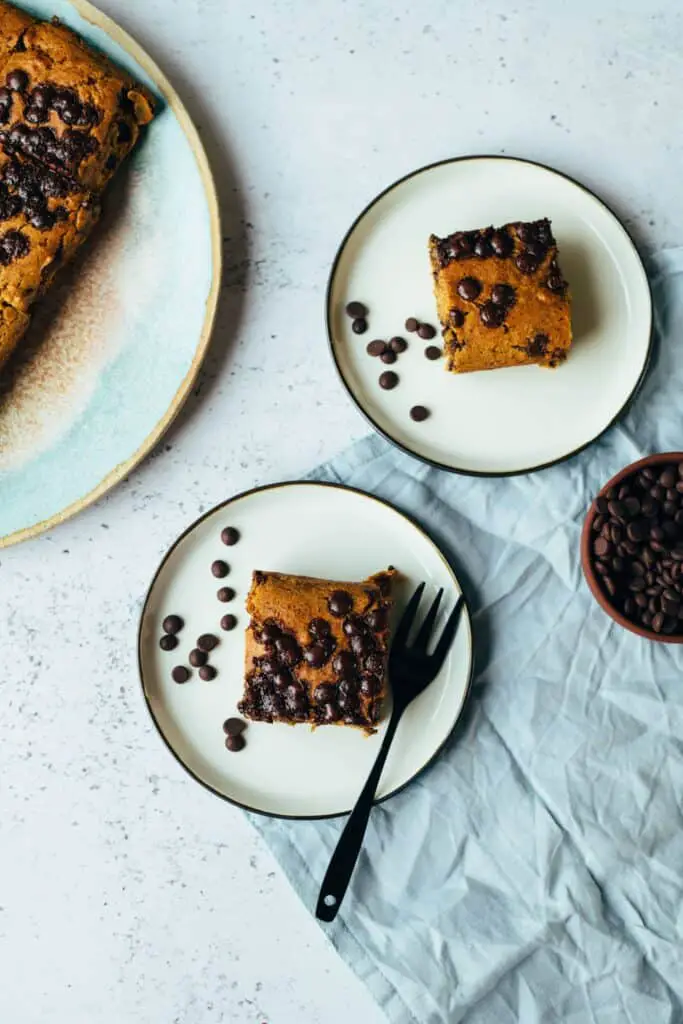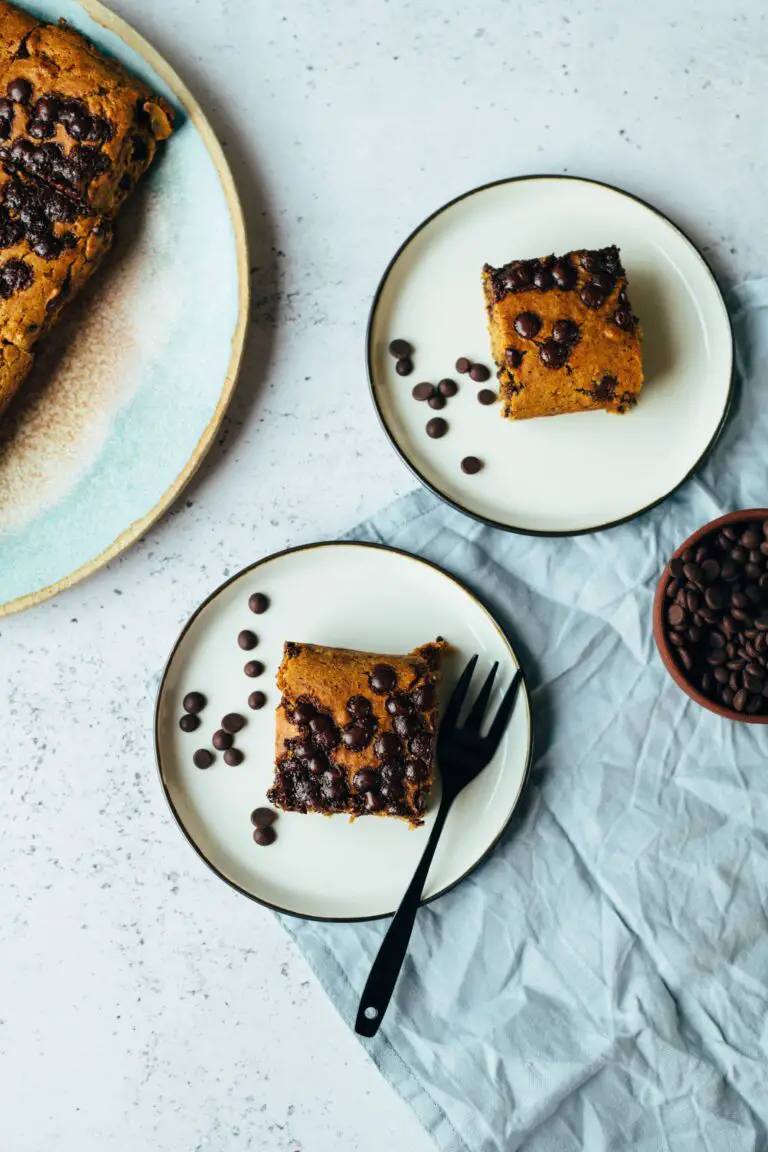 I have an absolute sweet tooth and just can't get enough of sweet things. My husband and I are outdoors a lot with the huskies and I'm pretty athletic that way too. However, I always have such a little belly and I often wonder why I can't get rid of it? Quite simply, the endless creations in my Kitchen are to blame.
At least I made a slightly healthier version with buckwheat flour, almond flour, almond paste, coconut sugar, Flax egg , baking soda, almond paste, maple syrup, bourbon vanilla and a pinch of salt. Add dark, vegan chocolate drops and it's off to the oven! The result is yummy, soft, chocolatey, caramel, sweet and whatever else you can dream up.
The production is more than easy and you need no more than a baking bowl and a silicone scraper or wooden spoon. TIP The nut butter is the key to success. why? Often the oil settles at the top and the mush becomes quite hard at the bottom. So it's stir, stir, and stir again until it's nice and smooth and creamy. This is then also together with the other liquid ingredients, the creamy base for our Blondies.
Almond flour and ground almonds, what is the difference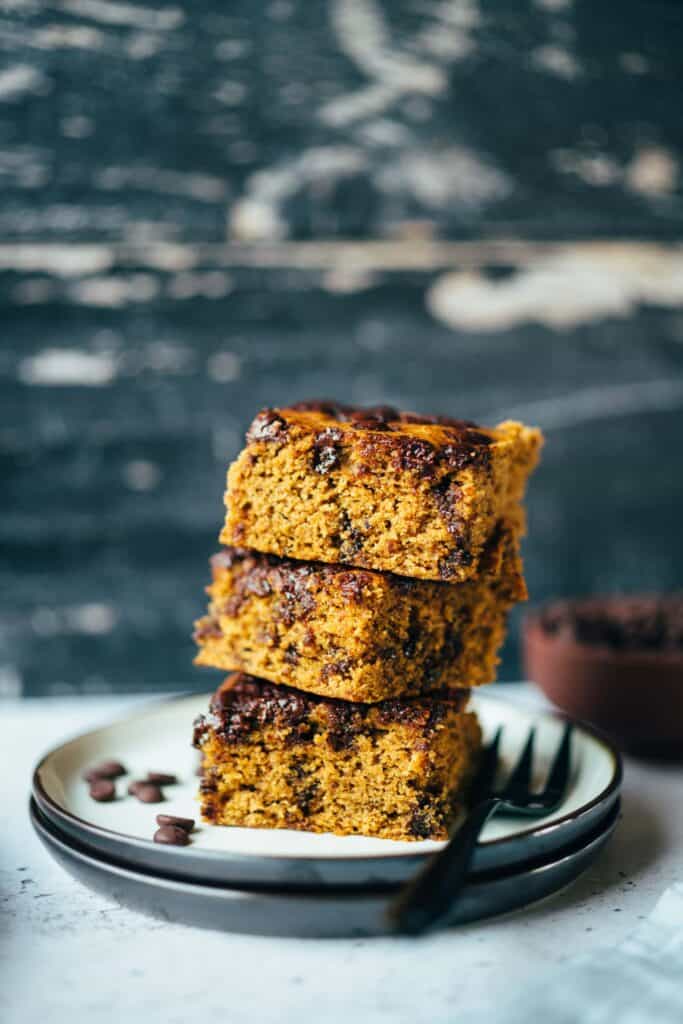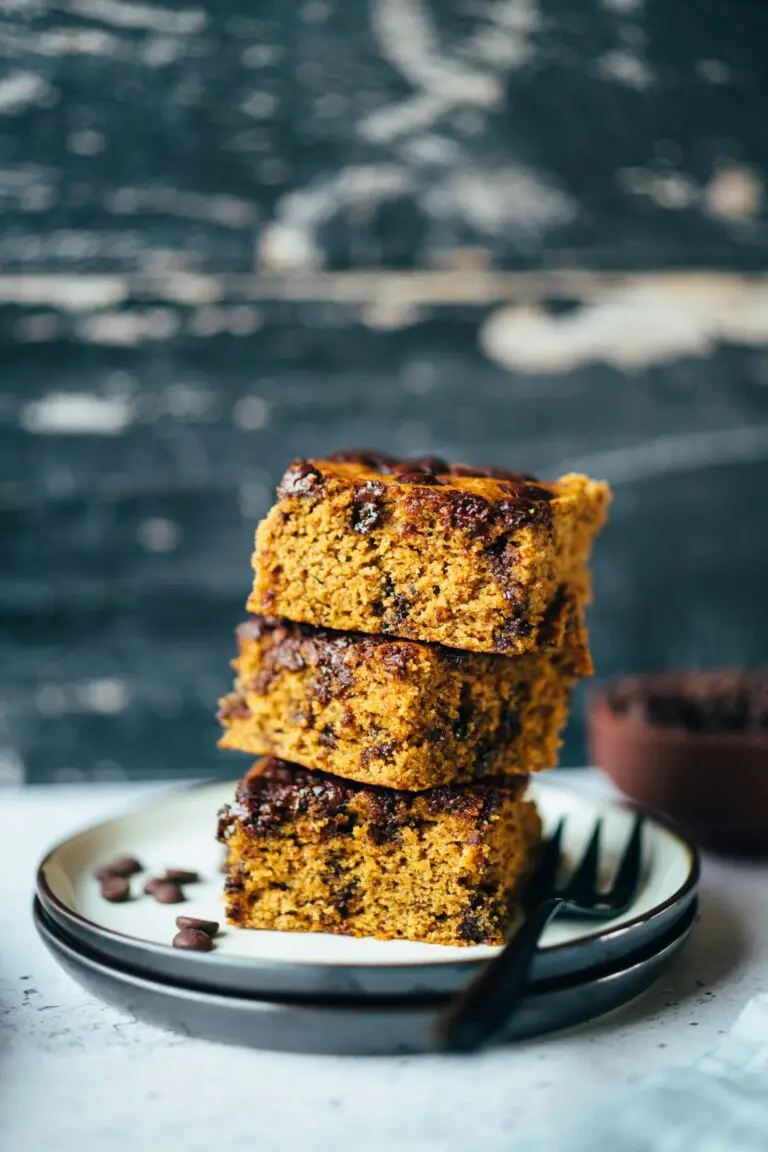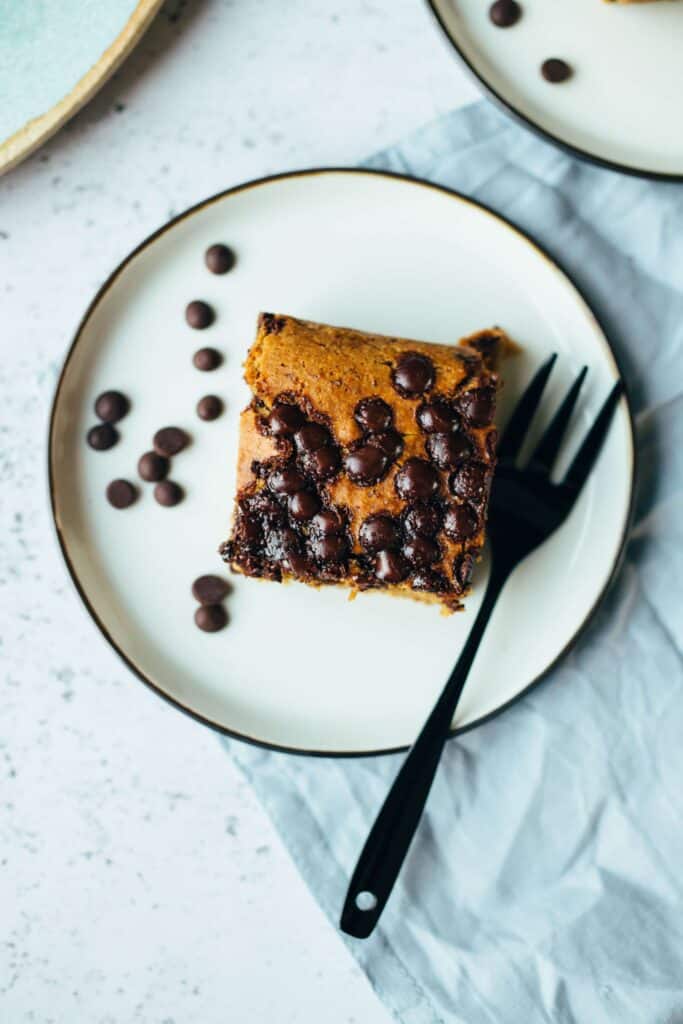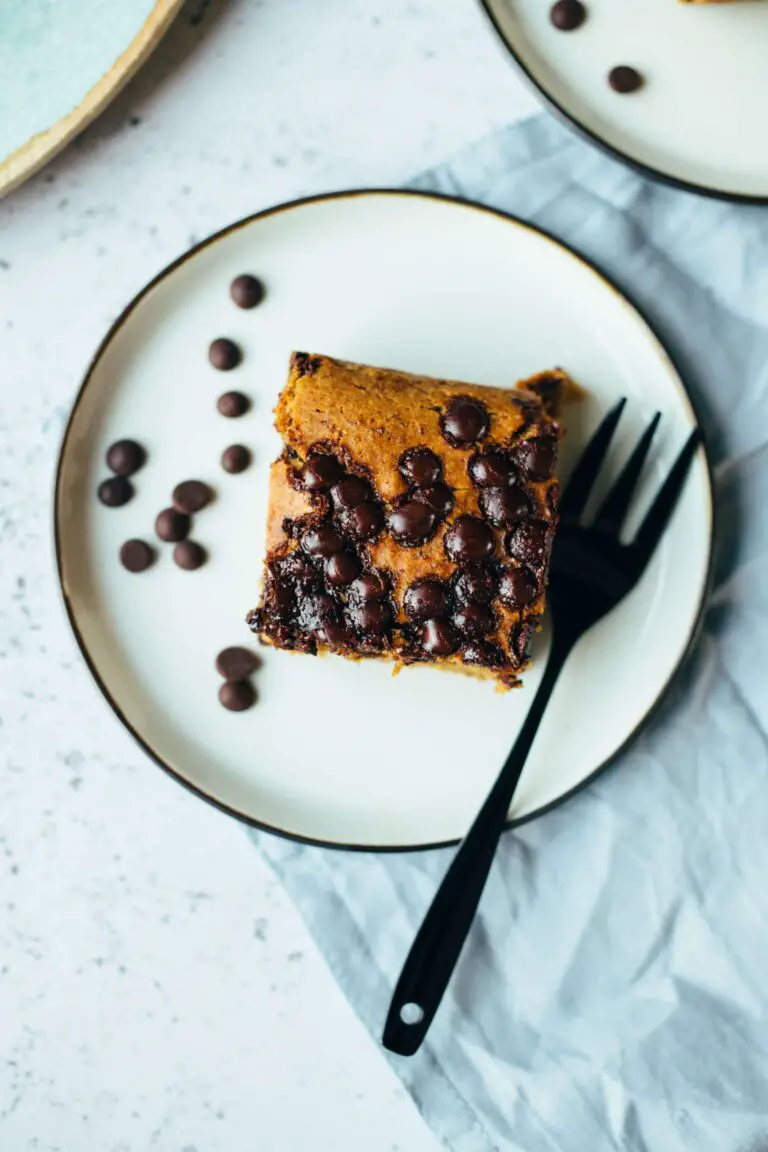 I often get the question, what is actually the difference between almond flour and ground almonds and if you can just swap the two for each other. While both ingredients are extremely similar, they are significantly different. In the case of almond flour, the oil is extracted by pressing and for this reason makes it much lower in fat and thus calories. Almond flour has a fat content of just 12 percent, whereas ground almonds shine with almost 60 percent.
CONCLUSIONS: Almond flour and ground almonds are not easily compared and behave differently in baking. Almond flour is drier and has a lower fat content. Its high protein content makes it particularly interesting for people who want to cook and bake in a figure-friendly way.
If you're not so keen on buckwheat today and maybe like it a tad greasier or chocolatier, I've got my gluten free brownies , raw brownies , cherry brownies, the best brownies or classic Blondies to offer.
Are you ready for these incredibly delicious buckwheat blondies? They are:
Quickly made
Caramel
Inside soft
chocolatey
oil-free
gluten-free
Here we go with these incredibly delicious vegan blondies, I hope you enjoy baking them and of course about a review at the bottom of this page. If you post a picture, use the hashtag #veganevibes.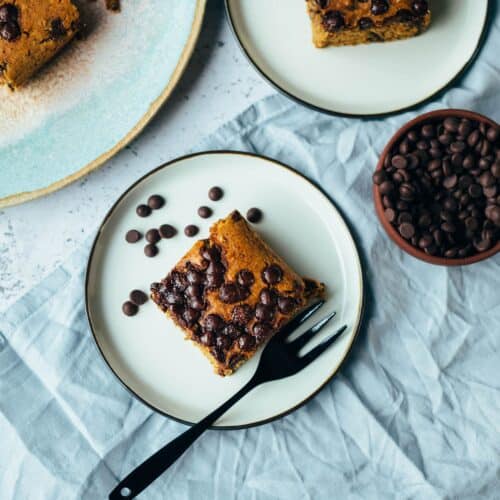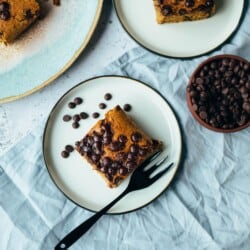 Buckwheat Blondies (gf, öf)
Vegan, oil-free and gluten-free buckwheat blondies with fine buckwheat flour, almond flour and almond paste. Extra chocolaty and caramel thanks to coconut blossom sugar. Perfect for the coffee party with the whole family.
AUTOR: VEGANEVIBES
Anleitung 
Preheat oven to 175 degrees, line a king cake pan with baking paper.

Prepare flax seed egg and set aside.

Stir nutmeal well, it should be free of lumps and nice and creamy.

FOR THE DOUGH Place the flaxseed egg and almond paste in a bowl and mix well until well combined. Add maple syrup and vegetable milk and continue to stir until smooth. Add almond flour, buckwheat flour, coconut blossom sugar, baking soda, bourbon vanilla and salt. Continue stirring until a compact dough is formed (see video).

1 Piece Flax seed egg,

45 g Almond paste,

15 ml maple syrup,

15 ml Plant milk,

50 g Almond flour,

60 g Buckwheat flour,

1 ½ tbspn Baking soda,

¼ tbspn Bourbon vanilla ground,

A pinch of salt,

55 g Coconut blossom sugar

Check consistency, the dough should be a tad firmer than a kitchen dough. If too runny, add a touch more flour, if too firm, add a sip more vegetable milk.

Pour batter into king cake pan and gently smooth out.

Put in the oven and bake for 20 minutes.

60 g dark vegan chocolate drops

At the end of the baking time, remove from the oven and let cool completely.

Cut into eight equal parts and enjoy!
Nährwertangaben
Serving:
1
Portion
Calories:
168
kcal
Carbohydrates:
19
g
Protein:
4
g
Fat:
9
g
Saturated Fat:
2
g
Cholesterol:
1
mg
Sodium:
68
mg
Potassium:
128
mg
Fiber:
3
g
Sugar:
9
g
Calcium:
45
mg
Iron:
1
mg