Dates, please all come to me. At the Biofach I was practically in heaven, everywhere you could try and especially the date stand had it to me. Medjool dates are just so what of outrageously delicious and I thought, we make today times a real delicious Dessert out of it. Raw vegan Brownies with 5 ingredients and made in less than 30 minutes made. The good news is that you will certainly not miss anything with this variant, the bad? There are none, because they all have calories and sugar.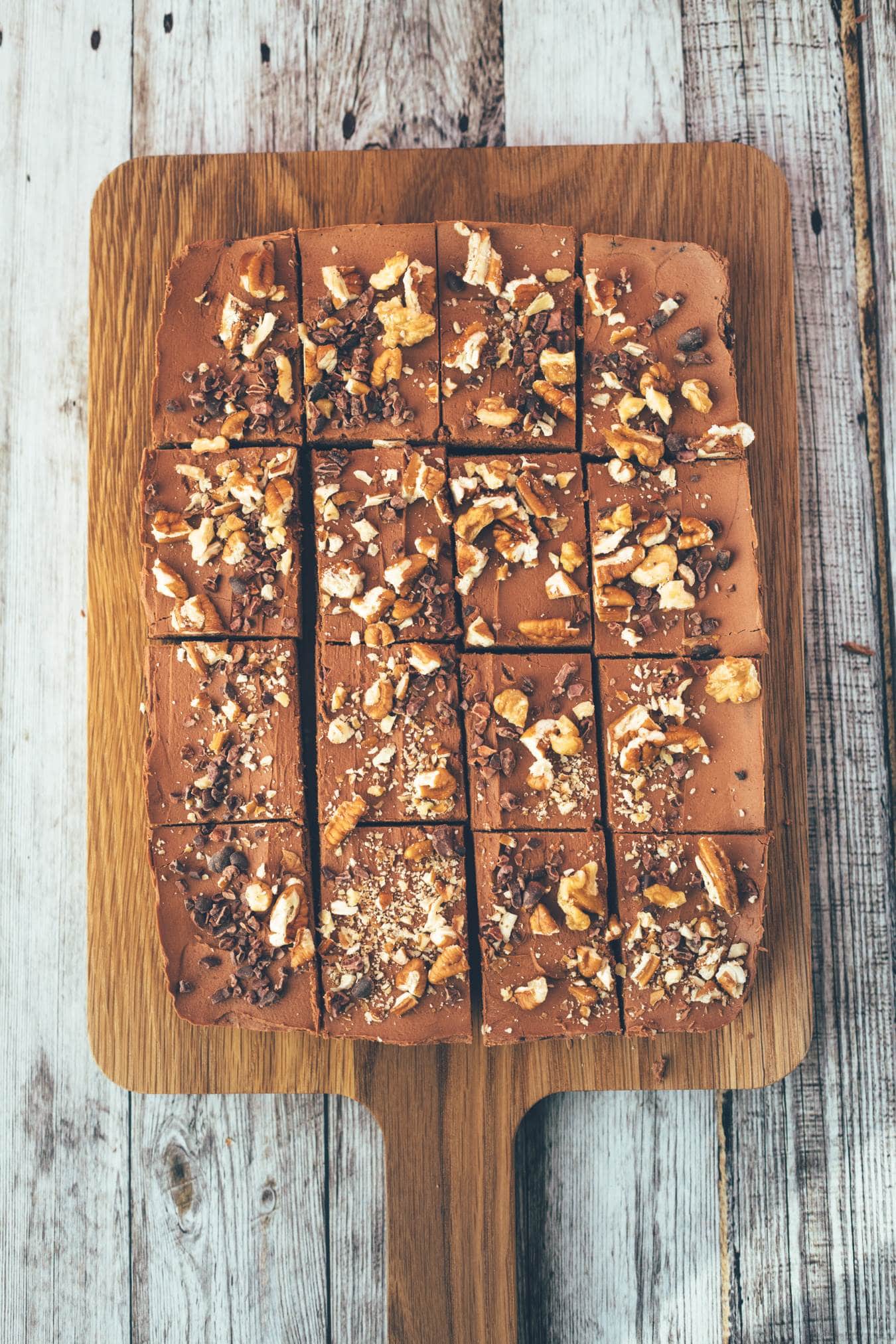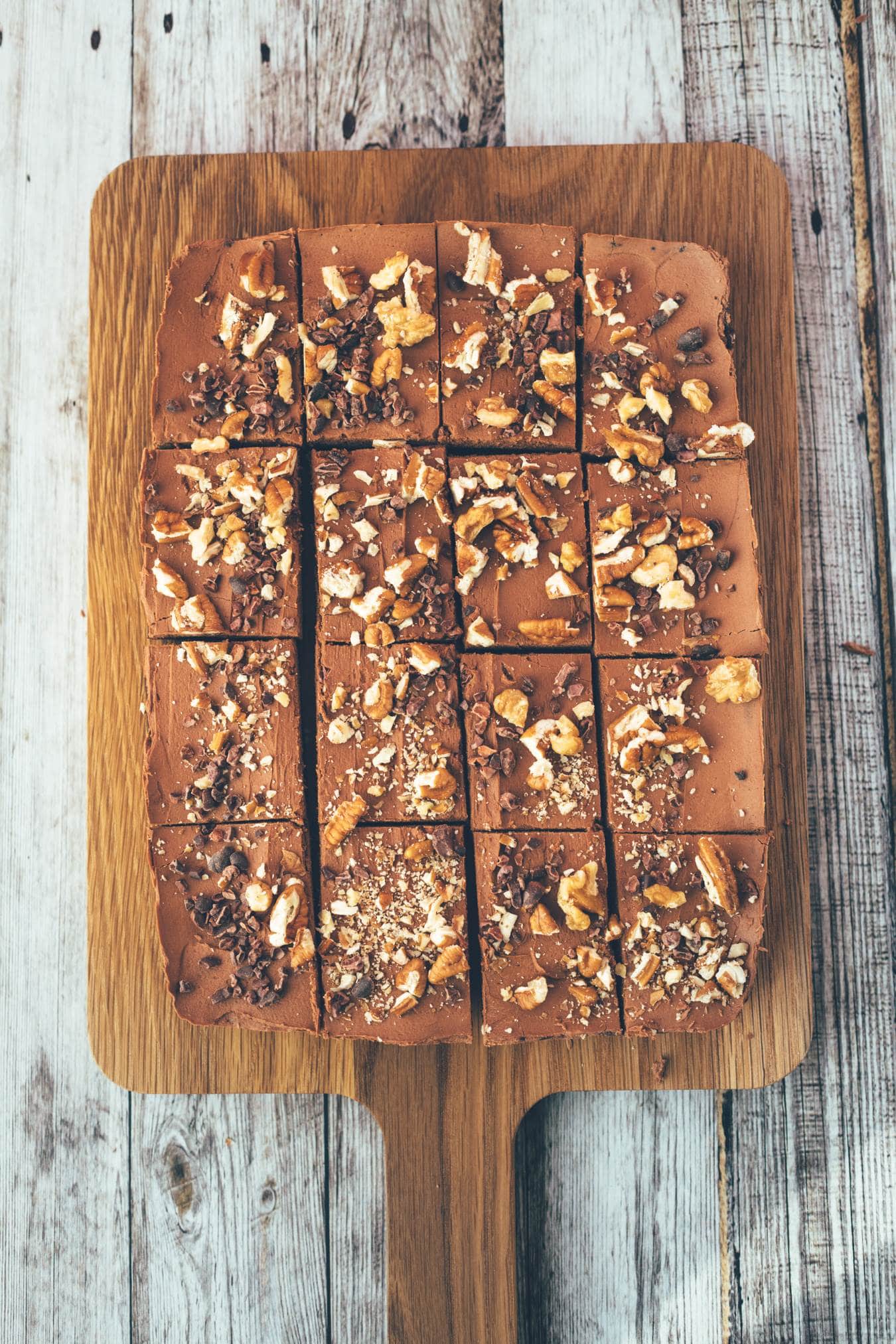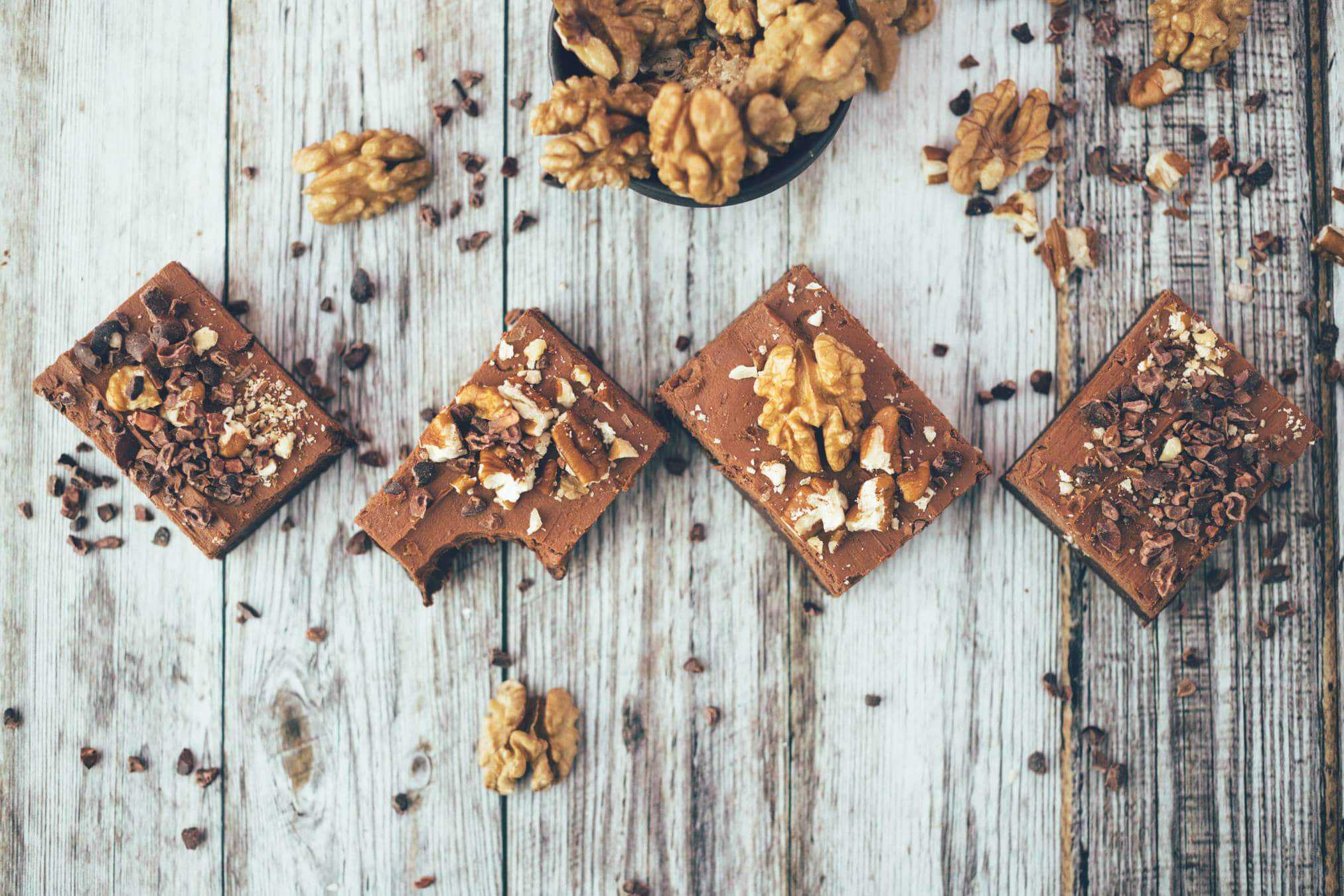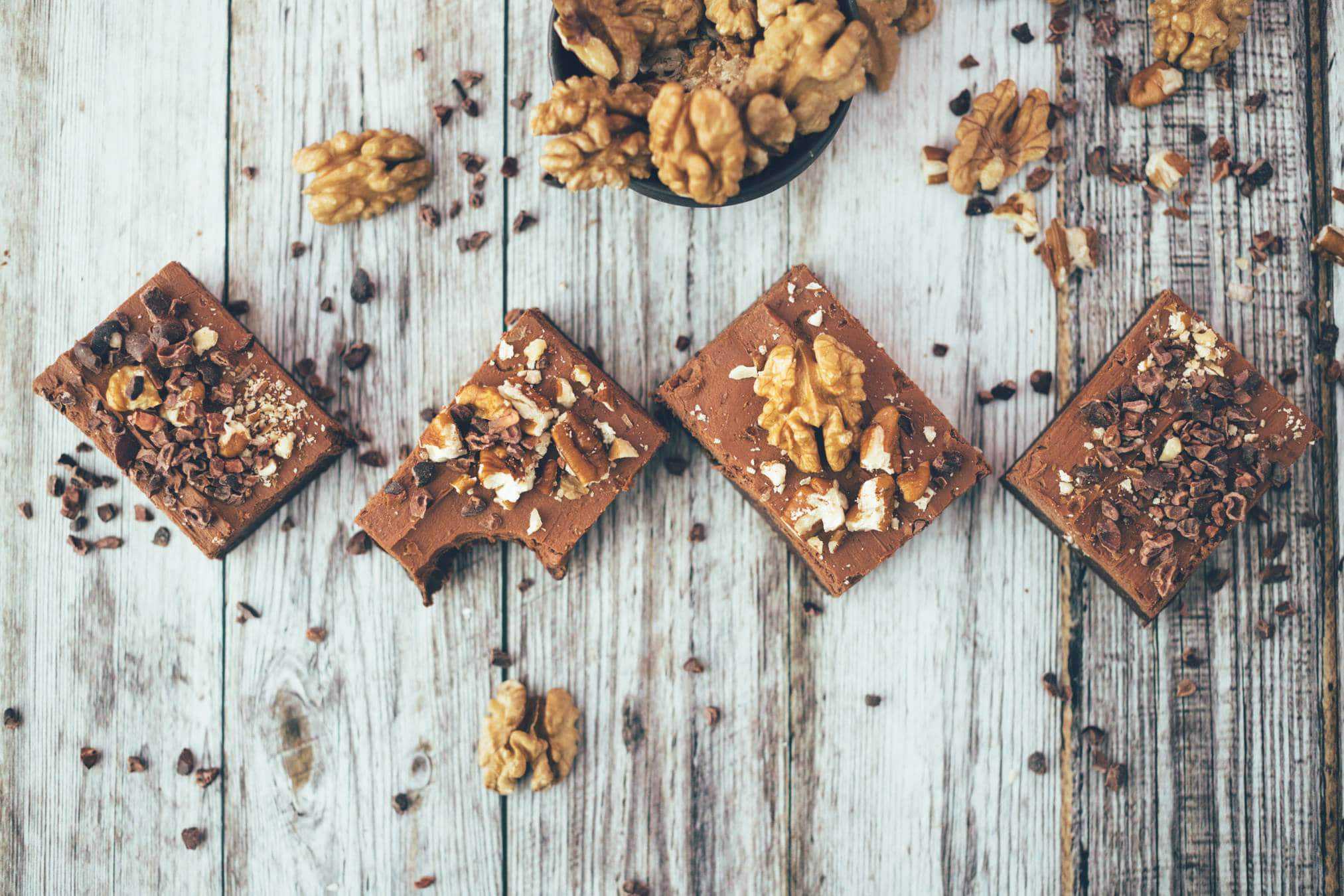 RAW VEGAN BROWNIES – AM I IN HEAVEN OR WHAT?
I am already a very big fan of Chocolate and you will find it twice in this brownie. Once in the form of raw cacao powder and then still hidden in the topping as dark chocolate coating. Add mixed nuts, here I use hazelnuts, pecans and walnuts. However, anything you have at home is allowed. However, I find a large proportion of almonds delicious, which bring a mild sweetness into play. Oh yes, dates must not be missing from the base, of course, they provide a great, natural sweetness.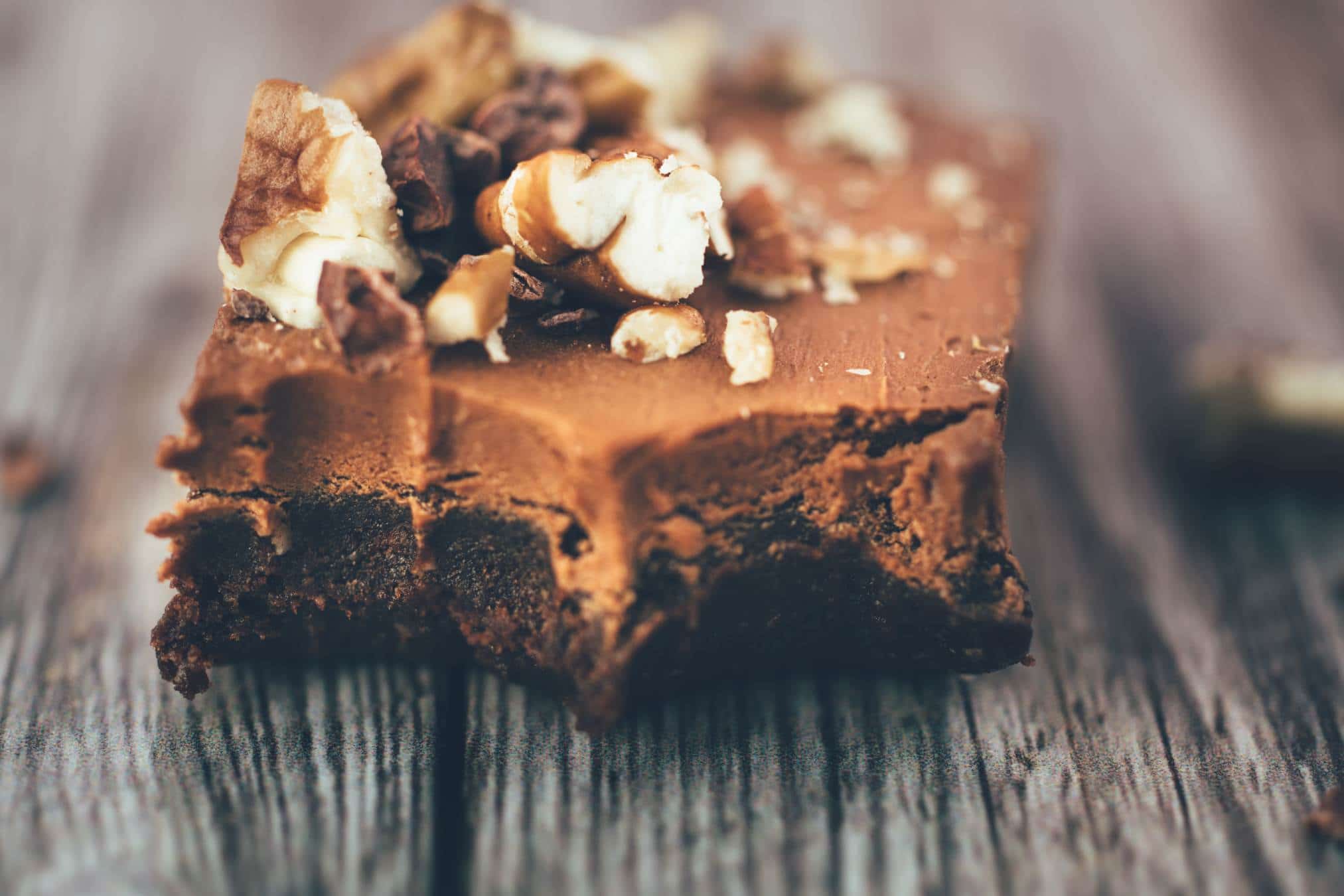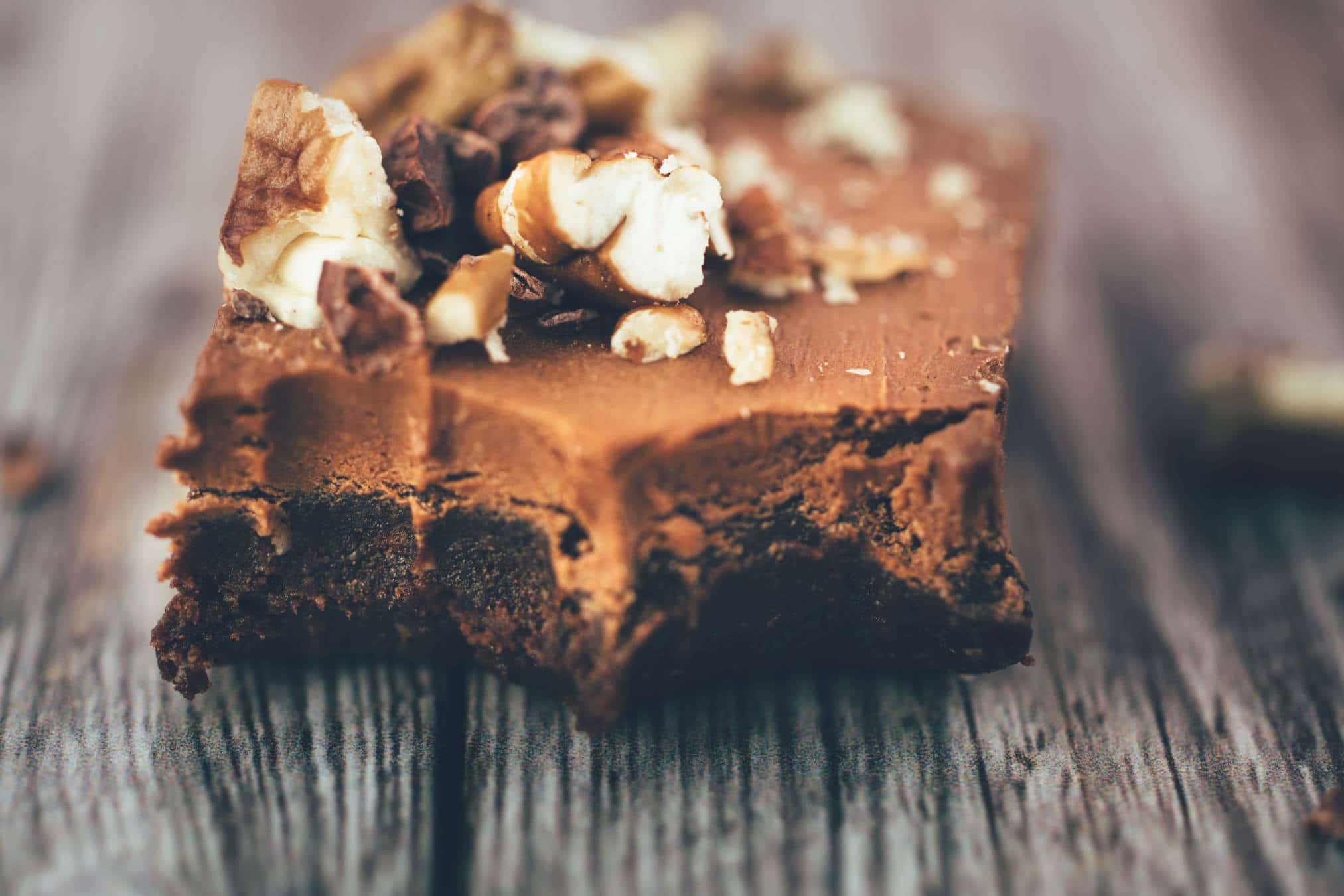 It also works without chocolate cream – but is it still fun then?
Let's move on to the topping, the chocolate cream, vegan ganache or whatever you want to call it. Sure, you could save yourself the extra calories, but would it still be fun? When you bite into it, the chocolate cream literally melts on your tongue and leaves you with a creamy, chocolatey: I want more! The final touch is given to the raw brownie by raw cacao nibs and coarsely crushed nuts. Well, are you starting to feel like it?
Cocoa nibs have been talked about by health gurus for quite some time and are slowly conquering more and more German shelves. The only question is, what are cocoa nibs?
Cacao nibs are pieces of raw cacao beans, so chocolate in its most original and pure form
Cocoa pods are broken into pieces after harvest and fermented. During this natural fermentation process, the beans lose bitter substances.
Then the core of the bean is removed and broken into pieces – voila ready are the healthy cocoa nibs
What makes cocoa nibs so healthy?
it is pure, pure cocoa
rich in serotonin, dopamine and antioxidants
high content of zinc, potassium and magnesium
At the latest now you should have no reason NOT to do the Brownie NOT to do. I am sure that everyone will love you for it. Cut into small pieces, it's a wonderful mini dessert for those after-dinner moments when you'd die for a piece of chocolate.
Otherwise, your favorite little brownies go perfectly with a latte macchiato with Almond milk , Immune Booster Latte , Chocolate Chia Smoothie , hot chocolate or golden milk .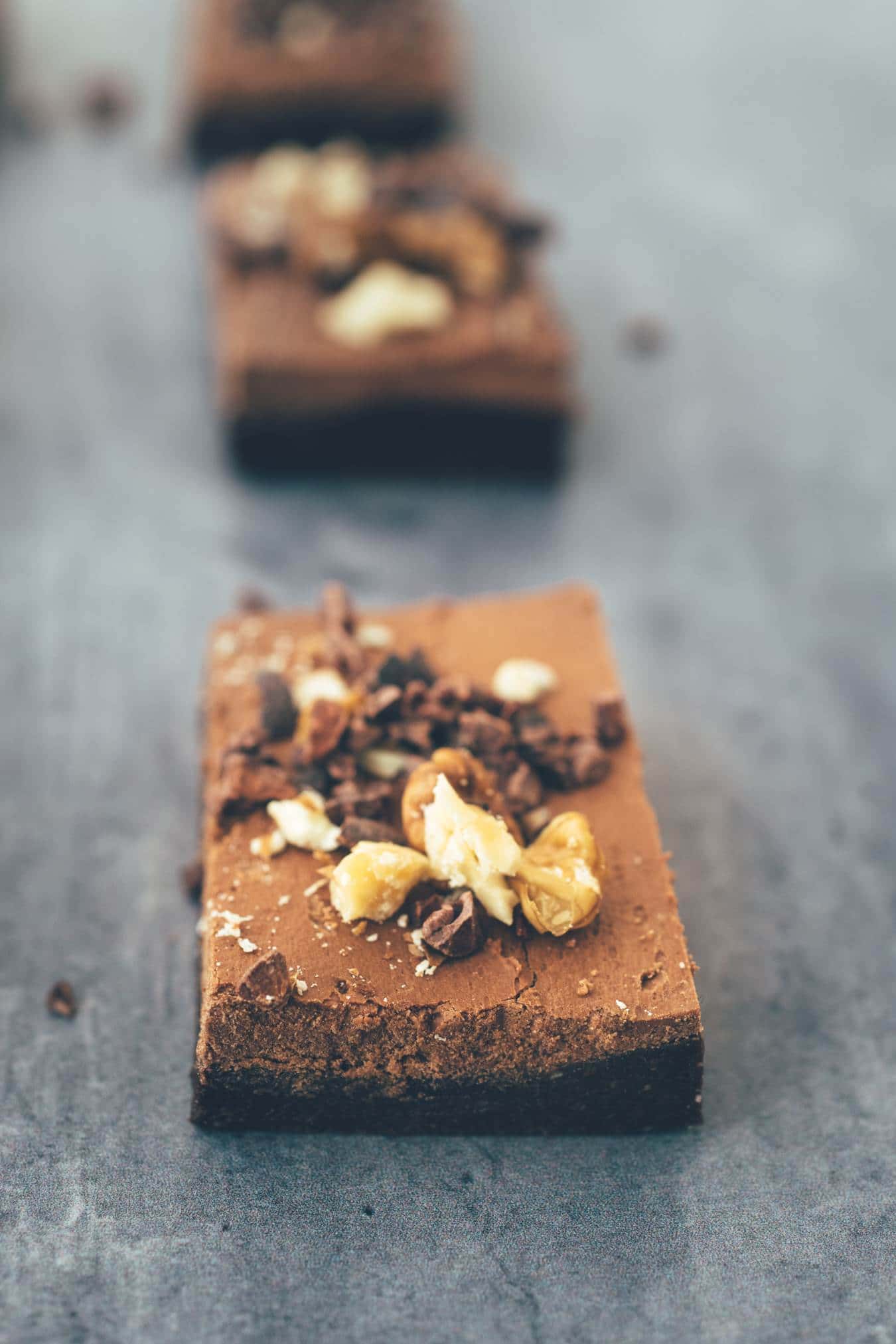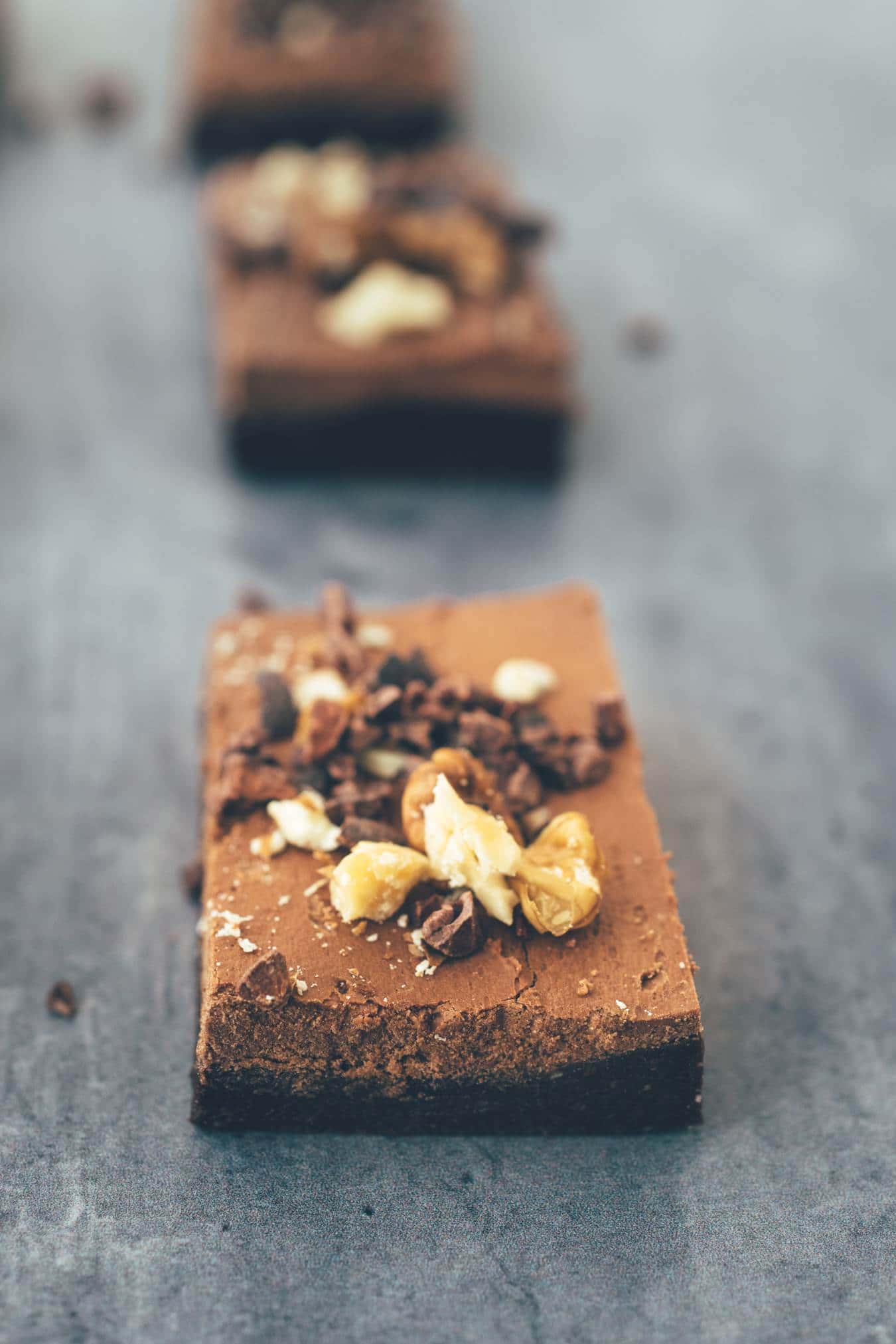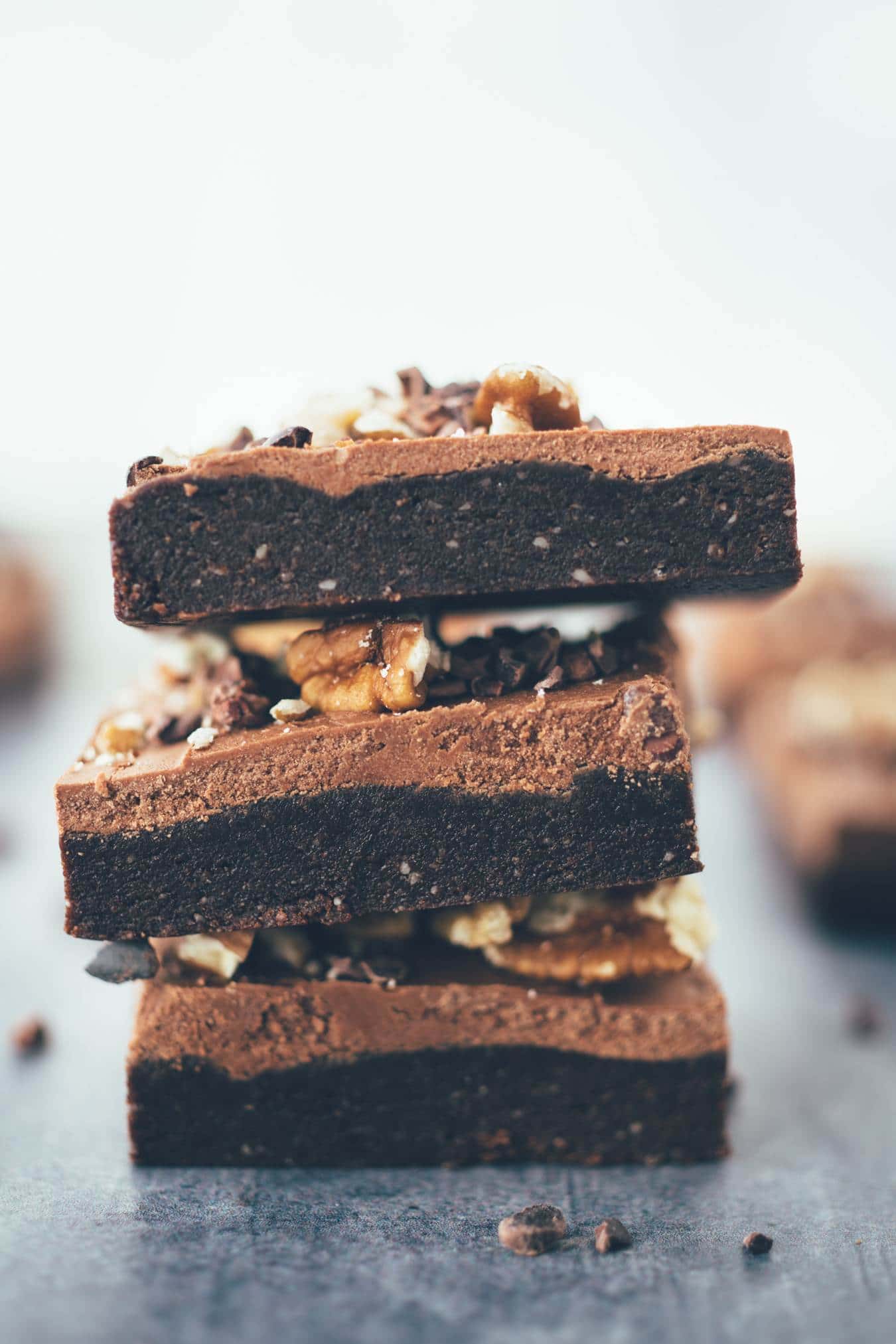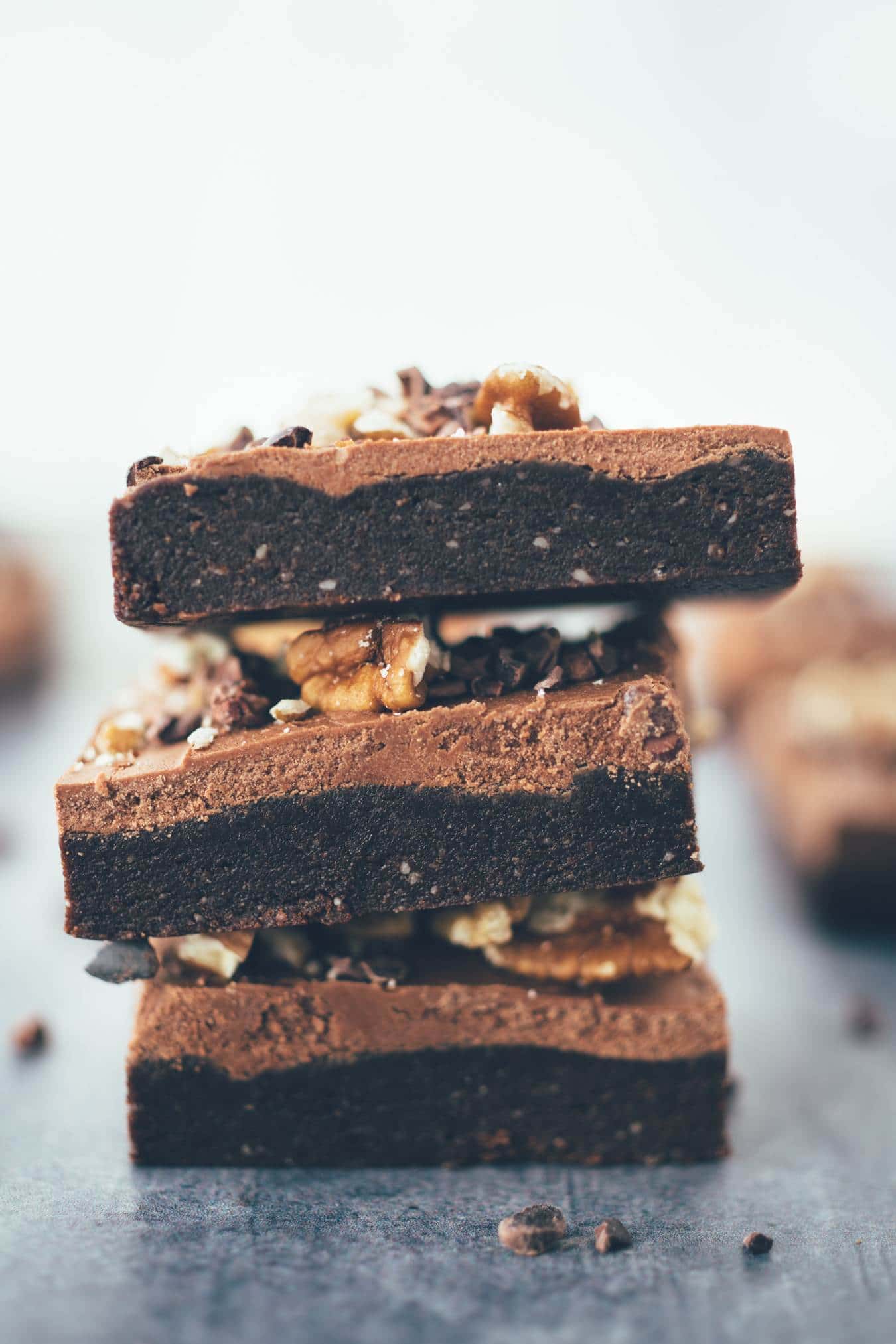 The raw brownie with chocolate cream (30 minutes) is:
Soft
chocolatey
Full of healthy micronutrients
Delicately melting
Quickly made
Let's go with this delicious vegan Dessert . I wish you a lot of fun with the Nachbacken and of course about a rating at the bottom of this page. If you post a picture, use the hashtag #veganevibes.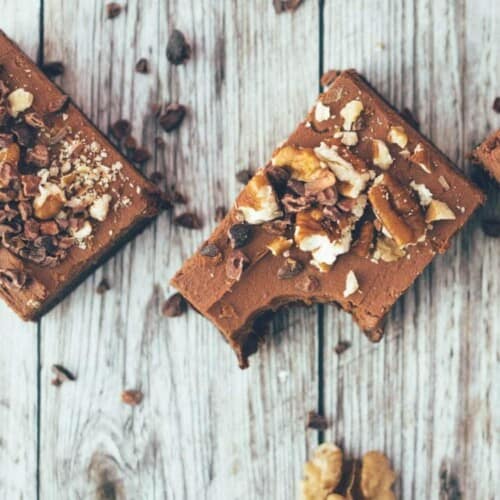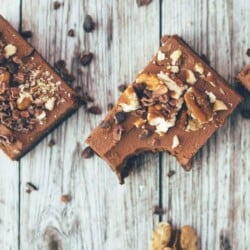 Raw brownie with chocolate cream (30 minutes)
Extremely delicious raw vegan brownie made with nuts, dates and chocolate. Quickly made and finished with a layer of smooth chocolate cream. Decorated with healthy cocoa nibs and nuts. Ideal for in between or as a vegan dessert.
AUTOR: VEGANEVIBES
TOPPING:
Coarsely chopped nuts

Hazelnuts, walnuts or pecans
Anleitung 
Line a mold (20cm x 20cm or smaller – larger the mold, the flatter the brownies will be) with food wrap (I use compostable, see link at bottom). Allow foil to protrude slightly, this will make the brownie easier to lift out of the pan later.


FOR BROWNIE Dough: Depending on the power level of the mixer either 1) if powerful (eg Magimix) put all the ingredients for the dough in the blender and mix until (for me it takes 4-5 minutes) until everything is well combined and a compact, slightly sticky dough. Or 2) if the blender is not very powerful, work in separate steps: First grind the nuts finely, then add Medjool dates and cocoa powder. If necessary, add a sip of hot water and mix until a uniform dough is formed.

125 g mixed nuts,

140 g Almonds,

450 g Medjool dates,

60 g raw cacao powder,

A pinch of sea salt

Press dough into mold with fingers until an even, flat surface is formed. Put in the refrigerator.


FOR THE CHOCOLATE CREAM, heat

almond milk

in a small saucepan or milk pot, but do not boil. Remove from heat and add chopped chocolate to the pot. Cover and let stand for 2-3 minutes to allow the chocolate to melt. Add coconut oil and stir until everything is well combined and the chocolate-milk cream is evenly melted.

175 g Chocolate or fine dark chocolate coating,

26 g Coconut oil,

31-62 g Powdered sugar,

1 Pinch sea salt,

60 ml Almond milk

Place in the freezer for 10 minutes to allow the measurements to cool. Remove and sift ¼ cup powdered sugar! It is essential to sift powdered sugar or mix it finely in a blender beforehand, otherwise lumps will form. If the mixture is still too liquid, add more powdered sugar by the tablespoonful and stir until the mixture has reached a firm but creamy consistency. Remove brownie from refrigerator and spread evenly with chocolate cream.


TOPPINGS: Decorate with cocoa nibs and nuts as desired, cut into 12-24 pieces and enjoy!


Coarsely chopped nuts,

Cocoa nibs

Store brownies in an airtight box in the refrigerator for 4-5 days or in the freezer for up to one month. However, they are best fresh.

Notizen
NOTES /HELPFUL ACCESSORIES:
Nährwertangaben
Serving:
1
Brownie
Calories:
347
kcal
Carbohydrates:
47
g
Protein:
6
g
Fat:
18
g
Saturated Fat:
6
g
Sodium:
9
mg
Potassium:
481
mg
Fiber:
7
g
Sugar:
34
g
Vitamin A:
55
IU
Calcium:
93
mg
Iron:
2.9
mg