For me, there are two types Smoothies , the soul smoothies and the healthy ones. Soulful are creamy, chocolaty or vanilla with banana, cacao, Almond milk , dates and everything that makes you full and happy. On the other hand, there are the healthy ones, which I also love very much (My husband not so, unless I pack him the kale quite cleverly). In it is mostly kale, lemon, turmeric, spinach and quite a lot of superfoods. In Bavaria one would say: "Wenn's denn schee macht?!".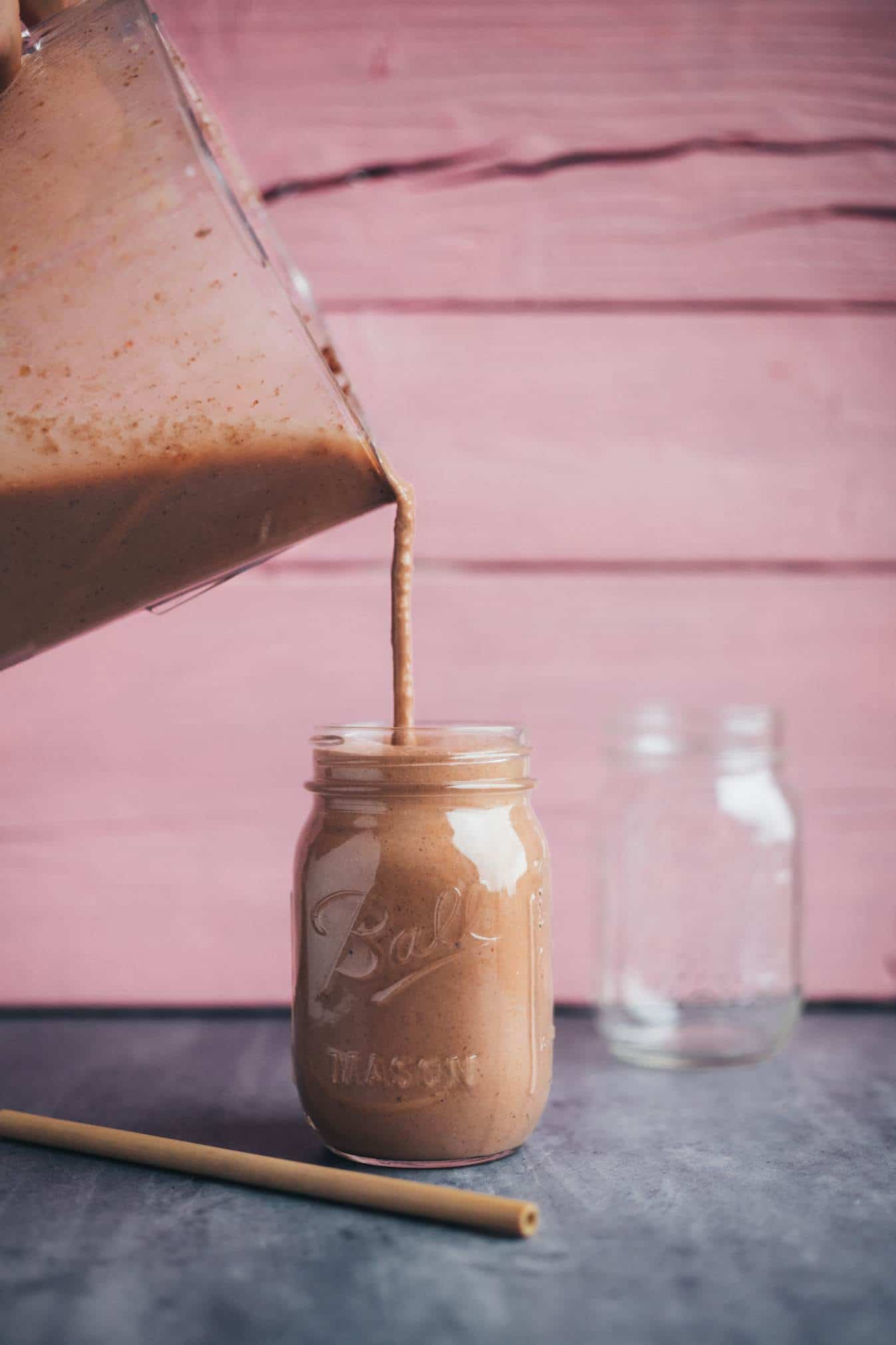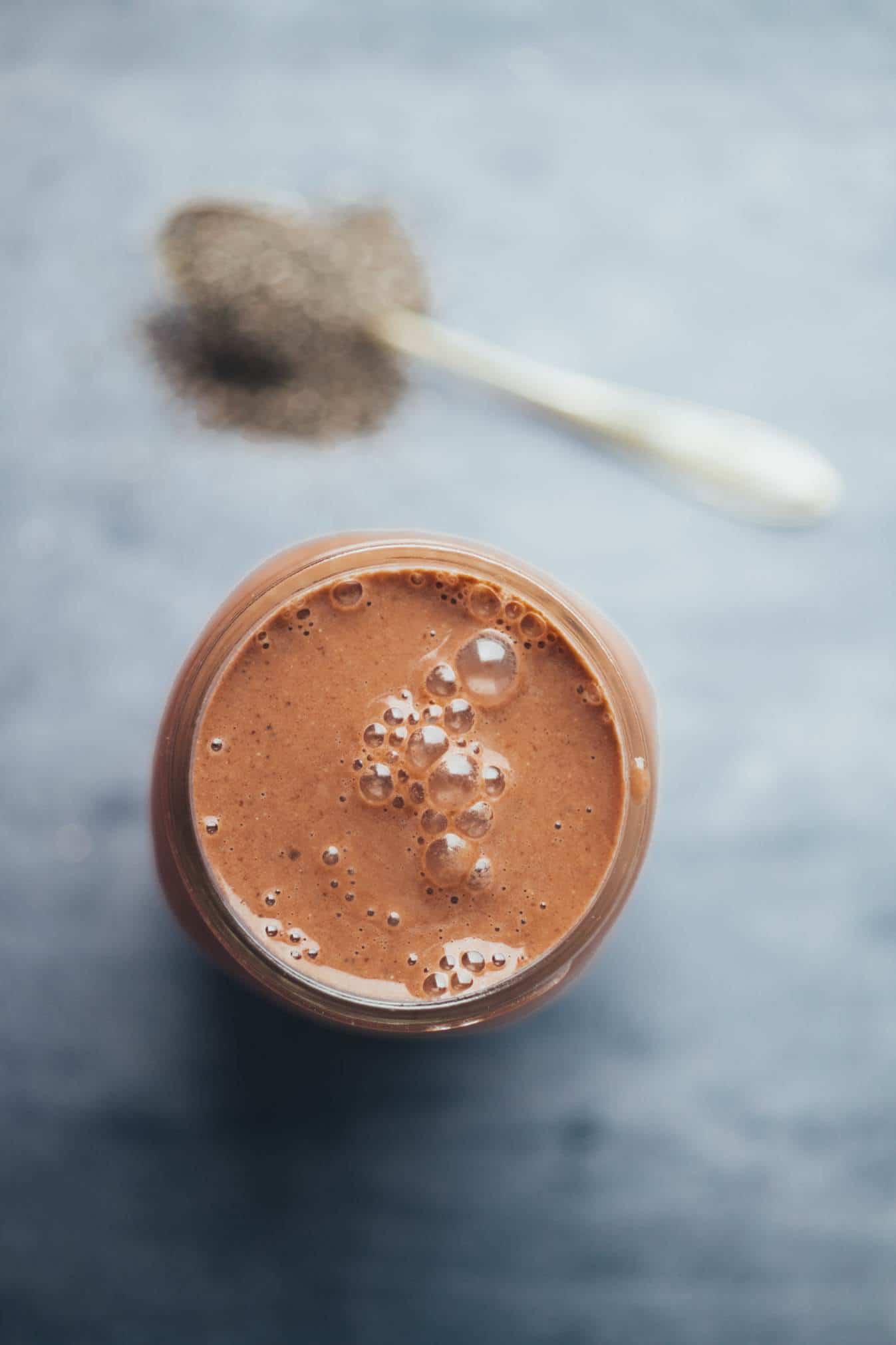 Today, however, there is a soul candy deluxe, chocolatey, creamy and with lots of nutrients. Perfect for these dreary winter days (I always envy the Brazilians who have summer right now and jump around in the sea at Christmas with their skimpy bikini panties).
In our latitudes, you just have to help the good mood a little bit and the best way to do that is with a very special superfood. Raw cacao :
Has the highest antioxidant effect of all foods and is up to 100 times more potent than broccoli
Is one of the best sources of iron with 7.3g per 100g
Contains theobromine and phenylethylamine, both chemical substances that have been linked to feelings of happiness in studies
Is a very good supplier of magnesium
Increases concentration and alertness
It is always important to note that this is raw cacao which in turn is also processed raw. Because Cocoa loses some of its valuable ingredients if it is heated too much. The magic limit is 42 degrees.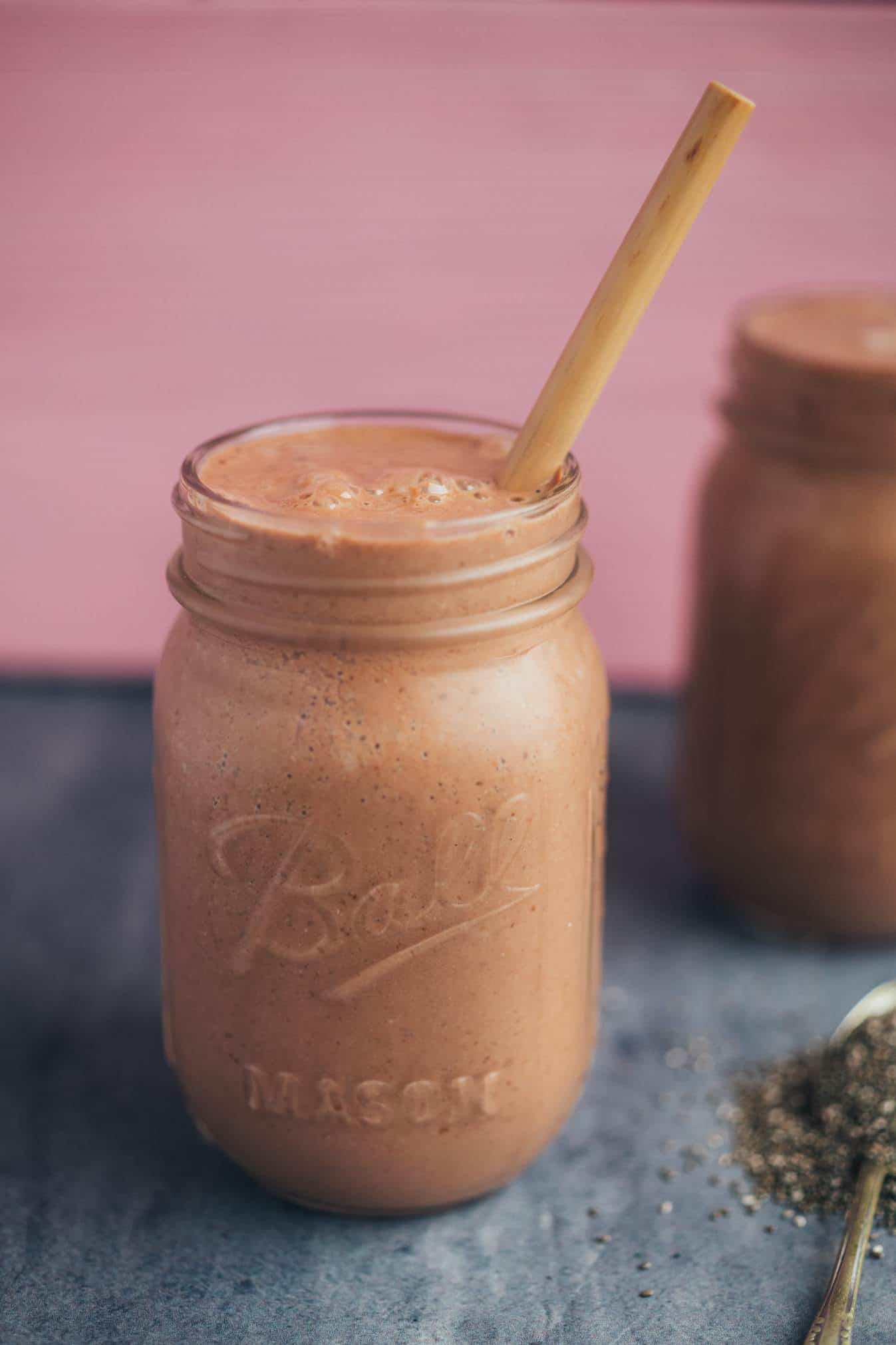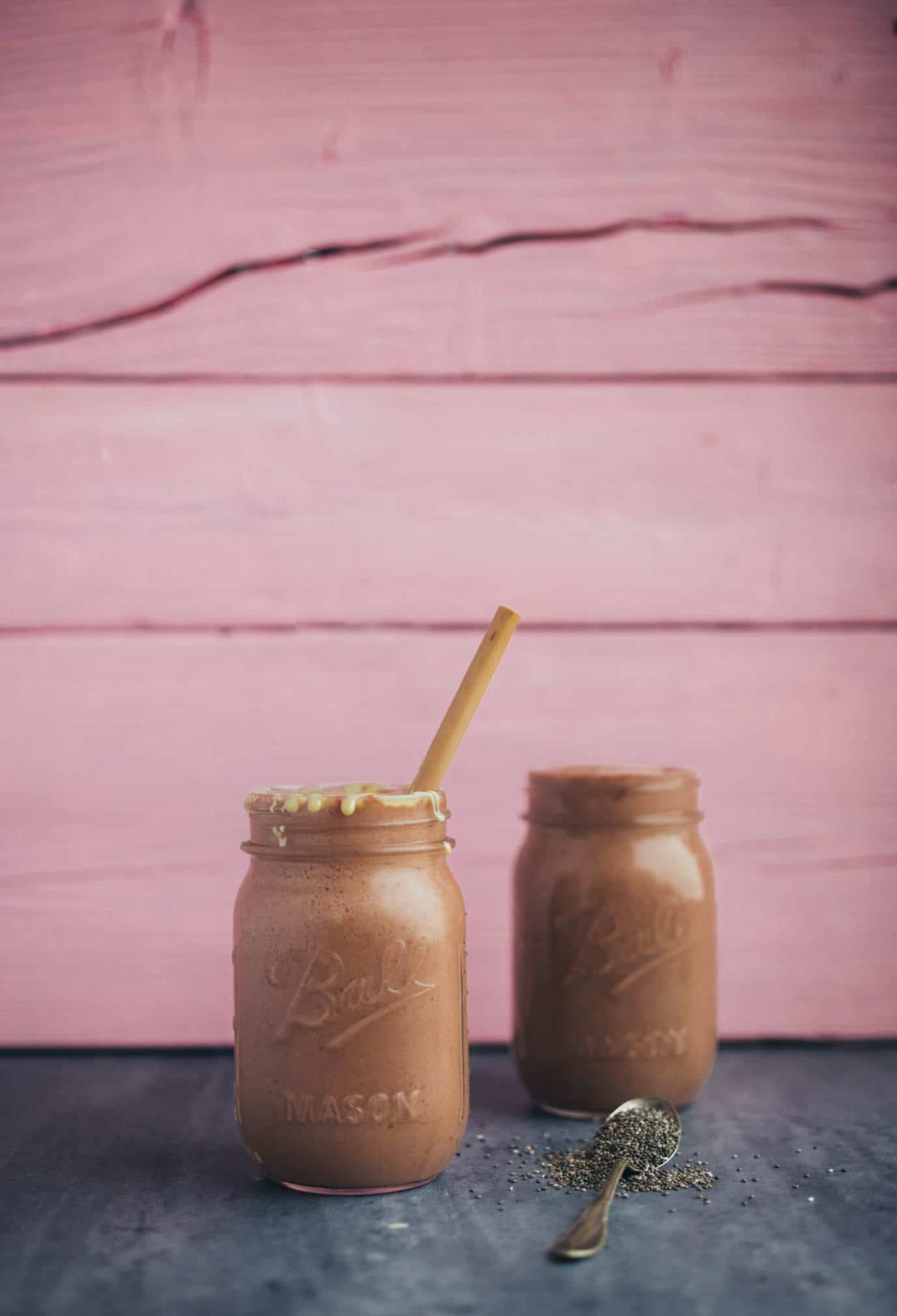 This Smoothie is extremely easy to make and only requires 6 ingredients, 1 blender and 5 minutes.
The base is frozen bananas, which together with the dates provide a natural sweetness.
Almond milk is one of my favorite ingredients, followed by Chia seeds and Flaxseed for an extra dose of vitamins and minerals. Almost like a meal, right? I am sure you will love this delicious smoothie. He is:
chocolatey
filling
Naturally sweet
Full of vitamins and minerals
Extremely tasty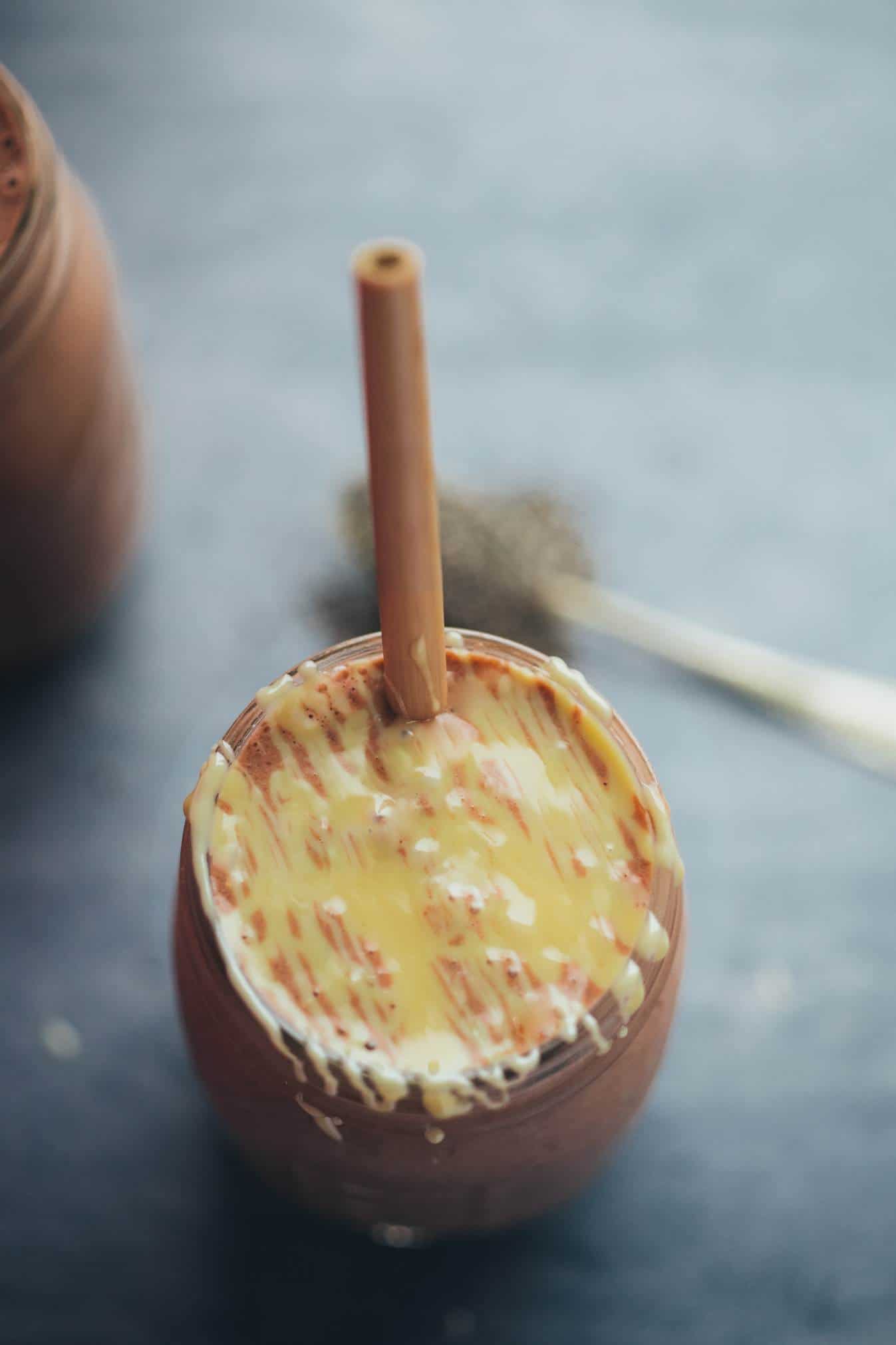 Get a pleasure? Then I look forward to a review at the bottom of this page. If you post a picture, feel free to use the hashtag #veganevibes.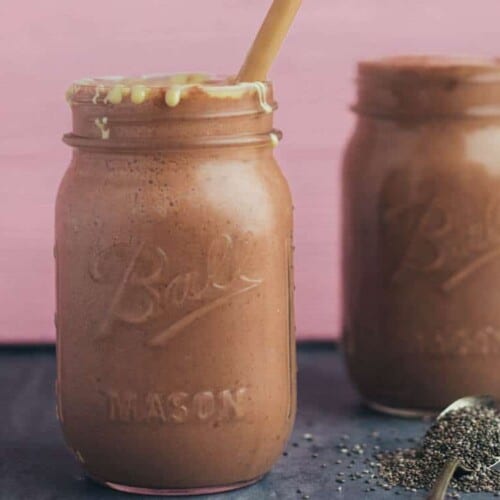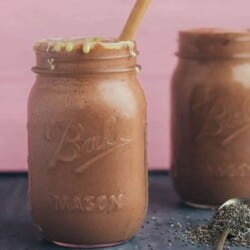 CREAMY CHOCOLATE CHIA SMOOTHIE
Creamy, satisfying, 6-ingredient chocolate chia smoothie packed with healthy ingredients. Raw cacao, banana, chia and ground flax seeds provide healthy fats, proteins, vitamins and minerals.
AUTOR: VEGANEVIBES
Anleitung 
In a high-powered blender, blend all ingredients on high speed for about 30-60 until you have a creamy smoothie. Yes add some almond milk if desired to make the smoothie even more fluid.


120 g Banana,

480 ml Almond milk,

12 g raw cacao powder in organic quality,

16 g Almond paste,

1 ½ tbspn Chia seeds,

1 ½ tbspn Flaxseed,

2 Dates,

Optional: 2-4 ice cubes,

Optional: 1-2 tsp ashwangandha

Pour into 2 glasses and enjoy!

Notizen
*I grind my flaxseed myself, since the valuable oil has already been extracted from the purchased flaxseed meal. Works very well with any high-powered blender.
NOTES /HELPFUL ACCESSORIES:
Nährwertangaben
Serving:
1
Smoothie
Calories:
216
kcal
Carbohydrates:
37
g
Protein:
5
g
Fat:
8
g
Sodium:
314
mg
Potassium:
533
mg
Fiber:
6
g
Sugar:
23
g
Vitamin A:
75
IU
Vitamin C:
5.2
mg
Calcium:
339
mg
Iron:
1.5
mg