Einkorn Milk, or as I mistakenly said at a team meeting, "Unicorn Milk." I thought it was funny and obviously the other participants in the meeting did too. Plant milk drinks are fully in the trend and there are also already some variations on veganevibes.de. This recipe came to mind when I unpacked the great box of product samples from Bohlsener Mühle. There are so many grains that are incredibly rich in nutrients but are hardly used anymore. Very many households usually only have wheat flour in the cupboard and that's it. Variety missing, but we want to change that and today we start. Einkornmilch, Mesdames et Messieurs, let's get started.
Einkorn milk make yourself quickly and easily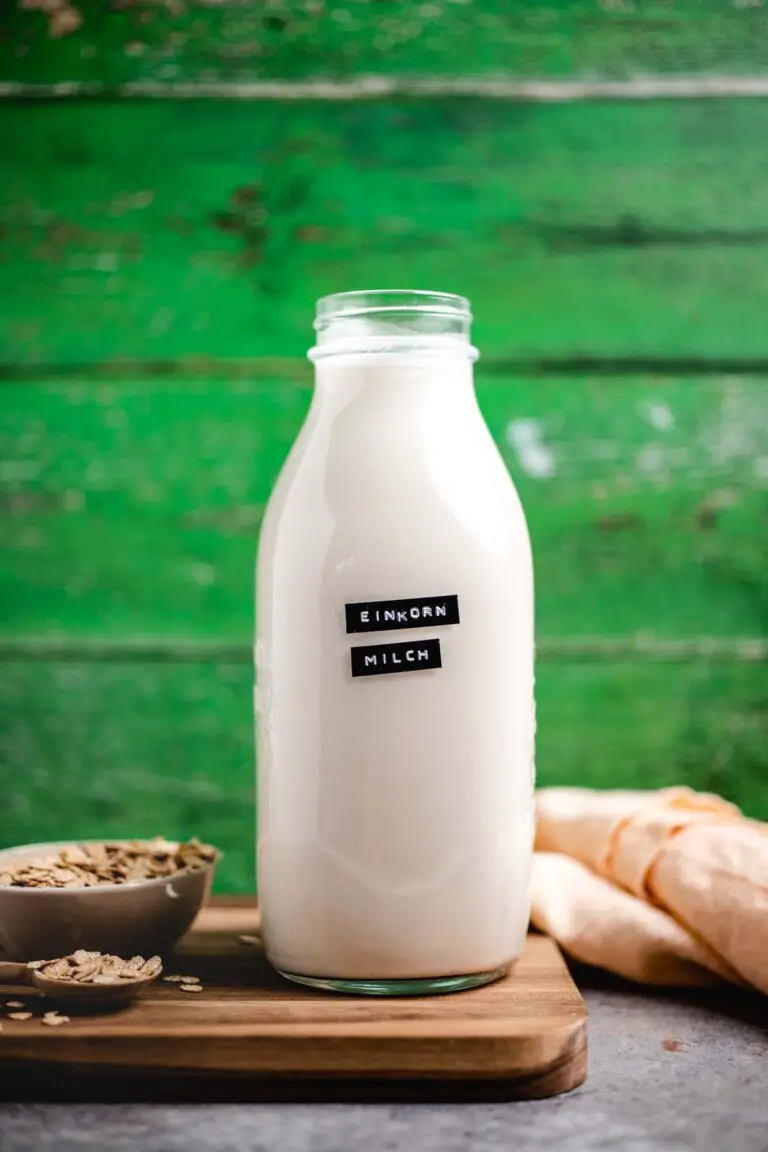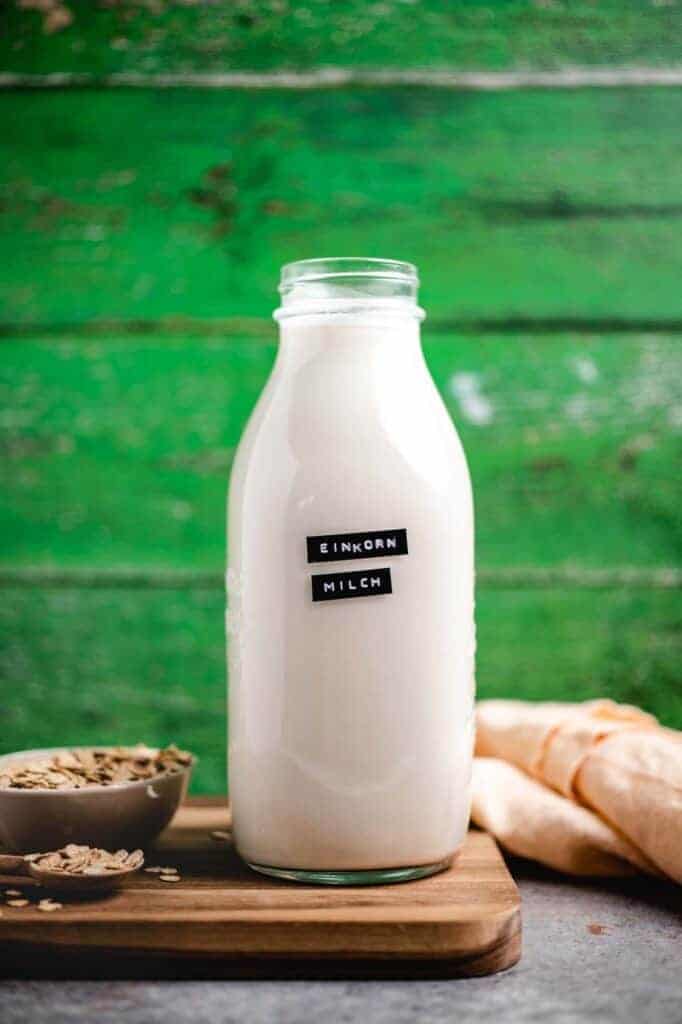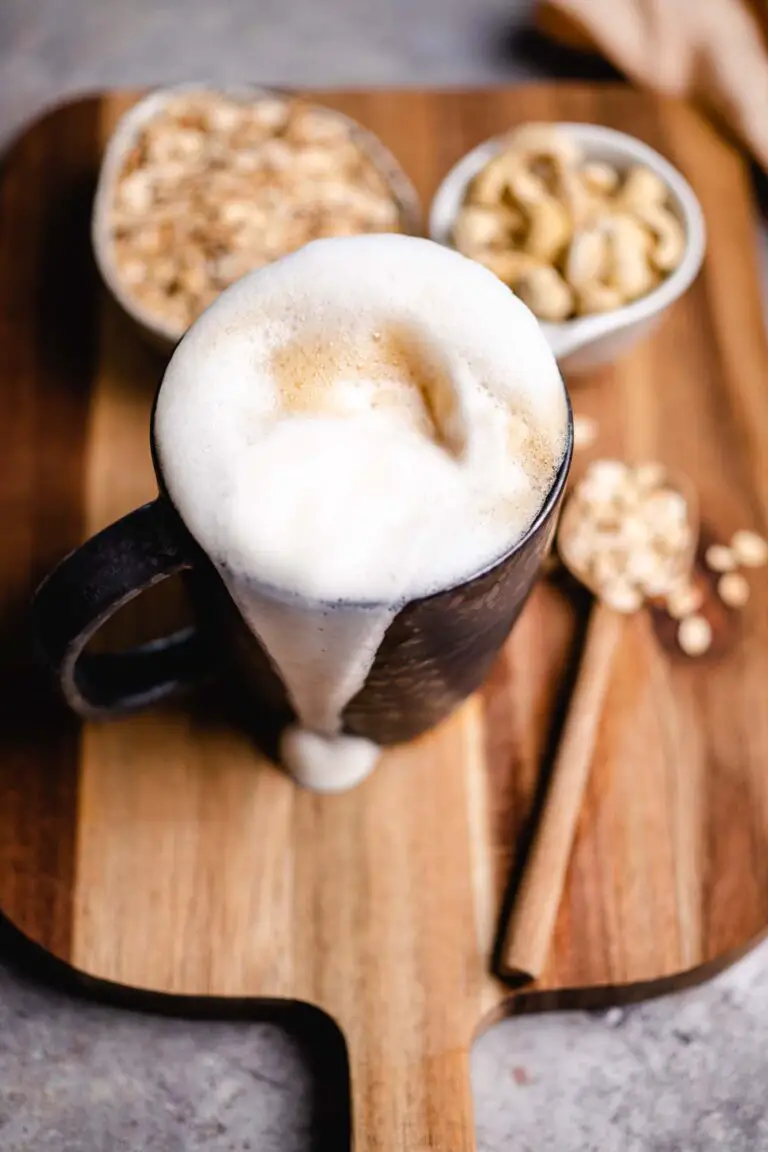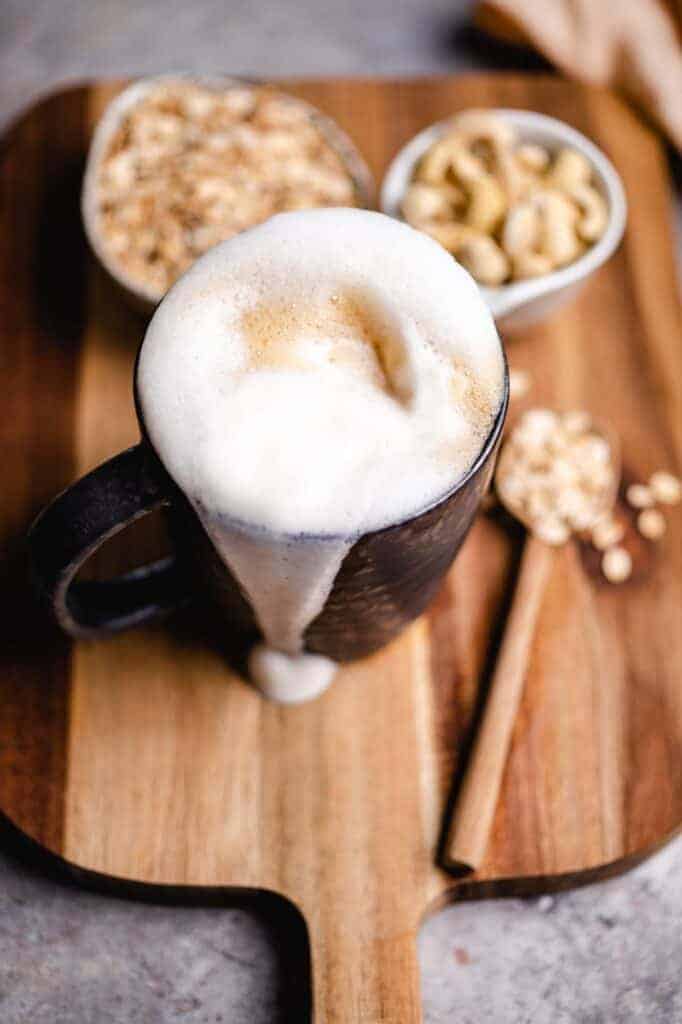 The ingredient list is short and crisp. Einkornflocken, cashews, water and a pinch of salt. This all goes into the high-powered blender together without any prior soaking and is blended on the highest setting for 60 seconds. I don 't soak the flakes beforehand and the cashews also go straight into the blender. Of course, the prerequisite is that the blender is powerful. After blending, I put the liquid directly into a nut milk bag and slowly press it through. The result is a fine, creamy plant milk that can also be foamed a little. Perfect, right?
TIP: The leftovers in the nut milk pouch, the so-called "pulp" can be further processed without further ado. I like to add it directly into fine Bliss Balls, as a substitute for nuts. Click here for recipes for Bliss Balls.
If you like, you can still refine the milk easily and quickly. I also added cocoa powder, two dates and bourbon vanilla. So quickly, a rather boring single-grain milk becomes a creamy, chocolaty highlight.
Make vegan plant milk yourself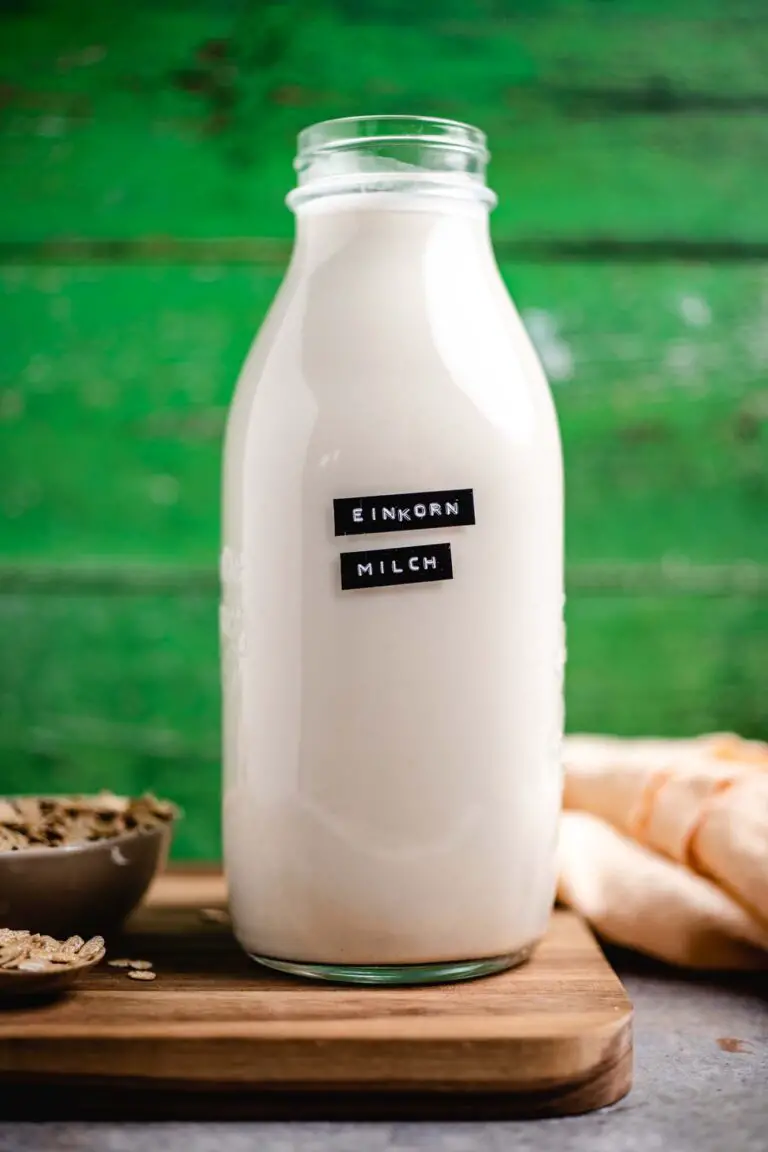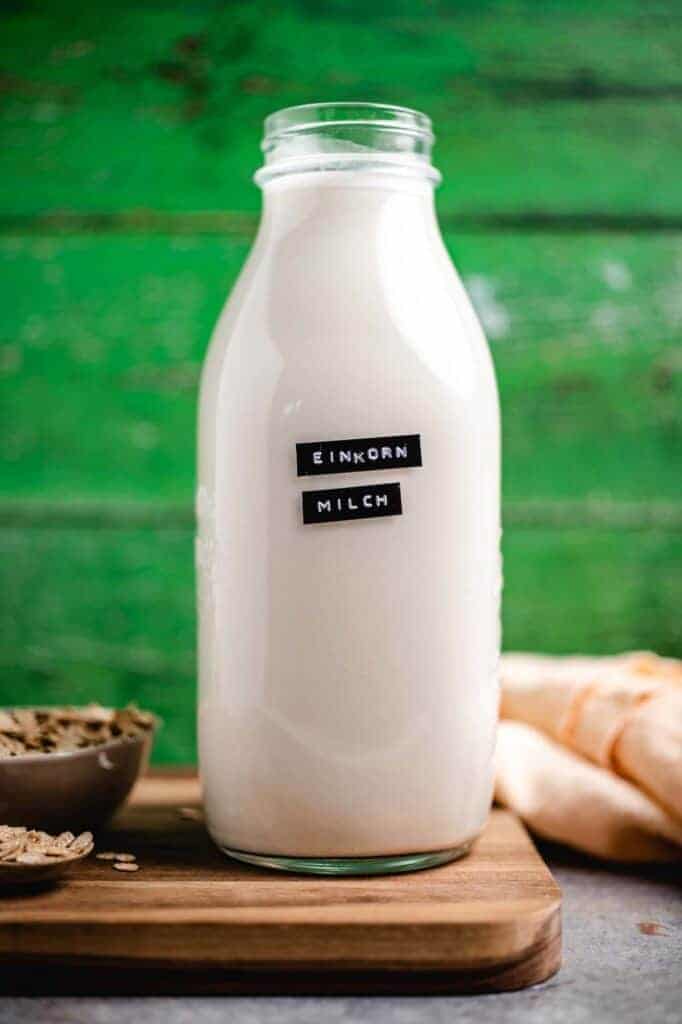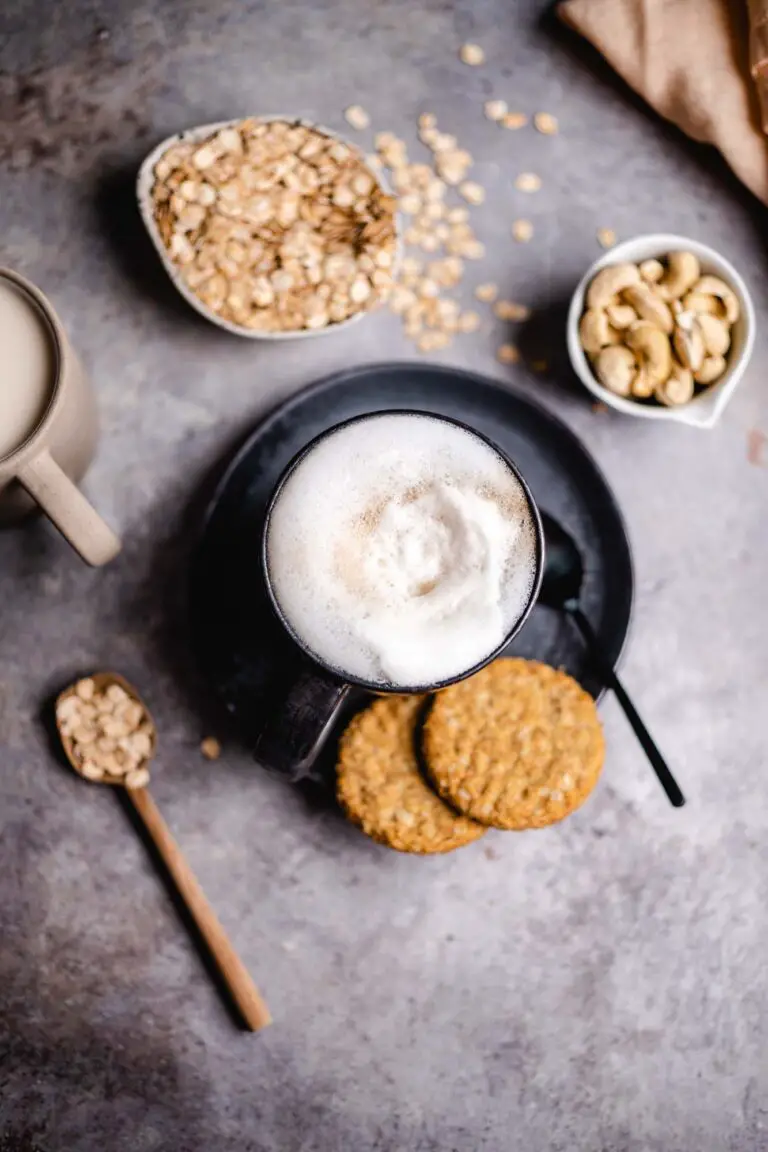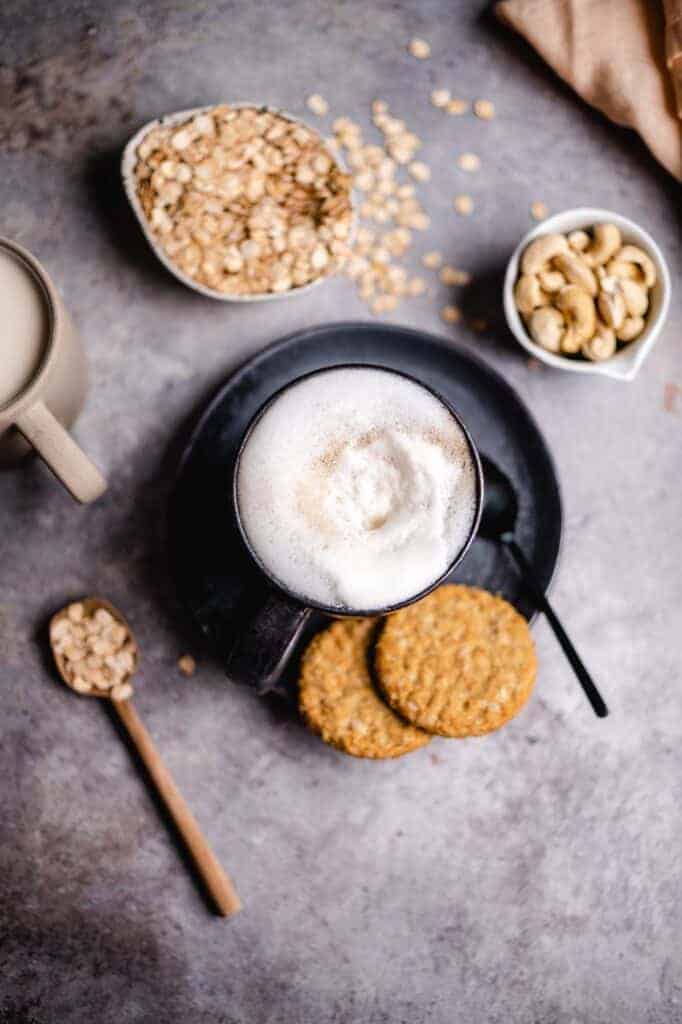 I think einkorn milk is just brilliant because it means I'm using a local, healthy grain that's rich in nutrients. Einkorn is a so-called Ancestral grain and was already cultivated in the Near East about 10,000 years ago. However, the variety is not as high-yielding as the bred dwarf wheat, and therefore has almost fallen into oblivion. So it's all the better that einkorn is once again being cultivated sporadically in Europe. The primordial cereal grows well in lean soils and is perfectly protected from environmental toxins, pests or pesticides thanks to its solid coating.
Einkorn has a slightly beige color, which is due to the high content of beta-carotene. The grain contains significantly more nutrients than wheat and should be incorporated into the diet more often for that reason alone. It is also rich in valuable Fiber, amino acids, magnesium, copper, zinc. and iron.
Since einkorn contains a lot of gluten, it is unfortunately not an alternative for a gluten-free diet. I use the Einkorn flakes from Bohlsener Mühle, who provided me with the flakes as a product sample. As part of the Veganuary, we want to promote a vegan, environmentally friendly and low-emission diet. Bohlsener Mühle has been processing organic grain since 1979, using electricity from renewable energy sources. I am very happy to support local companies with local products that value short distances, local partnerships and fair prices.
You may still be looking for a different plant milk variation today:
The single grain milk is superquick:
versatile
nutty
Few ingredients
Simply made
nutrient-rich
Are you as big a fan of plant milks as I am? Then I look forward to a review at the bottom of this page. If you post a picture, feel free to use the hashtag #veganevibes.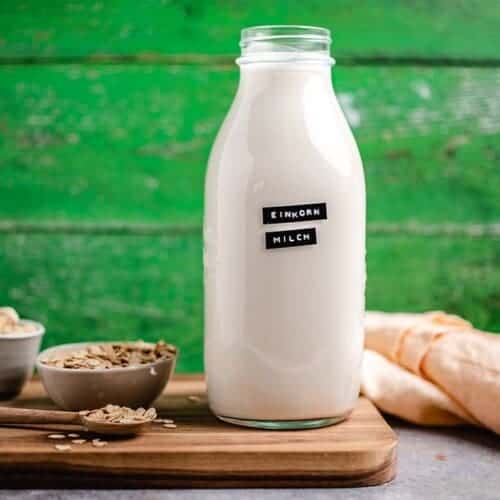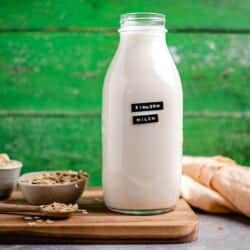 Einkorn milk make yourself
Are you looking for a slightly different plant milk variation? This single grain milk is made from fine single grain flakes, cashews and water. Once blender, nut milk bag and ready is the fine milk. Ideal for muesli, smoothie, or lightly foamed to the cappuccino. Simple, fast, oil-free and nutrient-rich.
AUTOR: VEGANEVIBES
1000

ml

Water

cold

90

g

Einkorn flakes

50

g

Cashews

soaked if blender not powerful

A strong pinch of salt
Anleitung 
Provide a nut milk bag and a large bowl. Place nut milk bag in bowl. The milk is pressed through the bag and flows into the bowl.

Place water, einkorn flakes, cashews, and salt in a high-powered blender and blend on high speed for at least 60 seconds.

1000 ml Water,

90 g Einkorn flakes,

50 g Cashews,

A strong pinch of salt

OPTIONAL Add cocoa powder, , date syrup, sea salt or bourbon vanilla and mix again briefly.

30 ml Date syrup,

24 g Cocoa powder,

¼ tbspn Bourbon vanilla

Pour into the nut milk and gently turn and press lightly until the liquid is completely through.

Pour into a resealable milk glass, seal and refrigerate. Keeps well sealed up to 5 days in the refrigerator.

TIP: The leftovers from the nut milk bag (also called pulp) are perfect to use as a nut substitute in Blissballs.
Nährwertangaben
Serving:
1
Serving (100ml)
Calories:
62
kcal
Carbohydrates:
8
g
Protein:
2
g
Fat:
3
g
Saturated Fat:
1
g
Polyunsaturated Fat:
1
g
Monounsaturated Fat:
1
g
Sodium:
1
mg
Potassium:
66
mg
Fiber:
1
g
Sugar:
1
g
Vitamin C:
1
mg
Calcium:
7
mg
Iron:
1
mg