This barista milk post just isn't going as smoothly as I imagined. I was looking for the best barista Milk , just like the one from Oatly should be. Preferably without added oil or other additives. What can I say, I've tried everything from my own ideas, to those of the Recipes of the most famous bloggers ever. One of them even claims to have cracked the Oatly code. The reviews are also quite good on their site and then I immediately copied this. But sorry, that was nothing. For comparison, I bought an original pack of Oatly. My conclusion? You can find it further down in the text.
Oatly Barista, really that hard to crack?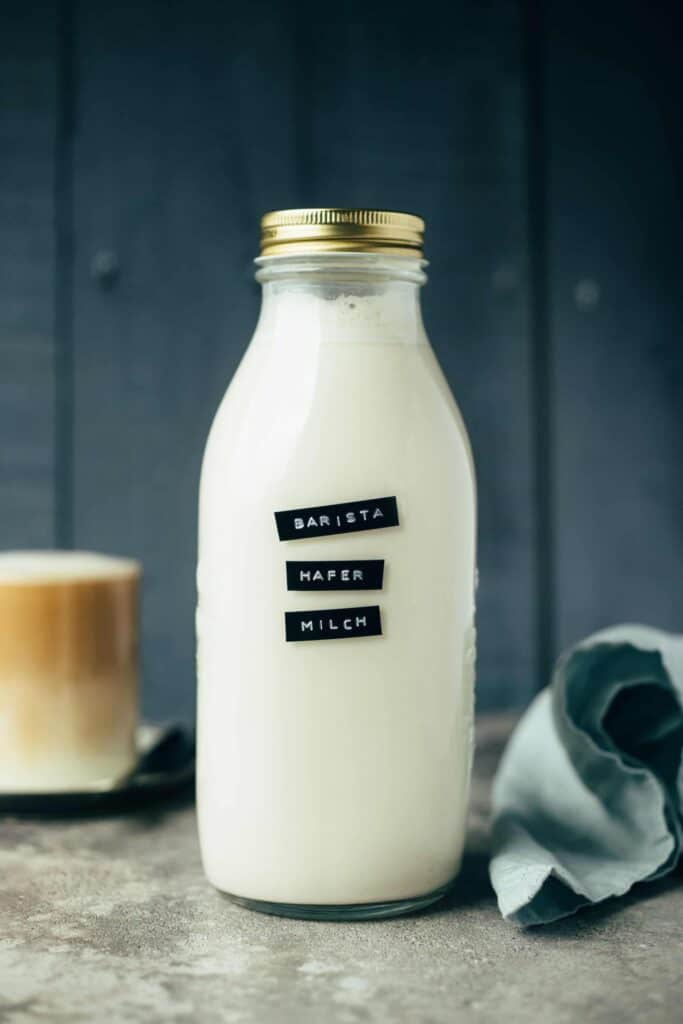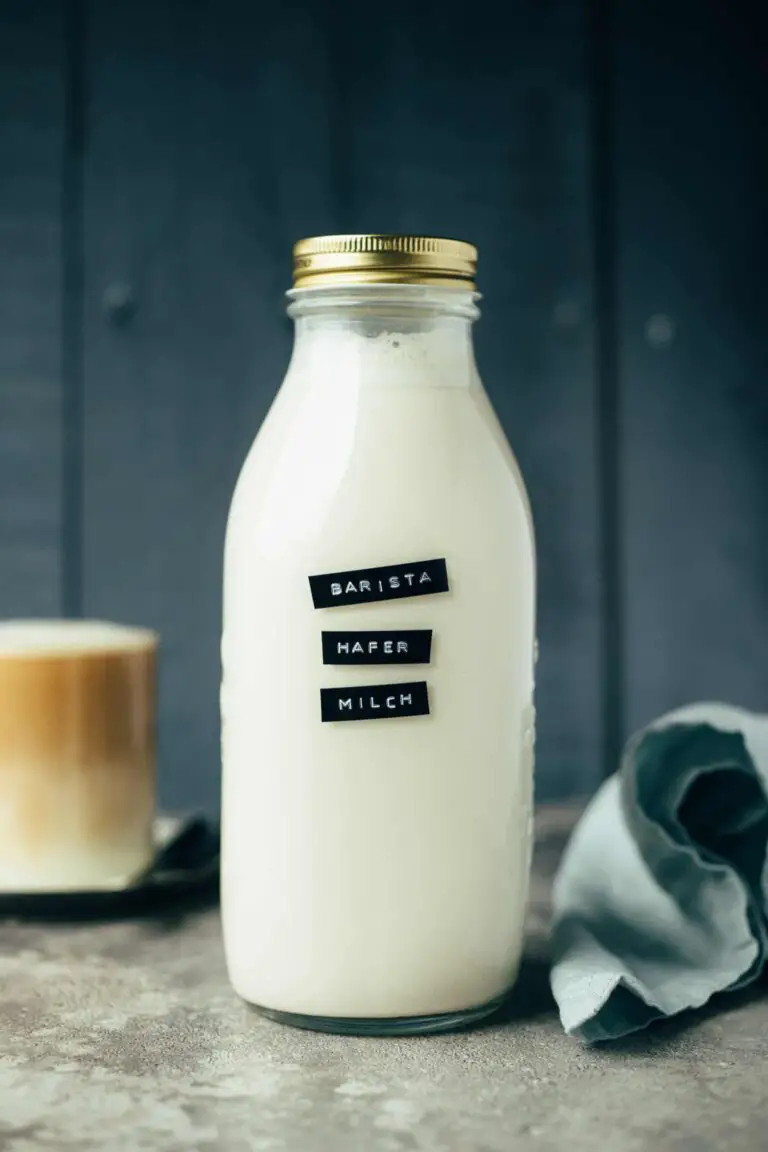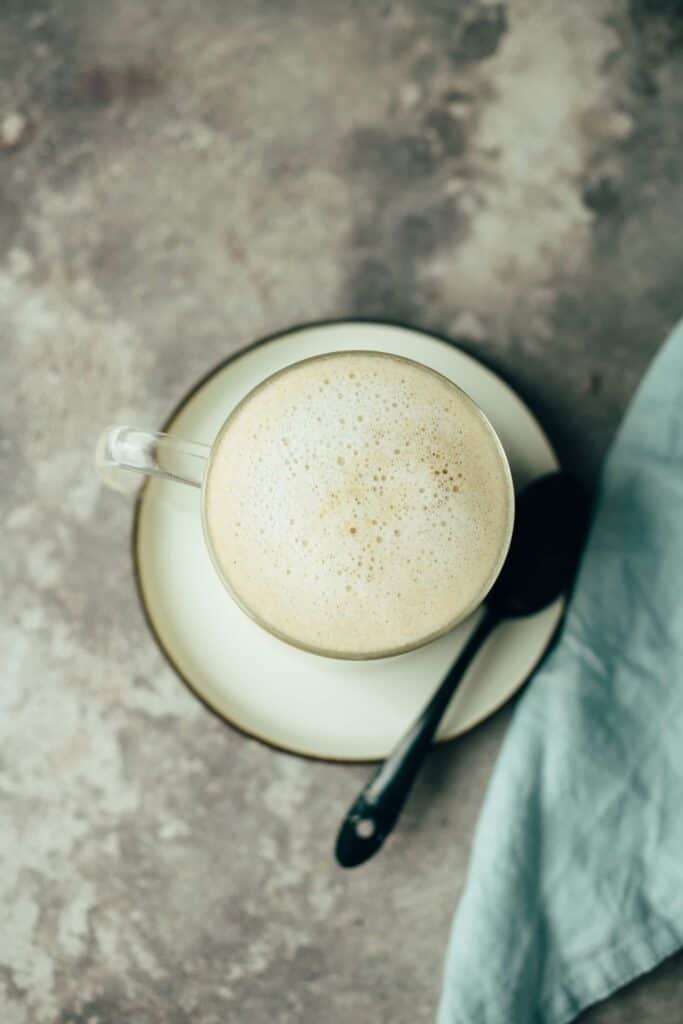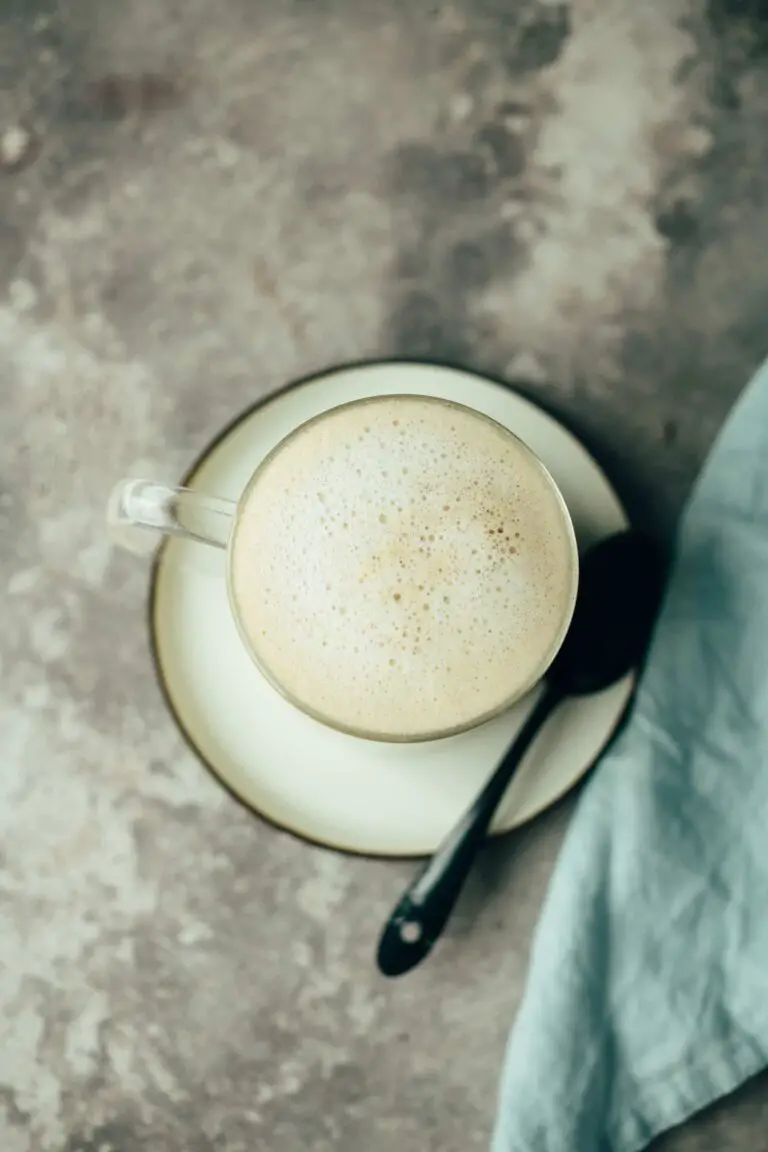 Admittedly, I was disappointed at first after my numerous experiments. Everything I tried was creamy, but didn't really foam like the original Barista Milk from Oatly. If you take a closer look at the list of ingredients, you will find a few additives that promote foaming. Once I got over my low, I realized that I could live quite well without the excessive foam. For this I do without oil, acidity regulators, calcium carbonates and calcium phosphates. Or do you have that in the house? Sure, I always buy that first thing when I go to the supermarket. Joking aside, no I have not of course and therefore I decided to make a fine and especially creamy barista Milk to make which is particularly suitable for coffee specialties.
What are the advantages of homemade vegetable milk:
Free from oil
Free from Additives
Full of healthy Dietary fiber
Rich in Minerals
Not high heated, therefore even richer variety of micronutrients
This is me so what latte (vegan of course)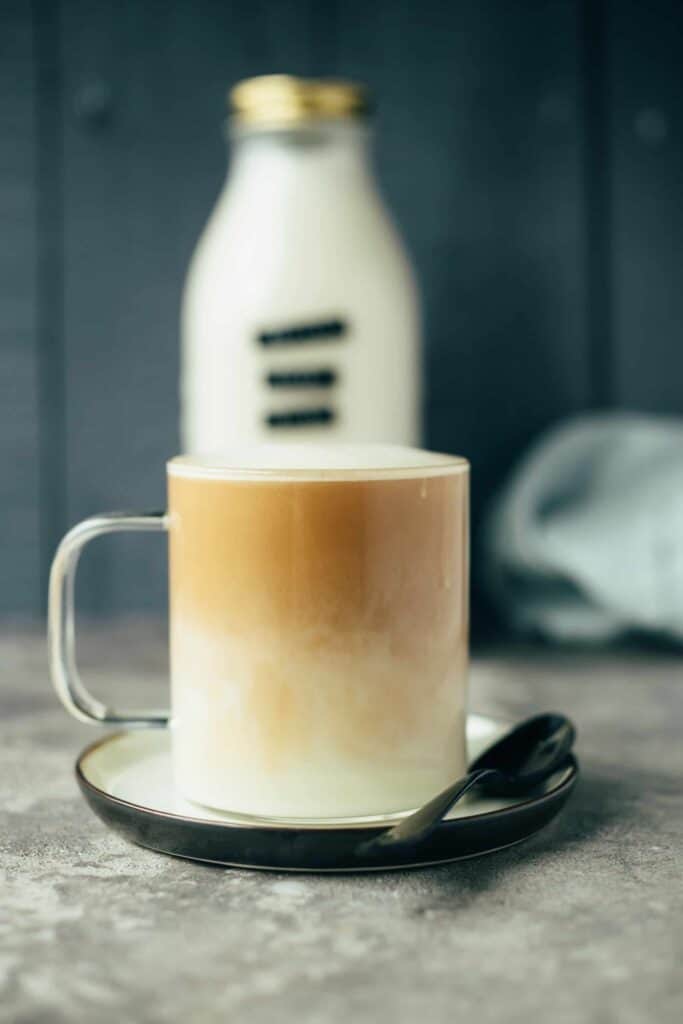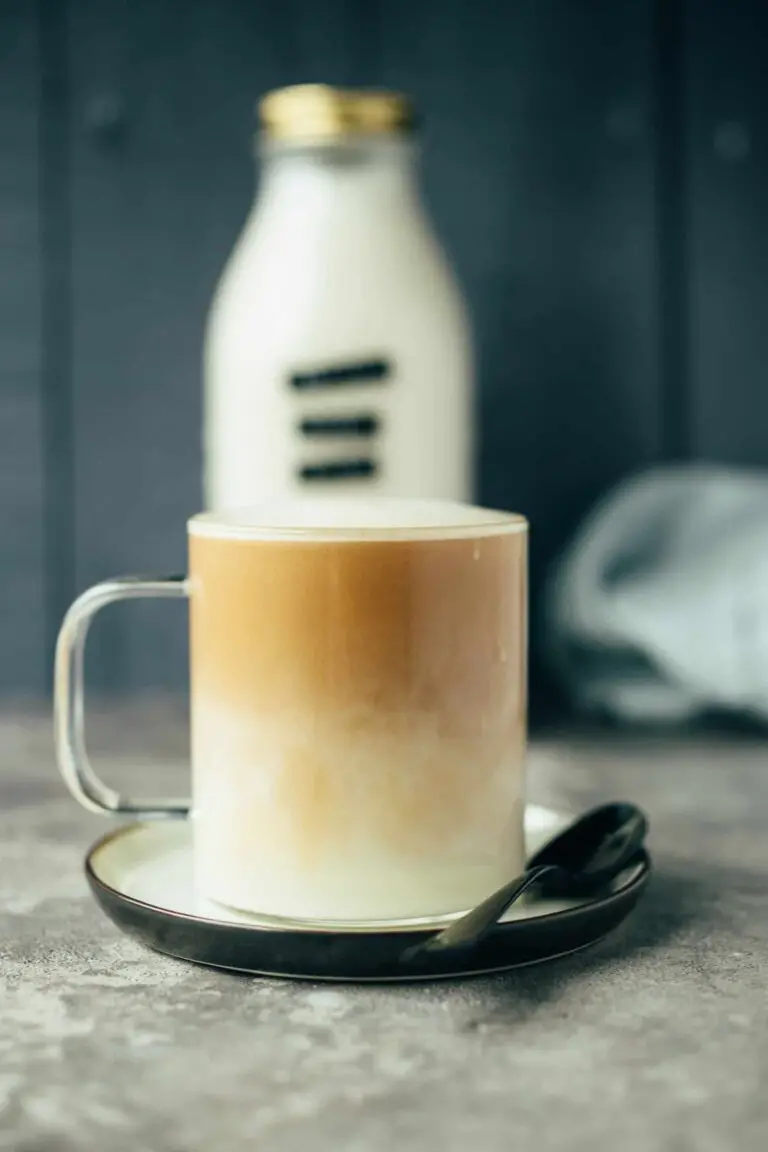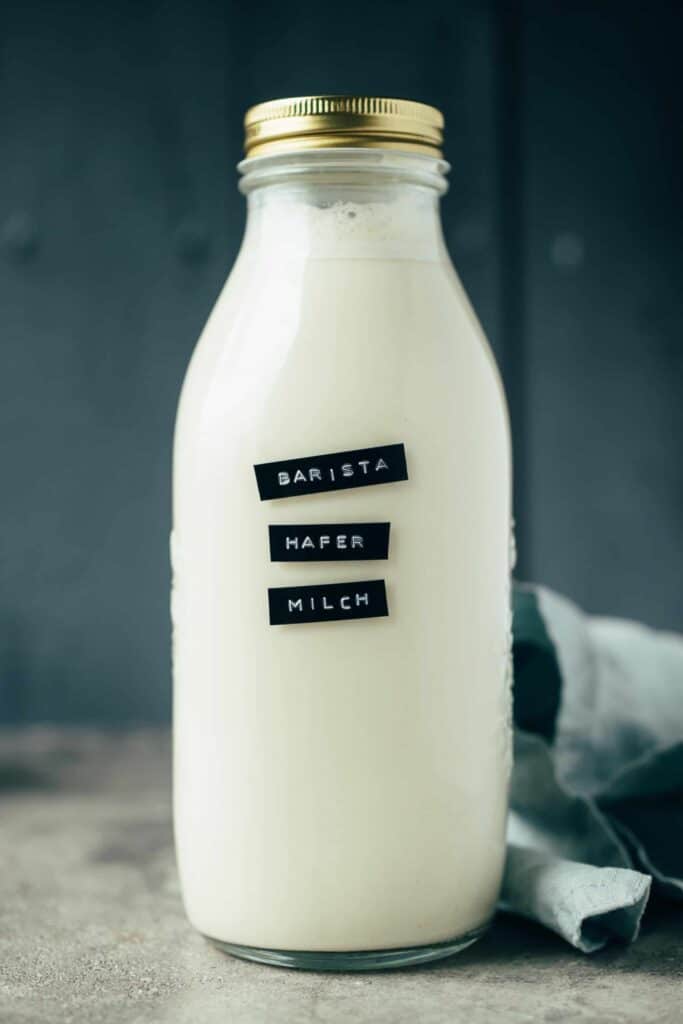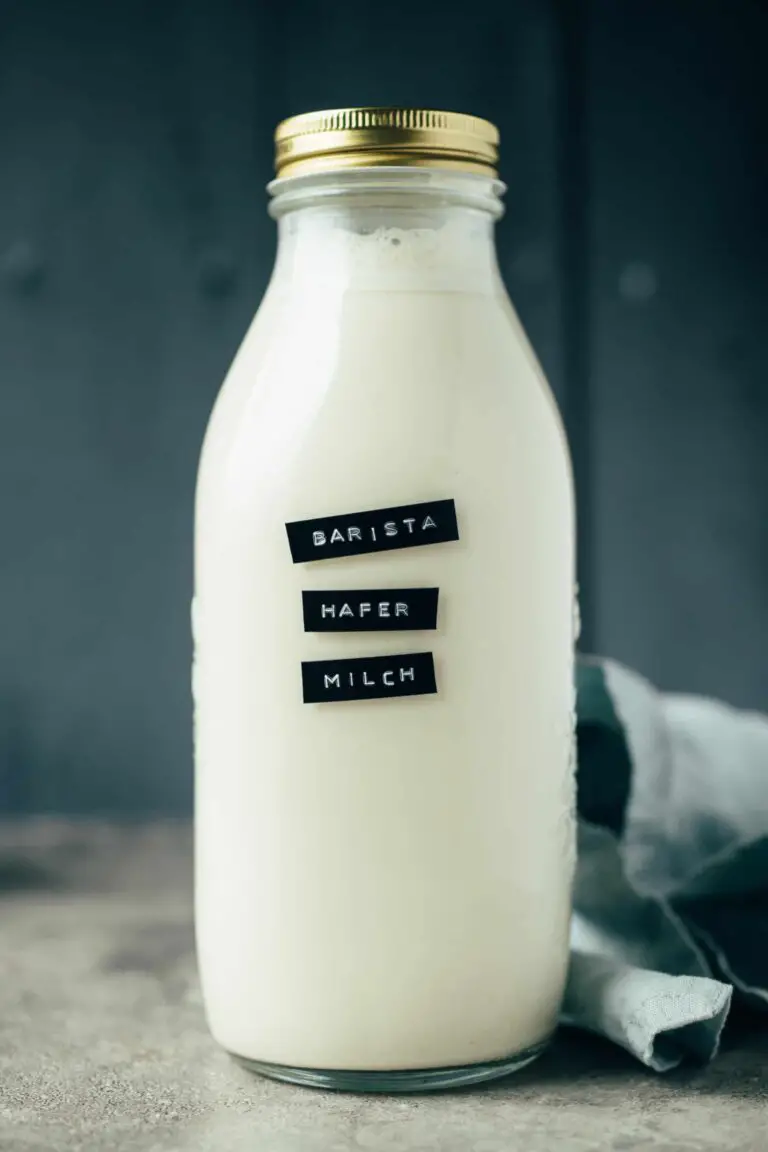 Who still have desire to this creamy and delicious Vegetable milk , may now stay tuned. There are still a few small tips and tricks, with which it also succeeds safely. First, a few words about the ingredients. water, oatmeal, Cashews and a pinch of salt. I use the cashews as a kind of substitute for the oil. It makes the Milk nice and creamy.
Then we already come to the tips & tricks:
Cashews like to soak (if your blender is not so powerful)
Do not soak oatmeal in any case, this promotes the formation of mucilage and do you feel like a slimy milk? No, thanks!
Don't blend too long, because that also moves our oatmeal to get really nice and slimy. Maximum 30 seconds at the highest level and stop. This time, unfortunately, there is no encore.
Best stored in a sterilized, resealable milk jar. Simply rinse with boiling hot water beforehand or sterilize in a steamer. This way you prevent the formation of unwanted bacteria and germs.
Our creamy barista milk goes wonderfully in a vegan golden milk , hot chocolate , creamy Immune Booster Latte or in all your favorite coffee specialties.
The creamy barista milk is:
creamy
versatile
Few ingredients
Simply made
Without oil or Additives
Are you as big a plant milk fan as I am? Then I look forward to a review at the bottom of this page. If you post a picture, then like to use the hashtag #veganevibes.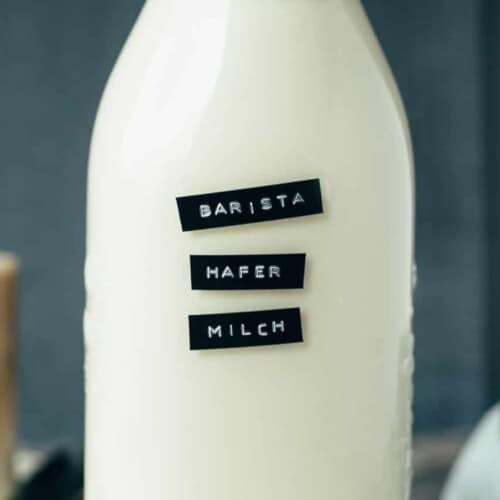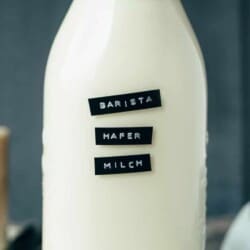 Creamy Barista Milk (10 minutes)
Incredibly creamy and versatile vegan barista milk, for your favorite specialty coffees, matcha, cocoa or other vegan hot drinks.
AUTOR: VEGANEVIBES
Optional:
Vanilla to taste

(optional)

1-2

Piece

Medjool dates for more sweetness

(optional)

1

tbspn

Cocoa + 2 dates for a barista cocoa version

(optional)
Anleitung 
Place water in a high-powered blender along with the rolled oats, cashews, and pinch of salt.

1000 ml Water,

90 g Oatmeal,

50 g Cashews,

A strong pinch of salt,

1-2 Piece Medjool dates for more sweetness,

Vanilla to taste

Mix for a maximum of 30 seconds at the highest speed until everything is optimally combined.

Place nut milk bag in a bowl and pour the liquid directly into it.

Twist and squeeze nut milk bag until all liquid has drained into bowl and only solids remain in bag.

Funnel over a milk bottle and pour in.

Feel free to use leftovers in the nut milk bag (also called pulp) for cooking, baking or Bliss Balls. Otherwise compost.

Enjoy plant milk in hot and cold drinks! Store remaining milk in an airtight container in the refrigerator for up to 5 days.
Notizen
One serving corresponds to an amount of 100ml
The calorie calculation corresponds to one serving
Nährwertangaben
Serving:
100
ml
Calories:
62
kcal
Carbohydrates:
8
g
Protein:
2
g
Fat:
3
g
Saturated Fat:
1
g
Sodium:
6
mg
Potassium:
66
mg
Fiber:
1
g
Sugar:
1
g
Calcium:
10
mg
Iron:
1
mg