Hazelnut milk or Mylk superquick, what a poem. How did I come up with this? My sister-in-law gave me the idea because she has a little trouble finding the right plant milks for herself. Then she told me how good she Hazelnut milk finds Thereupon, I immediately looked around at my favorite organic supermarket and lo and behold, nothing found. What now? Well, what I can't buy I just make myself. Since I'm pretty lazy sometimes, I wanted a simple, quick solution that could be done in 5 minutes without much effort. No sooner said than done!
Hazelnut milk quick and easy to make yourself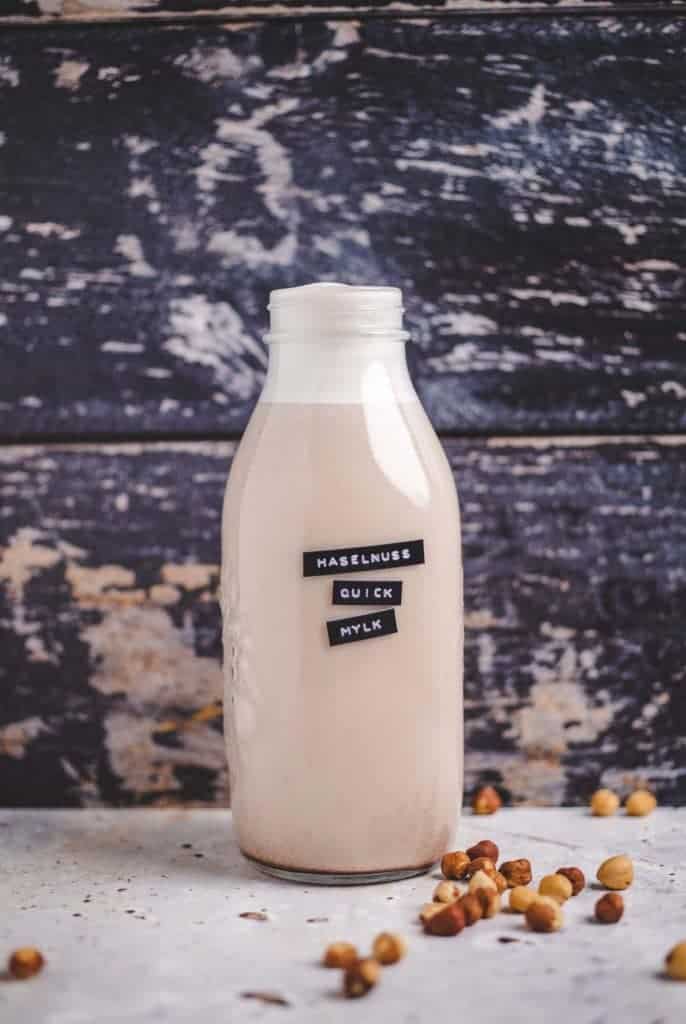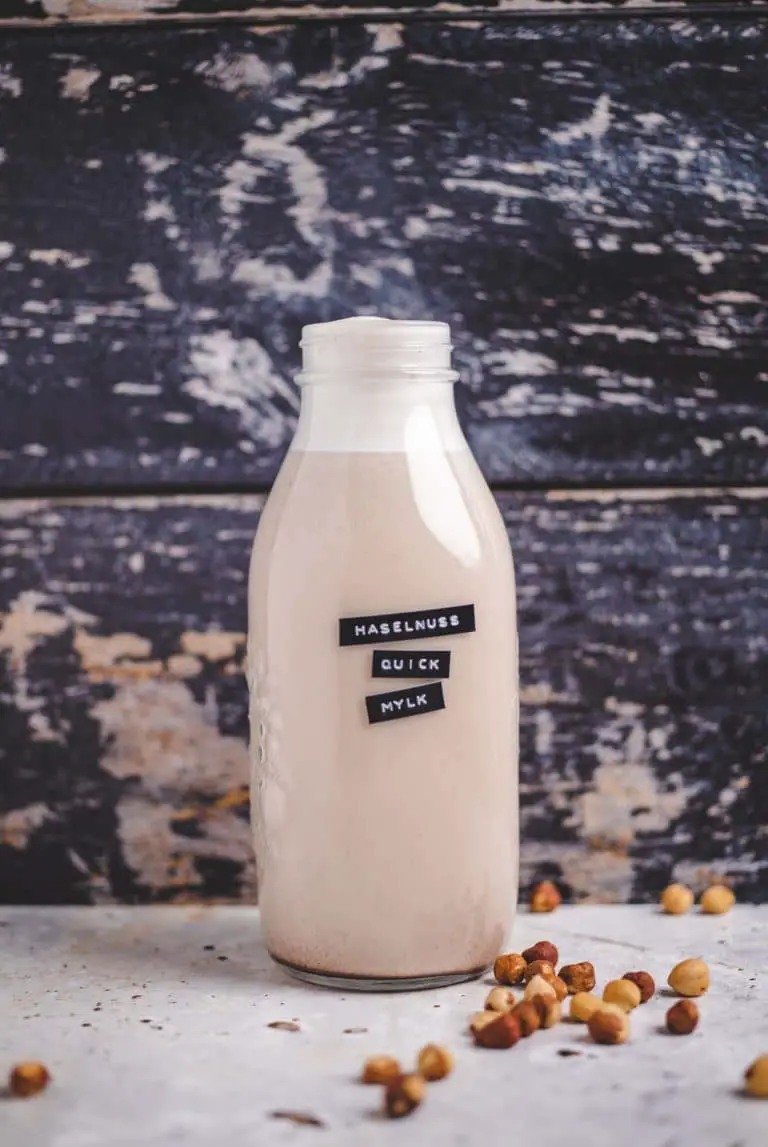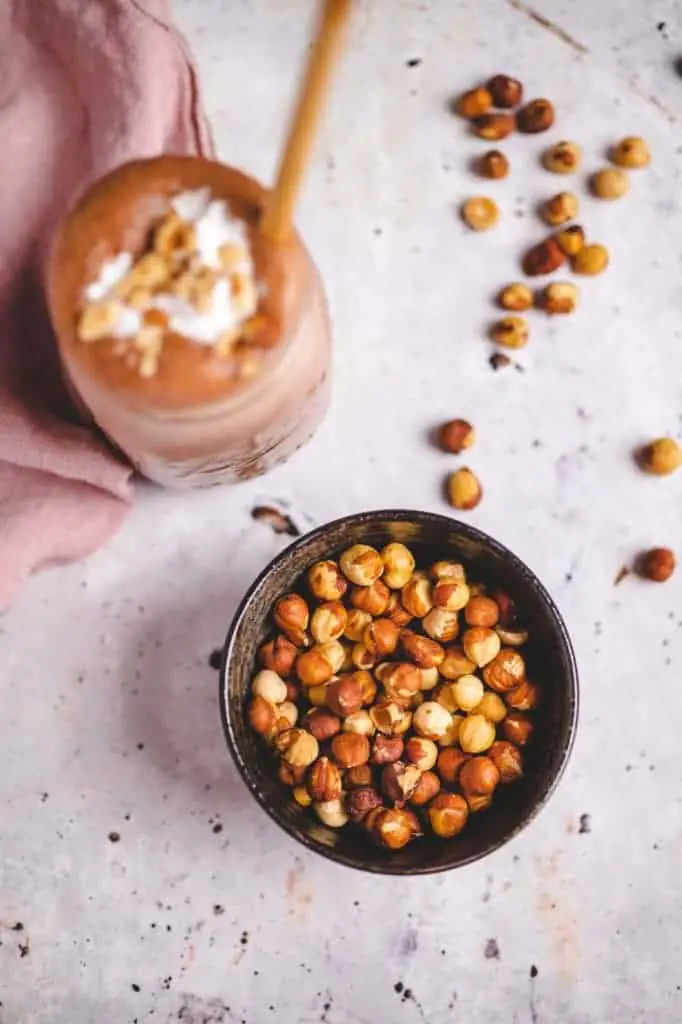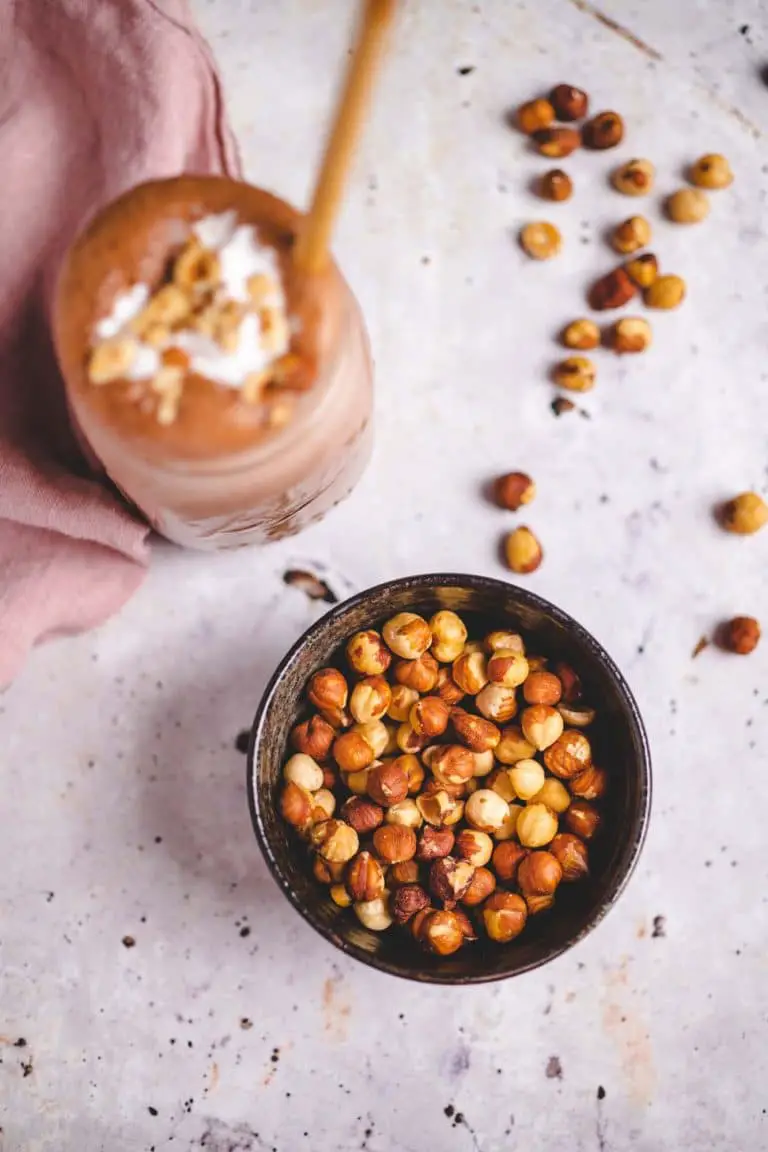 Once again, the ingredient list is short. Oat milk, hazelnut pure e and date syrup. That's it! Now, for those wondering why I use ready-made oat milk to make hazelnut milk? Because I want to make a quick creamy nut milk that I can use perfectly for a quick milkshake or iced coffee. Pure oat milk or soy milk is too thin for this and I just want it nice and creamy and nutty.
TIP: Xanthan Gum is a natural thickener and binder that is approved for organic foods and ensures that the hazelnut milk is super creamy and doesn't settle too much at the bottom.
The above ingredients are, so to speak, a base that can be expanded as desired. For example, I added cocoa powder and bourbon vanilla. So quickly, a rather "boring" oat milk becomes a creamy, nutty and chocolaty highlight.
A vegan nut milk so versatile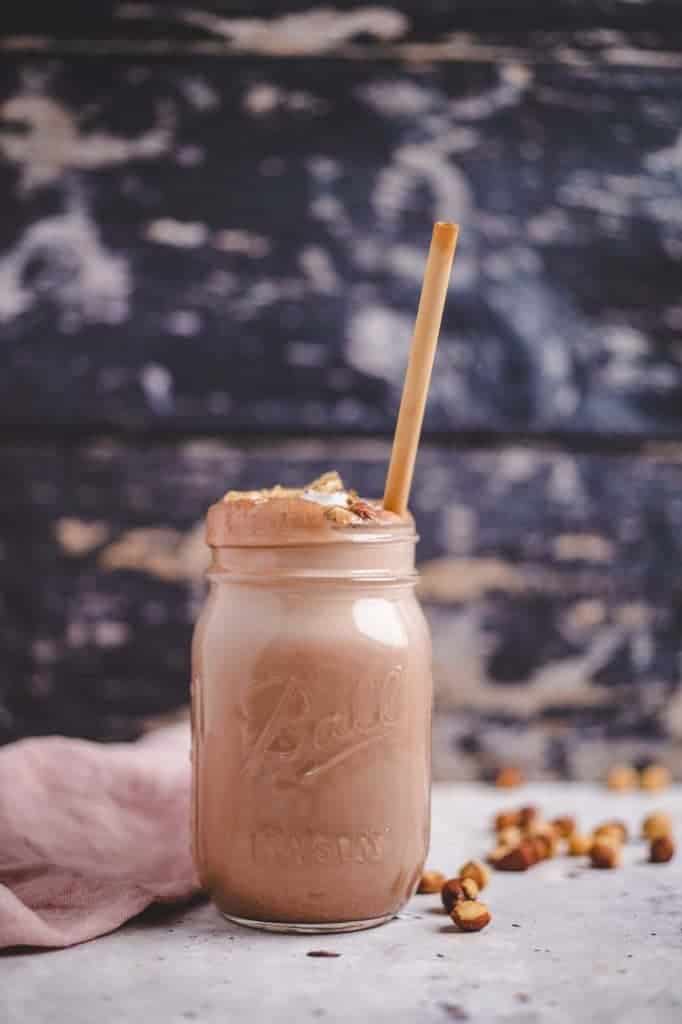 I think nut milks are just brilliant, as they are very versatile. Perfect for people who do not like coffee and are looking for variety. Ideal for those who are a quick, creamy solution for iced coffee or mylkshake variations.
If you don't feel like hazelnut flavor today, I recommend the following variations:
Perfect let's get going with the nutty creamy milk.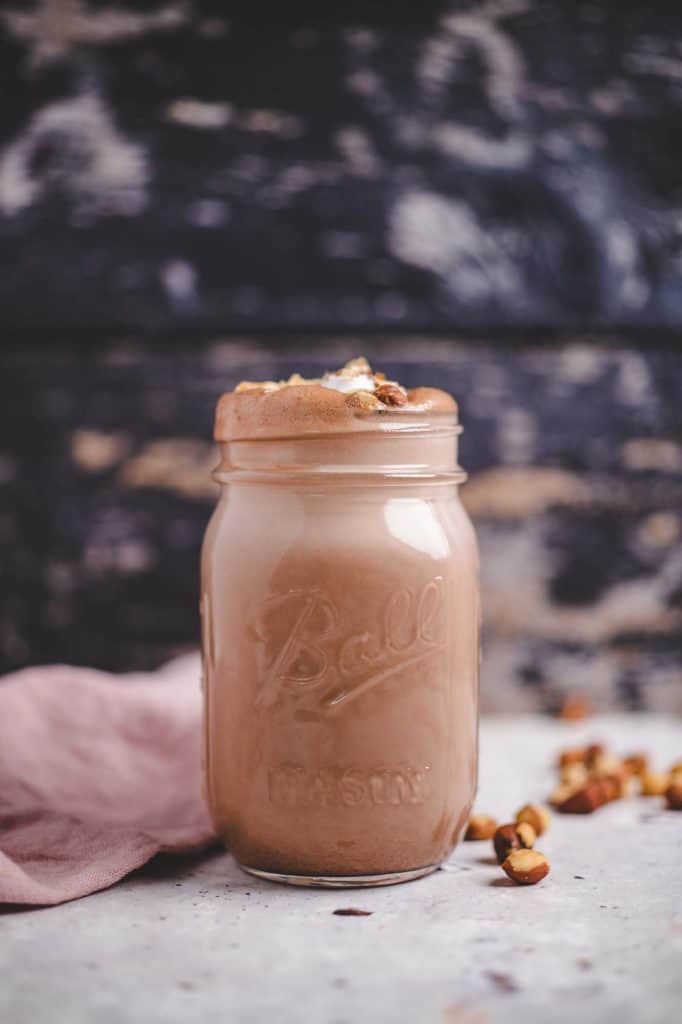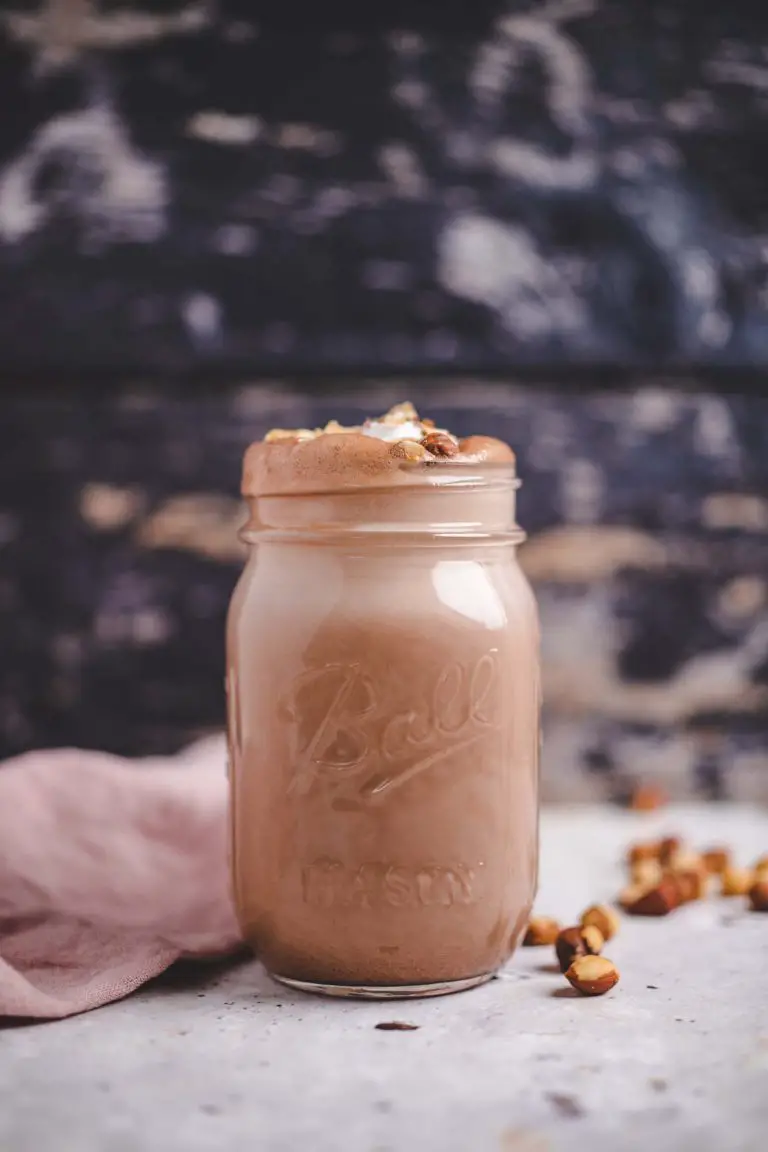 The hazelnut milk (Mylk) is superquick:
versatile
creamy
Few ingredients
Simply made
nutty
Are you as big a plant milk fan as I am? Then I look forward to a review at the bottom of this page. If you post a picture, then like to use the hashtag #veganevibes.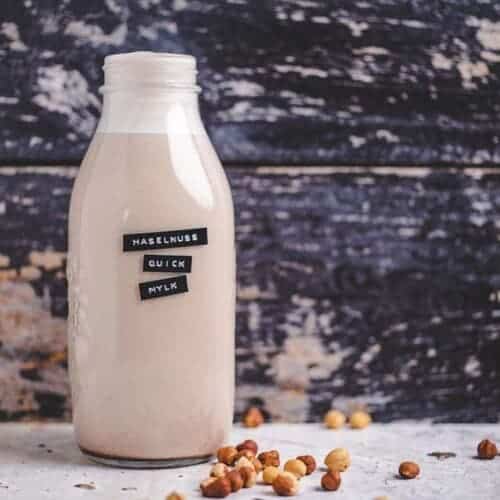 Hazelnut milk
Incredibly creamy hazelnut milk, perfect for making vegan mylkshakes or iced coffee variations. Quick to make, nutty and lactose free.
AUTOR: VEGANEVIBES
30

ml

Date syrup

or other liquid sweetener of your choice

¼

TL

Xanthan Gum

optional, but provides an extra creamy texture, another plus, it does not settle so much at the bottom of the bottle
Anleitung 
FOR THE HAZELNUT MILK Place the oat milk, hazelnut butter and date syrup in a high-powered blender and blend on high speed for at least

60 seconds.

Optionally add ¼ tsp xanthan gum after the first mixing, makes for a super great creaminess.

60 g Hazelnut puree,

1000 ml Oat milk,

30 ml Date syrup,

¼ TL Xanthan Gum

Optionally add cocoa powder, sea salt or bourbon vanilla and mix again briefly.

24 g Cocoa powder,

A pinch of sea salt,

¼ tbspn Bourbon vanilla

Pour into a resealable milk glass or process into a milkshake or iced coffee variation.

Keeps well sealed up to 5 days in the refrigerator.
Nährwertangaben
Serving:
1
Cup
Calories:
78
kcal
Carbohydrates:
16
g
Protein:
4
g
Fat:
3
g
Saturated Fat:
1
g
Polyunsaturated Fat:
1
g
Monounsaturated Fat:
2
g
Cholesterol:
1
mg
Sodium:
35
mg
Potassium:
75
mg
Fiber:
1
g
Sugar:
6
g
Vitamin A:
120
IU
Vitamin C:
0.5
mg
Calcium:
95
mg
Iron:
1
mg