I love granola and muesli, so both are on the breakfast table every day. Sometimes I make the granolas myself, but often I buy them ready-mixed, depending on how time allows. Every now and then, however, there is no time at all for an extensive breakfast and I need something "to go" that I can simply put in my pocket. Quasi a full-fledged snack for your pocket that provides all the healthy nutrients that a bowl of cereal would do. However, the taste must not be neglected, so I always pay attention to the facial expression of the test persons when testing the recipes. When the eyes get all big and a smile appears on the face, then I know I'm right. The highlight is then smacking noises and clear sounds like "hmmmm" "yummy" "where" and so on and so forth. I can guarantee all that with these delicious granola slices. Let's go !
Vegan granola slices – what more could you ask for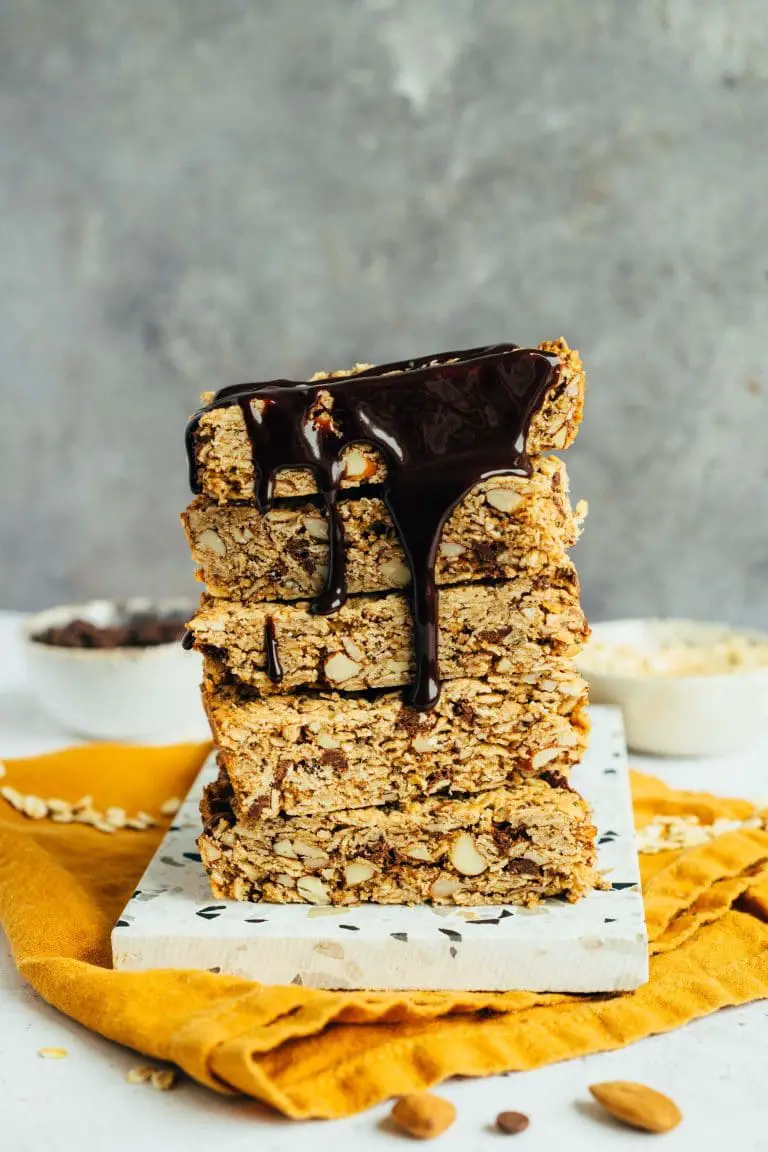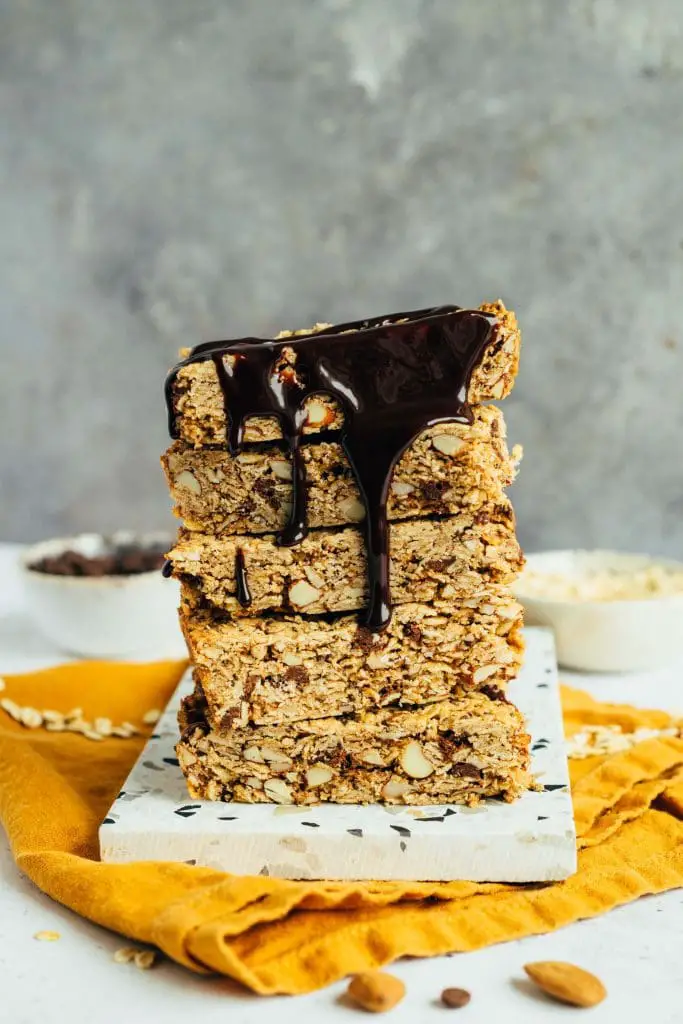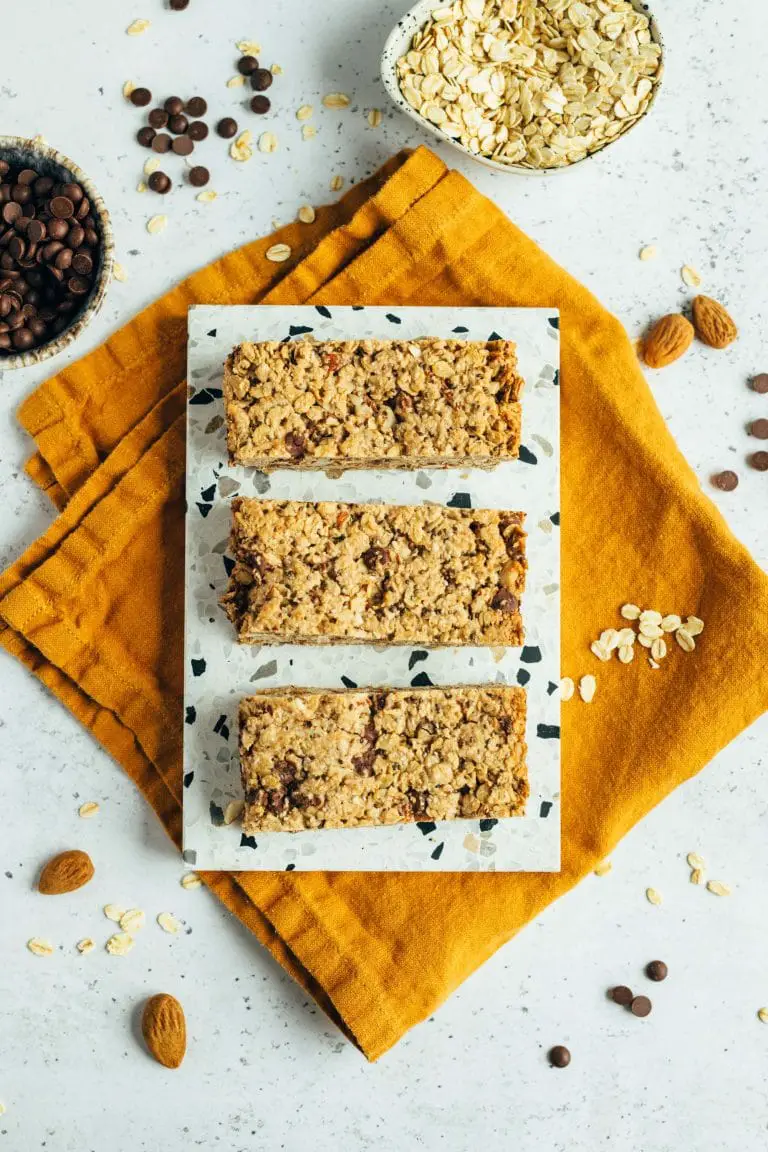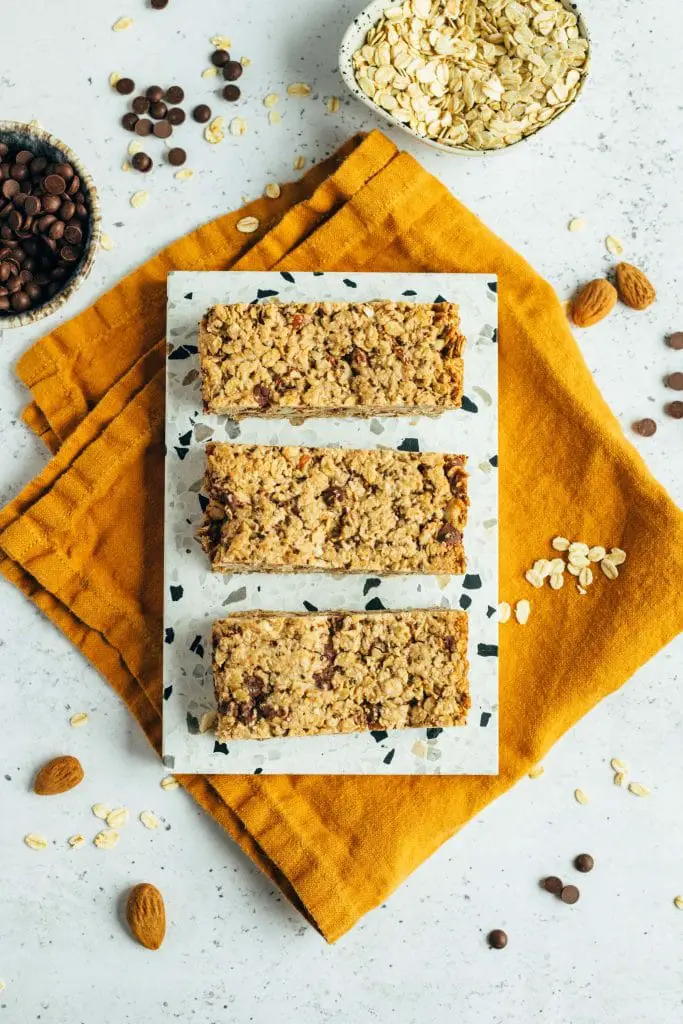 Since Corona has determined our existence, I really rarely have appointments outside the house. Most of the time I'm in my home office and can eat breakfast in a regulated way, without any real deadline pressure. But there are actually still days when I have appointments. Rare, but they do exist. Right then I have my box of goodies with me. I can still remember when I went to Munich the other day with a huge box of cookies and bars. After my appointment, I visited an acquaintance who was very happy about the sweet snacks.
The main role in this recipe is played by oatmeal, plain and ordinary. I love them and always have them on hand too. The little flakes are inexpensive, versatile and super nutritious. In addition to oat fritters, we need almond paste, coconut puree, maple syrup, shredded coconut, chia seeds, chopped almonds, dark vegan chocolate drops, cinnamon and a pinch of salt. This is all mixed and pressed into a brownie mold. Then it's off to the oven, bake for 15 minutes and you're done.
TIP: The ingredients in the granola slices are interchangeable and replaceable at will. Here are my top tips:
Almond paste, by any other nut butter of choice
Coconut puree, by a tasteless oil, if you have coconut shreds or flakes at home, you can also make your own puree from it. You can find instructions here
Chia seeds, replace with other seeds of choice, sesame seeds, pumpkin seeds, flax seeds, sunflower seeds, puffed quinoa, amaranth, or rice
Almond, by any other nut variety of choice that you have at home
Maple syrup, by any other liquid sweetener of choice.
In addition to cinnamon, additional bourbon vanilla, a pinch of nutmeg, orange or lemon oil, orange or lemon zest.
Make vegan granola bar without sugar yourself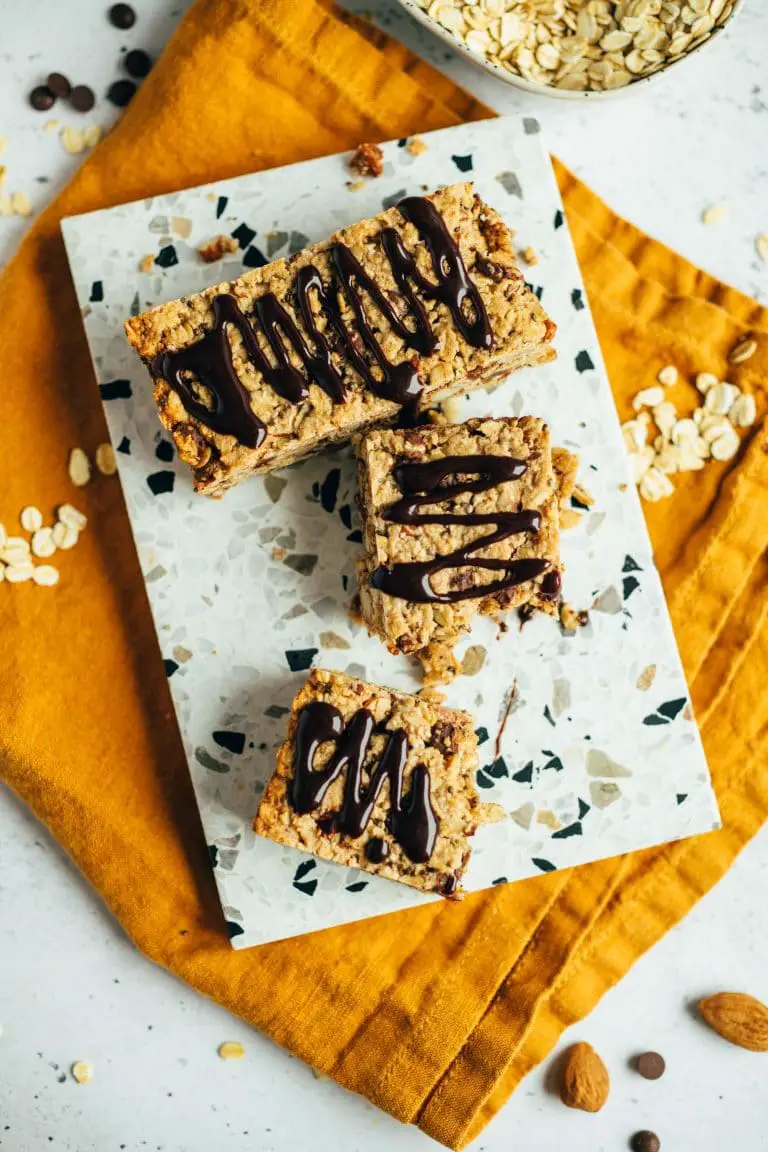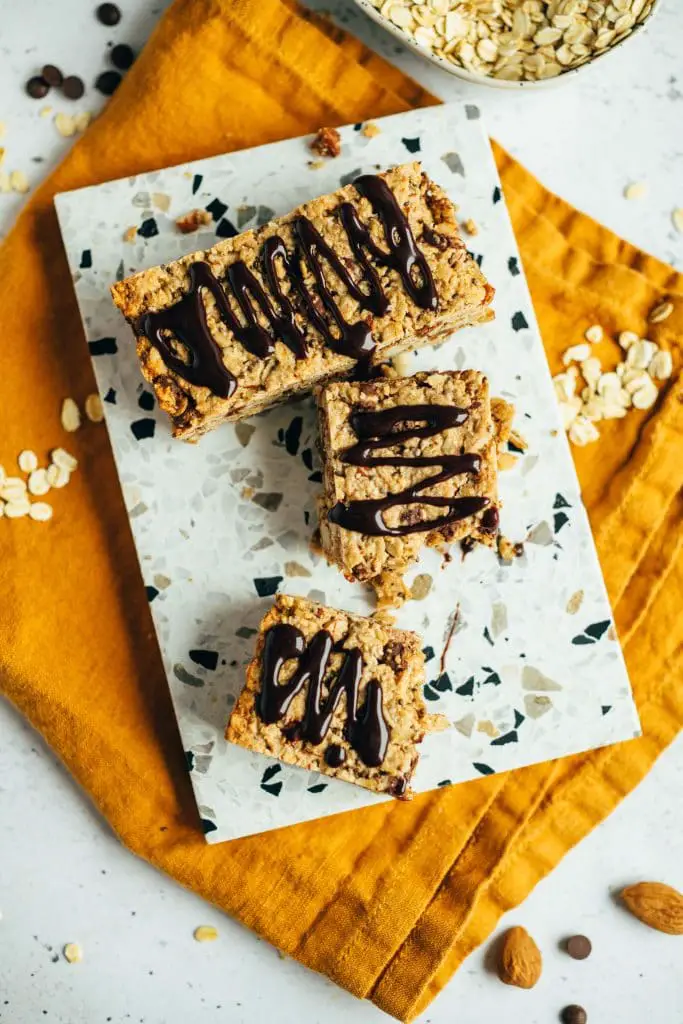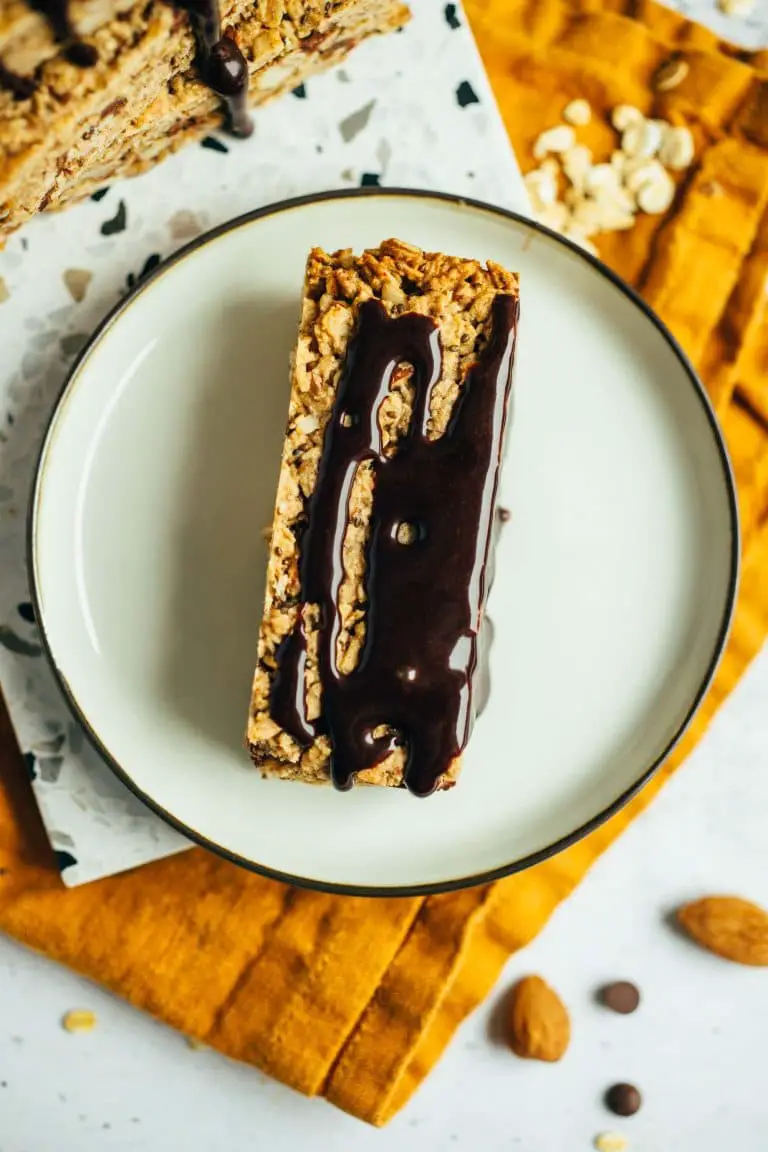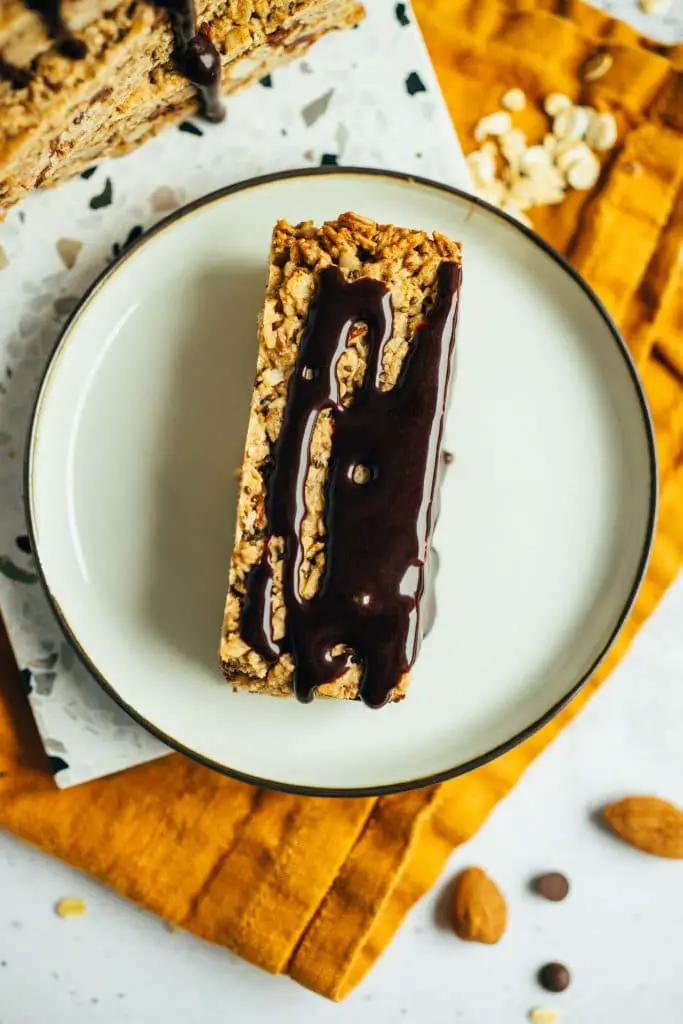 The production is really simple and almost nothing can go wrong. A little patience is required when cutting the bars. I've made the mistake of cutting them while they're still warm before and it's always gone wrong. The slices must cool completely and only then are the ready for cutting. But that is all.
I sweeten the granola slices with maple syrup, a natural sweetener extracted from the bark of maple trees. Alternatively, I recommend agave syrup or date syrup.
Chocolatey-grainy, the granola slices go perfectly with a vegan latte, immune booster latte, chocolate chia smoothie, hot chocolate or golden milk.
The granola slices are:
Pithy
chocolatey
Full of healthy micronutrients
Naturally sweetened
Oil-free
Let's get started with this hearty and sweet breakfast. I wish you a lot of fun baking and of course a review at the bottom of this page. If you post a picture, use the hashtag #veganevibes.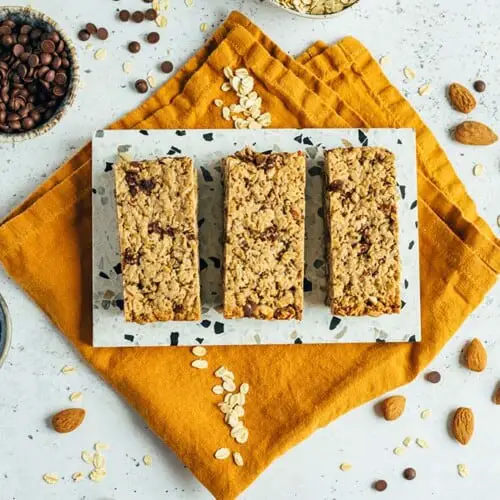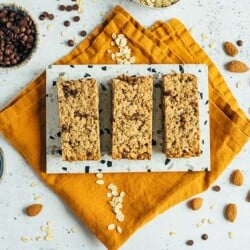 Granola slices (25 minutes)
Delicious, crunchy-chocolatey granola slices for the perfect energy supply in between, vegan, oil-free and naturally sweetened. The perfect breakfast "to go" for the whole family.
AUTOR: VEGANEVIBES
225

g

gluten free oatmeal Note: Oatmeal is gluten-free in itself, but can get traces of gluten during processing. If you want to be sure, use oatmeal with a "gluten-free" label.

130

g

Almonds

coarsely chopped

35

g

Coconut shaving

Alternatives above in text

30

g

Chia seeds

Alternatives above in text

50

g

dark vegan chocolate drops

or coarsely chopped chocolate

½

tbspn

Cinnamon

80

g

Almond paste

or another nut puree of your choice

45

g

Coconut puree

alternatively a tasteless oil of choice

167

ml

maple syrup
Anleitung 
Preheat the oven to 180 degrees (convection oven) or 200 degrees (upper-lower heat) and line a brownie pan (20x20cm) with baking paper.

Tip: If you don't have a brownie mold at home, you can use a similar sized mold. The cuts then become slightly thicker or thinner.

In a medium bowl, roughly mix together rolled oats, almonds, shredded coconut, chia seeds, cinnamon, salt, and dark vegan chocolate drops.

225 g gluten free oatmeal,

130 g Almonds,

35 g Coconut shaving,

30 g Chia seeds,

50 g dark vegan chocolate drops,

½ tbspn Cinnamon,

1 Pinch of salt

Add almond paste, coconut paste and maple syrup and mix well.

80 g Almond paste,

167 ml maple syrup,

45 g Coconut puree

Pour into brownie pan and flatten. Put in the oven and bake for

15 minutes

. The granola slices are ready when they are lightly golden brown around the edges. Remove from the oven and allow to cool completely.

Remove from the mold and cut into 10 slices. Please wait until they are completely cooled, otherwise they may break when cut. enjoy!

Place remaining slices in a resealable box and store in refrigerator or freezer. In the refrigerator they last about 1 week, in the freezer up to 4 weeks.
Nährwertangaben
Serving:
1
Piece
Calories:
338
kcal
Carbohydrates:
32
g
Protein:
8
g
Fat:
21
g
Saturated Fat:
8
g
Trans Fat:
1
g
Sodium:
4
mg
Potassium:
283
mg
Fiber:
6
g
Sugar:
11
g
Vitamin A:
2
IU
Vitamin C:
1
mg
Calcium:
111
mg
Iron:
2
mg