Chunky Monkey Granola is what the world was still missing. So far, to be honest, I have only ever enjoyed Chunky Monkey ice cream from a very well-known manufacturer. This is vegan and so outrageously delicious. I would also very much like to buy it more often, but the price honestly does not really tempt you to do so. Since I make my Ice cream honestly almost prefer to make it myself. This already gives me the next idea for a Recipe a Chunky Monkey ice cream. Sounds delicious, doesn't it? But today we stay on topic Breakfast . Are you more the sweet or savory type at the Breakfast ? I love it sweet and only make an exception when it goes to brunch. It can also be a slice of bread with a hearty topping. Feel free to drop me a line in the comments, I'd love to hear from you.
Chunky Monkey Granola, as the name suggests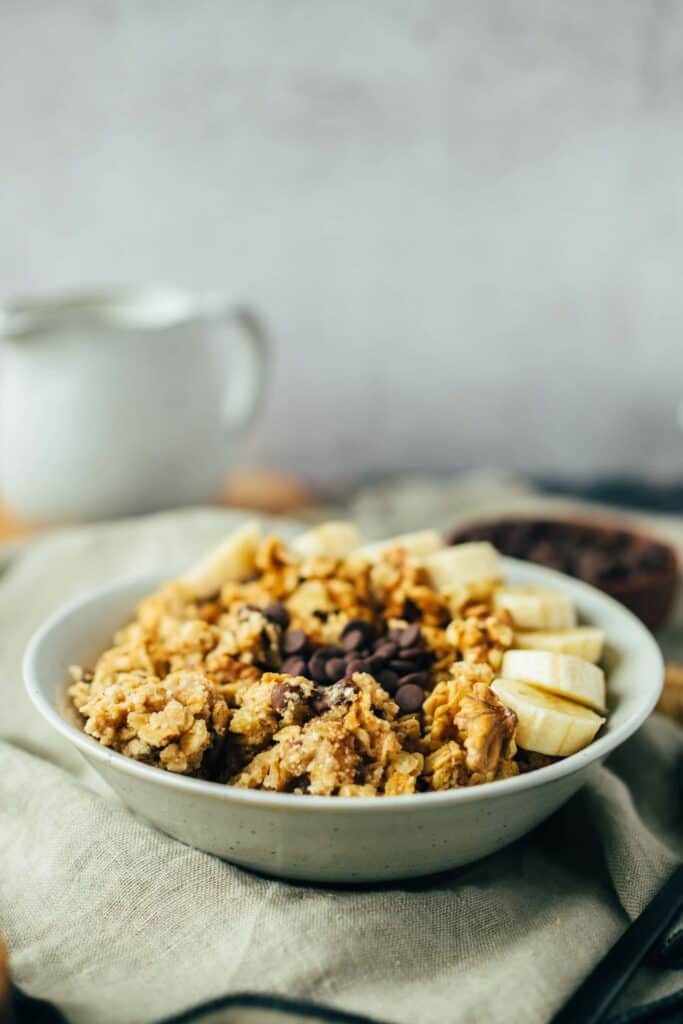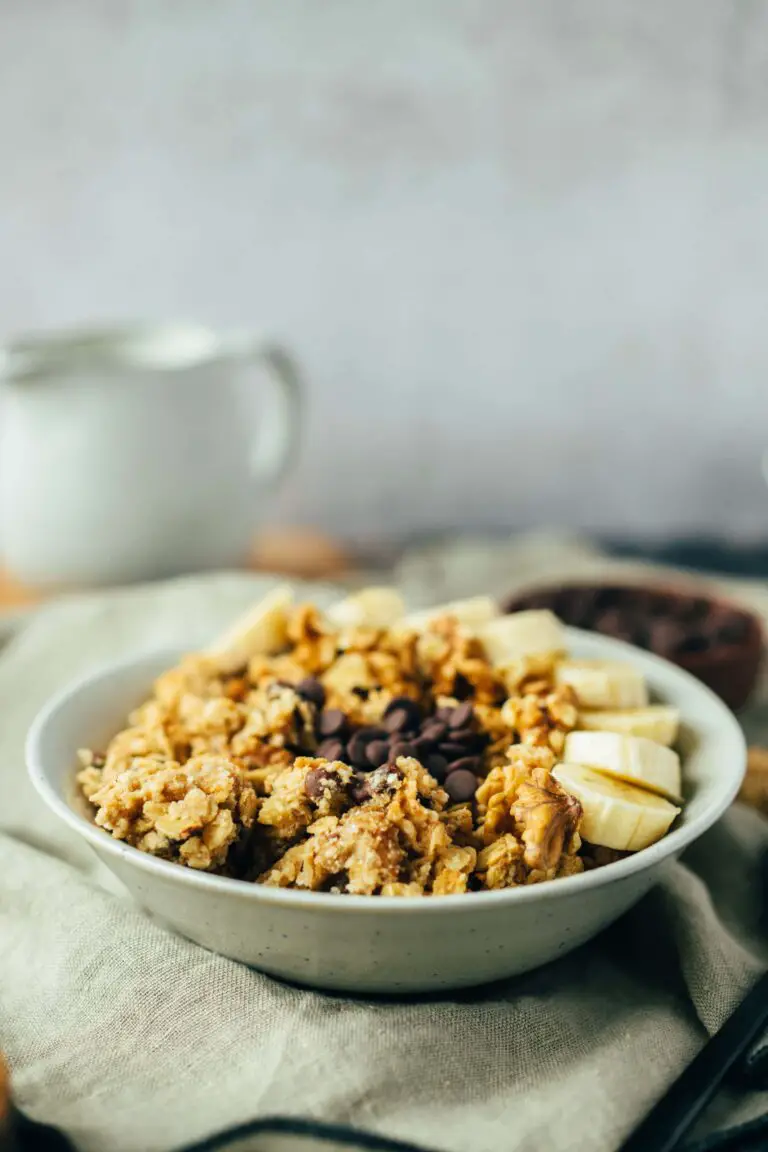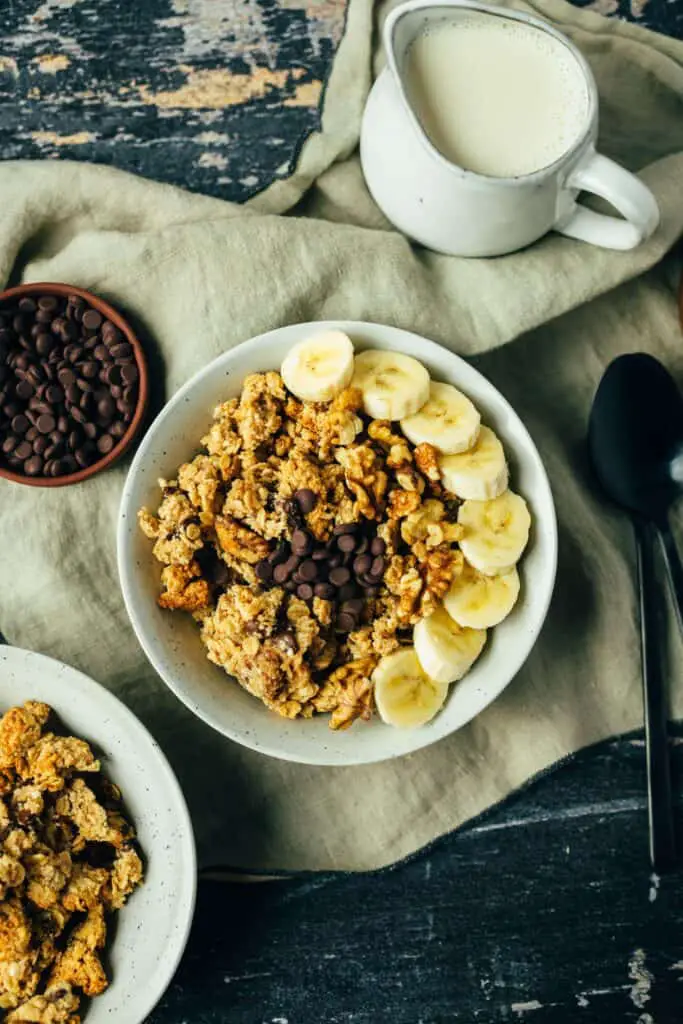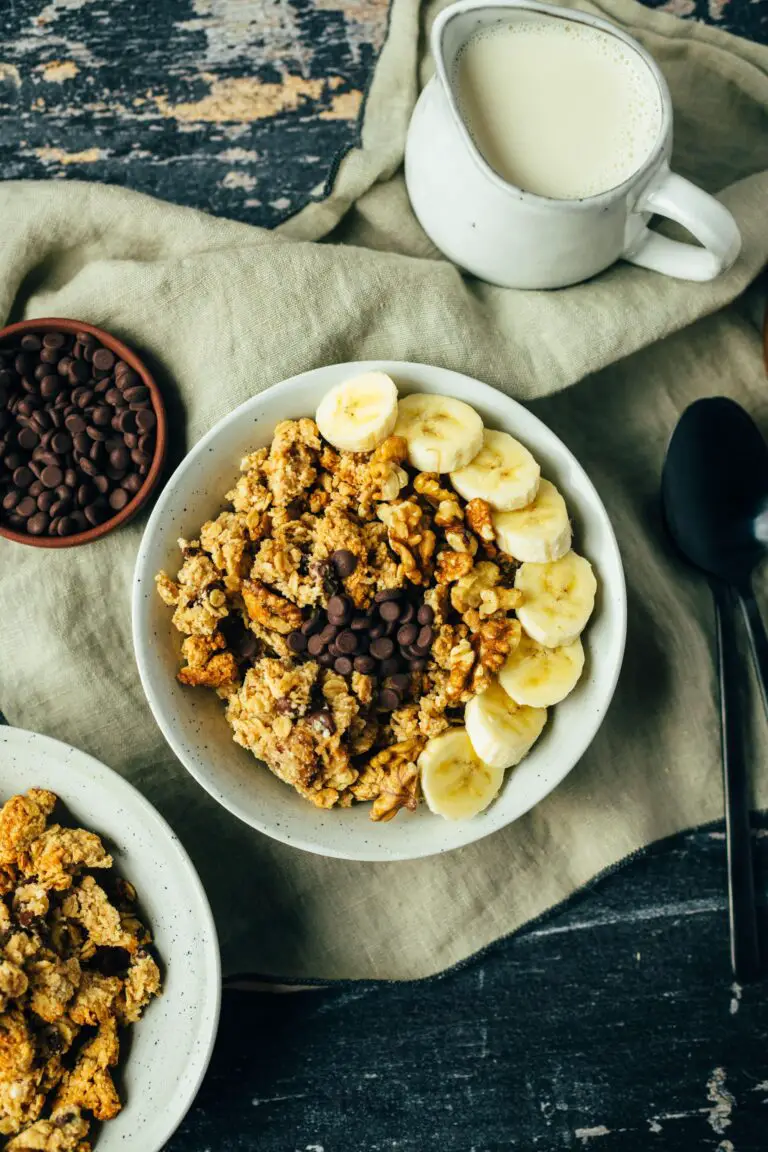 What exactly does Chunky Monkey mean? It is a combination of walnut, banana and chocolate. In our case, coconut also comes into play and I promise you a dreamlike interaction that will sweeten every morning. Coconut flakes, oat flakes, almond flour, Banana , chocolate drops, nutmeal, maple syrup, Cinnamon , a pinch of salt and the ingredient list is ready. I deliberately do without additional oil, instead I use whole nut puree and the result is perfect.
How healthy is oil actually?
There are more and more nutritionists and experts who are critical of the consumption of oil in general. At the forefront of the discussion is the fact that people in developed industrial regions are putting on more and more weight. If we look to North America, the latest data show, d almost 70% of adults are overweight. . This trend is also evident in Germany, as we are becoming heavier rather than lighter. Why is that? Conventional foods are very high in caloric density, with often low nutrient density. People also often talk about empty calories, for which white bread is a perfect example. The flour is ground out very much and with it the density of minerals and vitamins.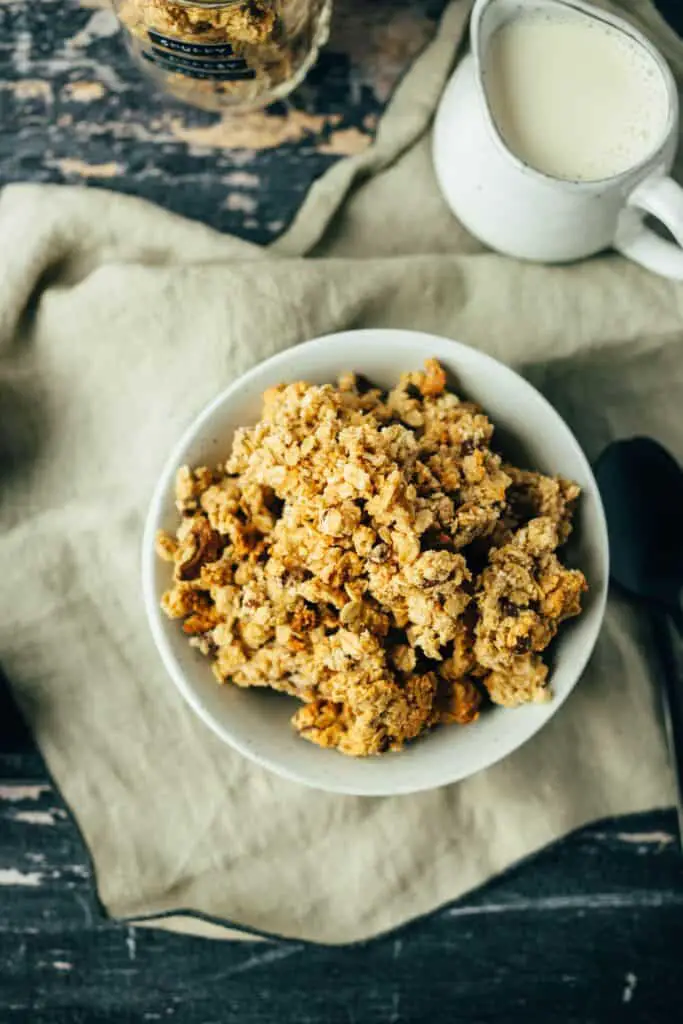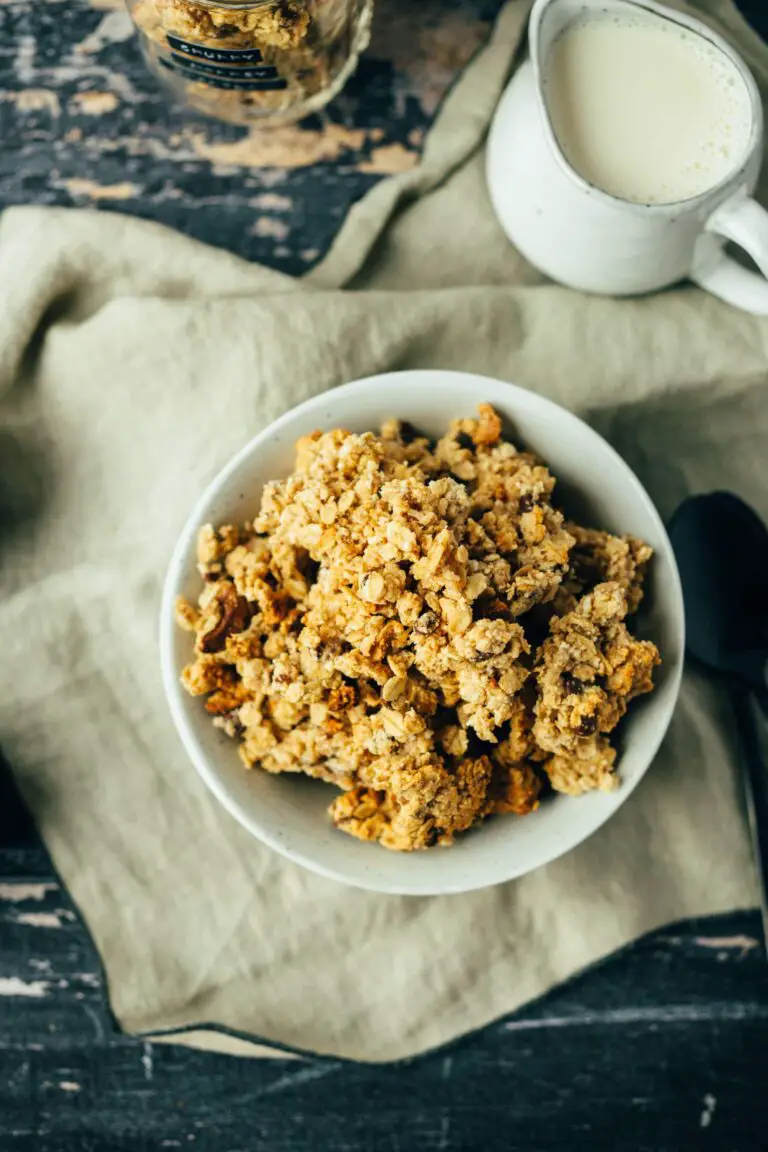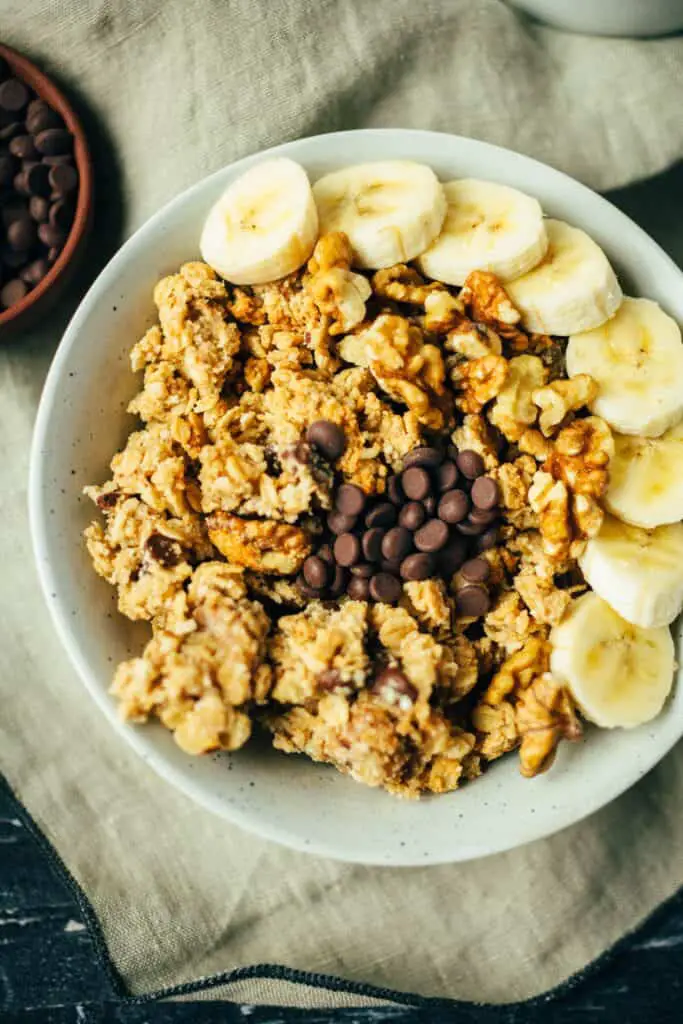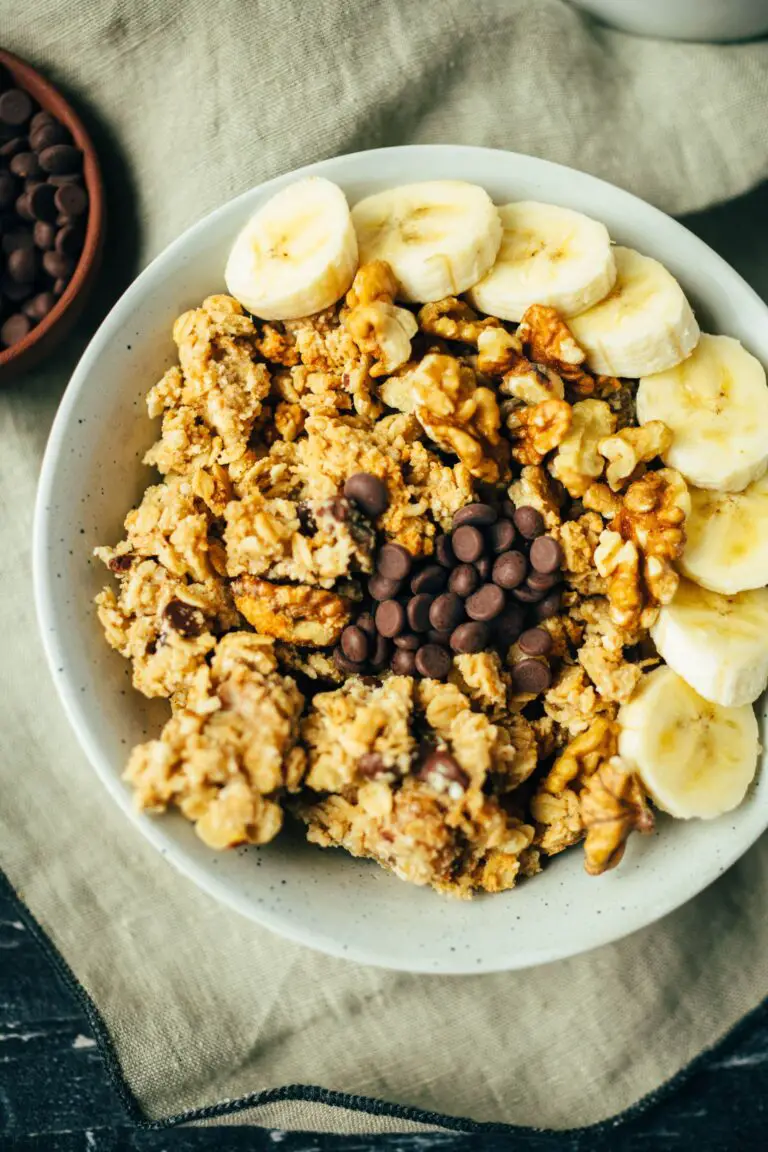 It is not quite the same with oil, but it also goes in a similar direction. The oil is pressed and the end result is a very high calorie macronutrient. The valuable fiber and other plant substances unfortunately do not end up in the oil, although they would also be very valuable for us. One tablespoon of oil contains around 120 calories, which should always be kept in mind. This does not mean that a healthy person should do completely without oil, you should simply use oil wisely and on more often without cooking and baking.
Here again a small overview:
Dosage: Oils contain an average of 120 calories per tablespoon or 15ml. If you want to lose or maintain weight, you should avoid oil as far as possible and rather consume the original foods with all the valuable fiber and plant substances. Sunflower seeds instead of sunflower oil, olives instead of olive oil, hemp seeds instead of hemp oil. Personally, I have not completely abandoned my oil consumption, but have reduced it very drastically. In practice, it looks like I measure out a tablespoon or teaspoon, where I used to just pour it into the pan by eye.
The right oil: For vegans, omega-3 fatty acids are considered critical components in the diet. why? Because people who live vegan avoid fish and therefore run the risk of not taking in enough of the valuable omegas. The ratio of omega-3 (anti-inflammatory) to omega-6 (pro-inflammatory) should not exceed 1:5 and is often as high as 1:20 on average for vegans. Therefore, if you choose the right oil with a high content of omega-3 fatty acids. These include linseed oil, chia oil and walnut oil. Cold-pressed olive oil is also still okay, but sunflower oil stands out negatively with a ratio of omega-3 to omega-6 of 1:250.
TIP: I use a microalgae oil, of which I take 1 tsp every day (in the dark season). The oil is a good source of long-chain omega-3 fatty acids and is combined with vitamin D. Many people (no matter what their eating style) are undersupplied with vitamin D in winter.
Heating yes but: Not every oil is equally suitable for heating and baking. That's why I use a special high-oleic frying oil for frying and baking. These are special types of oil that have a high smoke point and remain stable until then. Under no circumstances use cold-pressed oils at high temperatures. They would change their structure when heated and the health benefits are gone.
Ideal with this Chunky Monkey Granola goes well with a homemade and creamy barista milk . You can give free rein to your creativity when it comes to toppings. Starting with banana slices, coconut yogurt, fruits, superfoods, to dried berries and chocolate chips. Perfect as a snack in between, or as a small, fine gift for a dear colleague?
The vegan Chunky Monkey Granola is:
Pleasantly sweet
Bananig
nutty
Soft but with Crunch
simple to be produced
Let's go with this crunchy dream that will sweeten your day already on the Tomorrow sweeten your day. I wish you a lot of fun with the Nachbacken and of course about a rating at the bottom of this page. If you post a picture, use the hashtag #veganevibes.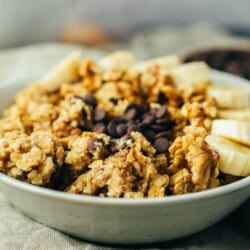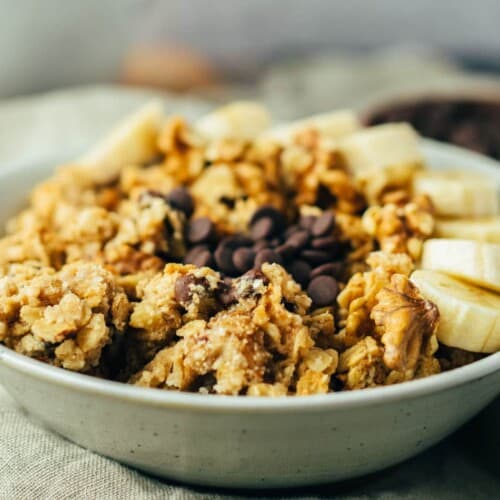 Chunky Monkey Granola
Chunky Monkey is back. Delicious granola with walnuts, banana pieces and chocolate. An absolute dream for all breakfast fans, vegan, naturally sweetened and damn delicious.
AUTOR: VEGANEVIBES
Toppings:
Coconut yogurt

Fresh fruits

Banana slices
Anleitung 
Preheat the oven to 175 degrees and line a baking tray with baking paper or a baking mat.

Place coconut flakes, almond flour, and ½ cup (45g) rolled oats in a high-powered blender and grind to a fine flour.

100 g Coconut chips,

115 g Oatmeal,

24 g Almond flour

Flour coconut flakes, rolled oats and almond flour In a large baking bowl, add remaining rolled oats (90g), maple syrup, walnuts, nutmeal, banana chunks, cinnamon, sea salt and chocolate drops and mix well once until everything is combined.

1/2 Piece ripe banana,

100 g Coconut chips,

115 g Oatmeal,

24 g Almond flour,

80 ml maple syrup,

65 g Walnuts,

65 g Nut puree,

½ tbspn Cinnamon,

¼ tbspn Sea salt,

60 g vegan chocolate drops

NOTE: If you like it sweeter, add 2 tablespoons coconut blossom sugar or another sugar.

37,5 g Coconut blossom sugar

Spread the finished mixture evenly over the baking sheet and bake in the oven for 10 minutes. Check once in the last 2-3 minutes and make sure it doesn't burn. Otherwise, remove heat after 7-8 minutes.

Remove from the oven and allow to cool completely.

Garnish with fresh plant milk, coconut yogurt and fruit and optional toppings. enjoy!

Coconut yogurt,

Fresh fruits,

Chocolate drops,

Banana slices,

Barista milk

Store in an airtight container at room temperature for up to 1 week.
Nährwertangaben
Serving:
1
Portion
Calories:
384
kcal
Carbohydrates:
33
g
Protein:
7
g
Fat:
27
g
Saturated Fat:
13
g
Cholesterol:
2
mg
Sodium:
166
mg
Potassium:
178
mg
Fiber:
5
g
Sugar:
22
g
Vitamin A:
62
IU
Vitamin C:
1
mg
Calcium:
97
mg
Iron:
1
mg