I went on a search during our vacation in Austria. After what? After a delicious, creamy, vegan ice cream . The result was unfortunately a bit disappointing, because not even the biggest supermarket in the whole area had a vegan ice cream . I have found everything, starting with fat-free fitness ice cream varieties, up to Ice cream from sheep's milk. Well, I had hoped to find at least one variety and there I would have also paid the one or other euro more. No matter, because at least there were two varieties vegan chocolate , yay!!! The has saved us the evening in any case.
Chocolate cherry? Ice cream? Vegan? Give it to me!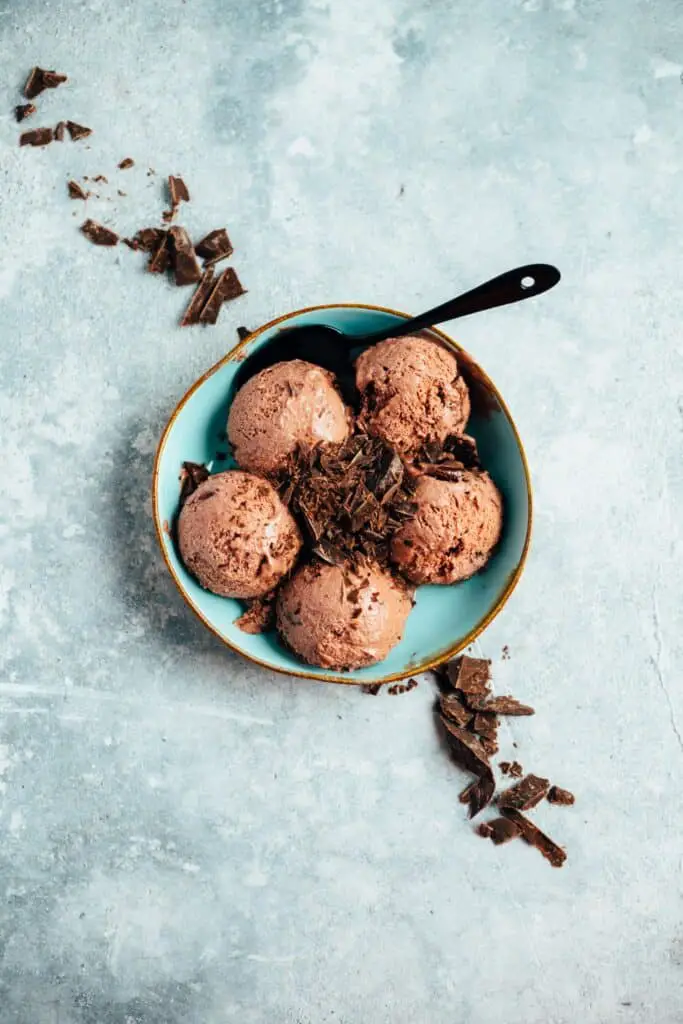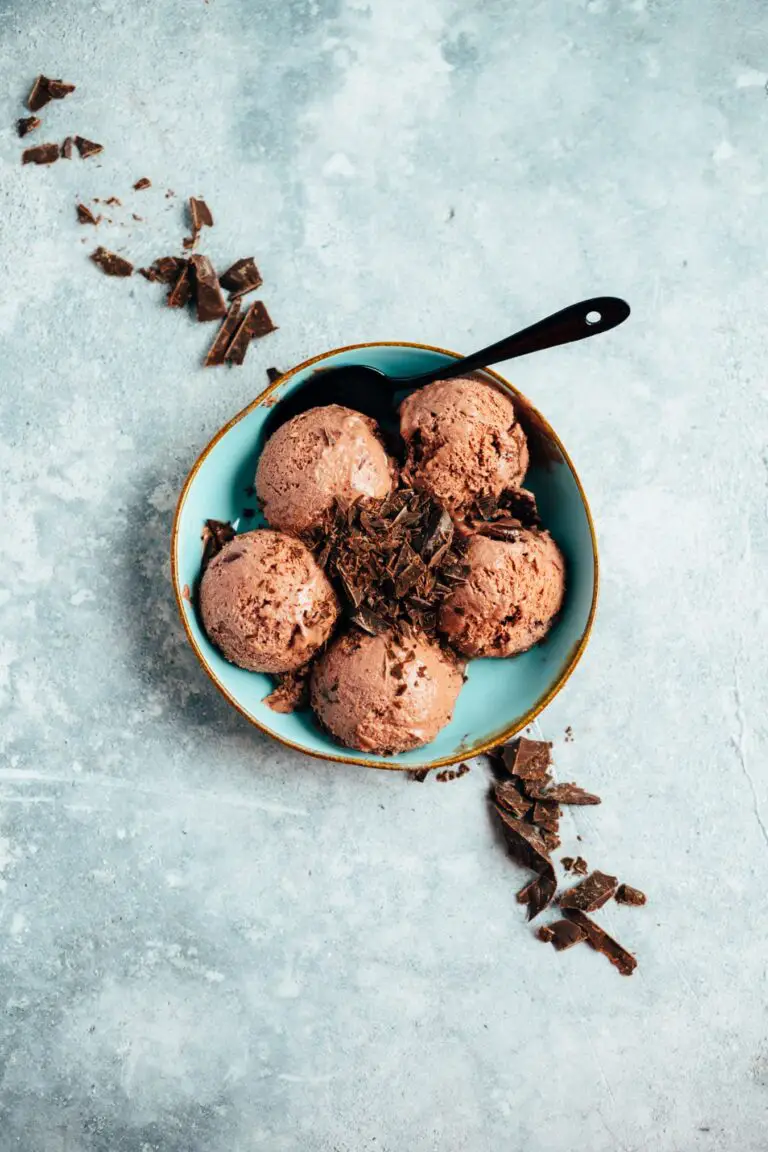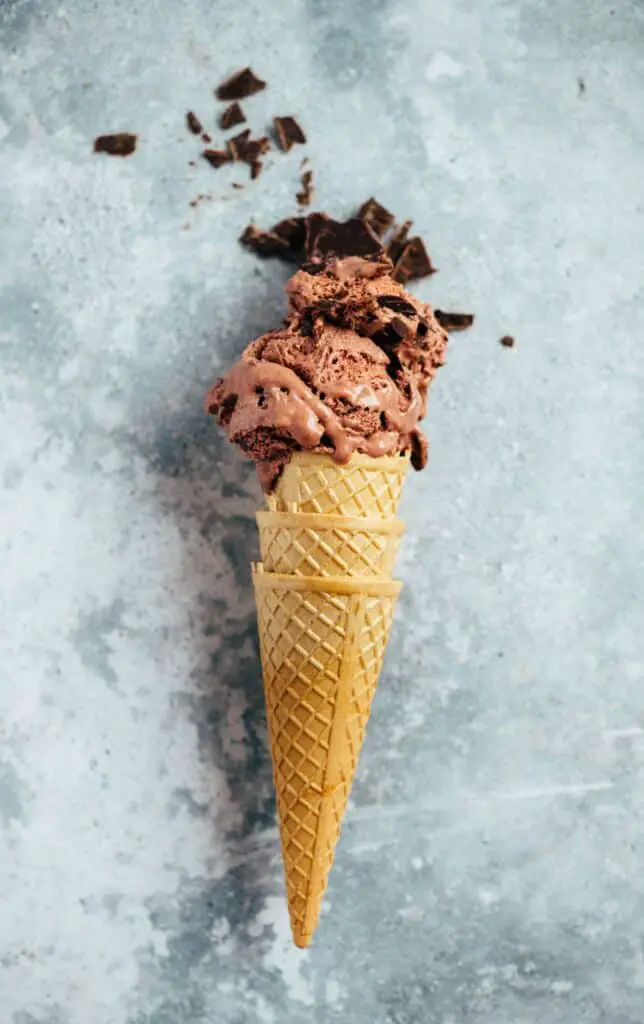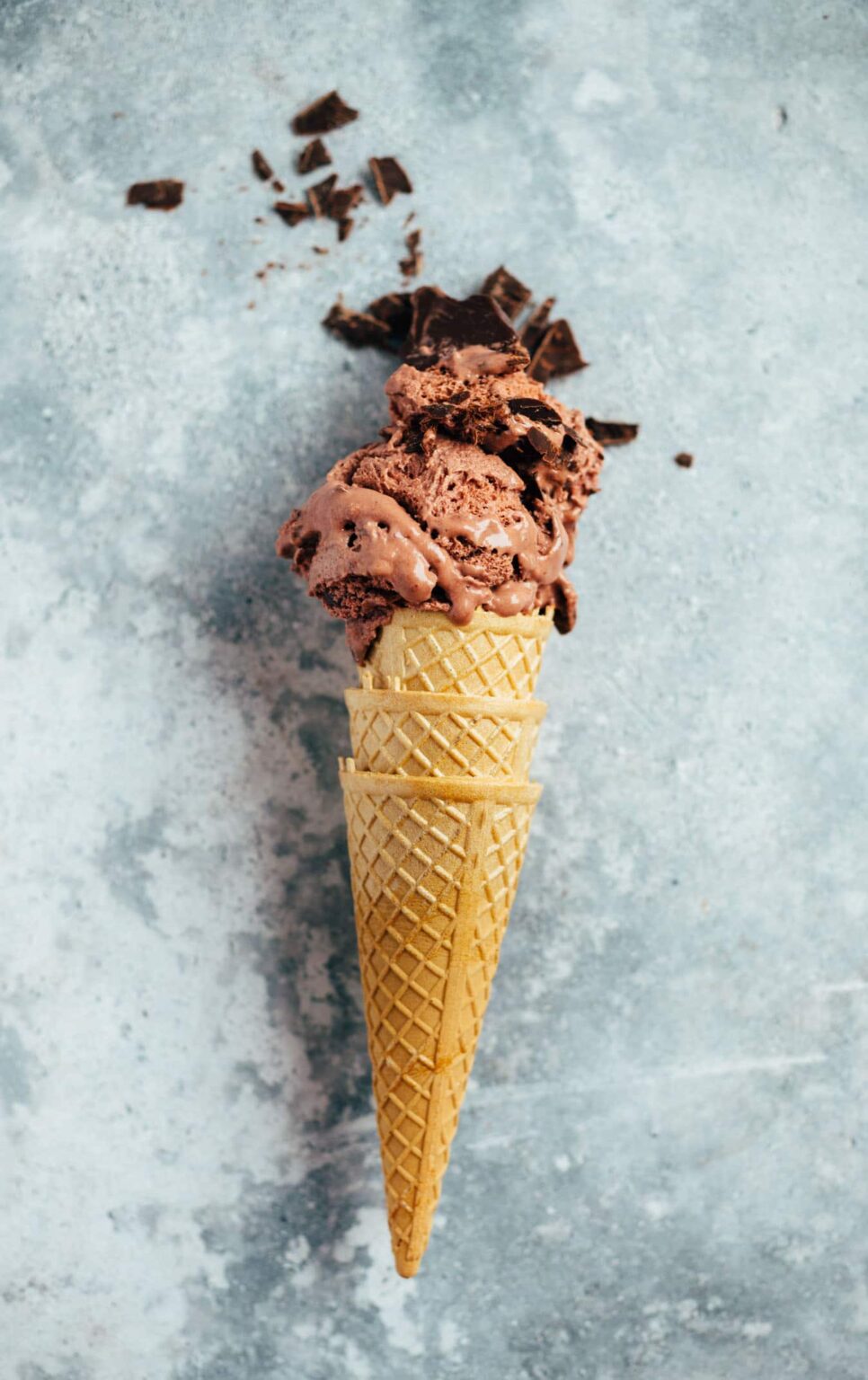 Hardly at home, the ice cream craving has grabbed me again and this time I wanted to make a kind of "Black Forest Cherry". Ice cream make. No sooner said than done it became a really delicious ice cream, with a fruity note from sour cherries. The Recipe is based on Cashews , Vegetable milk , cocoa, raw cane sugar, maple syrup and a touch of bourbon vanilla. This is mixed to a fine mass and then folded into a serving of Aquafaba folded in. Ready! Works perfectly with or without an ice cream maker, although it is a good touch creamier with.
Here you can find detailed instructions on how to make the perfect giggle snow or aquafaba. The main advantage is that it is made from chickpea water, which is anyway produced during the processing of chickpeas. With this you create a perfect zero waste kitchen and have a vegan beaten egg whites that is inexpensive and low in calories. Thanks to the addition of xanthan gum (I explain in more detail in the Aquafaba Article) it also remains extra stable and can be wonderfully folded without it collapsing.
Don't know what to do with chickpeas? How about a quick Masala chickpeas curry , Chickpeas Tzatziki Bowl , Simple Chickpea Coconut Curry , Quick chickpea sandwich or a crispy Tandoori chickpea spelt pizza .
Vegan ice cream has never been tastier!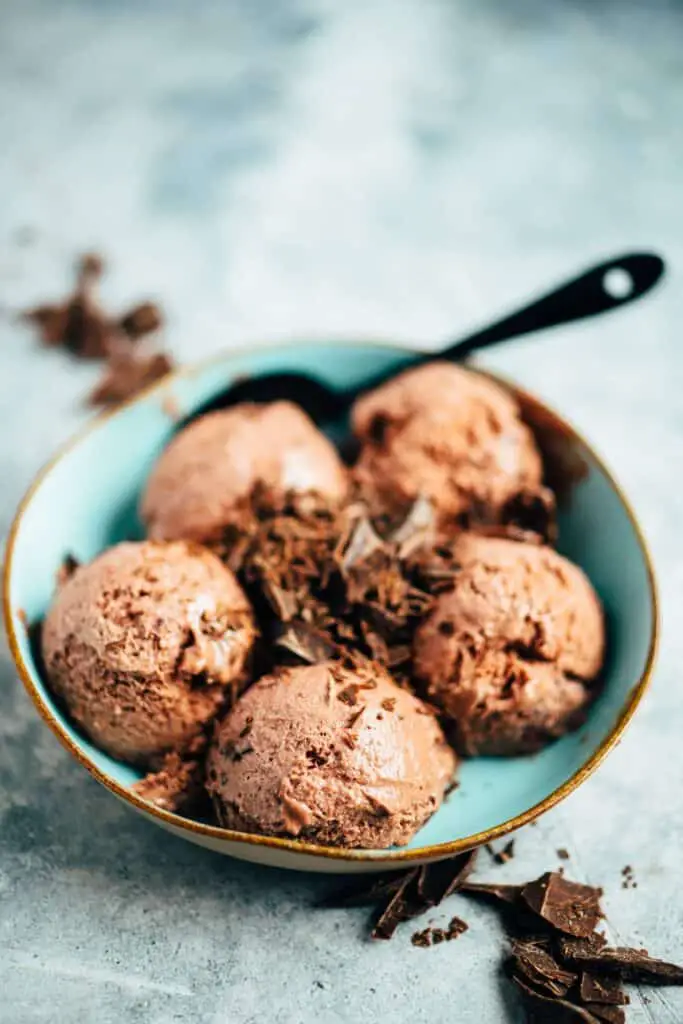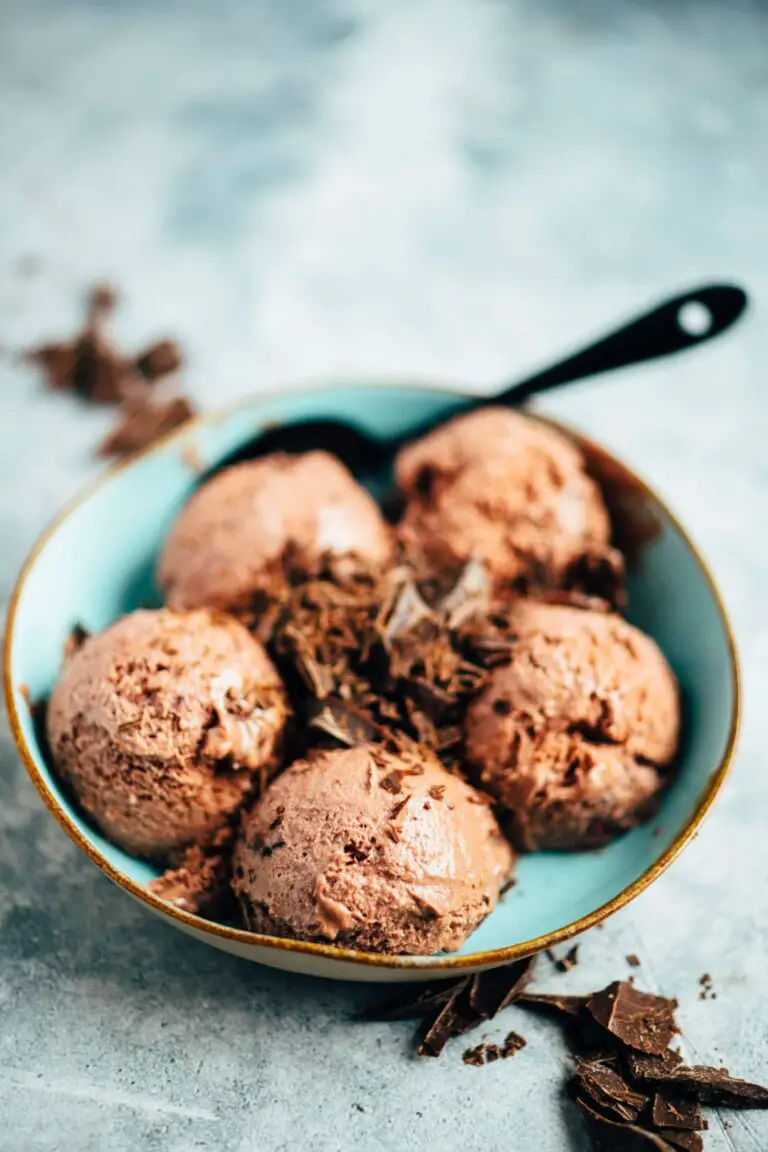 Here are some more important tips on how to make it:
To make the Cashew chocolate base becomes as fine and creamy as possible, soak the cashews using one of the methods listed under Notes/Supplies. A powerful mixer ensures easy and smooth processing. I've linked you to my favorite blender below (advertising since brand mention, no sponsorship).
The Chocolate carefully melt in a water bath and let cool to room temperature. Neither the false egg whites nor the chocolate itself can tolerate temperatures that are too hot.
If you do not use Xanthan Gum then I recommend to work quickly and constantly with a whisk when folding in the chocolate cashew measures. Simply pull in circular motions from the bottom to the top until everything is evenly combined. With xanthan gum, the beaten egg whites are quite forgiving and remain fluffy and stable even when stirred for a long time.
Does aquafaba ice cream taste similar to milk ice cream?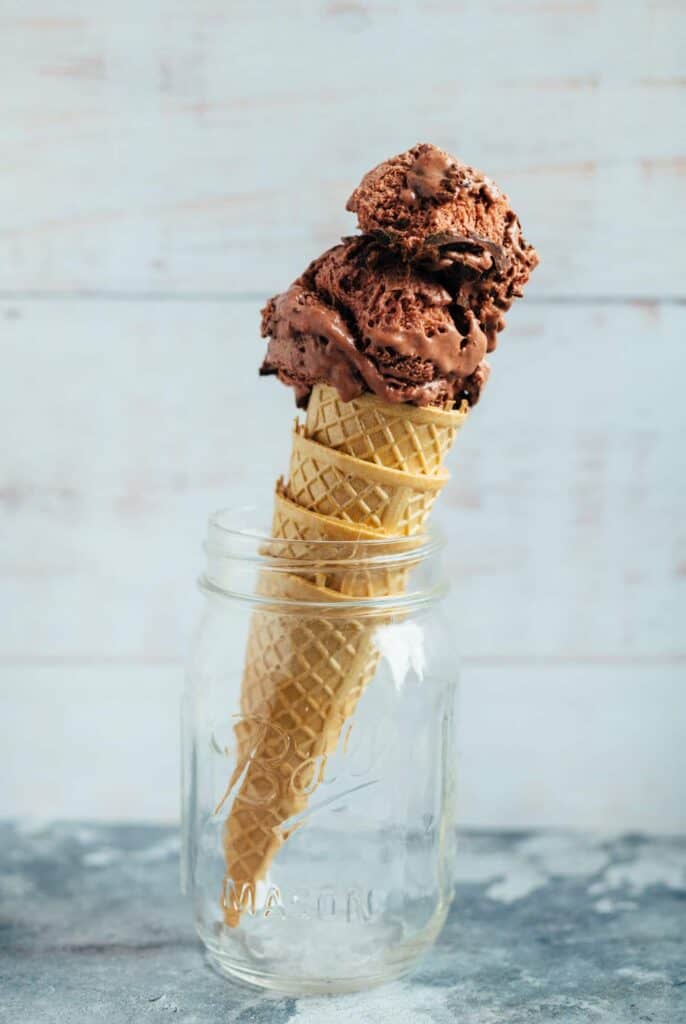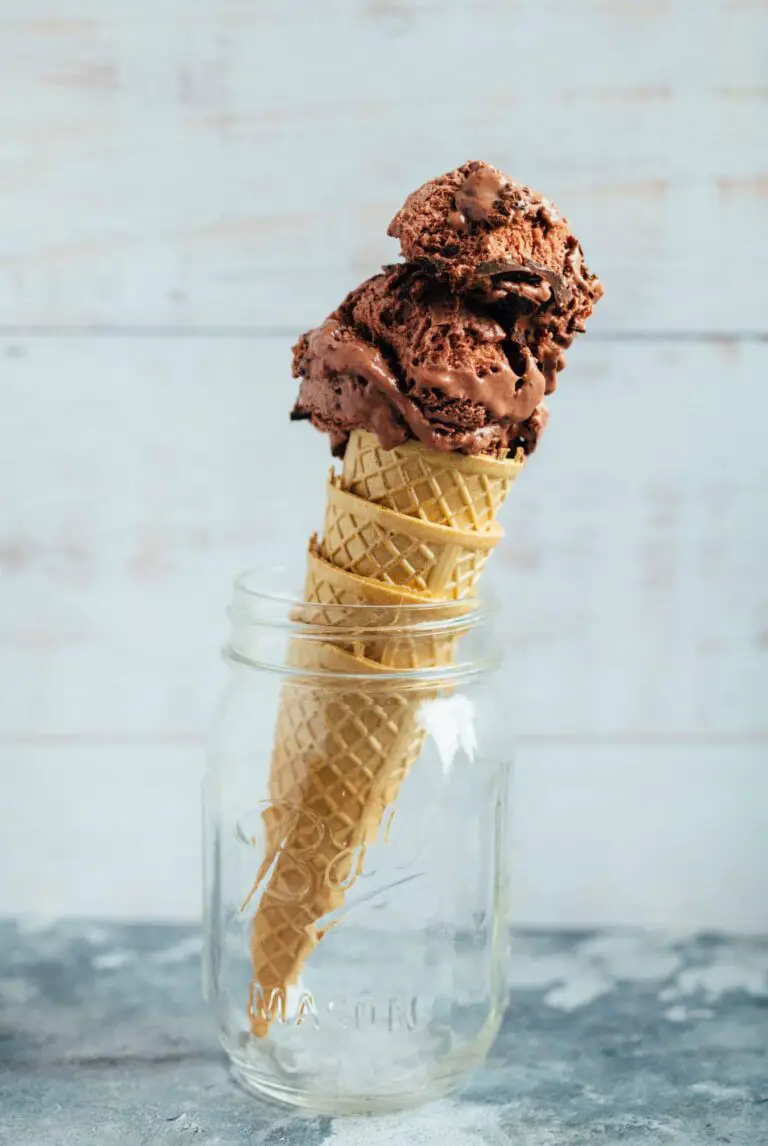 Absolutely! In my opinion, the taste is identical to the variant with milk and even a tad better. Without an ice cream maker the Ice cream is a bit more "rigid" than regular (vegan) dairy ice cream when frozen, but as soon as it thaws it is wonderfully creamy and fluffy on the tongue. I have also tried it with ice cream maker, it is basically a tad creamier, but the volume decreases again a little.
CONCLUSIONS: An ice cream maker is not absolutely necessary and the ice cream tastes great even as it is!
Enthusiastic? Less calories, vegan, lactose-free and full flavor experience, what more do you want?
The creamy chocolate cherry ice cream (with and without ice cream machine) is:
creamy
Light
chocolatey
fruity
Easy to manufacture
Do you fancy this delicious Ice cream ? Then I look forward to a review at the bottom of this page. If you post a picture, use the hashtag #veganevibes.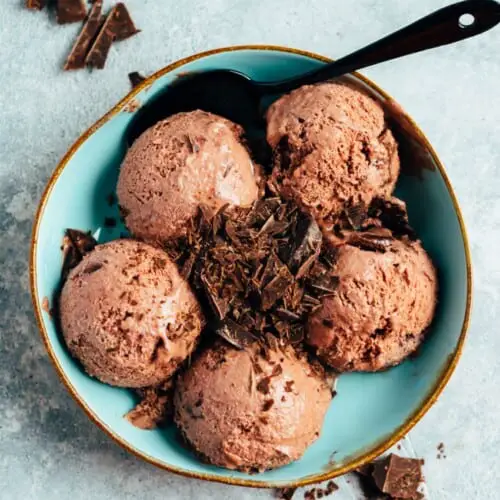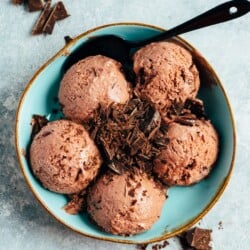 Creamy chocolate cherry ice cream (with or without ice cream maker)
Vegan chocolate cherry ice cream with aquafaba, which does not necessarily require an ice cream maker. The preparation is simple and the list of ingredients is short. A fruity-sweet and deliciously creamy temptation, vegan, lactose-free and lower in calories than conventional ice cream.
AUTOR: VEGANEVIBES
425

g

Chickpeas

strained and the water collected (this is the aquafaba!), yields about 120ml liquid

¼

tbspn

Xanthan gum – can also be omitted

however, the vegan beaten egg whites then lose firmness

100

g

Cashew nuts

– soaked, according to one of the methods below*.

360

g

Sour cherries

like to set aside 2 tablespoons of cherries and cut into small pieces

31

g

Raw cane sugar

or powdered sugar

60

ml

maple syrup

or other liquid sweetener

22

g

Cocoa powder

80

g

vegan dark chocolate

or chocolate coating
Anleitung 
Soak cashews according to one of the methods mentioned below (Notes / Accessories).

¼ tbspn Xanthan gum – can also be omitted,

100 g Cashew nuts

Prepare king cake pan or similar loaf pan for freezing. Line with baking paper if needed, but it is not absolutely necessary. Alternatively, prepare ice cream maker.

Melt the chocolate carefully in a water bath. Set aside.

80 g vegan dark chocolate

Add cashews, sour cherries, raw cane sugar, maple syrup, cocoa powder, and bourbon vanilla to a high-powered blender and blend until smooth and creamy.

100 g Cashew nuts,

360 g Sour cherries,

31 g Raw cane sugar,

60 ml maple syrup,

22 g Cocoa powder,

¼ tbspn Bourbon vanilla ground or 1 tsp vanilla extract

If you like small pieces of fruit in the ice cream: cut 2 tablespoons of sour cherries into pieces and fold them into the mixture at the end.

Add cashew chocolate measures to the vegan beaten egg whites and gently fold in. Optional: Now add the sour cherry pieces.

Pour into the loaf pan and smooth out. Pour melted chocolate over the top and place in the freezer.

Allow to set in the freezer for at least

8 hours

.

Alternatively, process with an ice cream maker according to manufacturer's instructions.

To serve, remove, let thaw for

5 minutes

, portion with an ice cream scoop and arrange in dessert bowls or an ice cream cone. enjoy!
Notizen
SUPER-QUICK-SOAK METHOD: If you really don't have time at all, put the cashews in a pot, fill it up with water and bring the whole thing to a boil. Shortly after the boiling point, turn off, drain and use.
QUICK SOAK METHOD: In this method, you soak the cashews in hot water (uncovered) and let them steep for 60 minutes. Then strain and mix.
LONG-SOAK METHOD: Place cashews in a bowl and pour cold water over them. Let steep covered for at least 6 hours or preferably overnight. Strain, rinse briefly, use.
Ice cream maker https://amzn.to/2Jz71Vj
Ice cream scoop https://amzn.to/2S7OiUU
Nährwertangaben
Serving:
1
g
Calories:
191
kcal
Carbohydrates:
28
g
Protein:
5
g
Fat:
8
g
Saturated Fat:
3
g
Sodium:
139
mg
Potassium:
221
mg
Fiber:
4
g
Sugar:
17
g
Vitamin A:
29
IU
Vitamin C:
3
mg
Calcium:
42
mg
Iron:
2
mg