Do you know these days? No desire to cook, but something has to be on the table. The stomach growls and the refrigerator is yawning empty. Ordering something again? No thanks, because it's expensive and it's not really healthy either. Since I live in the country, I only have one delivery service available to me anyway, and it's highly unlikely that they've ever heard of plant-based food. Rescue is at hand, because in the cupboard there is a can Chickpeas and Toast . Hmmmm, what could you possibly conjure up from it delicious?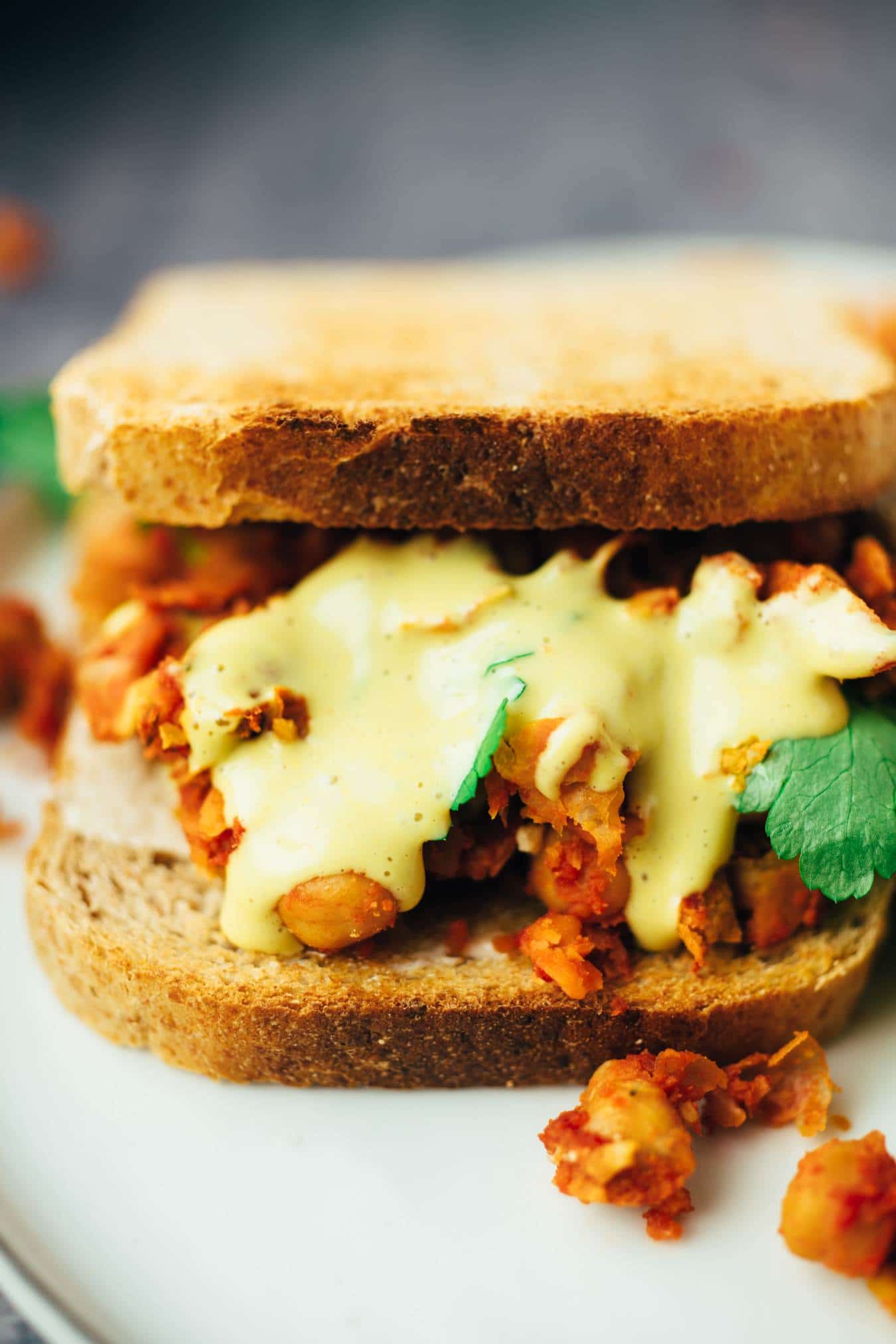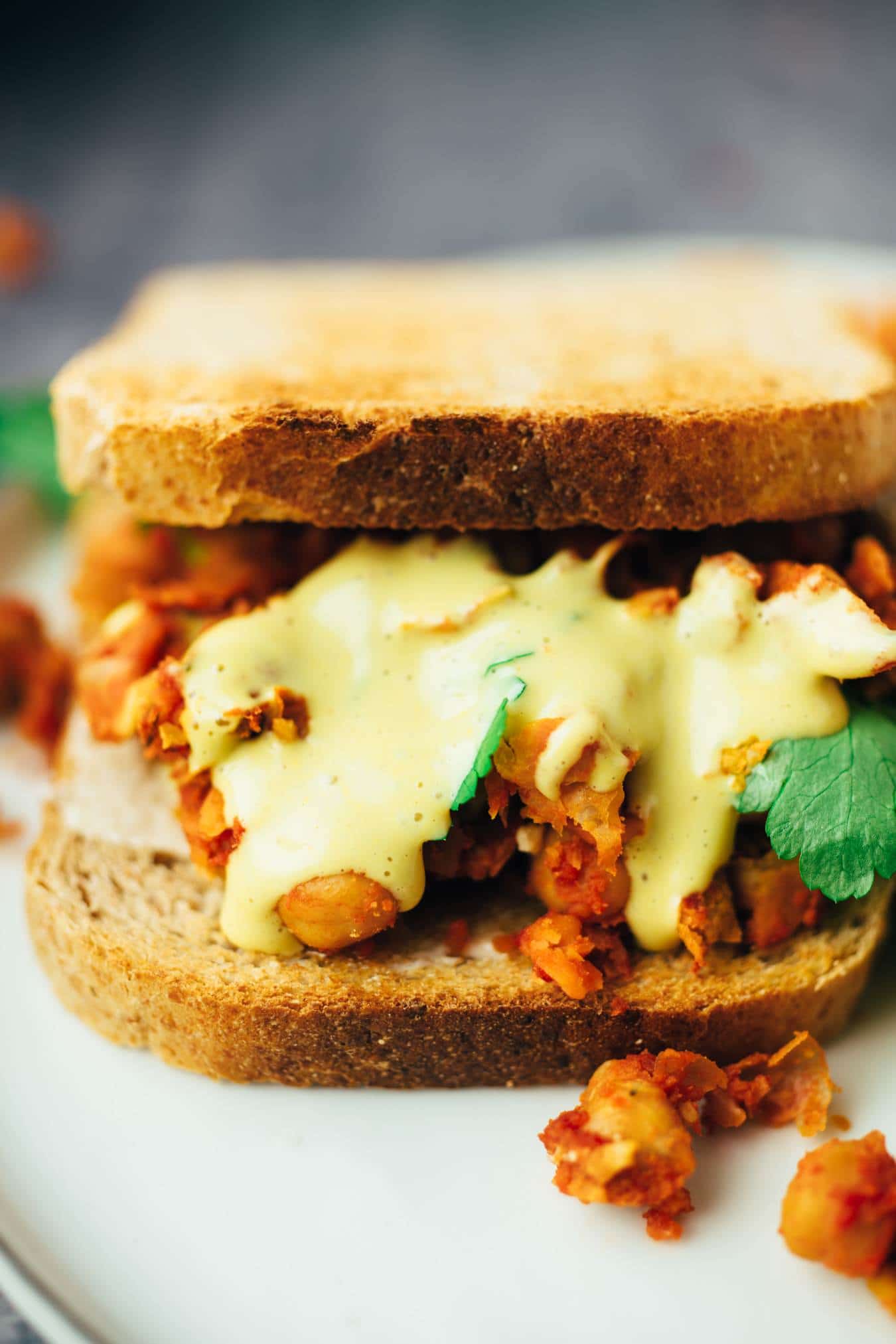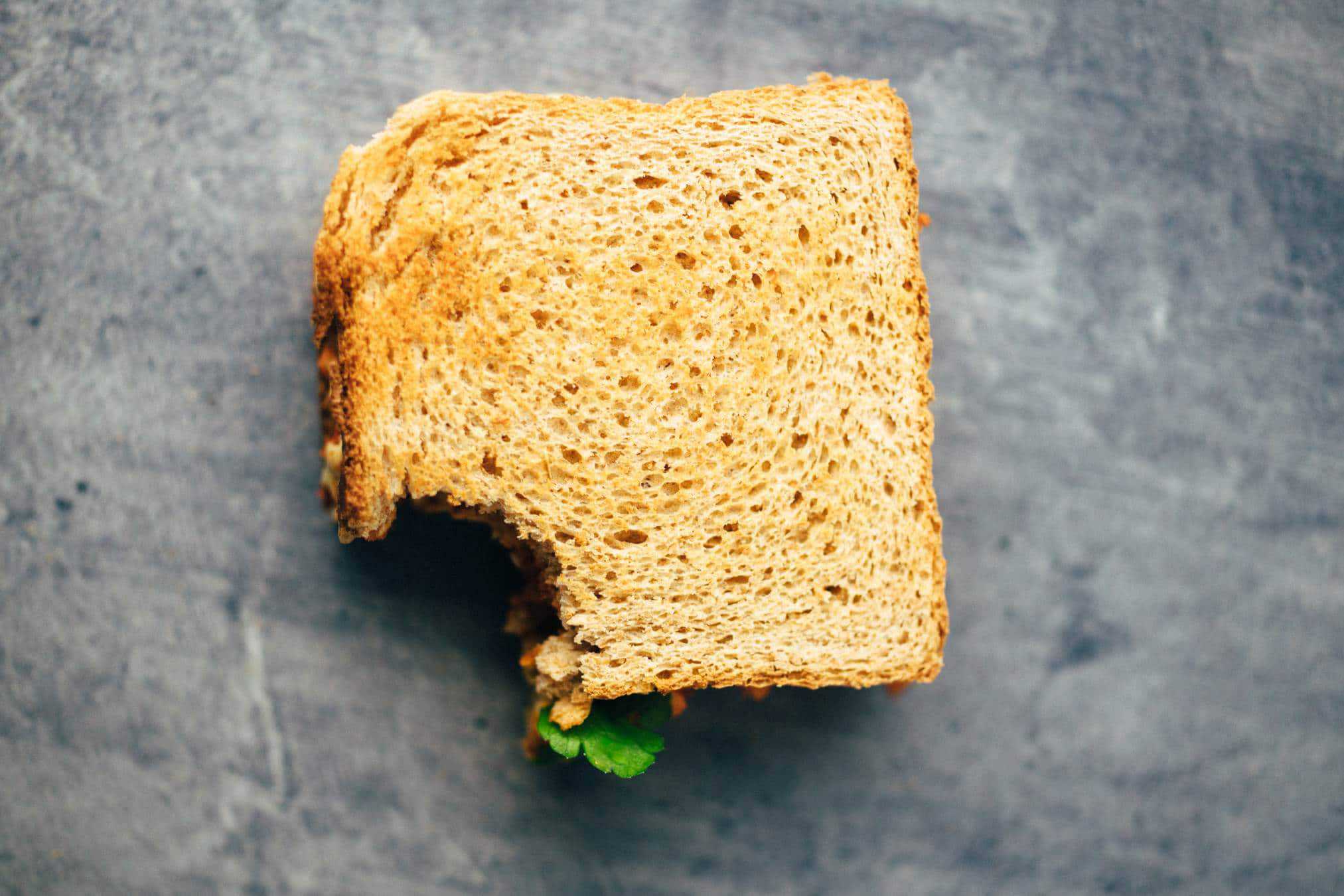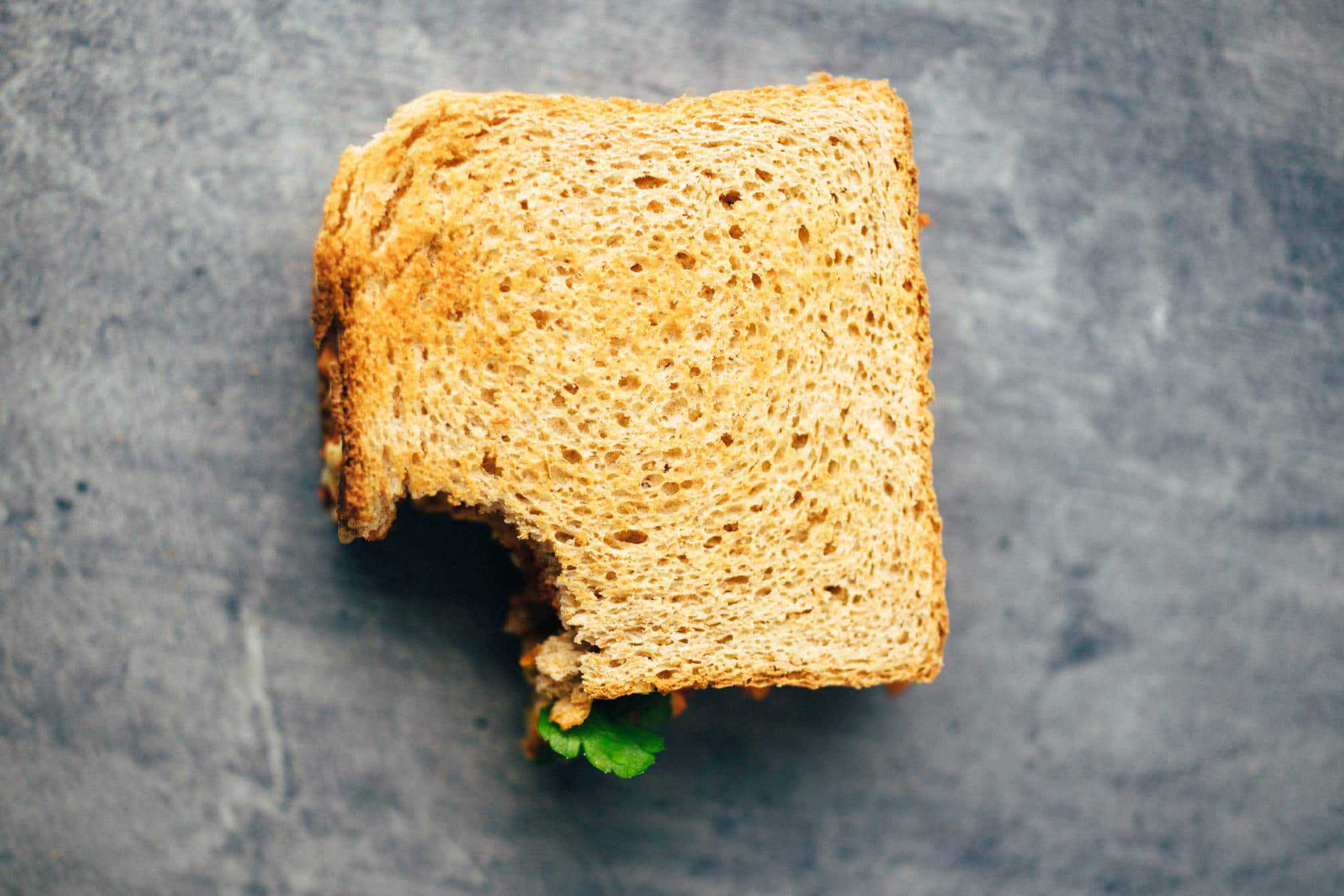 Chickpeas in toast have never been so good
Let's go because after all, this is a 15 minute recipe. The ingredient list is short: toast, chickpeas, tomato paste, onion, cumin, hot sauce or chili flakes, a little salt and pepper, and a mini dash of maple syrup.
Chickpeas are one of my absolute favorites when it comes to healthy, plant-based cooking:
Healthy source of protein
Especially rich in Magnesium, iron, copper and vitamin K
Contain essential amino acids Isoleucine, leucine and valine
From my point of view, the little peas in the vegan cuisine indispensable. They are also a natural, inexpensive and very high quality source of protein. Even the giggle water can be utilized in Aquafaba . My tip for using chickpeas: Always rinse thoroughly, otherwise the little protein bombs have quite a flavor of their own.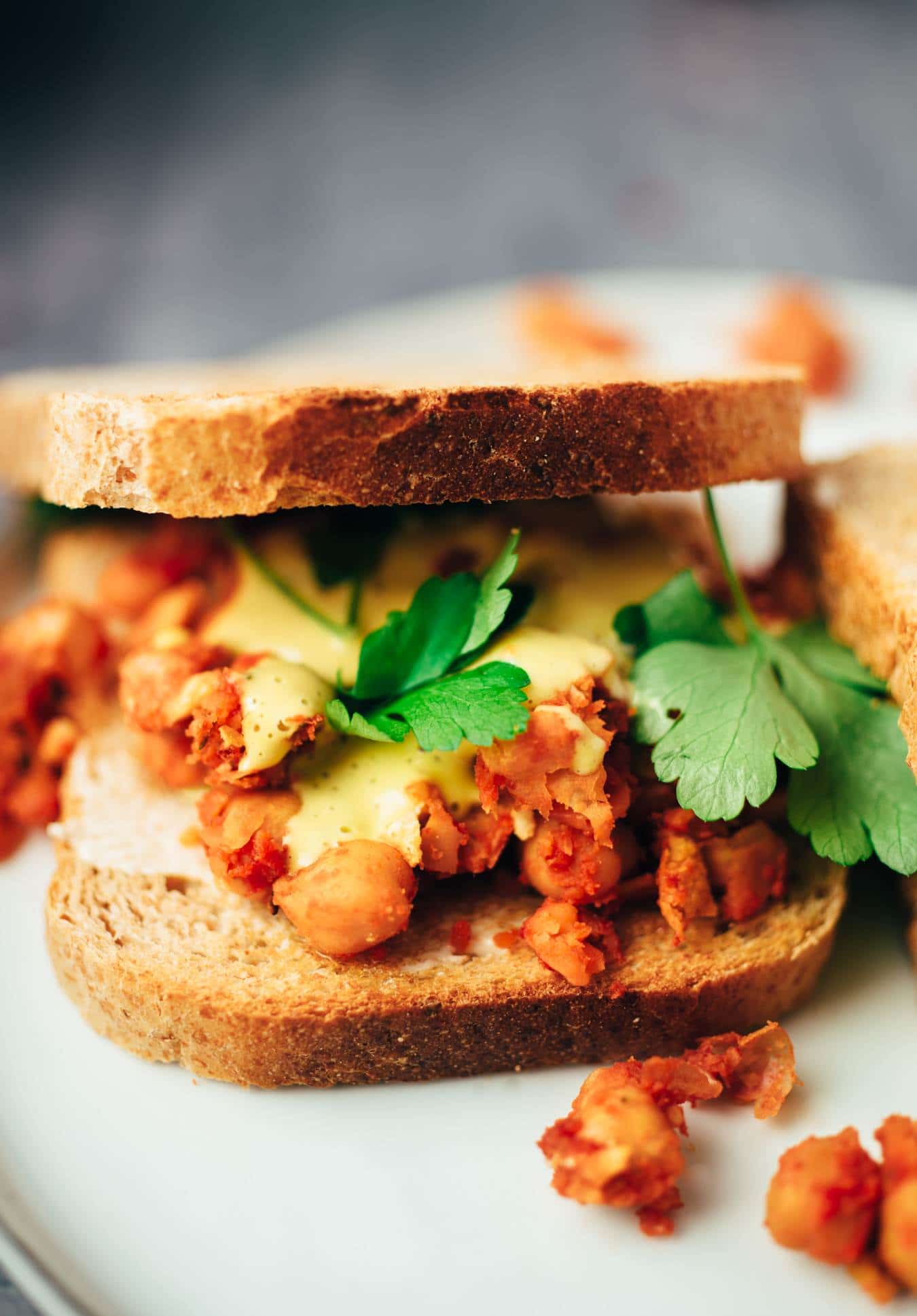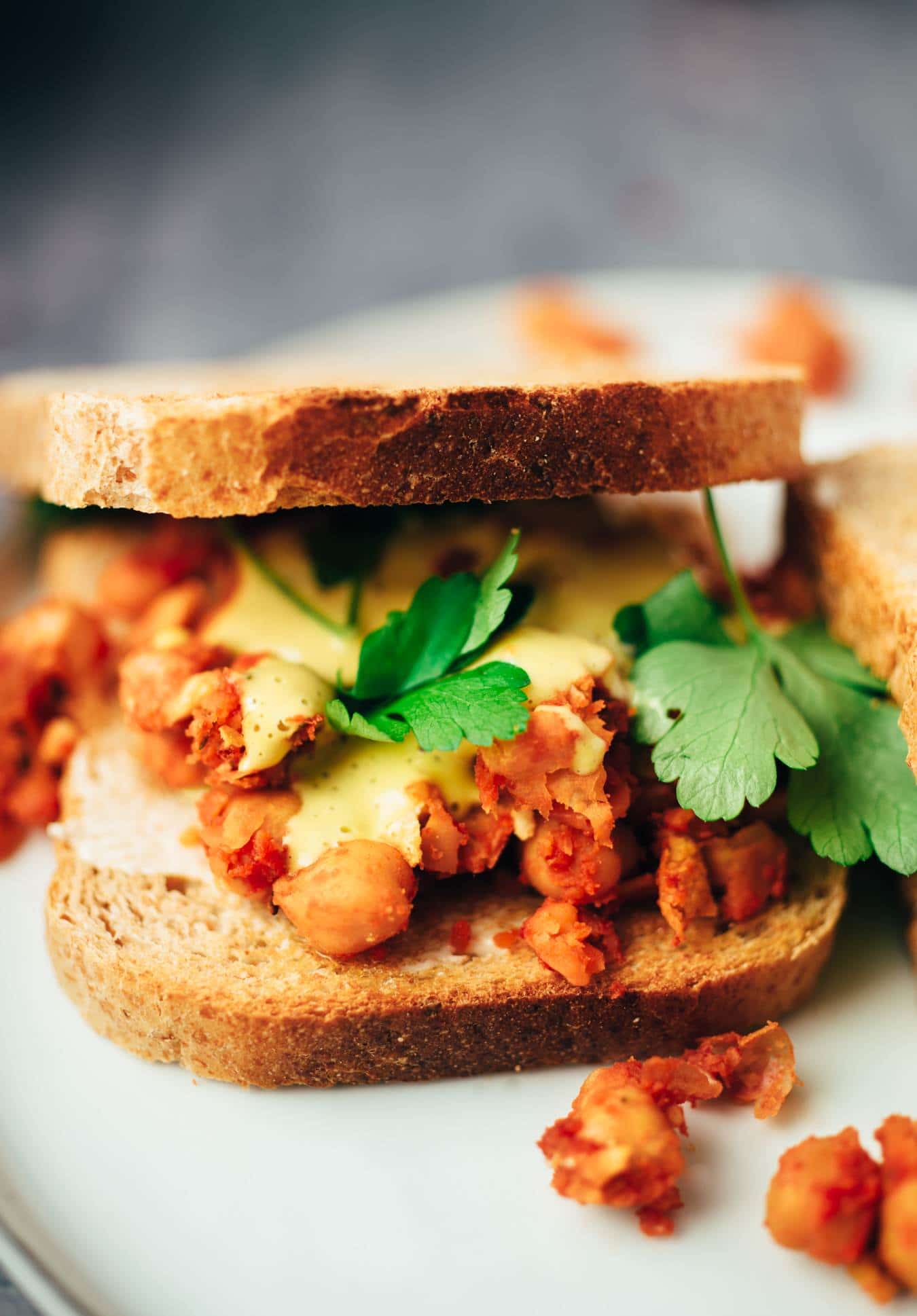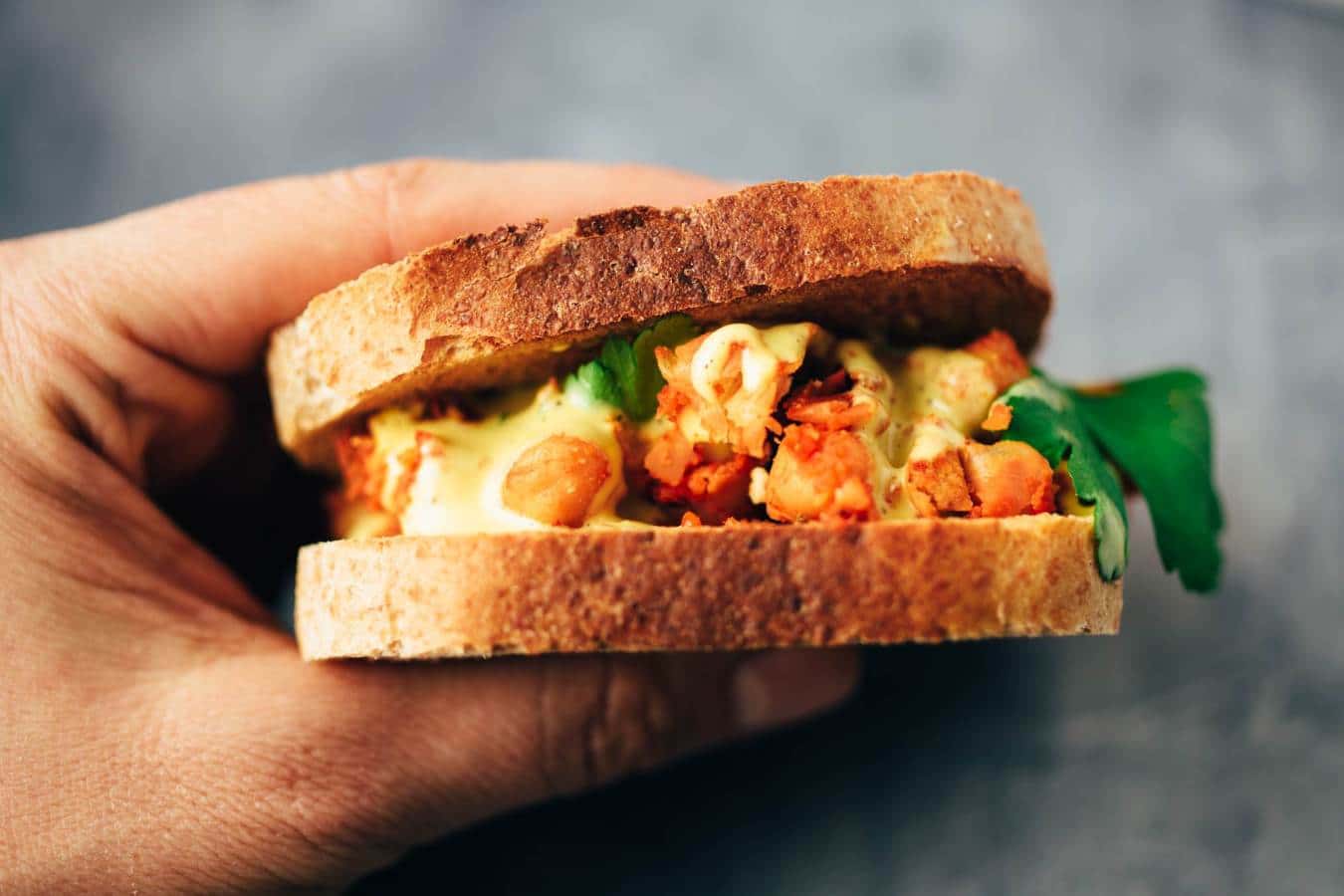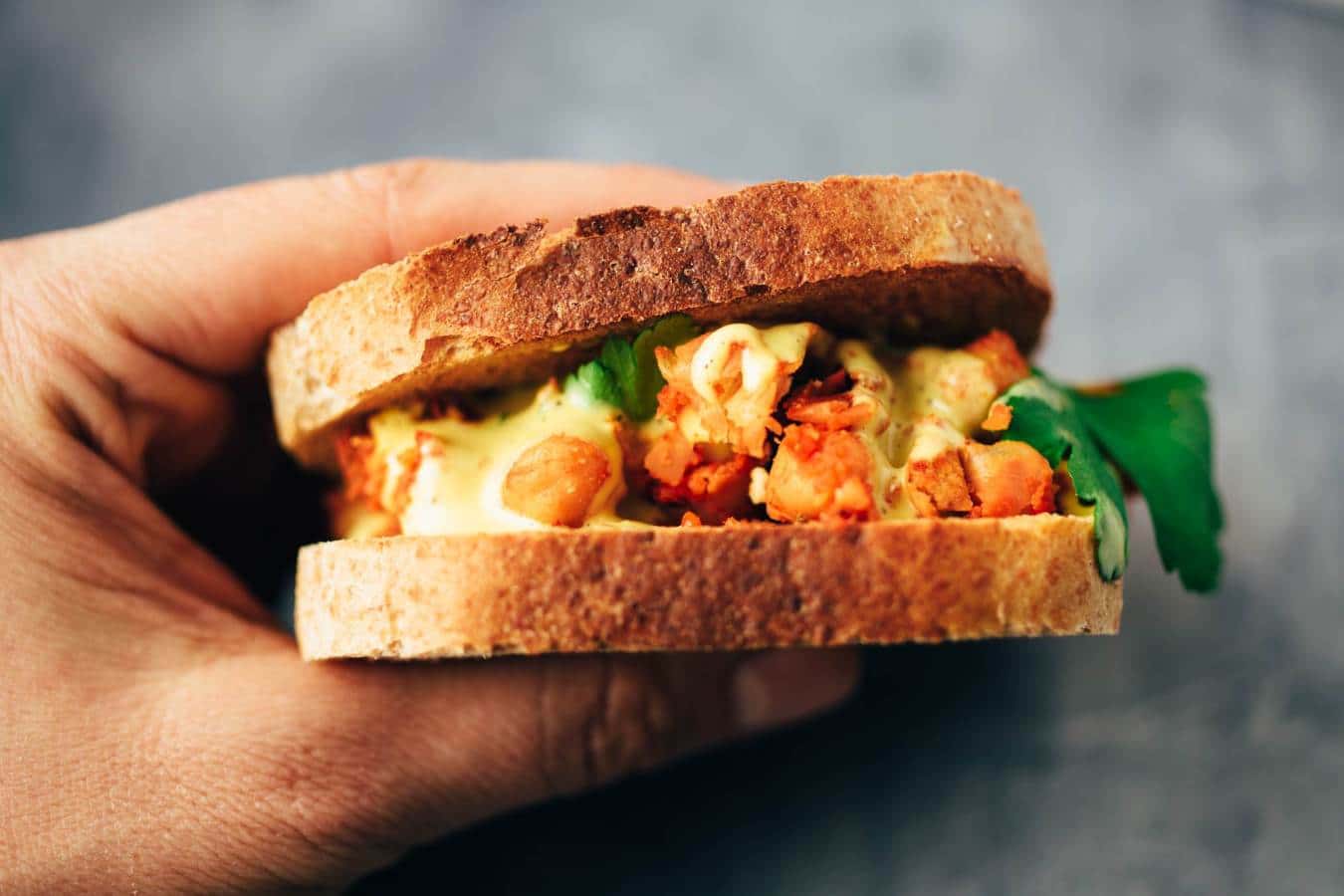 Do you love vegan sandwiches? Then you are exactly right here
Of course, this fine sandwich is still refined with an ingenious Dip refined. With a cheesy, golden and. super delicious dip . Yum! If you don't have time to make it, a ready-made sauce will also work. Everything is allowed here from vegan mayo to ketchup to barbecue sauce.
A salad tastes very delicious with it, here you can also bring your imagination into play or simply use what you can find in the fridge. I really like coleslaw, young spinach or a mixed leaf salad with it. By the way, sprouts or a handful of seeds are also extremely good as toppings. Ideal also for your lunchbox, you should just make sure to put the sauce on the sandwich just before eating. Otherwise, it will be quite a muddy affair.
When it comes to toast, I look for organic quality and prefer to buy whole grain spelt toast. But here you decide what you like best.
The quick chickpea sandwich (15 minutes) is:
filling
Super fast made
Rich in vegetable protein
Extremely tasty
Quickly made
I hope my 15-minute sandwich convinces you? If so, I'm happy to receive a review at the very bottom of this page. If you post a picture, use the hashtag #veganevibes.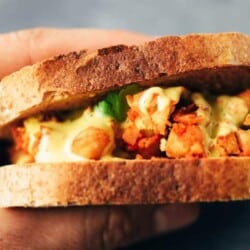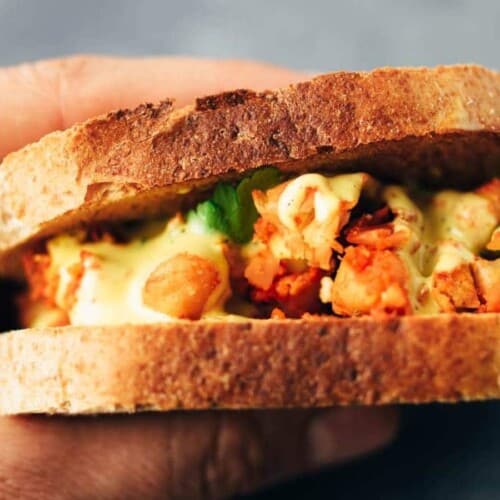 Quick chickpea sandwich
Extremely delicious vegan and gluten-free sandwich, finished with a delicious homemade cheesy dip. Perfect for a light lunch or dinner, or just in between. A small salad makes the dish a protein-rich and healthy meal.
AUTOR: VEGANEVIBES
TOPPINGS:
1

Serving of cheesy nacho dip

Fresh sprouts

Parsley or other herbs
Anleitung 
Heat medium sized frying pan and heat some frying oil or coconut oil in it.


Sauté the chickpeas together with the onion for 1-2 minutes. Add tomato paste, chili sauce, cumin, thyme, coconut blossom sugar and mix well until everything is nice and hot and starts to get fragrant.


265 g Chickpeas drained*,

1 red onion,

2 tbspn Tomato paste,

2 tbspn Chili sauce or alternatively chili flakes,

1 tbspn Cumin,

½ tbspn Thyme,

1 tbspn Coconut blossom sugar,

Sea salt and pepper to taste

Using a fork or potato masher, mash ¾ of the chickpeas and leave the rest whole.


Season with salt and pepper and remove from heat.


Place toast in toaster, remove and spread with vegan margarine (one or both slices).


4 Slices Spelt wholemeal toast,

2-4 tbspn vegan margarine,

1 Serving of cheesy nacho dip

Divide chickpeas evenly between 2 slices, garnish with cheesy nacho dip and other desired toppings, and cover with another slice of toast. Enjoy! Tastes best fresh. Chickpea filling keeps (without toast) 2-3 days in the refrigerator.


Fresh sprouts,

Parsley or other herbs
Notizen
NOTES /HELPFUL ACCESSORIES:
Nährwertangaben
Serving:
1
Sandwich
Calories:
390
kcal
Carbohydrates:
43
g
Protein:
12
g
Fat:
19
g
Saturated Fat:
1
g
Sodium:
52
mg
Potassium:
465
mg
Fiber:
11
g
Sugar:
9
g
Vitamin A:
35
IU
Vitamin C:
5.8
mg
Calcium:
78
mg
Iron:
4.3
mg