Again and again I stand in front of these delicious nachos in the supermarket. I used to just buy a dip to go with it without much thought. Back then, it was still okay if there was a little milk here and there. But since Irenounce everything animal, it is no longer so easy to "quickly" reach into the shelf. This is especially true if you want something cheesy, such as a very simple cheese dip. This is not always about the nachos, because other dishes such as sandwiches or salads can be wonderfully refined with this great dip.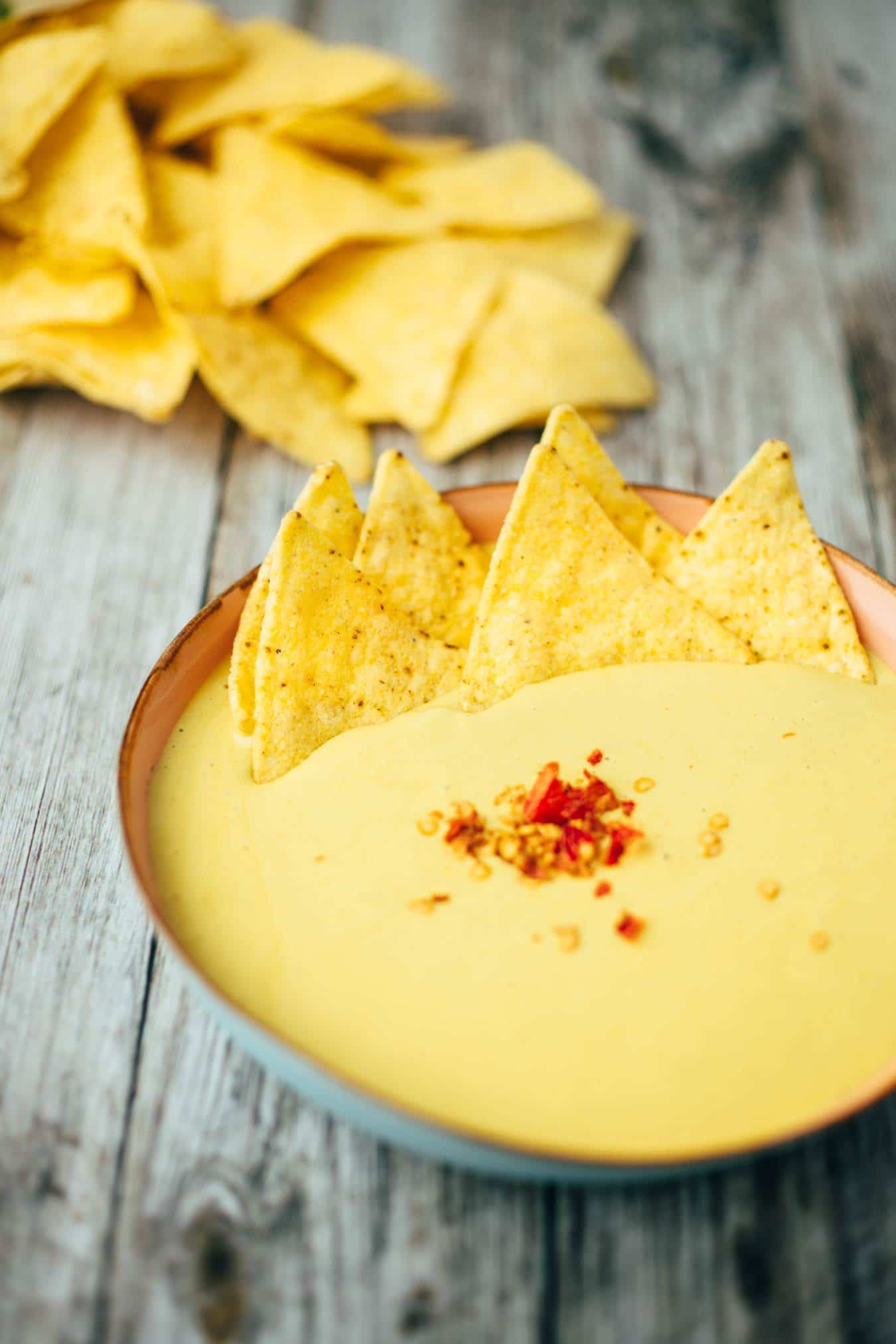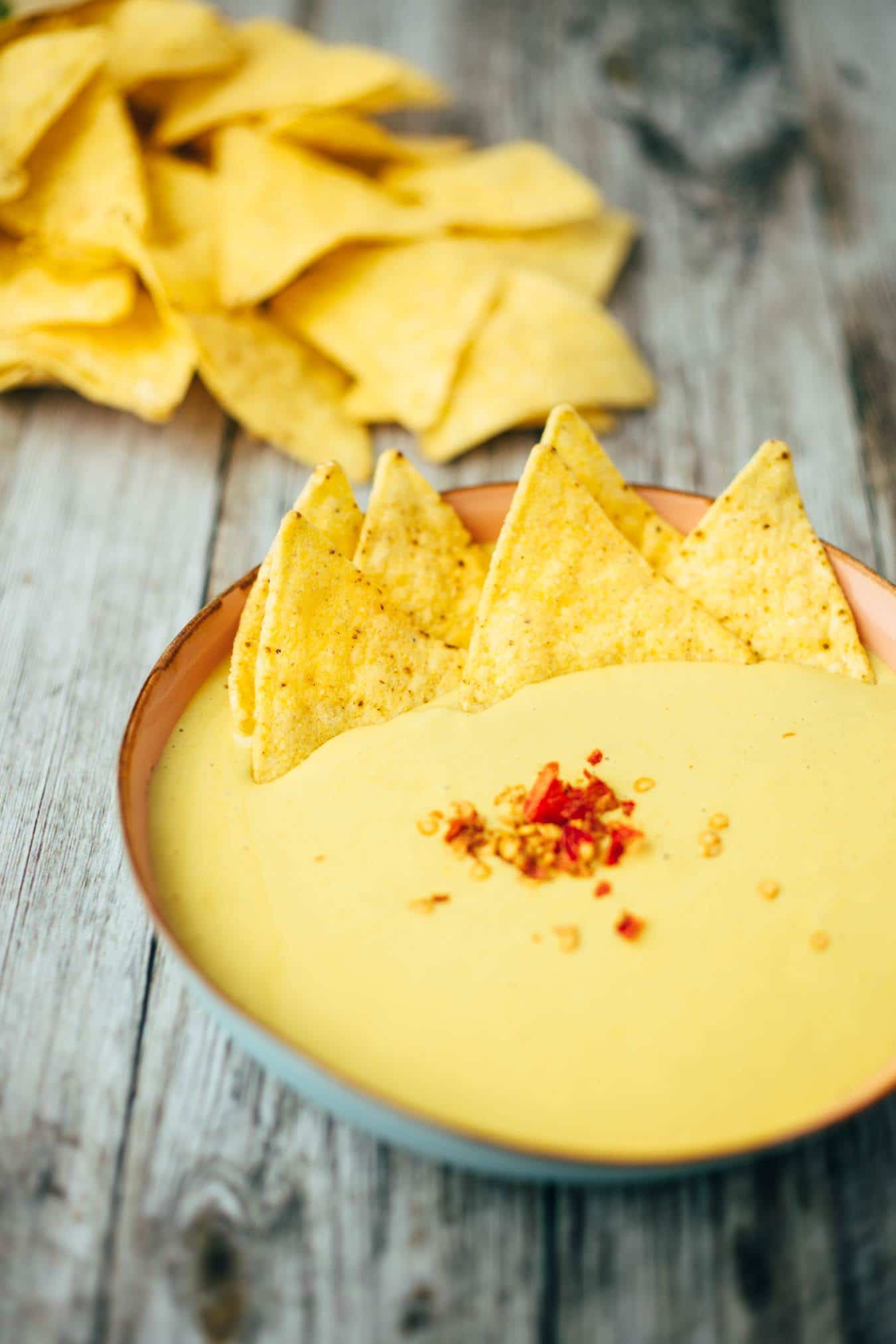 VEGAN CHEESE DIP – QUICK AND EASY
Cashews form the basis, as they are easy and quick to process. They are soft and can be transformed into all kinds of creamy sauces.
Perhaps a few words about cashews:
Versatile for savory, as well as for sweet dishes
Low fat content (42%) compared to other nuts
20% protein content
B vitamins and folic acid
Iron, magnesium, potassium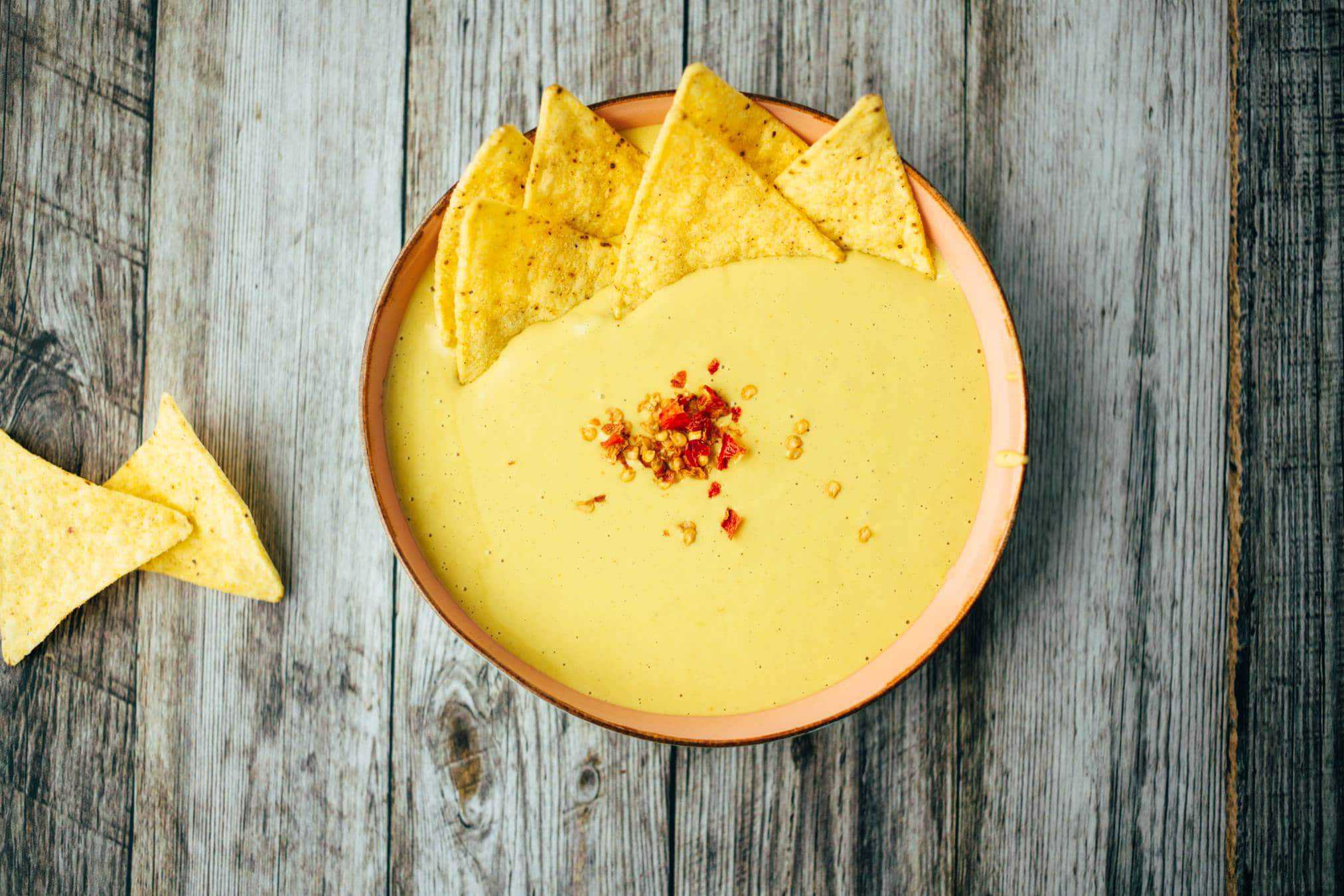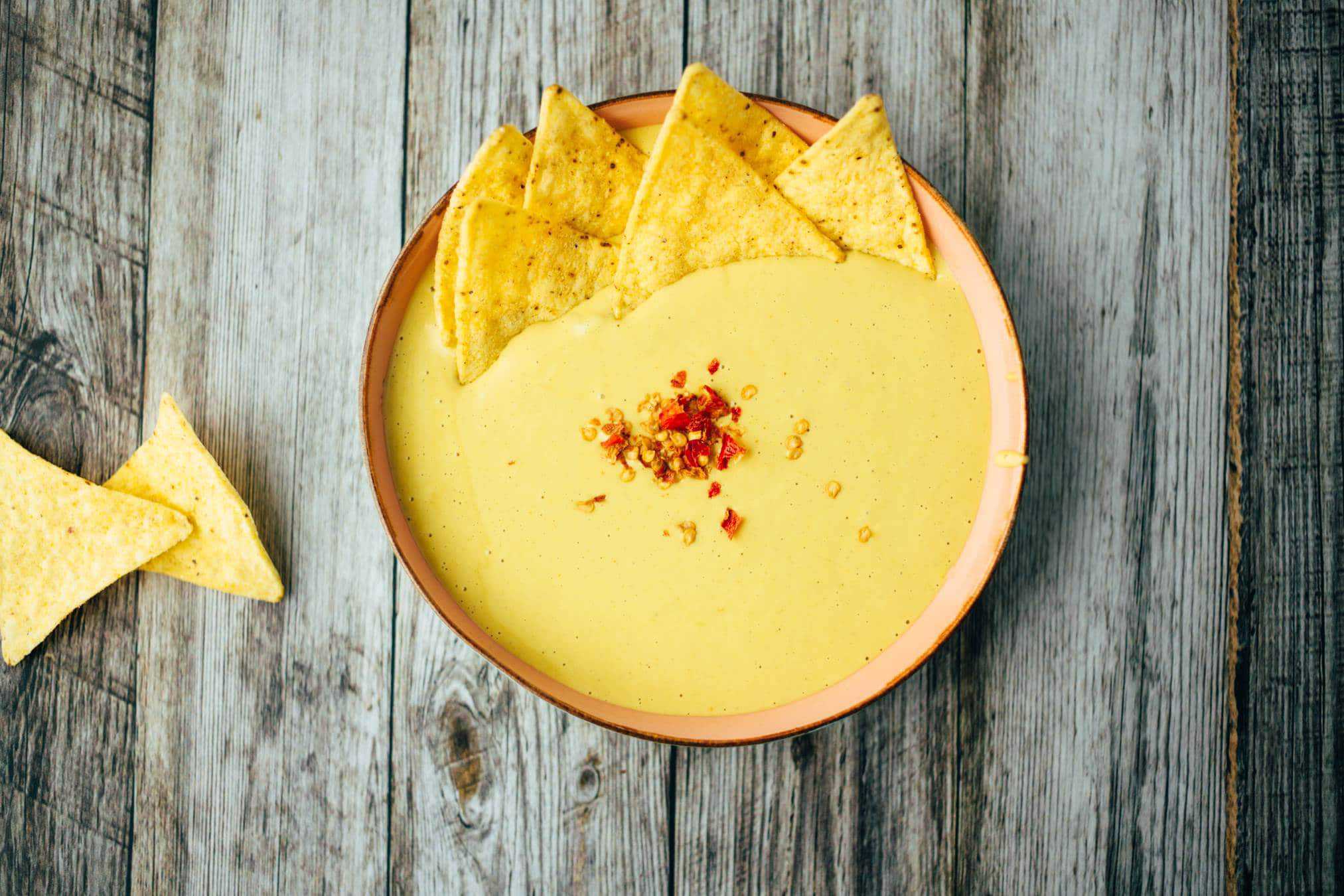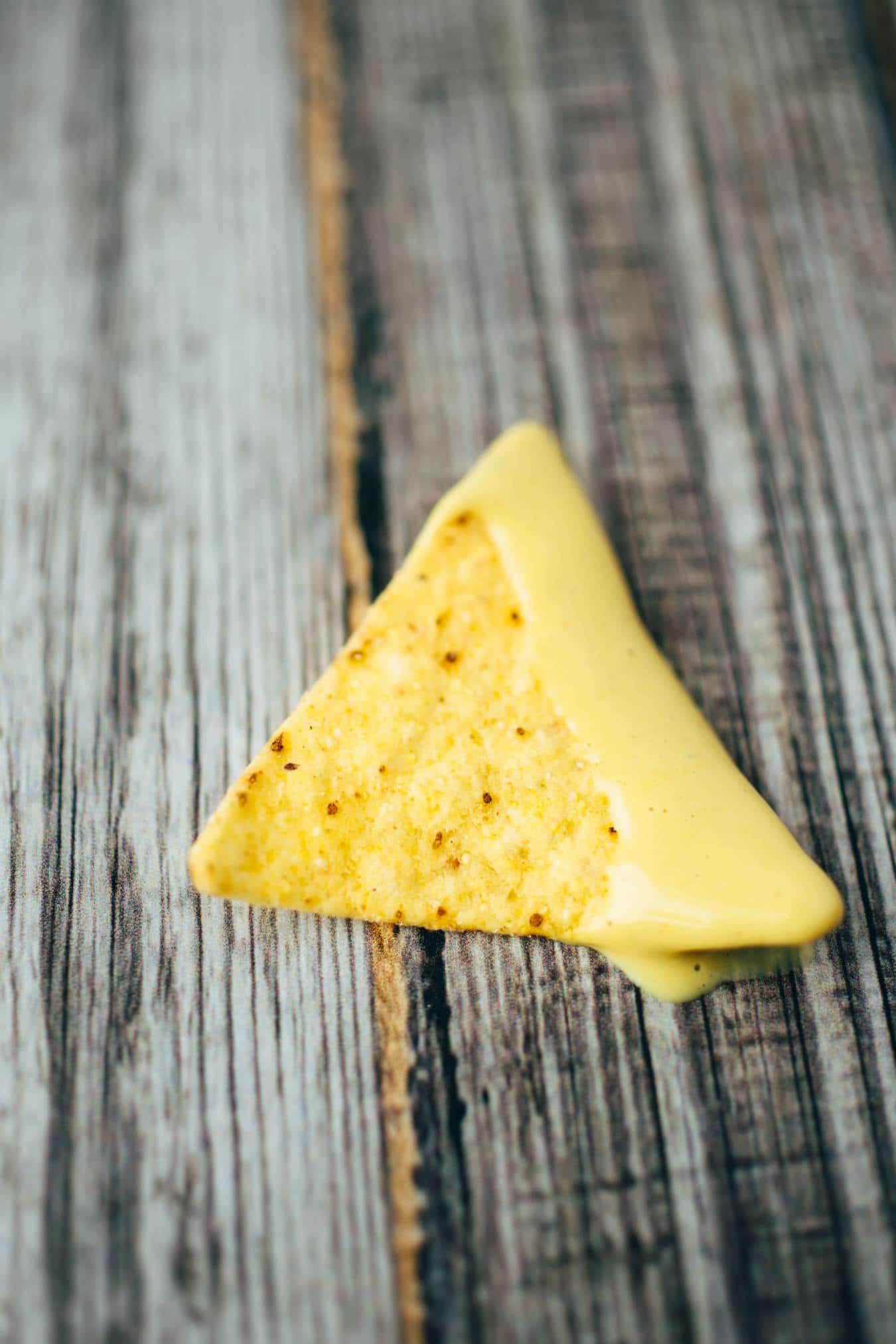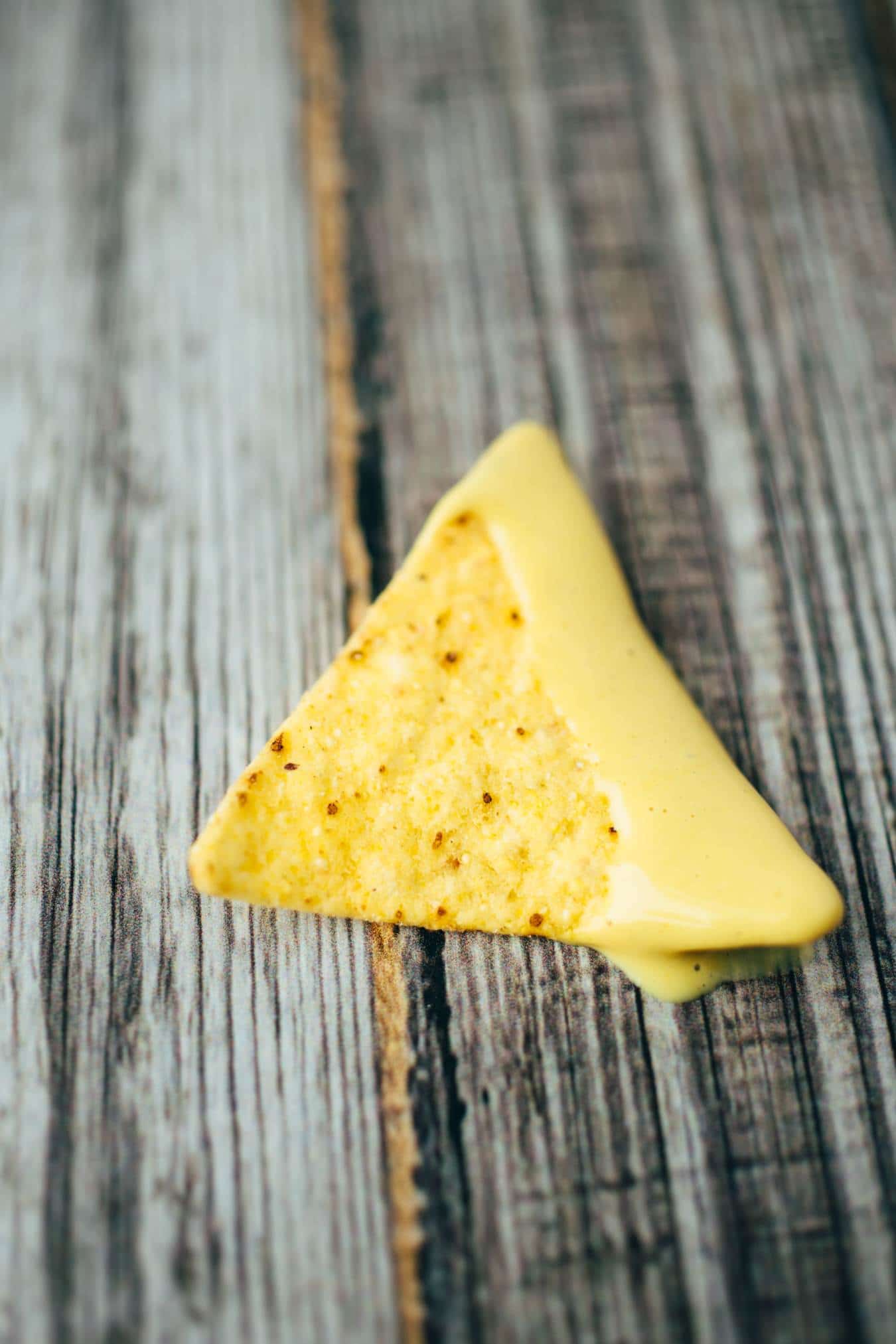 Here are my tips for processing cashews. I don't soak the cashews beforehand, as they turn out just as creamy and super fine with my blender. If your blender is not that powerful, I recommend soaking the seeds beforehand. There are two methods here, which take different amounts of time:
COLD SOAK: Soak cashews in cold, clear water and cover. Let stand at least 6 hours, or preferably overnight. Drain, pat dry with a clean cotton kitchen towel and use.
HOT SOAKING: This is the Quick Method . Boil water, place cashews in a heatproof bowl and pour hot water over them. DO NOT COVER and leave to infuse for one hour. Drain, pat dry with a clean cotton kitchen towel and use.
Vegan cheesy nacho dip – or just liquid gold
The list of ingredients is short and straightforward: cashews, Almond milk , nutritional yeast (it provides the cheesy flavor), garlic powder, miso paste, lemon juice, maple syrup and one of my favorite spices: Turmeric. All things that belong to the basics in the vegan kitchen.
Then actually only one thing is missing: A really good blender, because the more powerful it is, the finer and creamier the dip will be. I once invested in a really good device and I am also very satisfied with it. You can find the link further under (nosponsoring).
Fits very well as a dip to vegan nachos, to Burgers sandwiches or simply with vegetable sticks.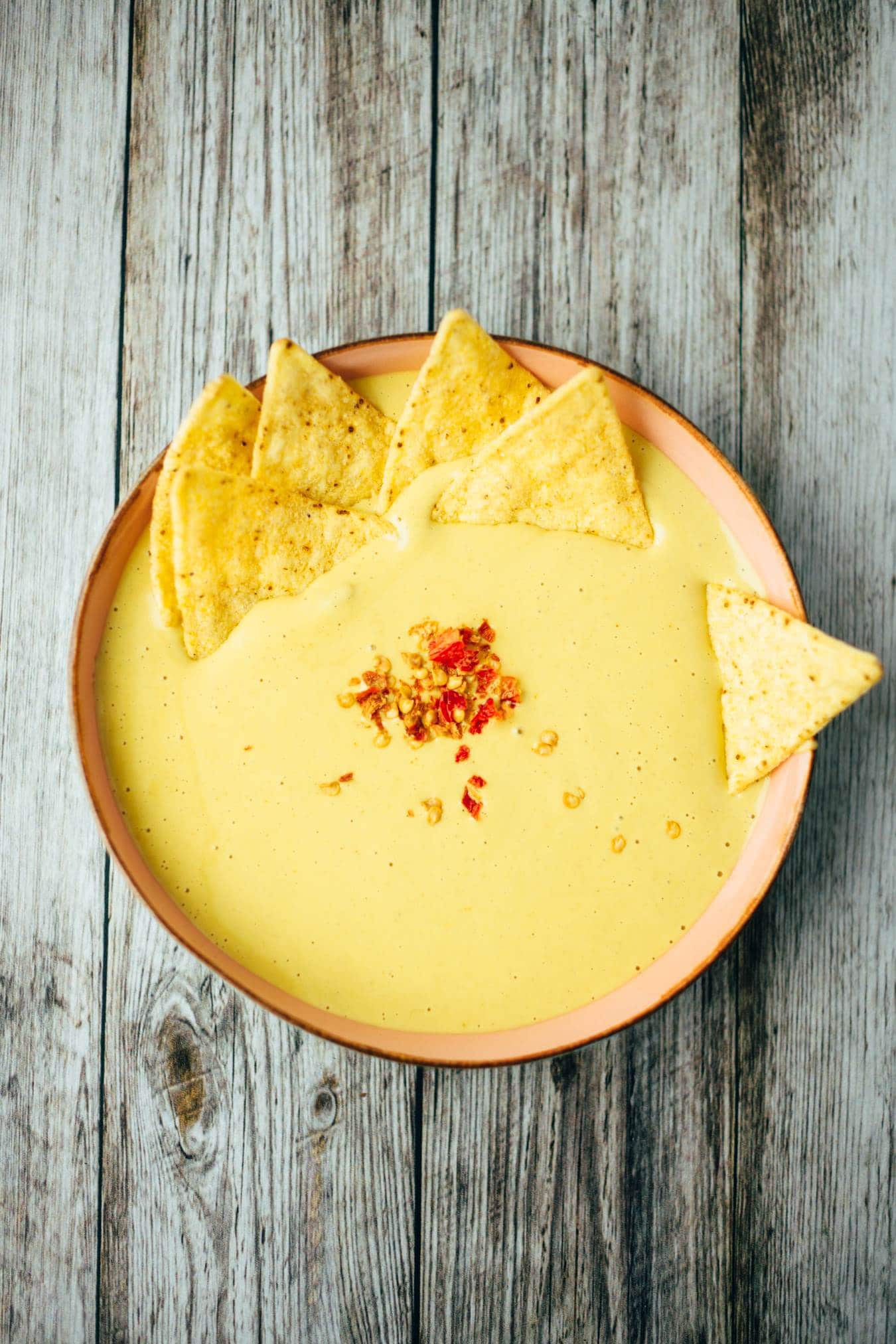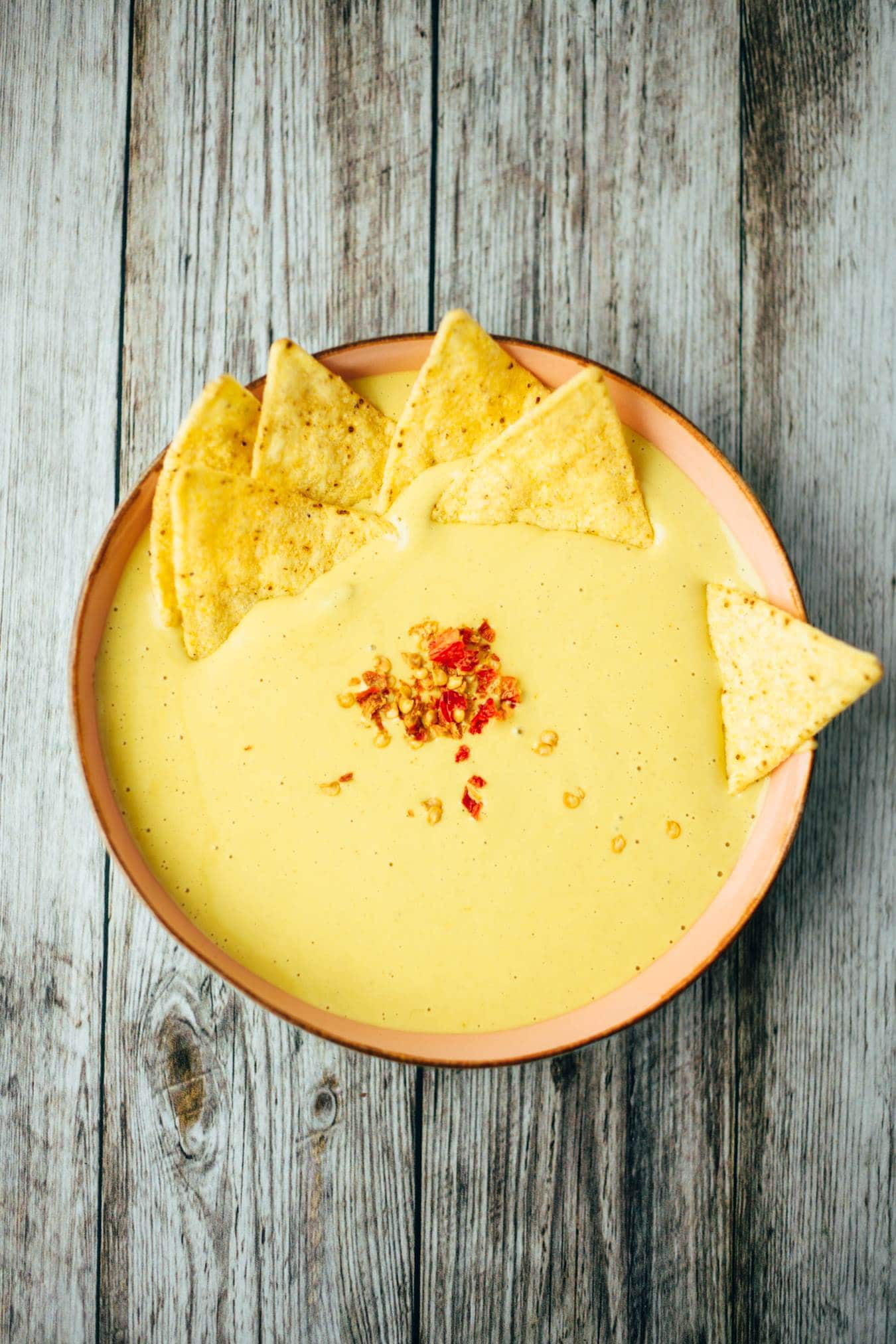 This Cheesy Nacho Dip is:
Cheesy
creamy
versatile
Delicious
Simply made
Love this delicious vegan dip as much as I do? Then I look forward to a review at the bottom of this page. If you post a picture, then like to use the hashtag #veganevibes.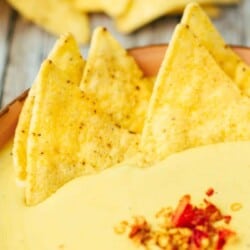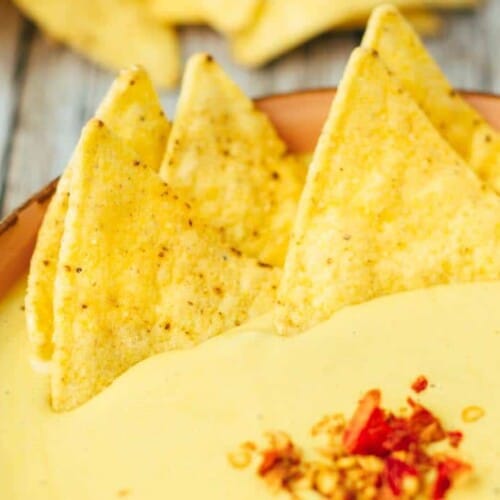 Cheesy Nacho Dip (vegan, lactose-free)
A 5 minute vegan cheesy nacho dip, incredibly flavorful, lactose free and very versatile for dipping or finishing sandwiches, salads or and much more.
AUTOR: VEGANEVIBES
Anleitung 
Add all ingredients Place in a high-powered blender and blend on high speed for at least

30-60 seconds

until creamy.

150 g Cashews*,

190 ml Almond milk or another vegetable milk,

30 g Nutritional yeast,

1 tbspn Garlic powder,

½ tbspn Turmeric,

½ tbspn Wasabi paste,

1 tbspn Lime juice,

1 tbspn maple syrup,

Sea salt to taste

Add to the desired dish or simply enjoy plain.
TIP: Can also be wonderfully warmed (do not boil)

Store leftovers in an airtight container in the refrigerator for up to 5 days. If the dip is too solid when you use it again, simply thin it with a little vegetable milk.

Notizen
* If you have a powerful food processor (e.g. Vitamix, Blendtec, etc.), then you do not need to soak the seeds. If using a less powerful machine, pour hot water over cashews and let steep for one hour (without lid). Drain and rinse well. Dry with a kitchen towel and then mix.
NOTES /HELPFUL ACCESSORIES:
Blendtec: http: //amzn.to/2GxwA61
Nährwertangaben
Serving:
1
Cup
Calories:
977
kcal
Carbohydrates:
60
g
Protein:
43
g
Fat:
69
g
Saturated Fat:
11
g
Sodium:
265
mg
Potassium:
1590
mg
Fiber:
13
g
Sugar:
9
g
Calcium:
284
mg
Iron:
12
mg