I just kept remembering this great salad with pears that I ate at this cute restaurant in Munich. Outside it was pouring rain and I enjoyed this palate wonder along with a freshly made ginger tea. The special interplay of the savory vinaigrette and the sweetness of the nuts and pear kept me going. I have experimented and think I can present you with a pretty decent result.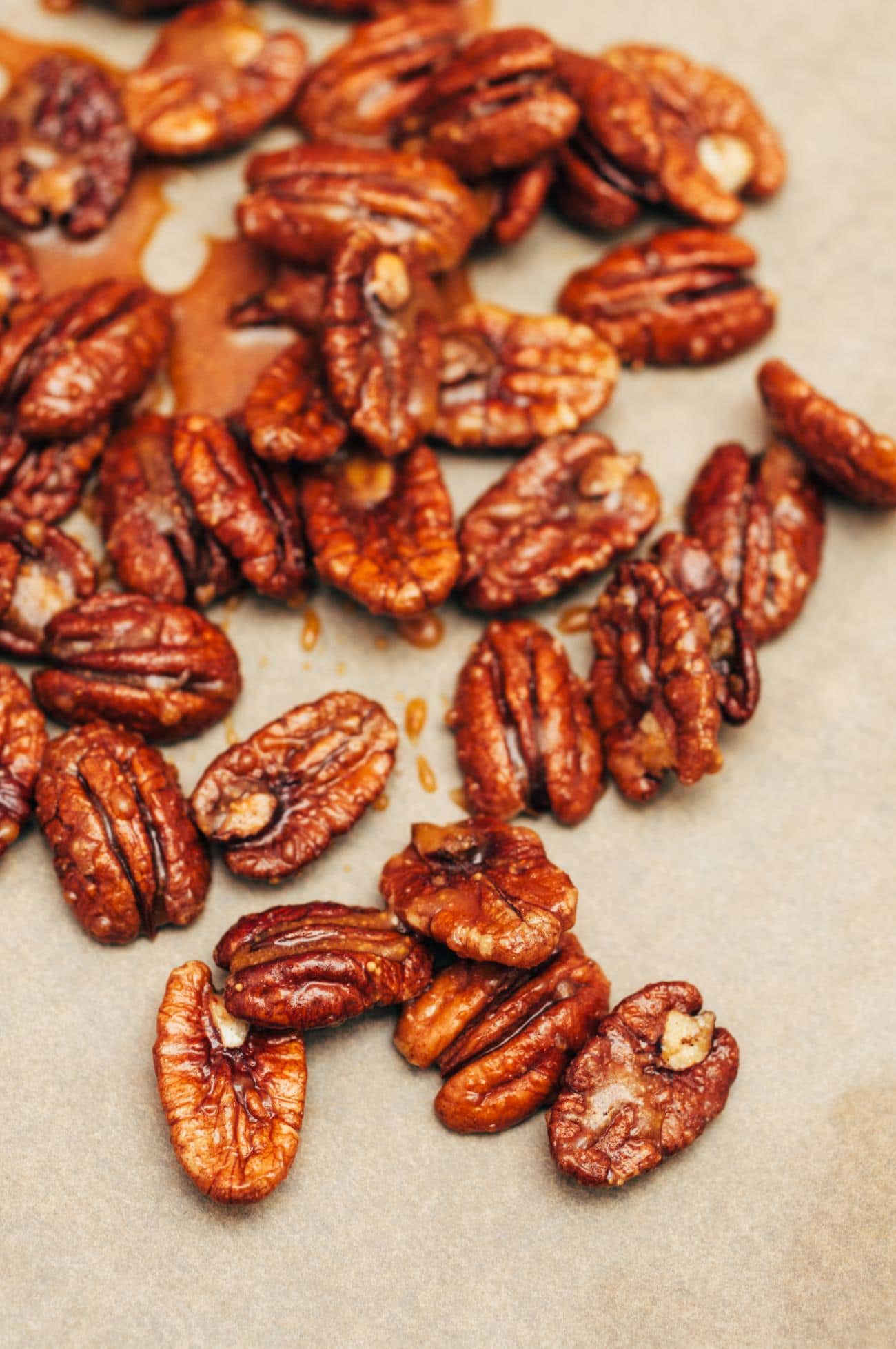 Simple, straightforward dish that's on the table in under 30 minutes. Whether it's a main dish or a side dish, this vegan pear salad is just always fun.
Crispy caramelized pecans – need I say more?
The production is simple but the result is a gigantic mix of different flavors and textures.
The base consists of fresh, mixed leaf lettuce (I used mainly lamb's lettuce)
The fruit note is a ripe juicy pear
The pecans are crunchy caramelized
The dried cherries once again bring a slight sweetness into play
The highlight is the balsamic vinaigrette (you'll love it!).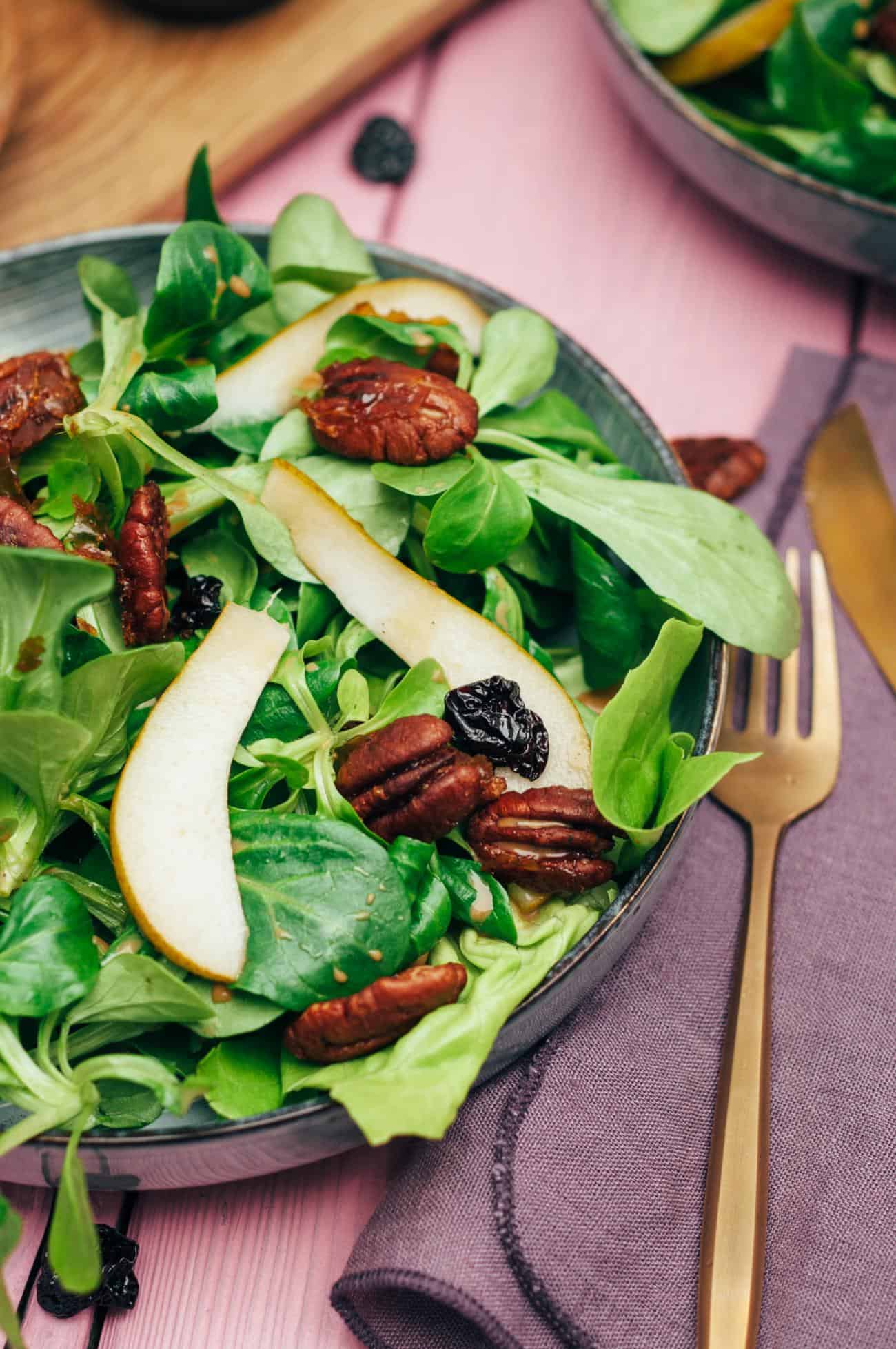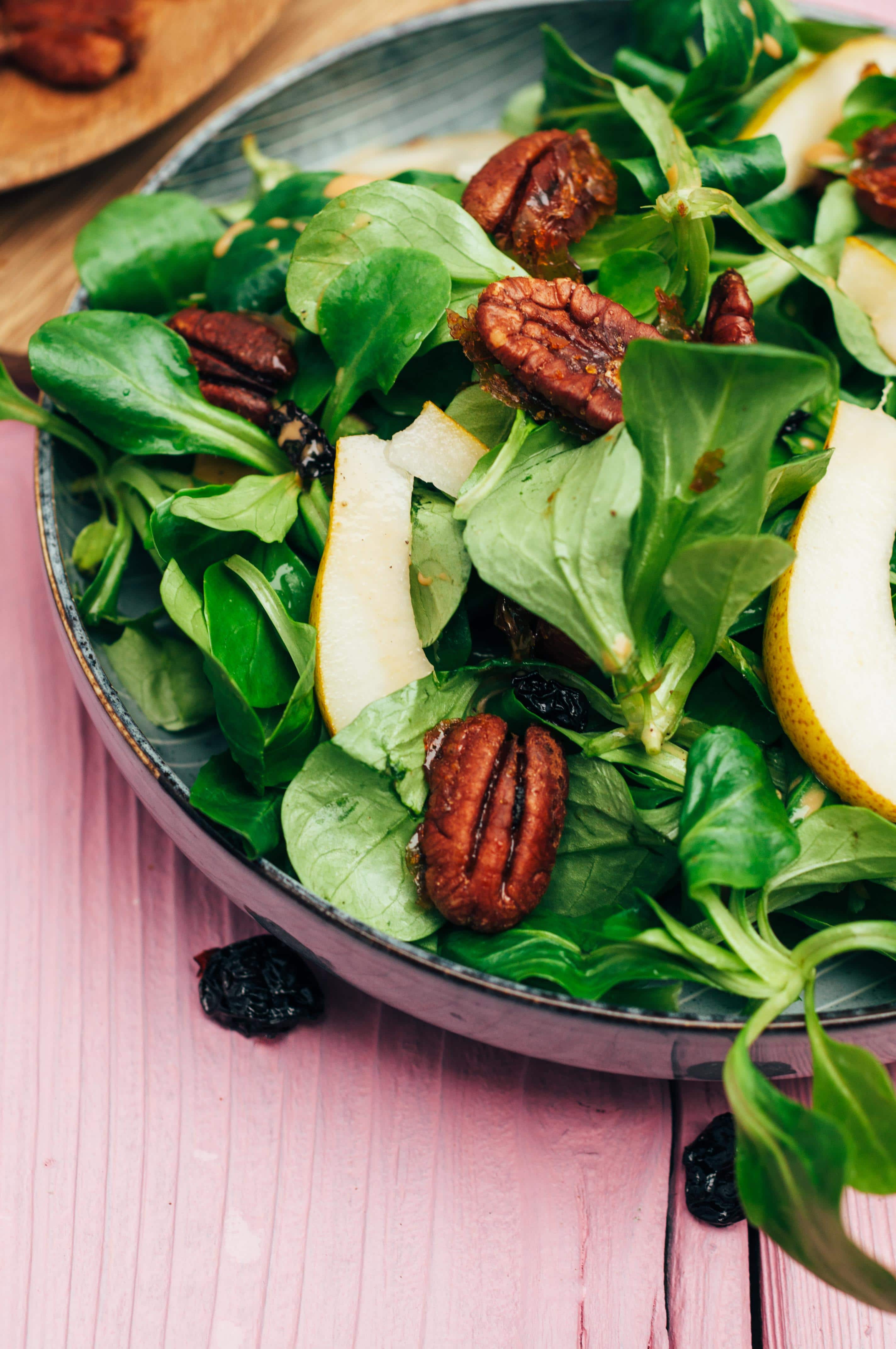 I bet you can't wait to finally try the pear salad? It's best to plan it as a side dish for the next pasta party, burger, or Christmas menu.
The pear salad with caramelized pecans and dried cherries:
hearty
Sweet and sour
aromatic
Full of interesting textures
The perfect side dish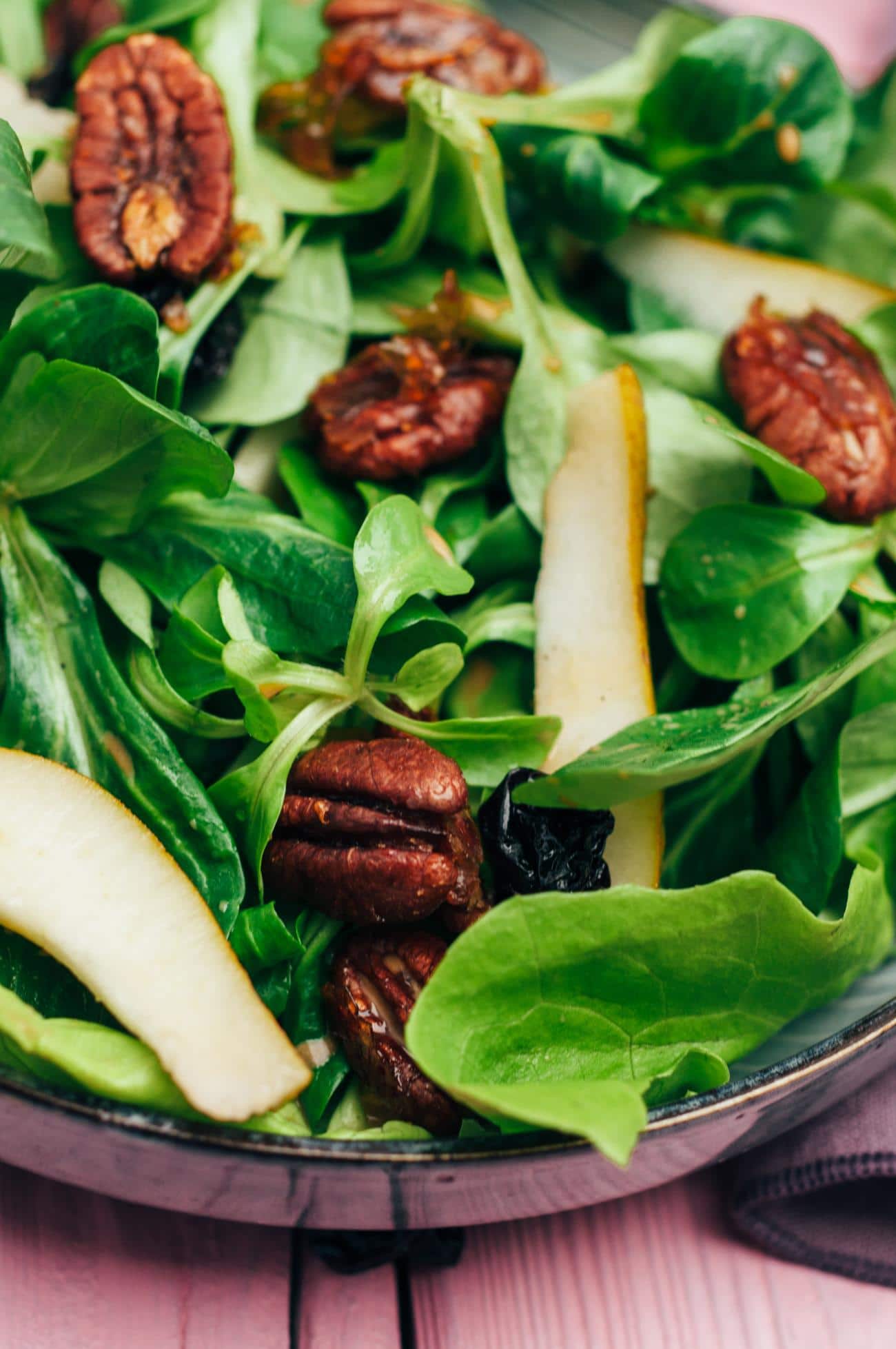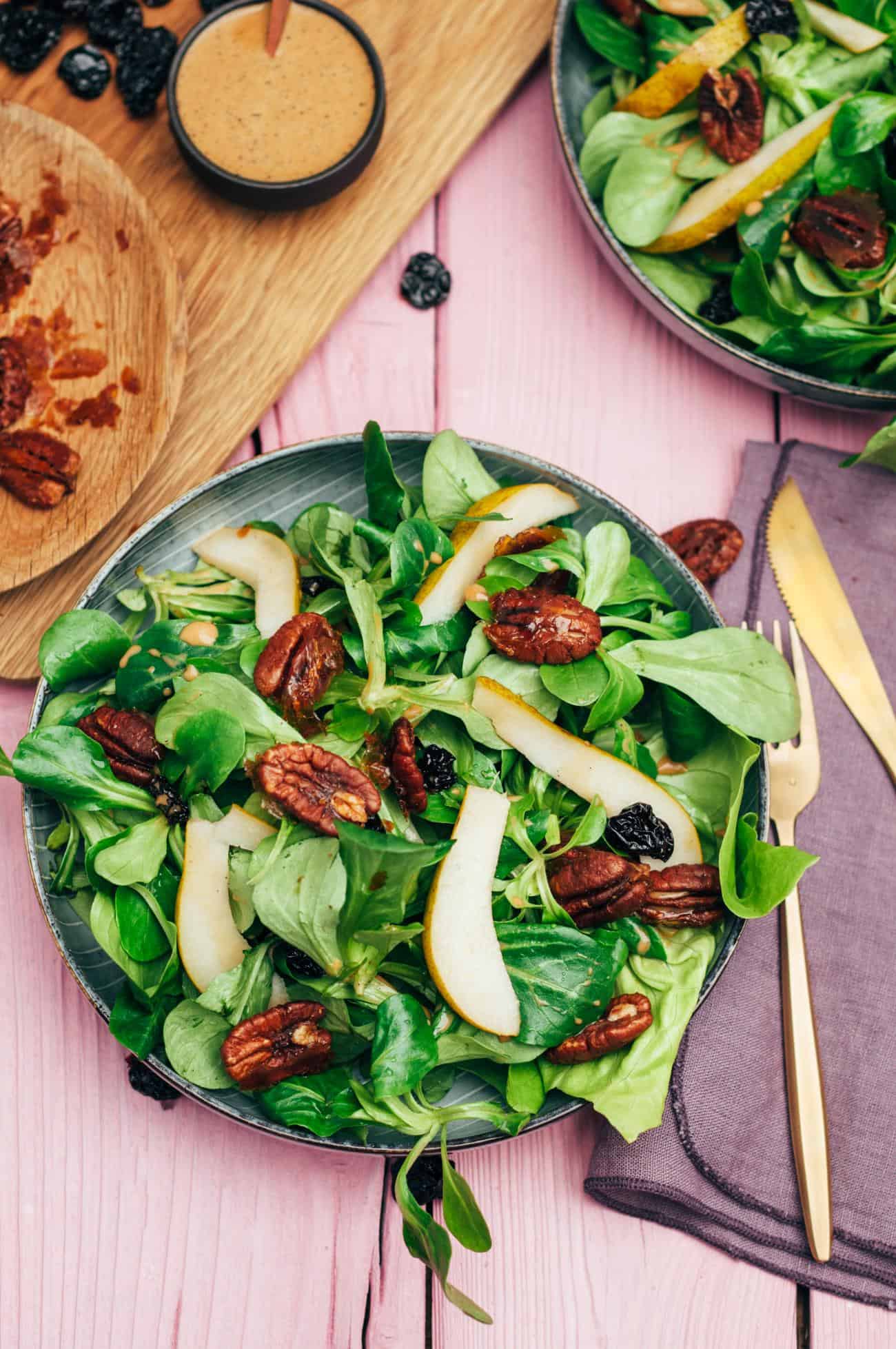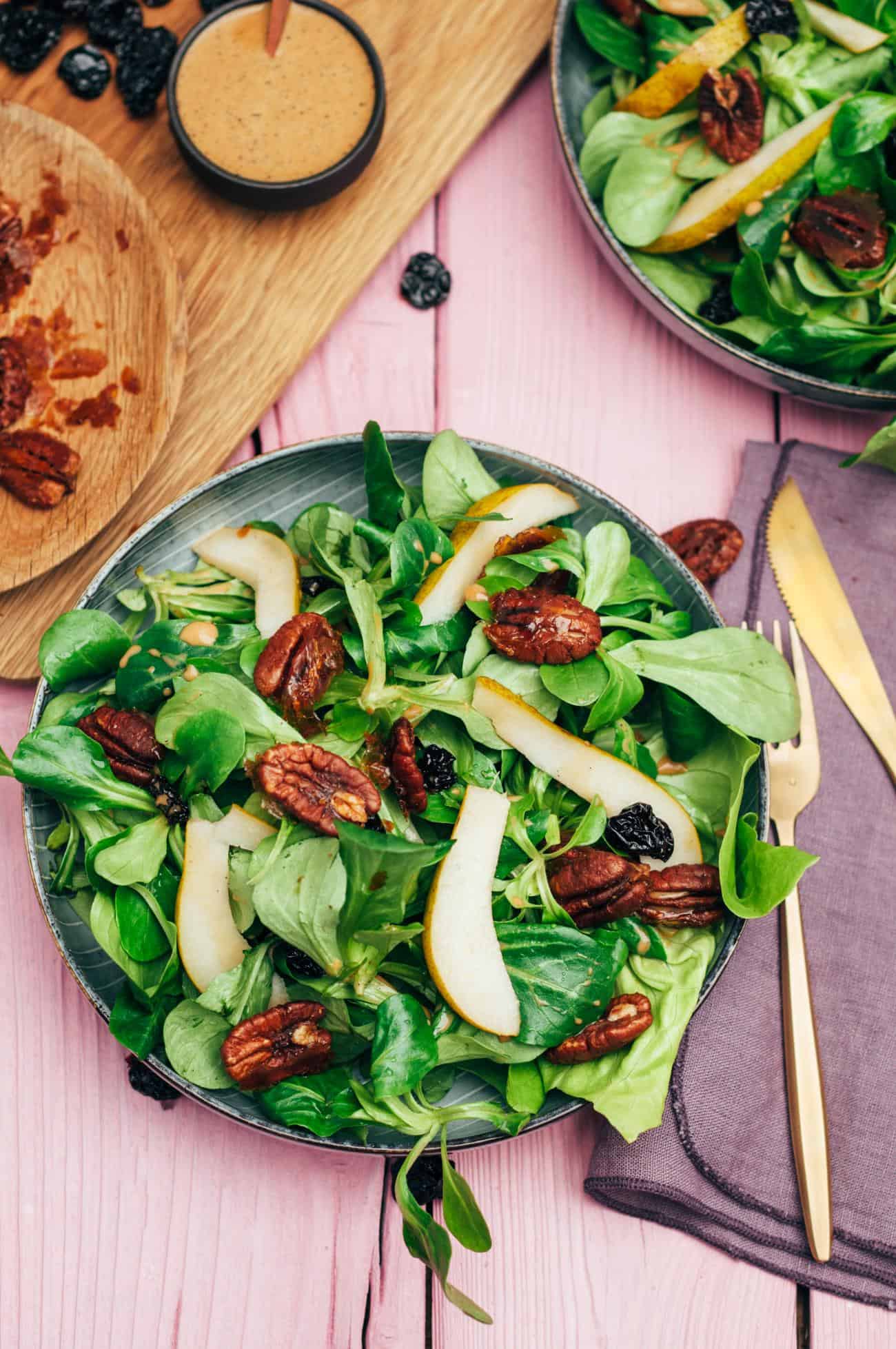 A vegan salad with a fruity secret
Well did you get a taste for this delicious vegan salad?. I hope you enjoy cooking and of course about a review at the bottom of this page. If you post a picture, then feel free to use the hashtag #veganevibes.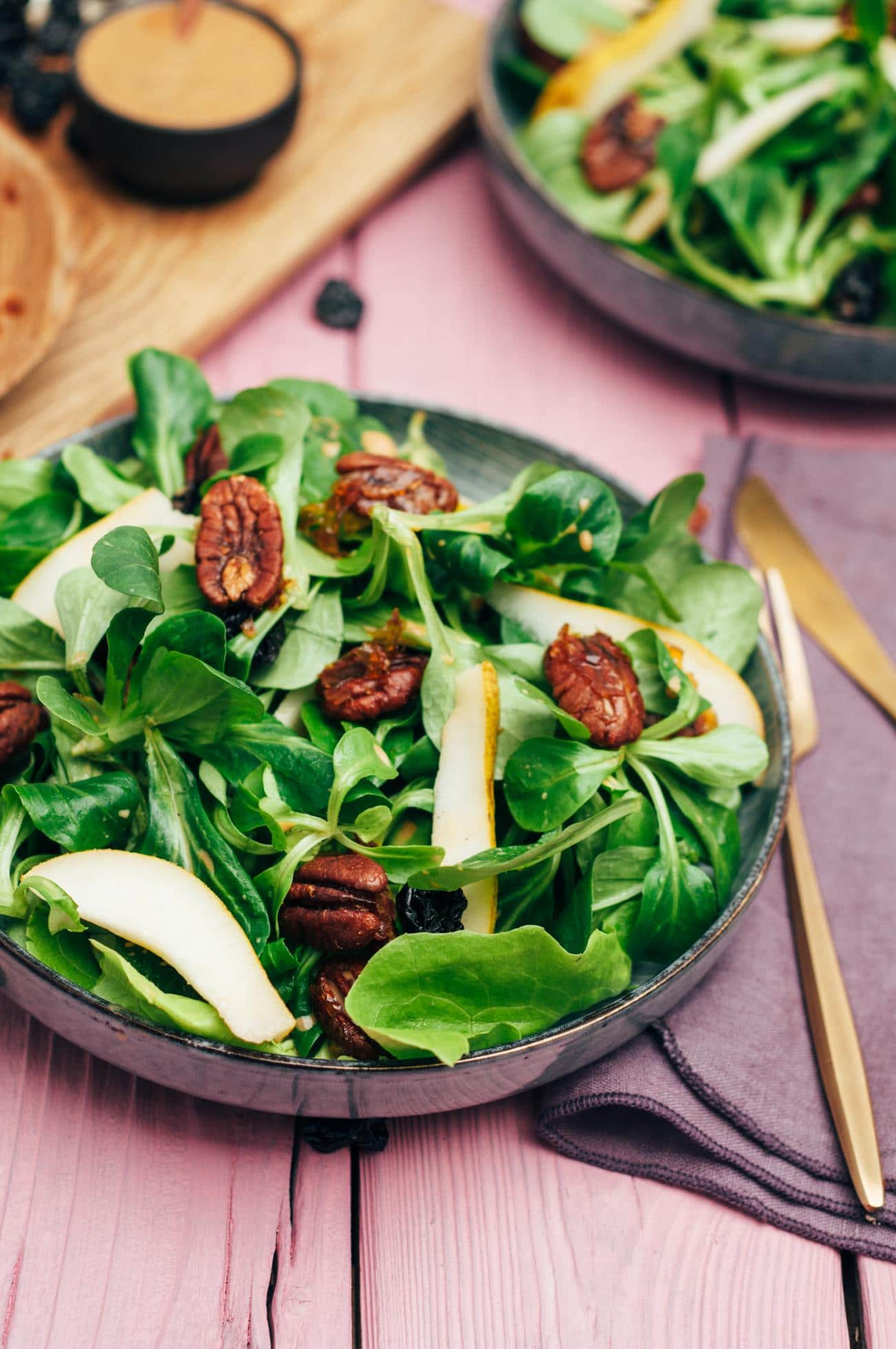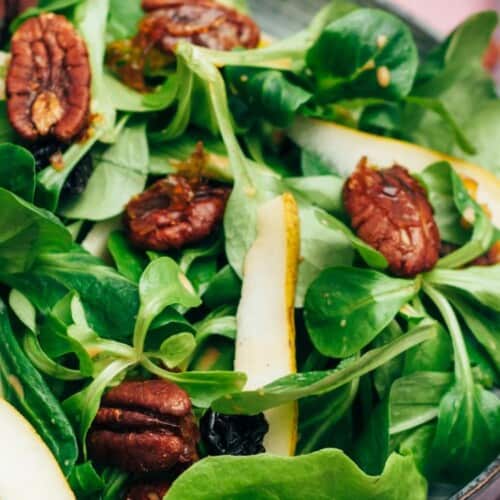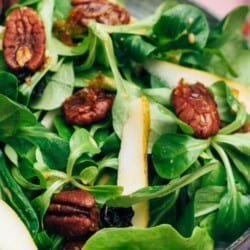 Pear salad with caramelized pecans and dried cherries
Incredibly flavorful, 30 minute pear salad with caramelized dried cherries, coated in a delicious balsamic vinaigrette. The perfect side dish or skin dish, combined with a delicious freshly baked ciabatta.
AUTOR: VEGANEVIBES
FOR THE CARAMELIZED PECANS:
FOR THE SALAD:
170-200

g

mixed green salad

1

ripe pear

seeded and cut into strips

35

g

dried cherries
Anleitung 
Preheat the oven to 180Grad and place the raw pecans on a baking sheet lined with parchment paper.


Once the oven is hot, toast the pecans for

7 minutes

. Remove from oven and mix with remaining ingredients. Coconut oil, coconut blossom sugar, maple syrup, sea salt, cinnamon and cayenne. Mix with a spatula until the nuts are evenly coated.

30 ml Coconut oil,

12 g Coconut blossom sugar,

30 ml maple syrup,

A pinch of sea salt,

A pinch of cinnamon,

Optional. A pinch of cayenne pepper

Place back in the oven and bake for an additional

6 minutes

, until the nuts are caramelized. Allow to cool and set aside.

In the meantime, prepare the balsamic vinaigrette. To do this, put all the ingredients in a small blender, jar or simply a bowl and mix well until a creamy sauce is formed.


15 ml Balsamic vinegar,

45 ml Olive oil,

7,5 ml maple syrup,

A good pinch of sea salt,

A good pinch of pepper,

15 ml Filtered water

To serve, divide the salad between

2 large

or 4 small plates, garnish with the pear, drizzle with the dressing and top with the pecans and dried cherries.

170-200 g mixed green salad,

1 ripe pear,

35 g dried cherries

Best eaten fresh, keep leftovers in the refrigerator for a maximum of 24 hours. If the salad is not yet mixed with the dressing, up to 3 days.

Nährwertangaben
Serving:
1
Portion
Calories:
975
kcal
Carbohydrates:
58
g
Protein:
8
g
Fat:
84
g
Saturated Fat:
20
g
Sodium:
40
mg
Potassium:
565
mg
Fiber:
11
g
Sugar:
36
g
Vitamin A:
1650
IU
Vitamin C:
24.8
mg
Calcium:
98
mg
Iron:
2.8
mg