The vegan Lime Cashew Cup is a delicious twist on this refreshing dessert. In addition to the classic ingredients like cashews, lime juice and maple syrup, we also use xanthan gum here to give our cup a creamy and stable consistency.
The vegan lime cashew cup: creamy freshness with lime juice and maple syrup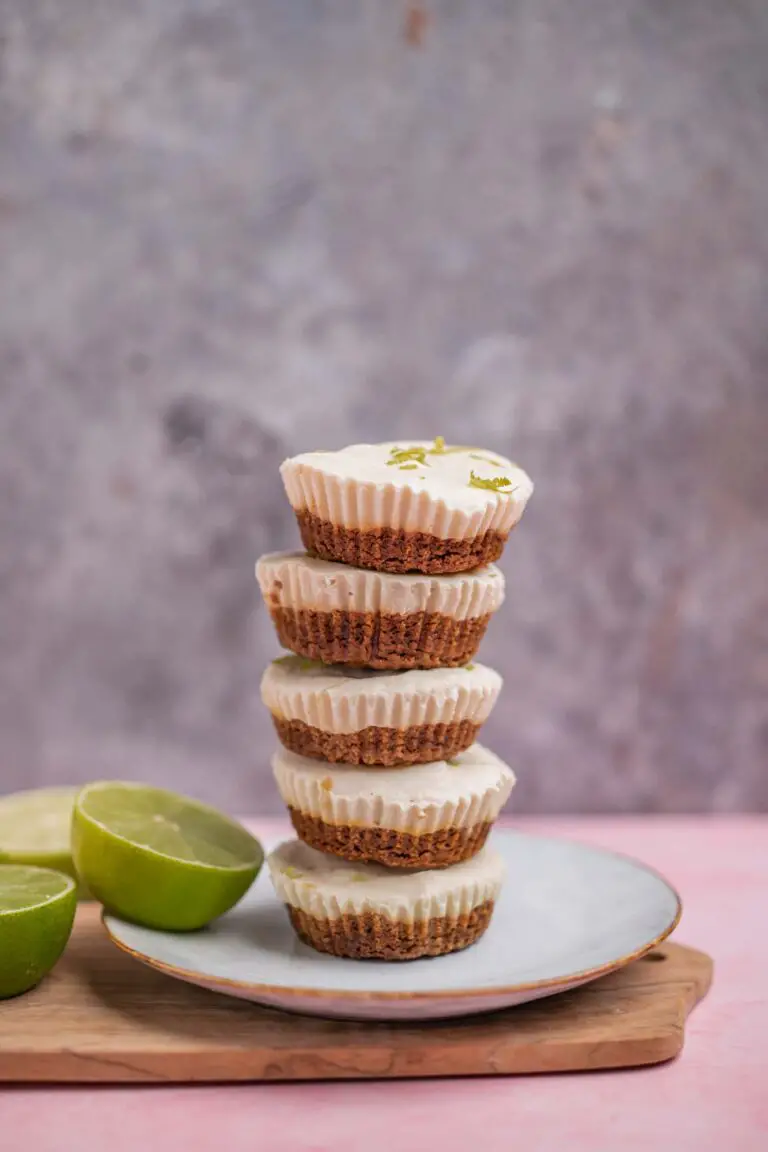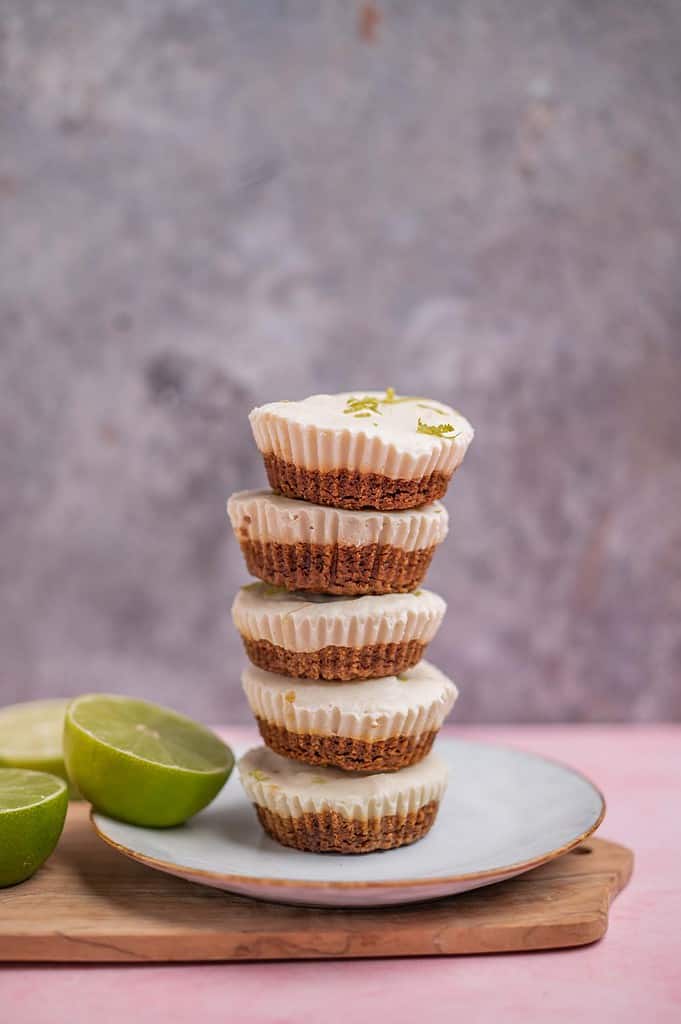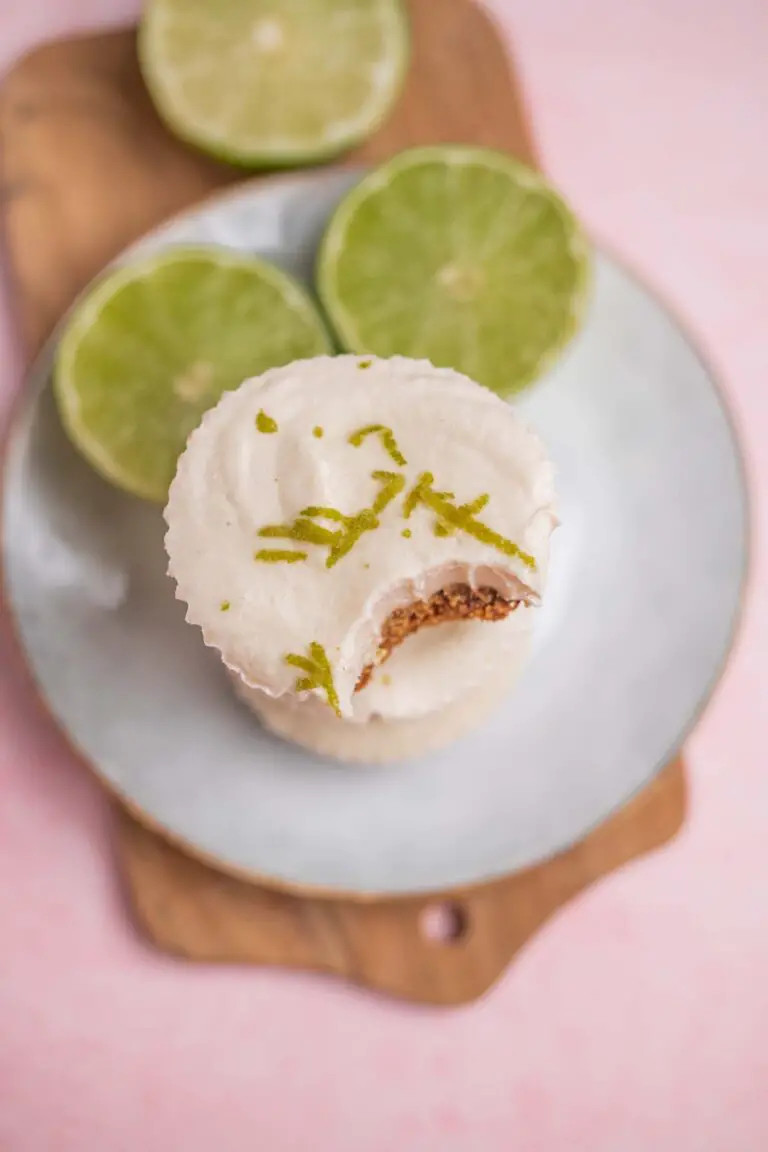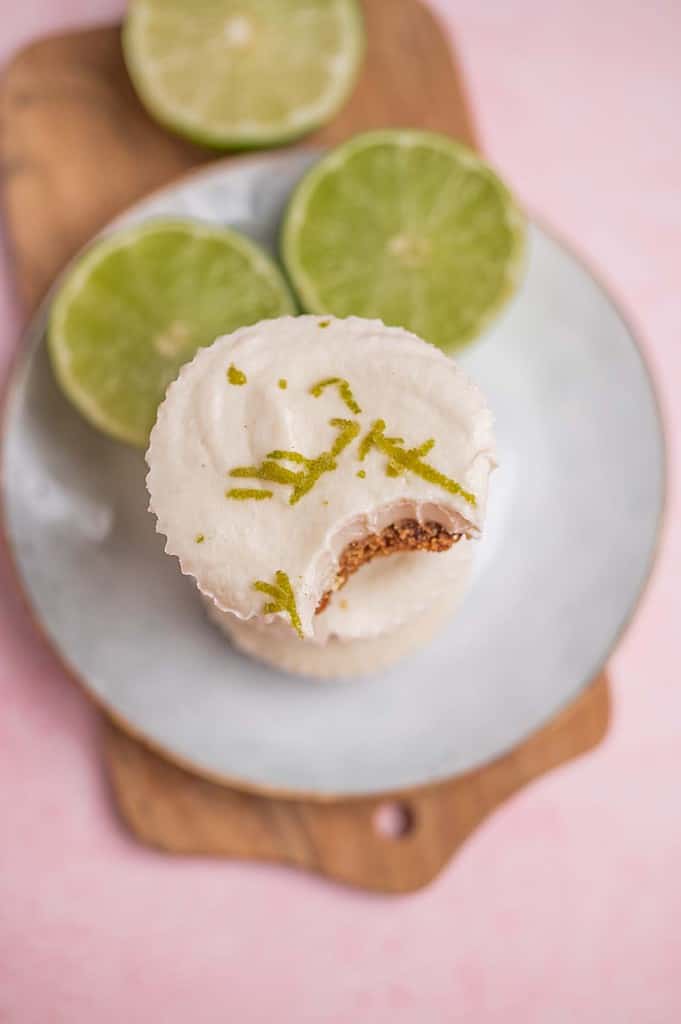 You may be wondering what xanthan gum is and why we use it. Well, xanthan gum is a natural thickener derived from fermented sugars. It is often used in vegan cooking to thicken creams and sauces and give them a smooth texture.
To make our vegan lime cashew cup with xanthan gum, first follow the basic cup recipe. You soak the cashews(guide) and puree them into a creamy mass. Then add the lime juice to give the cup its characteristic flavor.
Enjoy the refreshing taste of vegan lime cashew cup with yogurt and cookies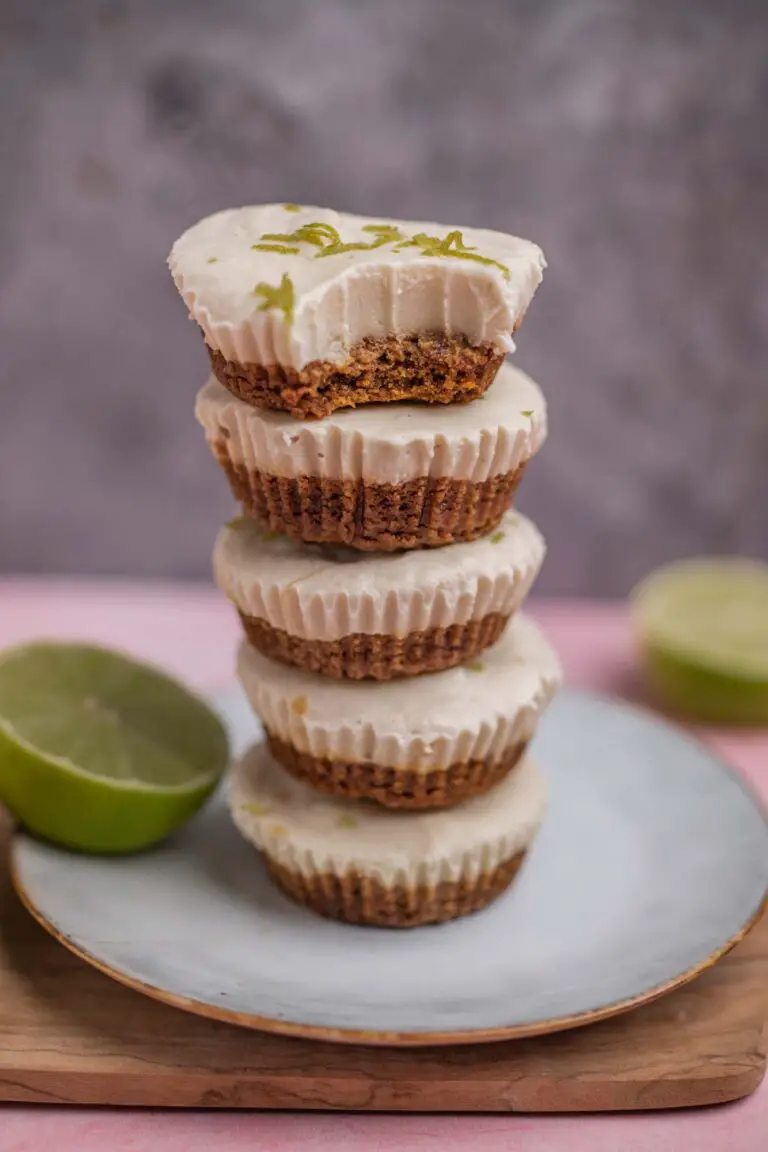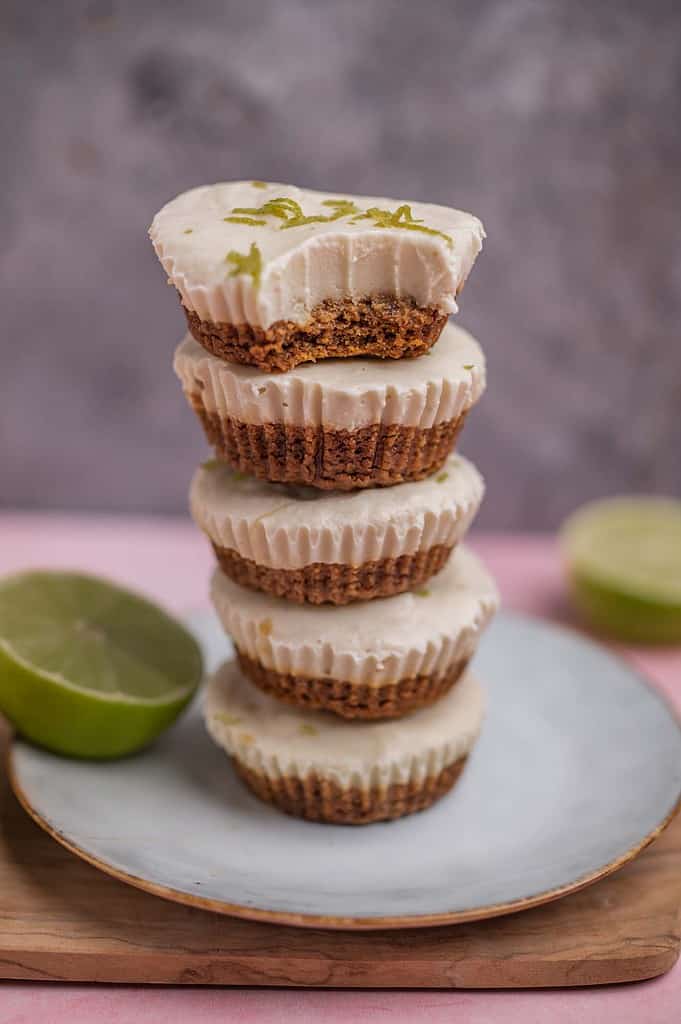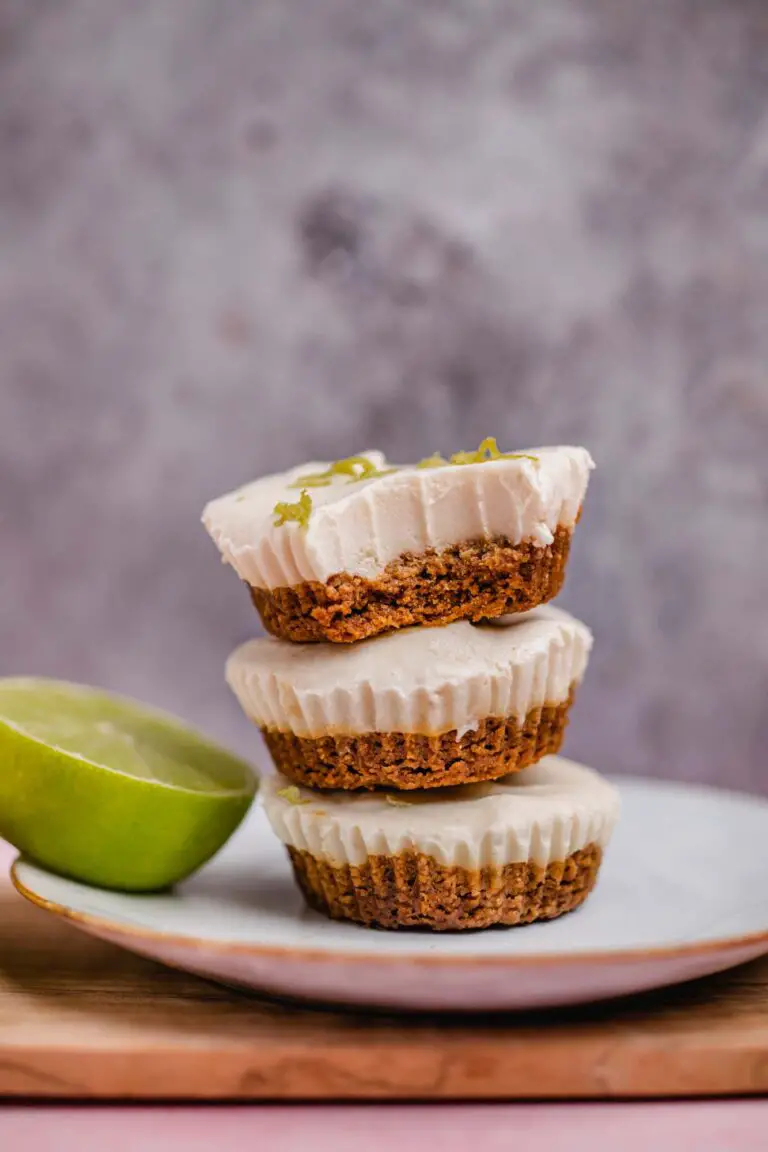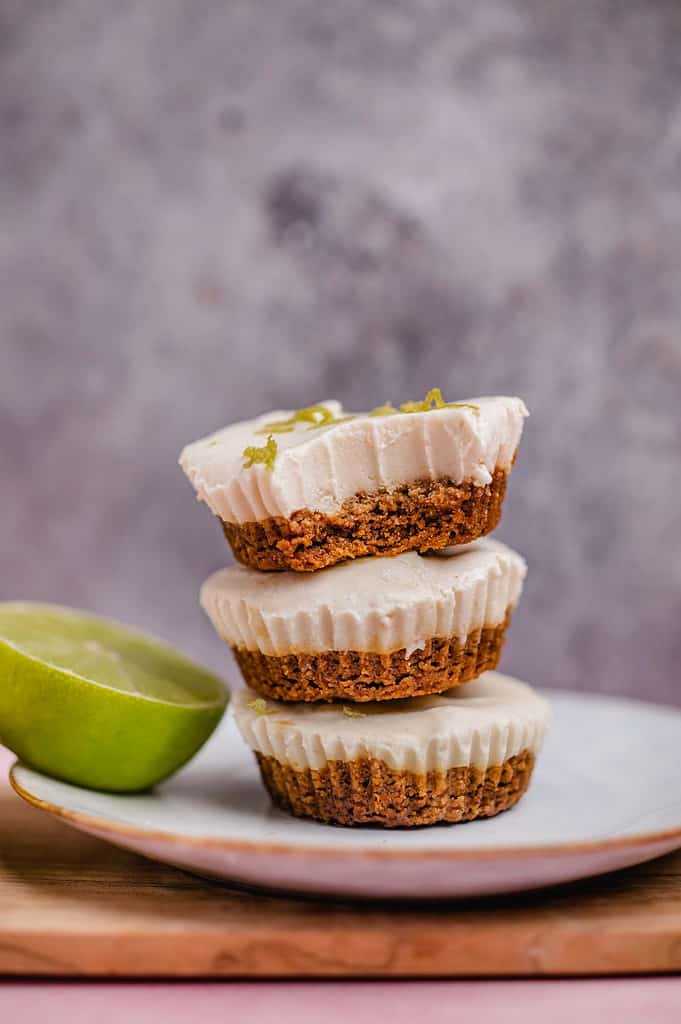 The vegan lime cashew cups with yogurt , cookies, lime juice and maple syrup are not only a taste sensation, but also a tribute to the traditional recipes of our ancestors. My grandma would love these cashew cups. The creamy texture of the cashew cream, combined with the refreshing lime juice and the sweet note of the maple syrup, is reminiscent of the delicious desserts she used to make. With every bite, I feel connected to my family and culinary roots. This vegan treat does not lack tradition and flavor. It is a tribute to our past and a delicious connection between generations.
The addition of xanthan gum ensures that your Lime Cashew Cup maintains a nice consistency, both when serving and storing. This way you can easily prepare the dessert and it will remain stable for several hours, but for more stability I recommend freezing the cups, see the description in the recipe….
Enjoy this vegan lime cashew cup with xanthan gum as a refreshing dessert or at a social brunch. You'll love the creamy texture, the lemony flavor of the limes and the sweet note of the maple syrup. Let yourself be seduced by this delicious creation and experience a true taste sensation, which is also intensified by the xanthan gum.
Reasons for the Cashew Cups
Creamy texture: The Cashew Cups have a deliciously creamy texture that melts delicately on the tongue. The combination of pureed cashews and vegan yogurt creates a velvety texture that is simply irresistible.
Exotic taste: The lime juice gives the Cashew Cups a refreshing and exotic taste. The slightly tart note of the lime harmonizes perfectly with the natural sweetness of the maple syrup, creating a wonderful flavor combination.
Healthy ingredients: The Cashew Cups are prepared with high quality ingredients. Cashew nuts are rich in unsaturated fatty acids, fiber and vitamins. They provide healthy fats and contribute to satiety. Maple syrup is a natural alternative to refined sugar and contains valuable minerals. The vegan yogurt offers vegetable protein and probiotic cultures for healthy intestinal flora.
Easy preparation: The Cashew Cups are quick and easy to prepare. With just a few ingredients and steps, you can enjoy this delicious dessert in no time. Perfect when you're craving something sweet but don't have a lot of time for elaborate recipes.
Versatility: The Cashew Cups can be varied and adapted as desired. You can add different toppings, like fresh berries, toasted nuts, or coconut flakes to give the dessert a custom touch. You can also prepare them with other citrus fruits like lemon or orange to get different flavors.
These five reasons make Cashew Cups a special treat. They are not only delicious, but also healthy and versatile. Try them and indulge in their creamy texture and exotic taste. A delicious dessert that you can enjoy anytime!
If you don't like lime today, you might find what you're looking for here:
Are you ready for these lime cashew cups? I wish you a lot of fun with the imitation and of course about a rating at the bottom of this page. If you post a picture, use the hashtag #veganevibes.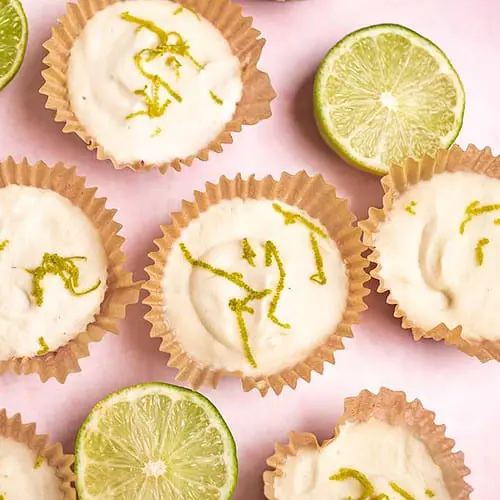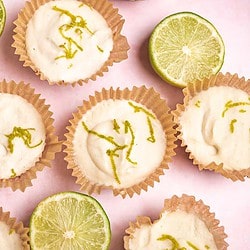 Lime Cashew Cups
Refreshing vegan cupcakes made of a crispy base filled with a fine cashew cream. I love them especially on hot summer days, as a small, fine dessert.
AUTOR: VEGANEVIBES
For the floor
200

g

vegan cookies

ideally homemade graham crackers

50

g

vegan margarine

or liquid nut butter
Anleitung 
Provide a muffin tin and line with paper ramekins.

Preheat oven to

175

°C

degrees.

For the base put the vegan cookies in a blender and grind finely. Add margarine or nut butter and continue blending until well combined.

200 g vegan cookies,

50 g vegan margarine

Pour into prepared muffin cups and press down lightly.

Place in oven and bake for 10 minutes at

175

°C

convection or

195

°C

upper-lower heat.

For the filling Place cashews, yogurt, maple syrup, bourbon vanilla, lime juice, lime zest and pinch of salt in a blender and blend to a fine cream. Add xanthan gum and mix again briefly. Set aside.

180 g Cashews,

200 g Coconut yogurt,

120 ml maple syrup,

½ tbspn ground bourbon vanilla,

60 ml Lime juice,

Grated zest of 2 limes,

A pinch of salt,

¼ tbspn Xanthan Gum

Remove the base from the oven and allow to cool slightly. Pour in cashew filling, sprinkle with a little more lime zest and place in freezer. Allow to set for at least

4 hours

, preferably overnight.

Let thaw for

10 minutes

before serving and enjoy!
Nährwertangaben
Serving:
1
Portion
Calories:
242
kcal
Carbohydrates:
26
g
Protein:
4
g
Fat:
14
g
Saturated Fat:
3
g
Polyunsaturated Fat:
3
g
Monounsaturated Fat:
6
g
Trans Fat:
0.02
g
Sodium:
92
mg
Potassium:
152
mg
Fiber:
1
g
Sugar:
14
g
Vitamin A:
176
IU
Vitamin C:
4
mg
Calcium:
45
mg
Iron:
2
mg