Creamy lemon slices I had to make now, after quite a chocolate overload. Chocolate donuts , Brownies , Date caramel slices with chocolate topping. It was just time again for something fresh, lemony without Cocoa . Today is the beginning of Lent for many people and that means something different for everyone. For all of you who have decided to go on a sugar fast, this is Recipe very good news today. It comes namely completely without industrial sugar, like so many delicious things on my blog. Maybe this sounds a bit pretentious, but I don't have any problems with giving up industrial sugar. I have been sweetening for so long with Coconut blossom sugar , Maple syrup and Dates that it is rather strange for me when I eat industrial sugar again. The other day, at a family party, I got hold of a sweet pastry and had really sensitive teeth afterwards. Once again, you realize how intense and aggressive sugar can be. Luckily, today we have a simple "industrial sugar free" recipe.
Lemon slices, vegan & sugar free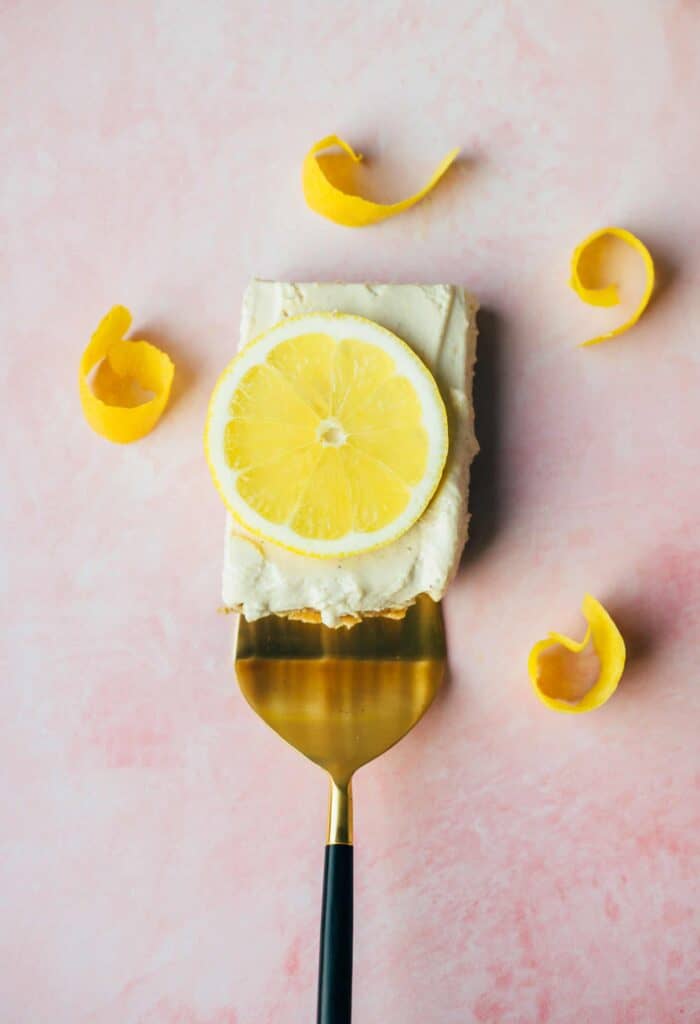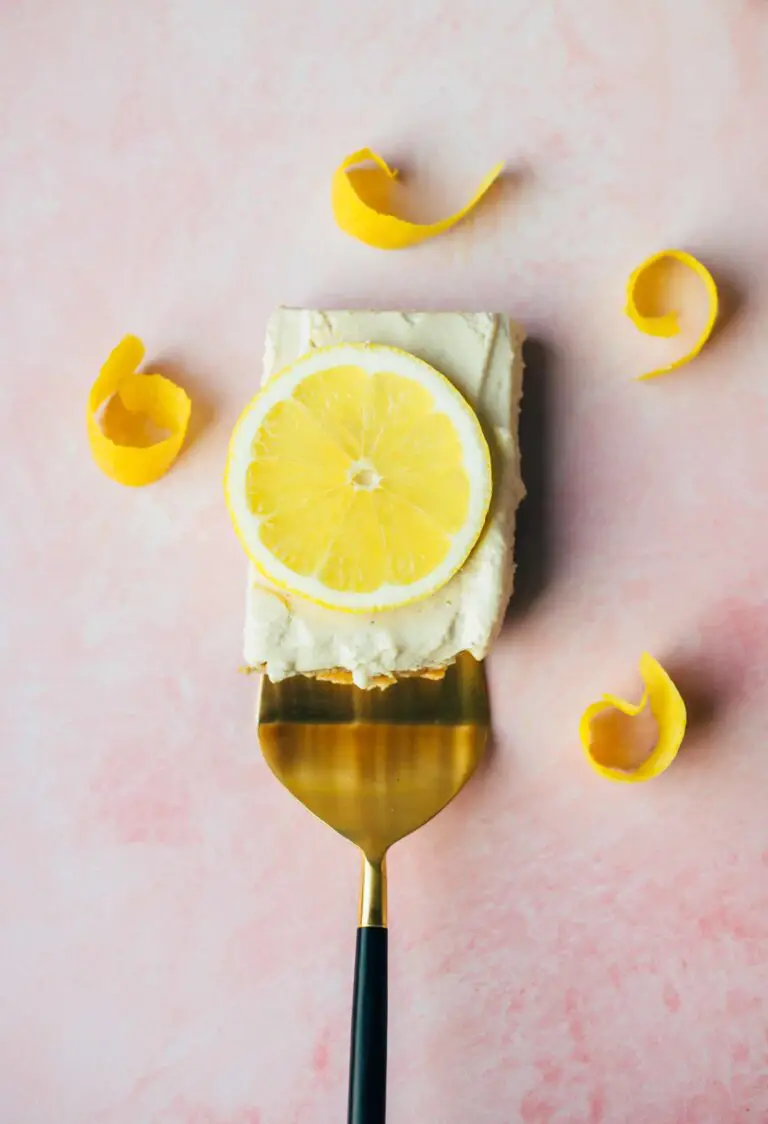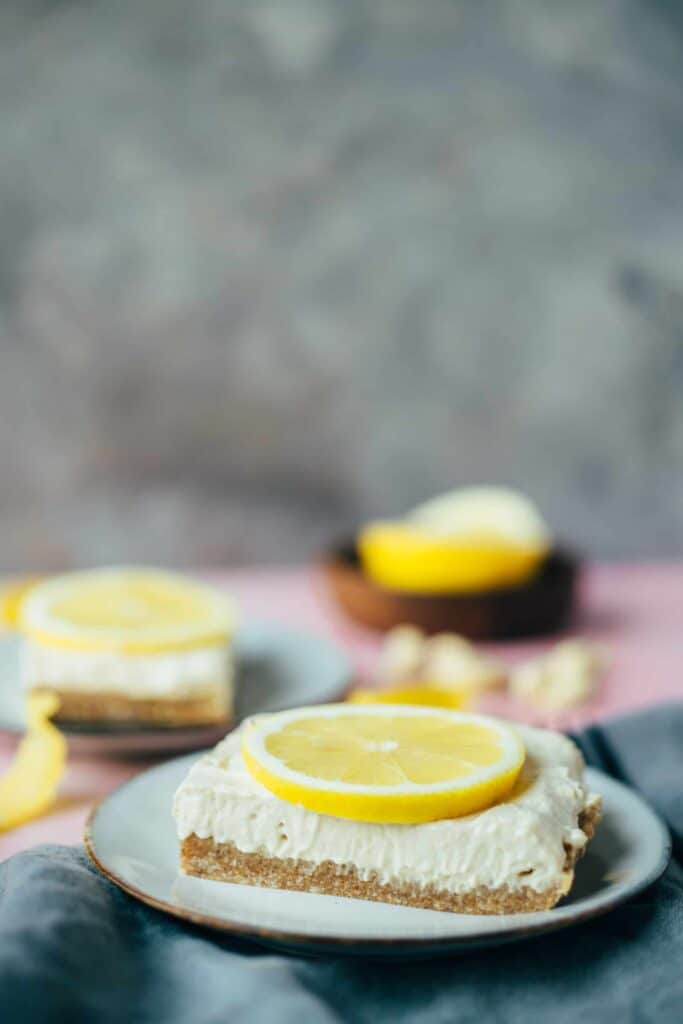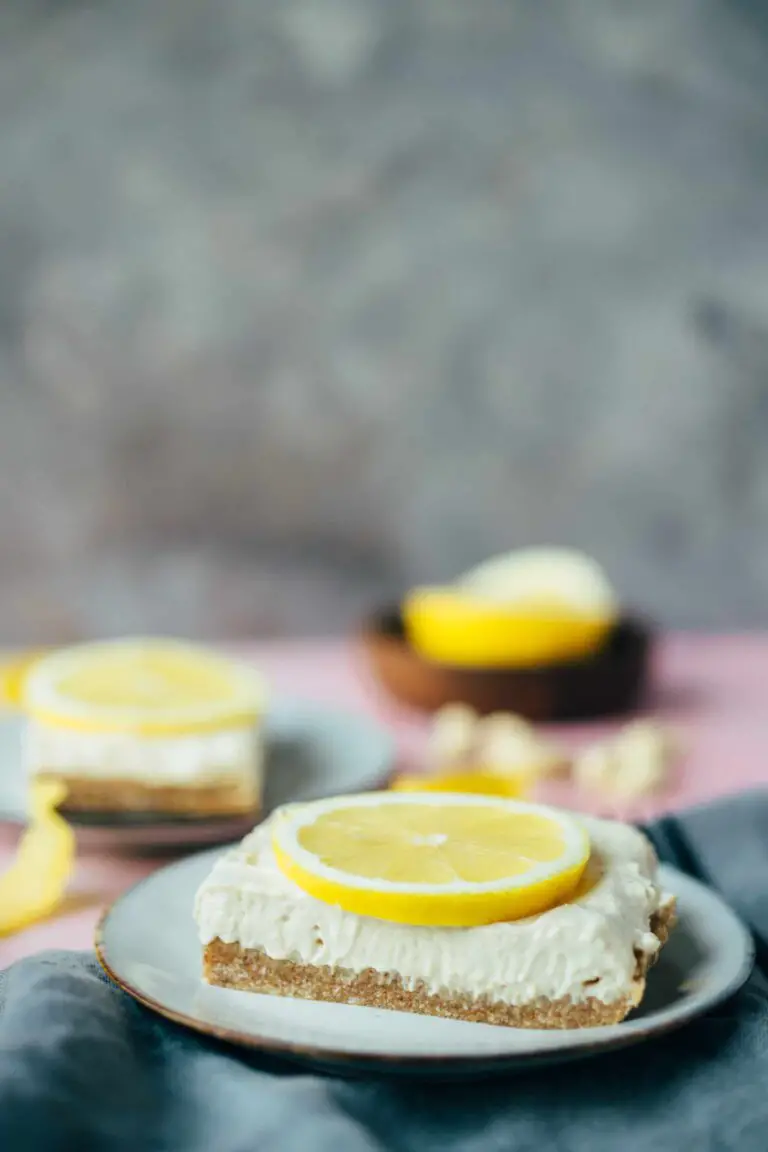 I want to lay my cards on the table right at the start, because without a decent blender you won't get far with this one. Recipe not far. There are supposed to be super good combination machines that can do both well, make nut bases and creamy fillings. Do you know of any good "all in one" kitchen appliances? If so, I look forward to your comment at the bottom.
Let's start with the base, dates, shredded coconut, almond flour, salt and maple syrup. After a few minutes in the mixer, a delicious base is created for our Cheesecake -filling. Which in turn consists of cashews, vegetable milk, lemon juice, lemon zest, bourbon vanilla, maple syrup, xanthan gum and a pinch of salt. When I think about it, I get real spring fever.
Lemon cheesecake, lemon raw cake or just plain yummy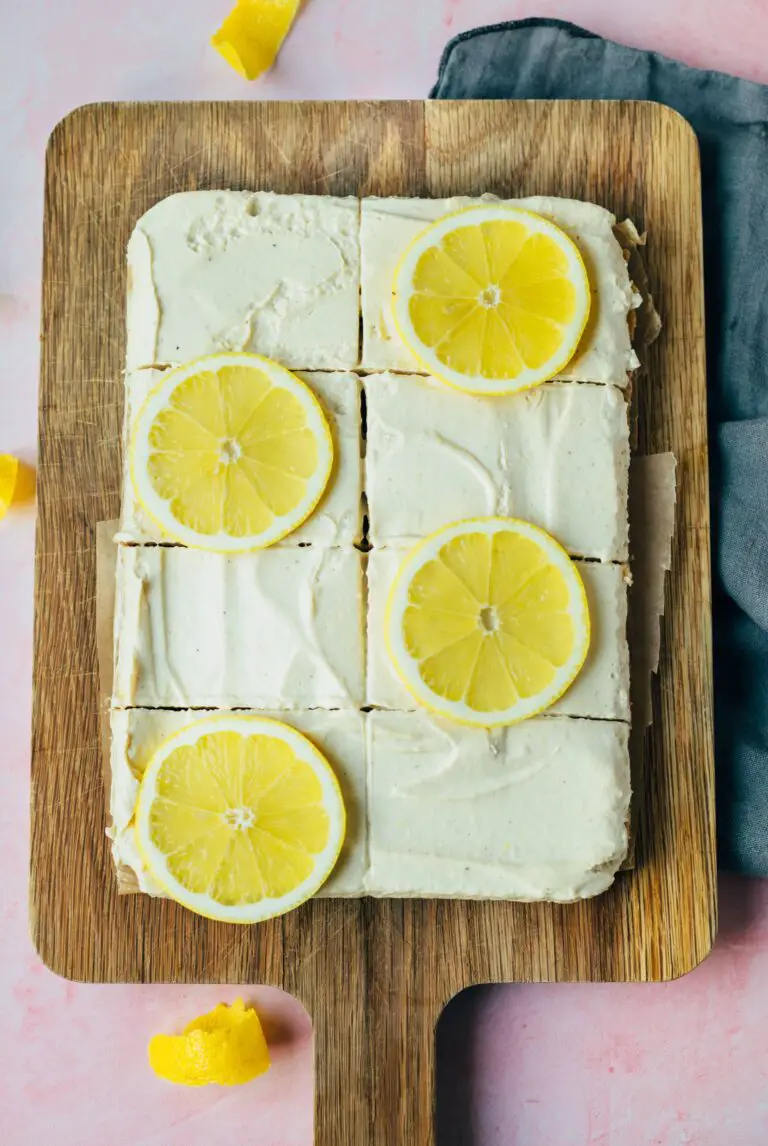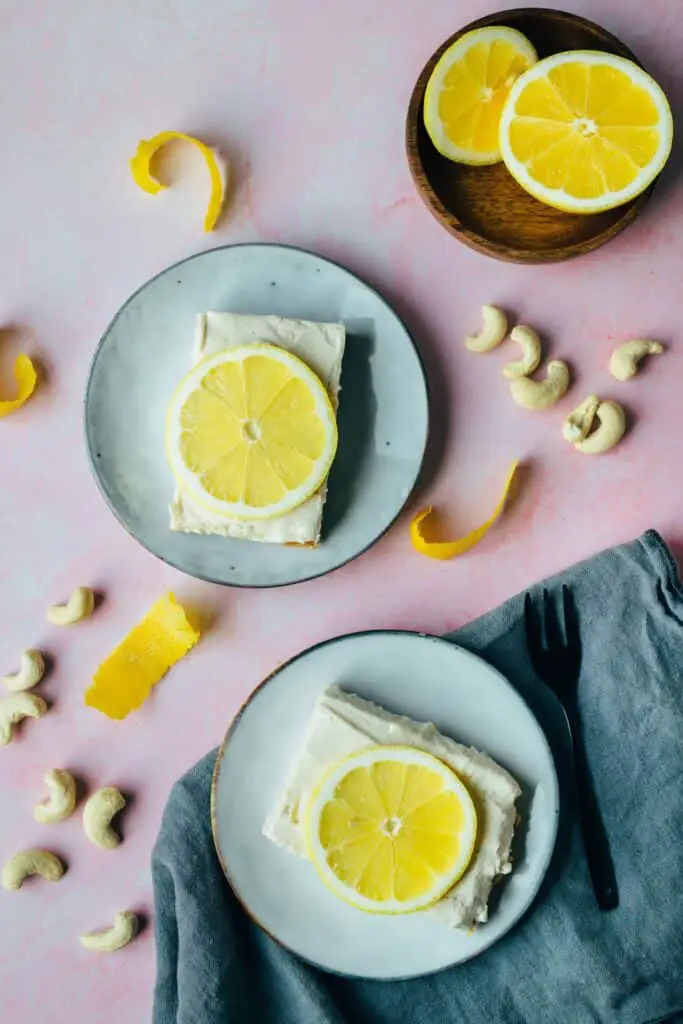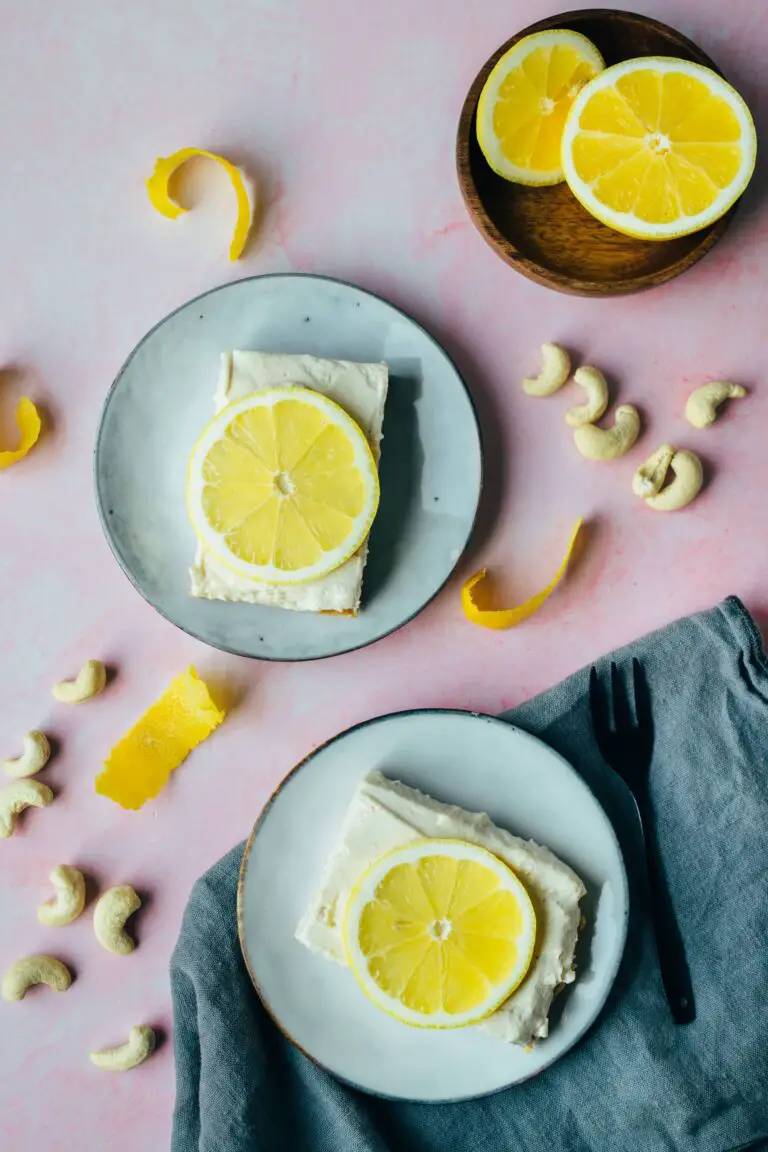 When I read the word Cheesecake I have to smile because I associate a very funny story with it. It was in the local ice cream parlor when an elderly gentleman wanted to order a scoop of Cheesecake he had pronounced it more like "cheese poop". We are definitely making a delicious lemon "Cheesecake" today and as a Ice cream I could imagine that also very well. Great, another new idea right away.
At this point I wanted to say a few words on the subject of Cashews say. The other day I got an email from a reader in Switzerland who was unsure about cashews in general. He had read that women sometimes shelled the nuts without gloves and burned their fingers from the acid used in processing. He also said that Cashews are also quite expensive and whether there is something else that you could use. Long story short, the question was whether there is a cheap and fair alternative to cashews. Unfortunately, my answer was no! Why? The nuts are just perfect for creamy fillings, cheese and sauces. Many other substitutes for cheese are made largely of coconut oil and that's not an option for me either.
The good news is that there are companies that source the nuts from fair cooperatives or even manage them locally. I do not like to advertise, but here I can recommend with a very clear conscience the company Rapunzel. Here you will find more details about the project.
How to make vegan cheesecake without fail
Dates: Use Medjool dates, they are particularly soft by nature and are very easy to work with. Dates that are too dry like to soak in hot water for an hour, drain and then use.
Mixer: Mix sufficiently long and do not stop too early. Once the nuts begin to release their natural fat, the dough is ready for processing.
Cashews: Depending on the power of the blender like to soak, otherwise just use instant.
Keep cool: Always keep raw cakes cool and covered in the refrigerator or freezer and remove just before serving.
To the lemon Cheesecake goes very well with an espresso with a sip of Barista milk . Alternatively, I recommend a creamy Immune Booster Latte.
I hope you're now craving a delicious slice of this yummy lemon cheesecake. If yes, then I wish you much fun with " Bake after " and of course about a rating at the bottom of this page. If you post a picture, use the hashtag #veganevibes.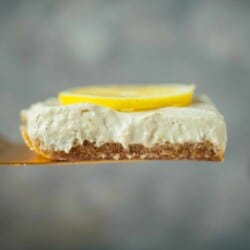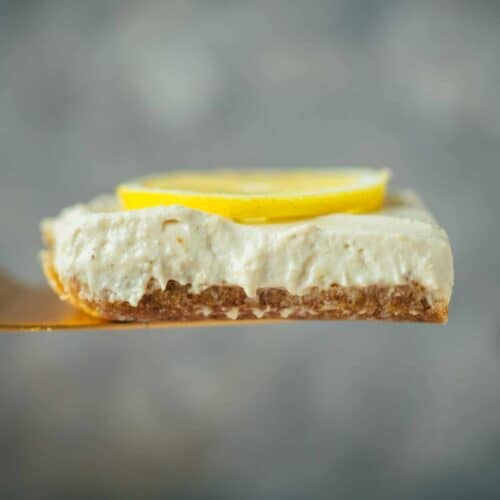 Creamy lemon slices
A lovely raw lemon cheesecake with a delicious base of nuts, dates and coconut flakes. Refreshing, lemony, oil-free and naturally sweetened for the whole family.
AUTOR: VEGANEVIBES
Anleitung 
Provide a loaf pan with a maximum size of 15x20cm. Line the bottom with baking paper. Note: the larger the shape, the thinner the cuts.

FOR THE BOTTOM. Blend almond flour, shredded coconut, dates, maple syrup, xanthan gum, and sea salt with a food processor until uniform and slightly sticky. If the dates are very dry, add a few drops of hot water. Press into loaf pan with wet hands until bottom and sides are evenly lined. Place in the freezer.

96 g Almond flour,

125 g Coconut shavings,

200 g Medjool dates,

30 g maple syrup,

1 Pinch sea salt

FOR THE FILLING Place cashews, vegetable milk, lemon juice, lemon zest, vanilla, maple syrup, xanthan gum and salt in a high-powered blender and blend to a homogeneous cream.

300 g Cashews,

310 ml Plant milk,

80 ml Lemon juice,

Lemon peel,

¼ tbspn Bourbon vanilla ground,

45 ml maple syrup,

A pinch of salt to taste,

¼ tbspn Xanthan Gum

Remove base from freezer and spread lemon cream on top.

Place back in the freezer or refrigerator and allow to set for at least 6 hours or overnight.

When eaten, remove, cut into 10 pieces, decorate with lemon slices and enjoy.

Lemon slices to taste,

Lemon peel

Lasts up to 5 days in the refrigerator and 1 month in the freezer.
Nährwertangaben
Serving:
1
Piece
Calories:
160
kcal
Carbohydrates:
26
g
Protein:
3
g
Fat:
6
g
Saturated Fat:
1
g
Sodium:
18
mg
Potassium:
180
mg
Fiber:
3
g
Sugar:
21
g
Vitamin A:
94
IU
Vitamin C:
3
mg
Calcium:
90
mg
Iron:
1
mg