Again Cheesecake ? Yes!!! Please I really want a piece. The good news doesn't stop at this point either, because I finally found a recipe that stays in shape. Those of you who have ever made a raw cake know what I mean. The biggest problem is that the Cake is either hard as a rock, because it has just come out of the freezer, or it is falling apart in all directions. That is exactly why I have the solution, because this Cake remains firm, creamy and is pure pleasure. If you're ready, feel free to read on now.
Boo! A vegan raw cheesecake that stays in shape. Oh lala.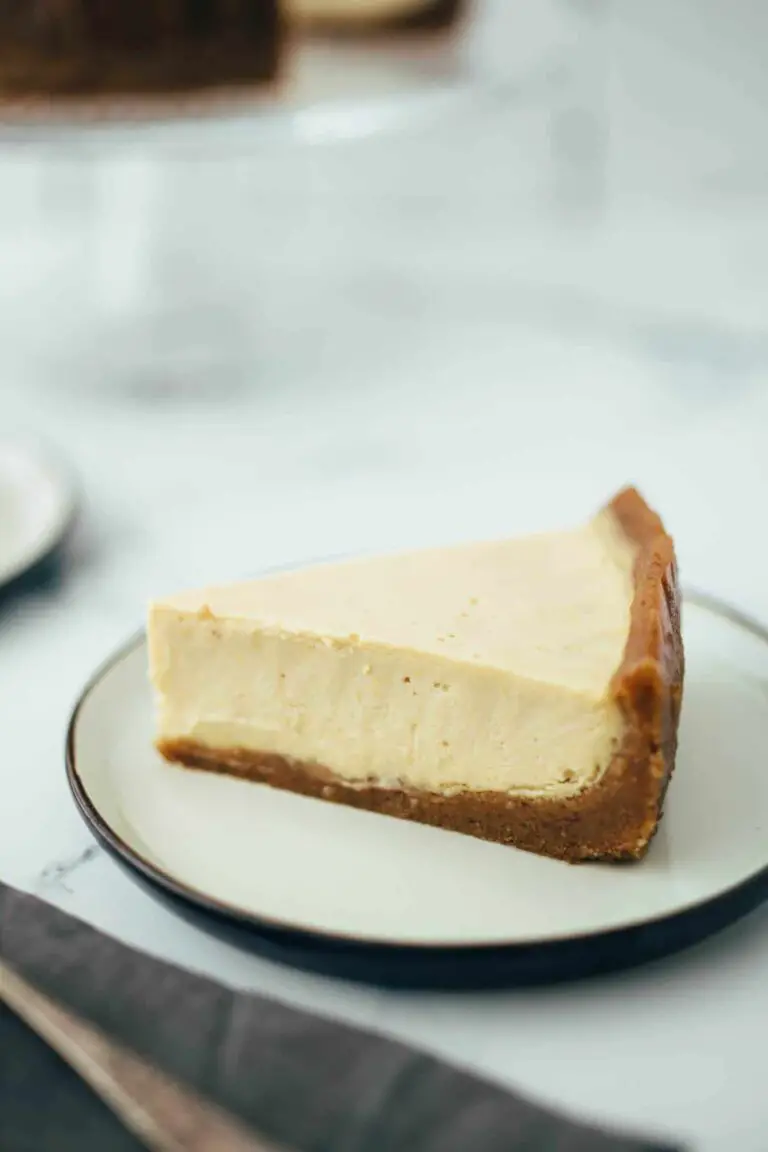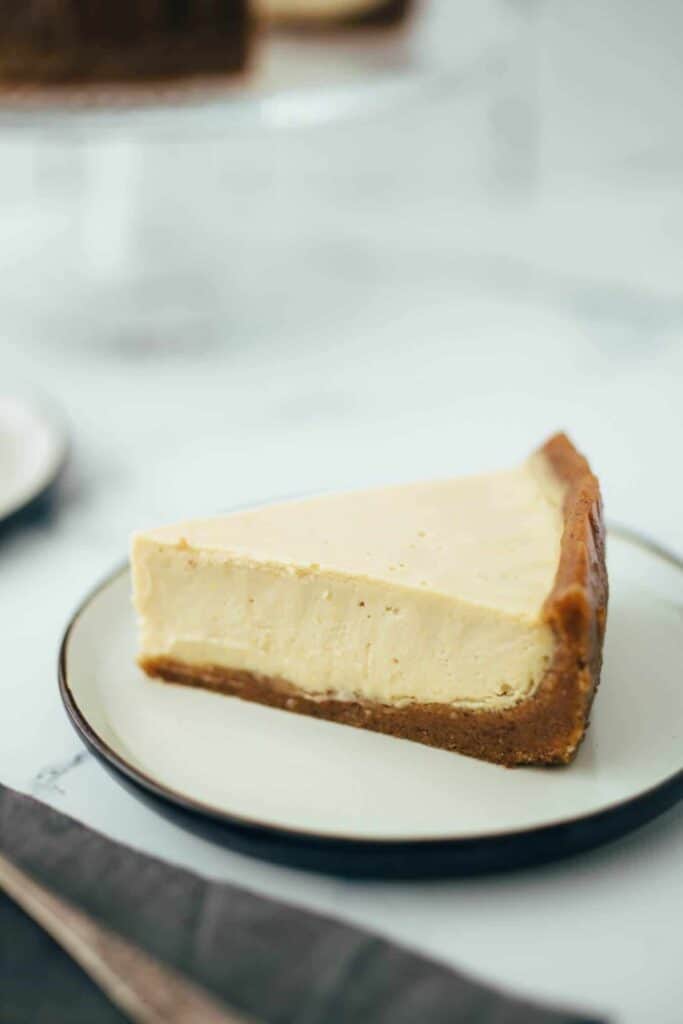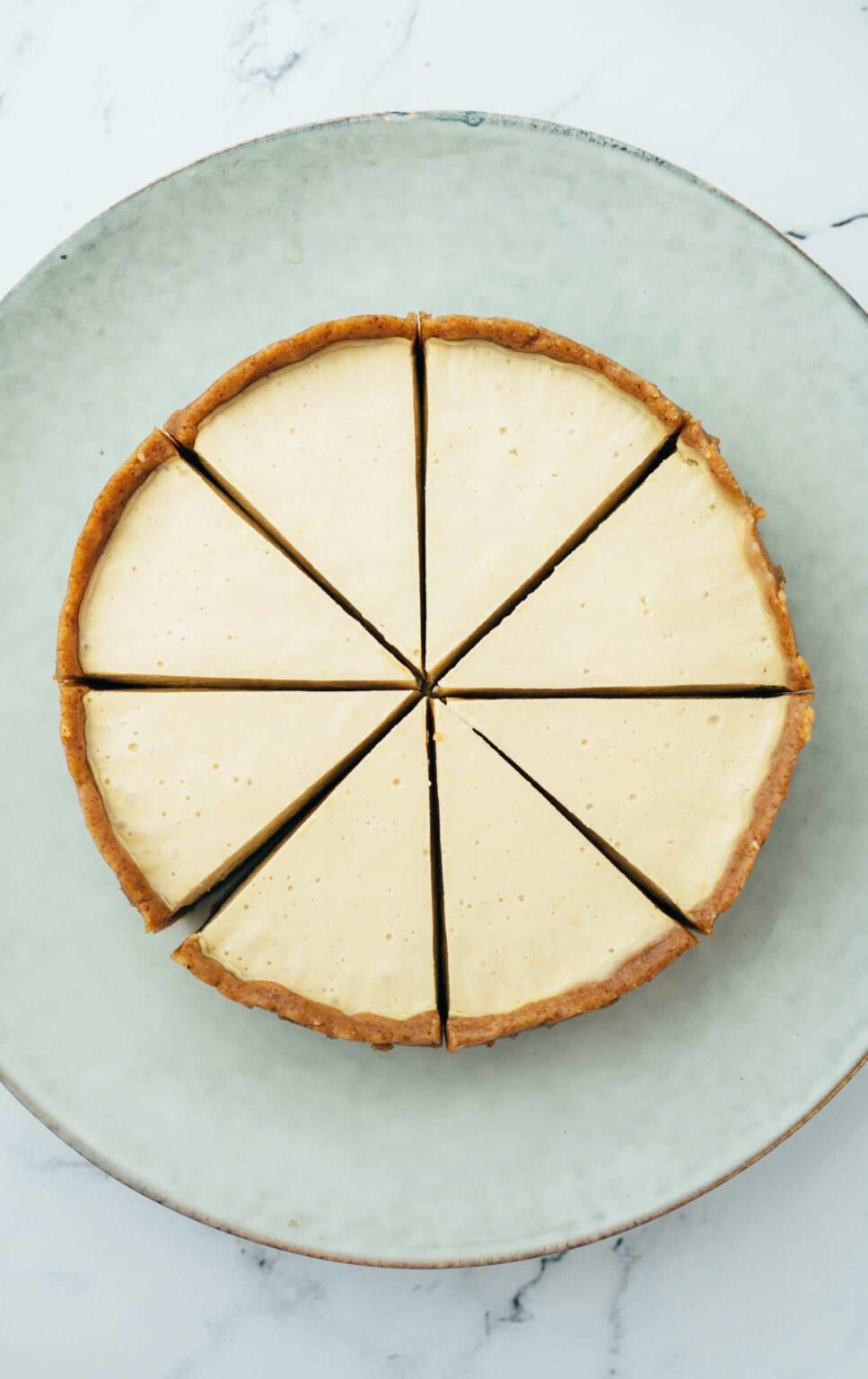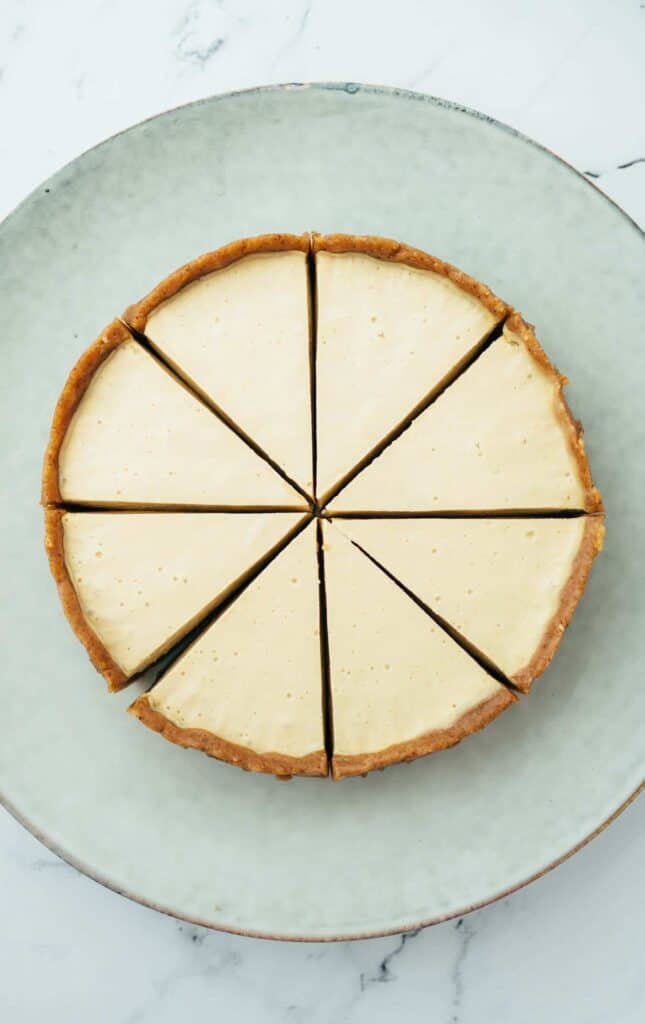 Actually, I discovered the trick rather by accident when I was experimenting with making coconut yogurt. There was a vegetable binder in there, tapioca starch to be exact. The finished Cake was not to be surpassed in firmness and creaminess. A real delight on the tongue and a silent cry for more. I'm not talking 30 degrees and pure sunshine now, but in the fridge the raw cake absolutely keeps its shape.
A cake base that tastes like marzipan? – here you go
How often have I made raw cake made bases from almonds and walnuts? Many, many times. This time, however, I opted for other nut varieties and the result is really promising. Brazil nut kernels and pecans. Together with Medjool dates, the raw dough becomes almost a bit like marzipan. Simply wonderful!
The filling is just deliciously refreshing for hot summer days, with cashews, vegetable yogurt, lemon juice, maple syrup, a little vanilla, orange zest, coconut oil, tapioca starch and a pinch of salt.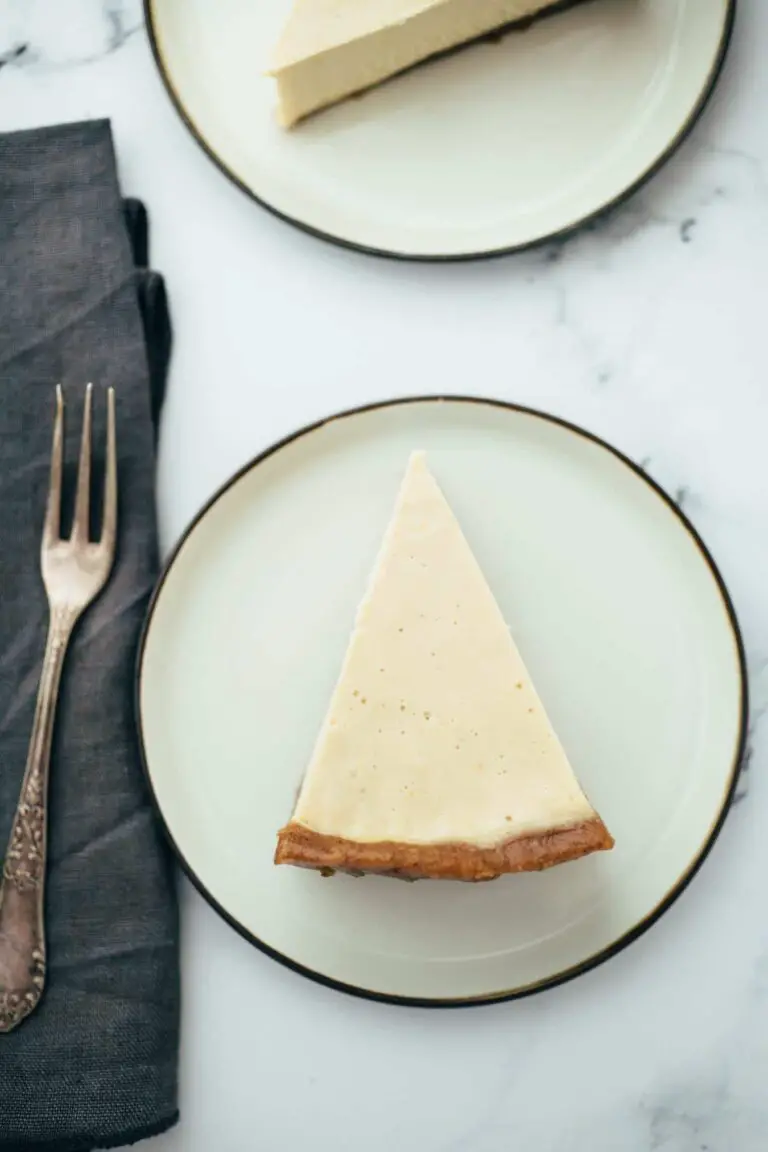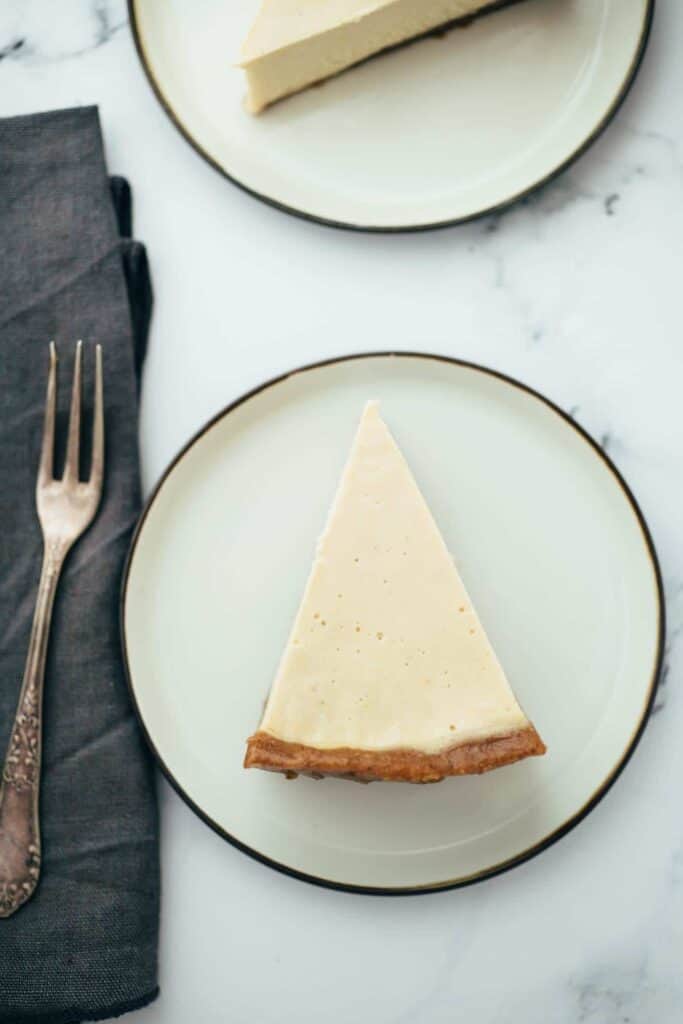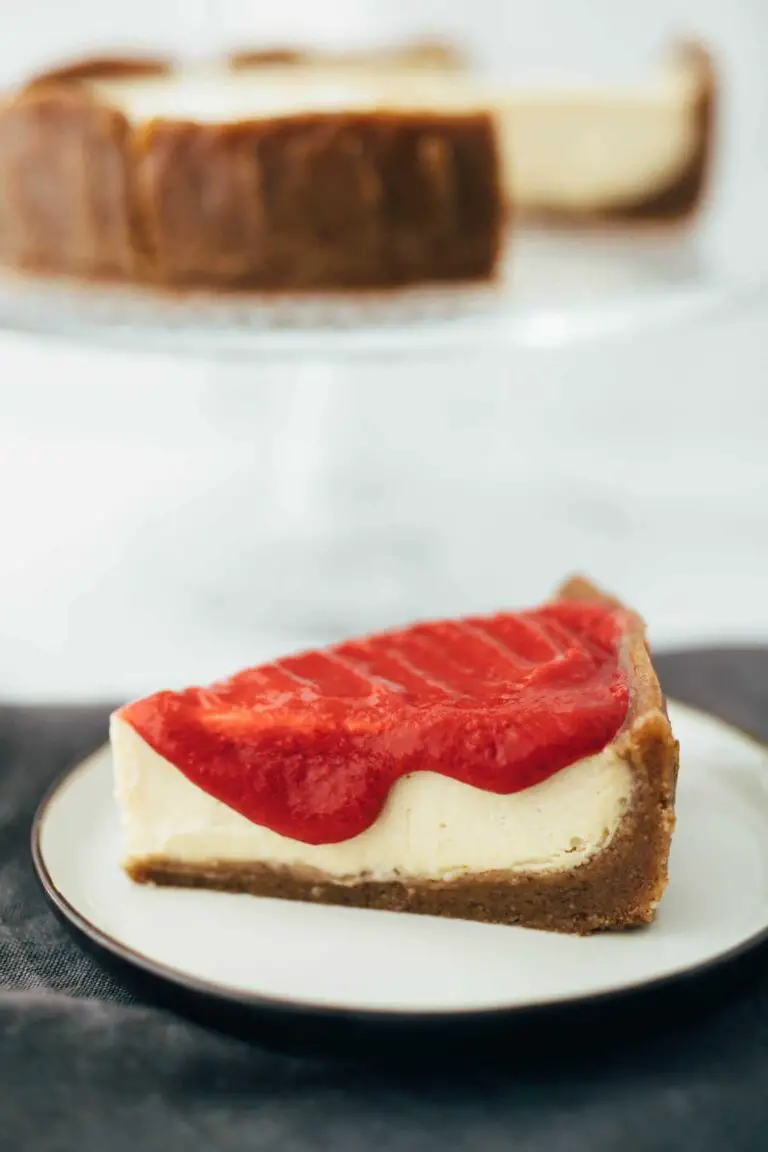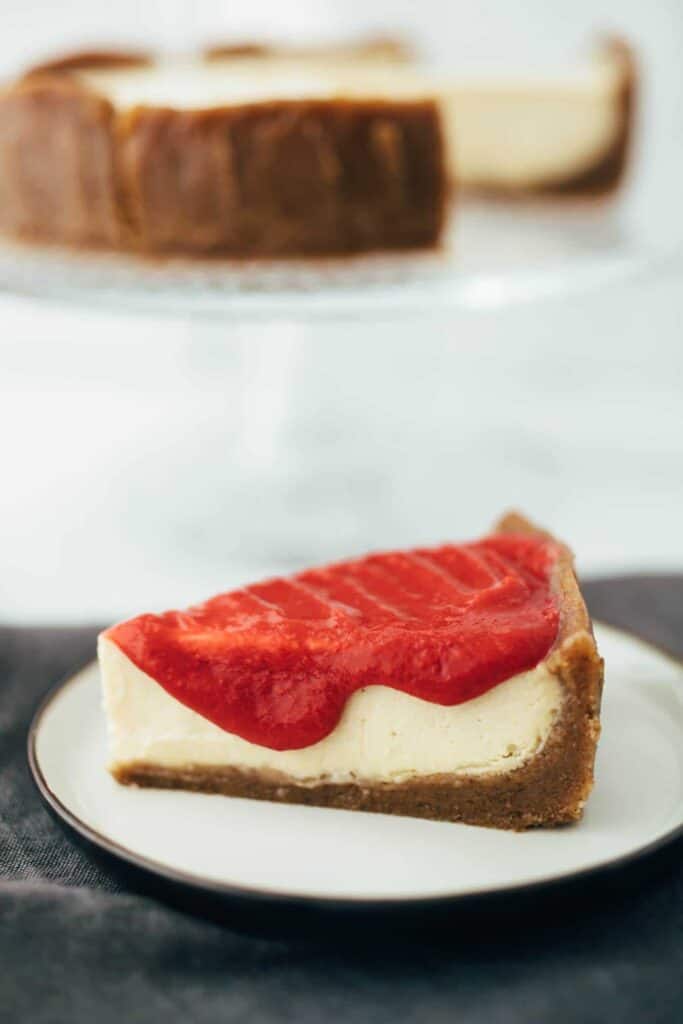 Important to know: I use a springform pan with 15cm diameter. This is the ideal size for a Raw Cheesecake because it is much more compact and rich than a conventional cake and therefore you will eat a smaller piece of it (except my husband).
The bottom: A good food processor is a must here. I work with preferably with my Magi Mix (advertising because brand name). The device, unlike a high-powered blender, does not require liquid and is simply a dream for raw soils.
The filling: soaking the cashews is the most important thing here, unless you have a powerful blender. I have a Blendtec (advertising because brand name) and soak the seeds before not, because the blender has so much power that he gets the seeds with enough liquid wonderfully soft. If you soak the cashews beforehand, there are two methods. More about this at the bottom of the instructions.
Perfect with a homemade sauce of raspberries, lemon juice, a little maple syrup and optional agar agar. Alternatively, you can always opt for a ready-made fruit sauce from the organic supermarket.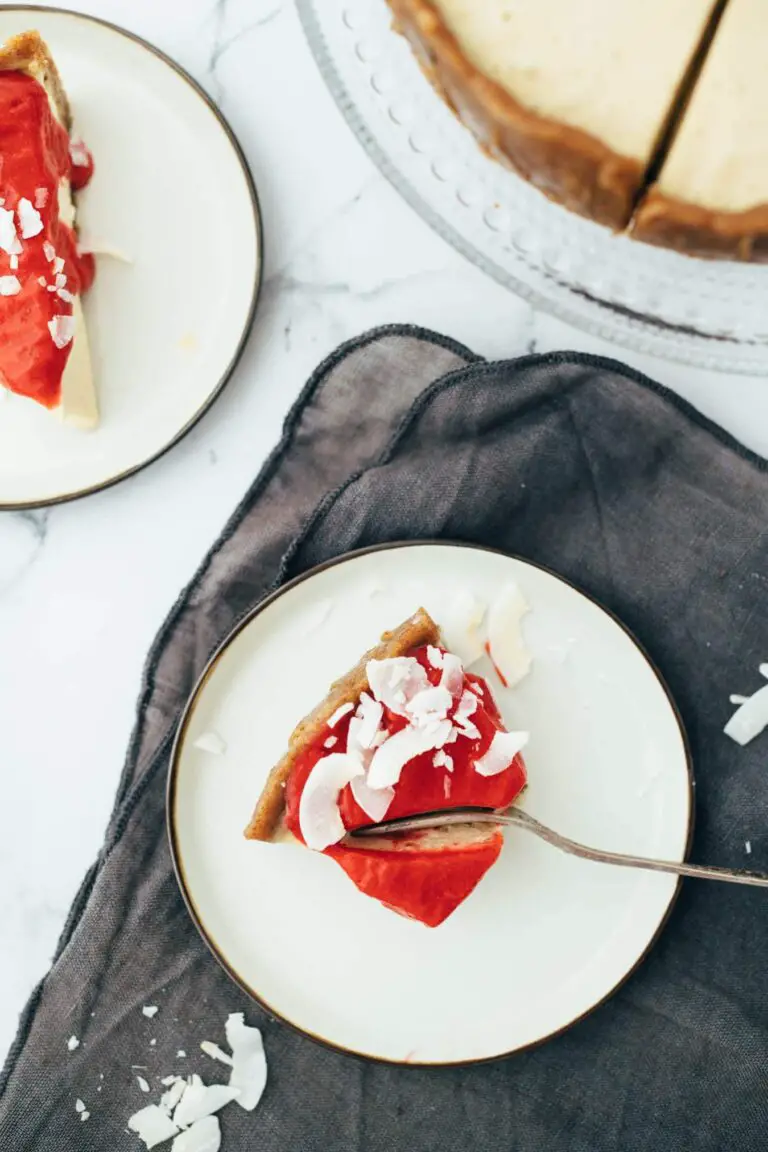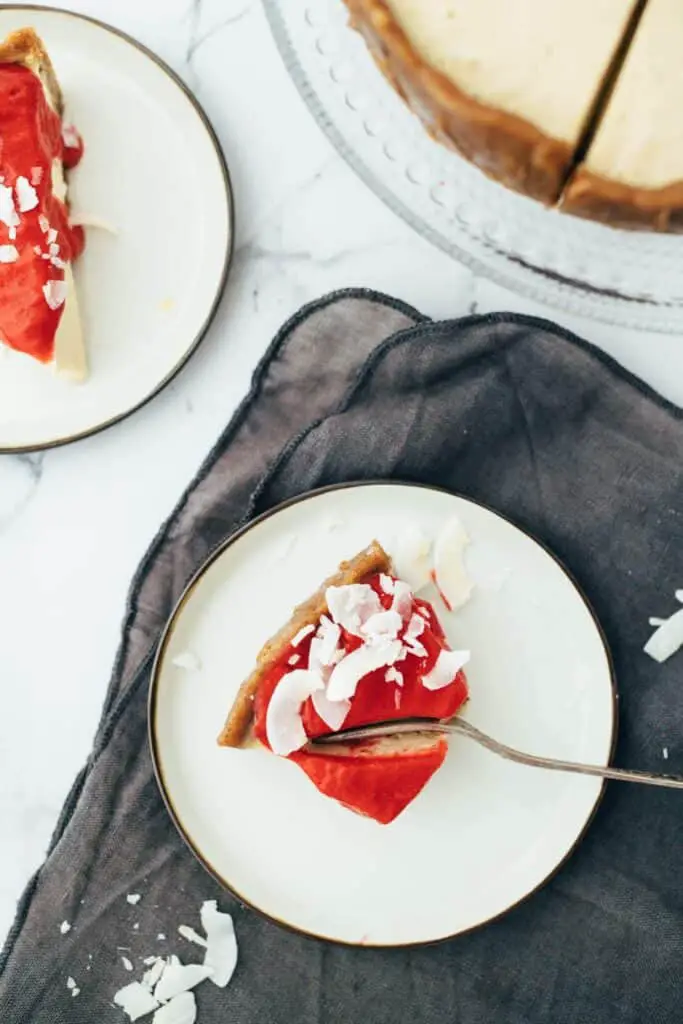 I hope you now have a desire for a delicious piece of yogurt raw cheesecake. If yes, then I wish you much fun with the "Nachbacken" and of course about a rating at the bottom of this page. If you post a picture, use the hashtag #veganevibes.
NOTE: The raspberry sauce is NOT raw (or raw) because it is boiled once together with agar agar. If you want to make a raw version, use xanthan gum as a thickener and DO NOT heat the raspberry sauce above 42 degrees.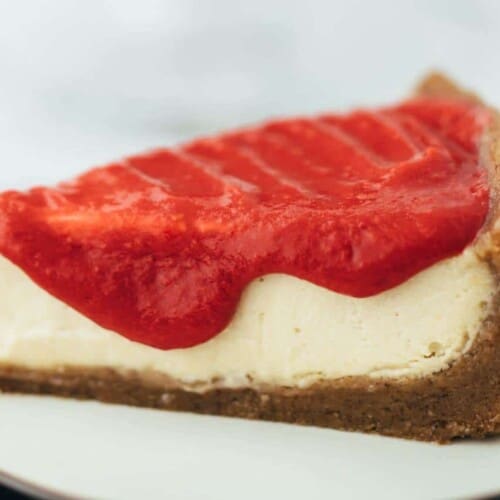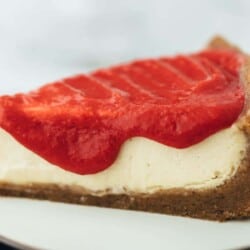 Vegan Yogurt (Raw) Cheesecake with Raspberry Sauce
A lovely fresh, summery yogurt raw cheesecake with a delicious base of Brazil nuts, pecans and Medjool dates, filled with a creamy "yogurt cheese" based on cashew nuts. Topped with a fine raspberry sauce with a slightly sour note.
AUTOR: VEGANEVIBES
FOR THE FLOOR:
155

g

mixed nuts

Pecans and Brazil nuts for a slightly "marzipan" dough

280

g

Medjool dates

Equivalent to about 11 large dates pitted
Anleitung 
Line a 15cm diameter springform pan with baking paper. I only cover the bottom with baking paper and leave the sides blank.

FOR THE BOTTOM Blend all ingredients with a food processor to a uniform, slightly sticky measure. If the dates are very dry, add a few drops of hot water. With wet hands, press into springform pan until bottom and sides are evenly lined. Place in the freezer.

155 g mixed nuts,

280 g Medjool dates,

1 Pinch sea salt

FOR THE FILLING Place all ingredients including xanthan gum or coconut oil in a high-powered blender and blend to a homogeneous cream.

200 g Coconut yogurt or another vegetable yogurt,

120 ml maple syrup,

½ tbspn ground bourbon vanilla,

60 ml Lemon juice,

Grated zest of one organic lemon,

15 ml Coconut oil,

1 Pinch sea salt,

Optional: 2 tsp xanthan gum,

180 g Cashews

Remove the base from the freezer and pour in the filling. Cover and place in the refrigerator to set for at least 6 hours.

In the meantime. FOR THE RASPBERRY SAUCE (this sauce is NOT raw, for a RAW version please look below in the notes/comments).

Place raspberries, lemon juice, maple syrup and agar agar in a high-powered blender and blend coarsely or finely, as desired. Place in a small saucepan and bring to the boil once until the liquid begins to simmer. Stir well. Remove from heat and allow to cool completely once. Blend again and use.

Note: The agar agar does not thicken until it cools.

250 g fresh or frozen raspberries,

30 ml Lemon juice,

30 ml maple syrup,

*for frozen raspberries, a little water to defrost,

½ tbspn Agar Agar Powder

Cut into 10 pieces, garnish with the raspberry sauce and enjoy!

Lasts up to 5 days in the refrigerator and 1 month in the freezer.
Nährwertangaben
Serving:
1
Piece
Calories:
350
kcal
Carbohydrates:
45
g
Protein:
7
g
Fat:
18
g
Saturated Fat:
4
g
Cholesterol:
2
mg
Sodium:
15
mg
Potassium:
514
mg
Fiber:
5
g
Sugar:
30
g
Vitamin A:
70
IU
Vitamin C:
10.2
mg
Calcium:
82
mg
Iron:
2.2
mg