Vegan strawberry dessert with vegan cottage cheese, maple syrup and vegan gluten-free cookies is not only a delicious and refreshing dessert, but also a healthy choice for those who prefer a plant-based diet or have chosen a healthy lifestyle.
Quick vegan strawberry dessert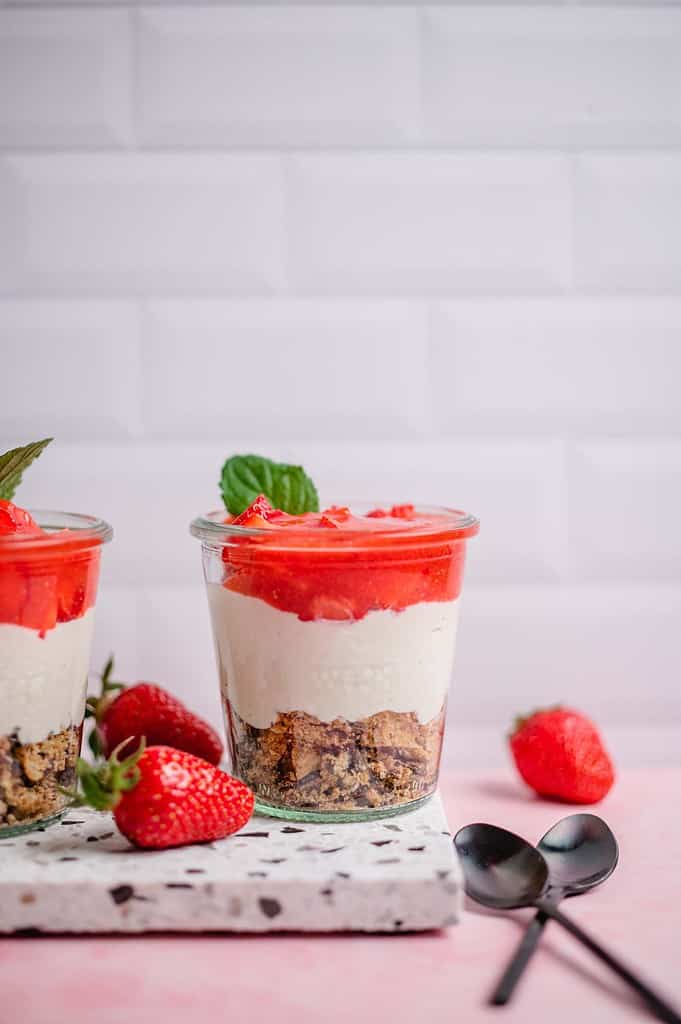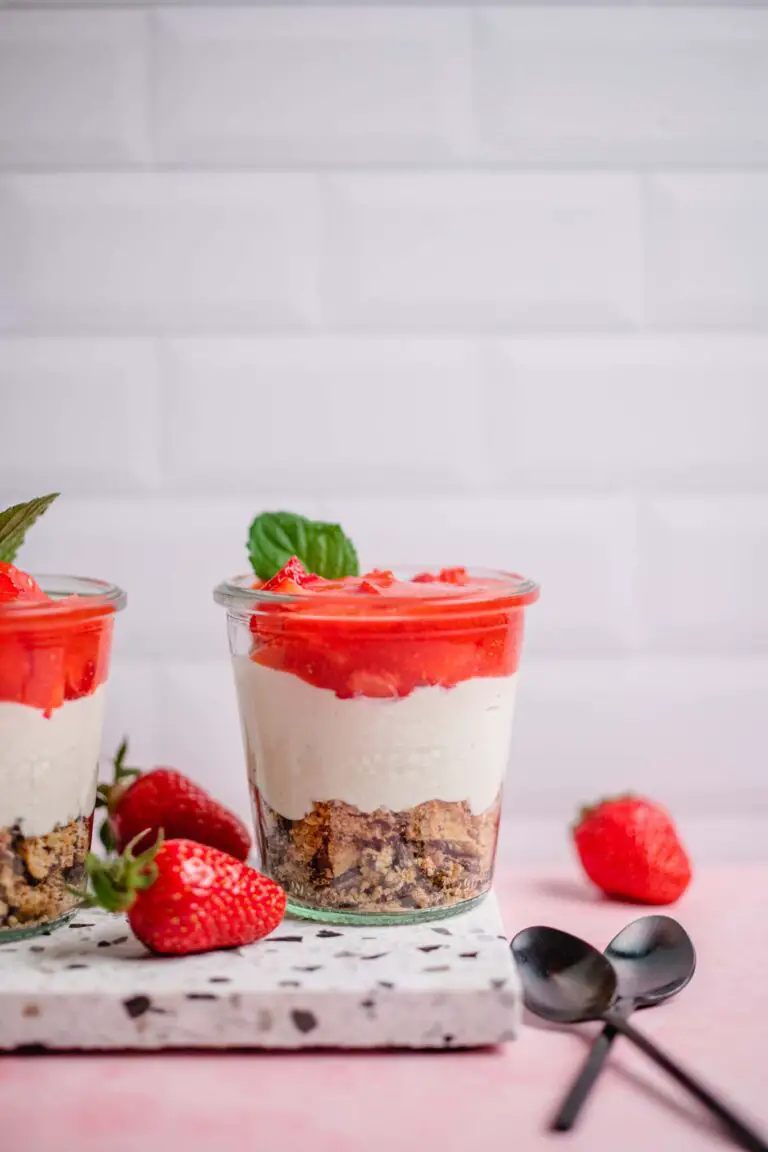 Vegan curd is usually made from plant-based milk alternatives such as soy, almond or oat milk and is an excellent source of protein, fiber and vitamins. Unlike conventional curd, vegan curd does not contain saturated fatty acids, cholesterol or lactose. It also tends to be lower in calories and easier to digest than traditional cottage cheese.
Maple syrup is a natural alternative to refined sugar and contains many nutrients such as zinc, calcium and manganese. Unlike refined sugar, maple syrup does not cause a rapid rise in blood sugar levels and has a lower glycemic index.
Gluten-free cookies as a base for dessert are a healthy alternative to traditional cookies. They are made from gluten-free flours such as buckwheat, rice or corn and are rich in fiber, vitamins and minerals. Gluten-free cookies are an excellent choice for people with celiac disease or gluten intolerance.
Fancy the strawberry dessert?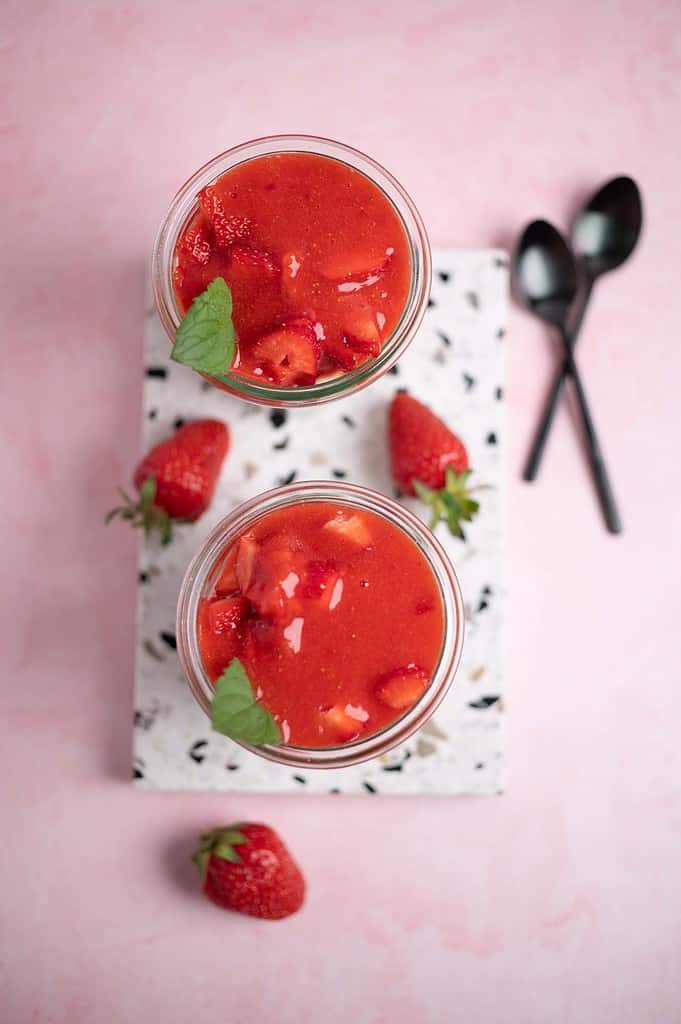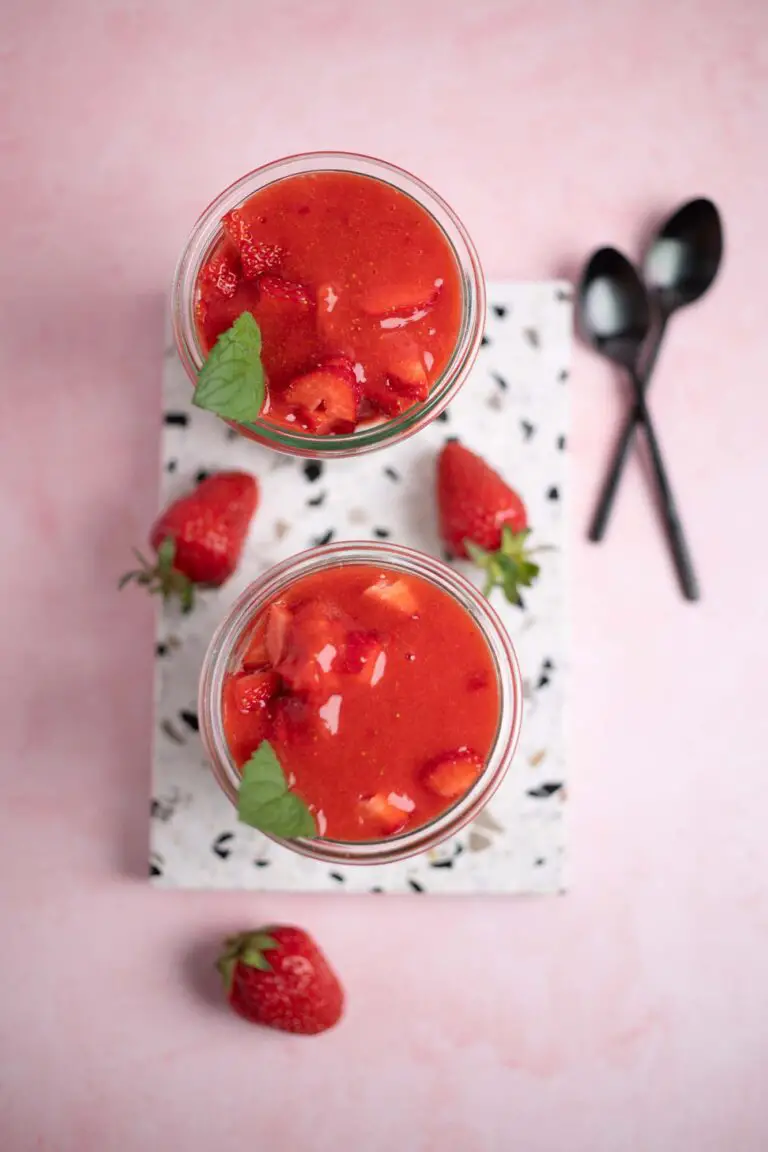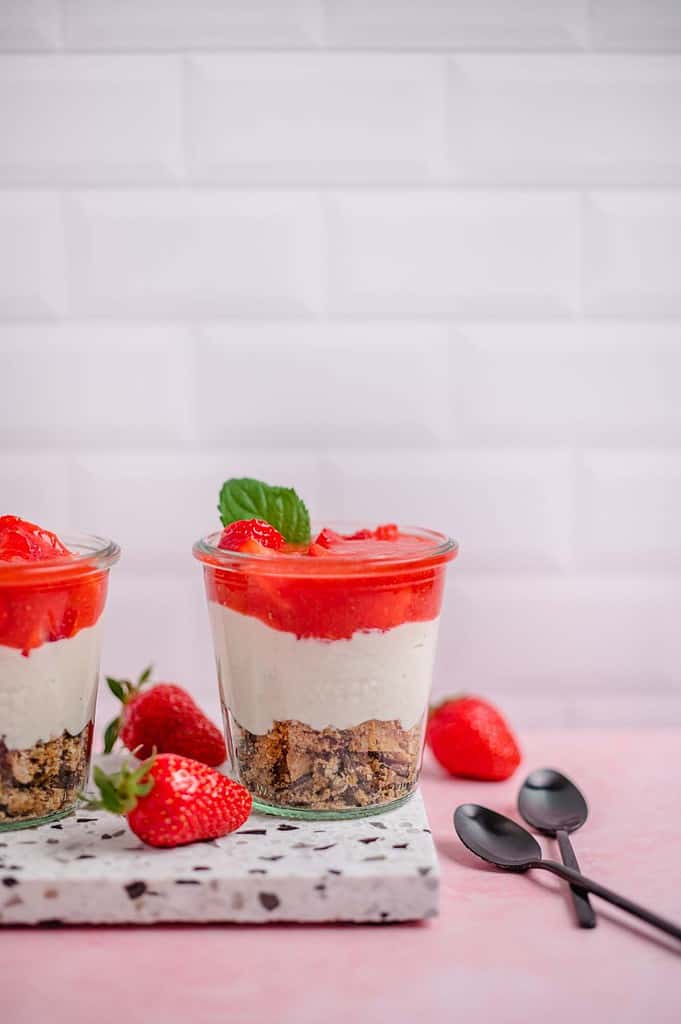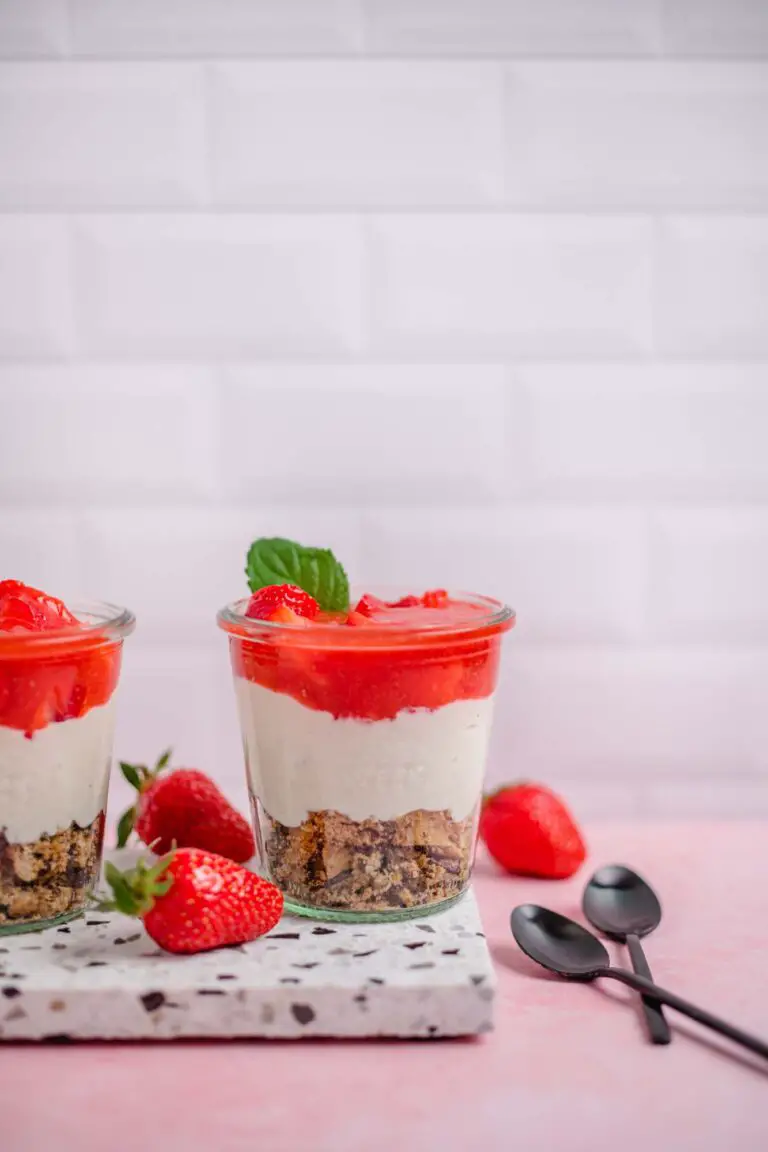 Strawberries are one of the healthiest fruits and an excellent source of vitamin C, antioxidants and fiber. They help strengthen the immune system, reduce inflammation and lower the risk of chronic diseases. In addition, strawberries are low in calories and contain no fat or cholesterol.
Combining all these healthy ingredients creates a dessert that is not only delicious, but also full of healthy nutrients. The dessert is easy to prepare and can be served in a glass, making it an appealing and attractive choice for parties and special occasions.
To prepare the vegan strawberry dessert, you first need a mixture of crushed vegan gluten-free cookies to serve as the base. You can also substitute gluten-free oatmeal for the cookies for an even healthier option. The base is then covered with a mixture of vegan curd and maple syrup. The mixture can also be enhanced with vegan whipped cream or coconut yogurt for an even creamier consistency.
The strawberries are washed, hulled and sliced then lightly mashed with the maple syrup and lemon juice. The strawberry slices can then be garnished with a mint as a topping. Alternatively, sprinkle with festered cookie or oatmeal crumbs. The dessert can then be stored in the refrigerator for a few hours until it is served.
The strawberry dessert is so delicious because:
Healthy: Packed with nutrients like vitamin C, fiber and antioxidants.
Plant-based: vegan cottage cheese, maple syrup and gluten-free cookies are healthy alternatives to animal products.
Delicious: The combination of sweet strawberries, crunchy cookie base and creamy vegan curd makes for a great taste experience.
Simple: The dessert is quick and easy to prepare and requires only a few ingredients.
Appealing: the dessert not only looks good served in a glass, but is also a great option for special occasions and parties.
Are you ready for this Vegan Strawberry Dessert? I wish you a lot of fun with the imitation and of course about a rating at the bottom of this page. If you post a picture, use the hashtag #veganevibes.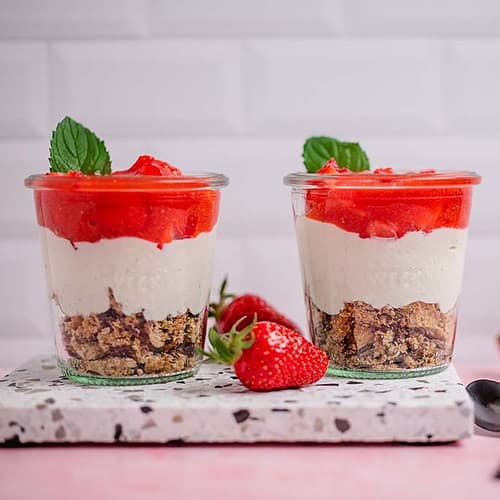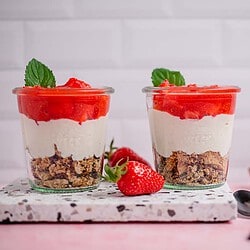 Quick vegan strawberry dessert in a jar
The "Quick Vegan Strawberry Dessert in a Jar" is an easy and healthy option for anyone who wants to enjoy a delicious and refreshing dessert. With just a few ingredients, you can prepare this delicious dessert in no time and serve it in a glass.
AUTOR: VEGANEVIBES
Floor
8-12

Piece

vegan cookies of your choice
Anleitung 
Provide 4 dessert glasses.

Coarsely crumble cookies and add equal amounts to dessert glasses.

8-12 Piece vegan cookies of your choice

In a small bowl, combine vegan cottage cheese, maple syrup, lemon juice and bourbon vanilla. Divide among the cookies in the dessert glasses.

400 g vegan curd or yogurt,

2 tbspn maple syrup,

1 tbspn Lemon juice,

¼ tbspn Bourbon vanilla

In another bowl, combine strawberries with maple syrup and lemon juice and mash lightly. If you like it finer, feel free to puree.

250 g fresh strawberries,

1 tbspn maple syrup,

½ tbspn Lemon juice

Spread over the middle layer. Garnish with mint and enjoy!
Nährwertangaben
Serving:
1
Portion
Calories:
188
kcal
Carbohydrates:
34
g
Protein:
5
g
Fat:
4
g
Saturated Fat:
1
g
Polyunsaturated Fat:
0.1
g
Monounsaturated Fat:
0.03
g
Cholesterol:
38
mg
Sodium:
55
mg
Potassium:
98
mg
Fiber:
2
g
Sugar:
17
g
Vitamin A:
8
IU
Vitamin C:
50
mg
Calcium:
159
mg
Iron:
1
mg