There is hardly anyone who does not like the delicious red berries. They look too pretty for that and convince with their juicy taste. But not only the appearance of strawberries convinces, it is especially the ingredients. I took a closer look at the superfood and found out why the little delicacies are actually so healthy.
What healthy ingredients have strawberries?
Strawberries carry the seeds outside, ever noticed? These contain many essential nutrients and minerals such as vitamins A, C and K, calcium, magnesium, folic acid and fiber. The superfruit also provides powerful antioxidants and has anti-inflammatory properties. Reason enough to immediately go out and buy a bowl of organic strawberries.
Strawberries strengthen the immune system
Humans can't make vitamin C themselves, so it's even more important to find a healthy source in your diet. Vitamin C can be easily destroyed by cooking, so it is all the more interesting to eat strawberries raw and process them gently. We need vitamin C to build and maintain connective tissue, hormones, bones and teeth. It also plays an important role in wound healing and resistance to infection. It is also important that vitamin C improves the absorption of iron from food. And did you get a craving for sweet red fruits?
Strawberries can slow down the aging process
Especially vitamin C and antioxidants are important to slow down the aging process. why? They help prevent free radical damage to the body or and skin, which accelerates aging. The red fruits contain the substance lycopene, which belongs to the carotenoids and is one of the most efficient radical scavengers at all. Isn't it incredible what such a small berry can do for our health and vitality?
Strawberries increase fat burning
Strawberries contain anthocyanins, which are also responsible for the red coloration. They play an important role in fat burning and can be a great help, especially if you want to lose a few kilos.
Strawberries regulate your fluid balance
Another good news is that strawberries have only about 80 calories per 100 grams. So not only do they taste good and fill you up, but they are the perfect snack between meals. The water content of red fruits is almost 95 percent, which helps you stay hydrated. Strawberries are thus among the top berries with the highest water content.
Buy strawberries
The sweet berries are often contaminated with pesticides ( see Ökotest ) and the question arises how to protect yourself from this? It's worth making sure to buy not only regionally, but absolutely organic. Even if the price is a little higher, the rule less is more. Above all, the fruit should be purchased only during the season between May and July. In all other months, the small super berries are more likely to be contaminated with pesticides and fungicides. In addition, many conventional berries very often come from Spain and Morocco. In order to satisfy the ever-increasing hunger for strawberries, water from illegal wells is consumed in these regions, which should actually be available for the irrigation of national parks.
When exactly is strawberry season?
This always depends very much on the weather, because a mild March and April is usually followed by an early harvest in May. The domestic strawberry season then really starts in June and lasts for about six weeks until around mid-July. All products offered before or after are very likely to come from abroad. Here it is worth taking a closer look at the label.
For strawberries the rule is SAISONAL, REGIONAL and BIO
Fancy some easy superfood recipes with strawberries?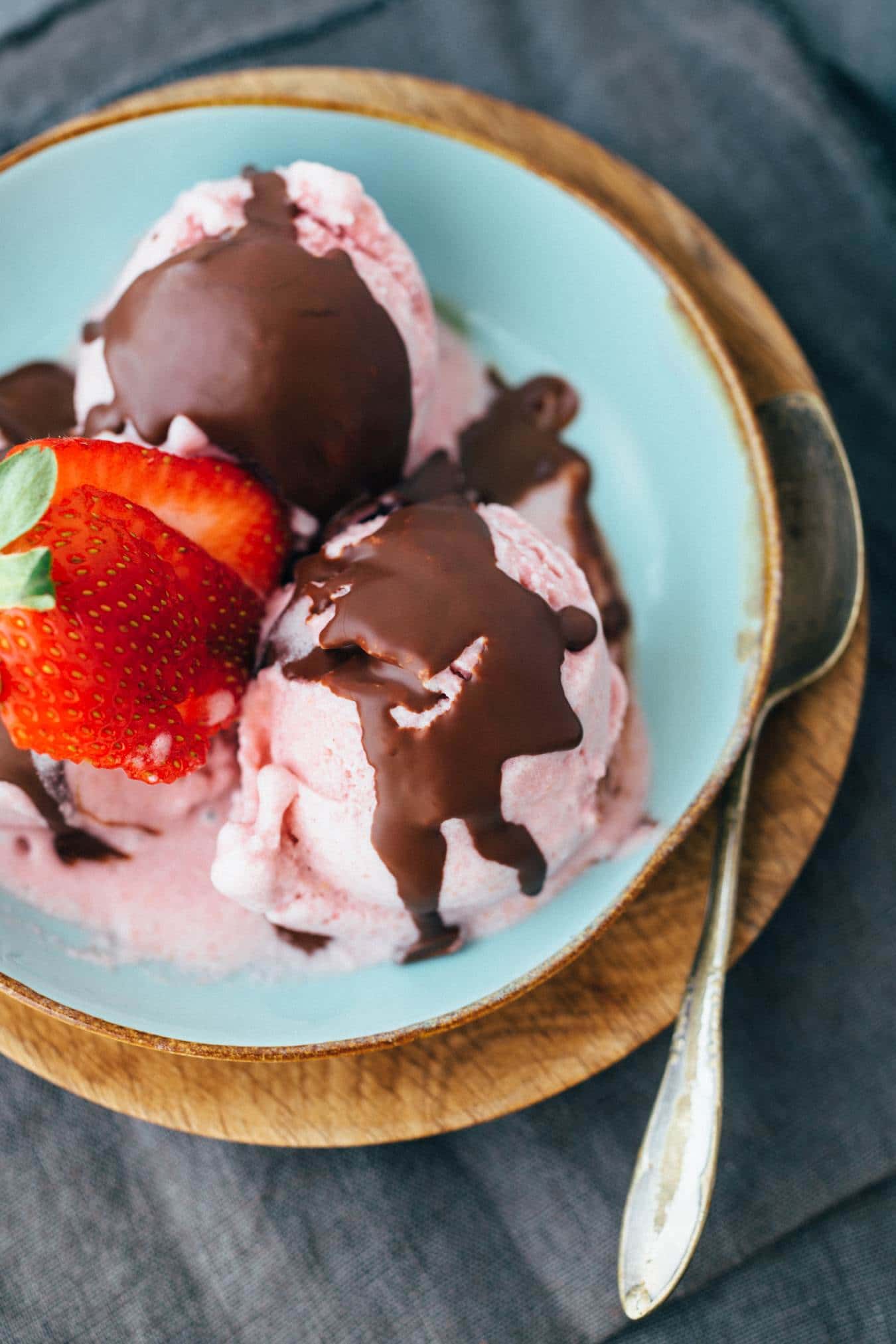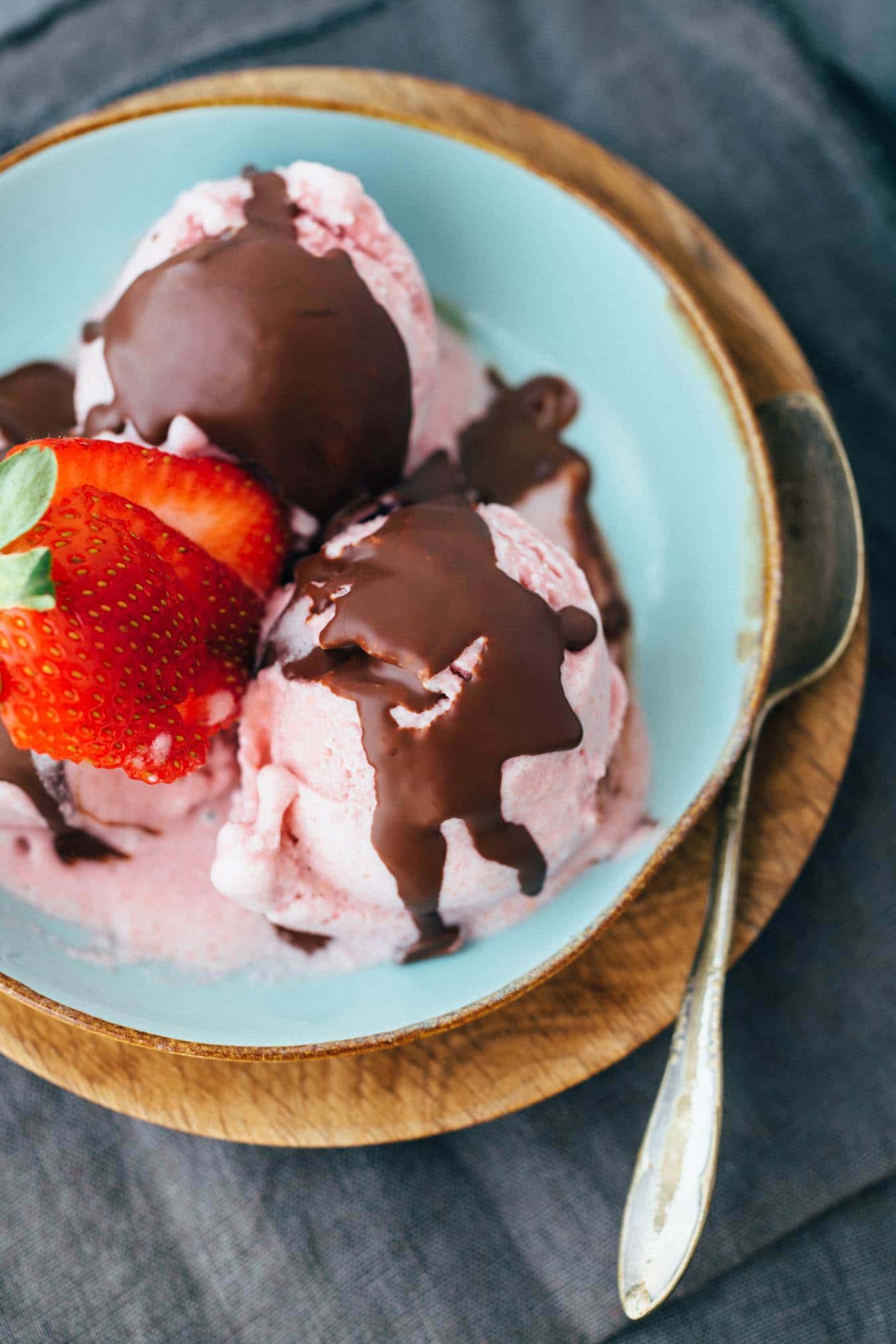 Then I recommend you my Strawberry protein smoothie with tasty nut crunch, delicious Strawberry shortcake , or the vegan Strawberry ice cream with aquafaba .