Simple strawberry Dessert because there are days when you wish for simple and successful recipes. Silken tofu and Strawberries packed in the health food store and off we go. It will be exciting my dears, because soon the borders will open again and if I'm lucky I can celebrate my birthday in Austria. We were there also last year in our favorite accommodation in Stuben am Arlberg and what can I say, I just love it there. Super beautiful nature, wonderful accommodation and 1000 possibilities to hike. If Stuben is no longer enough for you, then continue to St. Anton or other places on the Arlberg. I'm thinking, for example, of Lech and Oberlech, also two really great corners. You can see that I've gone off topic because of my enthusiasm. After all today is about the simple Strawberry Dessert and with it we start now.
Simple strawberry dessert with silken tofu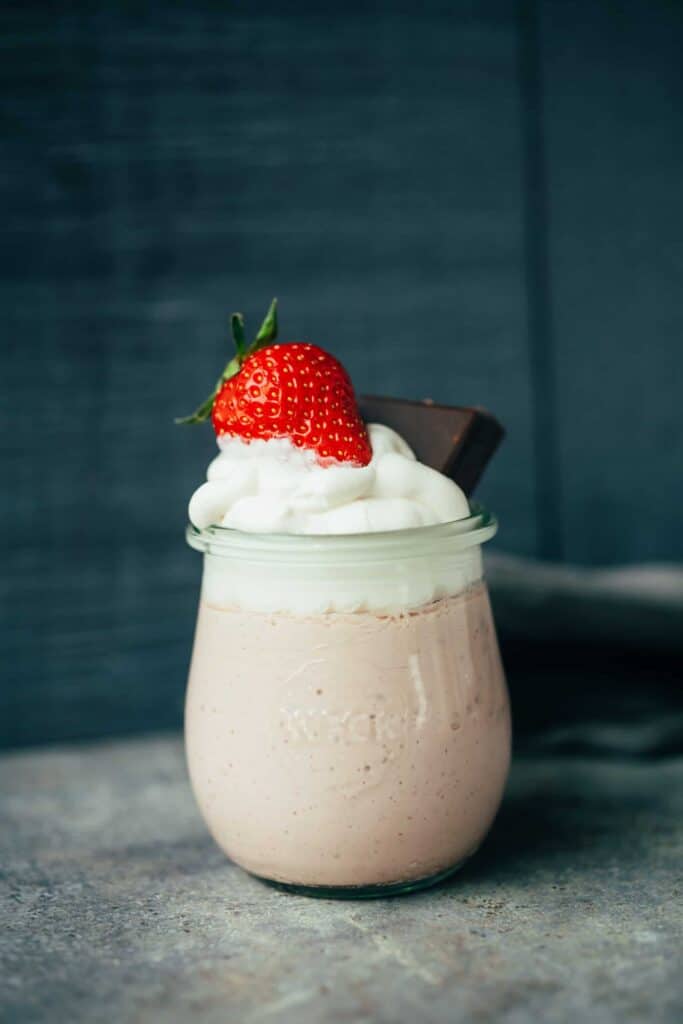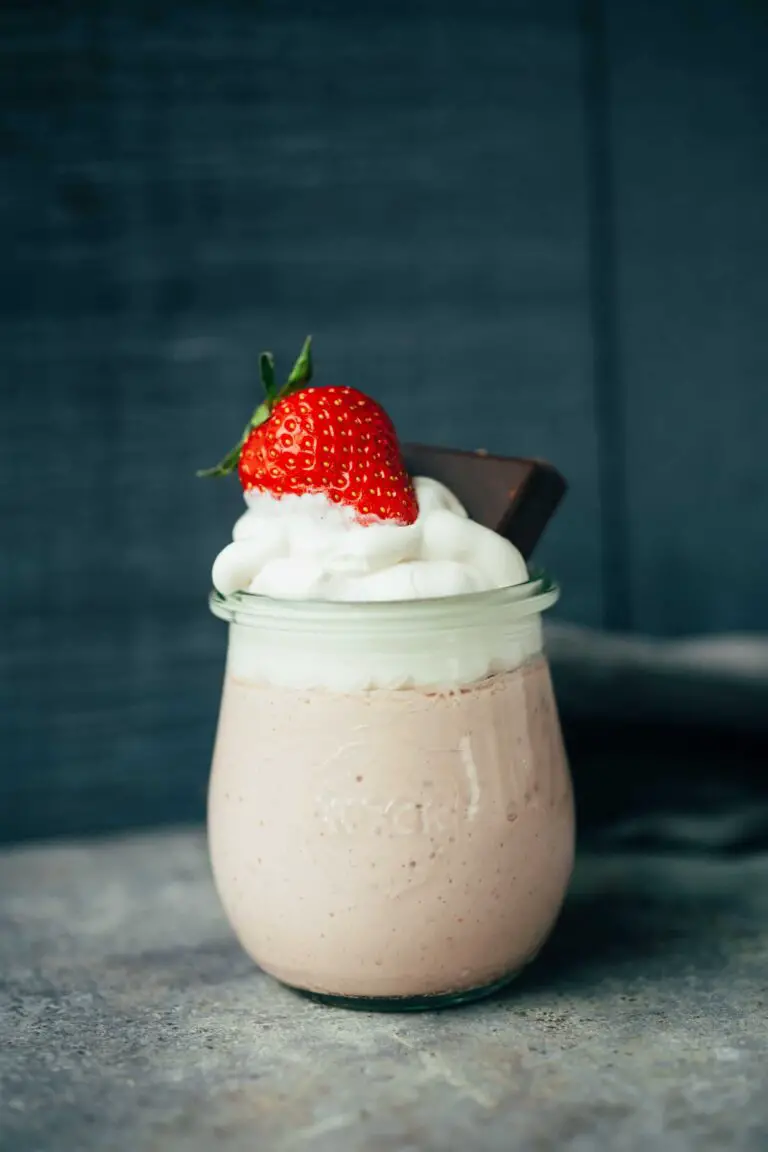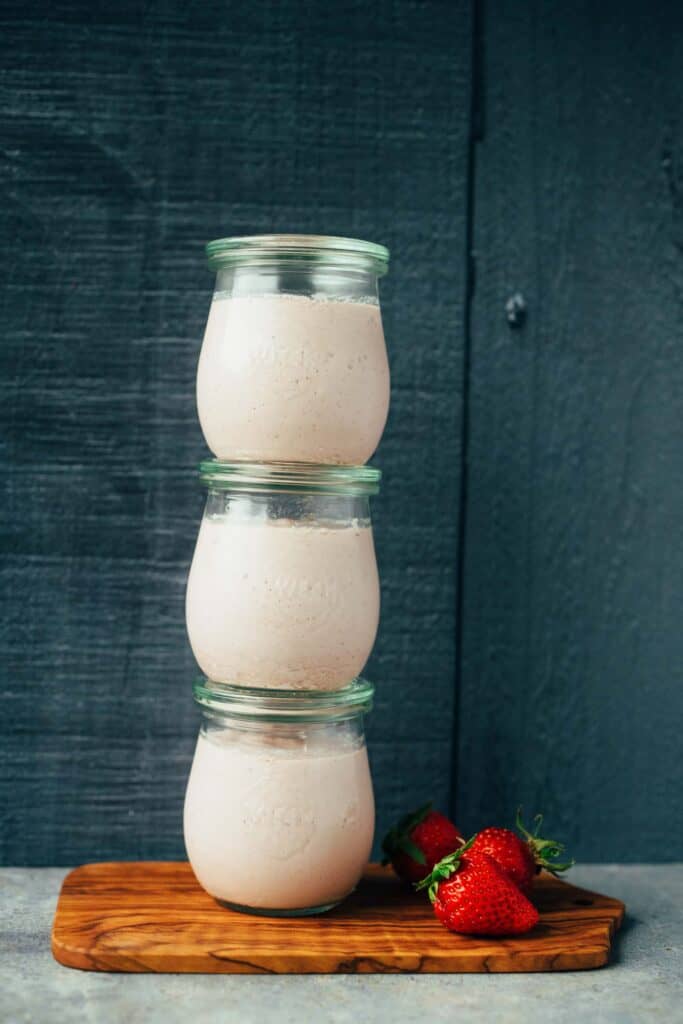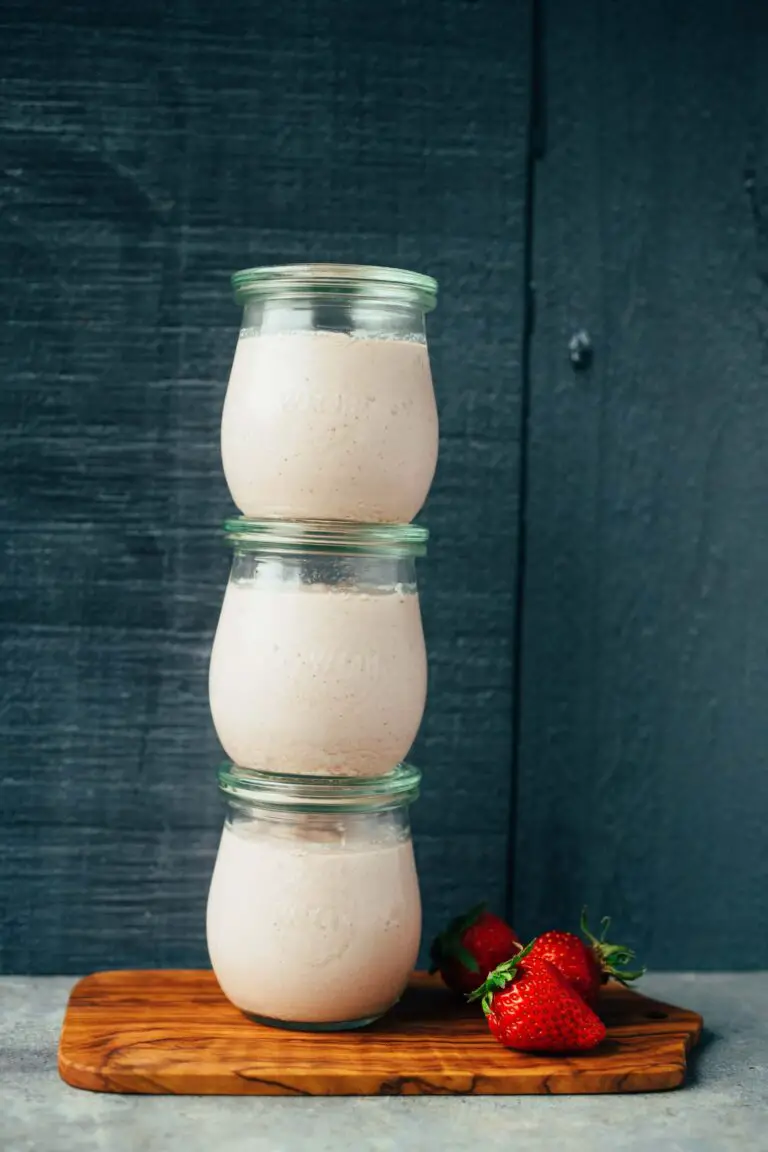 A bowl of fresh strawberries, cocoa butter (or coconut oil), maple syrup, strawberry jam, bourbon vanilla and you're good to go. Now you might be wondering why I put strawberry jam in it? I find this enhances the strawberry flavor, especially when the fruit is not one hundred percent ripe at the beginning of the season. Depending on the ripeness of the Strawberries also varies the amount of sugar you need. I simply gave a guideline, which you are welcome to adjust up or down.
I use cocoa butter to firm up the Desserts , because it becomes solid when it cools. Here you can find more info about Cocoa butter. If you don't have cocoa butter at home, you can easily replace it with coconut oil.
TIP: When it comes to sugar content, the rule is that less is more. I always start with less, taste, and then work my way up until I reach my ideal level of sweetness.
Which vegan cream is the best to whip?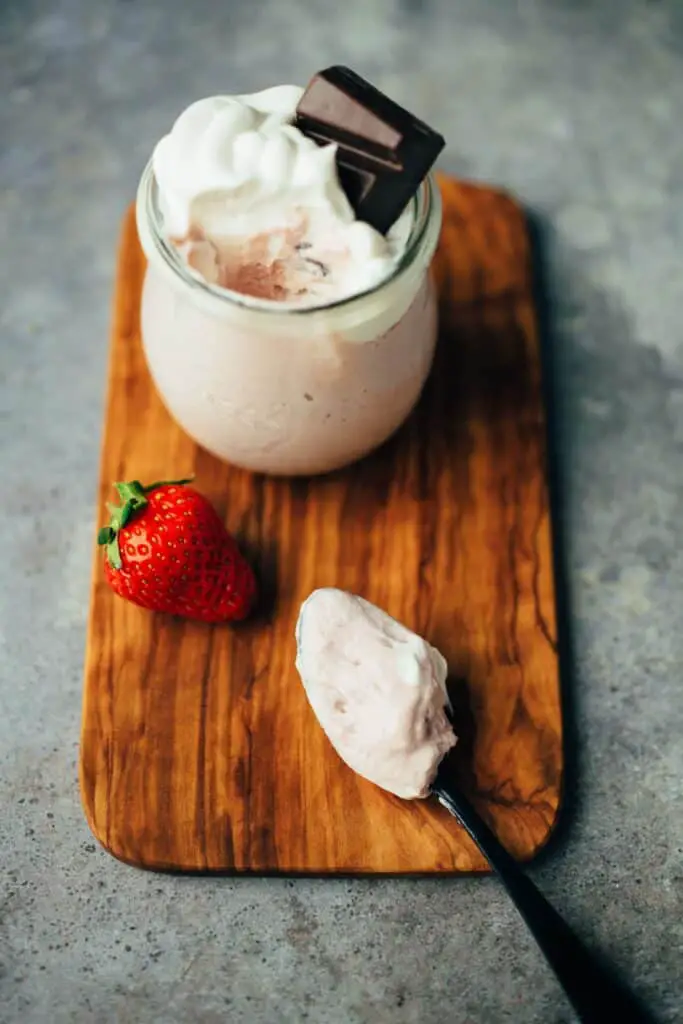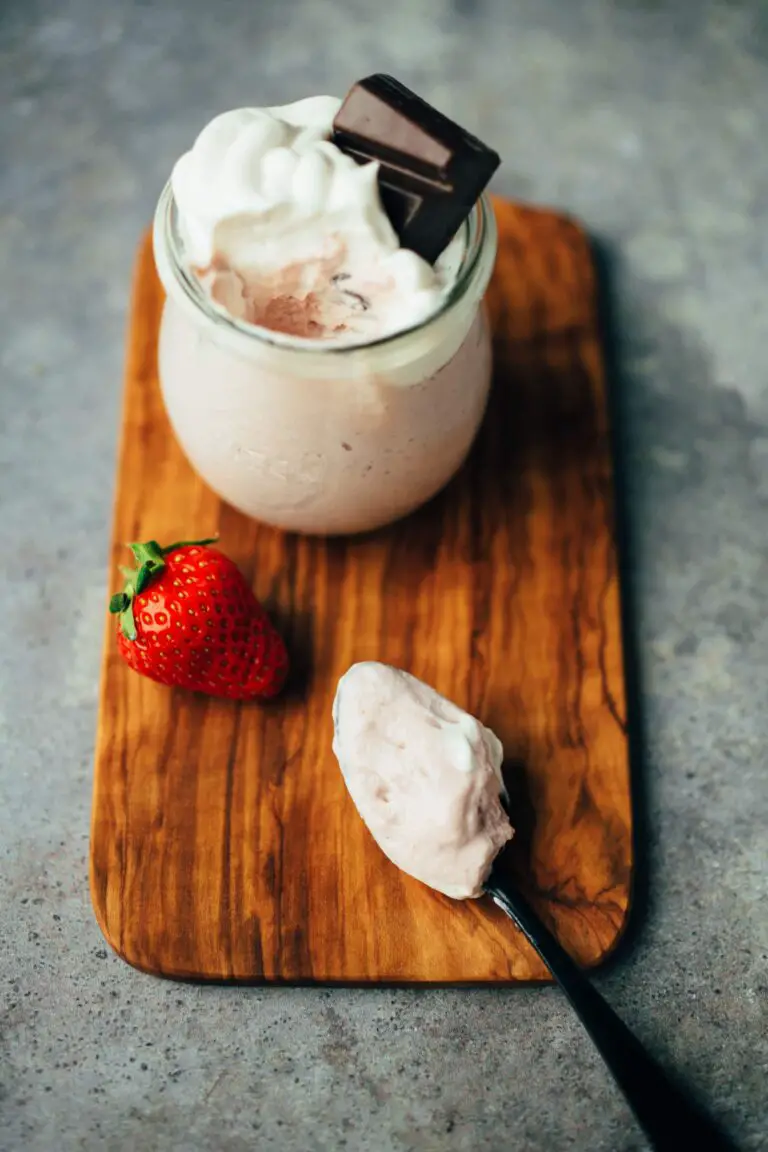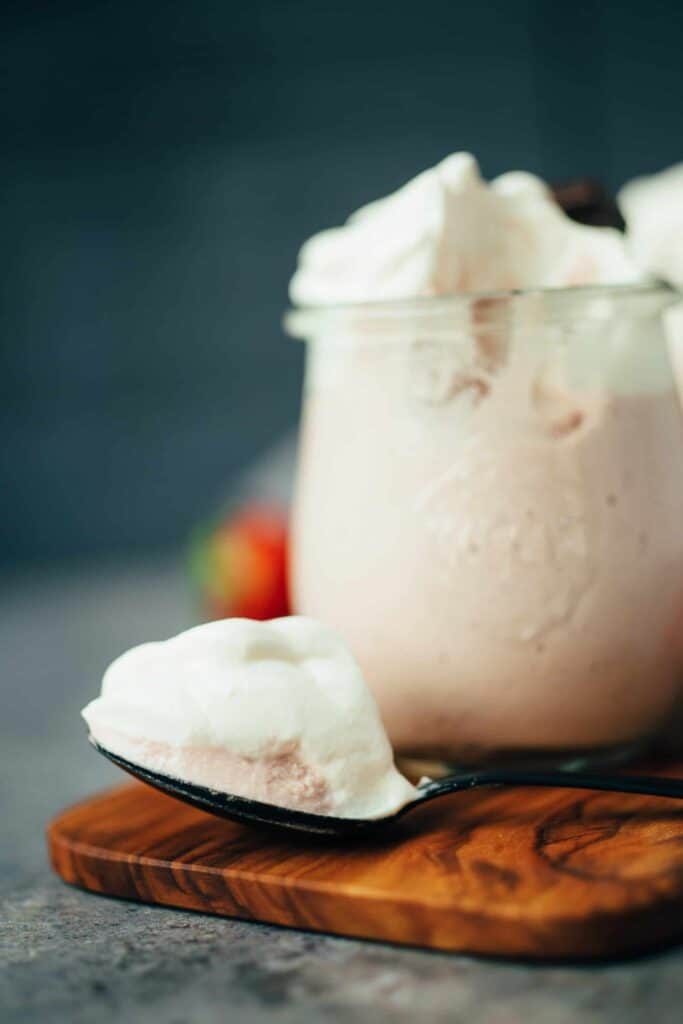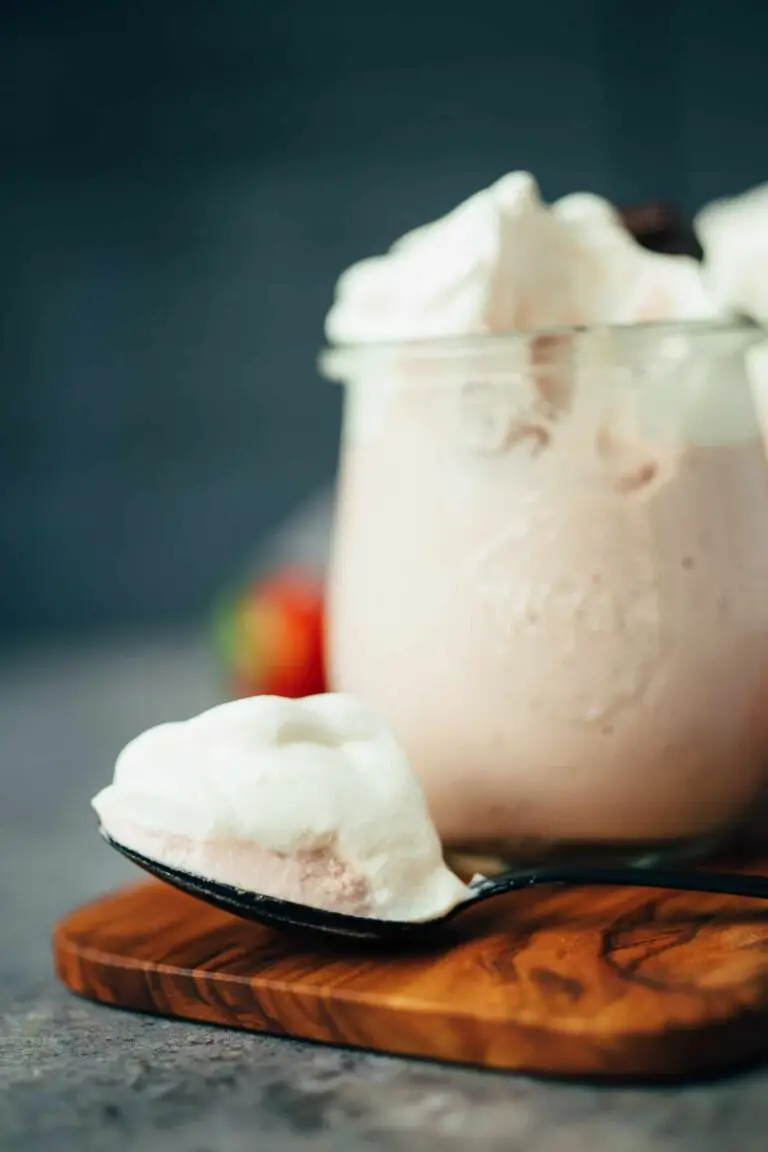 At the very beginning, I did not experiment so much with different Cream experimented. I wanted everything to be as natural as possible and it came out just Coconut cream and homemade Cashew cream on the table. Lately I wanted to have a cream that can be whipped easily and without much cream stiffener. Coconut cream from pure coconut cream is relatively rich in saturated fatty acids and should always be first one night in the refrigerator, so that the solid cream settles.
So if it may go once fast, then I love the cream of Soyatoo (unpaid). It is super easy and quick to whip, becomes totally nice and firm and is very neutral in taste. My husband also likes them quite, because who does not like the taste of coconut so much. If Soyatoo would now also carry an organic seal, then I would grin over both ears. So I grin just about one ear. All kidding aside, what is your favorite soy cream to whip up. I'm glad to hear your comments.
What else is there to consider? It's best to give yourself plenty of time to chill, preferably overnight. There is really not much that can go wrong with this Dessert because it is simple, fast and sure to succeed
Maybe nothing with Strawberries today? Then I recommend you my simple Chocolate dessert, vegan tiramisu or Mylky Way .
BAre you ready for this simple and successful strawberry dessert? It is:
Quickly made
creamy
fruity
Strawberry-ig
Pleasantly sweet
Let's go with this incredibly delicious vegan dessert I wish you much fun with the Nachkochen and of course about a rating at the bottom of this page. If you post a picture, use the hashtag #veganevibes.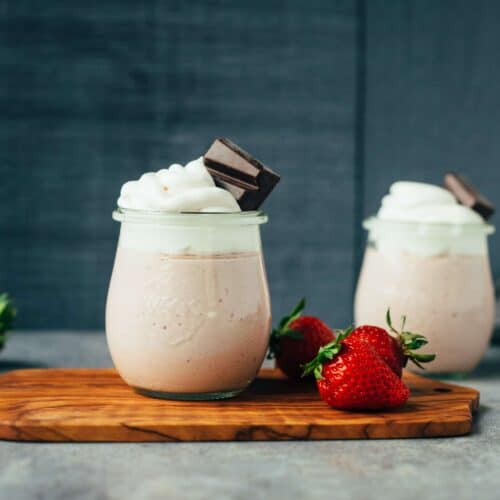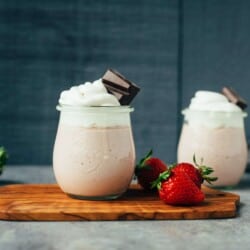 Simple strawberry dessert
Fresh and fruity vegan dessert made with fine strawberries and silken tofu, naturally sweetened with maple syrup. Perfect in between or to finish a fine summer menu.
AUTOR: VEGANEVIBES
Anleitung 
Melt cocoa butter (or optional coconut oil) and set aside.

Place organic strawberries, cocoa butter, silken tofu, maple syrup, strawberry jam, and bourbon vanilla in a high-powered blender and blend on high speed until smooth.

250 g fresh organic strawberries,

50 g Cocoa butter,

400 g Silken tofu,

60 ml maple syrup,

30 g Strawberry jam,

¼ tbspn Bourbon vanilla

Taste once and add more maple syrup or raw cane sugar depending on the sweetness of the strawberries and personal taste preferences.

Pour into dessert glasses, cover and refrigerate for at least

4 hours

or overnight.

Just before serving (optional) garnish with cream and vegan chocolate and enjoy!

Vegetable cream to taste,

Vegan chocolate to taste

Best fresh, keeps airtight in the refrigerator up to 2-3 days.
Nährwertangaben
Serving:
1
Portion
Calories:
393
kcal
Carbohydrates:
70
g
Protein:
18
g
Fat:
5
g
Saturated Fat:
3
g
Sodium:
4
mg
Potassium:
104
mg
Fiber:
7
g
Sugar:
20
g
Vitamin C:
44
mg
Calcium:
165
mg
Iron:
4
mg