Who knows me, knows that I Asparagus love and in all variants (except with ham). Okay, all kidding aside. In my new macrobiotics book I also read that it makes perfect sense that Asparagus grows in June, because it has a cooling effect on the body. In keeping with the weather (it's currently 30 degrees here), nature provides us with the right foods at the right time. Then there are those lovely red, sweet fruits called strawberries. I combined smartly and it turned out this heavenly salad with heavenly balsamic vinaigrette. Let's go!
A salad with strawberries and asparagus? A dream.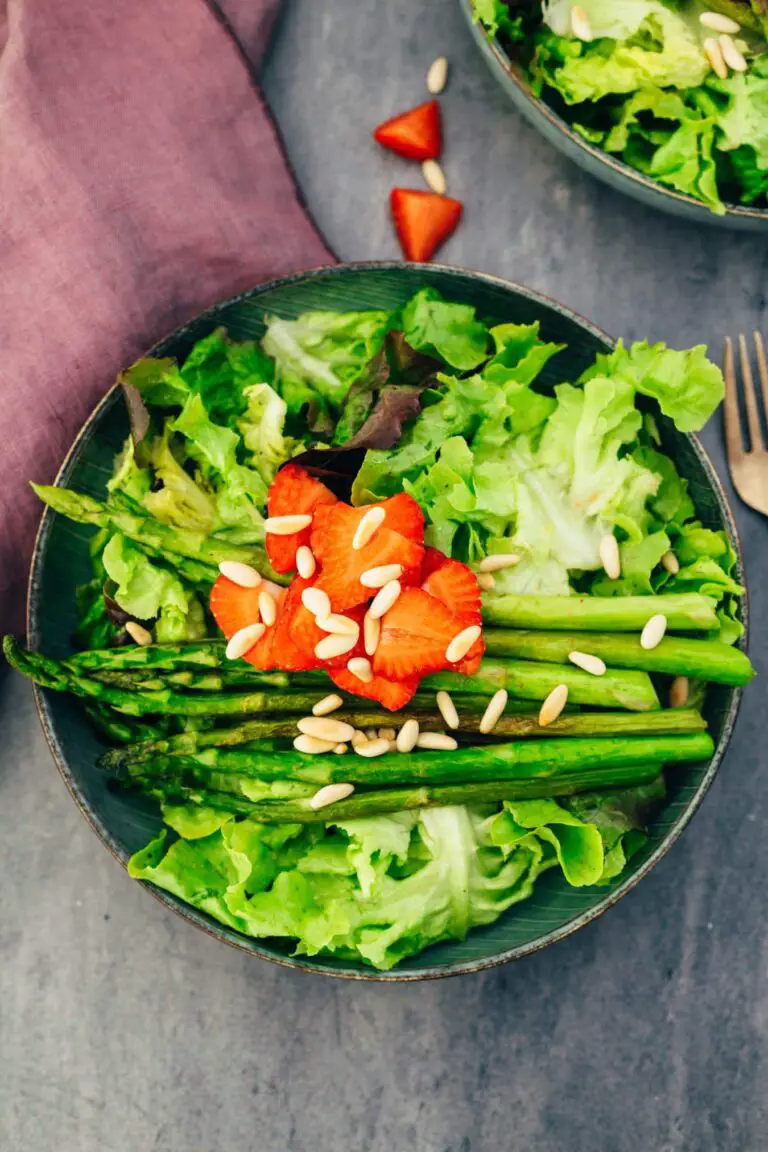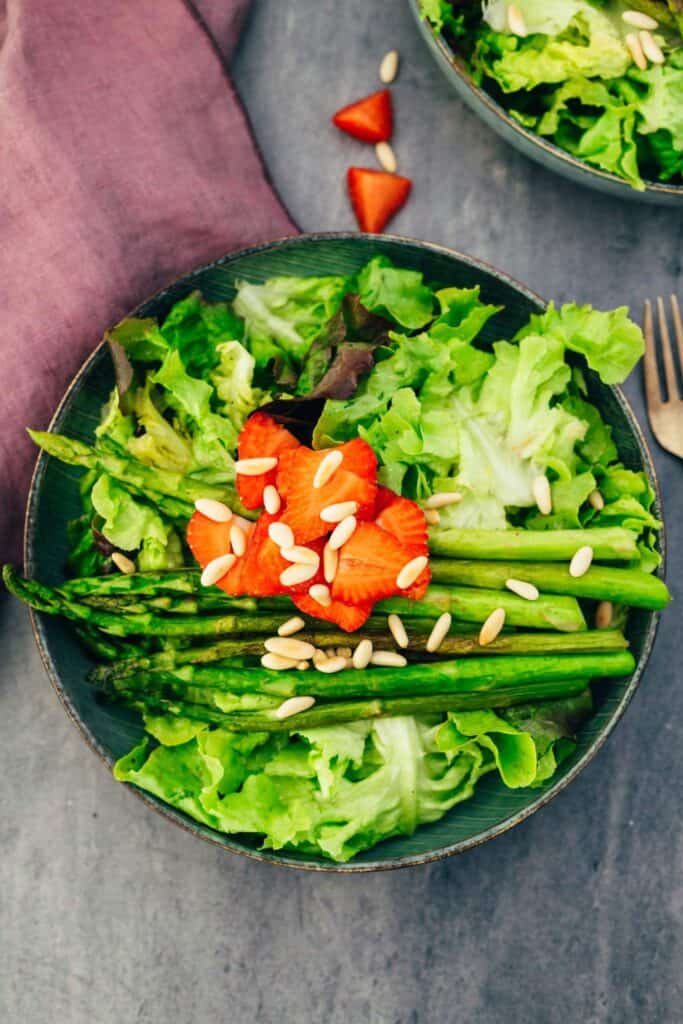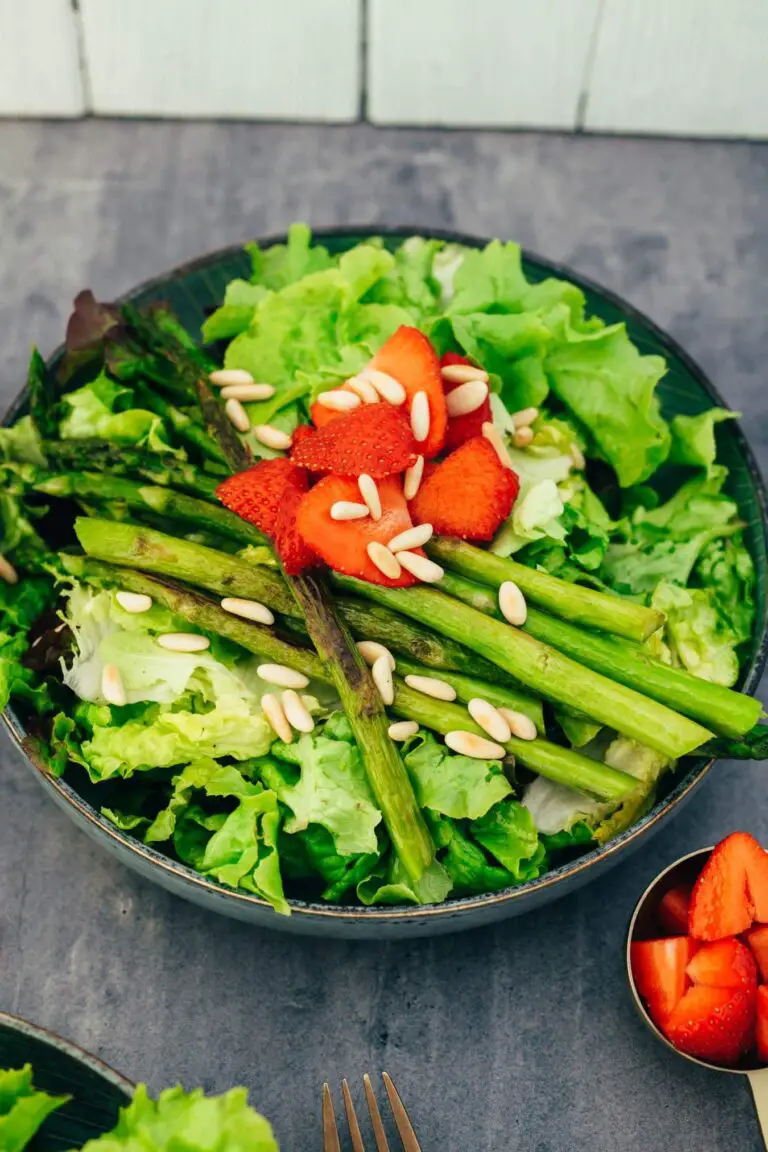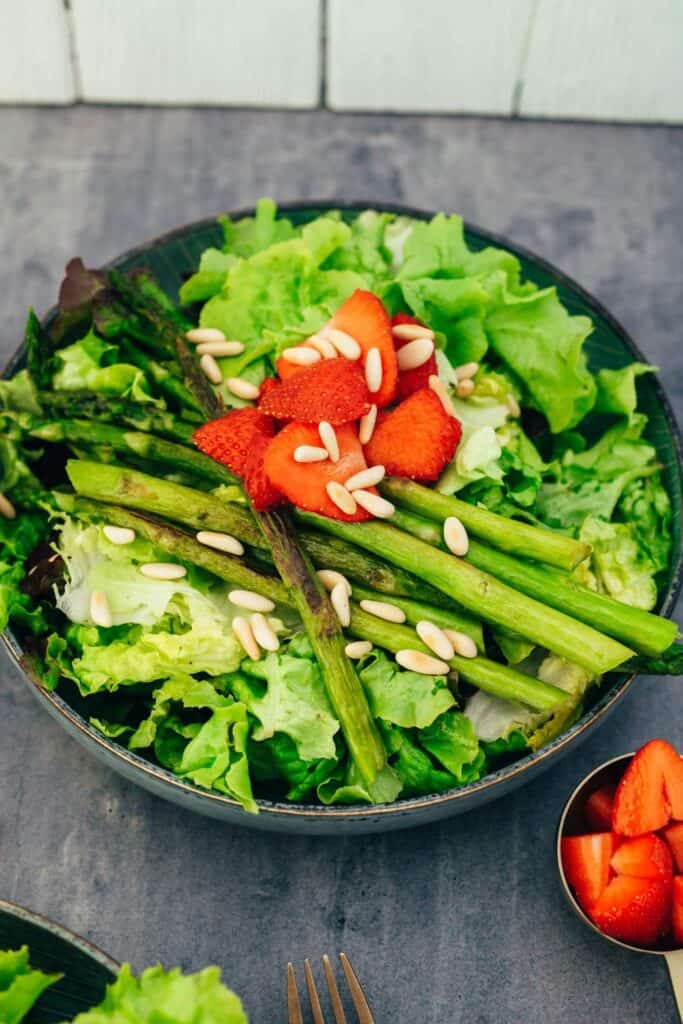 This Salad makes a real mood, as it combines different flavors to perfection. The nutty-tartness of the asparagus, the fruity of the Strawberries and the mildness of pine nuts.
In my last post I wrote some information about the nutritional value of green asparagus, which you can read here. Strawberries are equally not to be underestimated in terms of their health value. Also here you can find more information in this blog post.
Is salad actually vegan? Haha!
What a question! Of course, salad itself is vegan, but often the dressing is not. In my view, many salads are far too overloaded with dressing, because many people think that salad itself tastes like nothing. I see it a little differently and think that it always depends on the quality. How about a salad tasting to get your taste buds going again for once. Just try different types of lettuce raw and notice the differences in taste. This is a good exercise for the palate and sharpens the senses.
In our case, I opted for a simple balsamic dressing. I love balsamic vinegar because it is so strong and full-bodied and so many dishes can be enhanced with it. To this is added very good quality extra virgin olive oil, salt, pepper and a small dash of maple syrup. Volià! (-> Balsamic dressing recipe)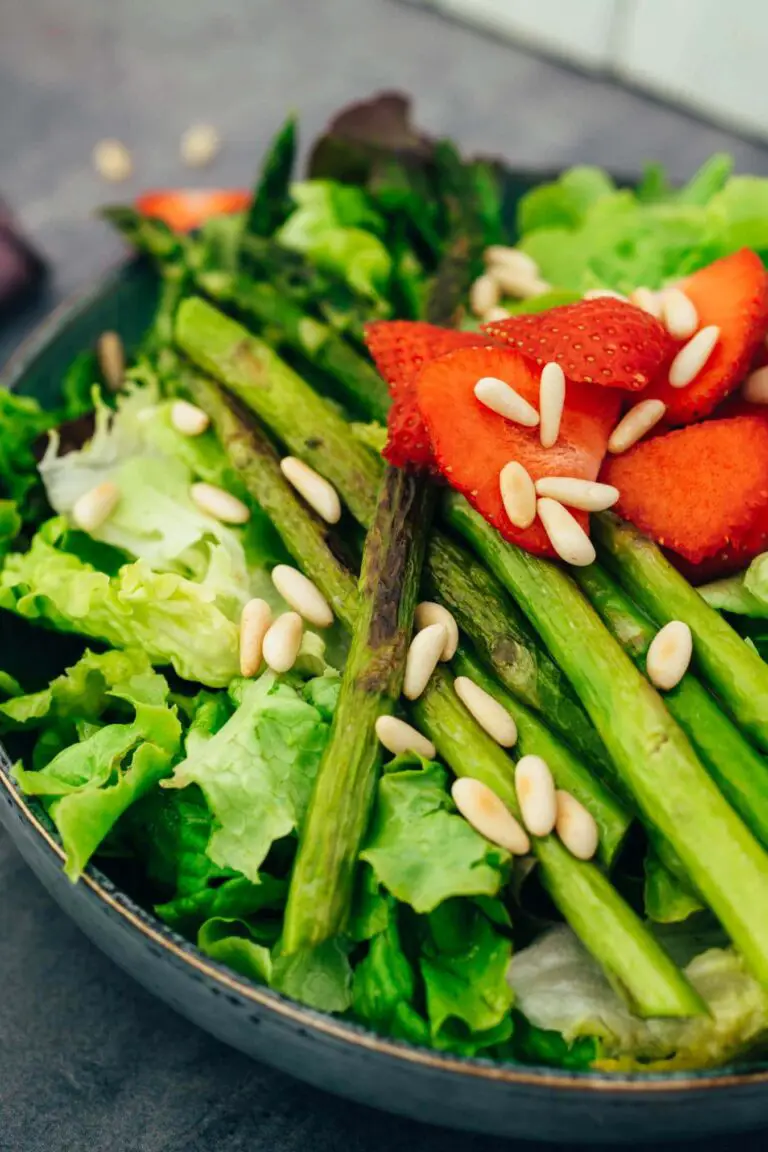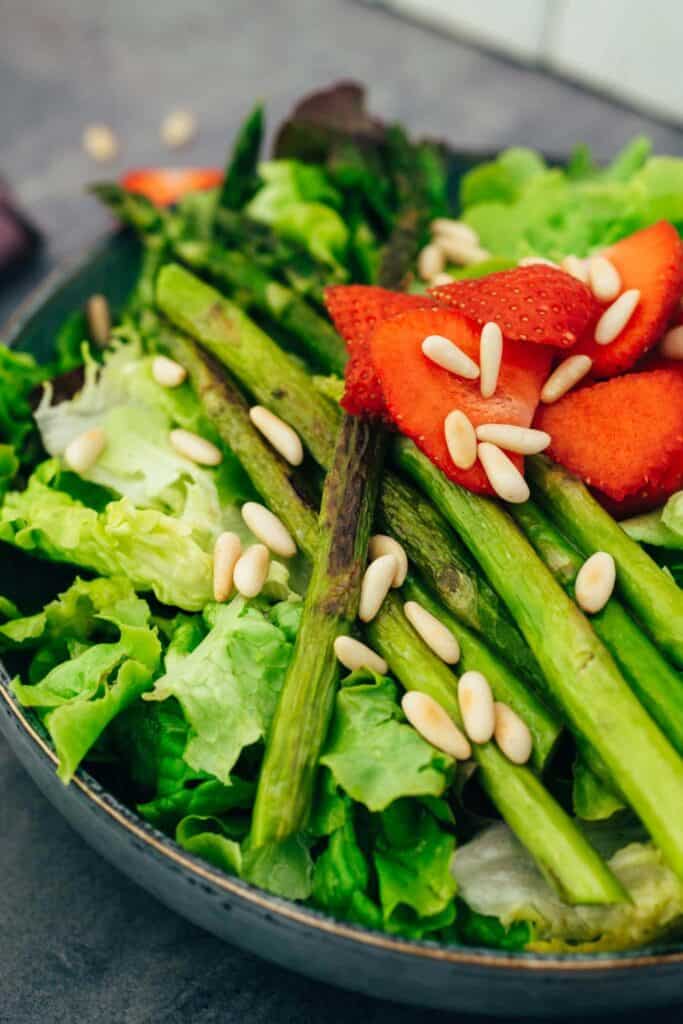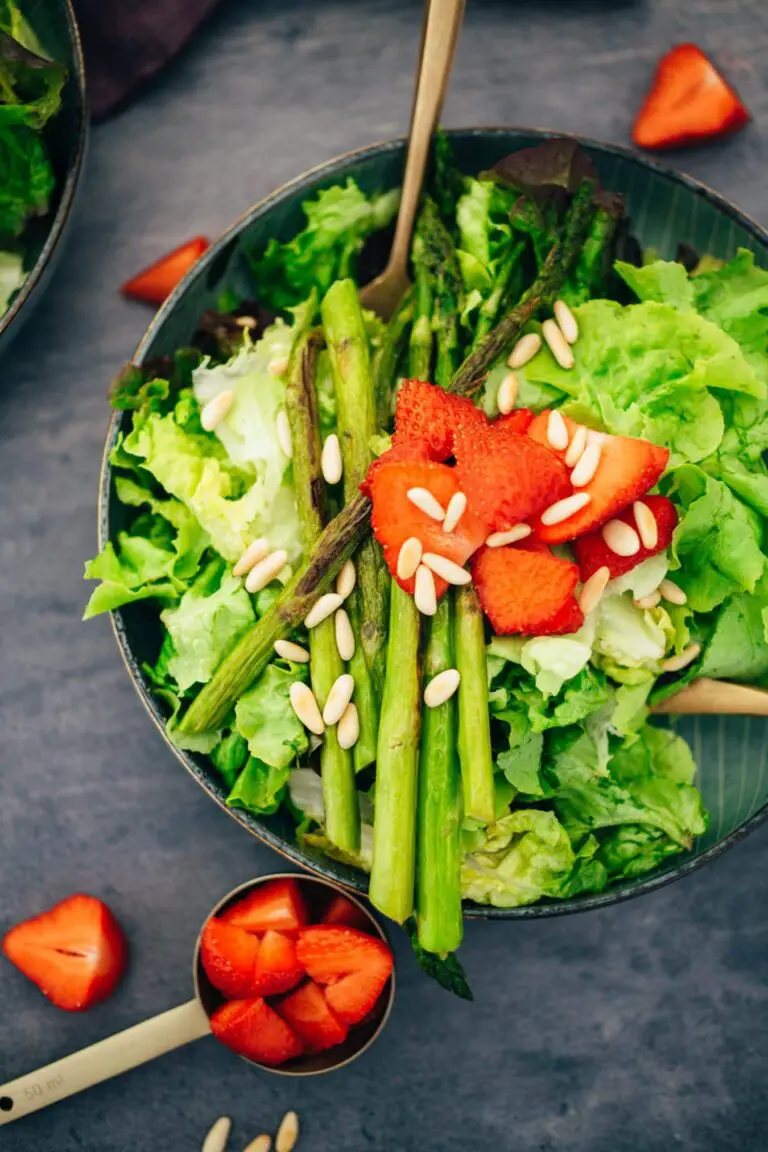 How healthy are actually pine nuts?
There are situations when I'm standing in front of the shelf in the supermarket and I really have to get over myself. why? Because pine nuts are so darn expensive. So a small package in organic quality with 75g costs times fast 8€. That's why I've been wondering if pine nuts, besides tasting great, are actually that healthy to justify that price.
they have a high content of vitamin A, B1 and B2
Niacin: needed by the organism for various enzymatic processes
Selenium & vitamin E: have an excellent effect against free radicals, which are responsible for premature aging of the skin and many diseases, for example.
Magnesium & Phosphorus: for strong muscles and bones
rich in healthy polyunsaturated fatty acids
CONCLUSIONS: Pine nuts are definitely worth the money and have a permanent place in my kitchen from now on.
As a side dish is particularly perfect a homemade spelt bread or rolls . Dessert desired? Then I recommend my delicious Stracciatella ice cream with aquafaba .
The salad with strawberries and asparagus is (30 minutes):
hearty
Super nutritious
aromatic
Crisp
Perfect light dish
Well, did you get a craving for this delicious vegan salad? I wish you a lot of fun in recooking and of course a review at the bottom of this page. If you post a picture, use the hashtag #veganevibes.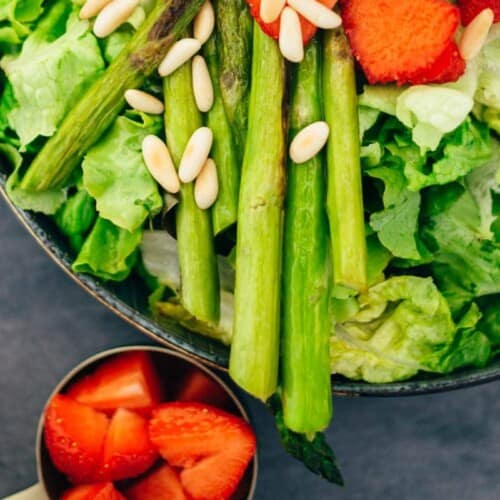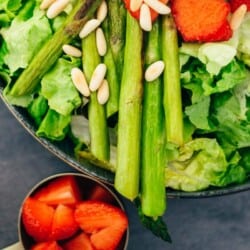 Salad with strawberries and green asparagus (30 minutes)
Incredibly flavorful, 30 minute salad with green asparagus and strawberries, coated in a delicious balsamic vinaigrette. The perfect side dish or main course, combined with homemade spelt bread or crunchy fresh vegan rolls.
AUTOR: VEGANEVIBES
FOR THE SALAD:
170-200

g

mixed green salad

e.g. batavia, wash and pluck into mung-sized pieces

250

g

green asparagus

250

g

Strawberries

washed and cleaned

30

g

Pine nuts
SUPPLIES:
Anleitung 
Heat pan to medium heat and pour in oil.

15 ml Frying oil or other high heat oil

Wash asparagus spears once with cold water, pat dry and cut off the ends. Cut off only enough to remove the woody ends.

Add to pan and sauté

for 10-15 minutes

until asparagus is tender, lightly browned, but still crisp.

In the meantime, prepare the dressing. To do this, put all the ingredients in a small blender, jar or simply a bowl and mix well until a creamy sauce is formed.

15 ml Balsamic vinegar,

45 ml Olive oil,

7,5 ml maple syrup,

A good pinch of sea salt,

A good pinch of pepper,

15 ml Filtered water

At the same time, heat another small pan and toast the pine nuts without fat for 3-4 minutes until they are lightly browned and begin to smell fragrant. Remove from heat and set aside. Always keep an eye on it, as the delicate seeds can easily burn.

To serve, divide salad and

strawberries

among

3

large or 4 small plates, top with asparagus, garnish with toasted pine nuts, dress and enjoy! Serve with spelt bread or rolls if desired.

170-200 g mixed green salad,

250 g Strawberries,

30 g Pine nuts
Notizen
NOTES /HELPFUL ACCESSORIES:
Nährwertangaben
Serving:
1
Portion
Calories:
306
kcal
Carbohydrates:
15
g
Protein:
4
g
Fat:
27
g
Saturated Fat:
6
g
Sodium:
19
mg
Potassium:
453
mg
Fiber:
3
g
Sugar:
8
g
Vitamin A:
1275
IU
Vitamin C:
66.8
mg
Calcium:
41
mg
Iron:
3.1
mg