Finally is Asparagus season and I have often asked myself if I can ever get enough of it? So far the answer is definitely no, because I still have so many dishes in mind that I really want to make. But if you already know me a little, you know that I like to start with the simple things. That is also the case with this Court the case, because it's damn simple, quick to make, delicious and above all very filling. This involves the use of my favorite asparagus, the green asparagus! Yummy!
Creamy vegan pasta with green asparagus? Give it to me!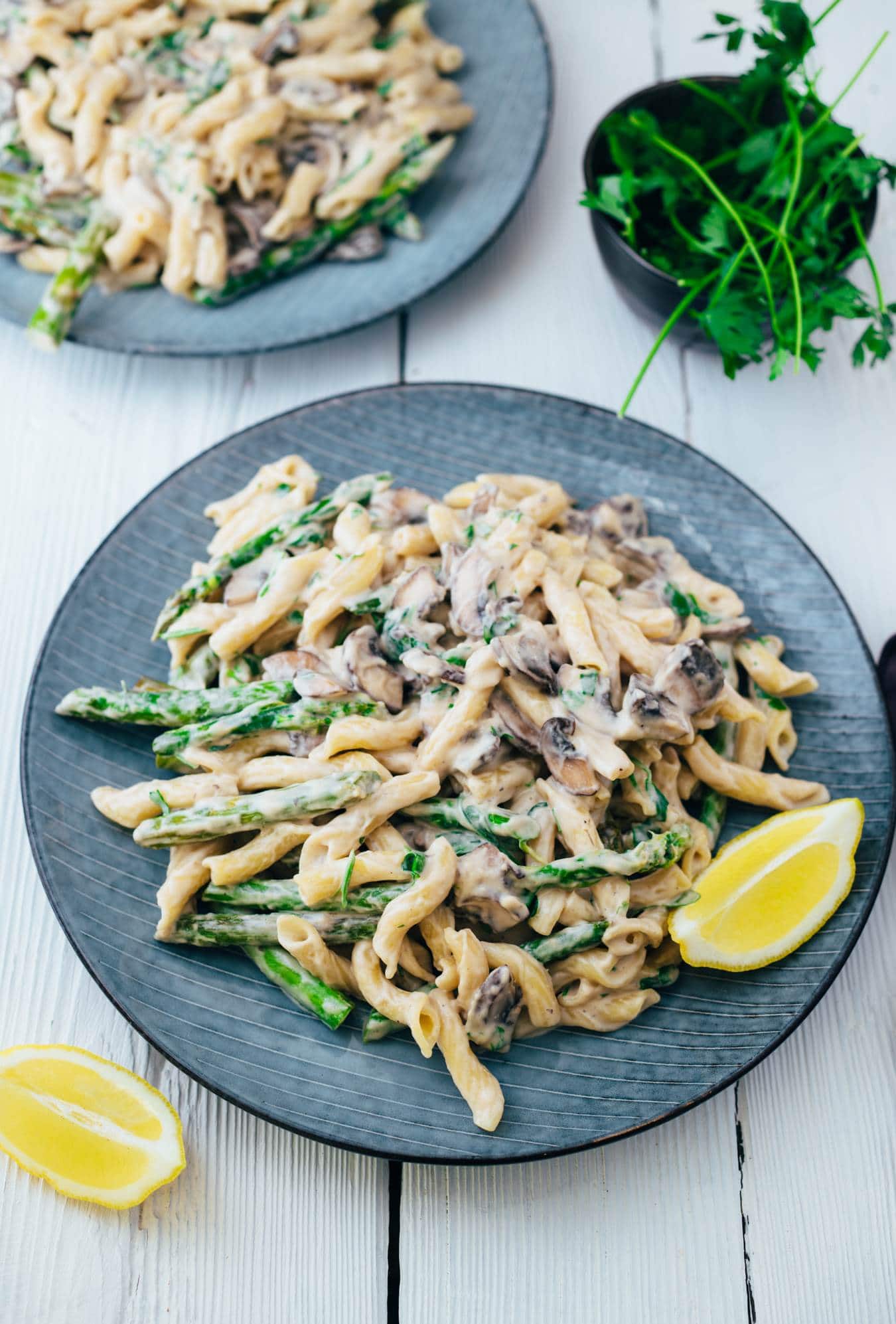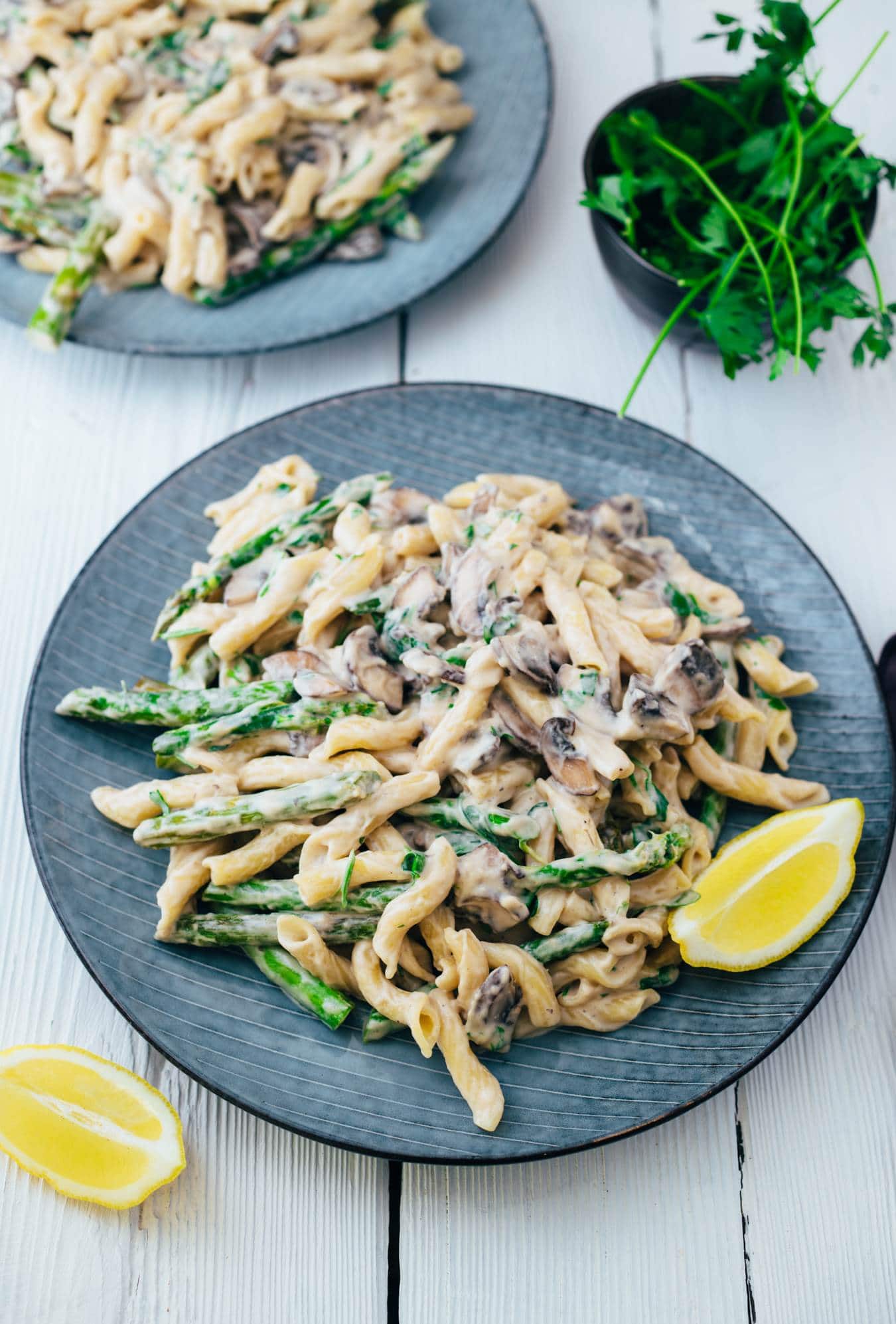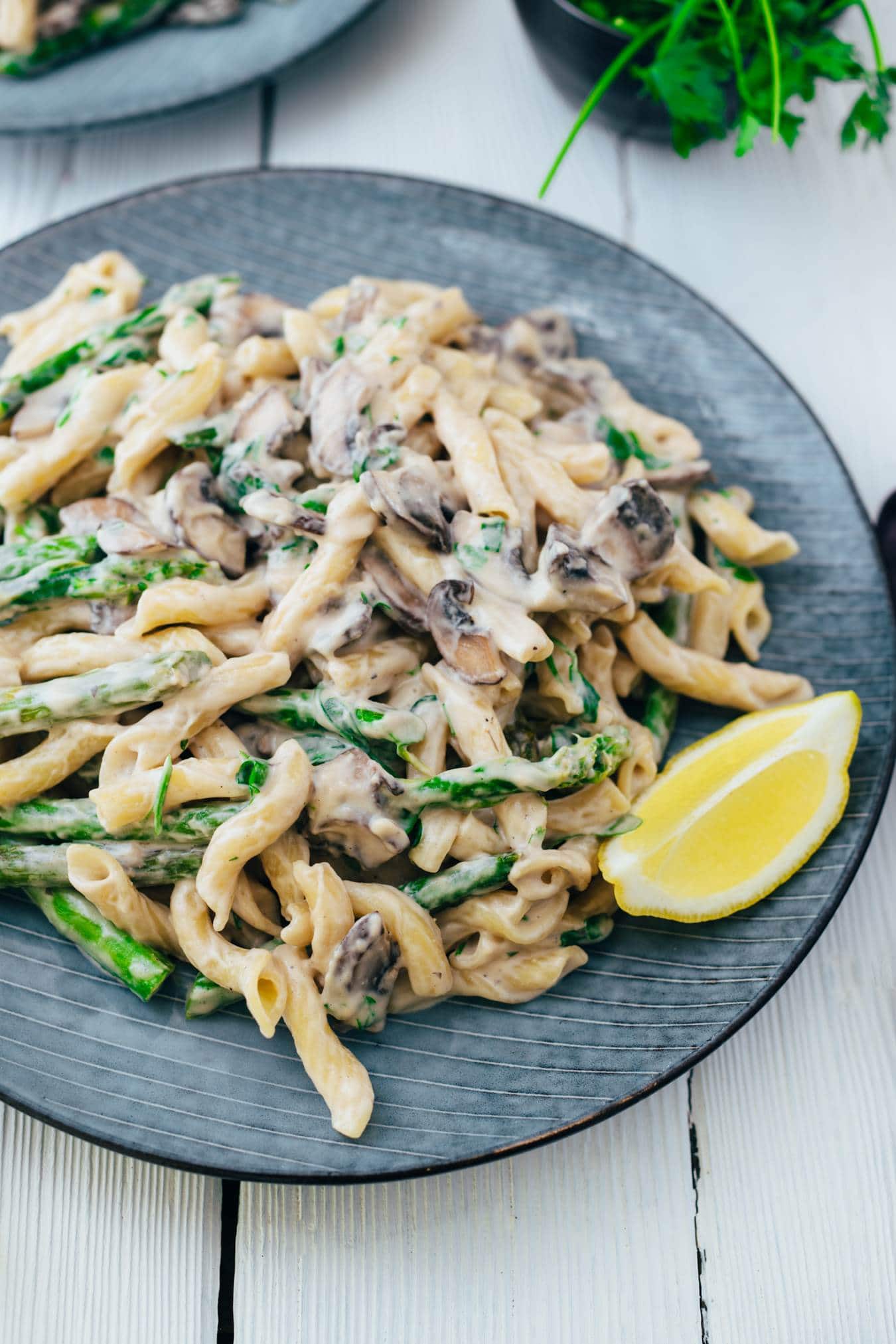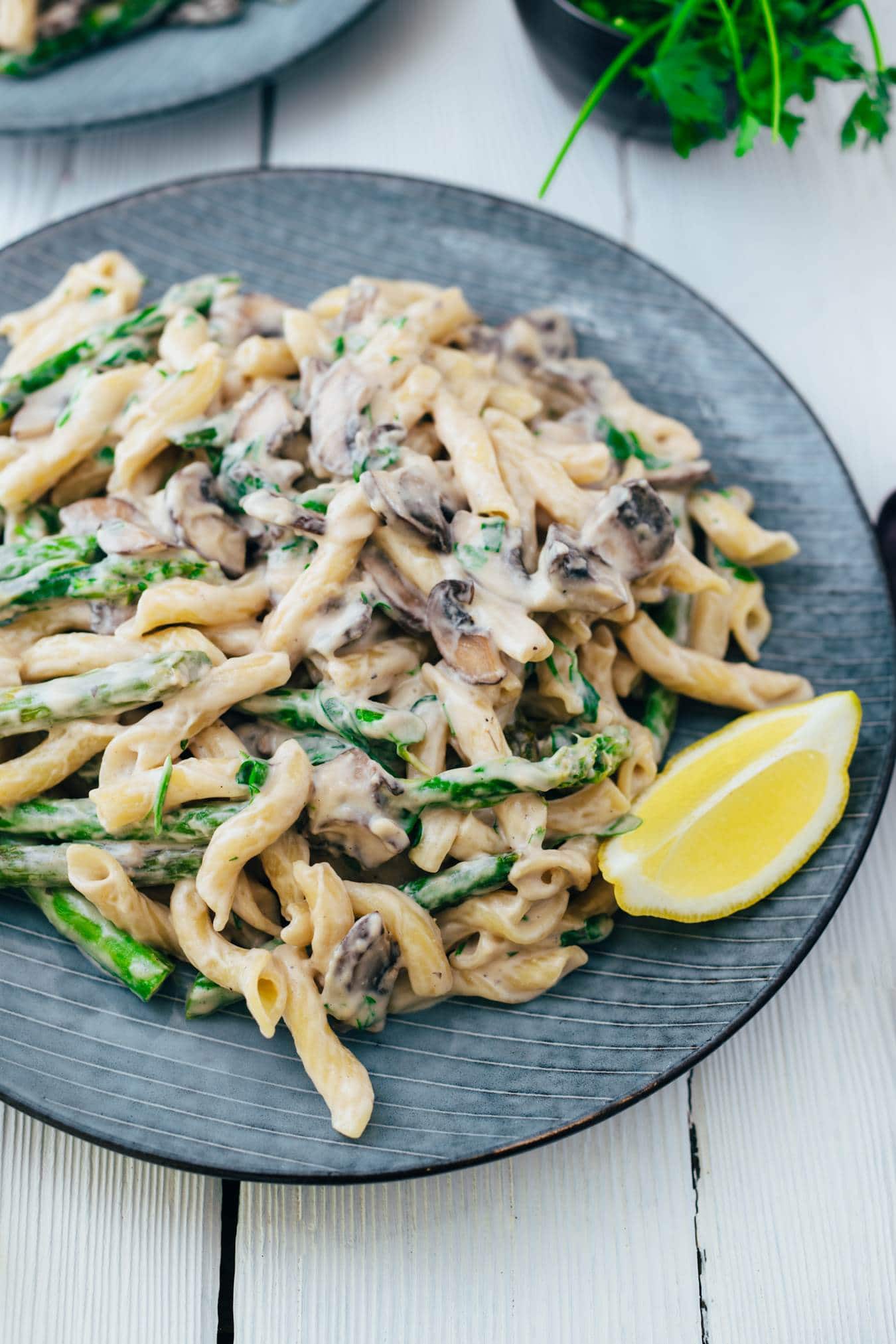 What's in this great dish? Green asparagus, mushrooms, a creamy sauce made from Cashews and of course deliciously al dente Pasta . In doing so, I would like to take a closer look at green asparagus today. why? Because at first I honestly didn't know exactly how to prepare it either and what actually makes it so healthy.
What is the best way to prepare green asparagus?
It is important to know that you do not peel the green asparagus like its white brother (or sister :), but only cut a piece at the ends. How much you should cut off, you will notice very quickly how easily the knife penetrates the asparagus. If there is slight resistance, do not shorten any further, otherwise cut away another small piece.
Green asparagus is also not cooked, but simply sautéed or braised in a pan until it is nice and soft, but still crunchy.
How healthy is green asparagus actually?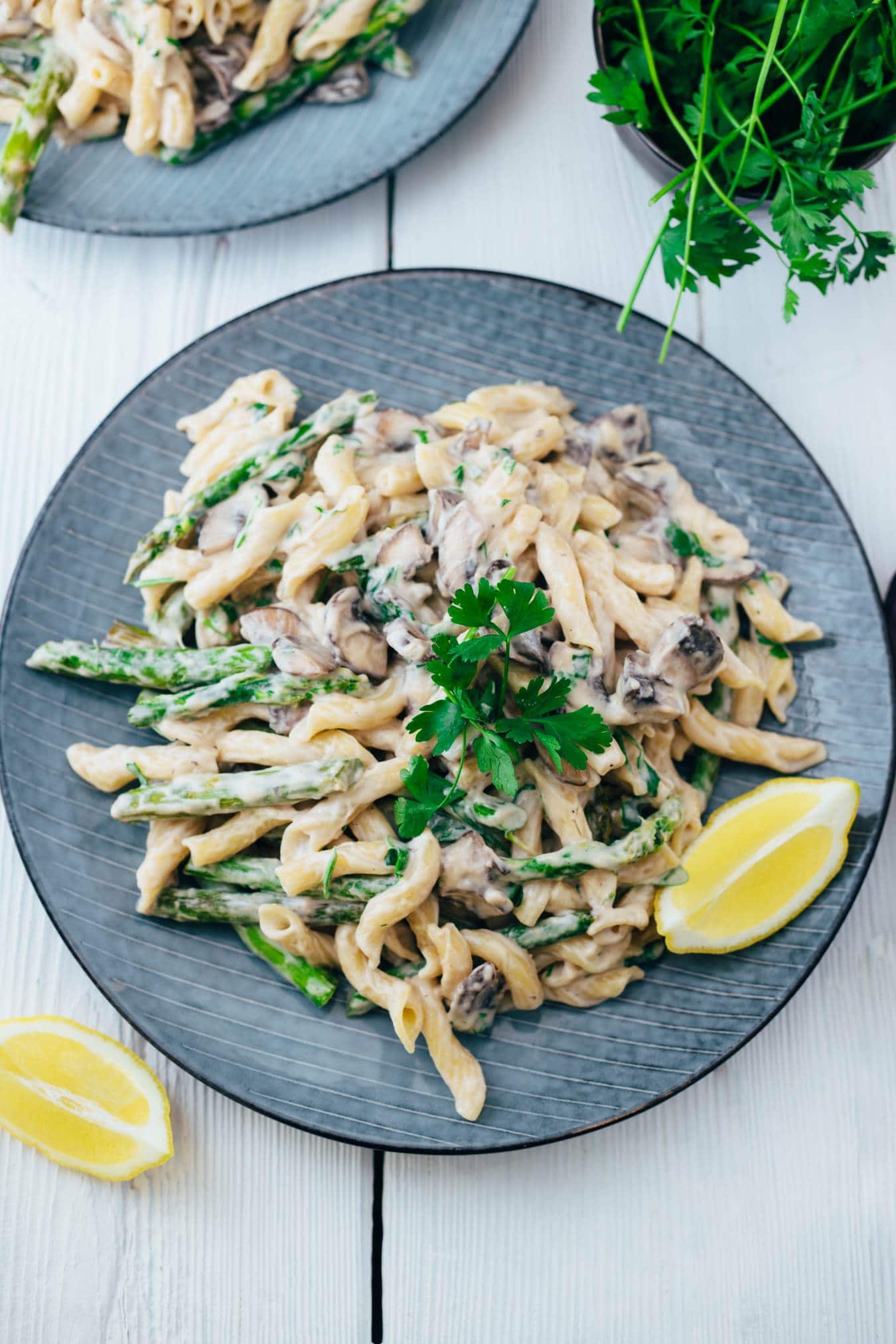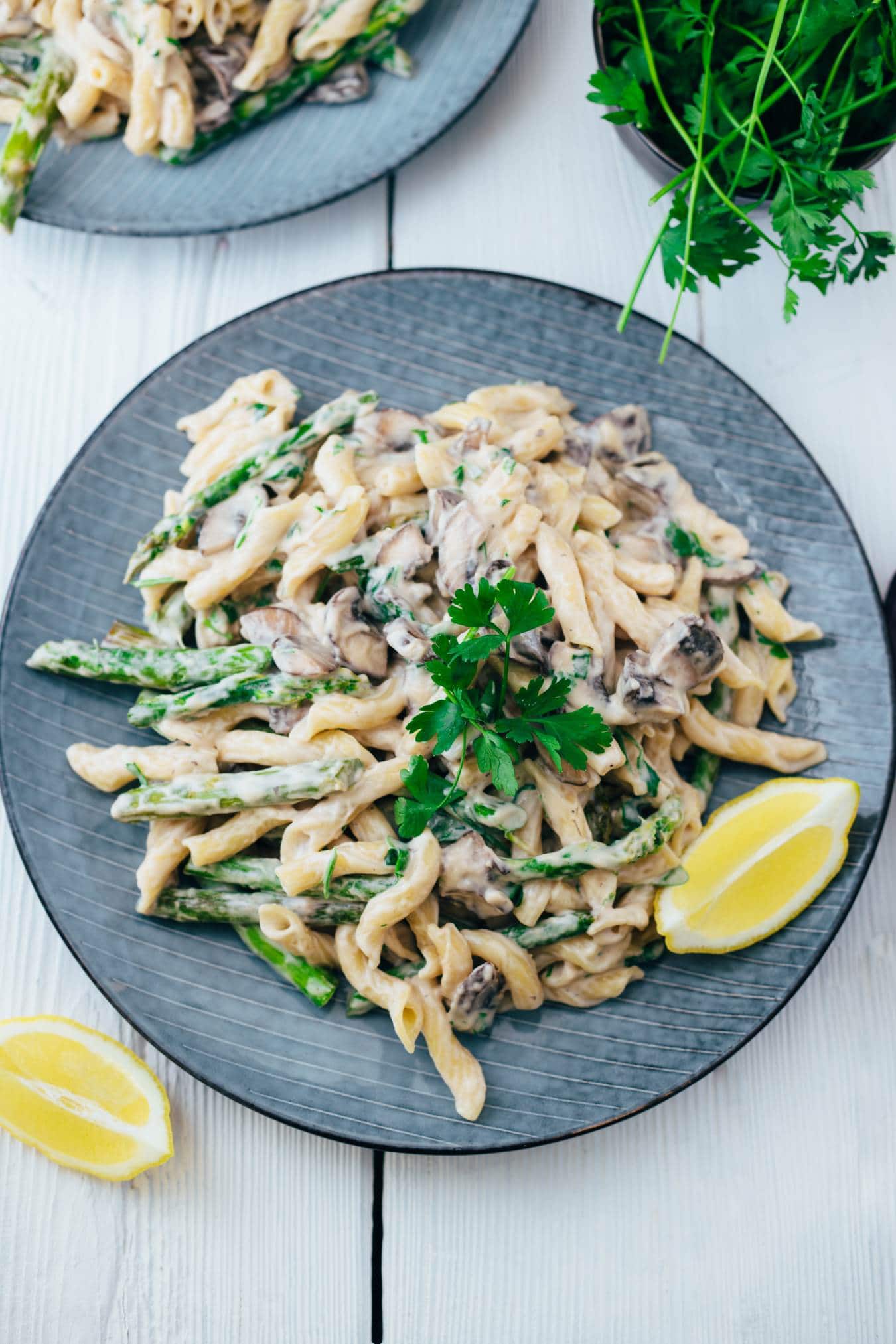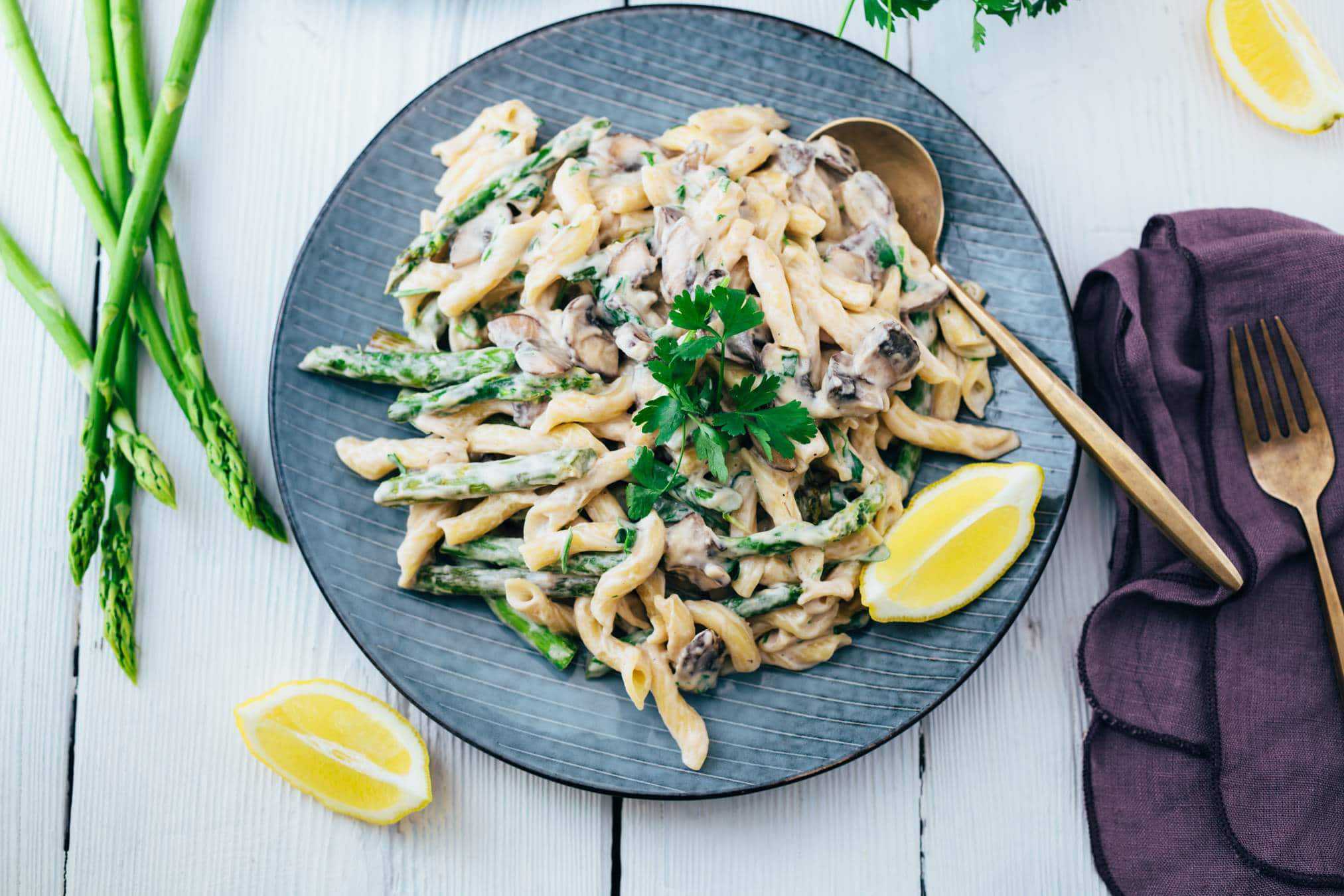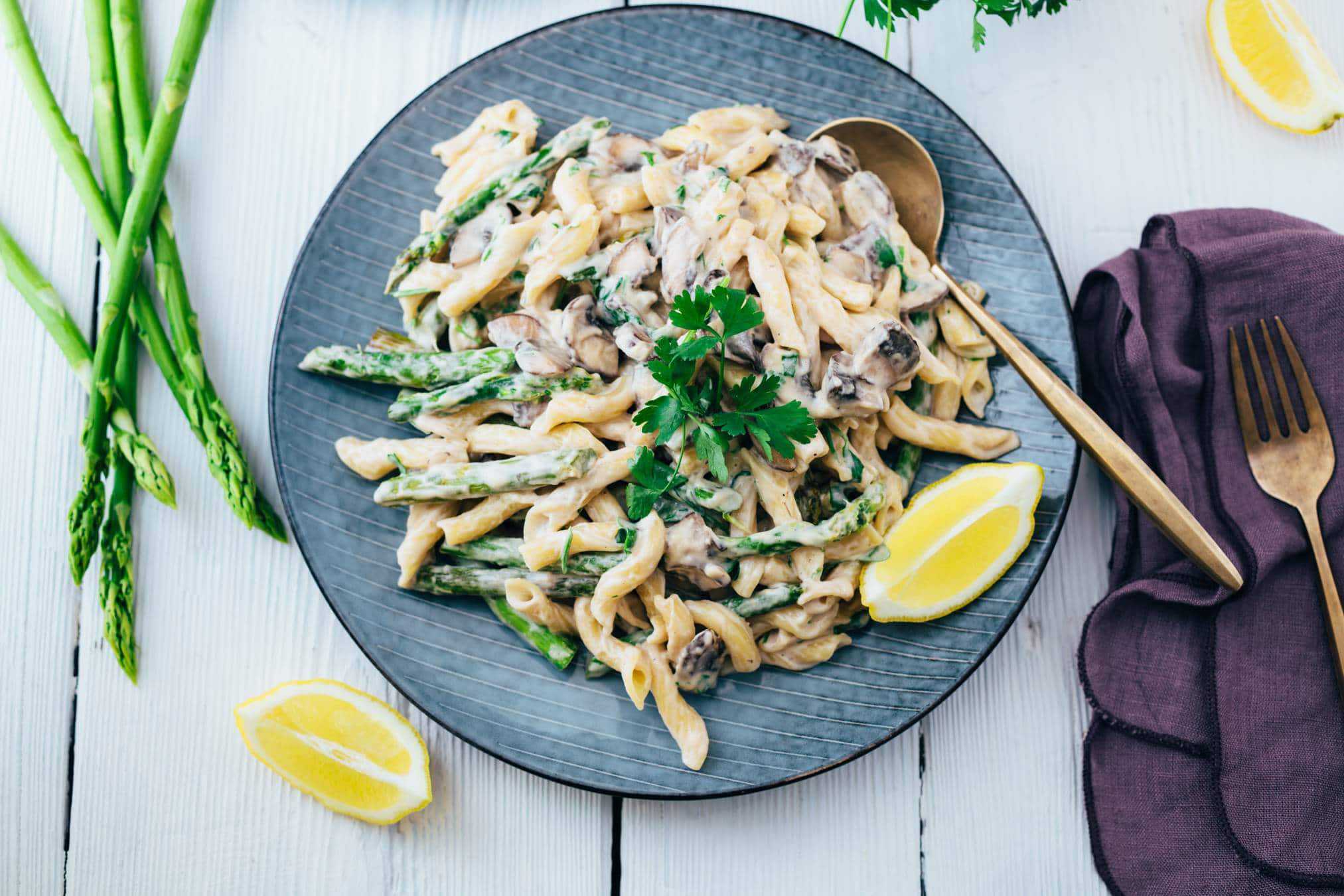 First of all, green asparagus consists of 90% water and is very low in calories. 100g of asparagus has just 13 calories, so it goes particularly well with rich sauces, like cashew sauce in our case. The vegetable is also full of vitamins C and E, B vitamins, fiber and folic acid.
We don't want it to be too low in calories, so we'll continue with the creamy cashew-based sauce. First of all, I would like to mention the blender again, because a good high-performance blender is indispensable, especially when processing nuts in vegan cuisine. I have linked my favorite model at the very bottom of the page. Thanks to the outstanding performance, I also save soaking the cashews.
What goes with this dream in white-green? If, like me, you can't get enough of asparagus, I recommend my Asparagus soup as an appetizer and as a dessert a Stracciatella ice cream ? I leave the composition of the menu to your imagination.
The Creamy Pasta with Green Asparagus and Mushrooms (30 minutes) is:
hearty
nutty
filling
creamy
Quickly made
Well, Do you feel like eating this creamy and healthy pasta with asparagus? I wish you a lot of fun in recooking and of course a review at the bottom of this page. If you post a picture, use the hashtag #veganevibes.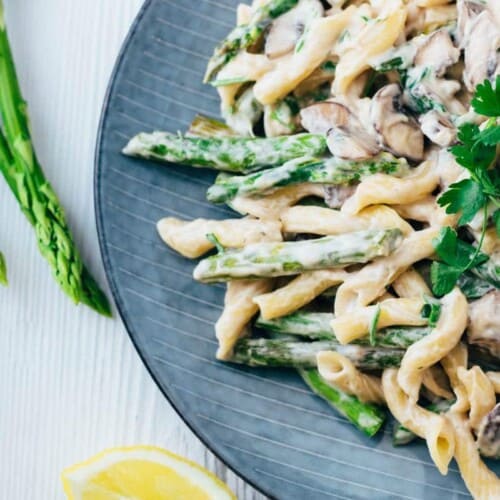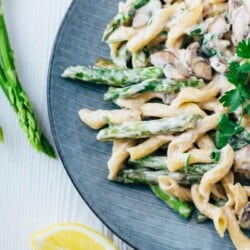 Creamy pasta with green asparagus and mushrooms (30 minutes)
Hearty pasta with a creamy sauce based on cashews. Delicious green asparagus and mushrooms add a nutty touch. Pasta cooked al dente rounds out the recipe, topped with vegan Parmesan and fresh basil.
AUTOR: VEGANEVIBES
FOR PASTA:
300

g

Pasta

gladly also gluten-free alternatively: buckwheat pasta or zoodles

1

tbspn

Olive oil

omit if you want to do without oil
FOR THE VEGETABLES:
30

ml

heat resistant frying oil

150

g

brown mushrooms

cleaned and sliced

250

g

fresh green asparagus

hard ends cleaned and I cut 4-5cm long pieces
Anleitung 
Cook pasta according to package instructions, season with olive oil and sea salt. Set aside.

300 g Pasta,

1 tbspn Olive oil,

A good pinch of sea salt

Meanwhile, FOR THE VEGETABLES, heat a skillet over medium heat and add oil. Sauté the asparagus for 5 minutes, only then add the mushrooms. The asparagus takes a little longer to get firm to the bite. Steam for another 5-10 minutes until vegetables are soft but still crunchy. Set aside.

30 ml heat resistant frying oil,

150 g brown mushrooms,

250 g fresh green asparagus

FOR THE CASHEW SAUCE, place all ingredients in a high-powered blender and blend until everything is combined into a creamy sauce. Season to taste and add to the roasted and steamed vegetables. Mix well until everything is combined. Taste and season if necessary. Add the pasta and mix well once again.

150 g raw cashews,

250 ml Almond milk,

30 ml Lemon juice,

9 g Nutritional yeast,

1 tbspn Garlic granules or 2 cloves of garlic,

1 Bird Eye Chili or Chili Powder to taste,

½ tbspn Sea salt,

Pepper to taste

Divide between two plates, pour cashew sauce over, garnish with fresh parsley and enjoy!

Leftovers last up to 2 days in the refrigerator, but fresh is best! Ideally, heat in a steamer or in a pot after adding a little water.

Optional: 1 tablespoon vegan parmesan cheese,

Vegan parmesan,

Optional: side salad,

Lemons quartered
Notizen
NOTES /HELPFUL ACCESSORIES:
Nährwertangaben
Serving:
1
Portion
Calories:
1189
kcal
Carbohydrates:
145
g
Protein:
41
g
Fat:
52
g
Saturated Fat:
7
g
Sodium:
284
mg
Potassium:
1410
mg
Fiber:
12
g
Sugar:
12
g
Vitamin A:
945
IU
Vitamin C:
14.4
mg
Calcium:
239
mg
Iron:
10.3
mg