Asparagus time is the most beautiful time, don't you think? I am the biggest fan of asparagus and my eyes got really big when I discovered green and white asparagus on the page of our regional eco box. Asparagus discovered. What you can do with it? Infinitely much, actually already too much. There are endless variations of asparagus dishes, and I just wanted to focus on the essentials for this recipe, asparagus soup. Of course with a little twist, more on that below.
Vegan asparagus soup, a dream in white? Then you have made the bill without turmeric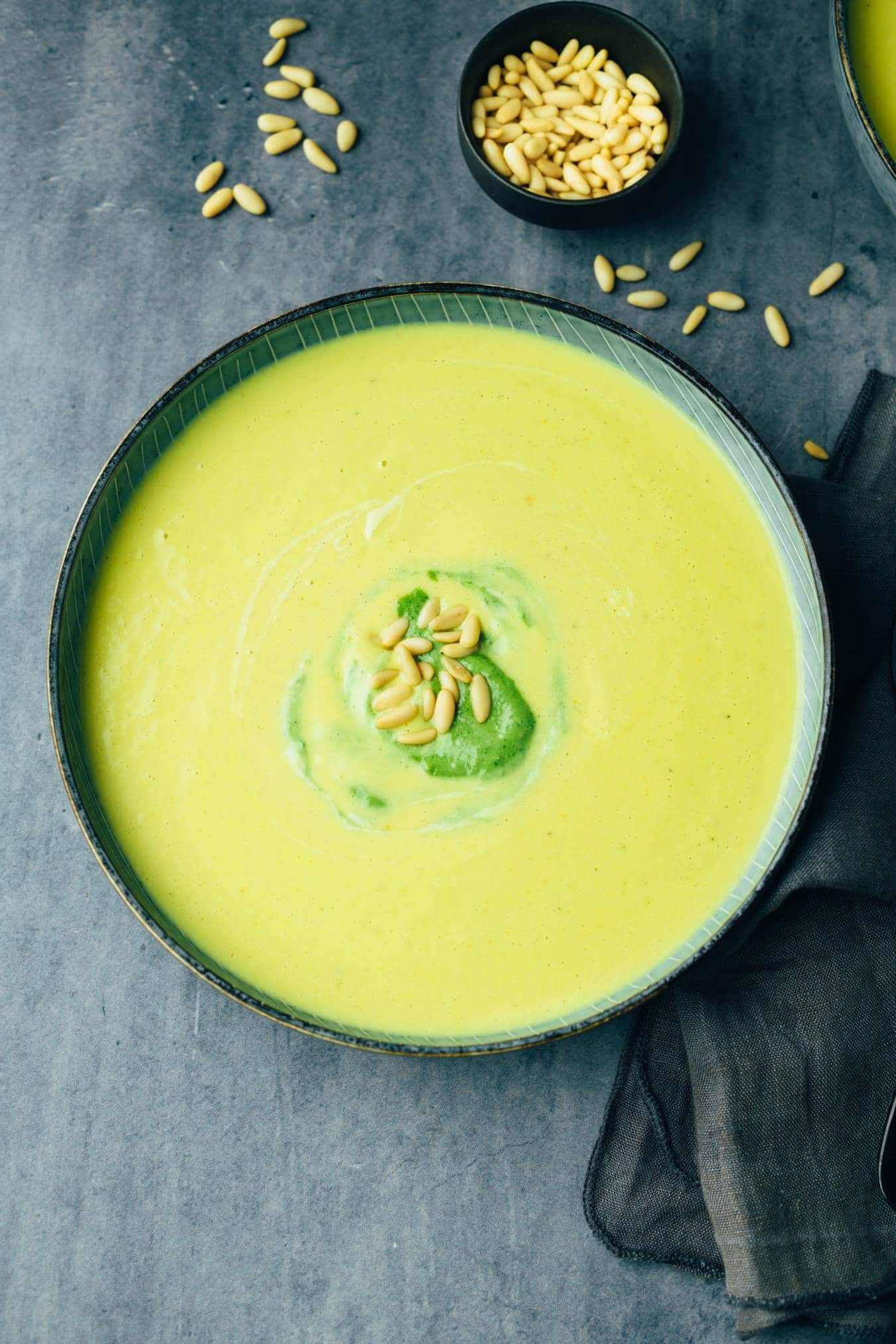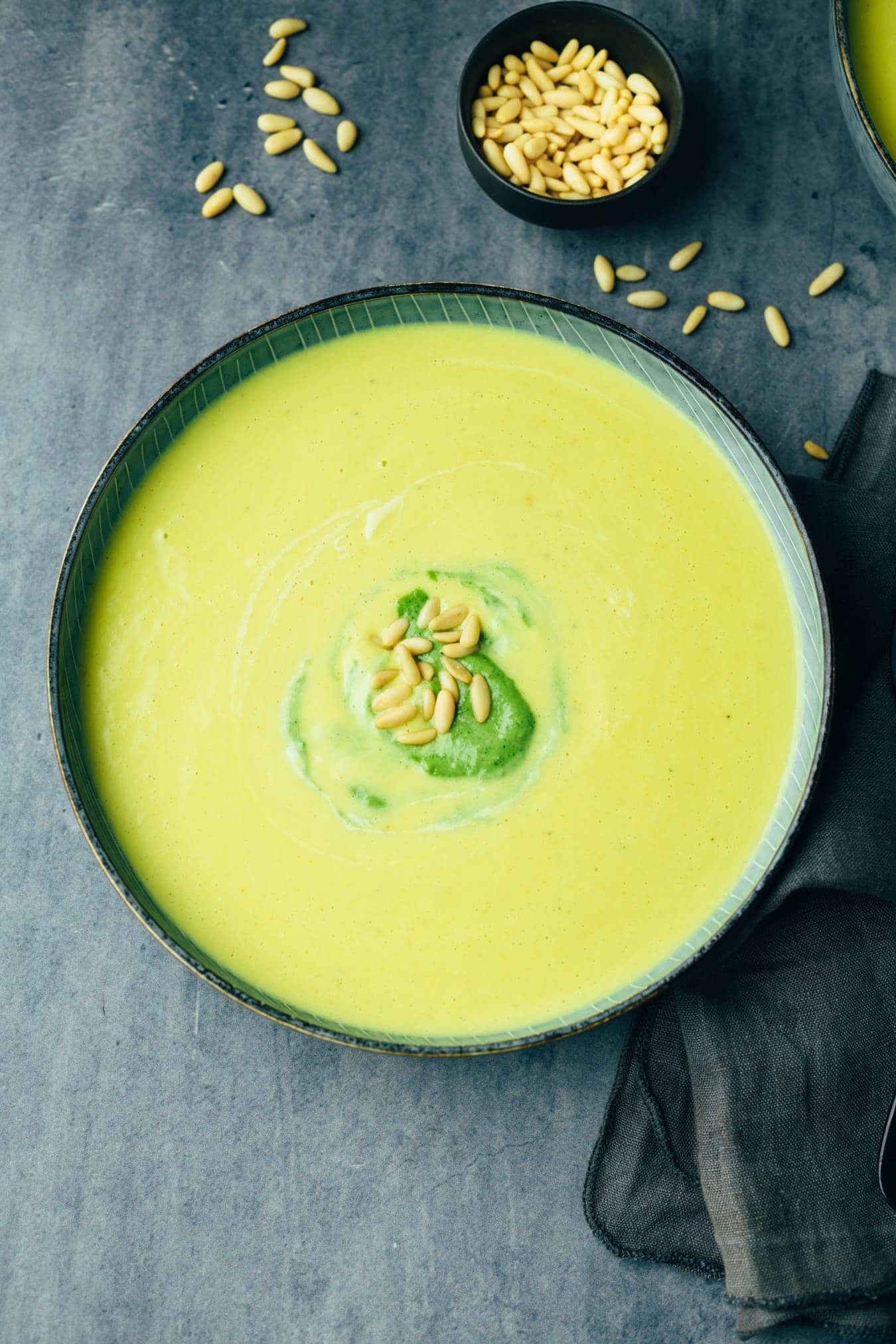 When I first thought about this soup, the first thing I did was research on the Internet. What I found were all the classic asparagus soup recipes that are ultra complicated. There you first have to boil the asparagus in water with a little sugar and salt added, make a stock and then add the blanched asparagus again. Ok, thanks a lot too, but I'm more into the simple stuff. That's why this vegan recipe is simple and straightforward, but with two little extras: basil pesto, cashew cream and a touch of turmeric.
Asparagus soup with pesto? Oh yes that is a damn good combination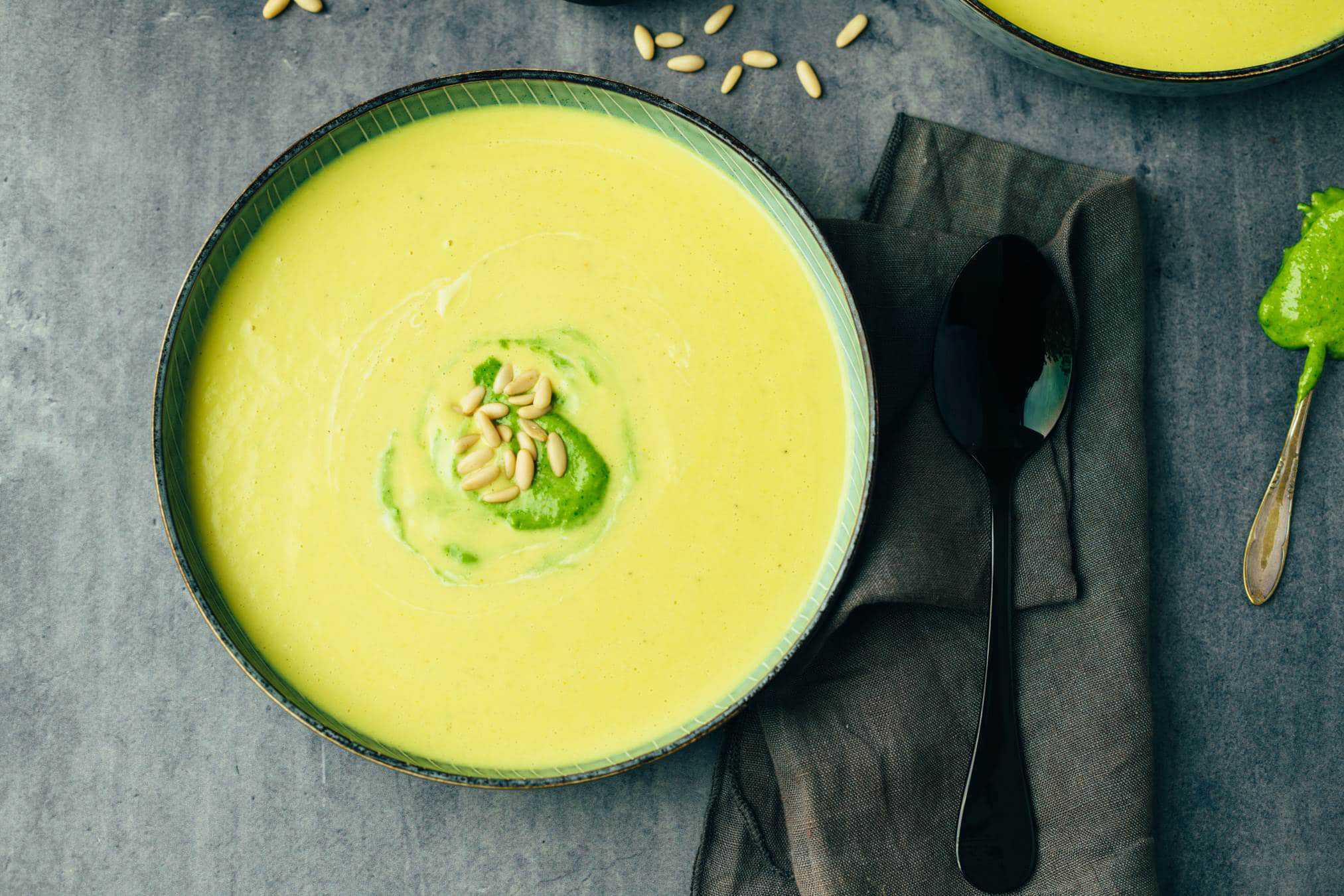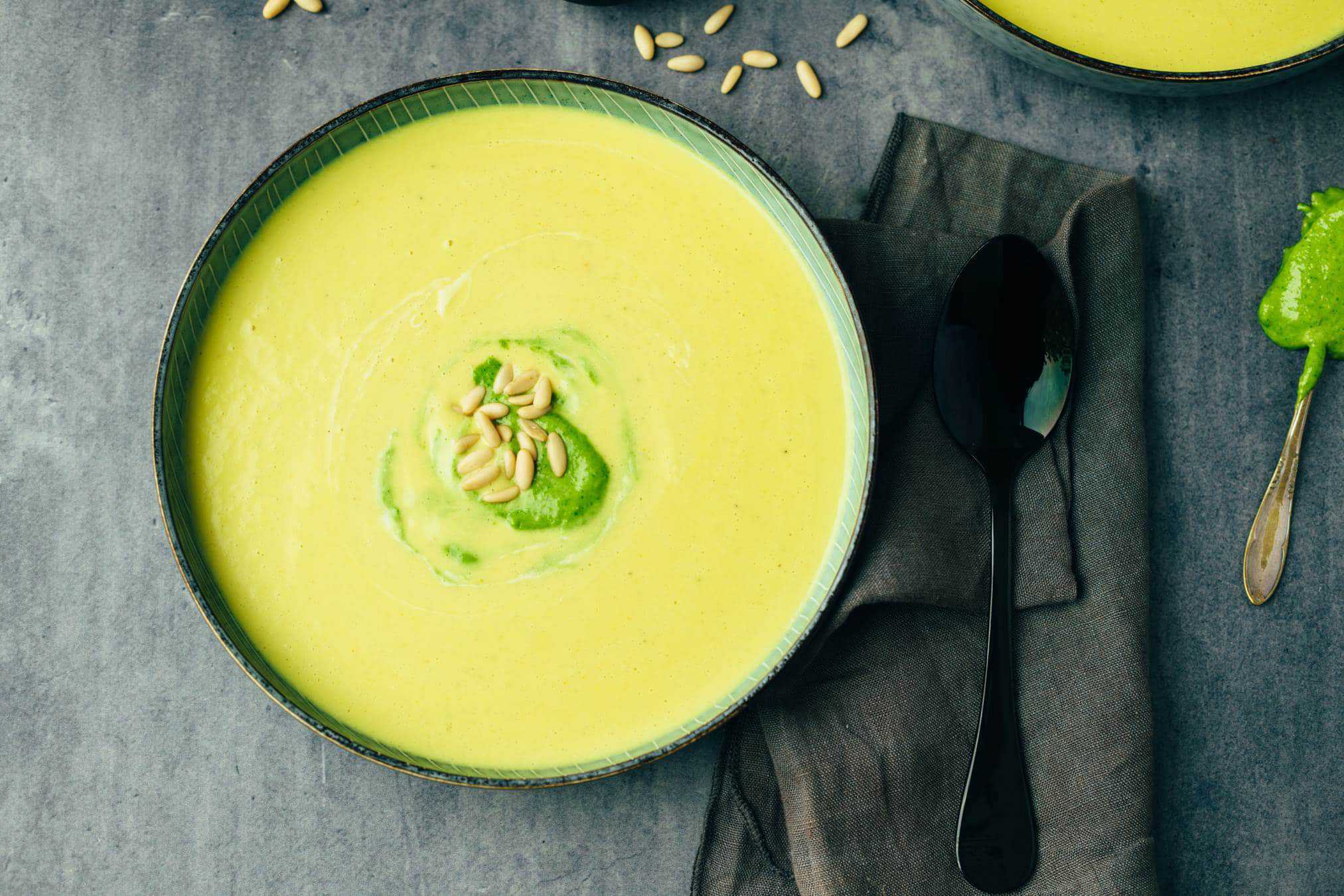 Let's start with the pesto. Basil is the basis for this wonderful green dream. Pine nuts, olive oil, salt, garlic, lemon juice and nutritional yeast are finely mixed once. Nutritional yeast? This is a staple in vegan cooking and is full of healthy vitamins and nutrients. Especially the valuable B12 can be found in it. It is best to use the yeast in cold dishes heated to a maximum of 42 degrees. Thus, all micronutrients remain contained. The yeast has another nice side effect: it adds a wonderful cheesy flavor to any dish. Perfect or?
The second little highlight in this soup is cashews, which give it a wonderful creaminess. I prepare a small amount of cashew cream ahead of time to mix into the soup.
And now be ready for the star of this story: the asparagus! White, delicious, simply irresistible is this white star in the sky. But is it also healthy? I have summarized the most important facts for you.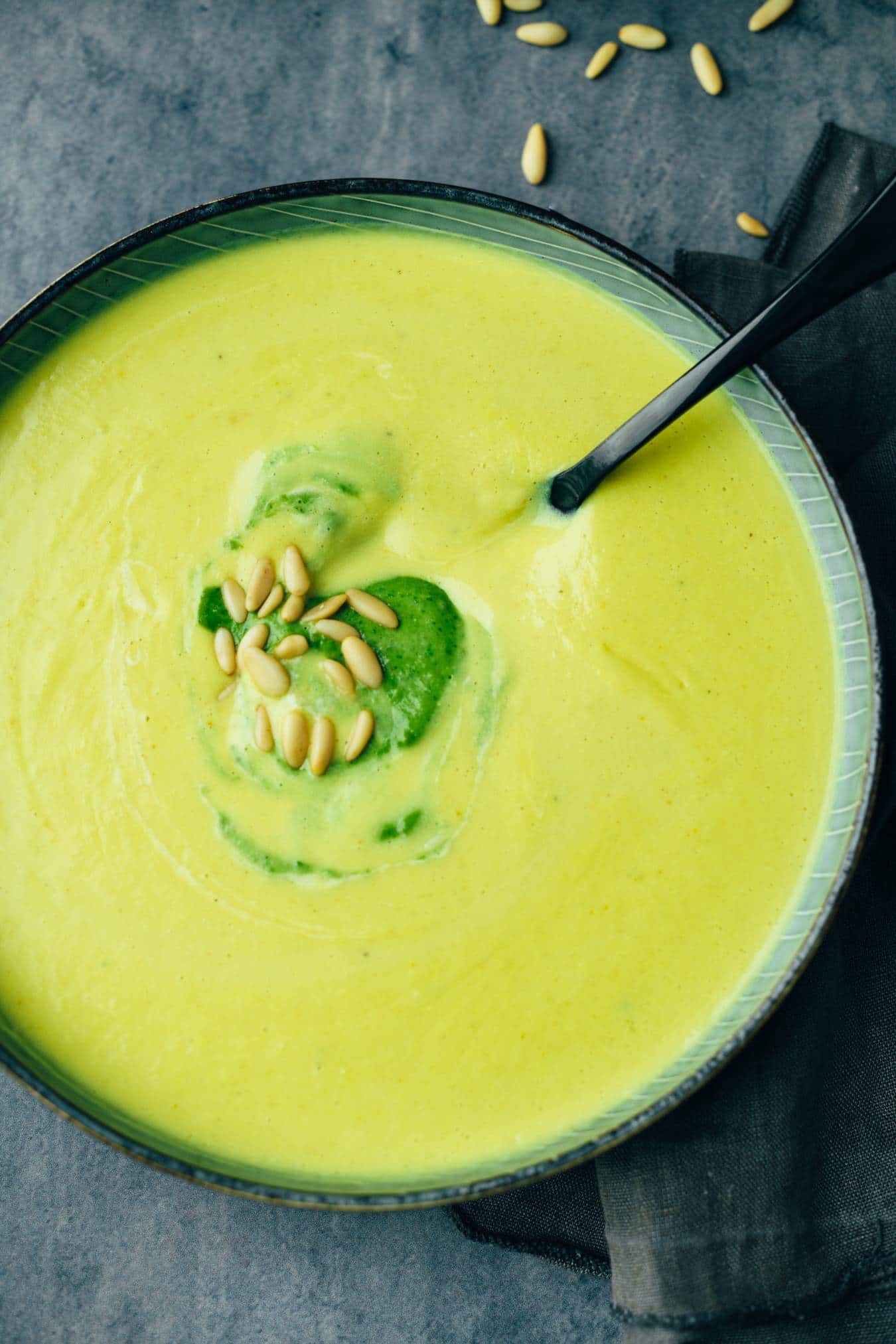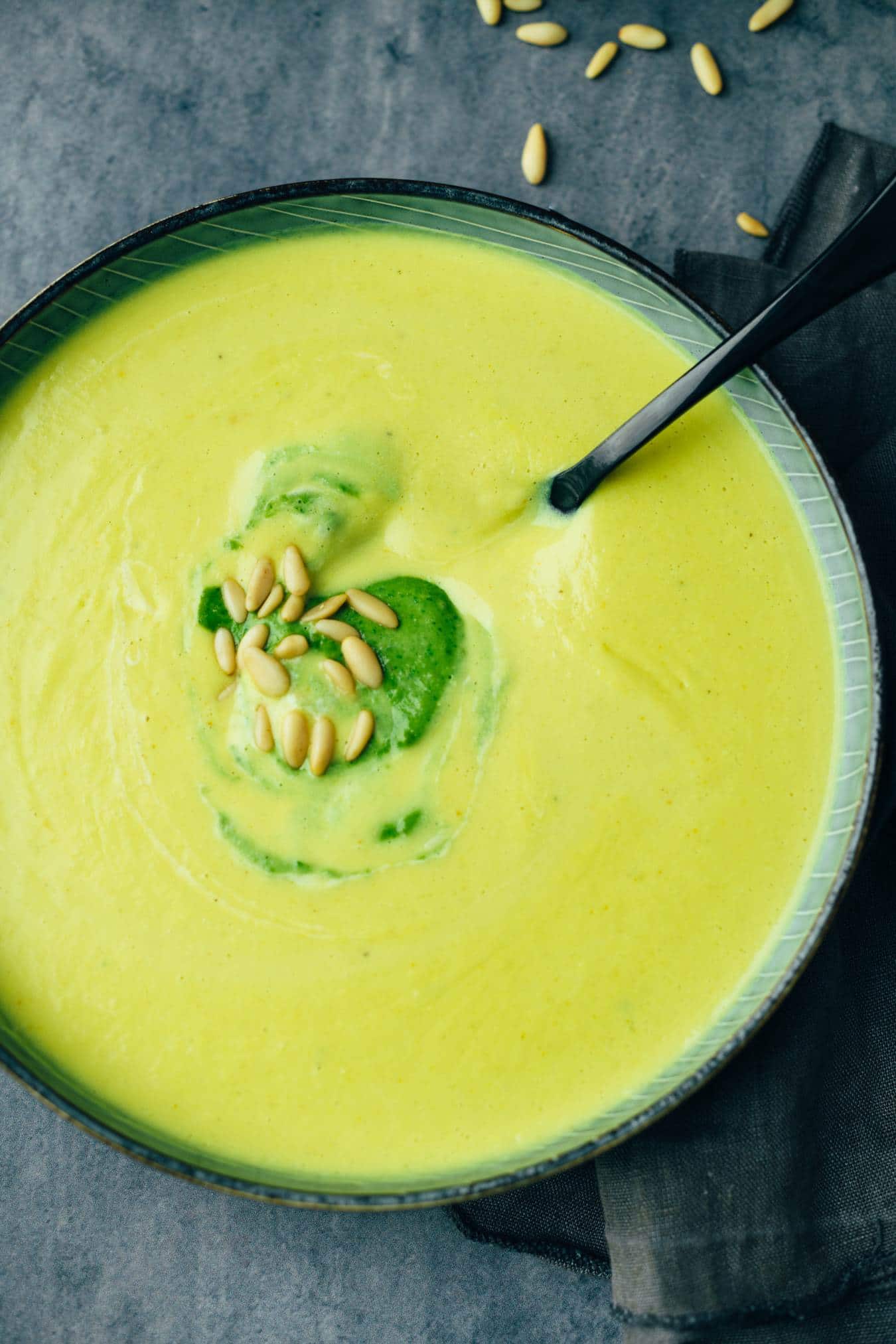 How healthy is asparagus actually?
Asparagus is primarily very low in calories and consists of 95 percent water. 100 grams of cooked asparagus has only 13 calories (without hollandaise sauce of course:)
very low fat with only 0.1g fat, 1.7g protein and 1.5g carbohydrates per 100g
contains valuable vitamins (vitamin A, B1, B2, E and vitamin C) and trace elements (potassium, phosphorus, calcium and sodium)
the vitamin C content is particularly high in green asparagus
What goes especially well with this delicious and creamy soup? I recommend my Favorite salad and spelt roll . Otherwise, the soup is also simply captivating on its own. If you want to make a menu out of it, the delicious vegan caramel pudding especially well with it.
Asparagus soup with basil pesto (30 minutes)
creamy
Spicy
easy
filling
Easy to make
Are you ready the delicious and creamy vegan asparagus soup? I wish you a lot of fun in recooking and of course a review at the bottom of this page. If you post a picture, use the hashtag #veganevibes.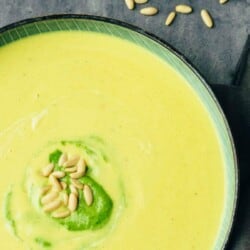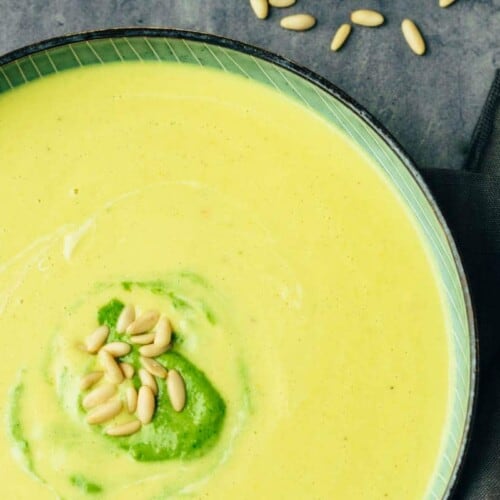 Asparagus soup with basil pesto (30 minutes)
Delicious, creamy and mild vegan asparagus soup with spicy basil pesto. Ideal for asparagus season, as a great lunch dish or as an appetizer to the vegan menu. Simple, quick and easy to make with just a few ingredients.
AUTOR: VEGANEVIBES
Anleitung 
For the PESTO put all the ingredients in a high-powered blender and blend until the desired consistency is obtained. Season and set aside.

36 g Organic basil,

25 g Pine nuts,

1-3 Garlic cloves,

30 ml Lemon juice or juice of half a lemon freshly squeezed,

9 g Nutritional yeast,

45 ml Extra virgin olive oil,

Sea salt to taste

For the asparagus soup Clean and peel the asparagus (a good asparagus peeler makes the work much easier) and cut into 4-5 cm pieces. Cut off woody ends in the process. Place medium soup pot on stove and melt margarine in it over medium heat. Add asparagus and sauté briefly. Caution do not cook too hot! Pour broth, add turmeric, raw cane sugar, pepper, nutmeg and lemon juice and simmer for 20 minutes over medium heat.

40 g Margarine or vegan butter,

1 L Vegetable broth,

½ tbspn Turmeric,

½ tbspn Raw cane sugar,

fresh pepper to taste,

a pinch of nutmeg,

a squeeze of lemon juice,

250 g white asparagus

For the CASHEW CREAM Place all ingredients in a high-speed blender and blend until a fine cream is formed. If blender is not very powerful, then soak cashews in cold water (covered) for 6 hours or in boiling hot water (uncovered) for 1 hour, drain and use. ALTERNATIVE: Add 3-4 tablespoons cashews directly to soup in blender (works best in high-powered blenders, otherwise it can get crumbly) and blend with.

120 ml Water,

½ tbspn Sea salt,

150 g Cashews

At the end of the cooking time, put soup in a blender and puree with cashew cream (or cashews) to a fine and creamy soup. Season and set aside.


OPTIONAL: Heat pan and toast pine nuts in it without fat until they are already golden brown. Set aside.

Divide soup into two large soup plates, garnish with pesto, cashew cream and pine nuts and serve. enjoy! Keeps up to 2 days covered in the refrigerator, frozen up to 4 weeks.


Spelt roll,

Roasted pine nuts
Notizen
NOTES /HELPFUL ACCESSORIES:
Nährwertangaben
Serving:
1
Portion
Calories:
480
kcal
Carbohydrates:
17
g
Protein:
7
g
Fat:
44
g
Saturated Fat:
7
g
Sodium:
2234
mg
Potassium:
470
mg
Fiber:
4
g
Sugar:
9
g
Vitamin A:
3725
IU
Vitamin C:
10.2
mg
Calcium:
62
mg
Iron:
4.4
mg