I went in search of vegan stracciatella ice cream. why? Simply because I could not find one anywhere. Thereby I am a huge lover of the Ice cream and I don't even dare to go to any ice cream parlor anymore, because most of the time they say: Sorry, we don't have Stracciatella vegan. Well, long story short, I experimented and like found a great, creamy and fluffy as hell recipe for vegan ice cream. Meanwhile, I work with ice cream almost only Aquafaba , why? More on this below.
Mama Mia, stracciatella ice cream with aquafaba? Yes exactly!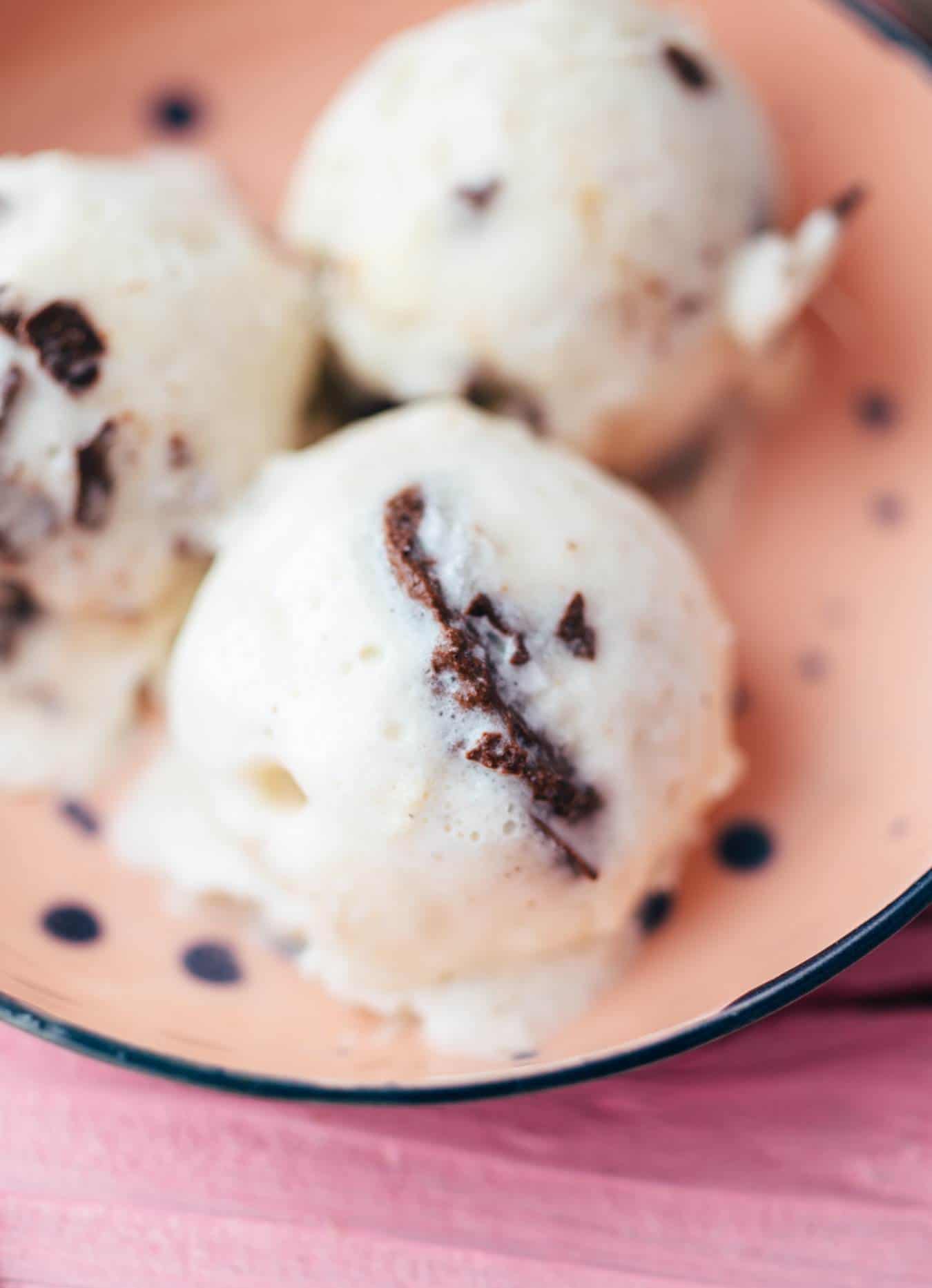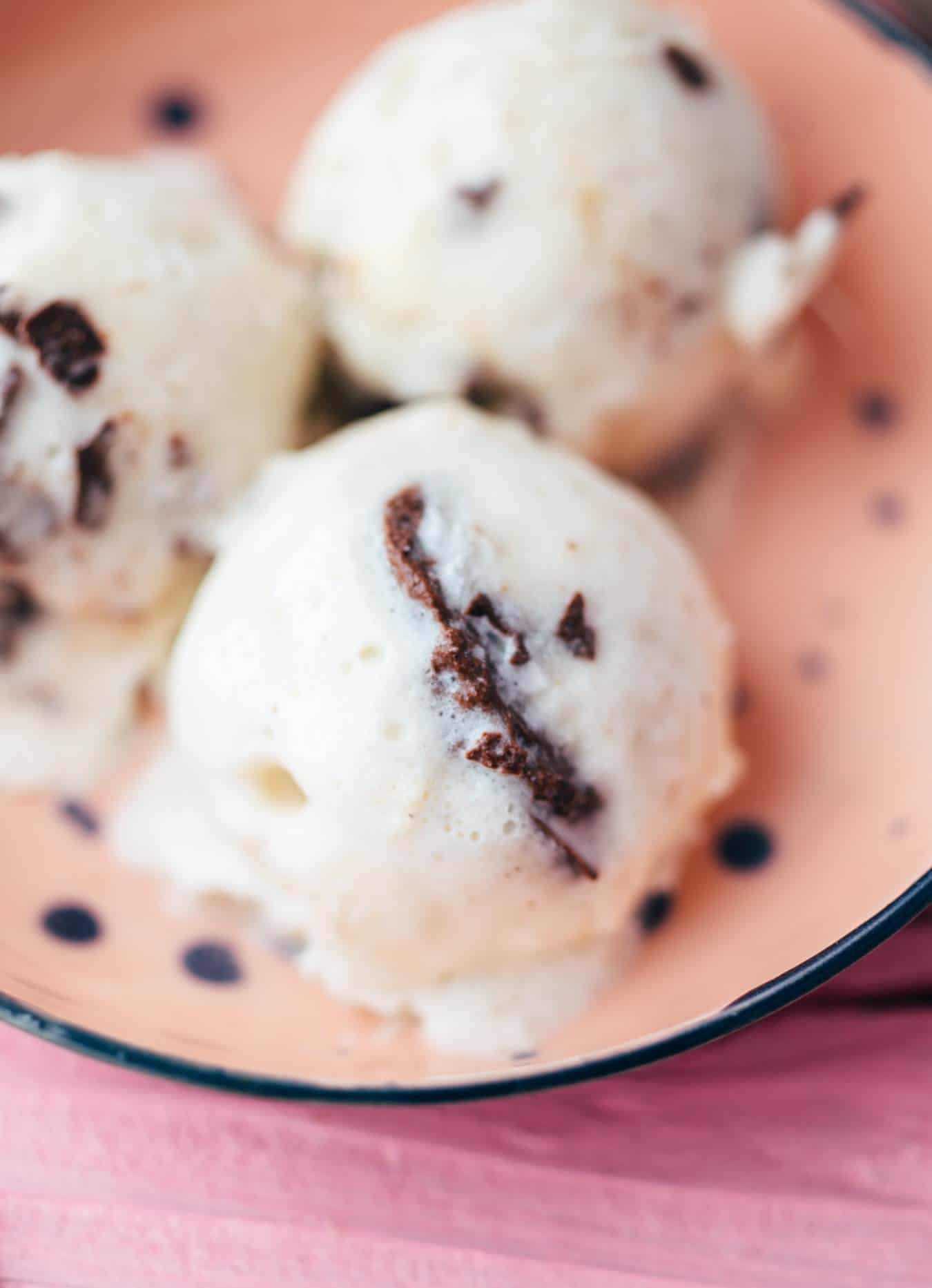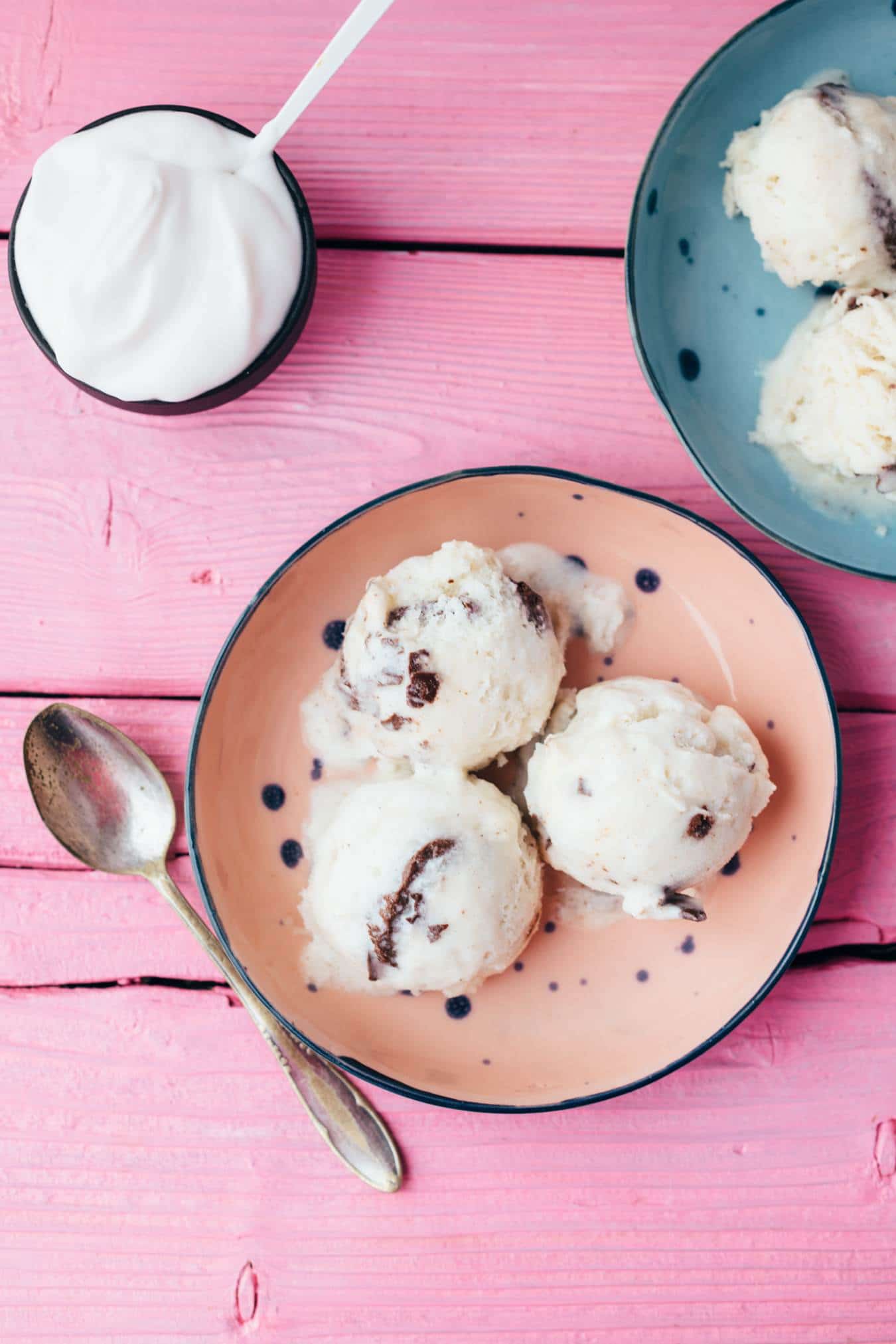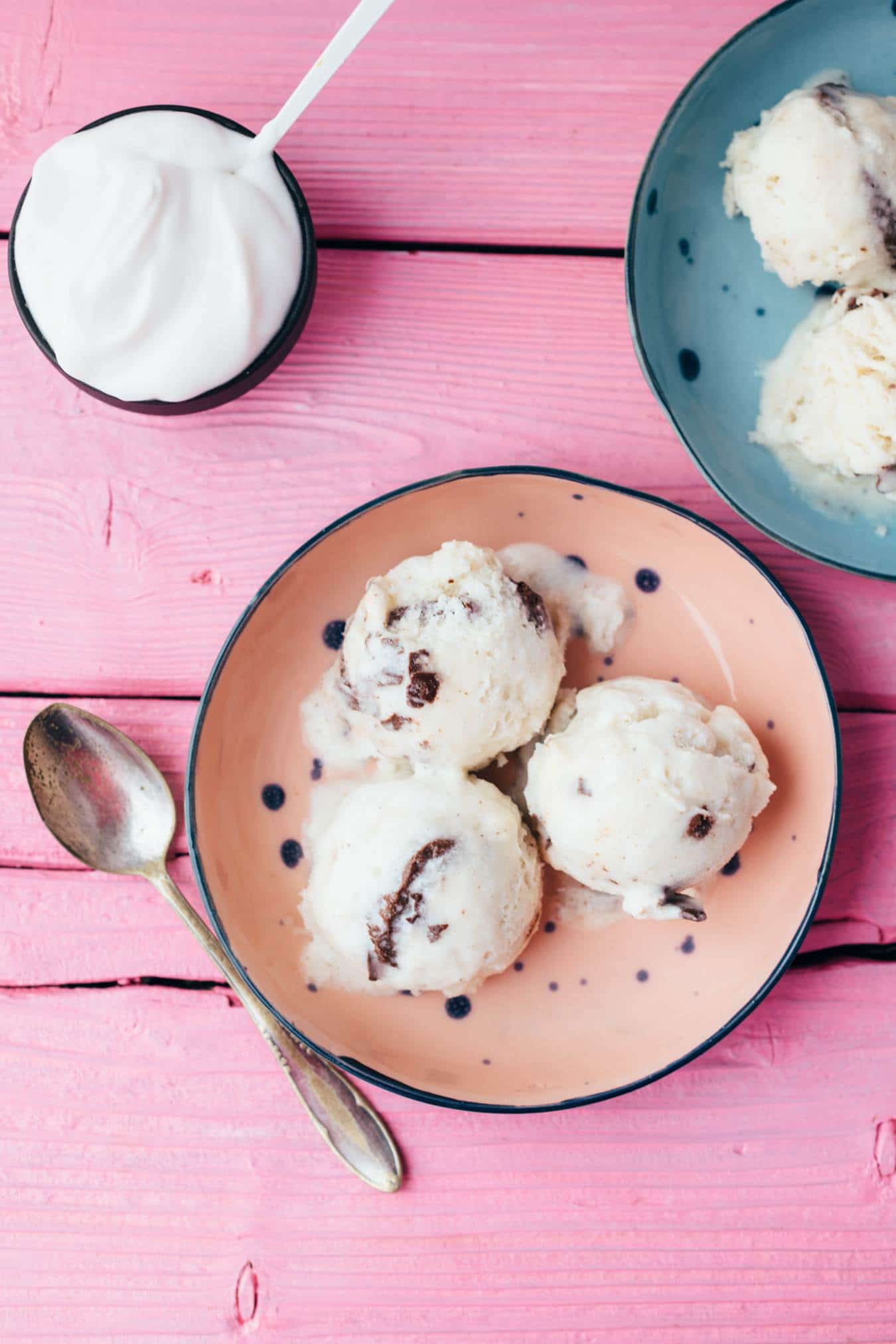 The base is once again made of giggle snow and here you will find detailed instructions on how to make it perfectly. Aquafaba is just perfect because:
Conjure up two delicious dishes from one can of chickpeas, no problem!
Here are some more important tips for making vegan stracciatella ice cream:
Aquafaba make according to my instructions and whip as firmly as possible.
Add the powdered sugar to the chickpea whipped cream while whipping, don't worry because the sugar will only make the fake egg whipped cream firmer.
The coconut oil makes the white chocolate a tad more liquid, making it easier to fold in. Alternatively, cocoa butter also works wonderfully here.
Carefully melt the chocolate in a water bath. Neither the false egg whites nor the chocolate itself can tolerate temperatures that are too hot.
The folding should happen quickly, as the giggle snow does collapse again quite easily, especially with the addition of yogurt. No problem, as long as you work quickly. The mixture will have lost about half its volume after folding, however, this is still enough to make a totally fluffy ice cream.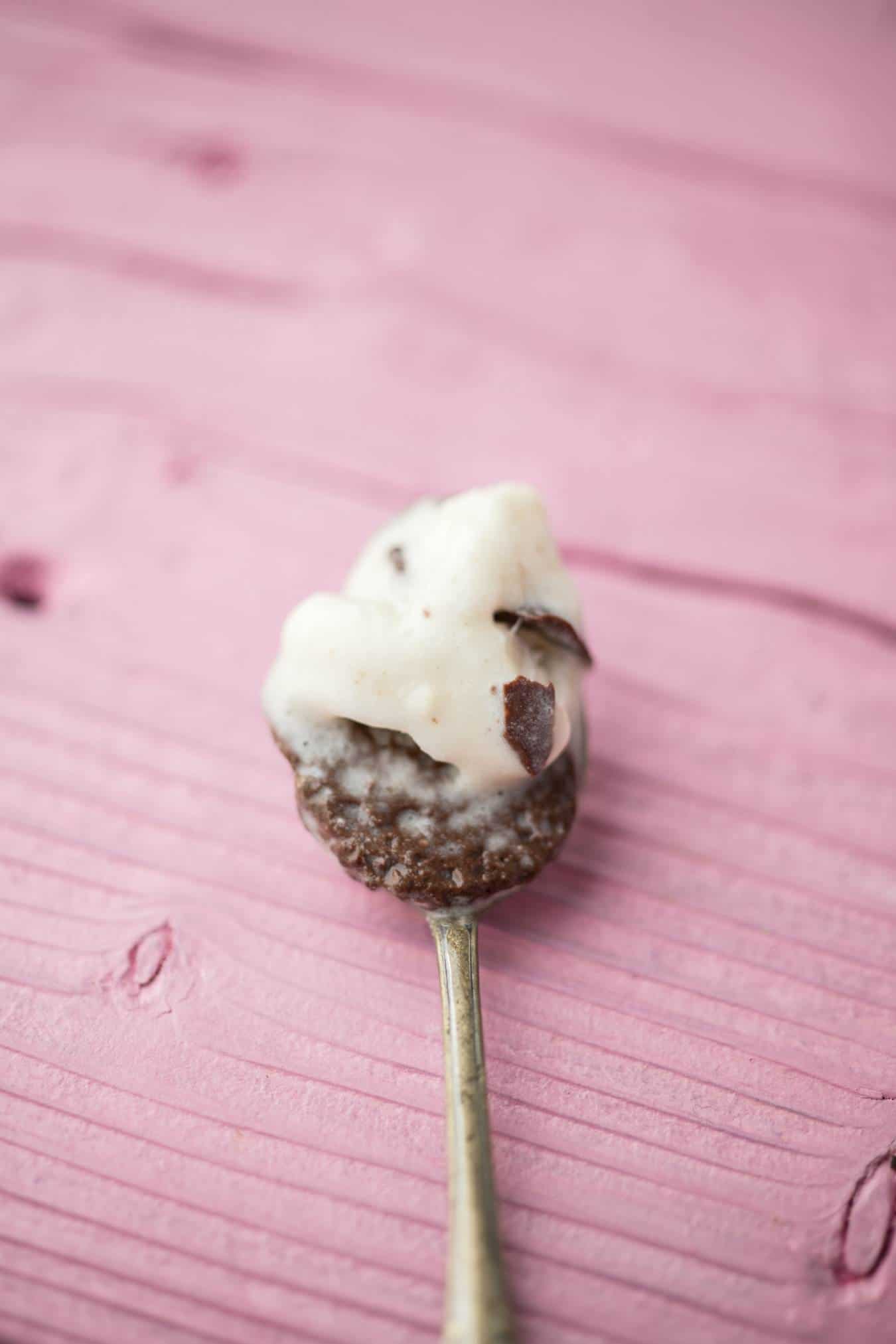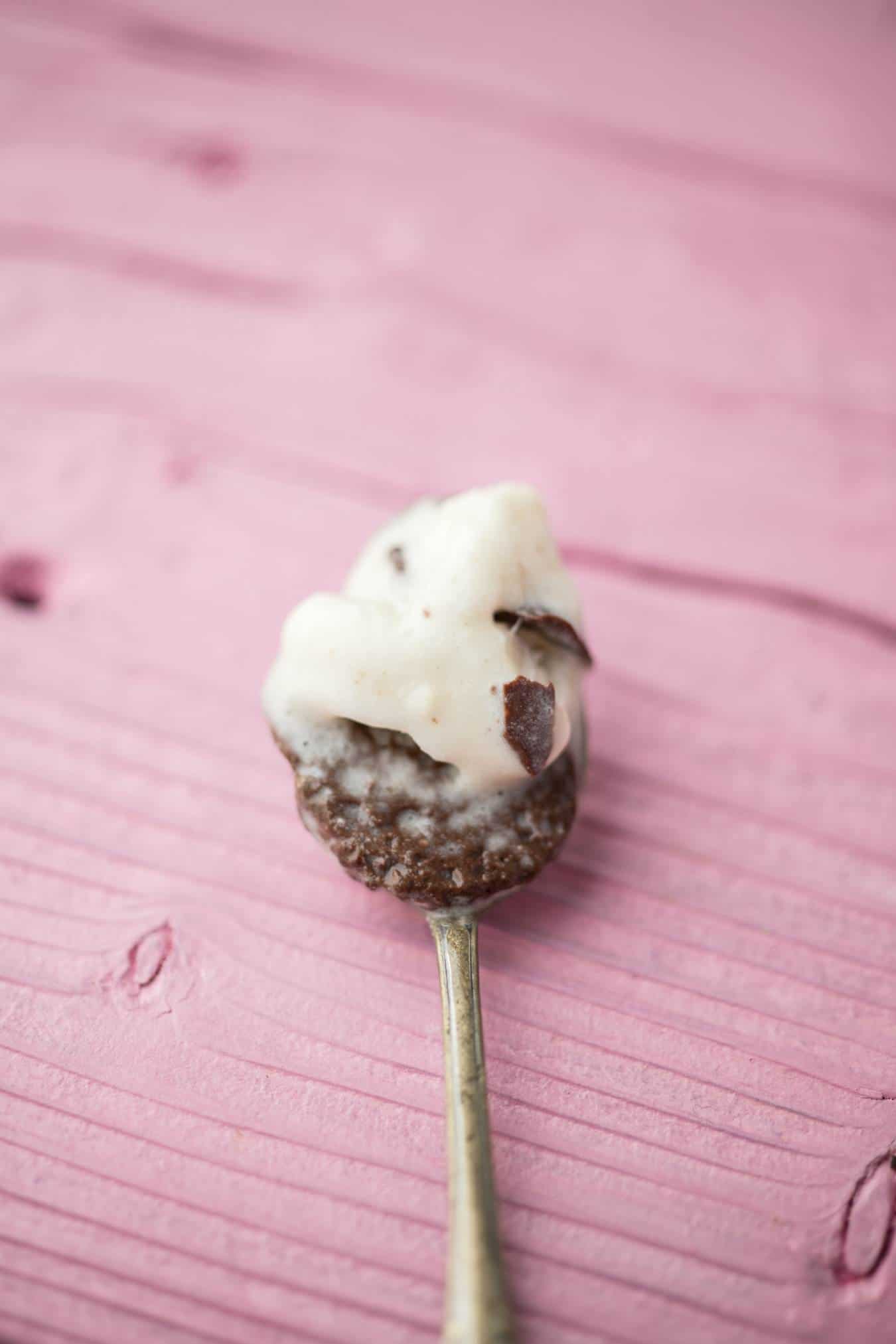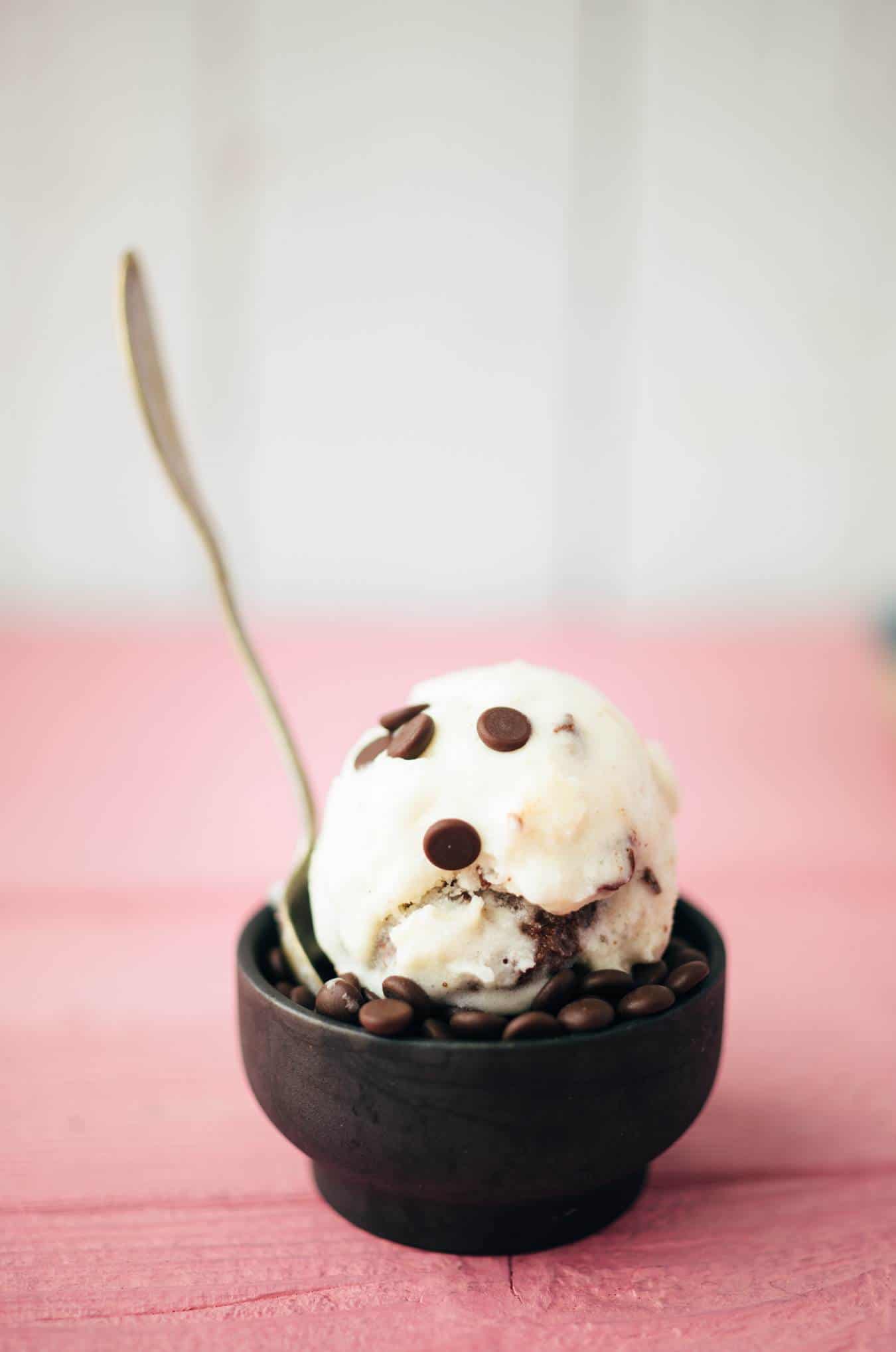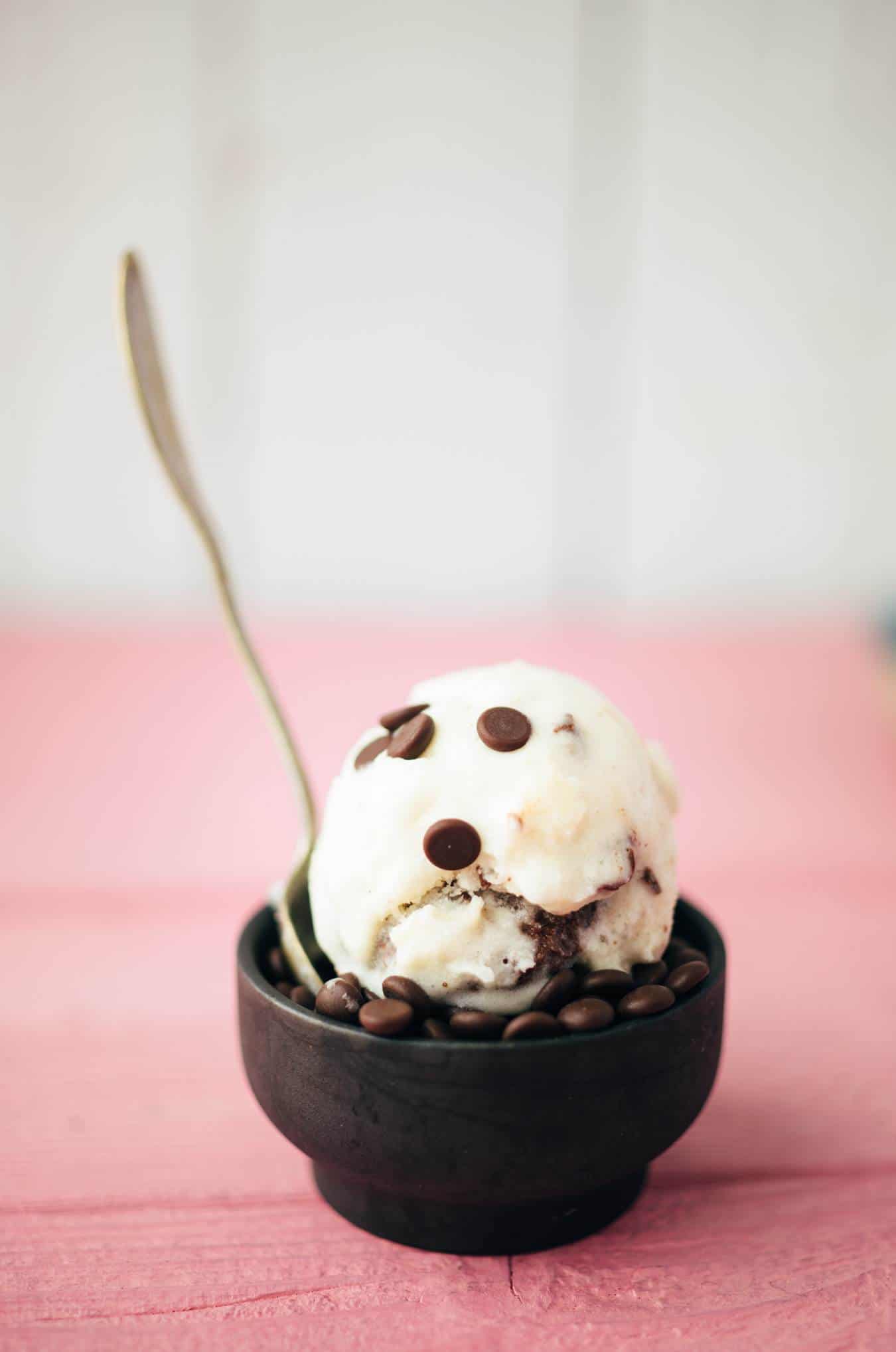 Does aquafaba ice cream taste different from regular ice cream?
Yes and No! In my opinion, the taste is identical to the variant with milk and even a tad better. Without ice cream maker is the ice cream in the frozen state somewhat "more rigid" than ordinary (vegan) milk ice cream, but as soon as it thaws it is wonderfully creamy and fluffy on the tongue. I have also tried it with ice cream maker, since it is basically a tad creamier, but the volume decreases again a little. CONCLUSION: An ice cream maker is not necessary and the ice cream tastes great!
Wonderful, isn't it? Less calories, vegan, lactose-free and full flavor experience, what more do you want?
The vegan stracciatella ice cream with aquafaba (without ice cream maker) is:
Crunchy chocolate
creamy
Light
Vanilla
Easy to manufacture
Delicately melting
Have you acquired a taste for this delicious Ice cream come? Then I look forward to a review at the bottom of this page. If you post a picture, use the hashtag #veganevibes.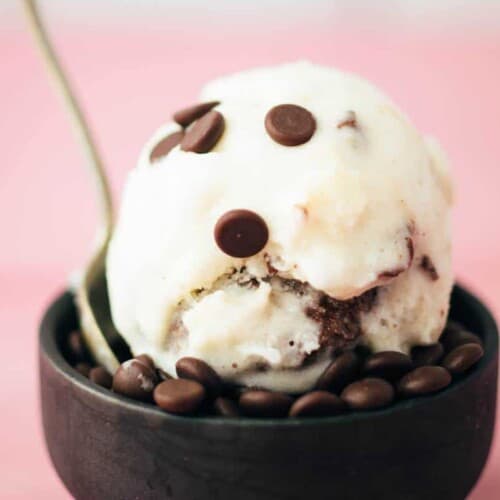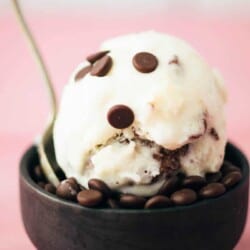 vegan stracciatella ice cream with aquafaba (without ice cream maker)
Vegan Cookie Stracciatella ice cream with aquafaba that does not require an ice cream maker. The preparation is simple and the ingredients are manageable. A sweet, crunchy-creamy temptation, vegan, lactose-free and lower in calories than conventional ice cream.
AUTOR: VEGANEVIBES
FOR THE VANILLA ICE CREAM:
Anleitung 
Prepare king cake pan or similar loaf pan for freezing. Line with baking paper if needed, but it is not absolutely necessary.


FOR THE VANILLE ICE CREAM, gently melt the chocolate and coconut oil in a bain-marie over medium heat.

80 g vegan white chocolate,

1 tbspn Coconut oil

Strain chickpeas and save the chickpea water – this is the chickpea water needed for aquafaba.

Put chick water in a clean and absolutely fat-free mixing bowl (of the food processor) and whip with the mixer (hand mixer or food processor) on the highest speed for 3-6 minutes, until the chick water has increased in volume and looks like beaten egg whites. If in doubt, continue beating longer and at the highest level rather than stopping too soon.


Add powdered sugar and beat again until well combined.


Remove melted chocolate from heat, allow to cool briefly.


Pour in chocolate completely, add vanilla and vegan yogurt and gently fold in with a silicone spatula. Always work from the bottom up because the chocolate is heavier and will settle to the bottom of the bowl. Work quickly.


45 g vegan yogurt,

¼ tbspn Bourbon vanilla ground or 1 tsp vanilla extract

Once everything is evenly combined, the mass should have reduced by about half in terms of volume. Immediately pour into the loaf pan and place in the freezer for 15 minutes to allow the mixture to freeze slightly.

In the meantime, melt the dark chocolate. I use the same bowl as before. If there are still leftovers of the white chocolate in it, no problem. Once the chocolate has melted, remove from the heat and allow to cool briefly.


50-100 g dark vegan chocolate

Remove ice cream mixture from freezer once again and spoon melted dark chocolate into vanilla ice cream mixture in places. Since the mass is already frozen, beautiful chocolate clusters are formed in this way.

Allow to set in the freezer for at least 8-10 hours.

Alternatively, process with an ice cream maker according to manufacturer's instructions.

To serve, remove, let thaw for

5 minutes

, portion with an ice cream scoop and arrange in dessert bowls or an ice cream cone. Garnish with desired toppings and enjoy!
Notizen
NOTES /HELPFUL ACCESSORIES:
Nährwertangaben
Serving:
1
Ball
Calories:
152
kcal
Carbohydrates:
19
g
Protein:
3
g
Fat:
7
g
Saturated Fat:
3
g
Cholesterol:
2
mg
Sodium:
158
mg
Potassium:
149
mg
Fiber:
3
g
Sugar:
10
g
Vitamin A:
10
IU
Vitamin C:
0.7
mg
Calcium:
50
mg
Iron:
1.4
mg