Cookie Dough ice cream, I could talk about it for hours. Starting with "how wonderful it tastes" and ending with the hundred stories I've had with it. In the past I always got the Ice cream always got from a fairly well-known manufacturer and it was not at all cheap. But the cozy evenings with pizza, movies and ice cream in bed (heartbreak!) were worth it. After my last Chocolate ice cream recipe with aquafaba, I thought to myself, there must be more going on. Why not actually make a Cookie Dough ice cream based on Giggle Water ? Without ice cream maker? Are you ready? Well then, let's get started.
Is it a dream or a vegan Cookie Dough ice cream?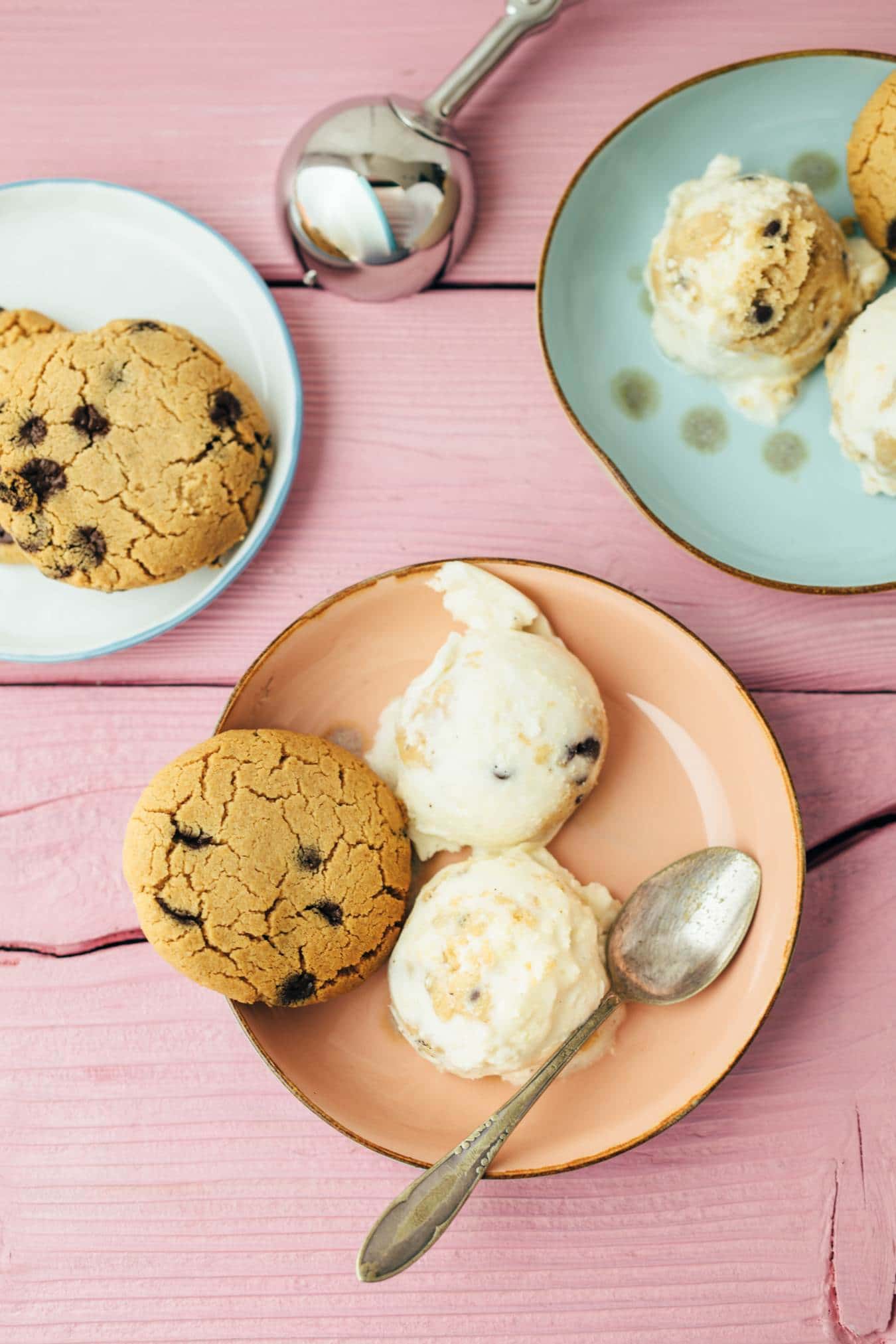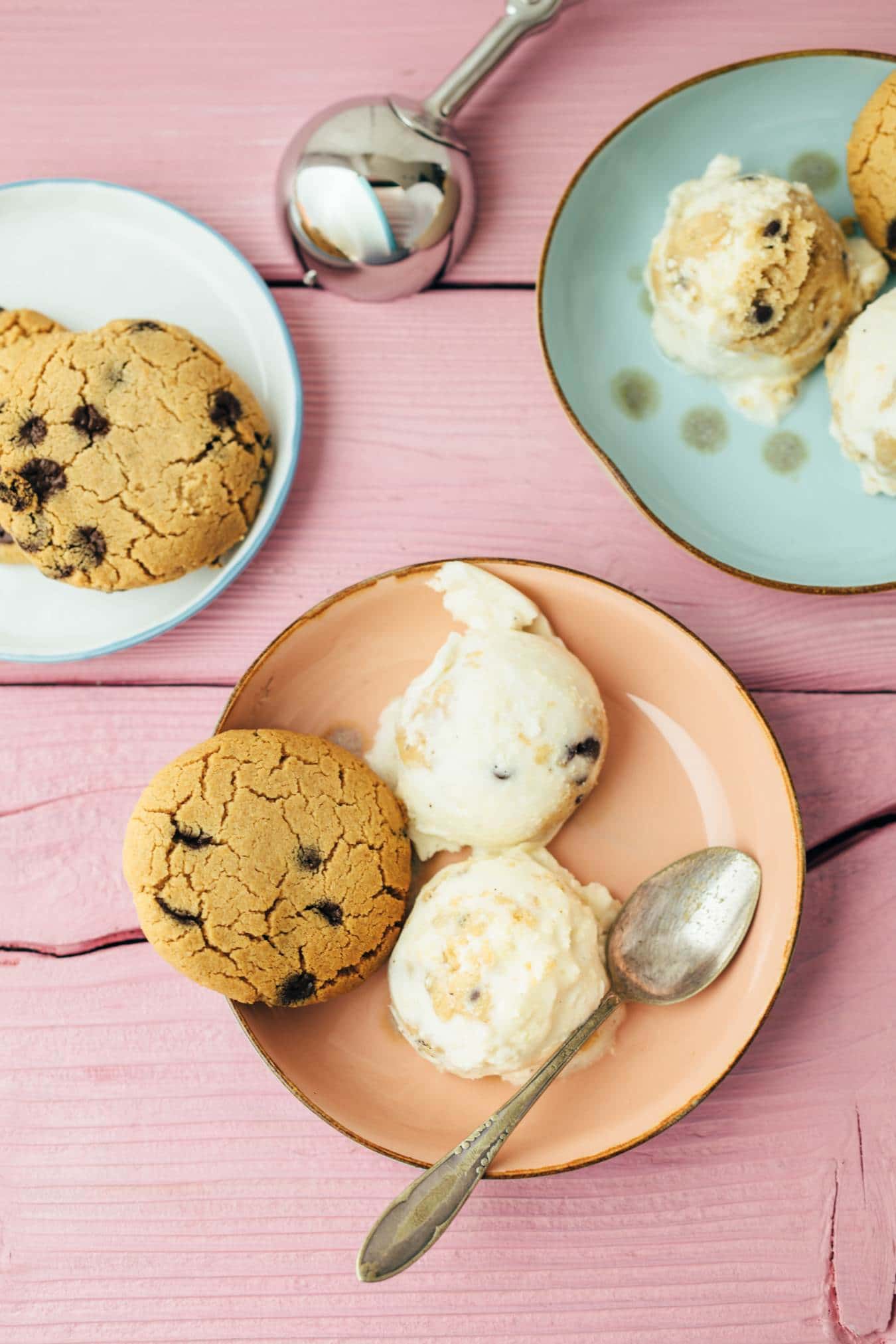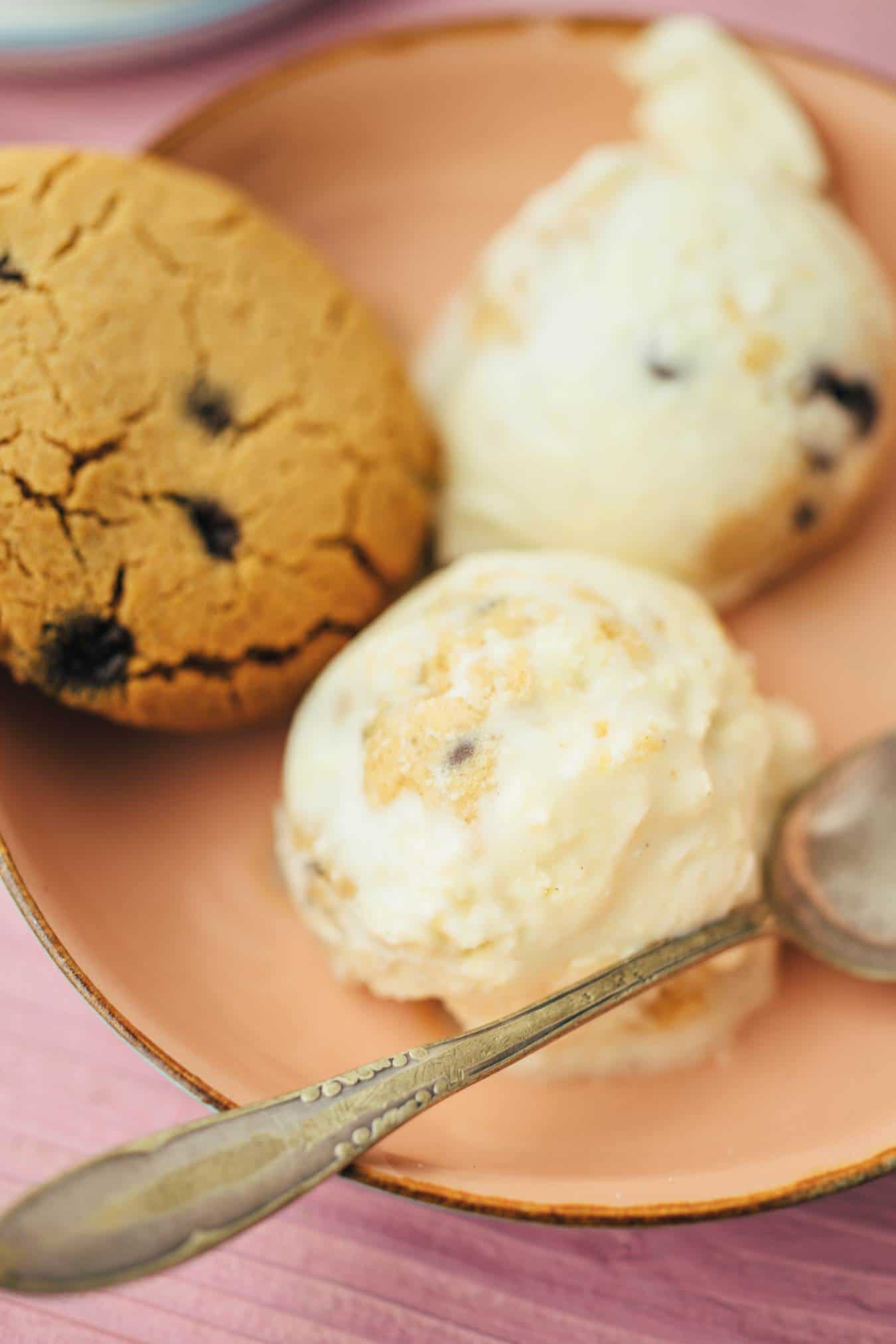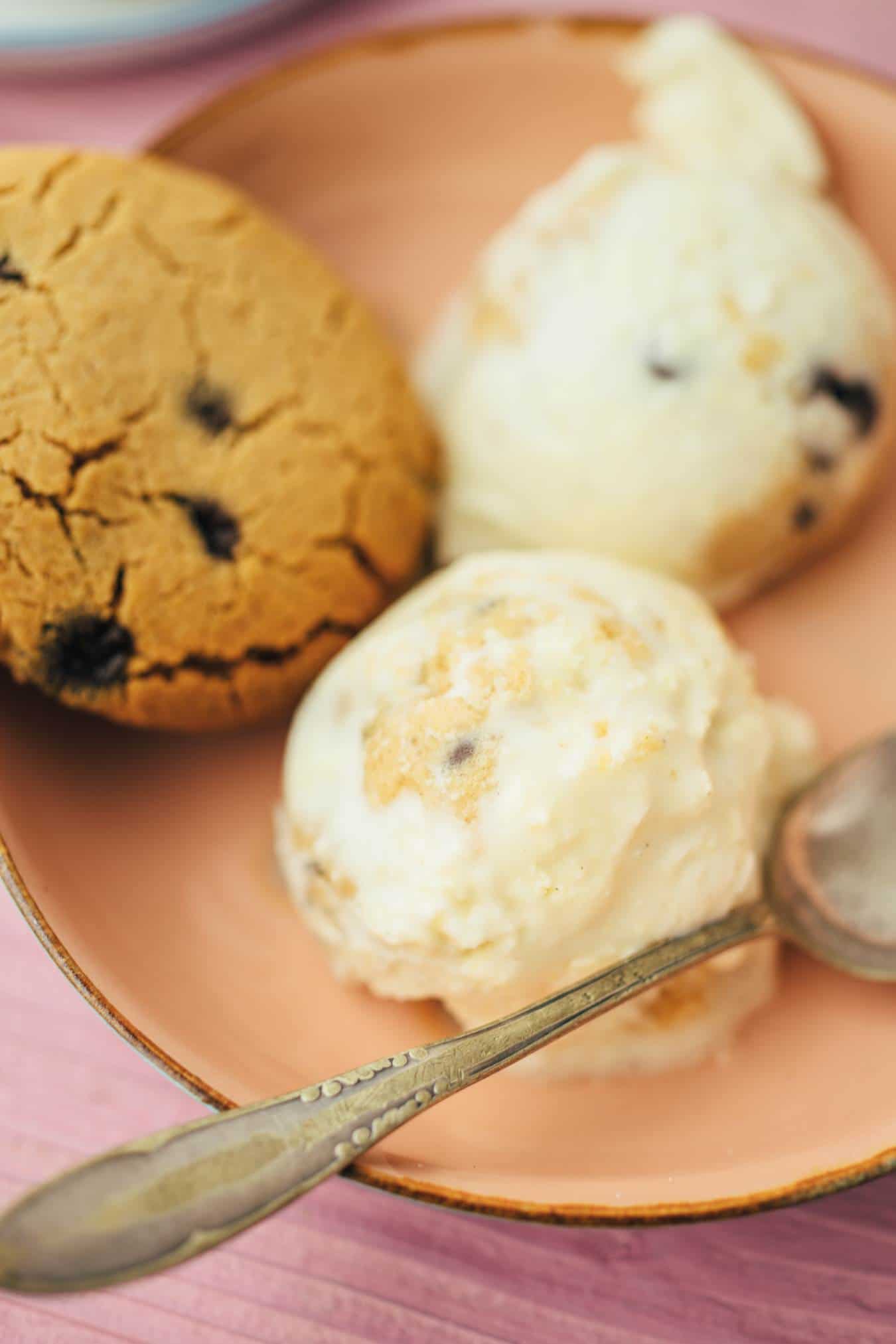 The base consists of giggle snow and here you can find a detailed instruction how you can make it. To this is added powdered sugar, white chocolate, cocoa butter and vanilla. That's it? For the base, yes, but the cookie dough is still missing. The is also quite simple and is made from a little vegan margarine, flour and sugar. Almost too good to be true, right? You are probably asking yourself what you can do wrong. Honestly nothing, even the guilty conscience is absent, because thanks to the aquafaba, the ice cream is much lower in calories than the conventional treat from the supermarket.
Comparably low in calories, delicious in taste and creamy? Am I in heaven?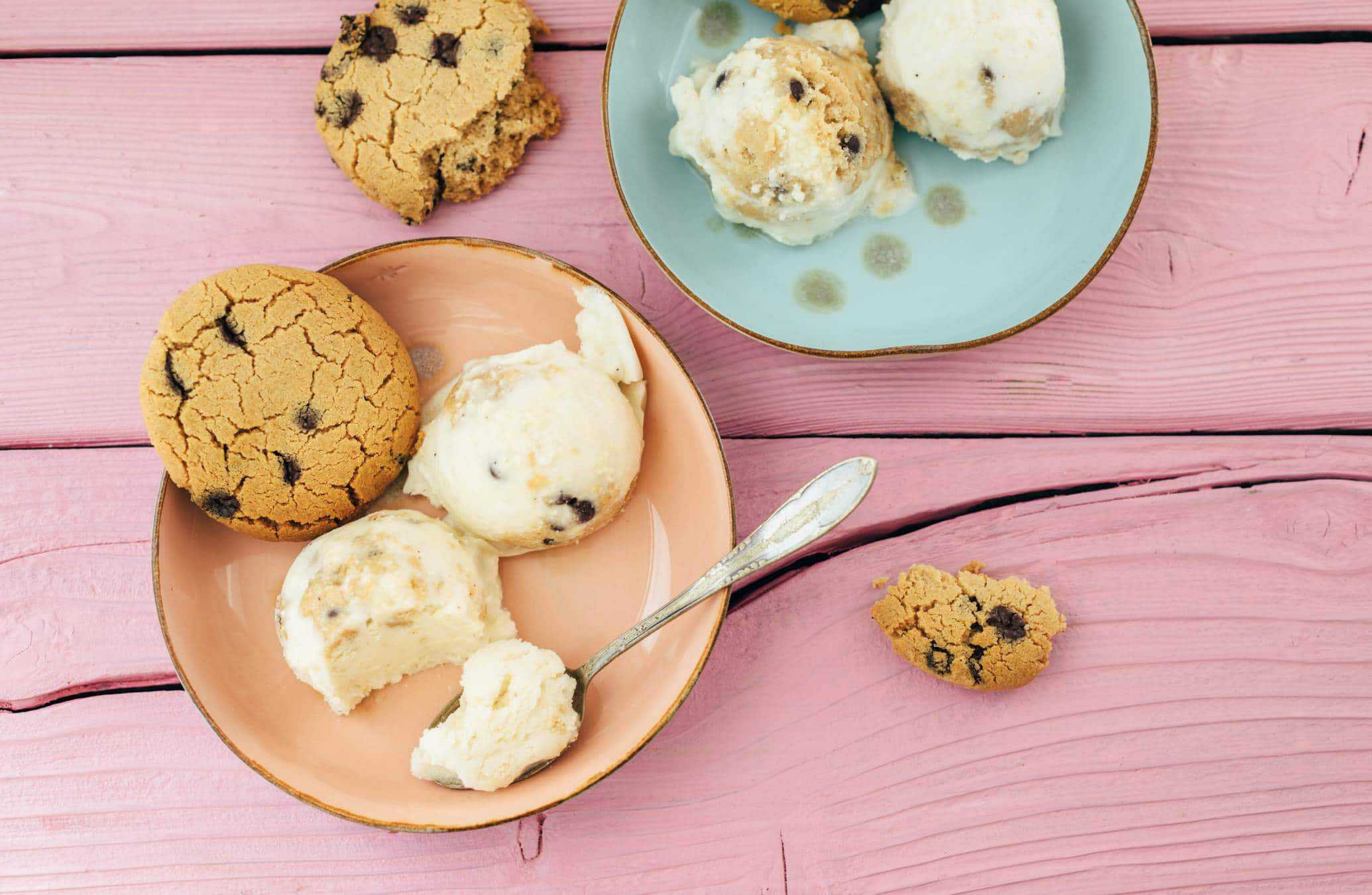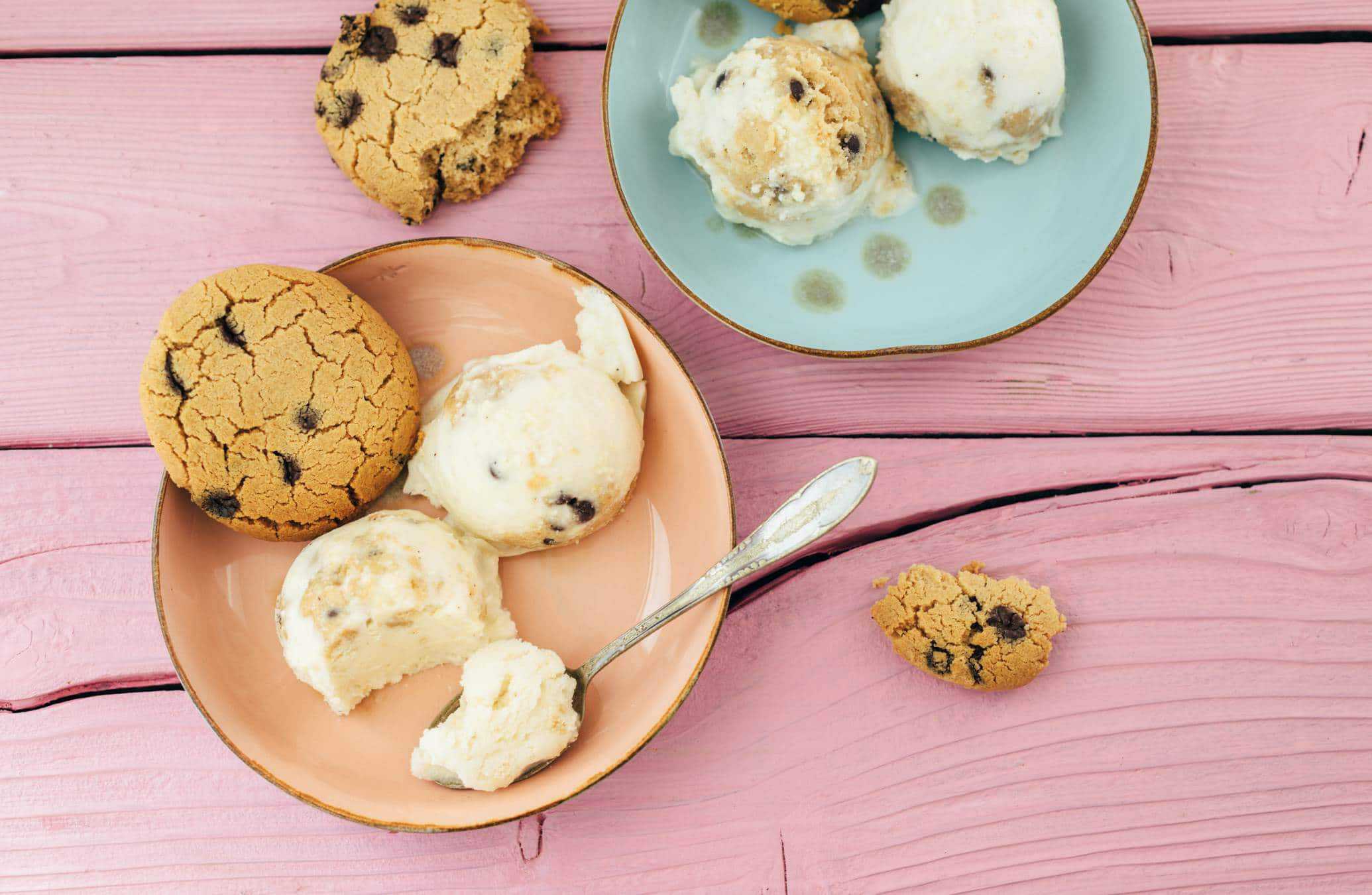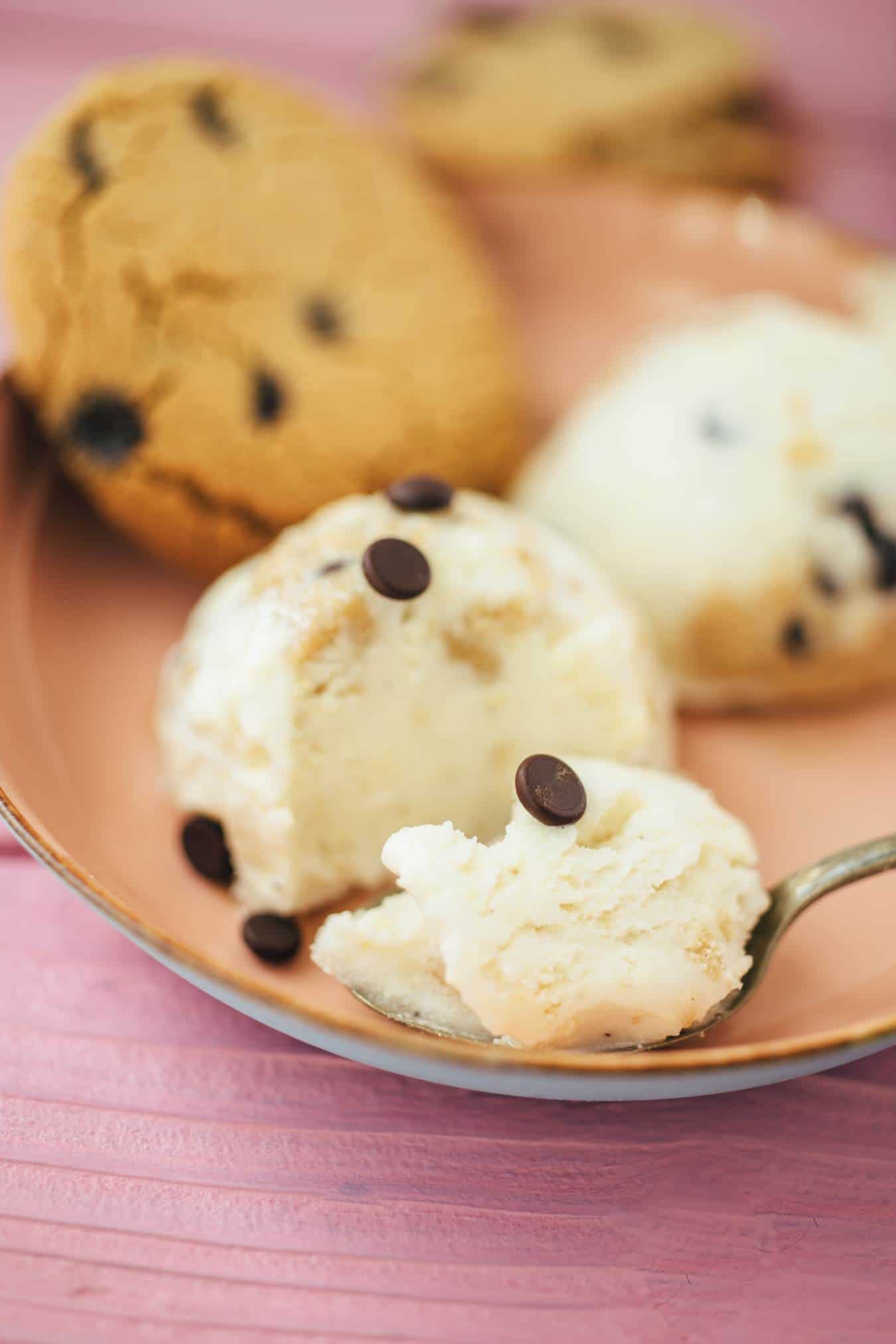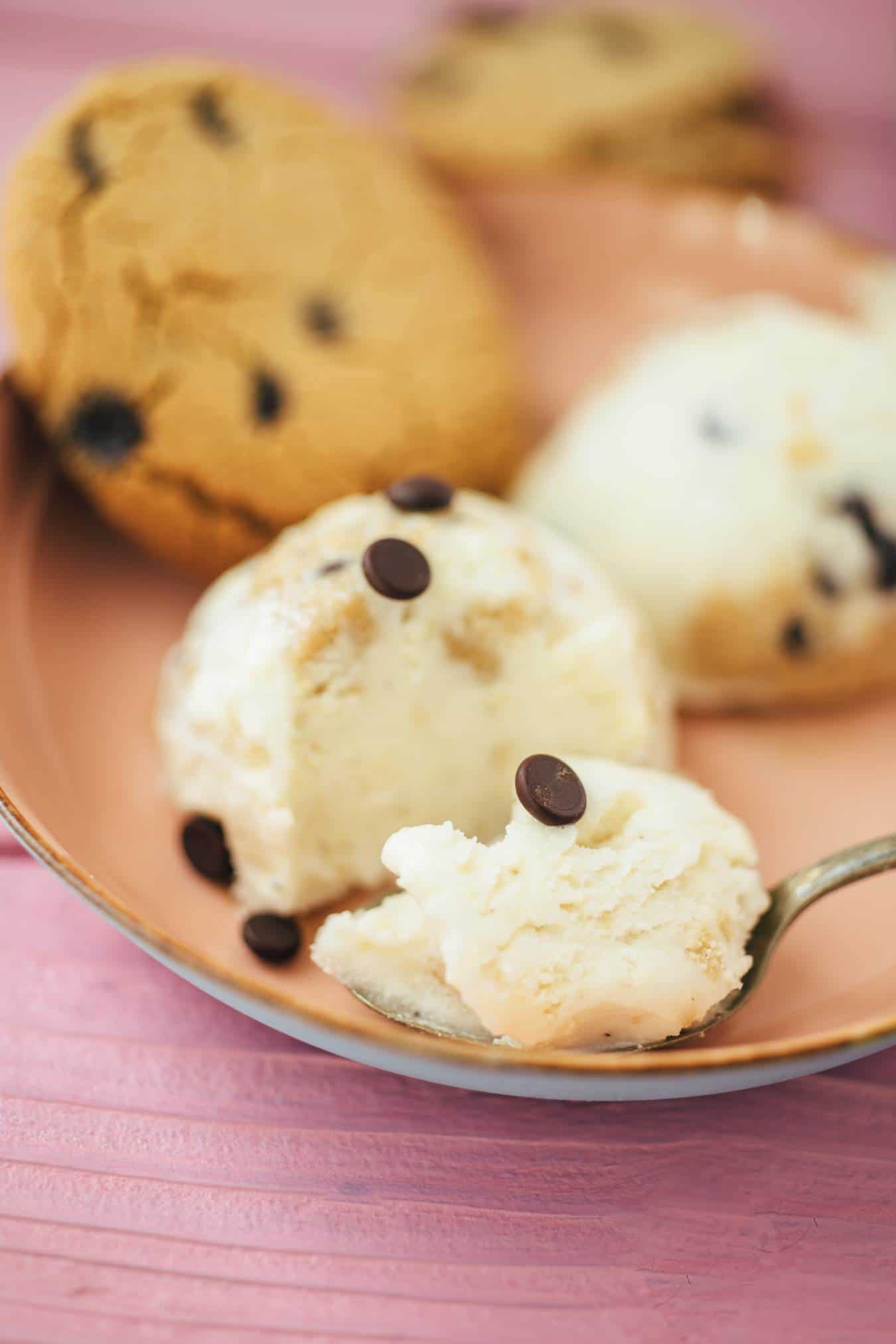 Now I would like to give you a few tips so that the ice cream succeeds in any case:
Make aquafaba according to my instructions and whisk too long rather than too short. The beaten egg white should be really nice and firm.
The powdered sugar can be added directly into the finished beaten egg white and whipped again. The ice snow only gets firmer with the help of the powdered sugar.
The cocoa butter makes the chocolate more liquid, as white chocolate is often a bit creamier or more viscous than dark chocolate. You can buy cocoa butter in any well-stocked organic supermarket or simply online.
Melt the chocolate in NOT too hot temperatures in a water bath. The good news is that white chocolate is not as sensitive as dark, but caution is still advised.
Lifting under is the last hurdle, but no problem either! It is important that the giggle snow does not immediately collapse again, so fold in carefully. I like to work with a silicone spatula here and pour the slightly cooled chocolate mixture into the mixing bowl in one batch. Then I lift the chocolate under the giggle snow by making a light stirring motion from the bottom up make. The firmer the giggle snow, the easier it is to fold in. So it pays to work with a good food processor.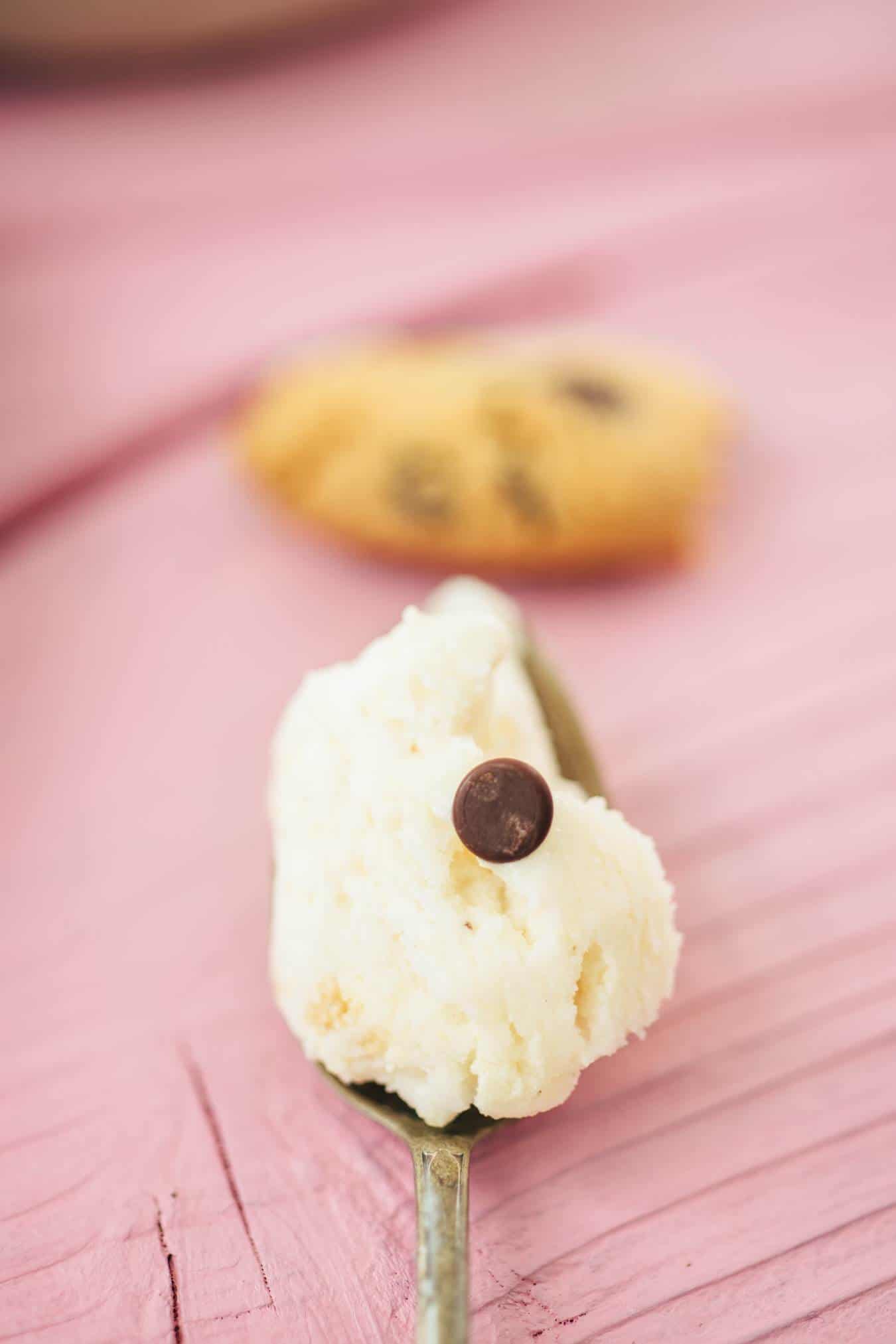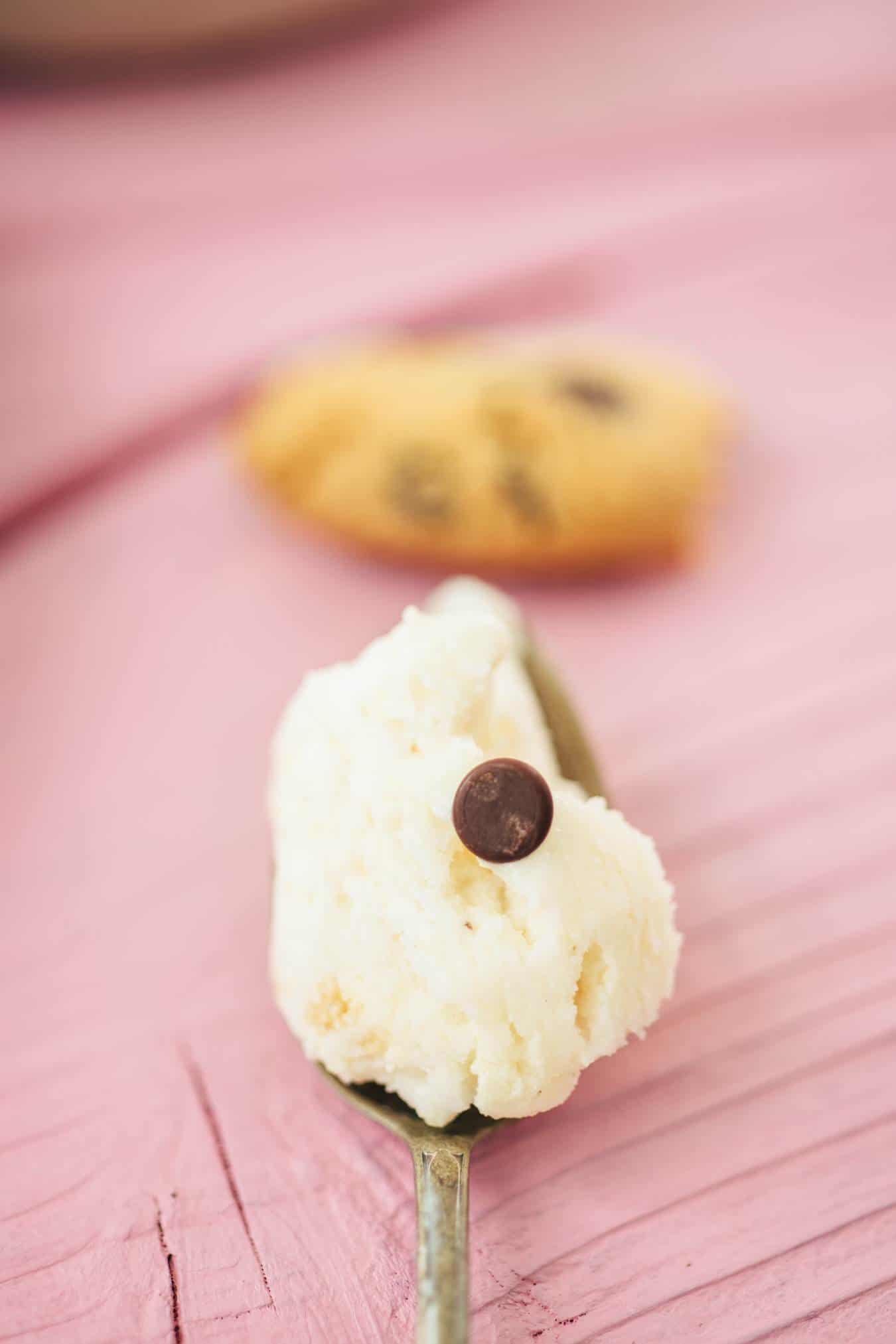 When processed correctly, the ice cream tastes super creamy and simply put like Cookie Dough ice cream. I also tested making it with the ice cream maker and I found it a little crumblier than the freezing method. So you can theoretically save the ice cream machine. Ingenious, isn't it?
If you want to serve the ice cream as a dessert, then fit Chocolate cookies just perfect with it. Not enough? Then I recommend another blob Coconut cream .
The vegan Cookie Dough ice cream with aquafaba is:
Biscuit-y
creamy
Light
Easy to manufacture
Delicately melting
If you're a big Cookie Dough lover like me, I'd love a review at the very bottom of this page. If you post a picture, use the hashtag #veganevibes.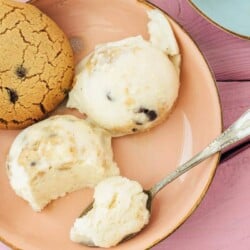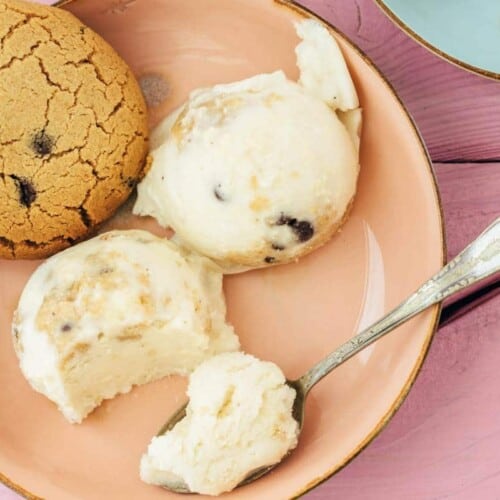 Vegan Cookie Dough ice cream with aquafaba (without ice cream maker)
Vegan Cookie Dough ice cream with aquafaba that does not require an ice cream maker. The preparation is simple and the ingredients are manageable. A sweet, creamy temptation, vegan, lactose-free and lower in calories than conventional ice cream.
AUTOR: VEGANEVIBES
FOR THE VANILLA ICE CREAM:
Anleitung 
To make the COOKIE DOUGH, place all ingredients in a mixing bowl and mix by hand until a uniform dough forms. The dough should be neither too firm nor too soft. If necessary, add a little more flour (if too soft) or a sip of vegetable milk (if too firm). Put in the refrigerator.


1 tbspn vegan margarine,

2 tbspn Peanut butter creamy or crunchy,

2 tbspn Raw cane sugar,

¼ -½ Cup fine spelt flour or gluten-free flour mix,

2 tbspn dark vegan chocolate chips,

A pinch of sea salt

FOR THE VANILLE ICE CREAM, gently melt the chocolate and cocoa butter in a bain-marie over medium heat.


80 g vegan white chocolate,

20 g Cocoa butter

Strain chickpeas and save the chickpea water – this is the chickpea water needed for aquafaba.

Put chick water in a clean and absolutely fat-free mixing bowl (of the food processor) and whip with the mixer (hand mixer or food processor) on the highest speed for 3-6 minutes, until the chick water has increased in volume and looks like beaten egg whites. If in doubt, continue beating longer and at the highest level rather than stopping too soon.


Add powdered sugar and beat again until well combined.


Remove melted chocolate-cocoa butter mixture from heat, allow to cool briefly.


Pour in chocolate completely, add vanilla and gently fold in with a silicone spatula. Always work from the bottom up because the chocolate is heavier and will settle to the bottom of the bowl.


¼ tbspn Bourbon vanilla ground or vanilla extract

Once everything is evenly combined, the mass should have reduced by about half in terms of volume.


Pour into a freezer-safe loaf pan (I just use a baking pan here), remove the Cookie Dough from the refrigerator, and pluck the dough into smaller pieces. Gently run a spoon through again to make sure everything is evenly distributed. Cover and place in the freezer.


Allow to set in the freezer for at least

8 hours

.

Alternatively, process with an ice cream maker according to manufacturer's instructions.

To serve, remove, let thaw for

5 minutes

, portion with an ice cream scoop and arrange in dessert bowls or an ice cream cone. Garnish with desired toppings and enjoy!
Notizen
NOTES /HELPFUL ACCESSORIES:
Nährwertangaben
Serving:
1
Balls
Calories:
166
kcal
Carbohydrates:
20
g
Protein:
5
g
Fat:
8
g
Saturated Fat:
3
g
Cholesterol:
2
mg
Sodium:
176
mg
Potassium:
131
mg
Fiber:
3
g
Sugar:
9
g
Vitamin A:
8
IU
Calcium:
40
mg
Iron:
1
mg