Gluten-free chocolate cake is a tempting option for those who prefer a gluten-free diet or have celiac disease. This delicious tart is made with a combination of buckwheat flour, almond flour, and a gluten-free flour blend to create an airy yet moist dough.
Vegan chocolate cake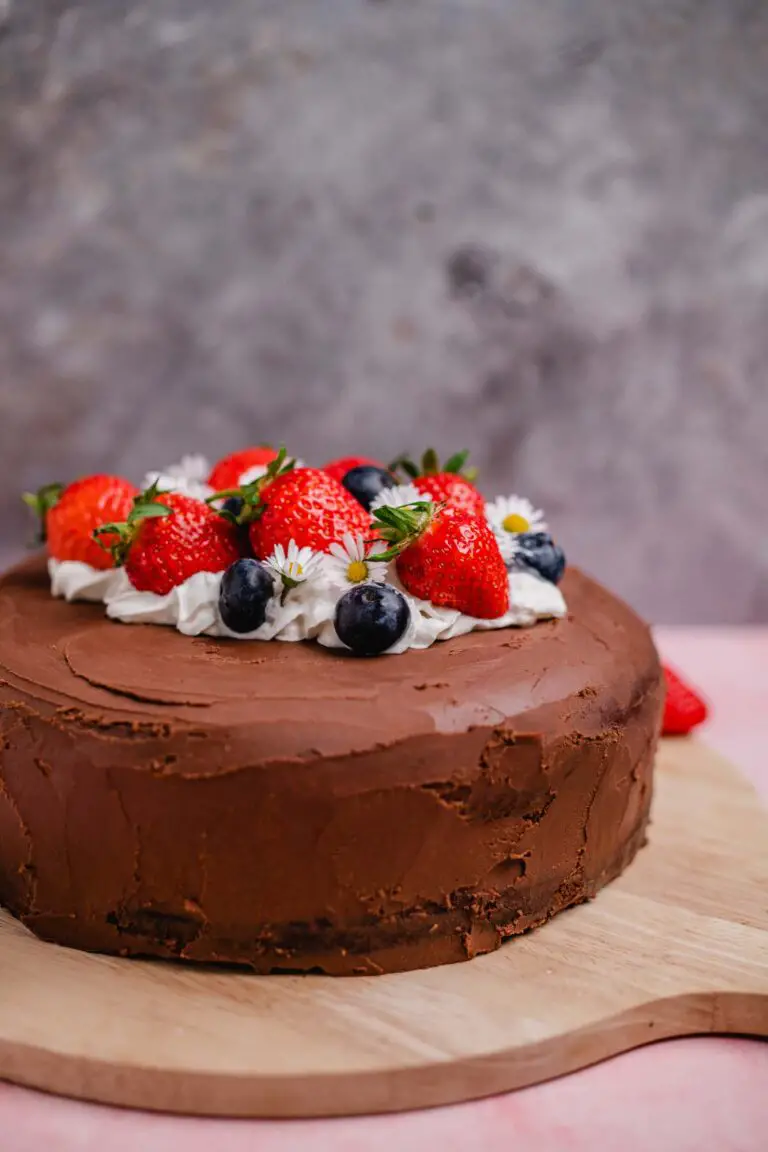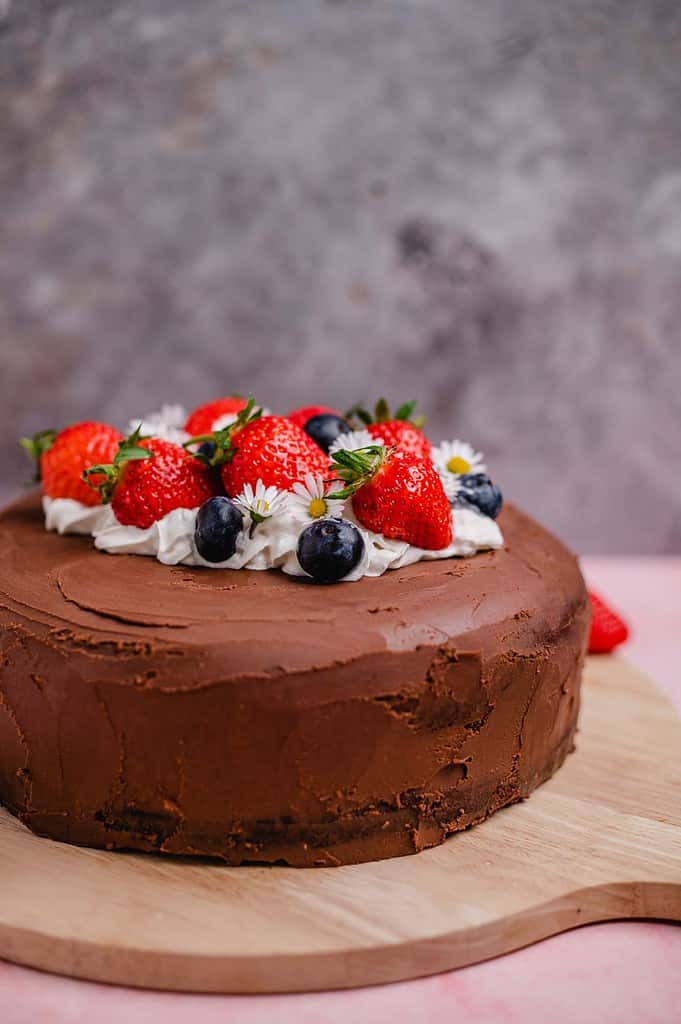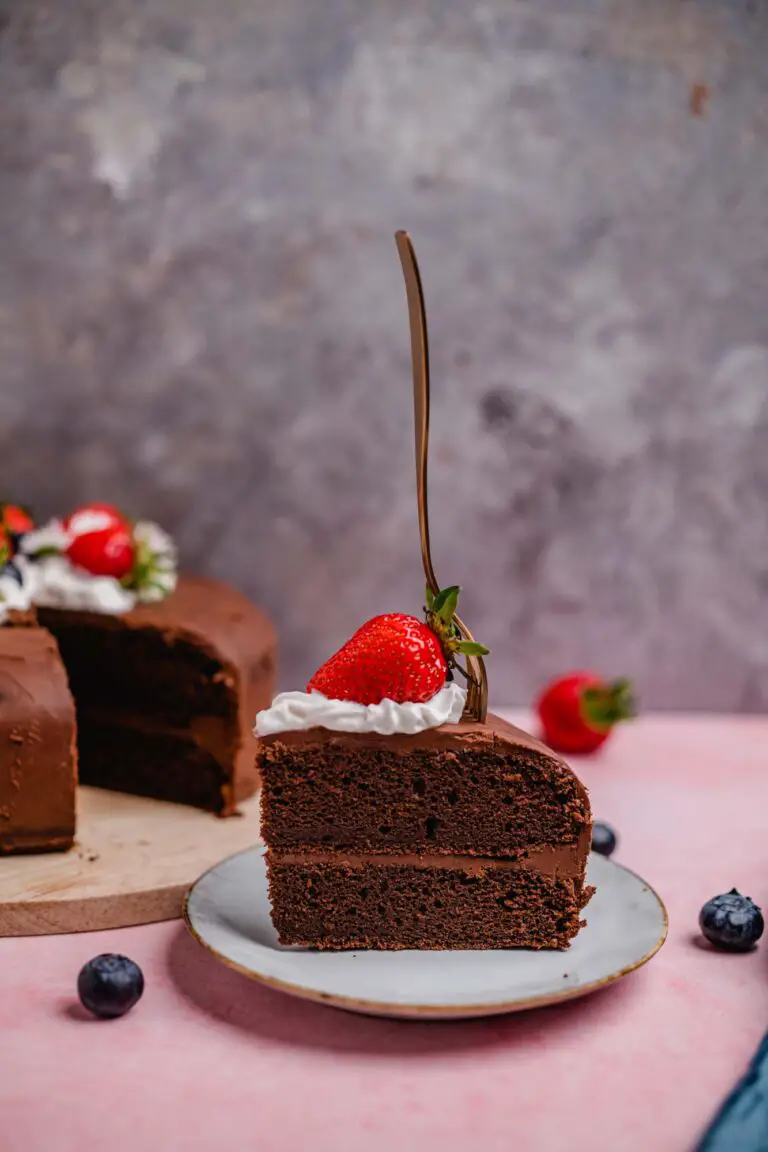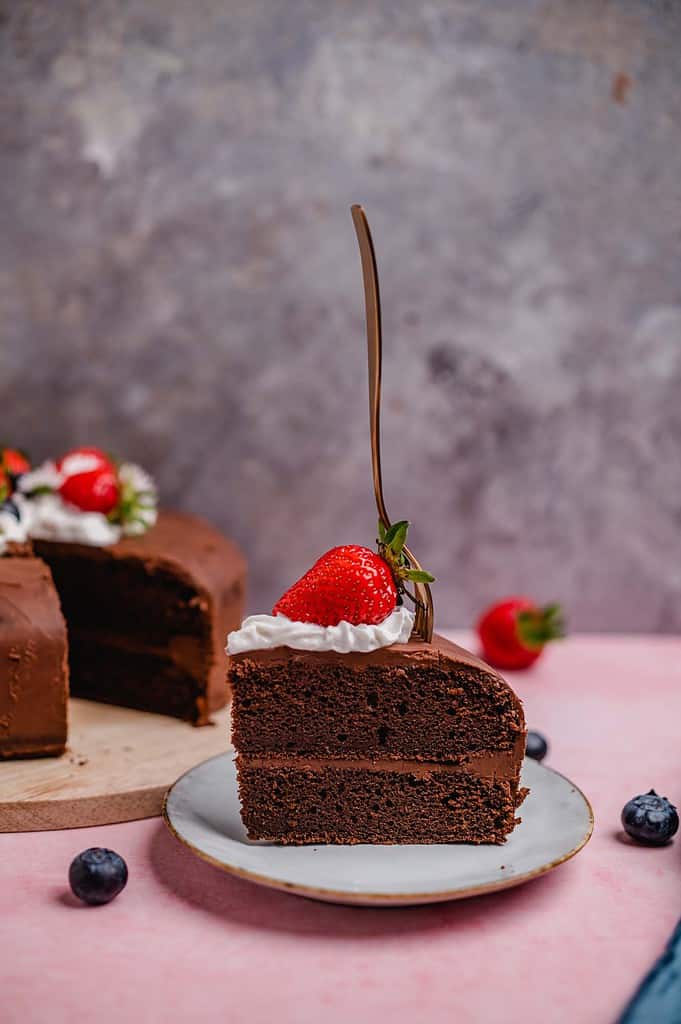 The egg substitute used is a flaxseed egg , which is made from ground flaxseed and water. This egg substitute provides a good binding of the dough without using animal products. Vegan plant milks, such as almond milk or oat milk, add a nice moisture and subtle flavor to the cake.
The chocolate frosting is the icing on the cake. It is prepared with melted vegan chocolate, vegetable margarine or coconut oil and powdered sugar. The result is a creamy and delicious glaze that perfectly completes the cake.
Gluten free chocolate cake why?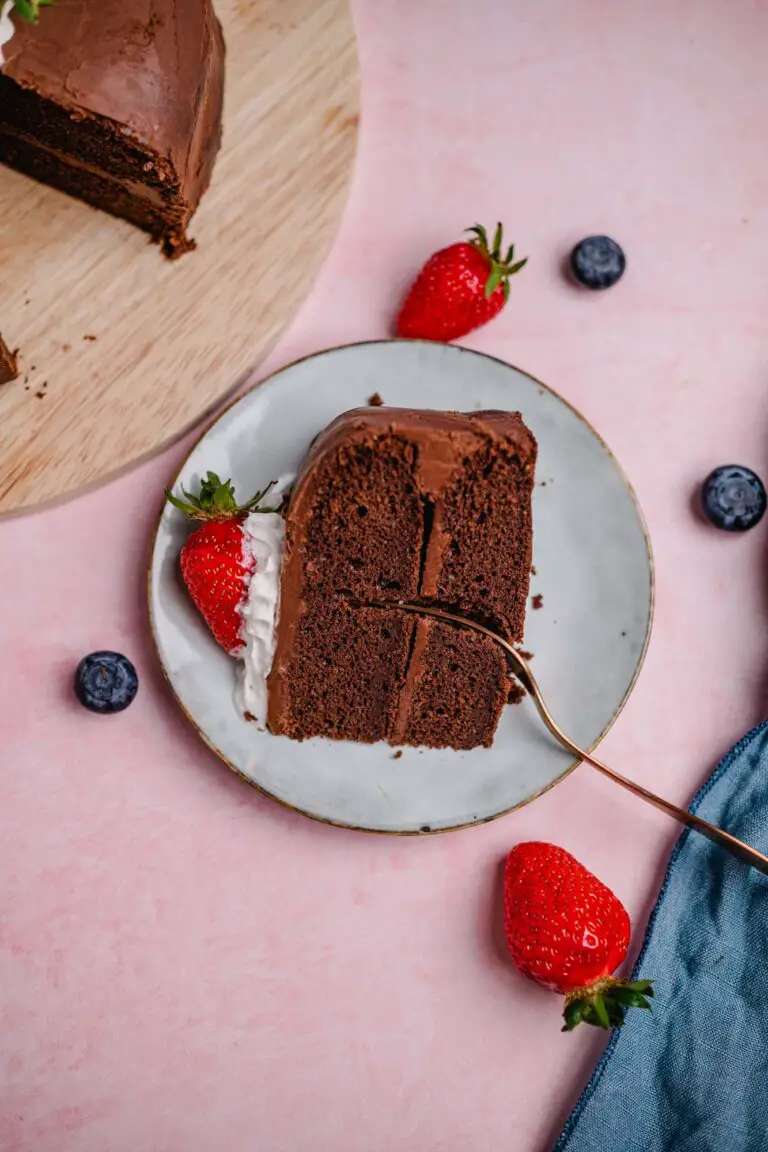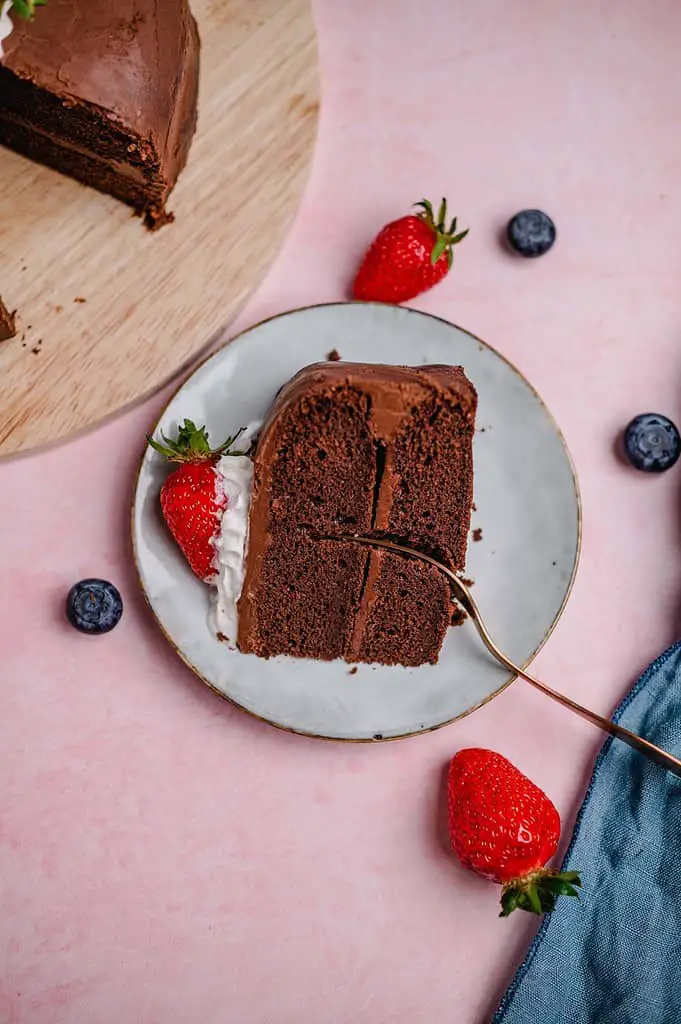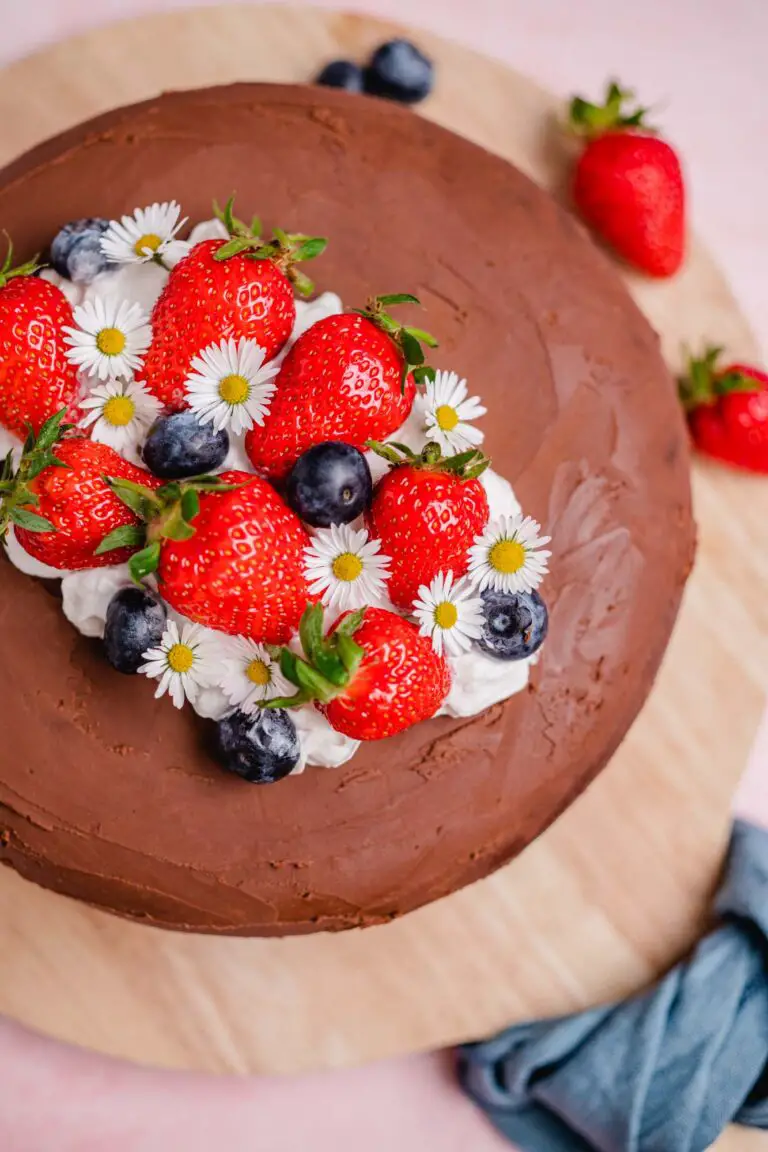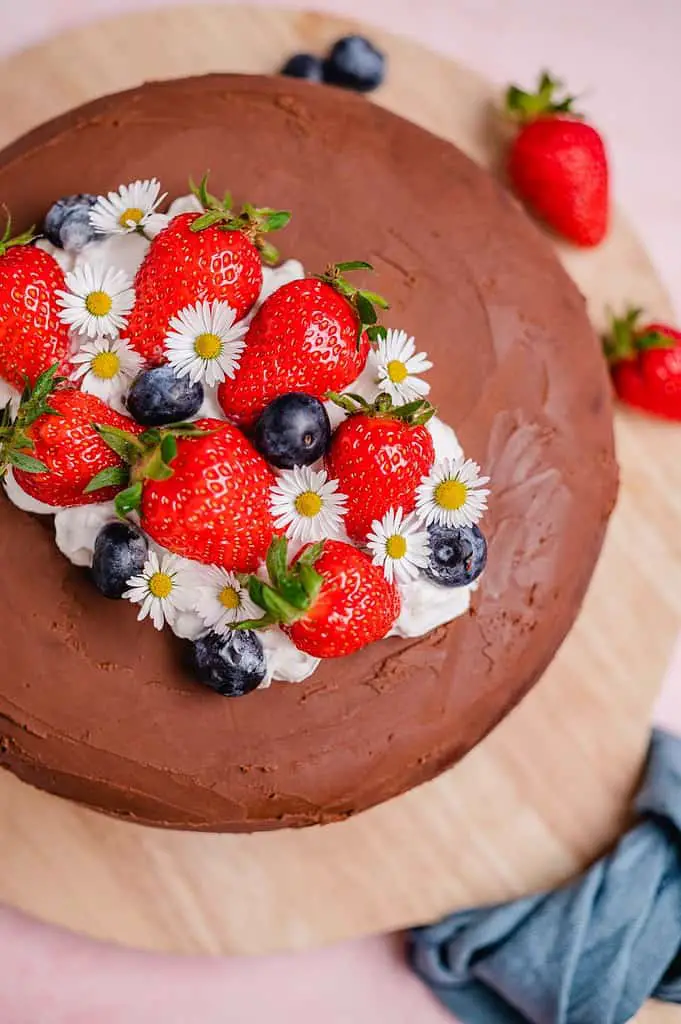 Gluten-free flours like buckwheat flour and almond flour are a healthy alternative to wheat flour. Buckwheat flour contains a lot of fiber, protein and essential amino acids. Almond flour is rich in vitamins, minerals and healthy fats. The gluten-free flour blend ensures optimal consistency and texture of the dough.
Flaxseed egg is a commonly used egg substitute in vegan baking recipes. Flaxseeds are rich in omega-3 fatty acids, fiber and protein. The gel that forms when ground flax seeds are soaked in water binds the dough and provides a nice texture.
The plant-based milk in the cake not only provides good moisture, but is also a healthy alternative to cow's milk. Plant-based milks generally contain less saturated fat and cholesterol than animal-based milks.
The chocolate frosting brings the ultimate chocolate treat to the cake. Vegan chocolate, which is often plant-based, does not lack flavor or texture. Melted chocolate combines with vegetable margarine or coconut oil and powdered sugar to create a smooth and delicious glaze.
This gluten-free chocolate cake is a real treat and shows that you don't have to compromise on taste without gluten. It is perfect for people with gluten intolerance or for anyone looking for new and exciting taste experiences. Enjoy this delicious cake to the fullest!
Here are my reasons why you must try the chocolate cake:
Gluten free: Ideal for people with gluten intolerance or celiac disease.
Healthy flours: buckwheat flour and almond flour offer nutrients and flavor.
Flaxseed Egg: Vegan alternative for binding and texture without animal products.
Vegetable milk: Provides moisture and a mild flavor.
Chocolate Frosting: Creamy and delicious frosting that completes the chocolate treat.
Are you ready for the chocolate cake? I wish you a lot of fun baking and of course a review at the bottom of this page. If you post a picture, use the hashtag #veganevibes.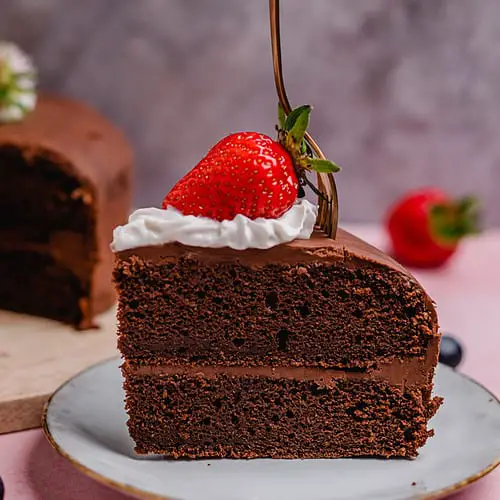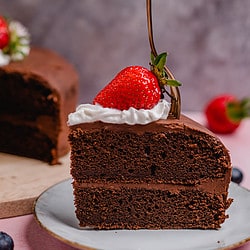 Vegan chocolate cake
I bake this cake under two circumstances. Either I want to make an impression, or I have an enormous chocolate craving. In both cases, I have never been disappointed.
AUTOR: VEGANEVIBES
For the frosting:
¾

Cup

Coconut cream

the solid part on a can of coconut milk (put in the refrigerator overnight).

1 ½

Cup

dark vegan chocolate drops or couverture
Anleitung 
Prepare frosting. To do this, carefully melt the coconut cream and chocolate over a water bath. Whisk until well combined and refrigerate for

2-5 hours

.

¾ Cup Coconut cream,

1 ½ Cup dark vegan chocolate drops or couverture

Preheat oven to

175

°C

(convection) and

195

°C

(top and bottom heat) and line two springform pans with baking paper (bottoms) and (optionally) brush the sides with a little margarine.

To make the dough, first add the dry ingredients, gluten-free flour mix, buckwheat flour, almond flour, cocoa powder and raw cane sugar, bourbon vanilla, baking powder and salt to a bowl and whisk until well combined. During this step, small lumps dissolve. Set aside.

160 g gluten free flour mix,

120 g Buckwheat flour alternatively rice flour or another gluten-free flour,

80 g Almond flour,

120 g Cocoa powder,

100 g Raw cane sugar,

4 tbspn Baking powder,

½ tbspn Salt

Add vegetable milk, oil, maple syrup and flaxseed egg. Stir until a uniform dough is formed. Check the consistency of the dough, it should be easy to pour into the mold, but not too runny. If too runny add more flour, if too solid add more vegetable milk.

2 Piece Flax seed egg,

100 ml maple syrup,

120 ml Baking oil,

500 ml Oat milk,

½ tbspn Bourbon vanilla ground

Pour into springform pans and smooth out. Add more chocolate chips as desired. Put in the oven and bake for

40 minutes

. When the baking time is over, use a wooden stick to check if the cake is done. If the wooden stick comes out "clean", remove from oven and let cool completely.

140 g dark vegan chocolate drops

Remove frosting from refrigerator and place in a mixing bowl. It is best to use a spoon when it is already quite firm.
Nährwertangaben
Serving:
1
Piece
Calories:
447
kcal
Carbohydrates:
60
g
Protein:
9
g
Fat:
23
g
Saturated Fat:
7
g
Polyunsaturated Fat:
7
g
Monounsaturated Fat:
3
g
Trans Fat:
0.1
g
Cholesterol:
0.1
mg
Sodium:
107
mg
Potassium:
412
mg
Fiber:
9
g
Sugar:
28
g
Vitamin A:
105
IU
Vitamin C:
0.1
mg
Calcium:
206
mg
Iron:
4
mg