Raspberry chocolate shortbread, or something with raspberries again? Just last week I published my Raspberry Streusel Schnitten, which really came out great. Maybe you're wondering now why I'm doing something with raspberries again? The answer is quite simple, because I love raspberries. They are super healthy, go great with sweets thanks to their acidity, and have such great color too. So I could eat them all day and especially I like them together with chocolate. Shall I bring something with raspberries again next Saturday? Ok, no I understand. To be honest, I have already planned something completely different.
Vegan raspberry chocolate shortbread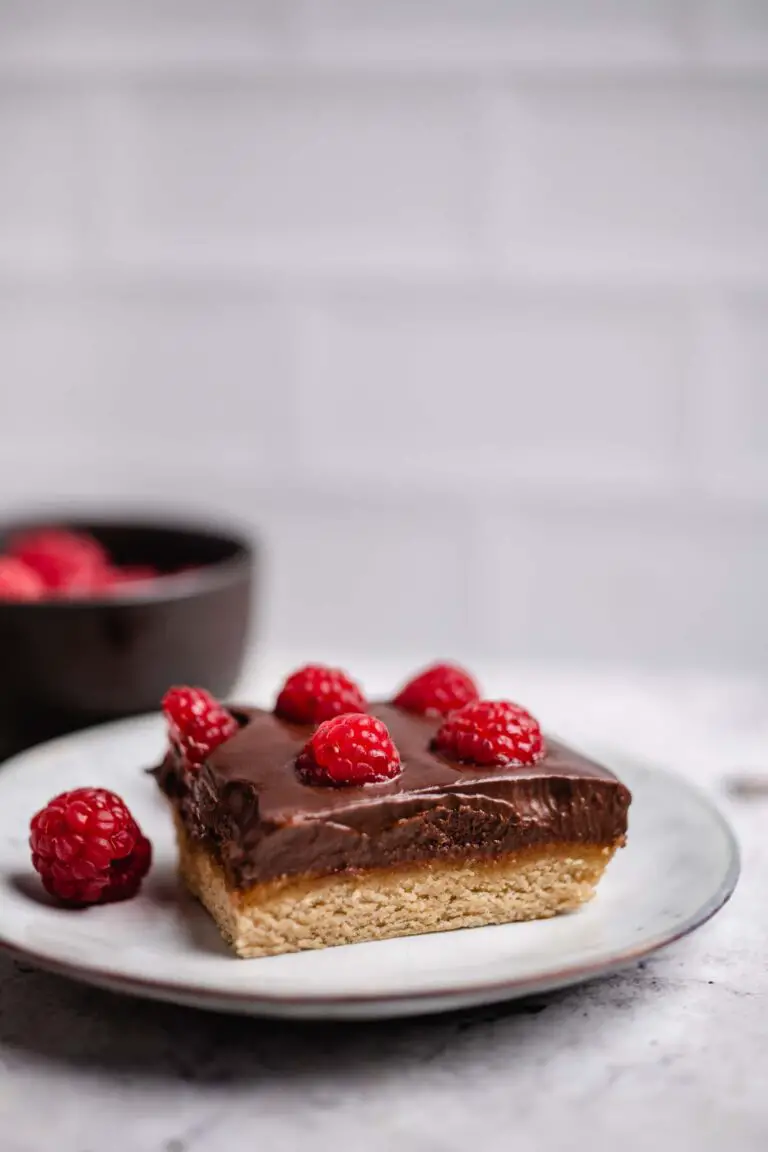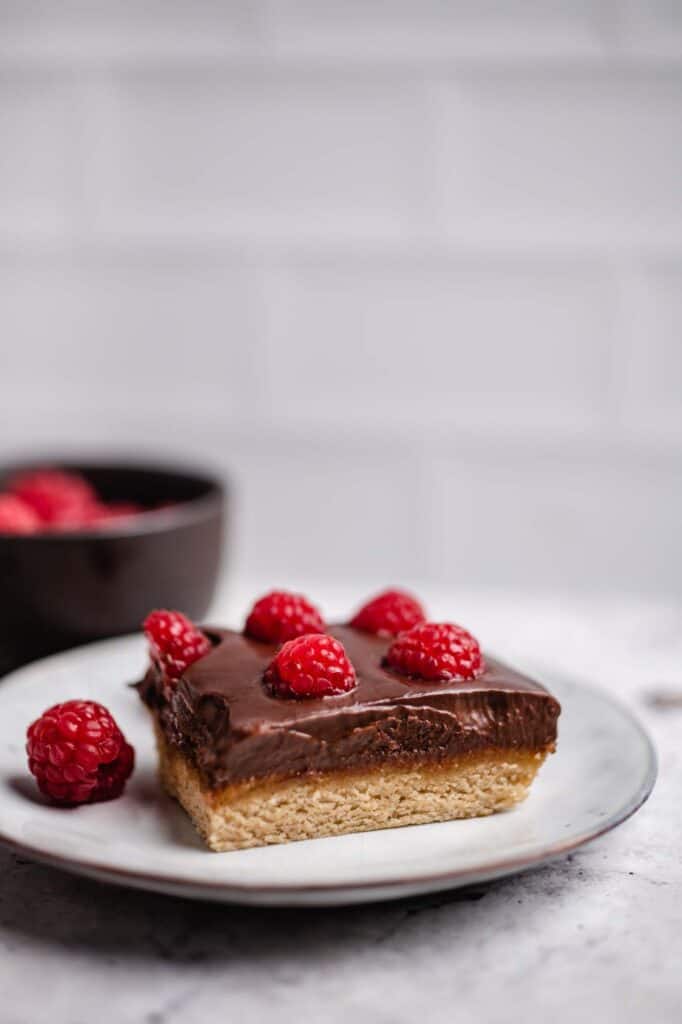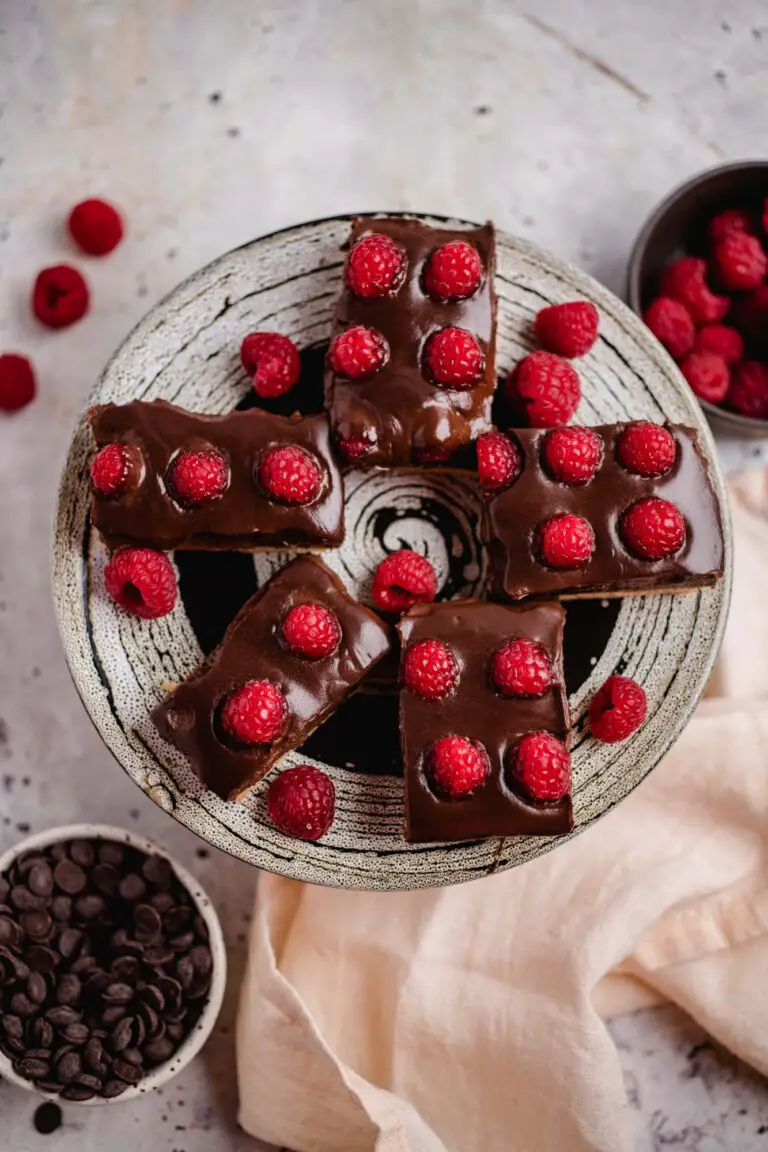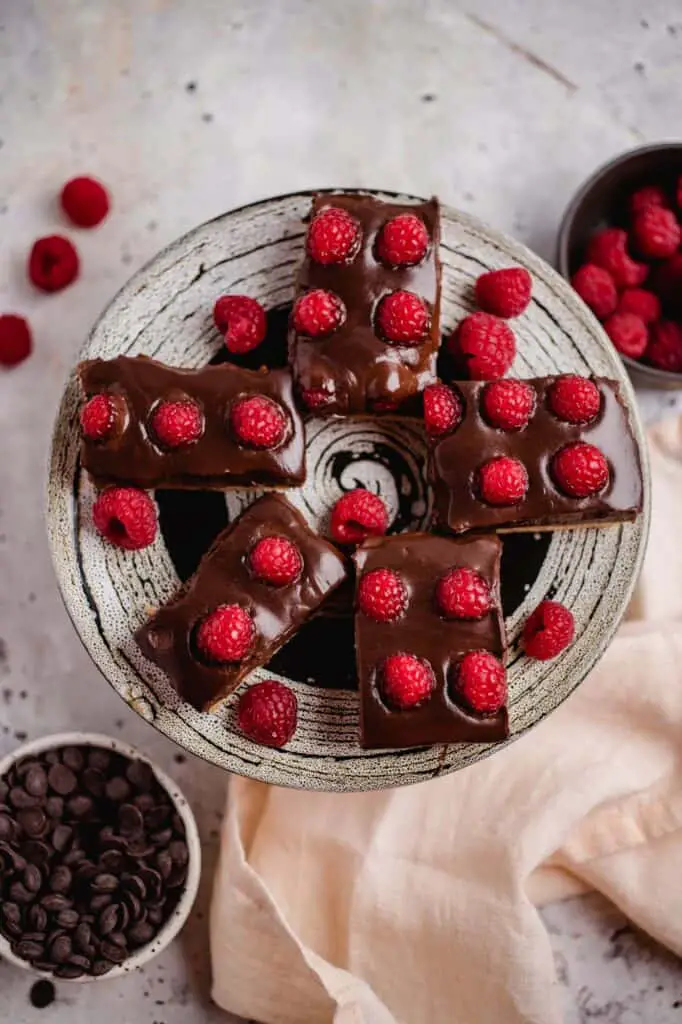 Our today's slice consists of two layers and a topping of fresh raspberries, a shortbread base and a layer of chocolate fudge. The base, or shortbread is made with almond flour, oat flour, maple syrup, coconut oil, bourbon vanilla and a pinch of salt. This is all worked together to form a compact dough. I use my Magimix for this. You can also use another blender as you like.
On top of the shortbread base is a thick layer of chocolate fudge, which I make from plant milk and chocolate. It's easy to do and you can't go wrong either. At the very end, add the raspberries on top of the chocolate layer and our fine vegan dessert is ready.
TIP: If you don't have raspberries at home, you can theoretically add fresh blueberries to the slices. However, in terms of taste, the raspberries are the better choice. Frozen raspberries are not suitable in this case, because they become watery when thawed and the slices would not look nice.
Vegan desserts, made simply and quickly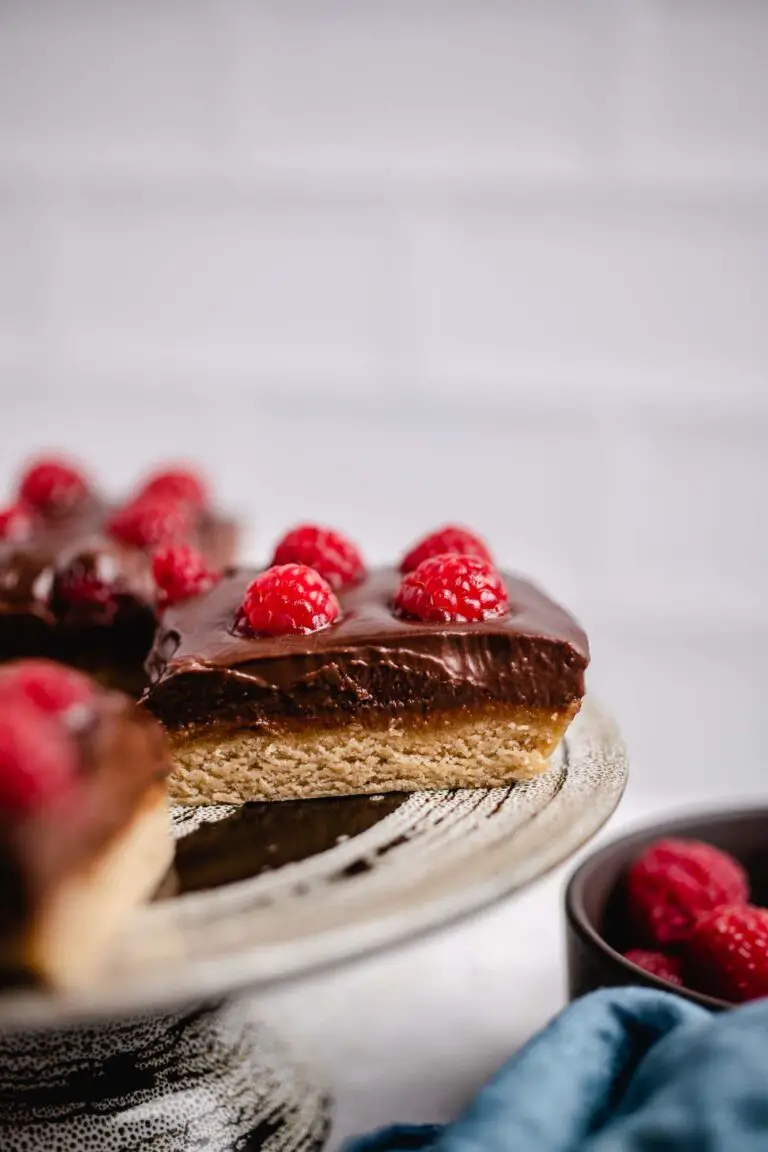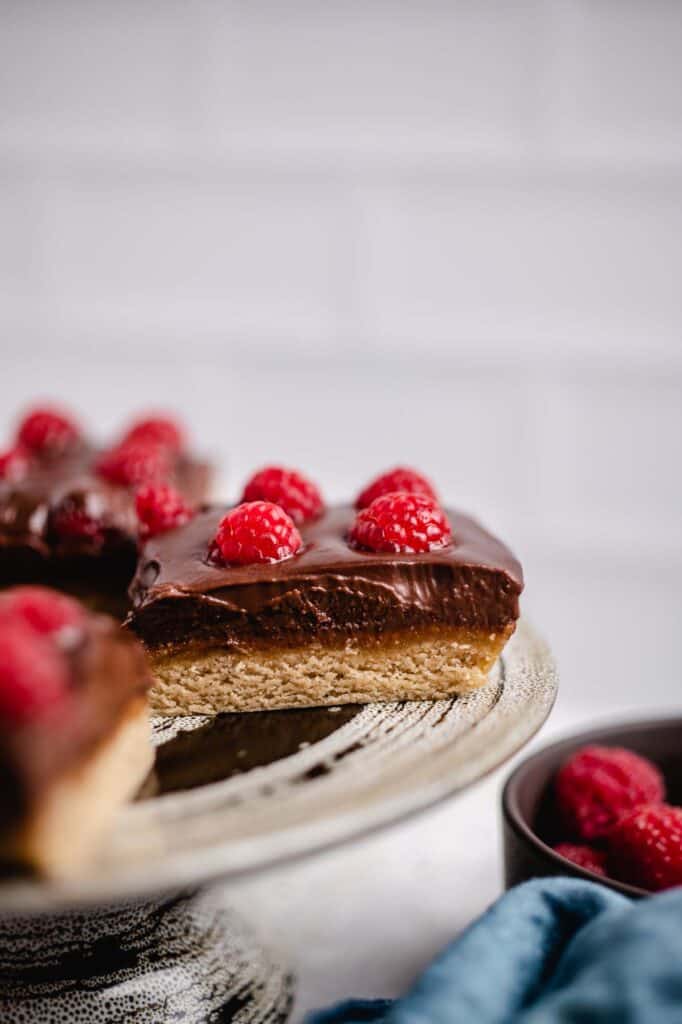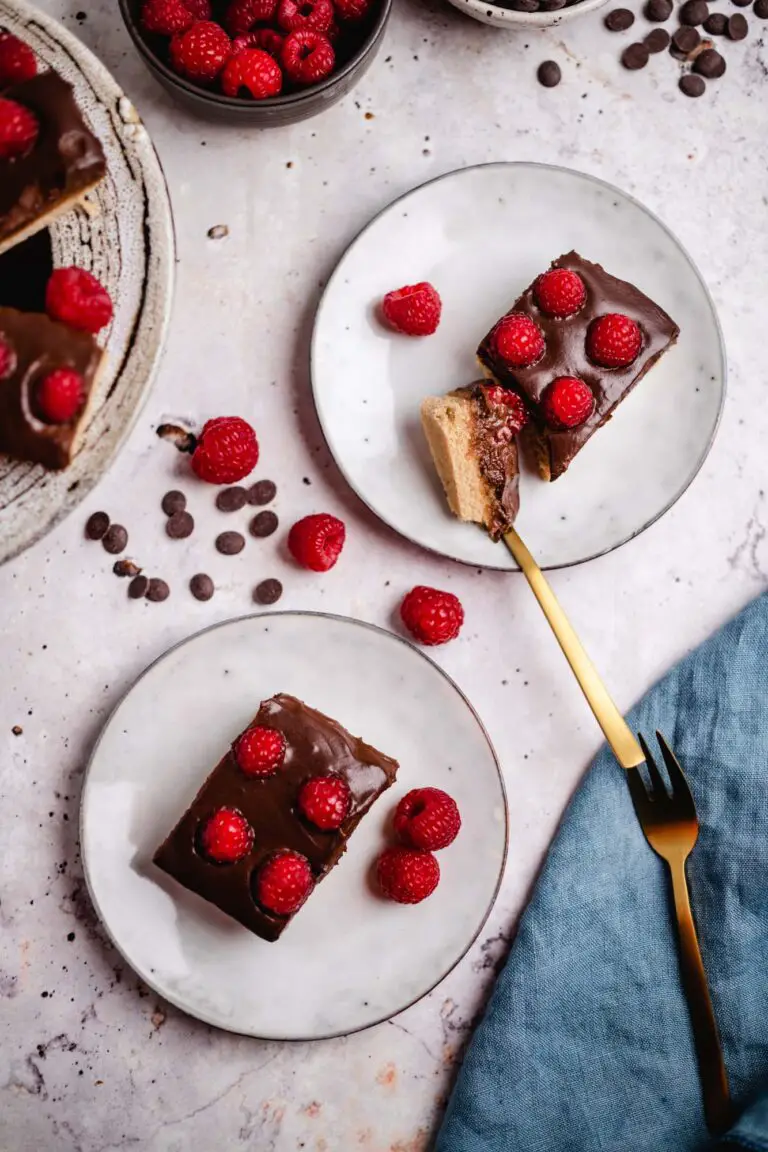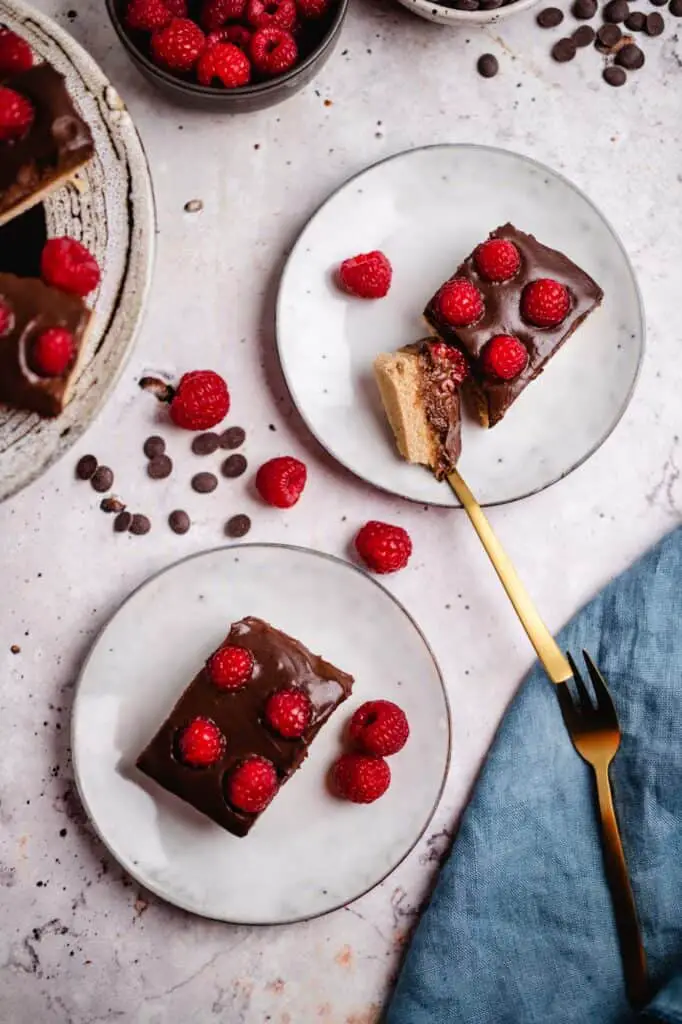 I'm a big fan of these gluten-free slices, mainly because they're so quick to make and make a great dessert, as well as a vegan coffee date. The chocolate fudge in the middle is simply a dream, but only if the quality of the chocolate is right. I always get feedback that one or the other dessert tastes bitter. This is clearly due to the chocolate and it is important to buy a good quality. I use a vegan couverture from the company Rapunzel (unpaid brand name).
TIP: The higher the cocoa content of a chocolate, the more bitter it tastes. I use a dark chocolate coating with 60% cocoa sweetened with raw cane sugar. Just see which chocolate works best for you. Meanwhile, there is a super selection.
Healthy recipes with raspberries
Raspberries, which belong to the rose family group, are super healthy, that's no secret, They are especially rich in valuable vitamin C, provitamin A, anthocyanins, resveratrol & phenolic acid (cardiovascular system) and iron. Reason enough to include the delicious berries more often in the diet.
If you're looking for some other tasty sweets today, I have the following suggestions for you:
Well, did you get a craving for this delicious dessert? The raspberry chocolate shortbread is easy to make and tastes just great.
The raspberry chocolate shortbread is:
Gluten free
Fruity-sweet
Naturally sweetened
chocolatey
Quickly and easily made
Well, are you ready for the sweet sins? I wish you a lot of fun in recooking and of course a review at the bottom of this page. If you post a picture, use the hashtag #veganevibes.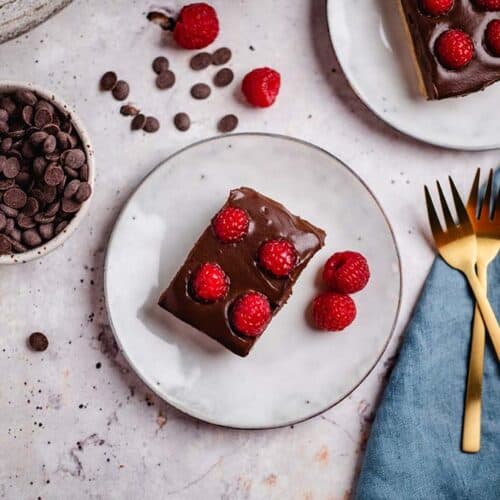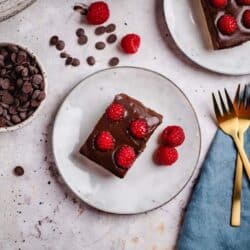 Raspberry chocolate shortbread
Irresistible dessert made from a shortbread base topped with a melt-in-your-mouth chocolate cream and fruity raspberries. Ideal as a delicious dessert straight out of the fridge or to accompany a classic coffee party. Gluten-free, vegan, quick to make and irresistibly delicious.
AUTOR: VEGANEVIBES
FÜR DEN SHORTBREAD BODEN:
Anleitung 
Preheat the oven to 175 degrees convection (195 degrees top-bottom heat) and line a brownie pan with baking paper.

FOR THE BOTTOM Put the almond flour, oat flour, maple syrup, coconut oil and a pinch of salt in a mixer or in a bowl and knead by hand to form a compact dough. Press into the pan and place in the preheated oven. Bake for 15 minutes, until the edges are lightly golden brown. Remove from oven and set aside.

90 g Almond flour,

60 g Oatmeal,

80 g Maple syrup,

50 ml Coconut oil,

Pinch of salt,

¼ TL Bourbon Vanille

Meanwhile, FOR THE CHOCO FUDGE, provide a small saucepan, pour in the chocolate and vegetable milk and melt over medium heat. Once everything is melted, remove heat and let cool for a few minutes until the mixture starts to thicken slightly. Pour directly onto the shortbread base and spread evenly.

200 g dark vegan chocolate,

180 ml Vegan milk

Last, spread the raspberries evenly on top of the fudge.

NOTE: The raspberries should not be wet, otherwise there may be unsightly water spots on the fudge.

Place in the refrigerator and let set for at least

6 hours

or preferably overnight.

Just before serving, remove from the mold and cut into pieces. Serve and enjoy!

Store leftovers in an airtight box in the refrigerator for up to 3 days. Can be kept frozen for up to one month.
Nährwertangaben
Serving:
1
Servings
Calories:
284
kcal
Carbohydrates:
26
g
Protein:
5
g
Fat:
21
g
Saturated Fat:
10
g
Polyunsaturated Fat:
1
g
Monounsaturated Fat:
4
g
Sodium:
13
mg
Potassium:
94
mg
Fiber:
5
g
Sugar:
14
g
Vitamin A:
83
IU
Vitamin C:
5
mg
Calcium:
66
mg
Iron:
1
mg