Raspberry Streusel Schnitten once again have addictive potential. On the one hand, that's very good, because you want it to taste good. On the other hand, it is not so good for our figure, because we virtually always have something delicious in the fridge that needs to be tried. When a dessert or cake turns out really well, my husband and I like to go to the fridge regularly and treat ourselves to a piece of the sweet sin. That's exactly the reason why you won't get a washboard stomach. Well, but much more important than the wash bed belly is the fact that the recipes also taste and therefore let's get started with these wonderful and delicious raspberry slices.
Vegan raspberry crumble slices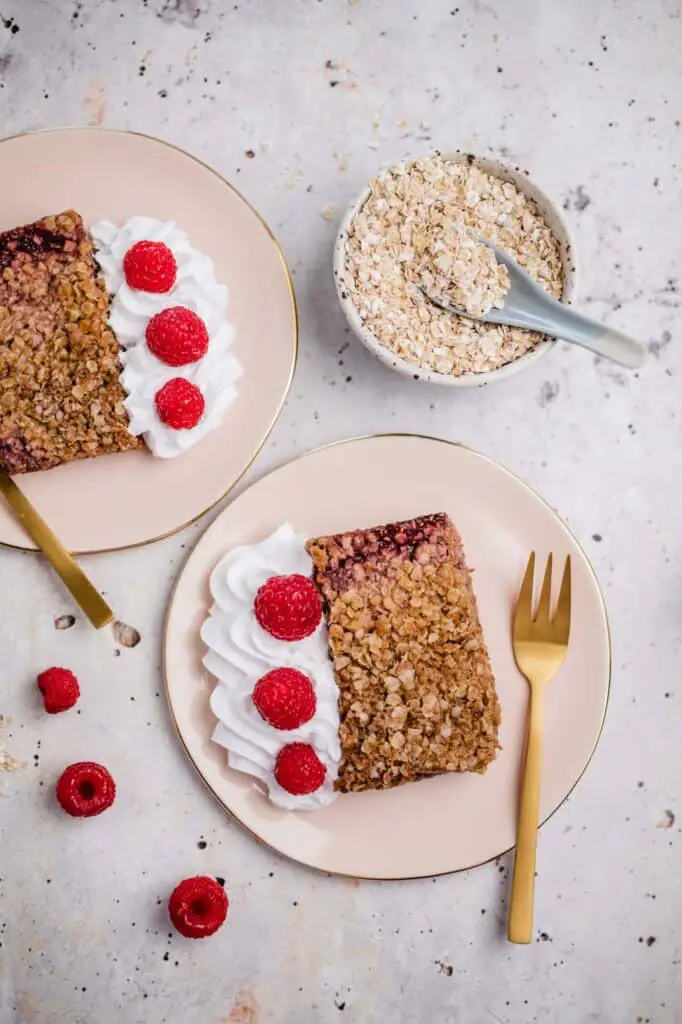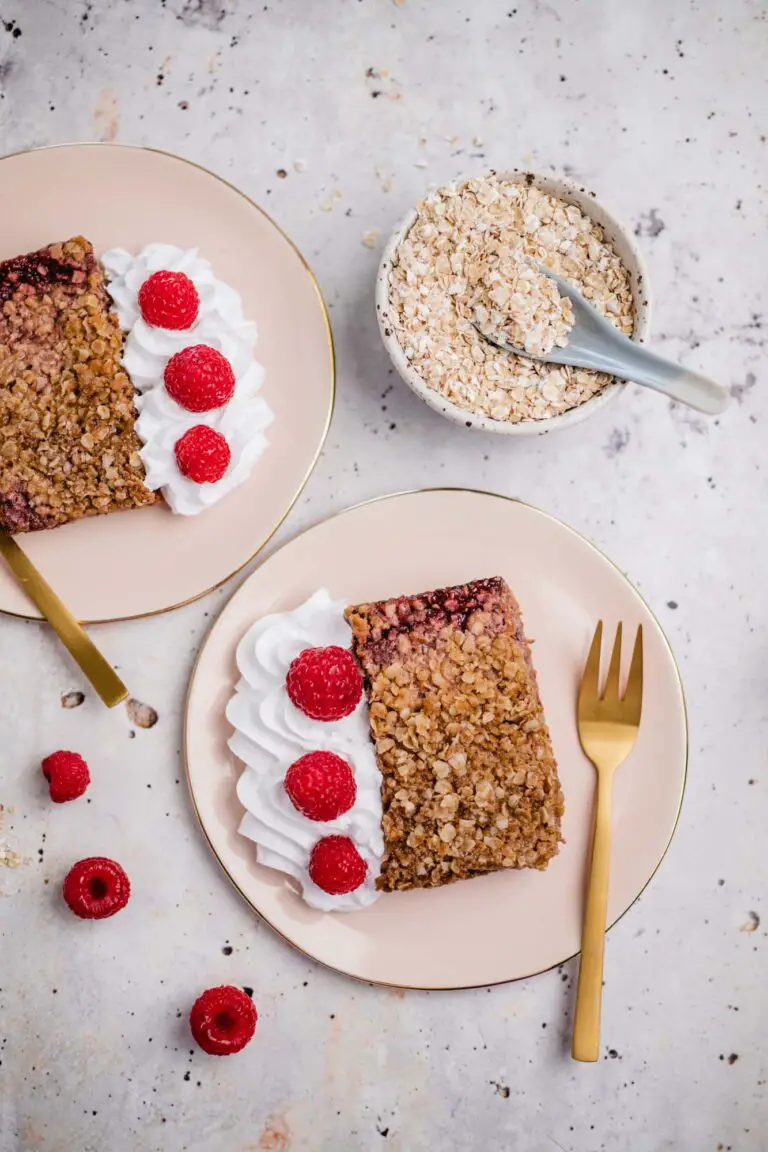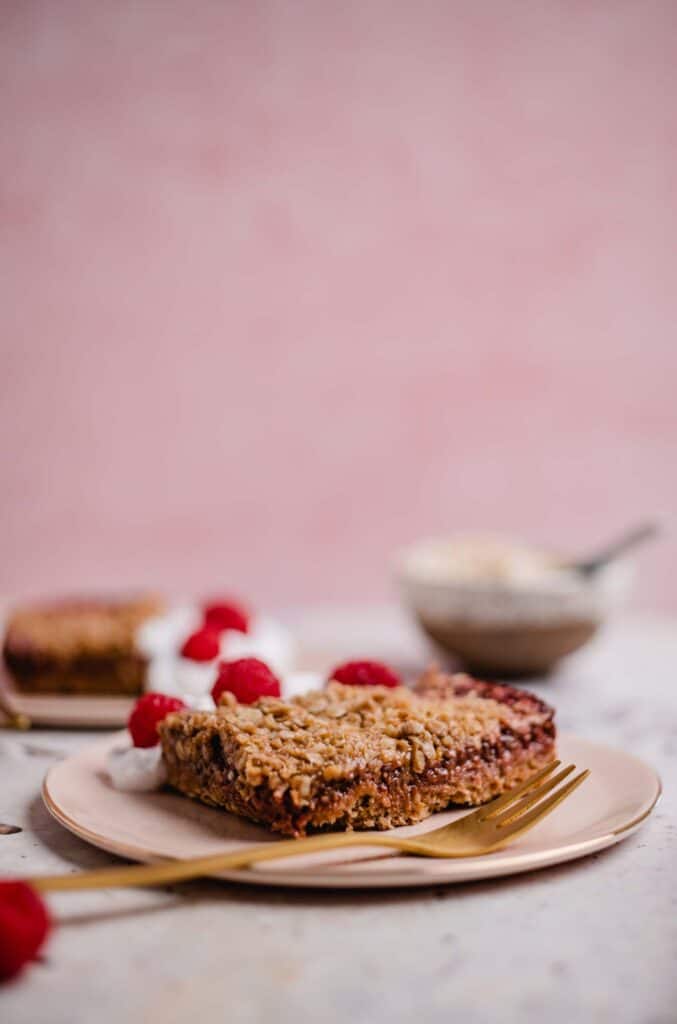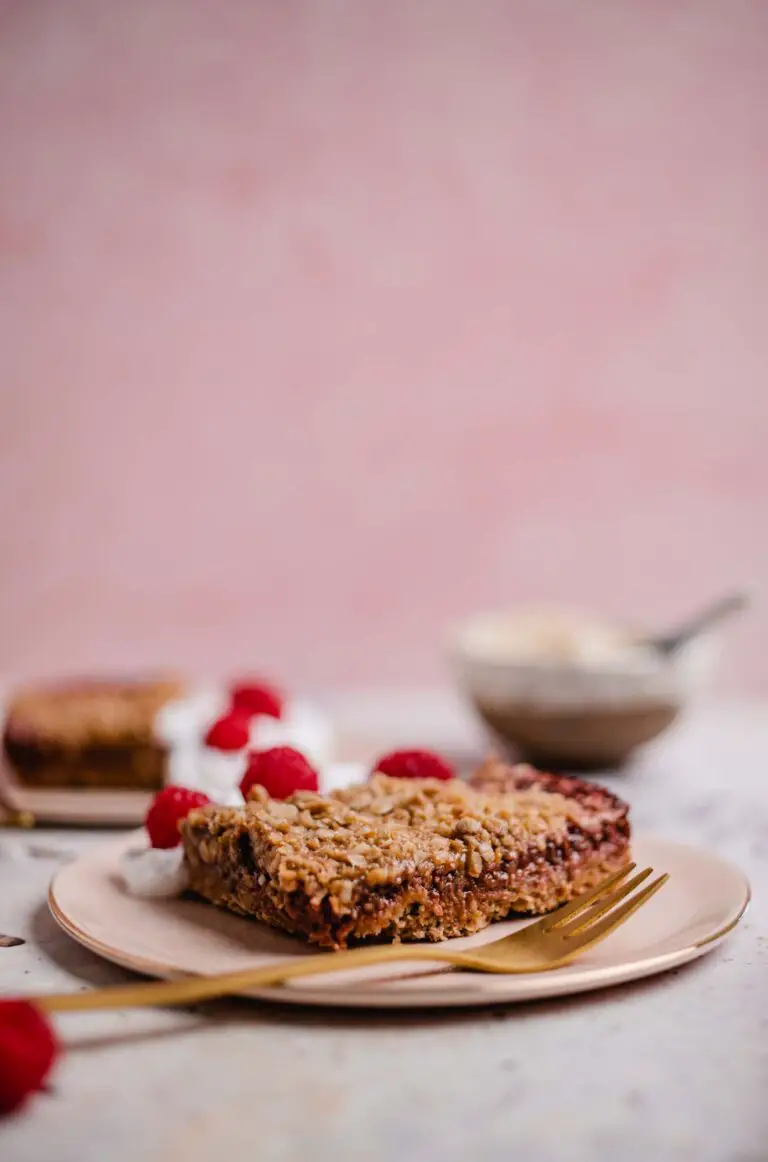 The cuts consist of three layers. The first layer is the base of almonds, coconut oil, rolled oats, coconut blossom sugar and salt. I process all of this into a crumbly dough in my Magimix. The also comes immediately into a mold and flattened with your hands. Then it's off to the oven to bake. In the meantime, I make the filling from orange juice fresh raspberries, coconut blossom sugar and chia seeds. This is all brought to a boil together, stirring until it thickens slightly and forms a jam.
The healthy raspberry jam is then added to the base and only the third and final layer is missing. Rolled oats, gluten-free flour blend, coconut blossom sugar and coconut oil. I mix all of this with my hands until the coconut oil melts and everything is well combined.
TIP: If you don't have coconut oil in the house, you can always use a vegan margarine, so the recipe also works super well.
Vegan Streusel Schnitten, healthy and gluten-free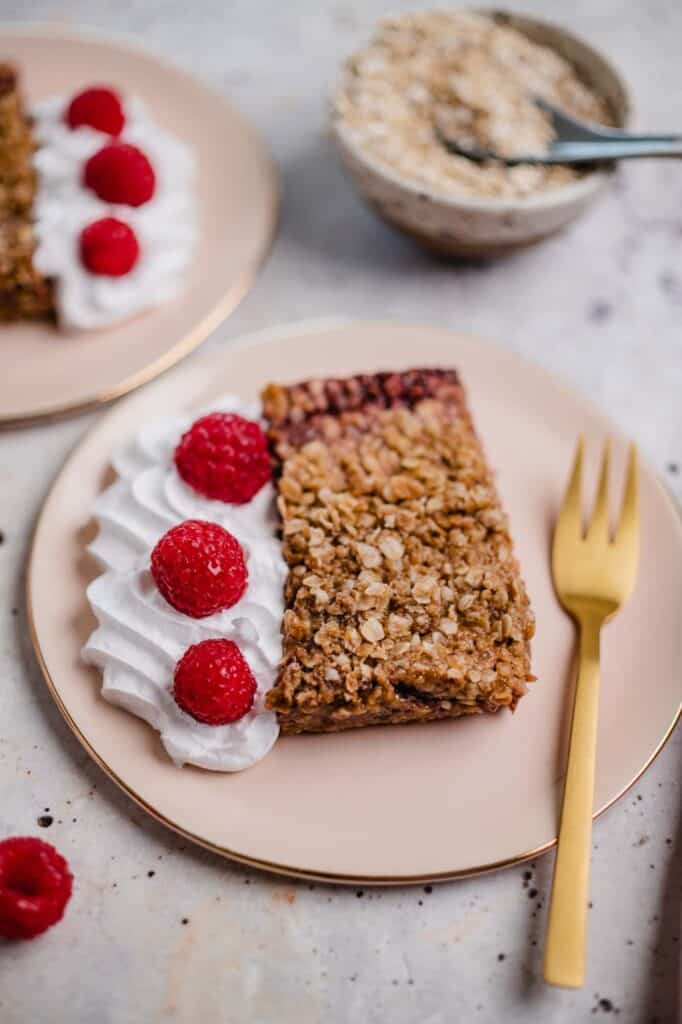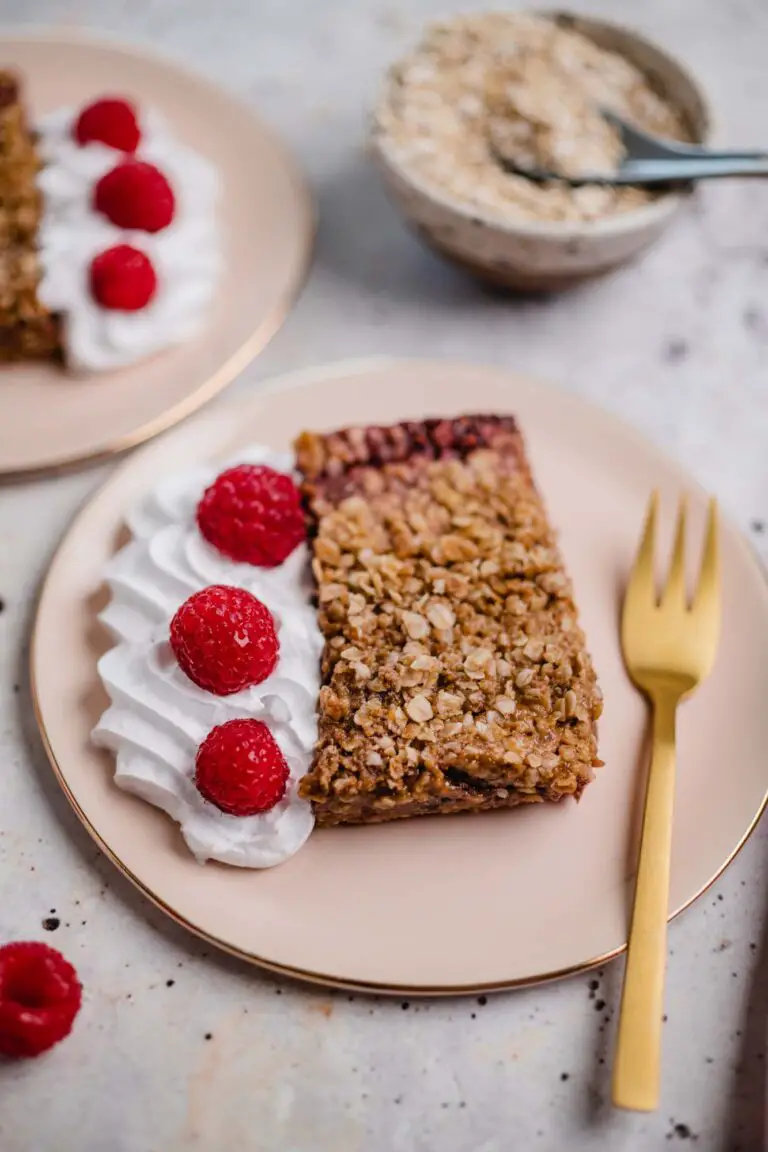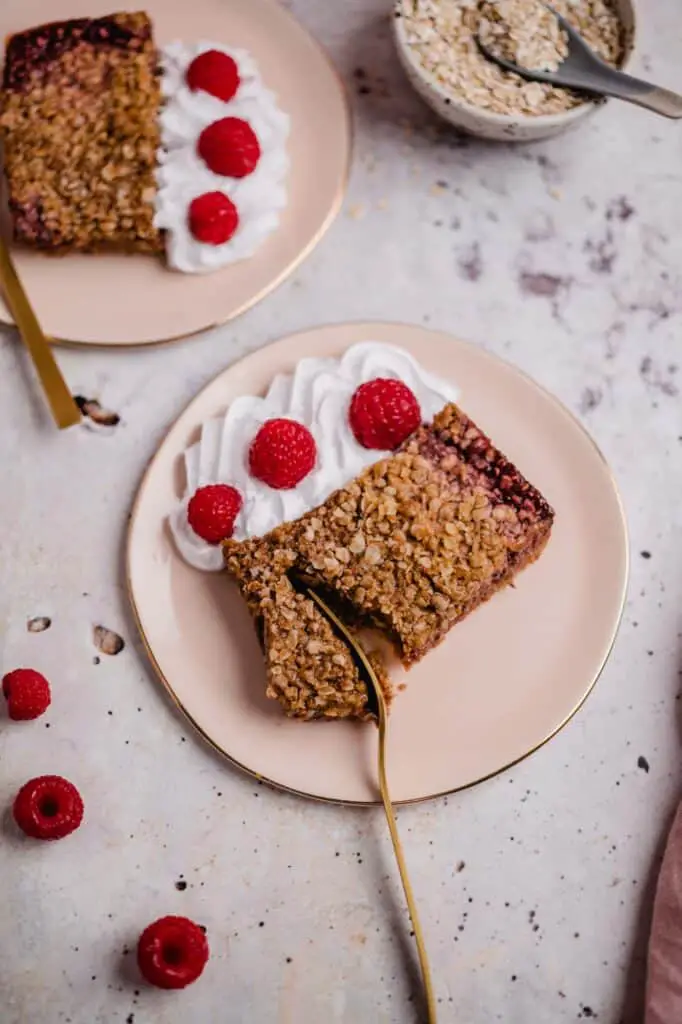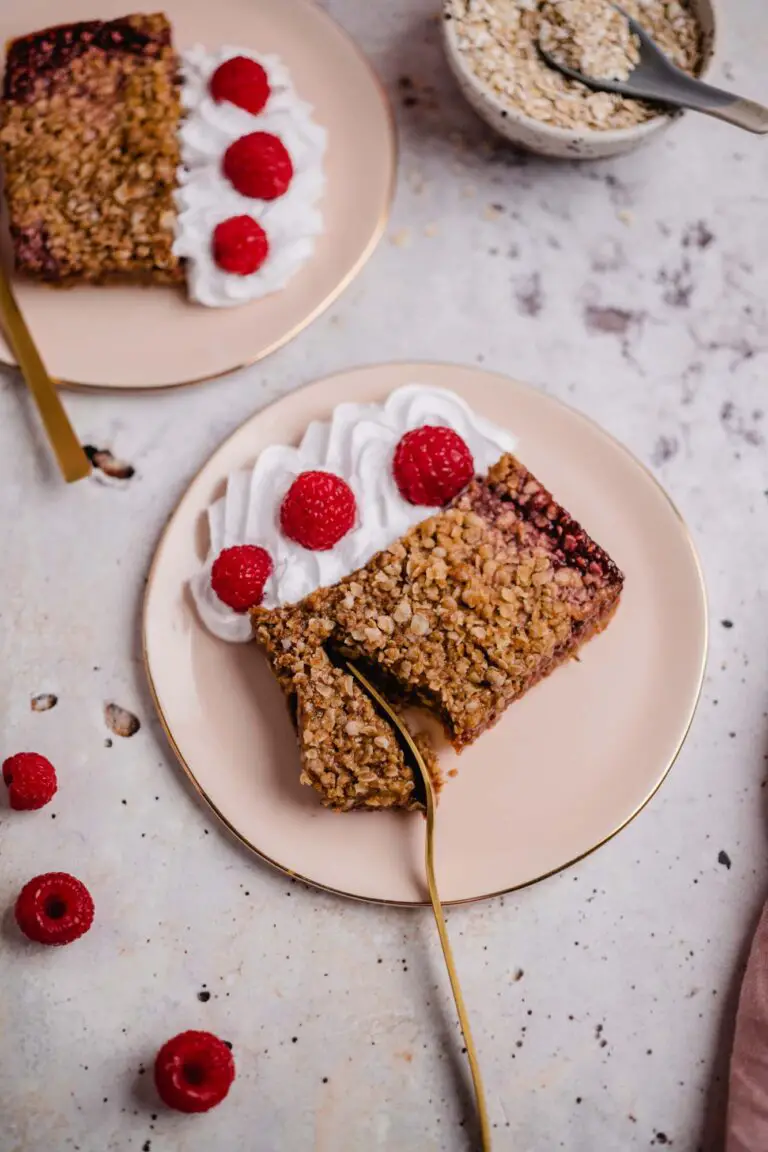 After topping the slices with raspberry jam and oatmeal crumbles, it's off to the oven again. At the end, everything should be well baked and the crumble should have a nice golden brown color.
You may be wondering at this point why I am once again baking with coconut oil after such a long time. Actually, I am no longer such a big fan of coconut oil, or oil in general. Oils are far too often advertised as healthy, are said to contain vast amounts of valuable fatty acids, and it is best to use the oil always and on every occasion. But the problem is also that oils have a lot of calories and the healthy ingredients that are in the oil, yes, are also in the original plant. That's why I use oil in principle, but in moderation. What is your attitude towards the use of oils? Feel free to let me know below in the comments.
Why are raspberries healthy?
They are particularly rich in vitamin C, provitamin, anthocyanins, resveratrol & phenolic acid (cardiovascular system) and iron.
If you're looking for some other tasty sweets today, I have the following suggestions for you:
Here we go! The Streusel Schnitten are easy to make and taste just great.
The raspberry crumble slices are:
Gluten free
Fruity-sweet
Naturally sweetened
super healthy
Quickly and easily made
Well, are you ready for the sweet sins? I wish you a lot of fun in recooking and of course a review at the bottom of this page. If you post a picture, use the hashtag #veganevibes.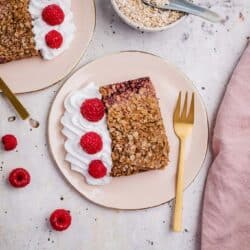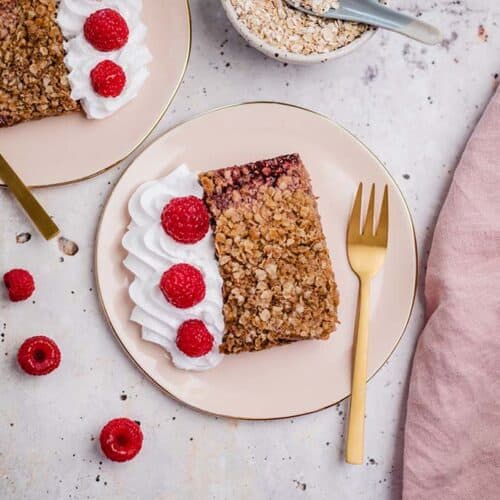 Raspberry crumble slices
Fruity-sweet raspberry crumble slices with a fine base of almonds and oatmeal, topped with a filling of raspberries, chia seeds and orange juice. The topping of oatmeal and coconut blossom sugar make the slices perfect. Gluten-free, vegan, quick to make and irresistibly delicious.
AUTOR: VEGANEVIBES
FOR THE FLOOR:
90

g

Oatmeal

gluten-free

110

g

Almonds

Cup

60

ml

Coconut oil
FOR THE RASPBERRY FILLING:
250

g

fresh raspberries

60

ml

Orange juice

36

g

Chia seeds
TOPPINGS:
Vegan cream

Fresh raspberries
Anleitung 
Preheat the oven to 175 degrees Celsius (195 degrees Celsius top-bottom heat) and line a brownie pan with baking paper or grease it well and dust it with flour (I prefer the version with the baking paper, otherwise it is very difficult to get the slices out).

FOR THE BOTTOM Provide Magimix or another blender with an S-shaped blade and put the almonds in it and grind finely. Add rolled oats, coconut blossom sugar, coconut oil and salt and mix to a crumbly dough. Pour into brownie pan, flatten with hands and place in oven. Bake for 15 minutes until ends are nicely browned, remove from oven and set aside.

90 g Oatmeal,

110 g Almonds,

40 g Coconut blossom sugar,

60 ml Coconut oil,

A pinch of salt

In the meantime FOR THE RASPBERRY FILLING provide a small saucepan, pour in orange juice, raspberries, cornstarch, chia seeds and coconut blossom sugar and boil while stirring. Simmer for about 5 minutes on medium heat until the chia seeds are swollen. Remove from heat and set aside.

250 g fresh raspberries,

60 ml Orange juice,

25 g Coconut blossom sugar,

36 g Chia seeds

FOR THE CRUMBLE Place coconut blossom sugar, gluten-free flour, rolled oats and coconut oil in a bowl and knead with your hands until you have a crumbly mixture. Finally, spread the raspberry jam on the base and cover evenly with the crumbles. Place in the oven once more and bake for another 15-20 minutes. Remove from oven, let cool completely, cut into pieces and enjoy with toppings of choice.

40 g Coconut blossom sugar,

25 g Gluten free flour,

25 g Oatmeal,

15 g Coconut oil,

Vegan cream,

Fresh raspberries

Store leftovers (if any) in an airtight box in the refrigerator for up to 5 days.. Can be kept frozen for up to one month.
Nährwertangaben
Serving:
1
Piece
Calories:
252
kcal
Carbohydrates:
27
g
Protein:
5
g
Fat:
15
g
Saturated Fat:
7
g
Polyunsaturated Fat:
2
g
Monounsaturated Fat:
5
g
Trans Fat:
1
g
Sodium:
25
mg
Potassium:
202
mg
Fiber:
5
g
Sugar:
10
g
Vitamin A:
23
IU
Vitamin C:
11
mg
Calcium:
49
mg
Iron:
1
mg