Pizza, yes please! Honestly, I hardly know anyone who doesn't love pizza. The Italian classic is so wonderfully flexible, you can just put anything on it. Even sweet variants are possible (I remember our favorite Italian restaurant in Cologne where we had dessert pizzas filled with chocolate, bananas and many other delicious ingredients). The recipe today has rather less to do with it, because it is not Italian, but Indian! Tandoori Masala sends its regards.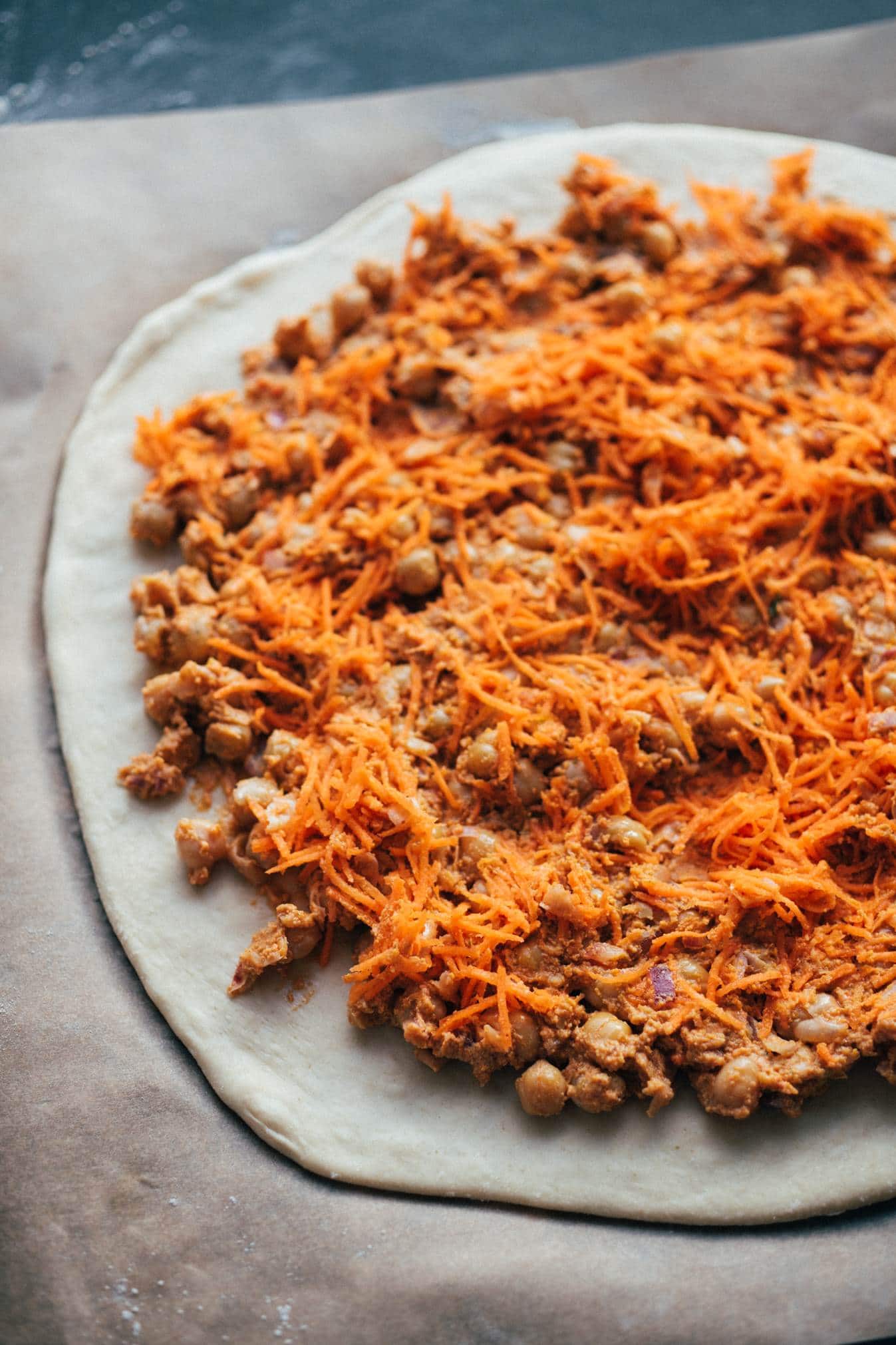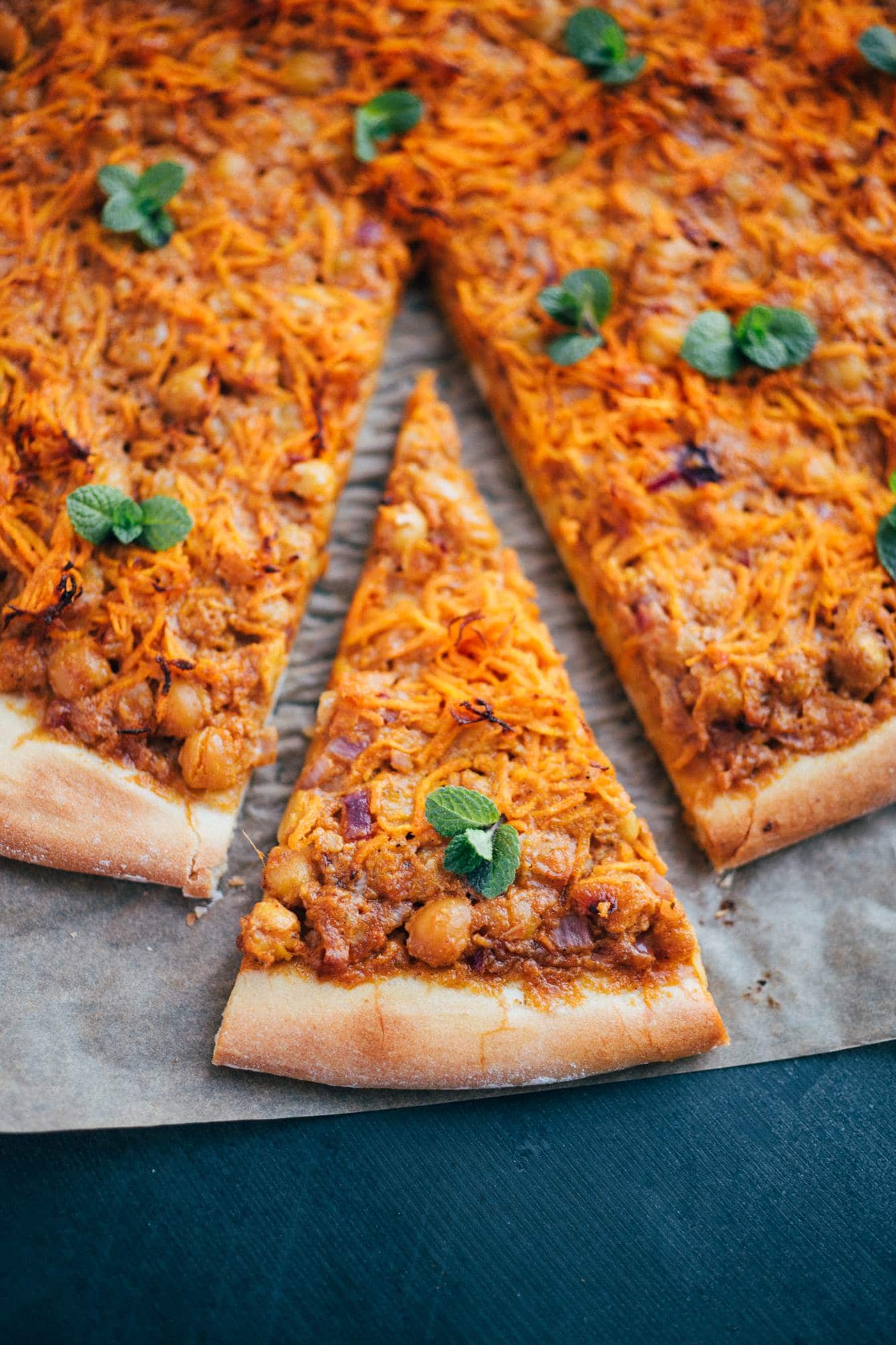 Honestly, I didn't think this combination would be so delicious. An incredible explosion of flavor with aromatic marinated Chickpeas , a crispy base, the creamy, refreshing mint sauce. I promise you that you will literally "lay into" this dish.
The dough is a mixture of water, yeast, raw cane sugar, salt, fine Spelt flour and turmeric, which gives the base a great color. The recipe is a wonderful base for many different pizza variations, because it does not always have to be Indian.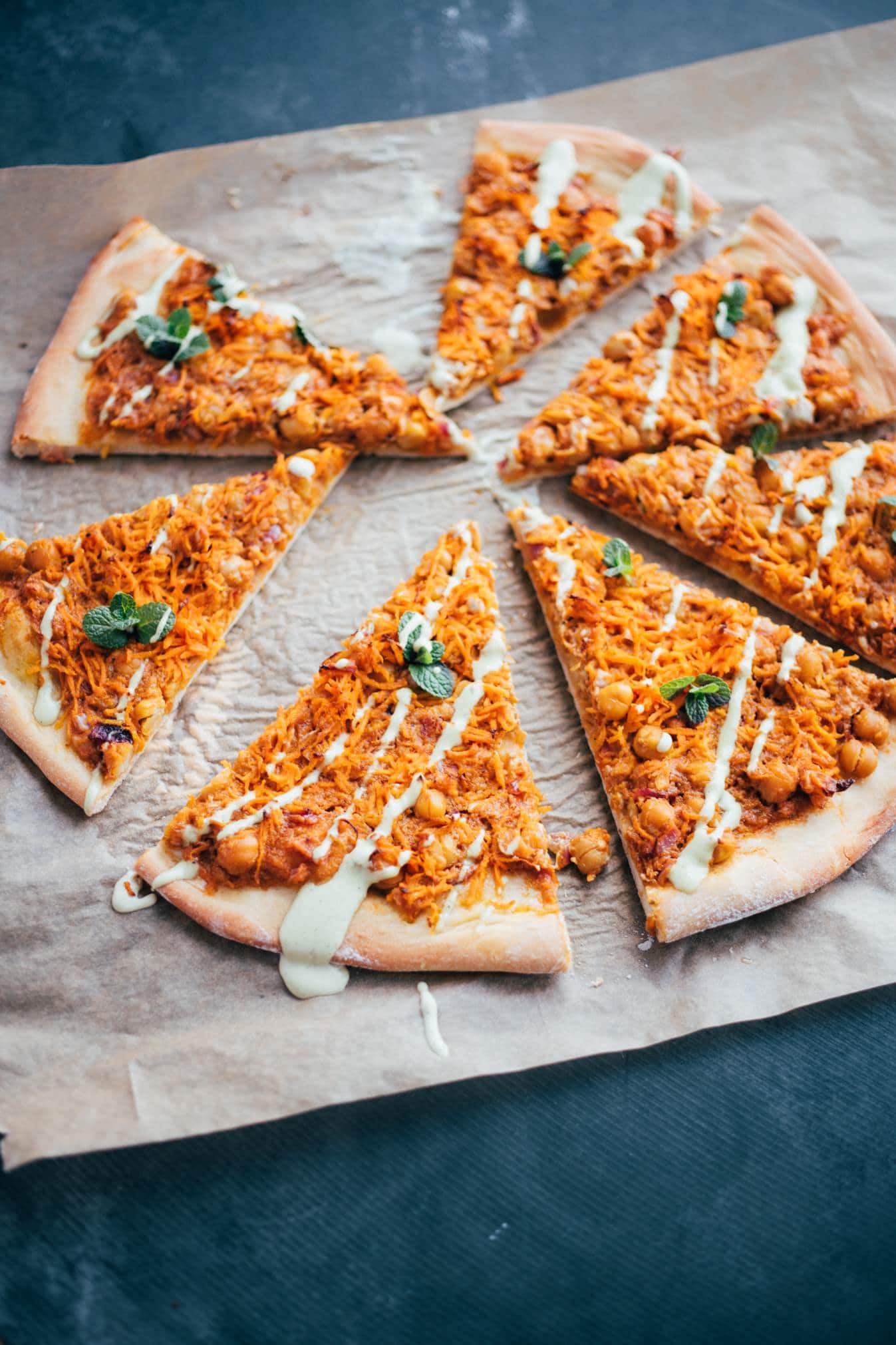 Here is some more information about spelt flour, it contains:
Magnesium and iron
lots of healthy fiber and protein (10g per 100g)
Vitamin B2, B3, B6, vitamin A, C and E
For all those who like to bake gluten-free or have an intolerance to gluten, there is also good news. I have already made the dough with my gluten free flour blend and it turned out wonderfully. Gluten free flours Do not "stick" as much as classic flours from spelt or wheat. This means that they tear faster and do not knead as well. Simply "shift down a gear" when rolling out and roll out carefully, then it works wonderfully without gluten.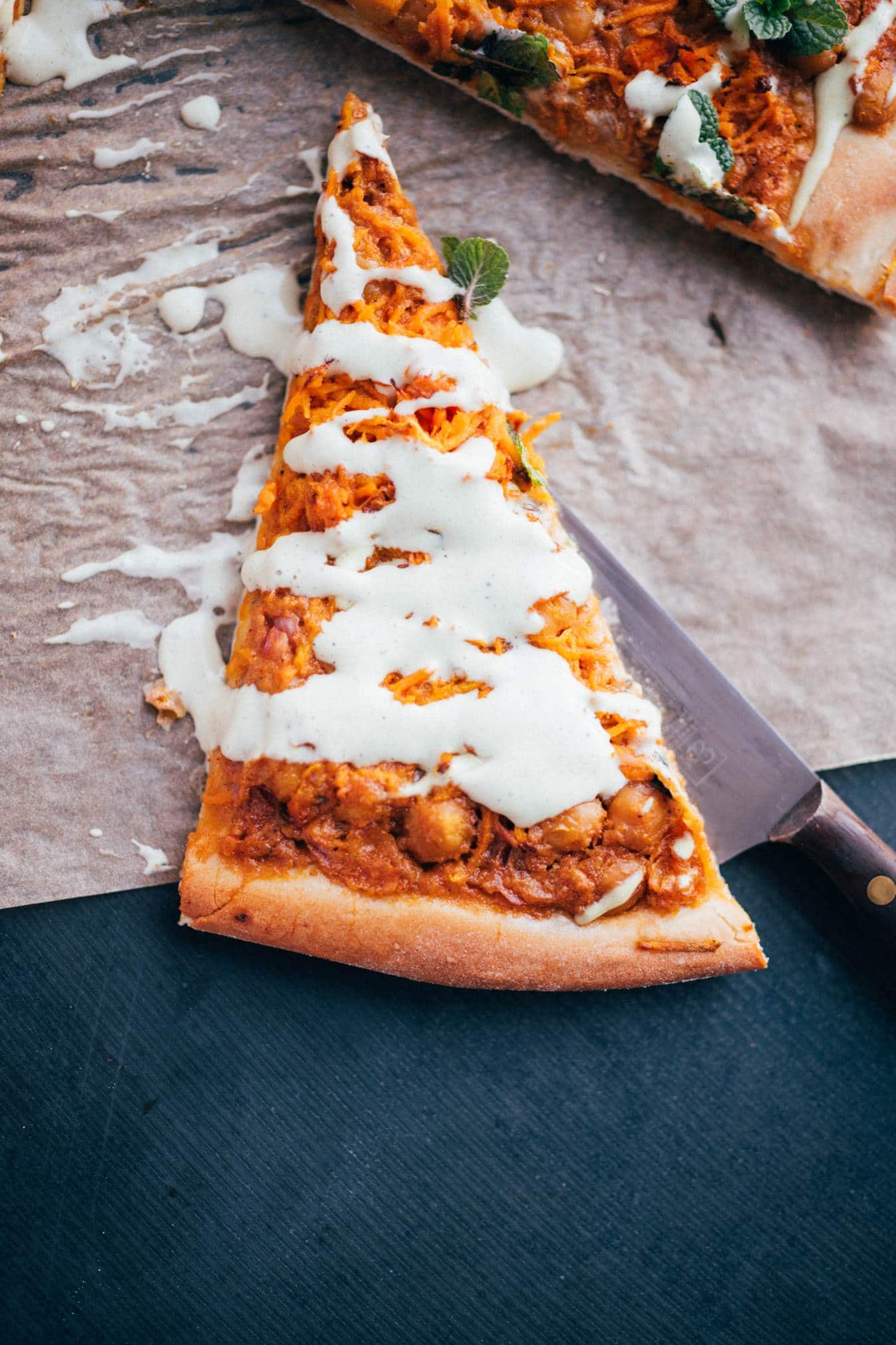 The crispy tandoori chickpea spelt pizza is:
Crispy
Incredibly aromatic
Indian
filling
Easy to manufacture
I wish you a lot of fun with the Nachbacken and look forward to a review at the bottom of this page. If you post a picture, use the hashtag #veganevibes.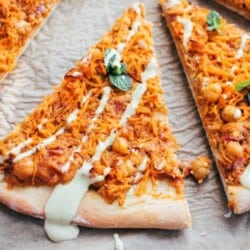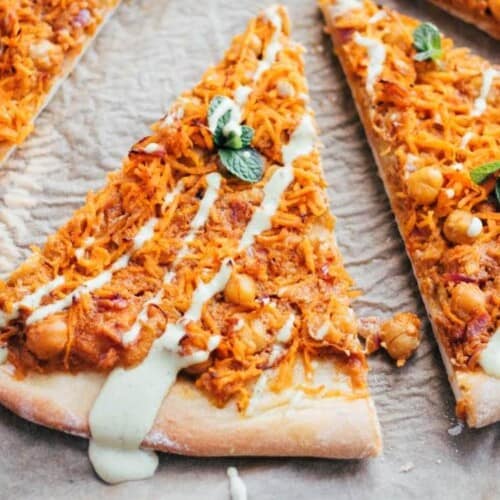 Crispy Tandoori Chickpea Spelt Pizza
Aromatic pizza with Indian spices made from healthy spelt flour. Crispy base topped with marinated chickpeas, topped with a creamy, refreshing mint yogurt. Perfect quick meal, because the dough is wonderful to prepare.
AUTOR: VEGANEVIBES
FOR THE TANDOORI CHICKPEAS:
FOR THE SIMPLE PIZZA DOUGH:
FOR THE TOPPINGS:
Carrots

finely sliced

Red bell bell pepper

finely sliced

Vegan cheese
Anleitung 
Tandoori chickpeas Prepare all the ingredients in a large bowl and knead with your hands until the chickpeas are well combined with all the other ingredients and a paste-like mass is formed.

265 g Chickpeas drained and patted dry*.,

175 ml Coconut cream*,

1 small onion,

Optional: 1 tsp harissa paste or 1-2 bird eye chilies,

1 tbspn Lemon juice,

2 tbspn Cumin,

½ tbspn Cinnamon,

1 tbspn Ginger,

1 tbspn Paprika,

1 tbspn Garlic powder,

½ tbspn black pepper,

½ tbspn Sea salt,

1 tbspn Coconut blossom sugar

Mint yogurt To prepare the yogurt, place all ingredients in a high-powered blender and blend on high speed for at least 30-60 seconds to make a creamy yogurt. Season to taste and set aside.

170 ml Coconut cream*,

1 tbspn Agave syrup or maple syrup,

2 tbspn Lemon juice,

2 tbspn Apple cider vinegar,

2 Hands full of mint leaves,

1 Handful of coriander leaves,

1 tbspn Olive oil,

Salt and pepper to taste,

120 g Cashews

For the dough first put the wet ingredients, then the dry ingredients in a mixing bowl and mix with a food processor (kneading chopper) for about 3-4 minutes on high speed until smooth. If the dough is too dry, carefully add a little more water. If the dough is too wet, add a little more flour. Briefly remove dough from bowl, flour bottom of bowl (so dough does not stick).

½ tbspn Salt,

1 tbspn Turmeric,

1 tbspn Raw cane sugar,

1 tbspn Dry yeast,

200 ml lukewarm water,

240 g Spelt flour

Cover (I use a tea towel and a lid) and place in a warm, but not too hot, place where there are no drafts. The dough should still be able to breathe (do not cover too tightly), as the yeast needs heat and oxygen to rise. Let rise for 1 hour.

At the end of the baking time, preheat the oven to 190 degrees and line a baking tray with wrapping paper.

Transfer the dough to a floured work surface and knead again with your hands. Roll out with a pastry roller to a round (about 30 centimeters in diameter) dough. Spread chickpea mixture evenly and top with desired toppings.


Place in oven and bake for 15-20 minutes until pizza is nice and golden brown around the edges.

Carrots,

Red bell bell pepper,

Vegan cheese

Remove from oven, cut into pieces, drizzle with mint yogurt and enjoy!
Notizen
*Chill coconut milk in refrigerator for at least 6 hours, open and use only the firm, creamy part.
**when processed in a powerful food processor, cashews do not need to be soaked. Otherwise, soak covered in cold water for 3-6 hours, then drain and rinse well. Alternatively, if in a hurry, soak uncovered in boiling hot water for 1 hour. Then drain and rinse well.
NOTES /HELPFUL ACCESSORIES:
Food processor: http://amzn.to/2zzgOV0
Nährwertangaben
Serving:
1
large pizza
Calories:
1642
kcal
Carbohydrates:
162
g
Protein:
46
g
Fat:
94
g
Saturated Fat:
58
g
Sodium:
232
mg
Potassium:
1440
mg
Fiber:
33
g
Sugar:
13
g
Vitamin A:
325
IU
Vitamin C:
10.6
mg
Calcium:
128
mg
Iron:
18.6
mg