A simple Tiramisu has definitely been missing in my recipe collection. There is already a Tiramisu cake and a raw tiramisu but not yet a simple tiramisu. Exactly for this reason the Gap closed today. I am so excited because today I am in Paris, the city of love. If I wasn't here alone, it might actually be romantic. Well, I will have fun without my husband, because I am really looking forward to finally meet my good friend Janine again. She is my Clean Beauty Queen and an entrepreneur who is breaking new ground in luxury natural cosmetics. I was also once longer time in the beauty industry on the road and from this time we know each other. I remember so well when we sold nail polish together in Hamburg. I'm all the more excited about her new beauty brands and what else there is to explore in Paris.
Simple vegan tiramisu – awesome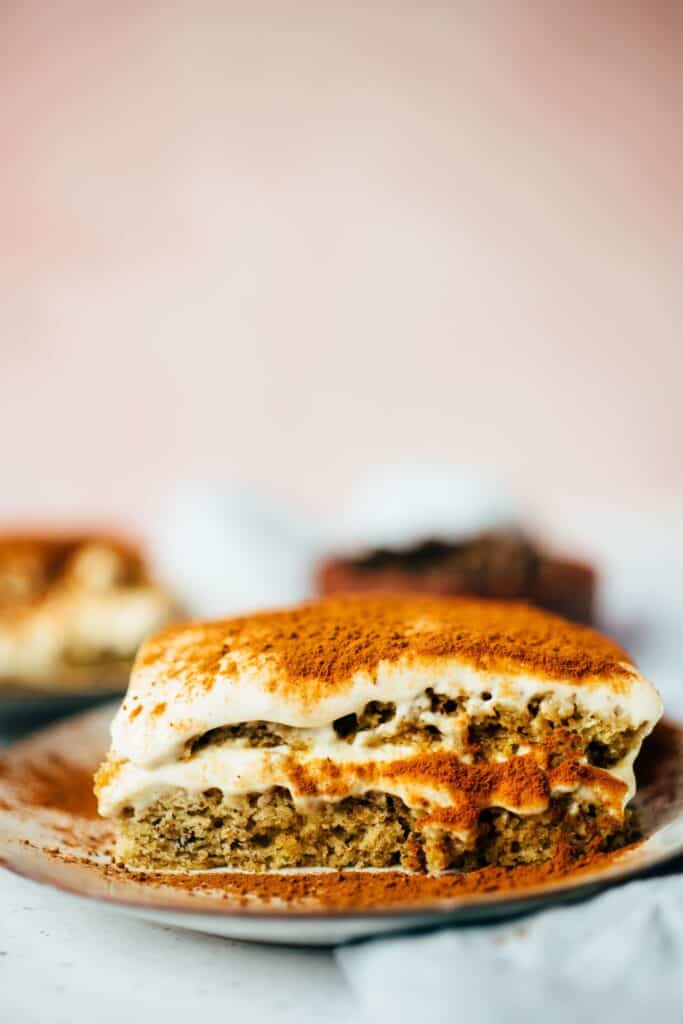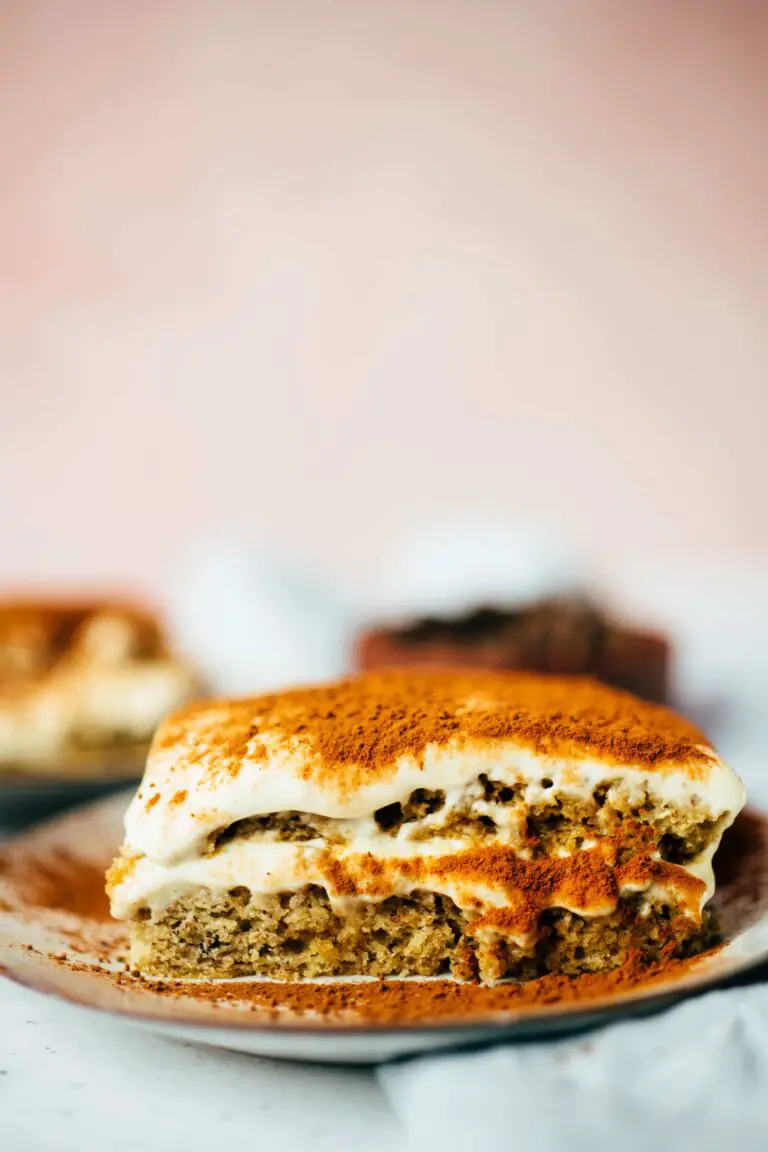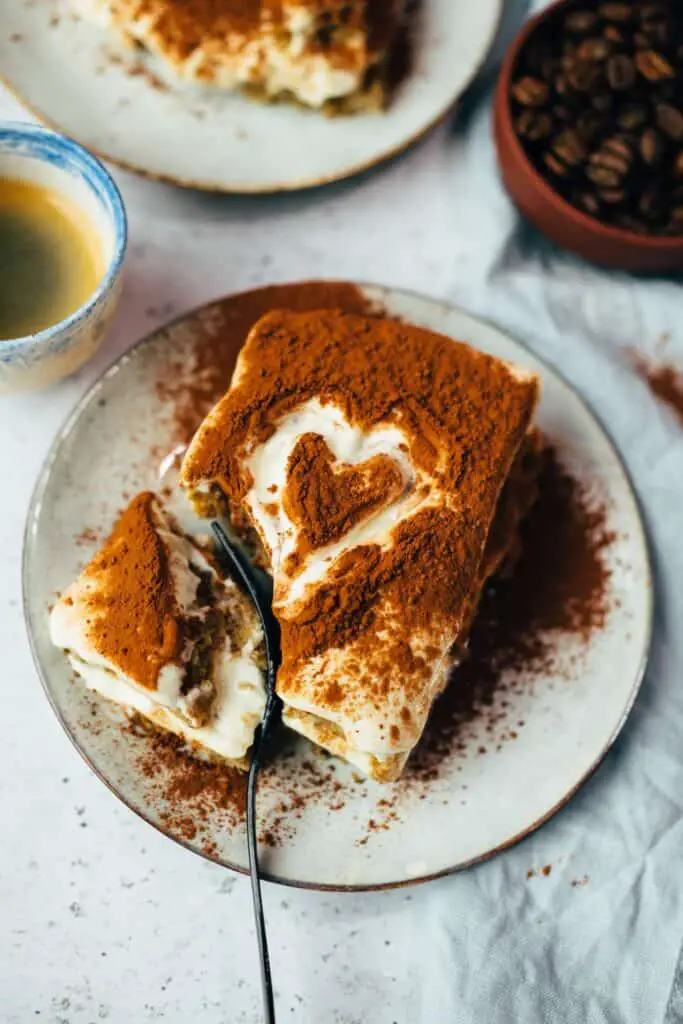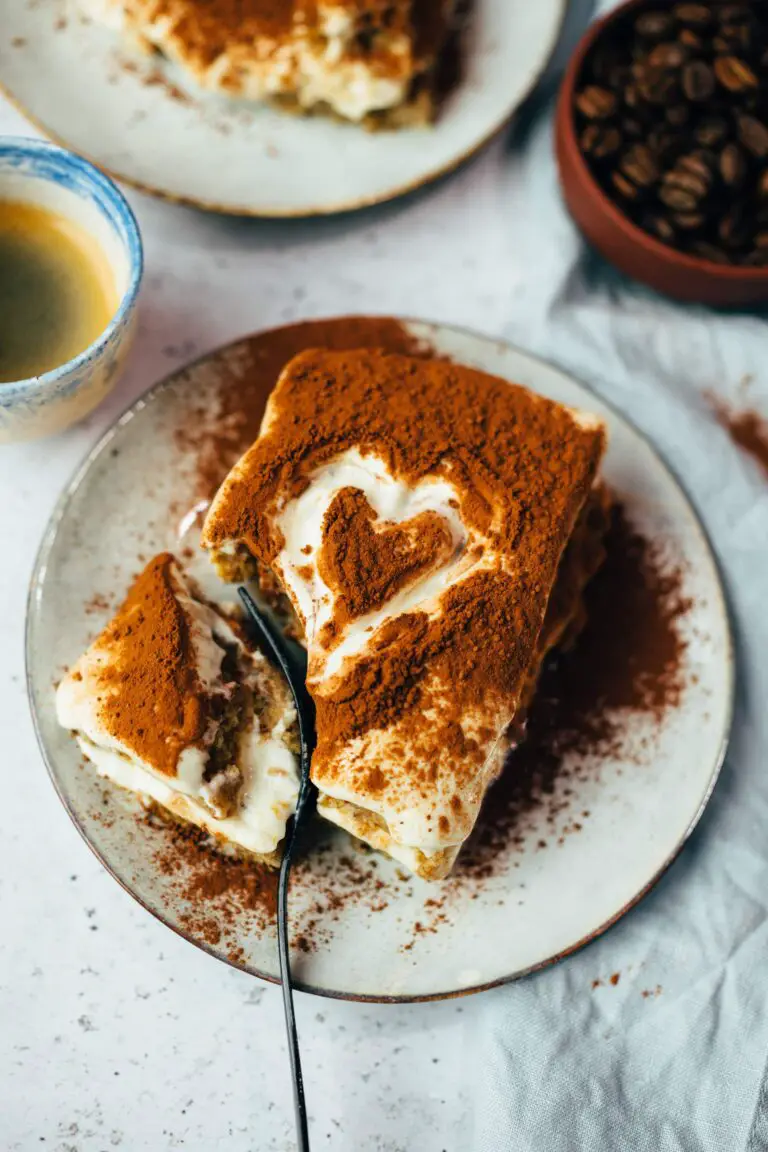 For the base we need a delicious spelt flour base, which replaces the ladyfinger, so to speak. Here comes my question already, have you ever gotten vegan ladyfingers in the store somewhere? If so, please comment below, I would be very interested. When the finished baking, it is cut once in the middle and filled with a fine mascarpone cream. This consists of soaked Cashews , Silken tofu , Vegetable milk , maple syrup and lemon juice. I once again add some xanthan gum, alternatively you could use coconut oil.
From now on we work in layers, sponge cake base, mascarpone cream, sponge cake base, mascapone cream. Allow to set in the refrigerator and dust with a thick layer before serving. Cocoa dust. What I almost forgot, the base is of course soaked with strong coffee, otherwise it would not be a tiramisu.
Vegan Italian Dessert Party! Vegan tiramisu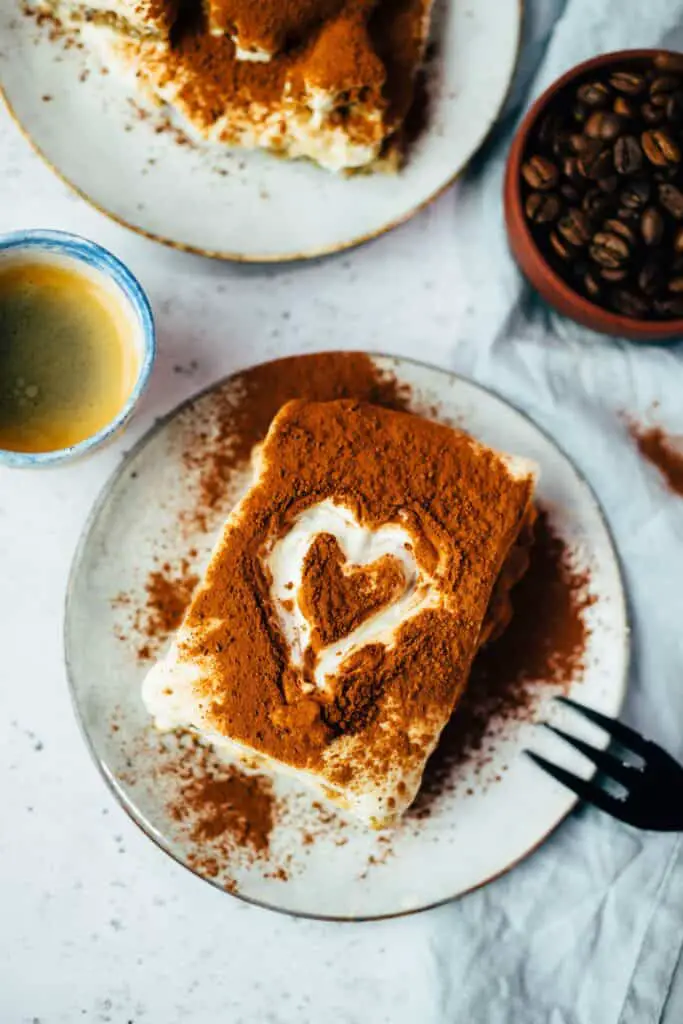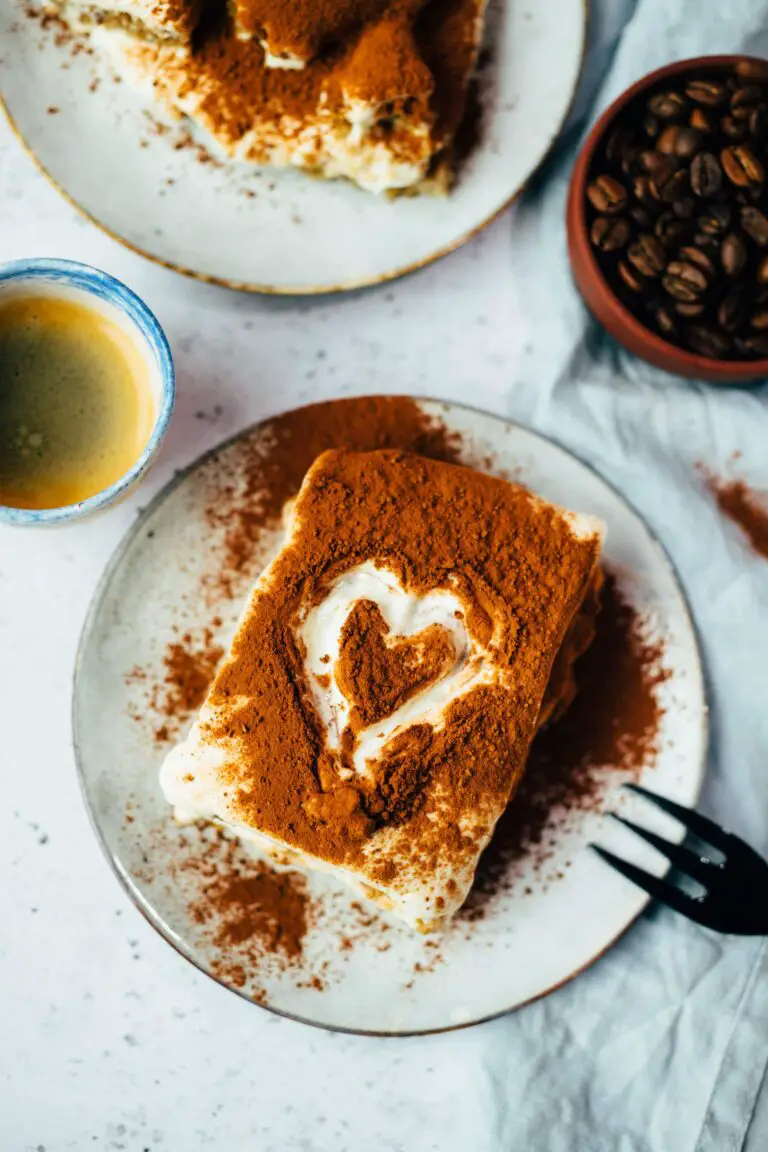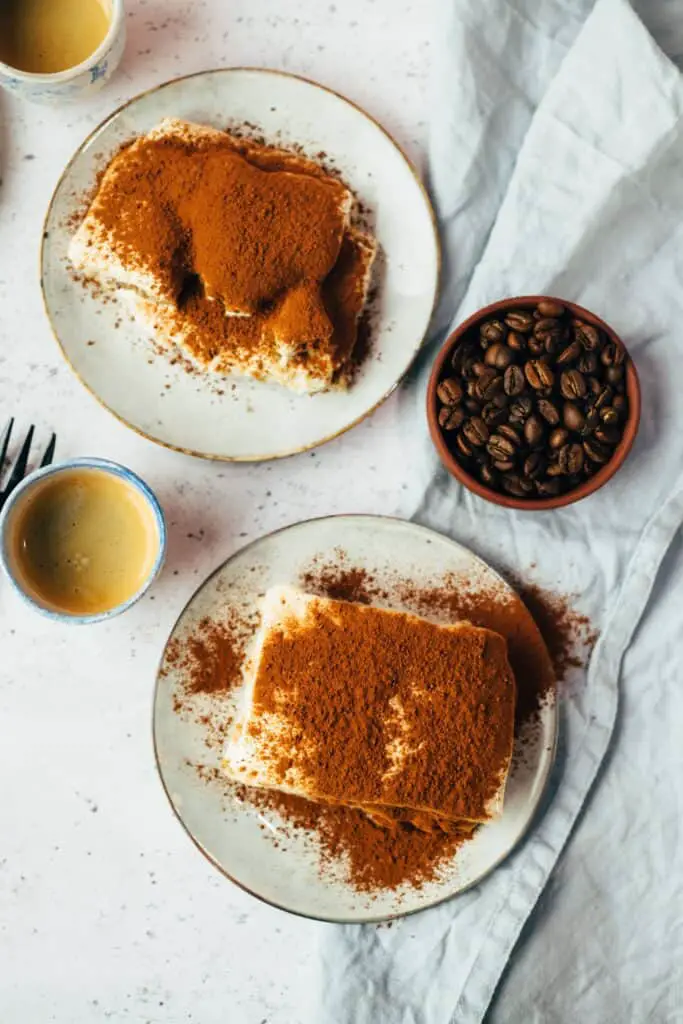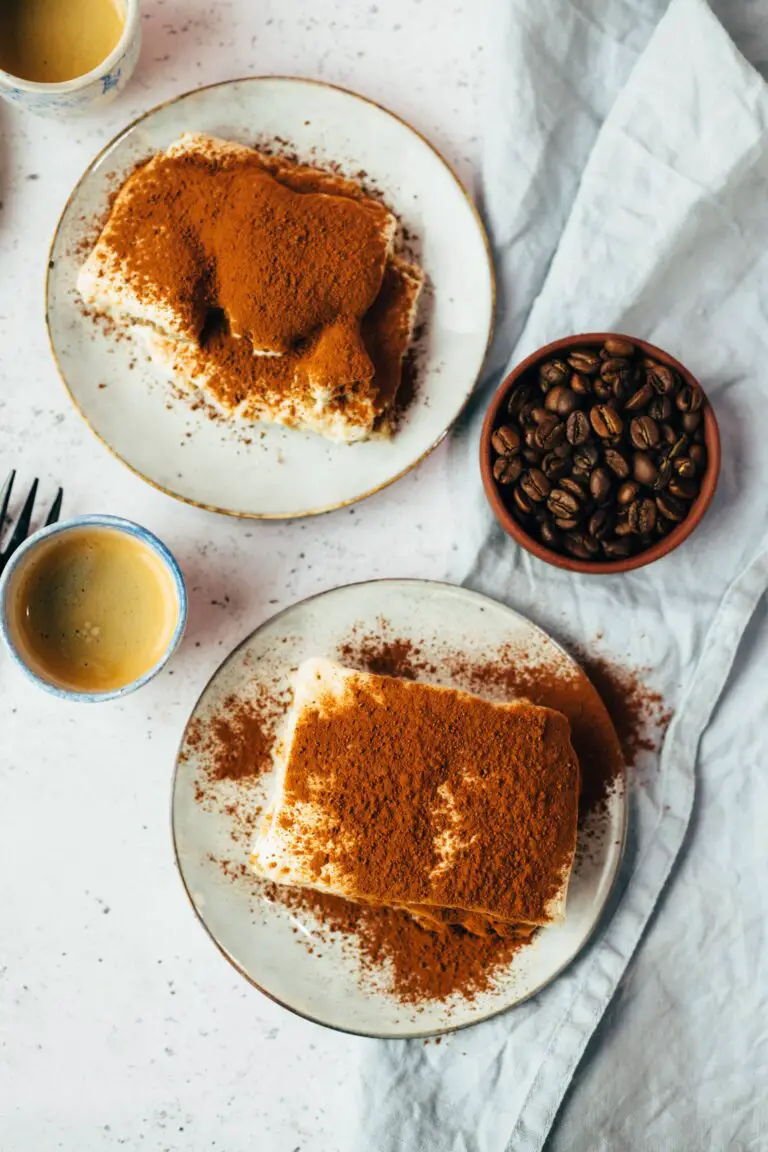 Certainly there is the one or the other of you, who now thinks to himself "not again Cashews". I admitted yes, that this ingenious nut really a special position occupies in my kitchen and I use it very often. However, I would like to also give a chance to all who are not so much with cashews, or are even allergic to it. Here are my top alternatives for a vegan mascarpone "without cashews":
Buy ready: There is a vegan mascarpone from the company "Schlagfix". I haven't tested it myself, but it seems to work well according to opinions on the net. What I don't like about the products is the high percentage of coconut oil and additives. If it has to go fast, still a top alternative.
Instead of mascarpone, make a portion of Coconut cream and spread it on the sponge cake.
Work with cream substitute, there are now also quite good products, e.g. from Schlagfix, Soyana, Bedda or Soyatoo.
You can experiment with the amount of cream, but it is not bad if there is a little bit more or less Tiramisu a little bit more or less mascarpone or Cream is in it. Personally, I always like to make cream and all other creams myself, because then I am sure what is in it. But there are also situations where things have to happen quickly, and that's where all the great substitutes on the market are a real blessing.
Vegan mascarpone that really works? No problem!
A few small tips at the end, so that the tiramisu also succeeds for sure:
Allow time for the tiramisu to infuse, covered, in the refrigerator for a few hours. Then the consistency will be just wonderful. If it's warmer outside, I like to put it in the freezer for another 15-20 minutes before serving. This makes it easier and more precise to portion.
Really sprinkle cocoa on the tiramisu just before serving, otherwise it will combine with the mascarpone, become watery and look unsightly.
Always let the coffee cool completely before spreading it over the sponge. If the coffee is too hot, you won't have a sponge cake at the end, but a mush.
Delicious with a cup of coffee, simple hot chocolate or vegan golden milk .
Let's go with this creamy vegan dessert . I hope you enjoy baking and of course about a review at the bottom of this page. If you post a picture, use the hashtag #veganevibes.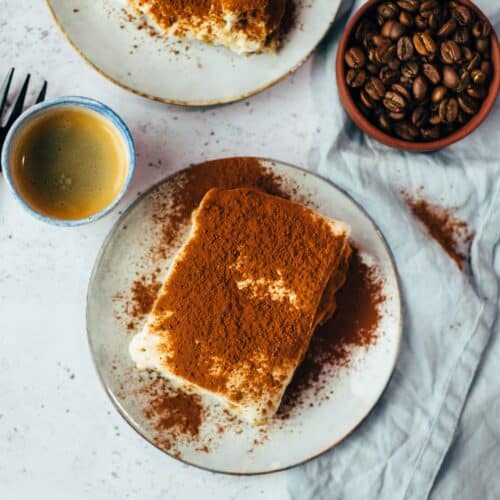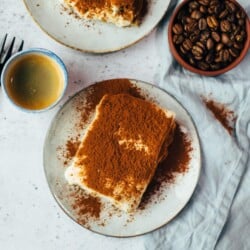 Simple Vegan Tiramisu
Simple vegan tiramisu made with a fine sponge cake base filled with a mascapone of silken tofu and cashews. With fine coffee flavor and cocoa topping. Without alcohol, suitable for the whole family.
AUTOR: VEGANEVIBES
FOR THE VEGAN MASCARPONE:
OTHER:
150

ml

cold

strong coffee or espresso
Anleitung 
Prepare coffee or espresso, allow to cool and set aside.

Prepare flaxseed eggs and set aside.

FOR THE COOKIE Preheat oven to 175 degrees and line a loaf pan (20x20cm diameter) with baking paper. Grease sides optionally with a little vegan margarine.

Put baking soda, apple cider vinegar and vegetable milk in a bowl and mix. The liquid should now foam slightly.

¼ tbspn Baking soda,

1 tbspn Apple cider vinegar,

115 ml Plant milk

Place sieve over bowl, sift in spelt flour and almond flour.

120 g fine spelt flour,

60 g Almond flour

Add baking powder, sugar, oil, (optional) bourbon vanilla, cornstarch and flaxseed eggs. Blend with a whisk or silicone scraper until smooth.

2 Piece Flaxseed eggs,

30 g Cornstarch,

1 ½ tbspn Package baking powder,

120 g Raw cane sugar,

30 g Frying and baking oil,

Oprtional ¼ tsp bourbon vanilla

IMPORTANT: Dough may become more liquid or solid depending on the type of flour. Be sure to check consistency and add more vegetable milk if too solid or more flour if too liquid. Consistency should be as in the video.

ALTERNATIVELY make the dough with a cake machine or high-powered mixer. I use the dough program of my Blendtec.

Pour batter into loaf pan and bake for

30 minutes

. Do stick test, does the wooden stick come out clean, turn off oven and let sponge cool completely.

To make the VEGAN MASCARPONE, place all ingredients in a high-powered blender or other powerful blender and blend to a fine liquid (about 60 seconds). Place in the refrigerator and allow to set.

125 ml Oat milk or another plant milk,

½ Cup Silken tofu,

40 g maple syrup,

juice of ½ lemon,

¼ tbspn Xanthan Gum,

150 g Cashews

Cut BISKUIT in half with a long knife and unfold. Return the base to the loaf pan and drizzle with ½ cup of coffee. Please do not skimp here, but soak well.

Remove MASCARPONE from the refrigerator. Spread half of the cream on the base with a silicone spatula or a spoon. Place the second buscuit base on top.

Spread the remaining mascarpone on top, smooth it out and put it in the fridge. Ideally, leave to infuse overnight. Otherwise, put in the freezer for 30 minutes, remove from the springform pan, dust with plenty of cocoa and portion.

Cocoa powder to taste as topping

TIP: The tiramisu tastes especially good and is super portionable if you freeze them for 30 minutes.

Arrange on plates and enjoy!

Store in an airtight container in the refrigerator for up to 5 days, keep frozen for a few weeks. However, fresh is best.
Nährwertangaben
Serving:
1
Piece
Calories:
389
kcal
Carbohydrates:
53
g
Protein:
11
g
Fat:
17
g
Saturated Fat:
2
g
Cholesterol:
1
mg
Sodium:
67
mg
Potassium:
164
mg
Fiber:
5
g
Sugar:
23
g
Vitamin A:
62
IU
Vitamin C:
3
mg
Calcium:
100
mg
Iron:
3
mg