Hello my dears, Easter is just around the corner and what's up? Lots of food, chocolate eggs and hopefully a delicious cake. Mostly on these days there is a visit to or from the family and as a vegan living person it is sometimes not easy. Just yesterday, my grandma had her 93rd birthday and I got extremely weird looks because I didn't eat any of the strawberry roulade. Well, most of the time it's worth it to be strict and do without, even if grandma doesn't understand the world anymore. Therefore, my resolution for this cake was to create something that everyone likes – provided you like tiramisu.
Vegan tiramisu in cake form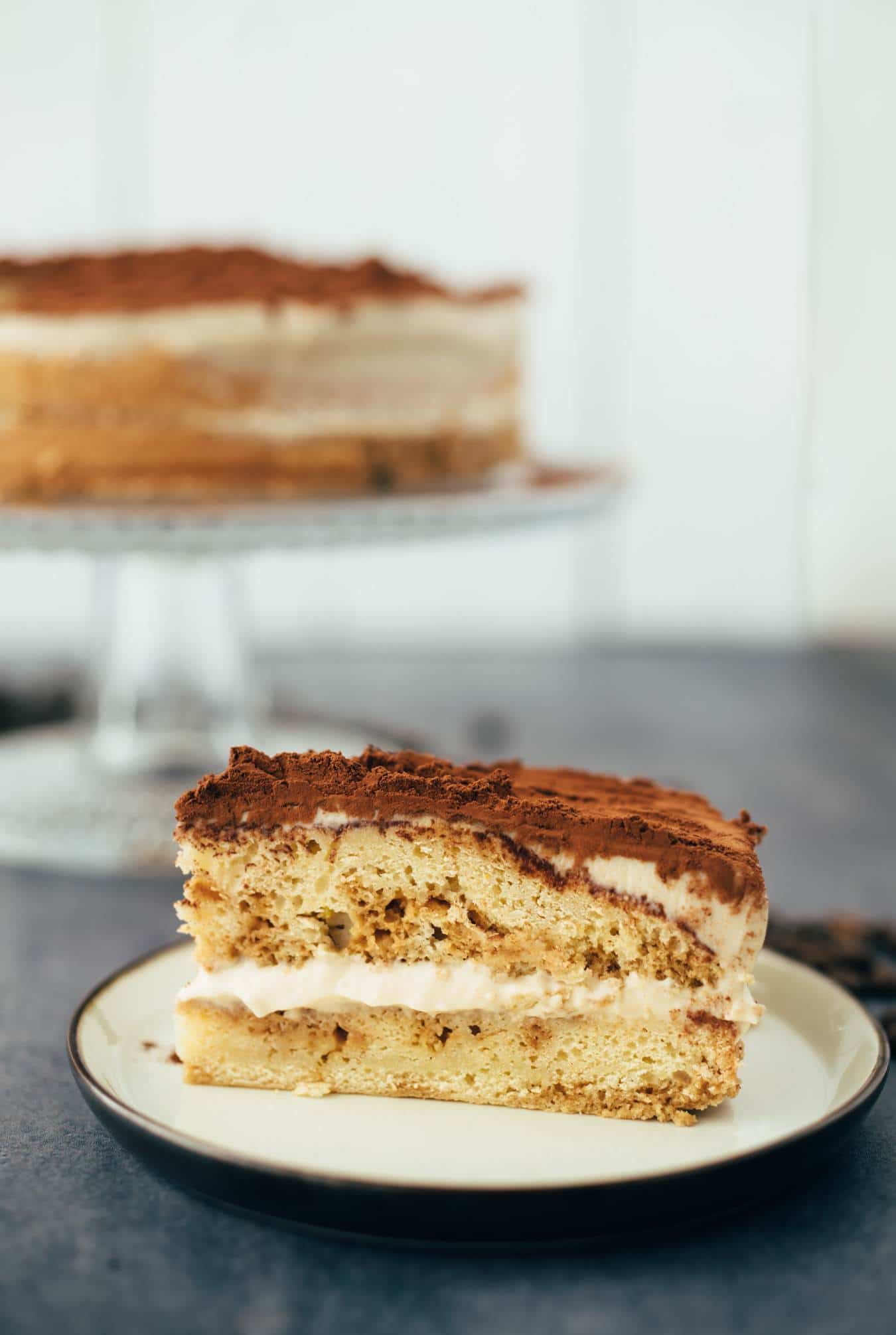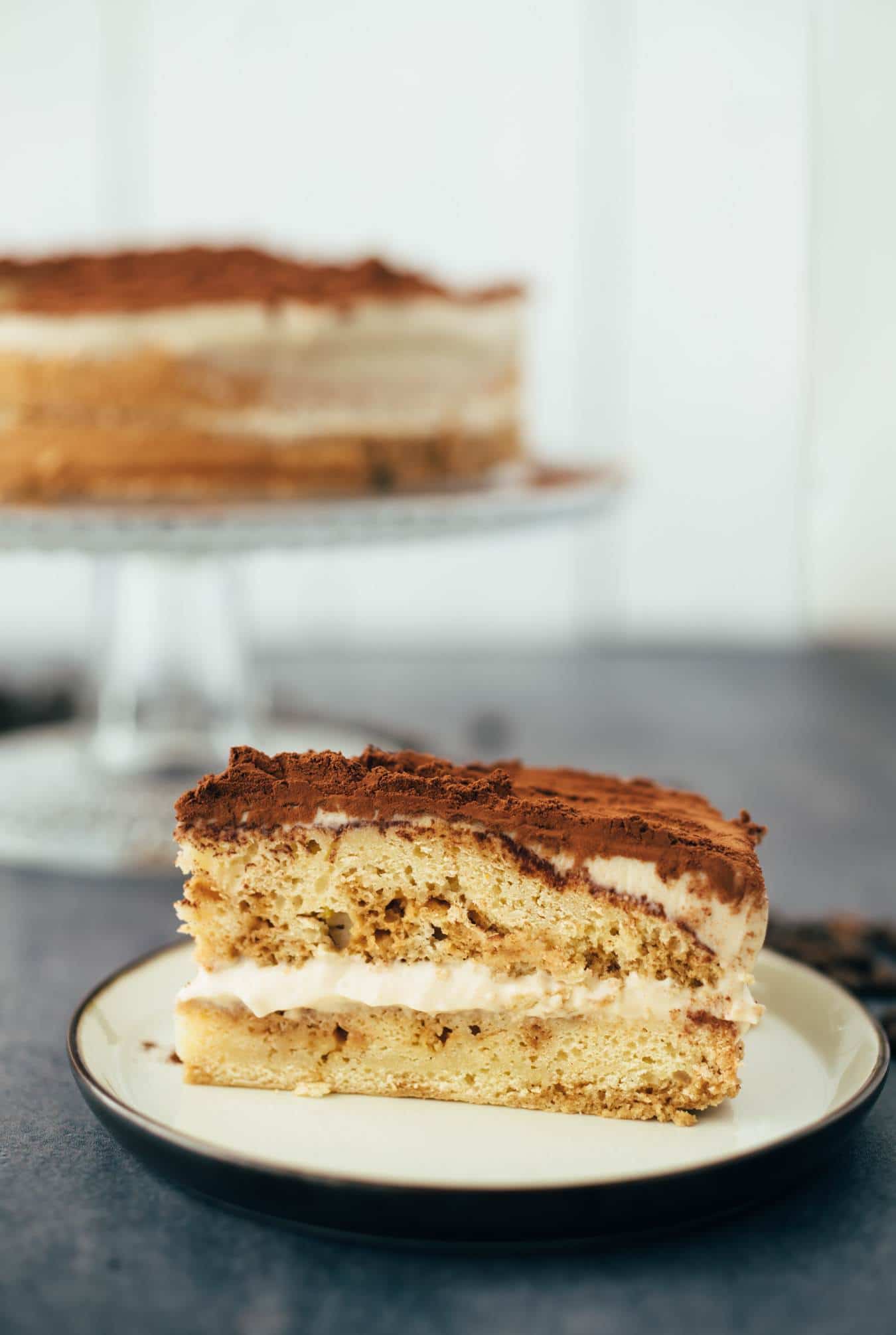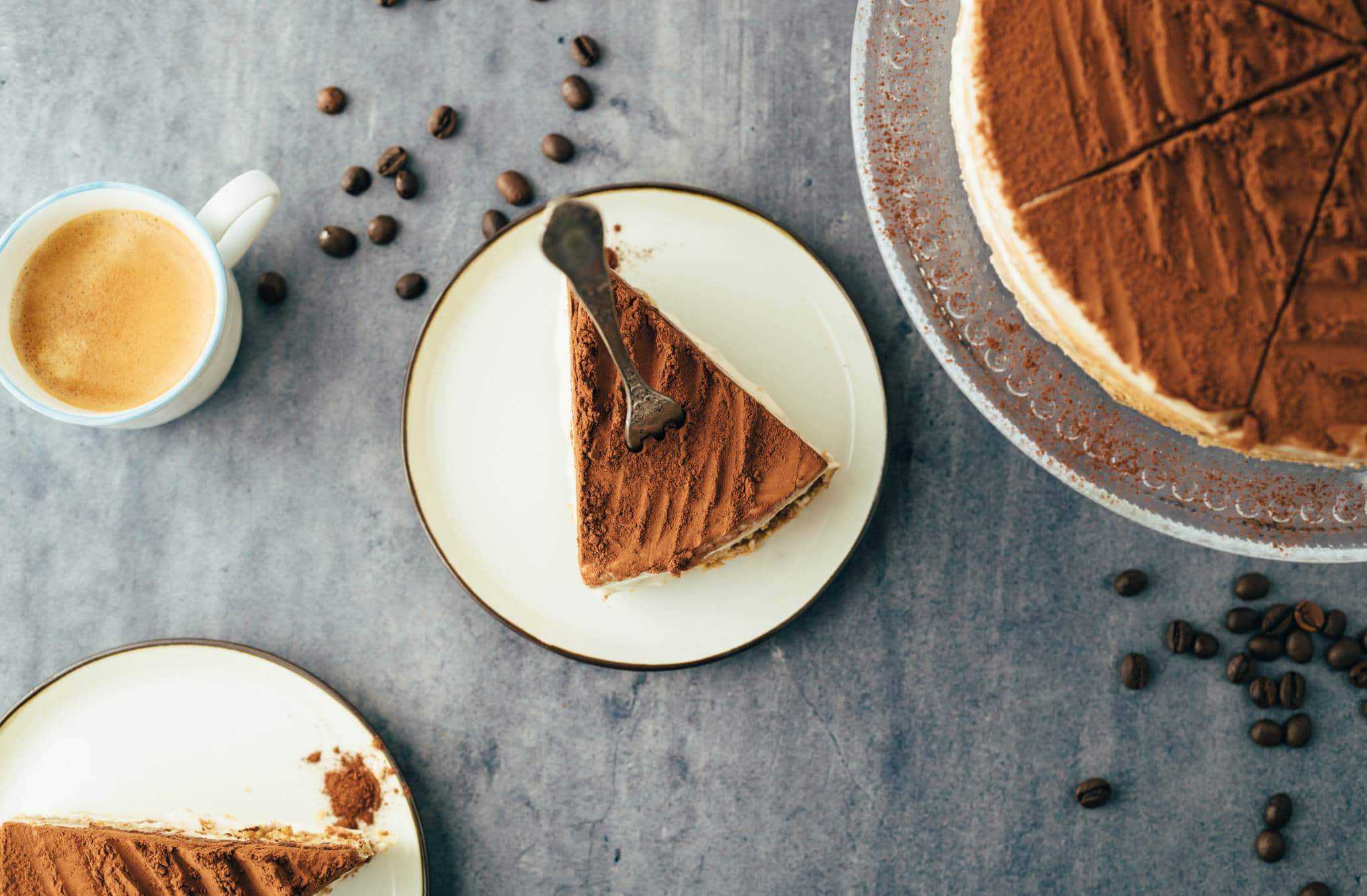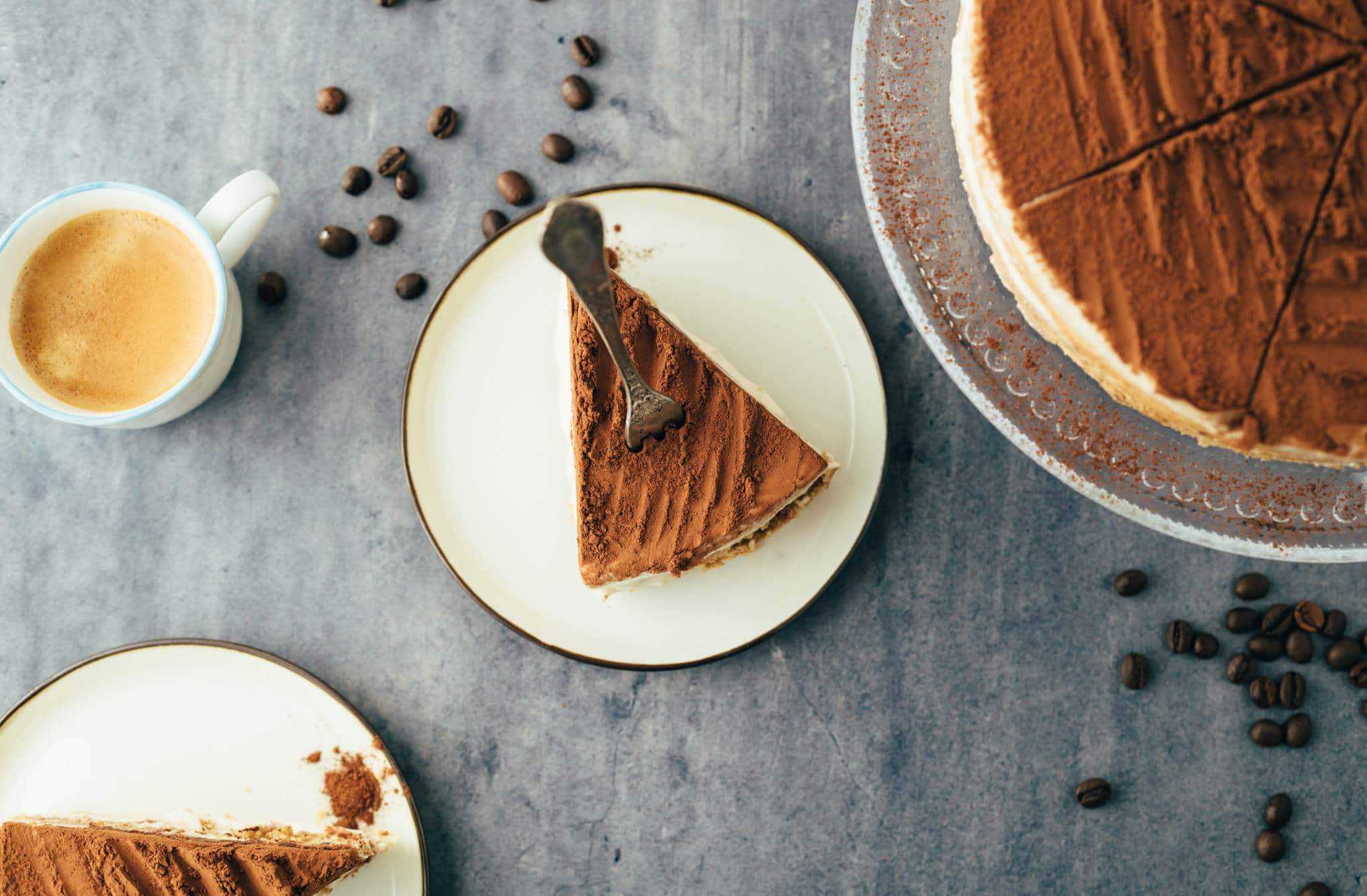 The basis is a delicious sponge cake base, which is incredibly easy and quick to bake. I baked mine with fine spelt flour, but will be testing the gluten-free version shortly. But since I'm sure it will work, from my point of view, the flour can be replaced with my gluten-free flour blend without any problems. I make the dough in my Blendtec and use the dough program for it. Otherwise, just work with a food processor or by hand, that also works.
But the highlight of the cake is certainly not the vegan sponge, but the mega creamy and damn delicious mascarpone. I make them based on cashews, which I don't even soak in advance. why? The better your blender, the less you need to soak. Blendtec, Vitamix and similar devices work with a very high speed and get the cashews so fine. It is different with almonds, they should always be soaked in any case.
If your blender is not that powerful, no problem.
Simply soak the cashews beforehand using one of the two methods below:
QUICK-SOAK-METHOD (duration 60 minutes): Place cashews in a heatproof bowl and pour scalding hot water over them. DO NOT COVER and leave to infuse for one hour. Drain and process.
LONG-SOAK-METHOD (duration 6 hours): Soak cashews in cold water and cover. Drain and process after 6 hours or overnight.
Vegan mascarpone that really works? No problem!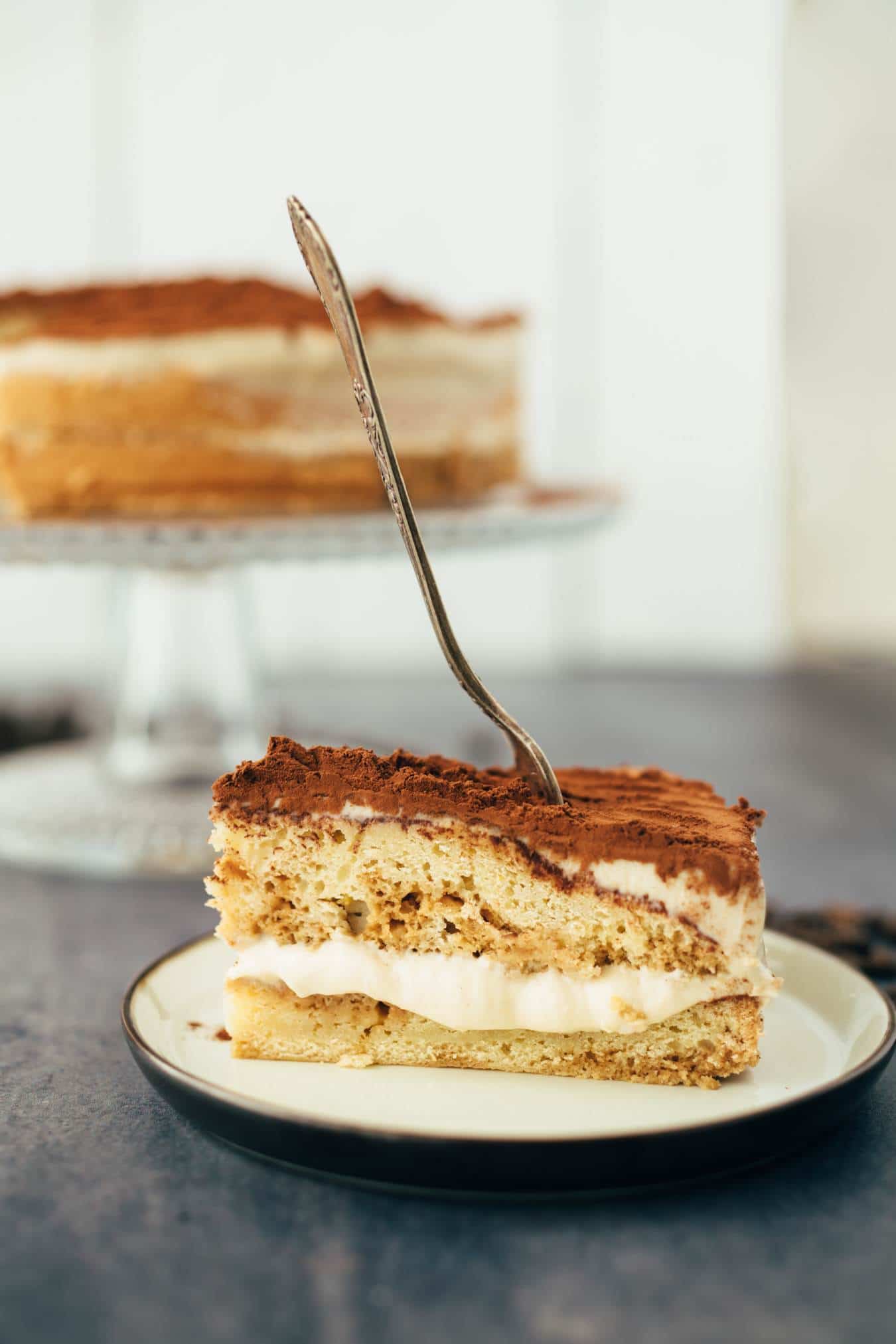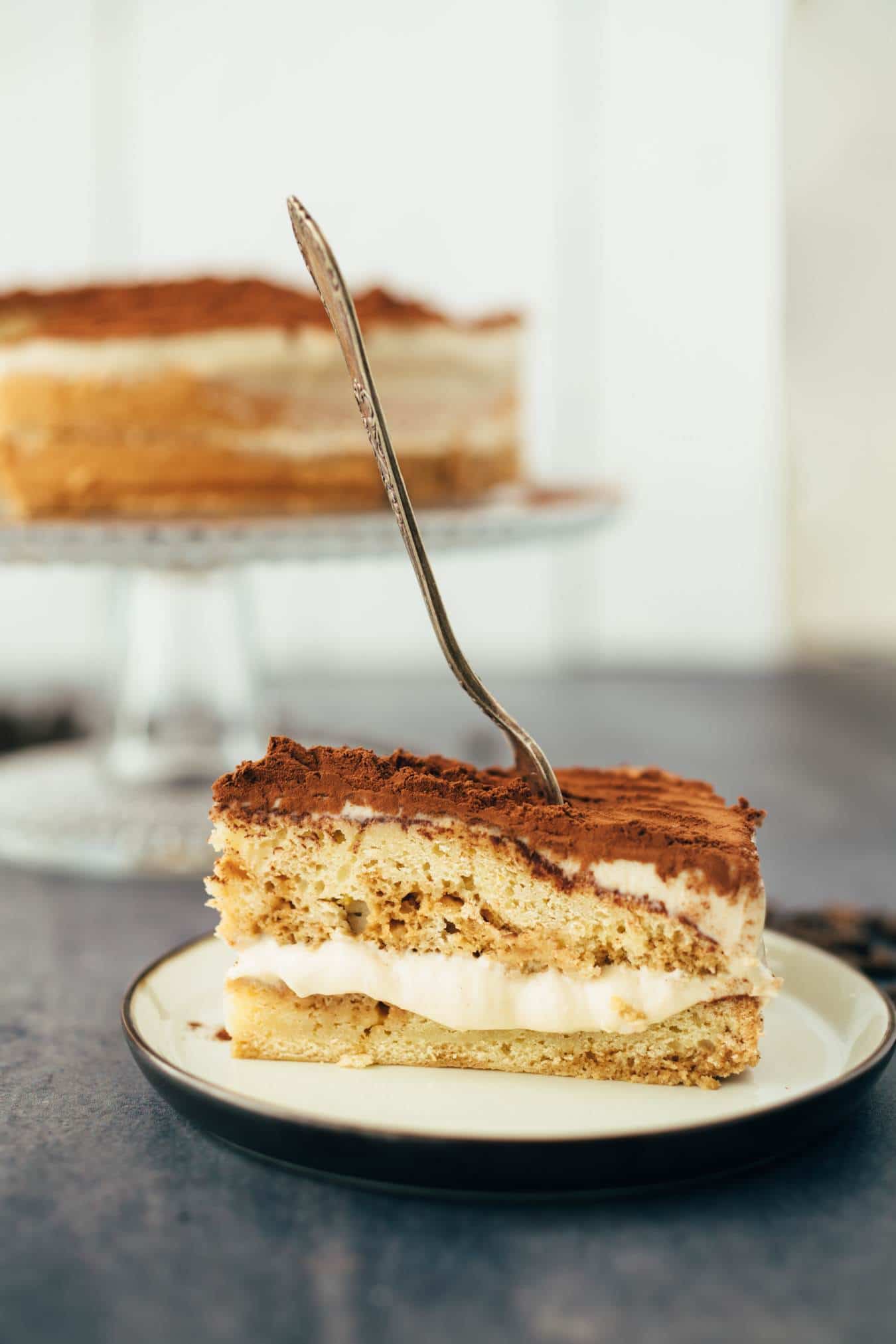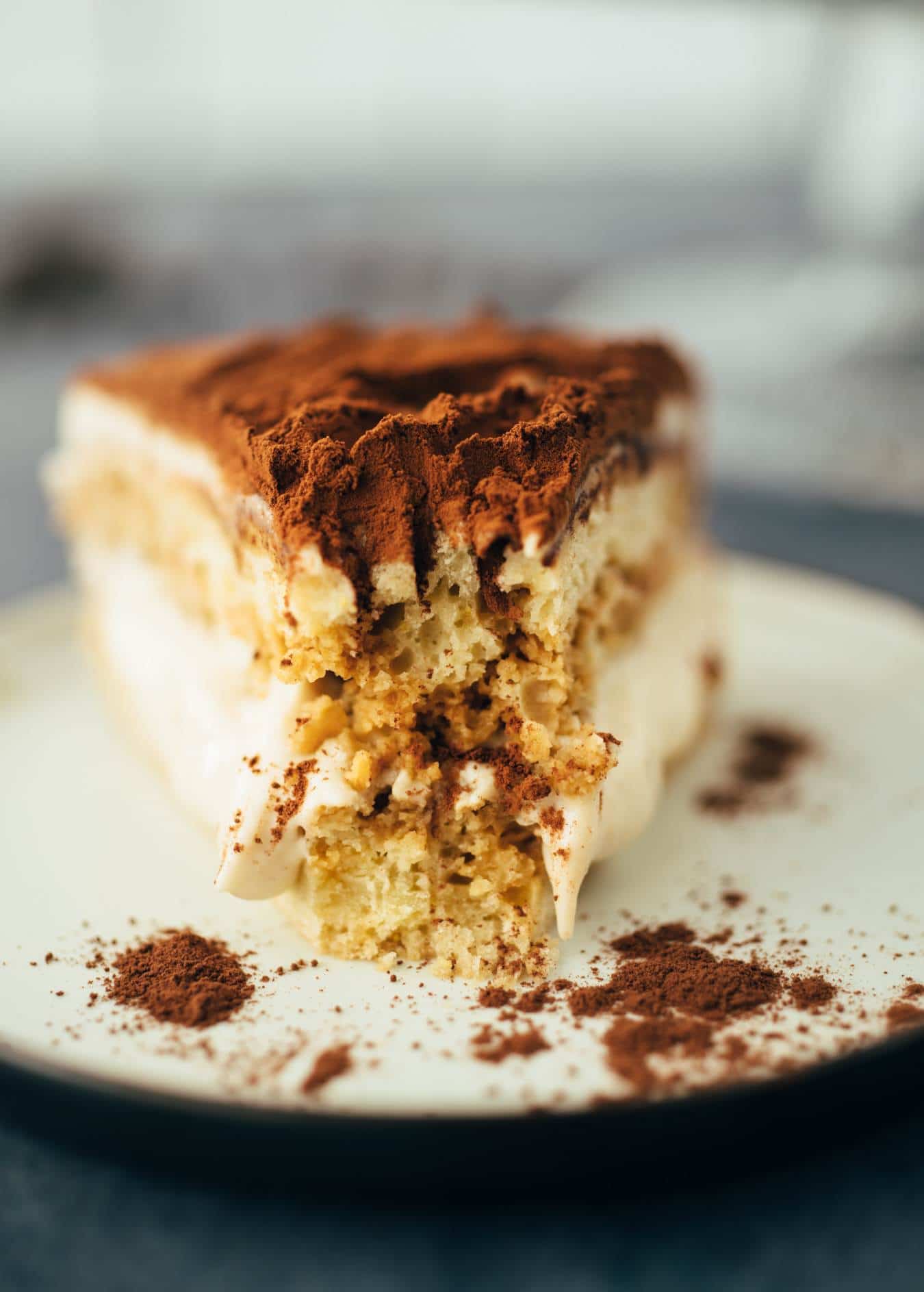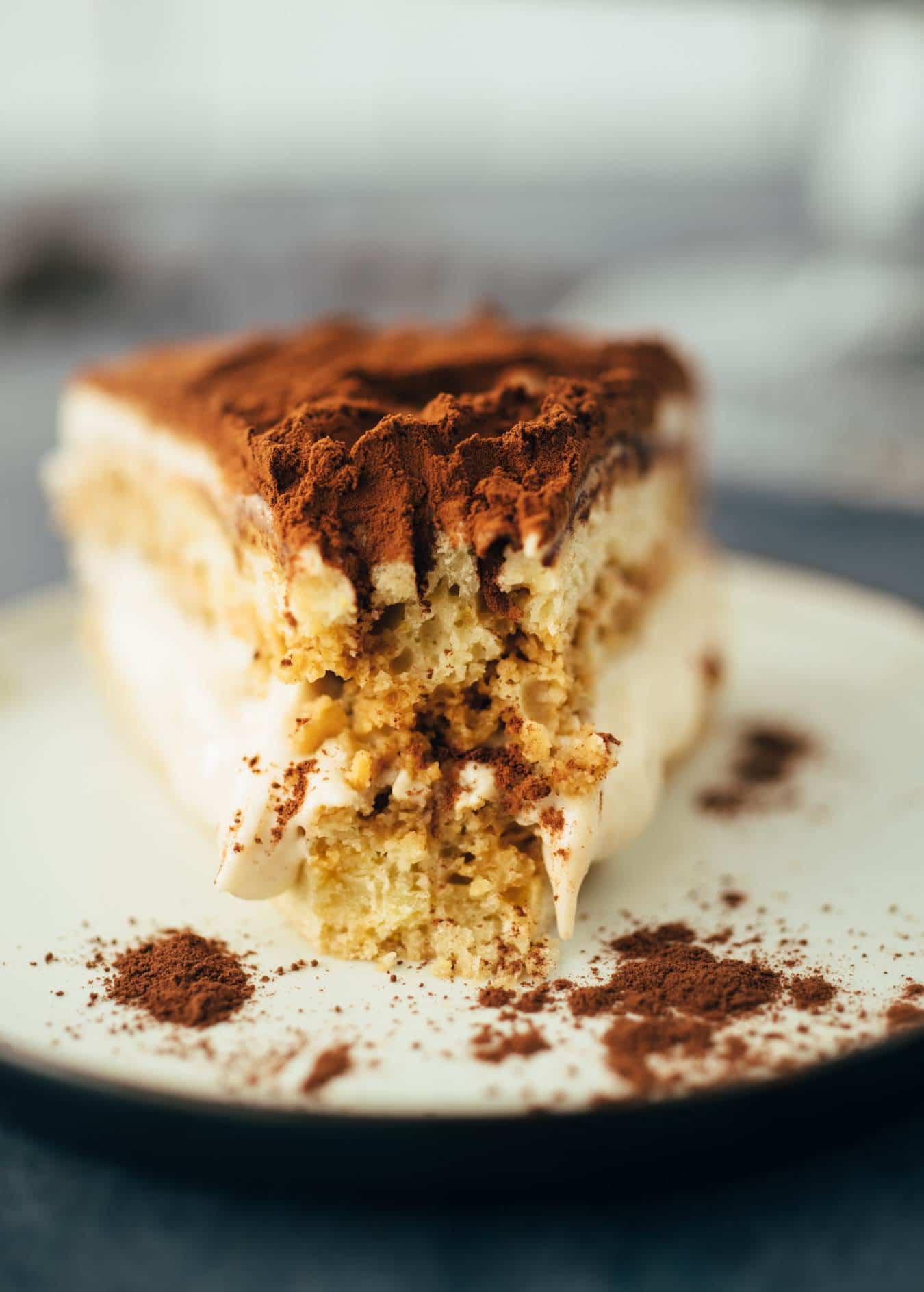 There is one more thing to consider: Soaking with coffee. In my first attempts, I always took too little. At first you think that the amount is way too much and at the end you are annoyed that you took too little. DARE!!! You can really make the cake really wet laugh. The base can soak up an extremely large amount of liquid and this is what makes the cake so delicious at the end.
Then actually only the cocoa is missing and it should be sifted abundantly on the cake. The saying, less is more, definitely does not apply here. Regarding the size, I chose a 22cm diameter springform pan. why? If not necessarily the entire relatives come to visit, then it makes no sense to make a classic, large cake. Besides, I think small cakes are somehow cuter.
Delicious with a cup of coffee, simple hot chocolate or vegan golden milk .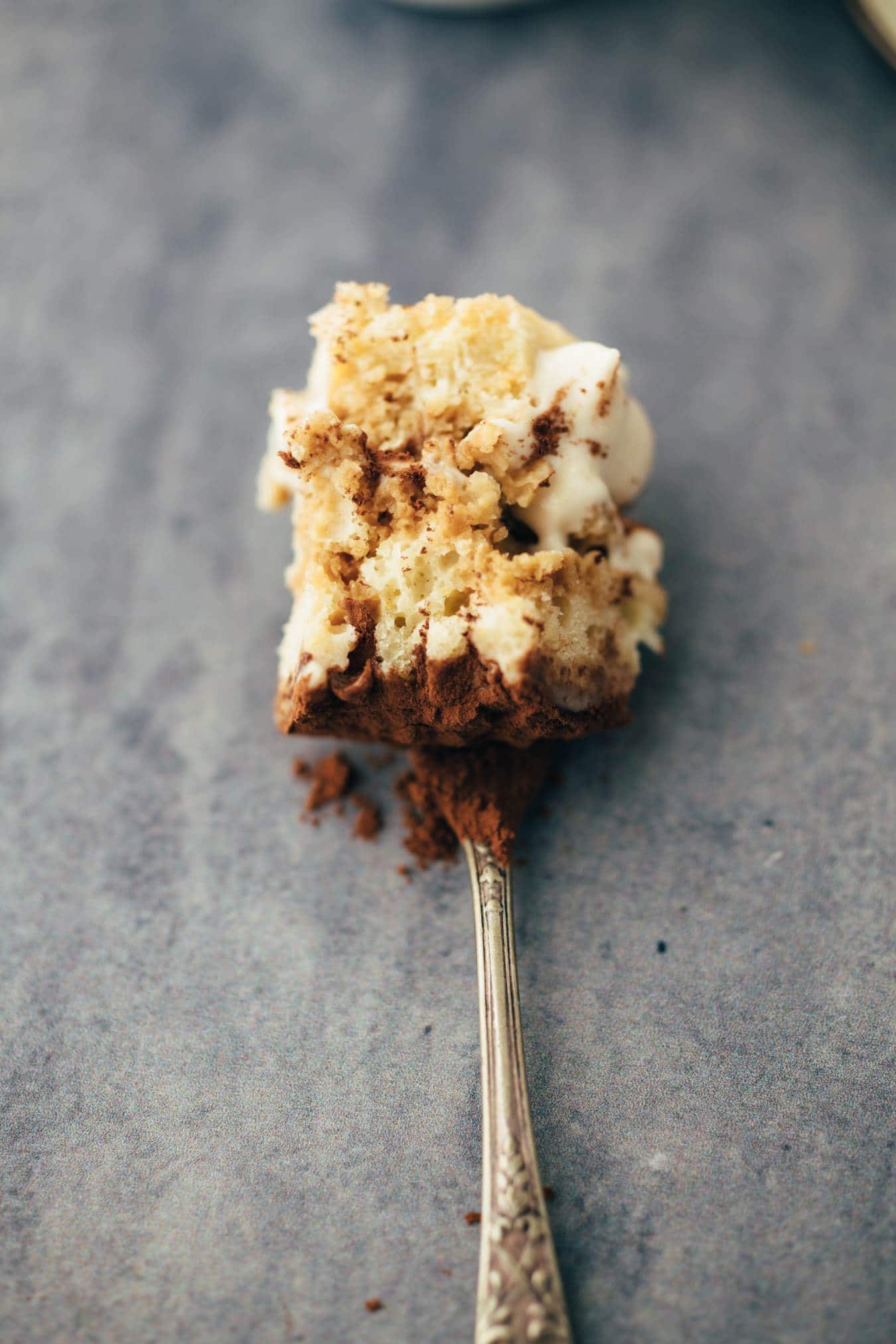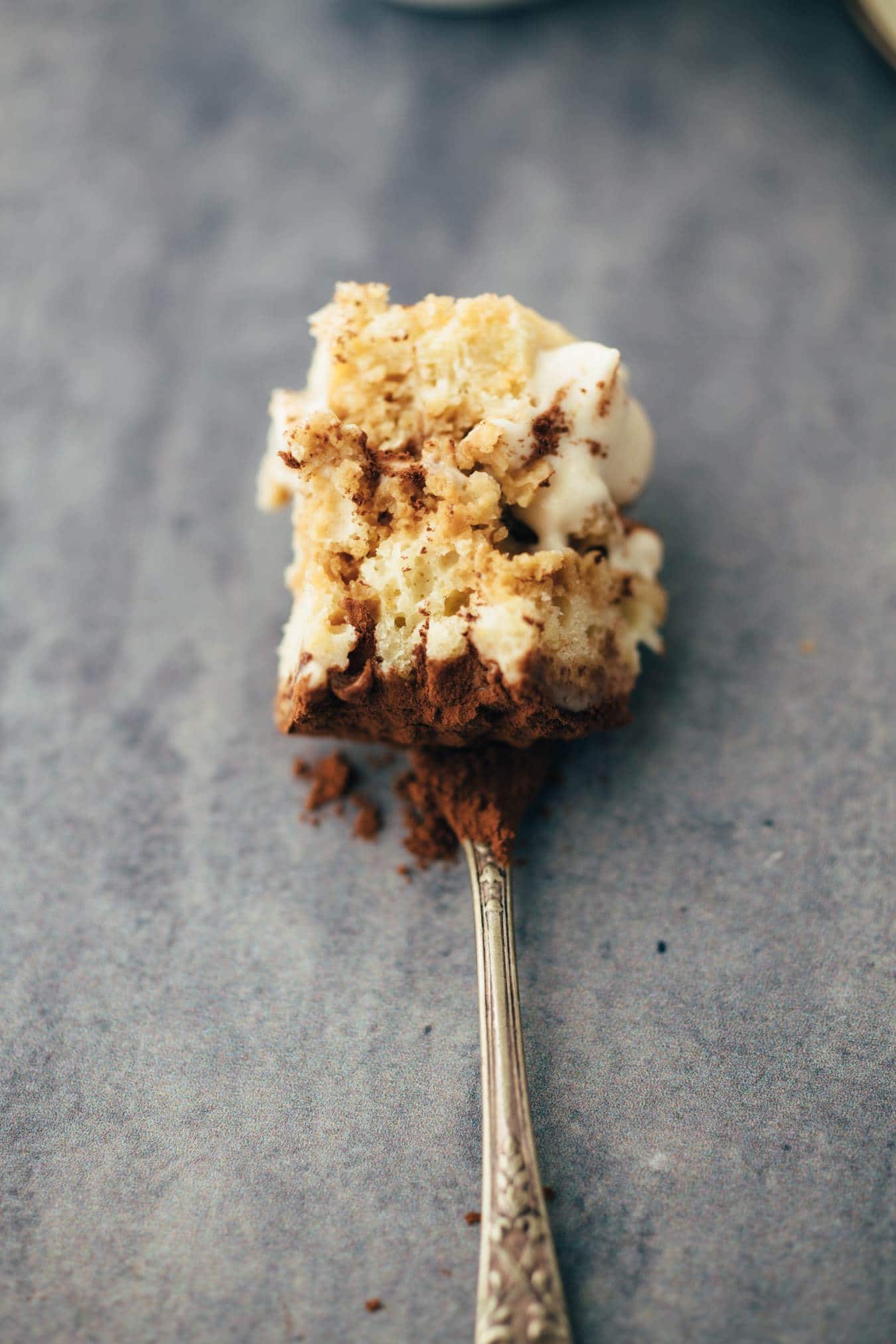 Let's get started with this creamy vegan Dessert cake . I hope you enjoy baking and of course about a review at the bottom of this page. If you post a picture, use the hashtag #veganevibes.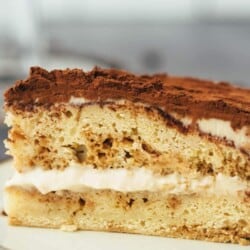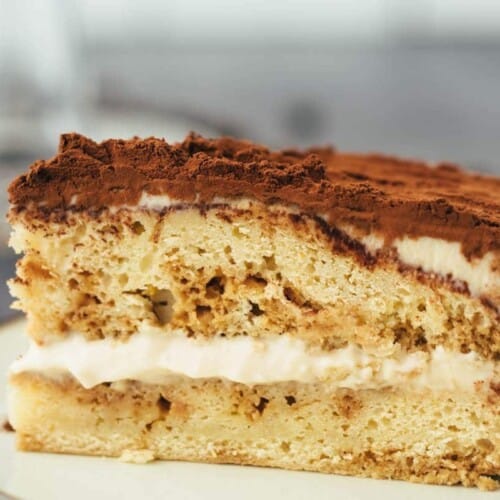 simple vegan tiramisu cake
Simple, creamy with dessert character? Yes you can with this recipe for a magical vegan, tiramisu cake. Delicious sponge cake soaked with coffee, filled with a thick layer of creamy mascarpone.
AUTOR: VEGANEVIBES
FOR THE COOKIE:
210

g

fine spelt flour

Alternative: gluten-free flour mix

1

tbspn

Cornstarch

1

tbspn

Turmeric

ground (for a great light yellowish color)

120

g

Raw cane sugar

1

Packet of lemon zest or fresh lemon zest from an organic lemon

85

g

Coconut oil

melted

210

ml

Mineral water

with very much fizz (does not work with still water!)
FOR THE VEGAN MASCARPONE:
OTHER:
150

ml

cold

strong coffee or espresso (2/3 cup)
Anleitung 
Soak cashews for the VEGAN MASCARPONE if a high-powered blender is not available.

Prepare coffee or espresso, allow to cool and set aside.

FOR THE COOKIE Preheat oven to 175 degrees and line a springform pan (22cm diameter) with baking paper. Grease sides optionally with a little coconut oil or vegan margarine.

Sift flour and starch into a large bowl, add baking powder, raw cane sugar, lemon zest and turmeric and mix well with a mixer or by hand. Add coconut oil and mineral water and gently stir or fold until a uniform dough is formed. Be careful not to stir too long, otherwise the carbonic acid in the mineral water will lose its driving force. Don't worry about small lumps in the dough, they will dissolve during the baking process.

210 g fine spelt flour,

1 tbspn Cornstarch,

1 Package baking powder,

1 tbspn Turmeric,

120 g Raw cane sugar,

1 Packet of lemon zest or fresh lemon zest from an organic lemon,

85 g Coconut oil,

210 ml Mineral water

ALTERNATIVELY make the dough with a cake machine or high-powered mixer. I use the dough program of my Blendtec.

Pour batter into springform pan and bake for 30 minutes. Do stick test, does the wooden stick come out clean, turn off oven and let sponge cool completely.


For the VEGAN MASCARPONE place all ingredients in a high-powered blender or other powerful blender and blend to a fine liquid (circa 60 seconds). Place in a small saucepan and bring to a boil over medium heat, stirring constantly.NOTE: Always stay with it and stir, otherwise there is a risk that it will cut off dimensions at the bottom of the pot. The starch causes the liquid to thicken when heated. Remove from heat, cool briefly, place in refrigerator and allow to set.

225 ml Oat milk or another plant milk,

1,5 tbspn Strength,

40 g Raw cane sugar,

Juice of one lemon,

½ tbspn Bourbon vanilla ground,

Optional: 25ml amaretto,

150 g Cashews

BISKUIT cut in half with a long knife and unfold. Return the base to the springform pan and drizzle with ½ cup of coffee. Please do not skimp here, but soak well.

MASCARPONE remove from the refrigerator and whip again briefly by hand or with a mixer to make it nice and creamy. Spread half of the cream on the cake base with a silicone spatula or a spoon.

Straighten pie lid a bit if too much of a dome formed during baking (I nibbled right away). Drizzle with the remaining coffee and place on top of the first layer of mascarpone.

Spread the remaining mascarpone on top, smooth it out and put it in the fridge. Ideally, leave to infuse overnight. Otherwise, place in freezer for

30 minutes

, remove from springform pan and portion.

TIP: The cake tastes especially good and is super portionable if you freeze it for 30 minutes.

Arrange on plates and enjoy!

Cocoa powder to taste as topping

Store in an airtight container in the refrigerator for up to 5 days, keep frozen for a few weeks. TIP: Cut into pieces already before freezing.

Notizen
NOTES /HELPFUL ACCESSORIES:
Nährwertangaben
Serving:
1
Piece
Calories:
384
kcal
Carbohydrates:
48
g
Protein:
7
g
Fat:
20
g
Saturated Fat:
10
g
Sodium:
24
mg
Potassium:
151
mg
Fiber:
4
g
Sugar:
23
g
Vitamin A:
60
IU
Calcium:
49
mg
Iron:
2.8
mg