OK, I admit it: I only write this blog so that I can always eat all the yummy stuff myself. That's why right now I ate two more of the delicious Chocolate Cashew Butter Truffles. But hello, I have to be able to describe exactly how they taste. Maybe I'll take a third while I'm at it?
Chocolate Cashew Butter Truffle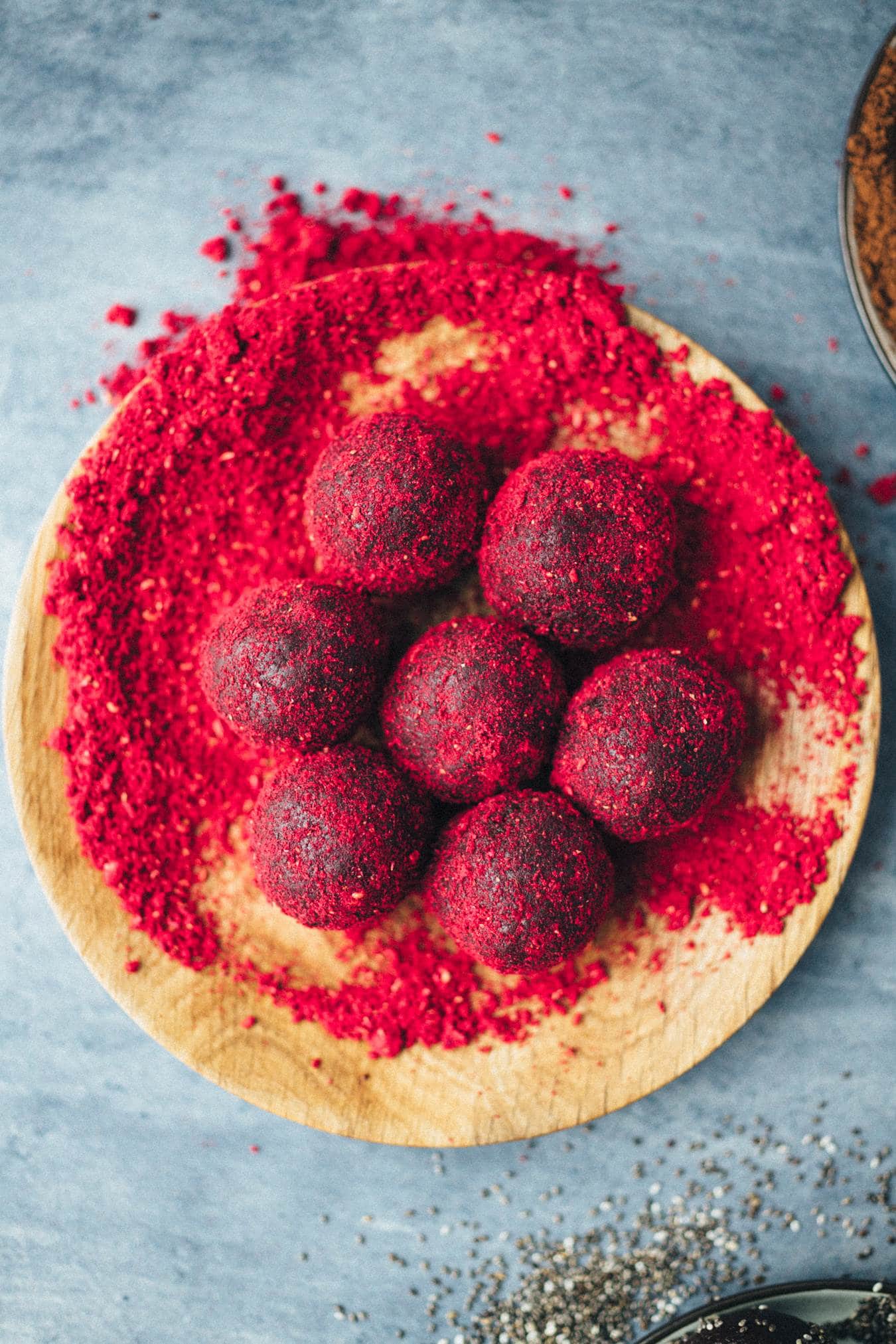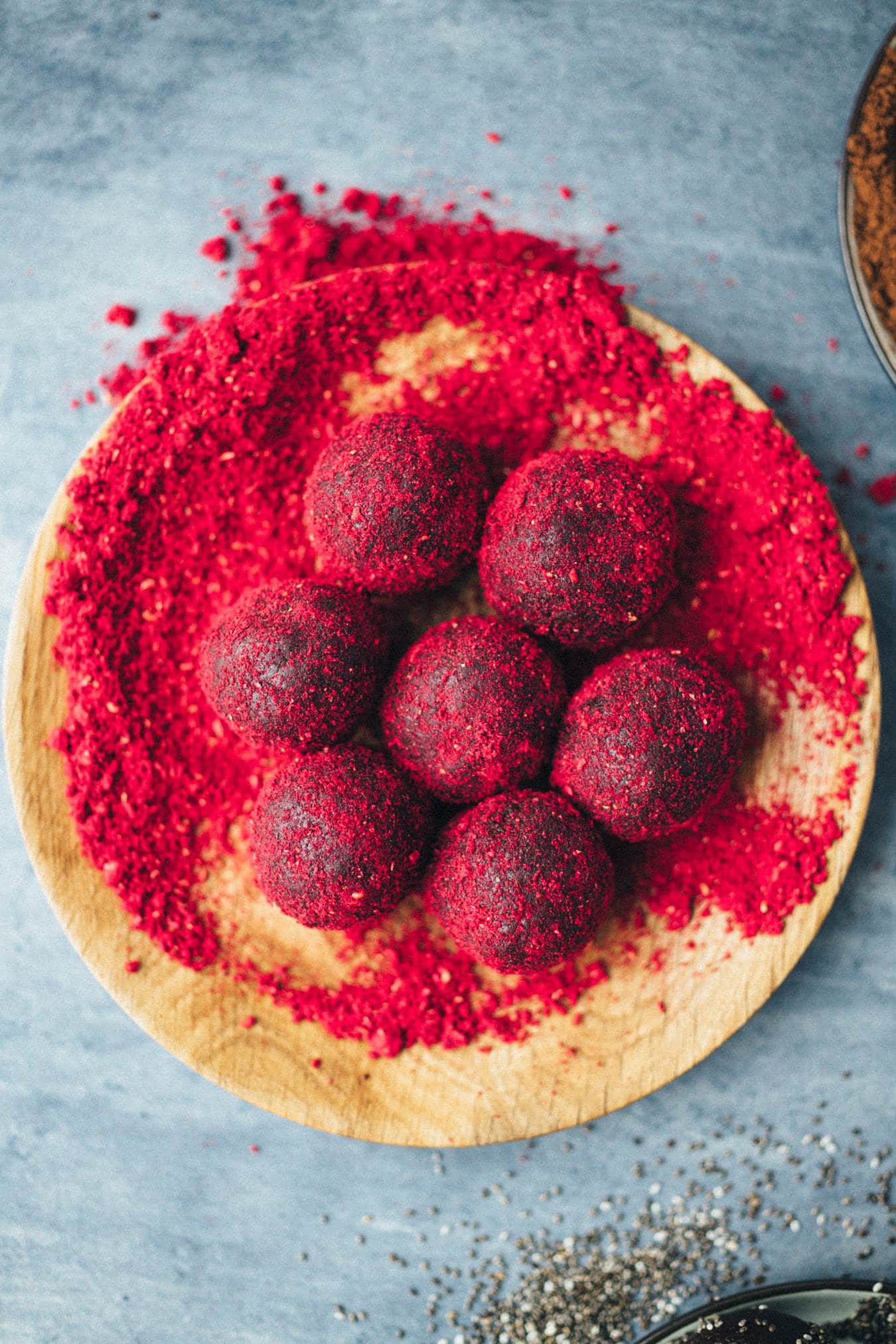 Small private excursion – HUSKIES
Oh yes, before I continue with the delicious truffles again, a few news about the husky mom. Today I got again a super video from our breeders. The little puppies are so cute and we (especially my husband) can't wait to finally see the little ones. Sunday, 10.2.18 is the day. We are already sooooooo excited and also look forward to a video. Since I don't want to annoy all FOOD JUNKIES here on the site too much with funny and cuddly dog videos, there's an extra homepage WAPI & YUMA! Just have a look.
But now there is only info about the delicious vegan truffles
Why did I come up with this exact recipe? Because I would like to make Truffle wanted to make that do without dates. Dates are healthy and full of fiber and minerals, no question. However, they have quite a high glycemic index because they contain a lot of natural fructose. But I wanted to have a different variant, with a higher protein content – but at least as tasty.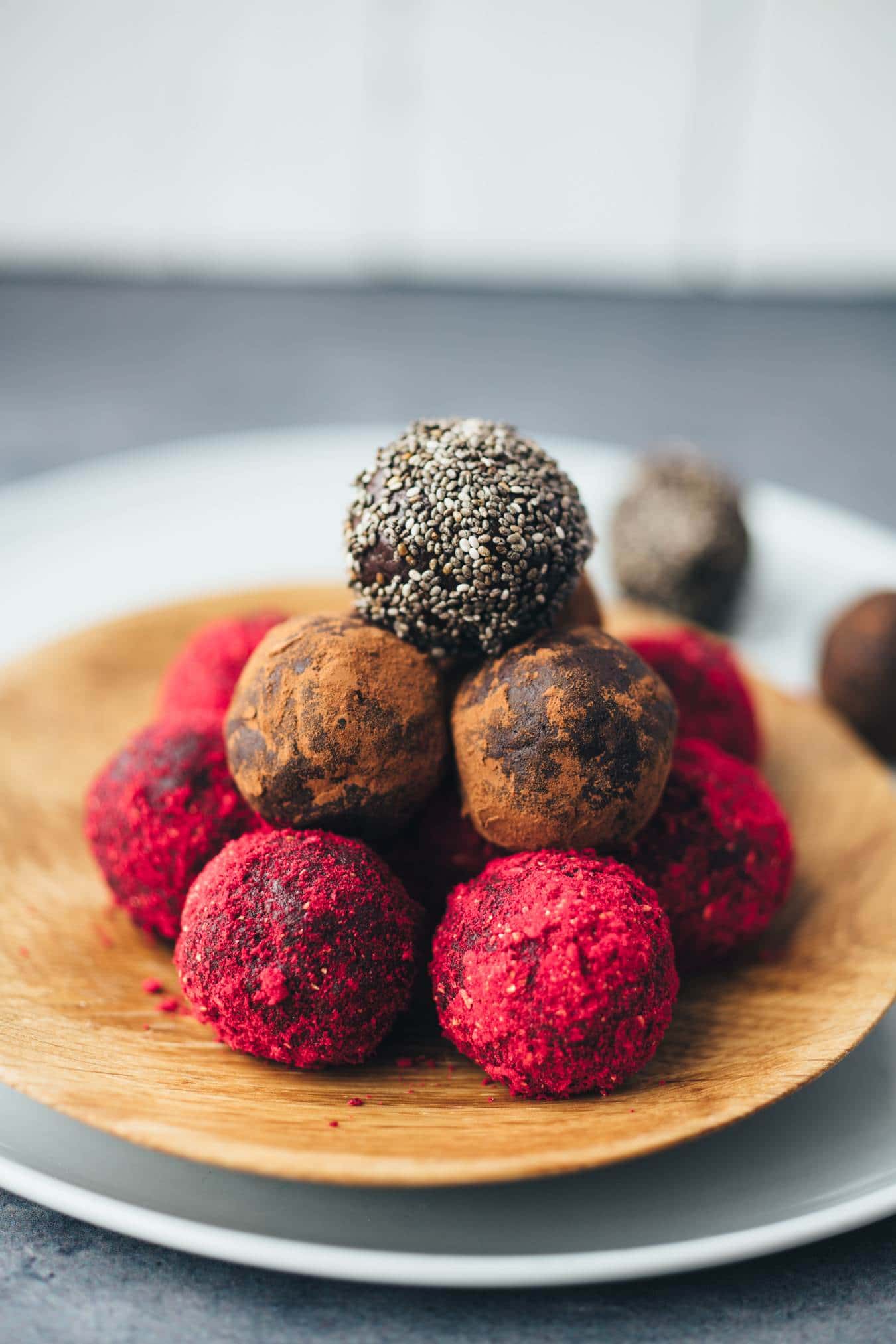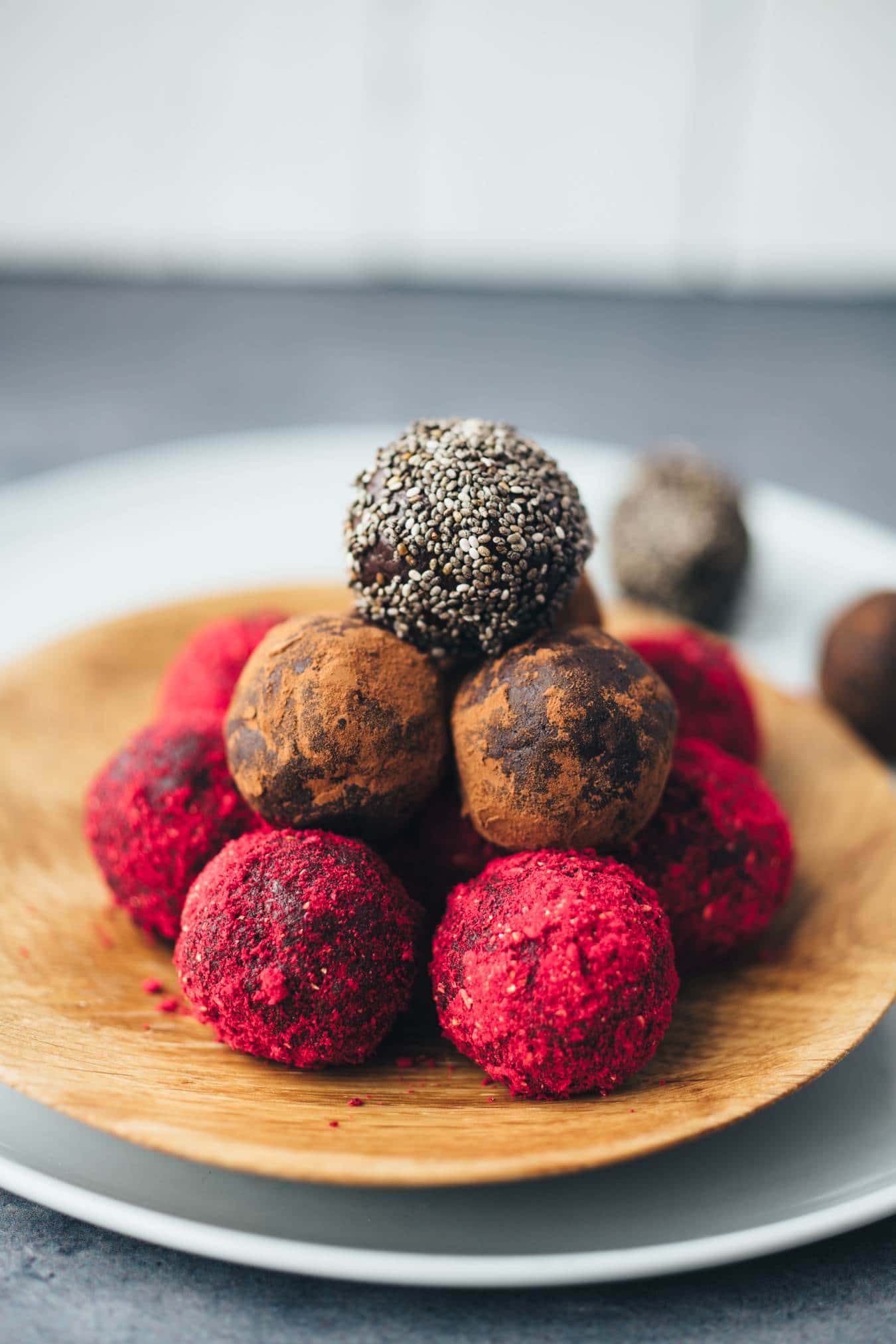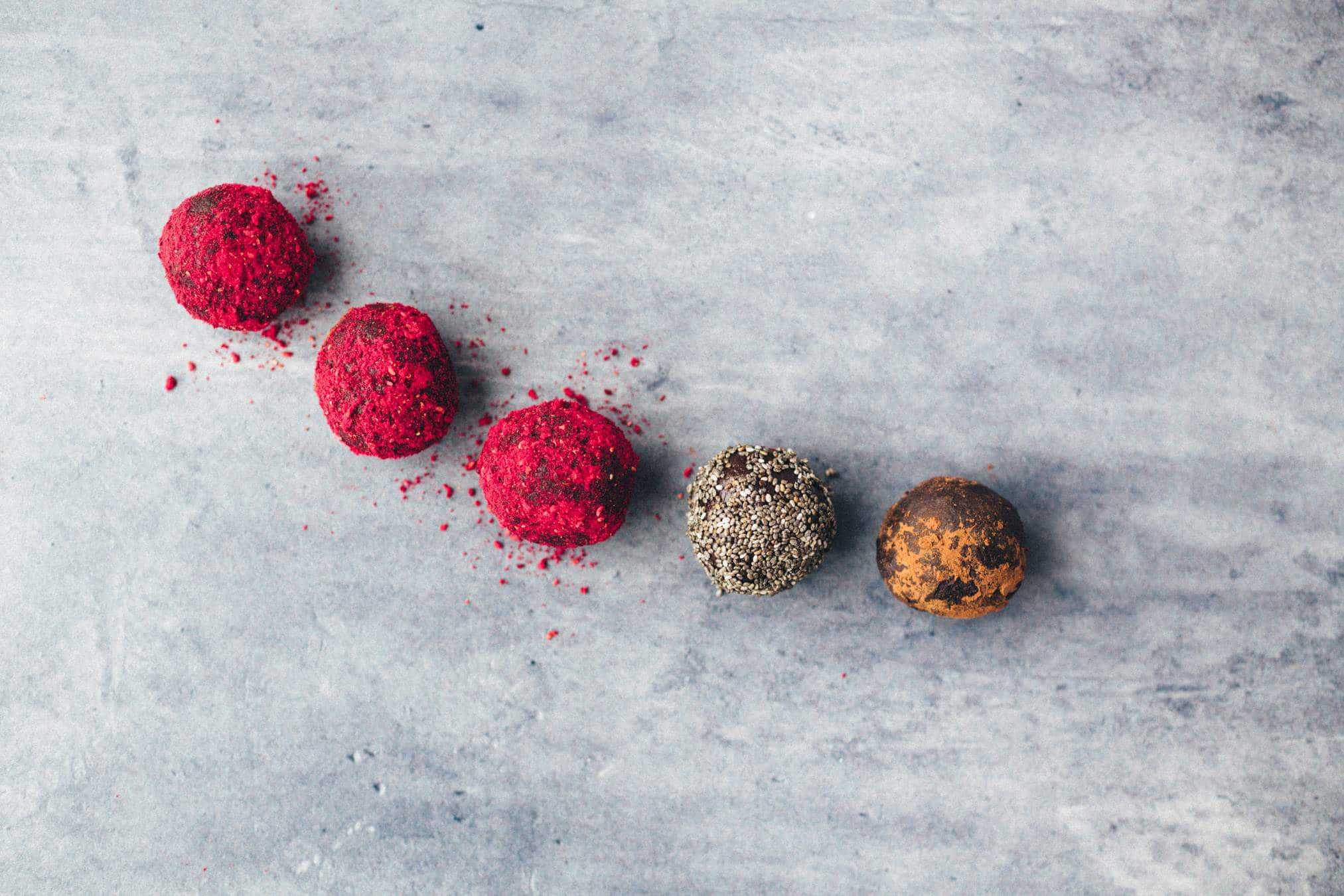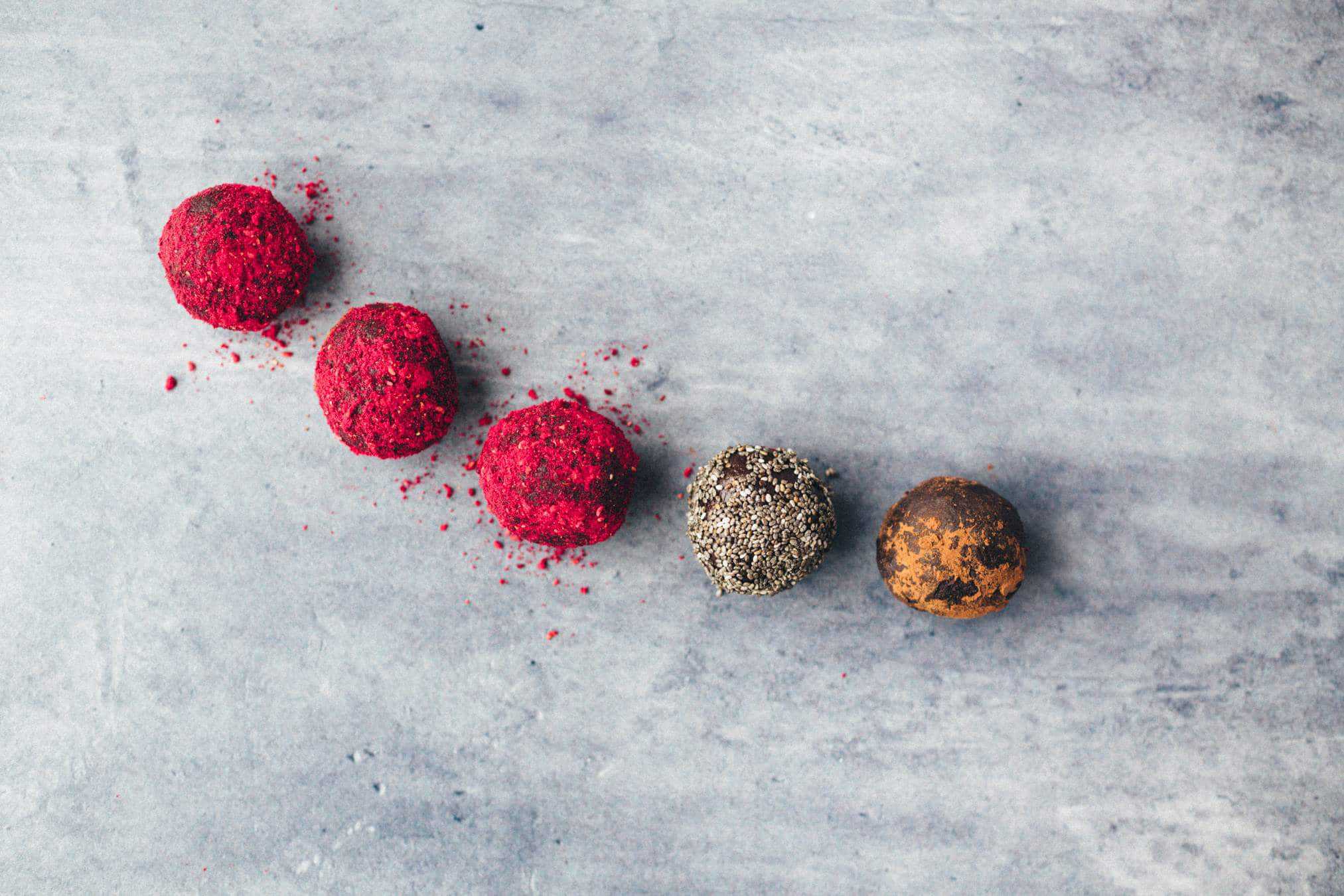 Once again, raw cacao is involved, some maple syrup and coconut flour. But why coconut flour?
I have briefly summarized the advantages here:
high fiber
low carbohydrate
rich in protein!
gluten-free
Contains only a quarter of the calories of coconut flakes
For me, these truffles are the perfect answer to a healthy praline, vegan snack, or protein-packed energy boost before or after a workout. But you don't have to be physically active to burn energy. Because you also need brain power when studying or in the office.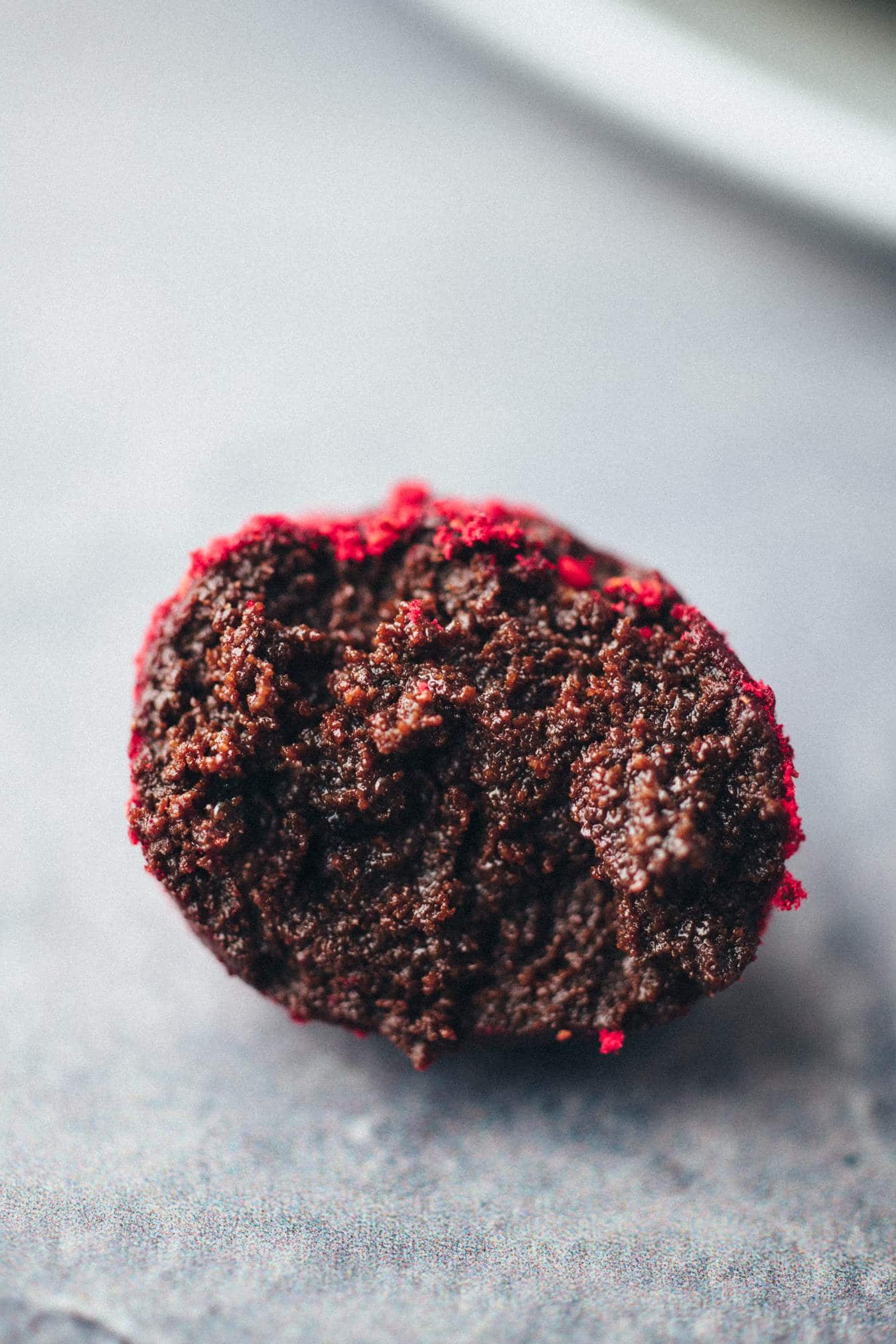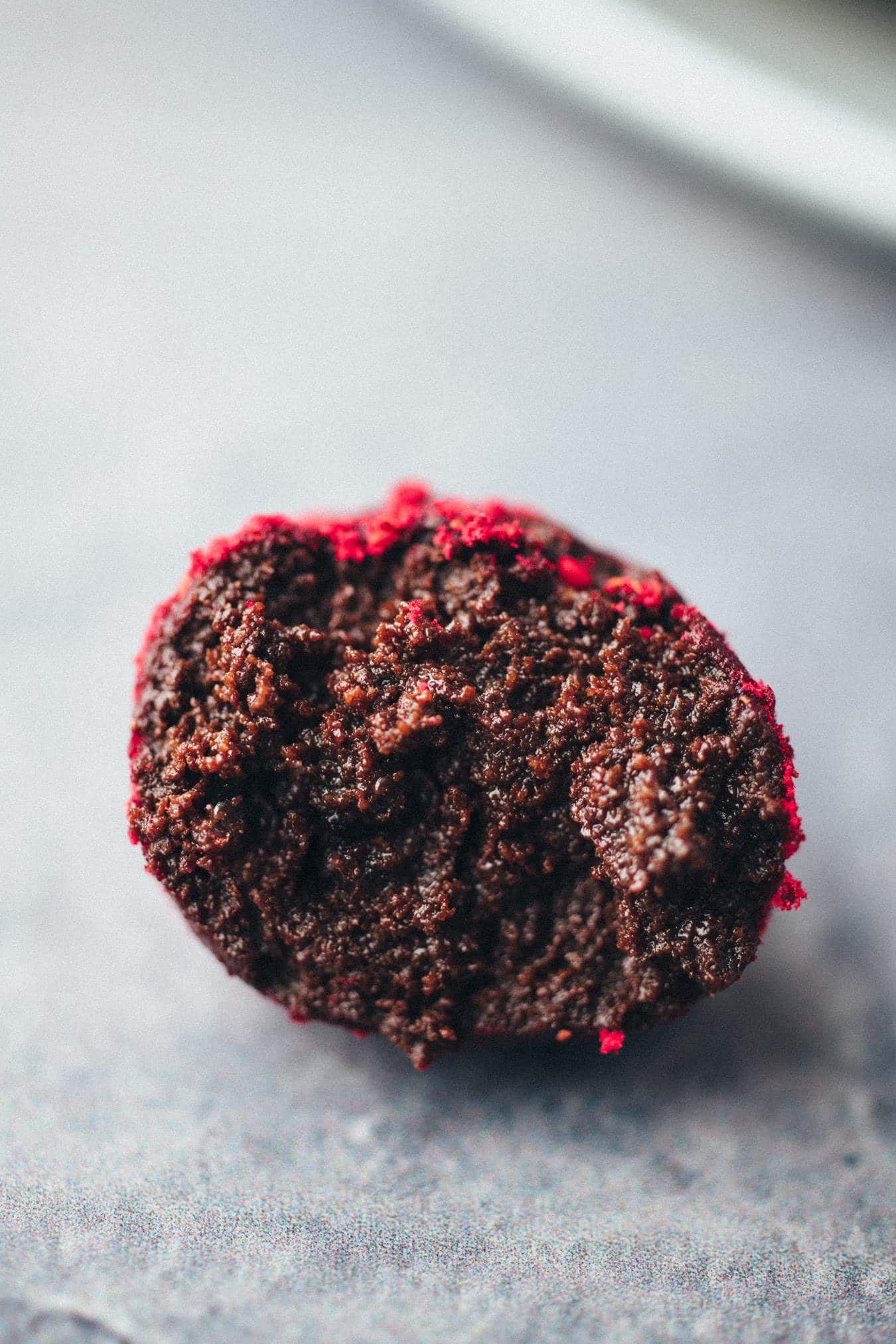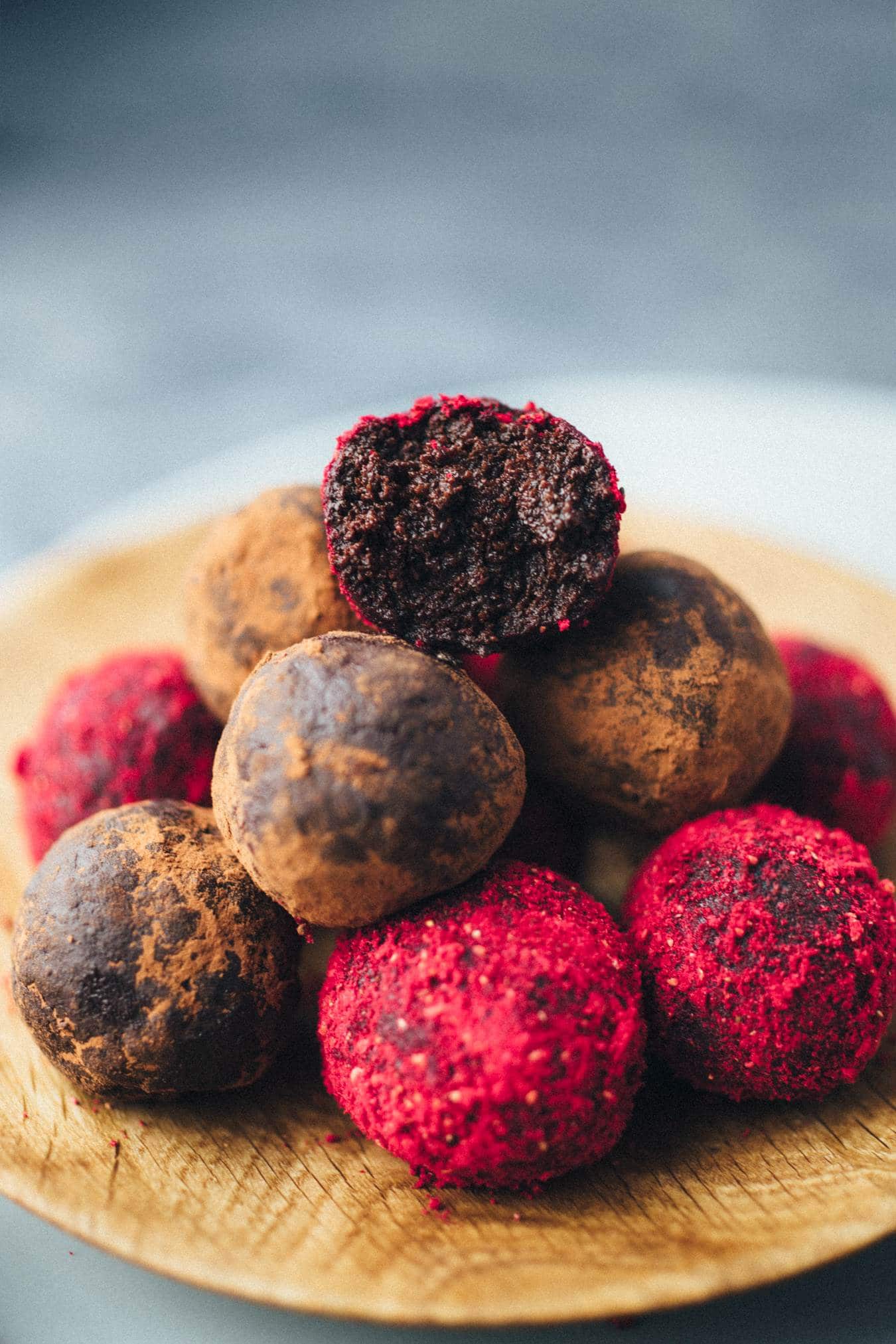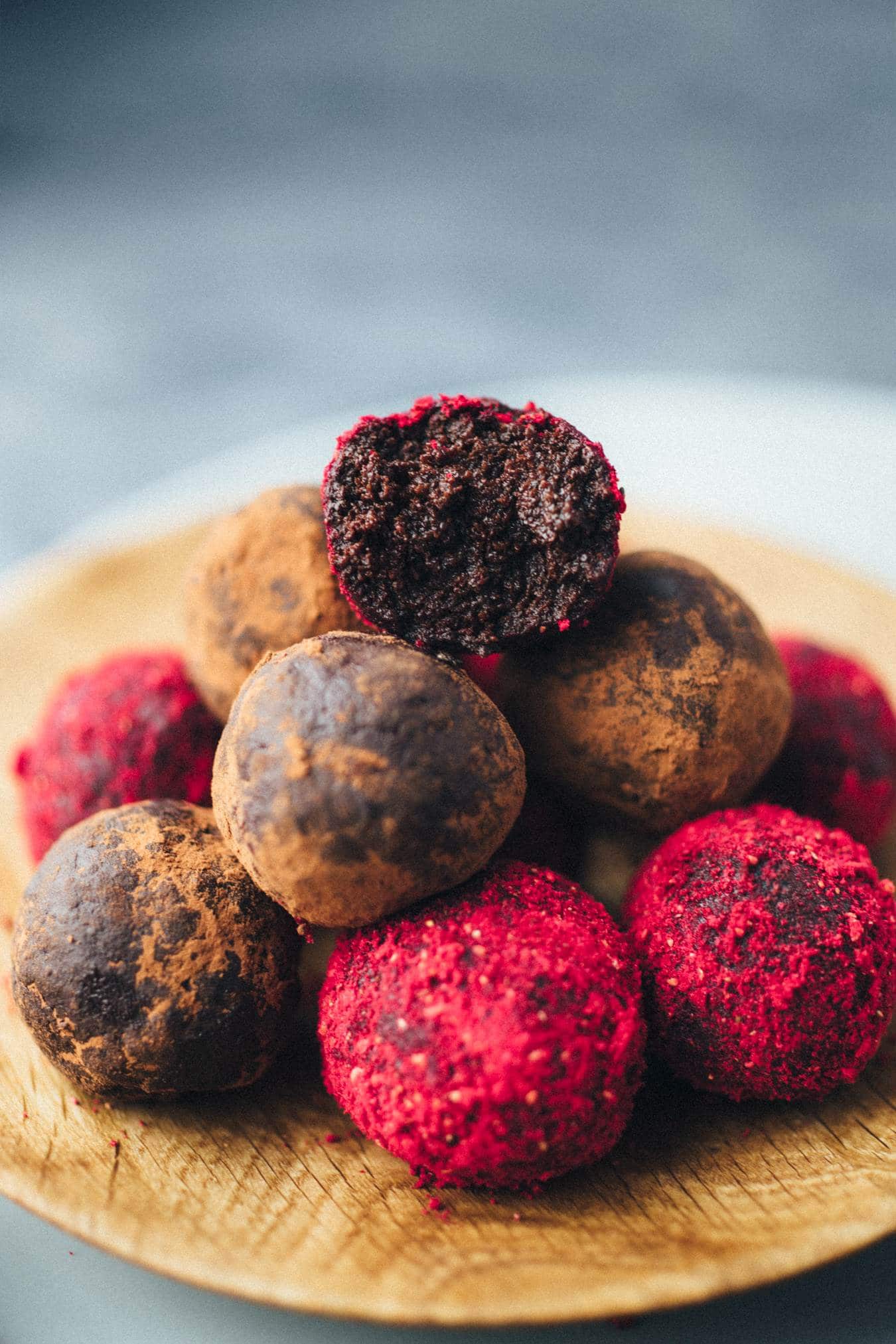 Yummy! In terms of taste, you can look forward to a creamy, chocolaty, coconutty temptation that practically melts in your mouth and has a slightly sticky effect on the palate (like a really good caramel candy). Now all that's missing is a delicious cover, I'd say? Here are a few suggestions:
Raspberry powder (my favorite, because of the slight acidity)
But these are just a few suggestions from my side. Here you can try out and get creative. I'm thinking carob powder, lucuma or cocoa nibs? The variations are limitless. Let me know what you love most and feel free to comment at the bottom of the page.
Chocolatey coconut truffles go perfectly with a cup of tea, Immune Booster Latte , Chocolate Chia Smoothie , hot chocolate or golden milk (my favorite).
The Chocolate Cashew Butter Truffles (15 minutes) are:
Coconutty
chocolatey
High protein
Naturally sweetened
Quickly made
Let's go with this dream of chocolate and coconut. I wish you a lot of fun with seam rolling and of course about a rating at the bottom of this page. If you post a picture, use the hashtag #veganevibes.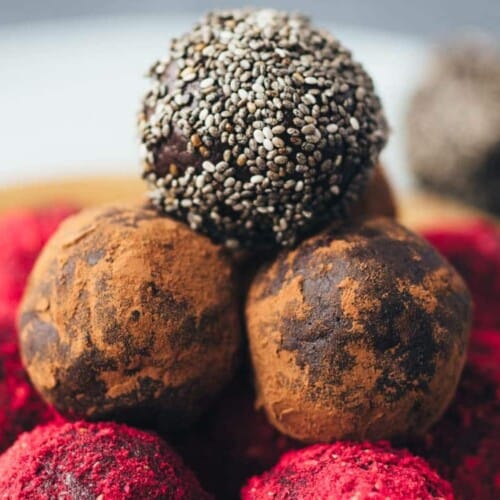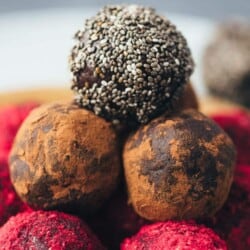 Chocolate Cashew Butter Truffle (15 minutes!)
Extremely delicious, coconut-chocolatey vegan, gluten-free truffles for the perfect energy in between (or before/after sports). Creamy, high protein, rolled in a variety of delicious toppings.
AUTOR: VEGANEVIBES
Anleitung 
For the dough add all ingredients in a food processor (I use my MagiMix here) or high-powered blender and mix until a uniform dough is formed. This should be nice and sticky, but not too dry.

140 g Coconut flour,

80 g raw cacao powder,

120 g Cashew puree or butter,

50 g Coconut oil,

160 ml maple syrup

With wet hands, form 20 balls weighing about 27g (an ice cream scoop works quite well here) and place and roll in desired toppings.


Raspberry powder,

Raw cocoa,

Chia seeds

Place remaining bars in a resealable box and store in refrigerator or freezer. In the refrigerator they last about 1 week, in the freezer up to 4 weeks.

Notizen
NOTES /HELPFUL ACCESSORIES:
Nährwertangaben
Serving:
1
Piece
Calories:
176
kcal
Carbohydrates:
15
g
Protein:
1
g
Fat:
13
g
Saturated Fat:
9
g
Cholesterol:
21
mg
Sodium:
82
mg
Potassium:
131
mg
Fiber:
3
g
Sugar:
8
g
Vitamin A:
250
IU
Calcium:
25
mg
Iron:
1
mg