WhenI think back to many a meeting, I feel pure horror. coffee that tastes like nothing and Cookies from the discount store. The stomach was already growling very loudly and lunch had to be cancelled due to a customer appointment. Ok, one more time I'll reach for it because I always get so nervous when I'm hypoglycemic. I know this situation so well and at some point it was over. The solution? BLISS BALLS!
Delicious chocolate coconut energy balls
Bliss Balls , Energy Balls , nursing balls, Energy Balls or whatever you like to call them. They are small to medium sized balls that will make your life easier. why? Because they provide you with the right energy in crucial phases. Instead of white flour, glucose syrup and simple sugars, you'll find in these delicious balls a true miracle of nutrients from Dates nuts, cocoa and superfoods.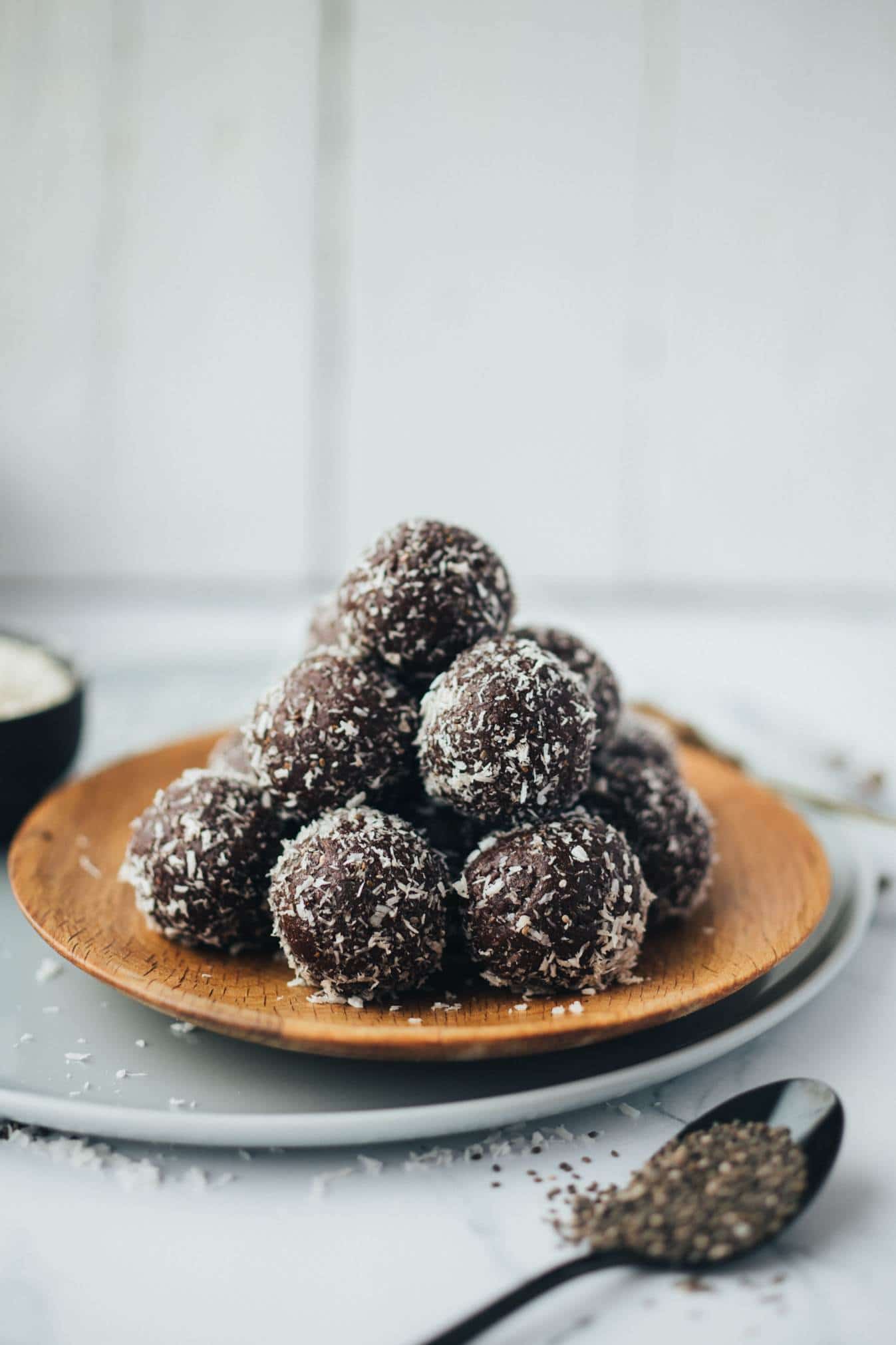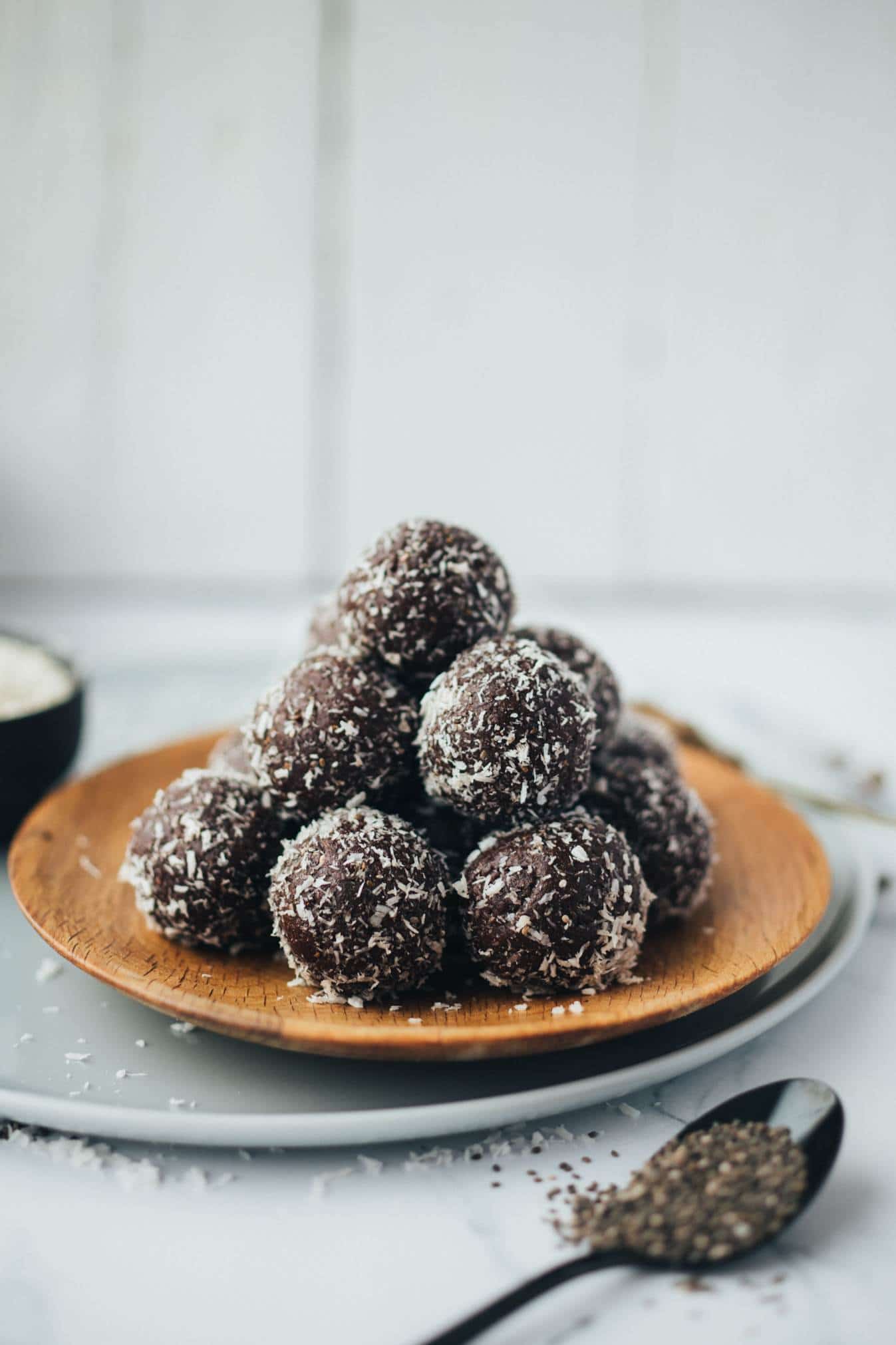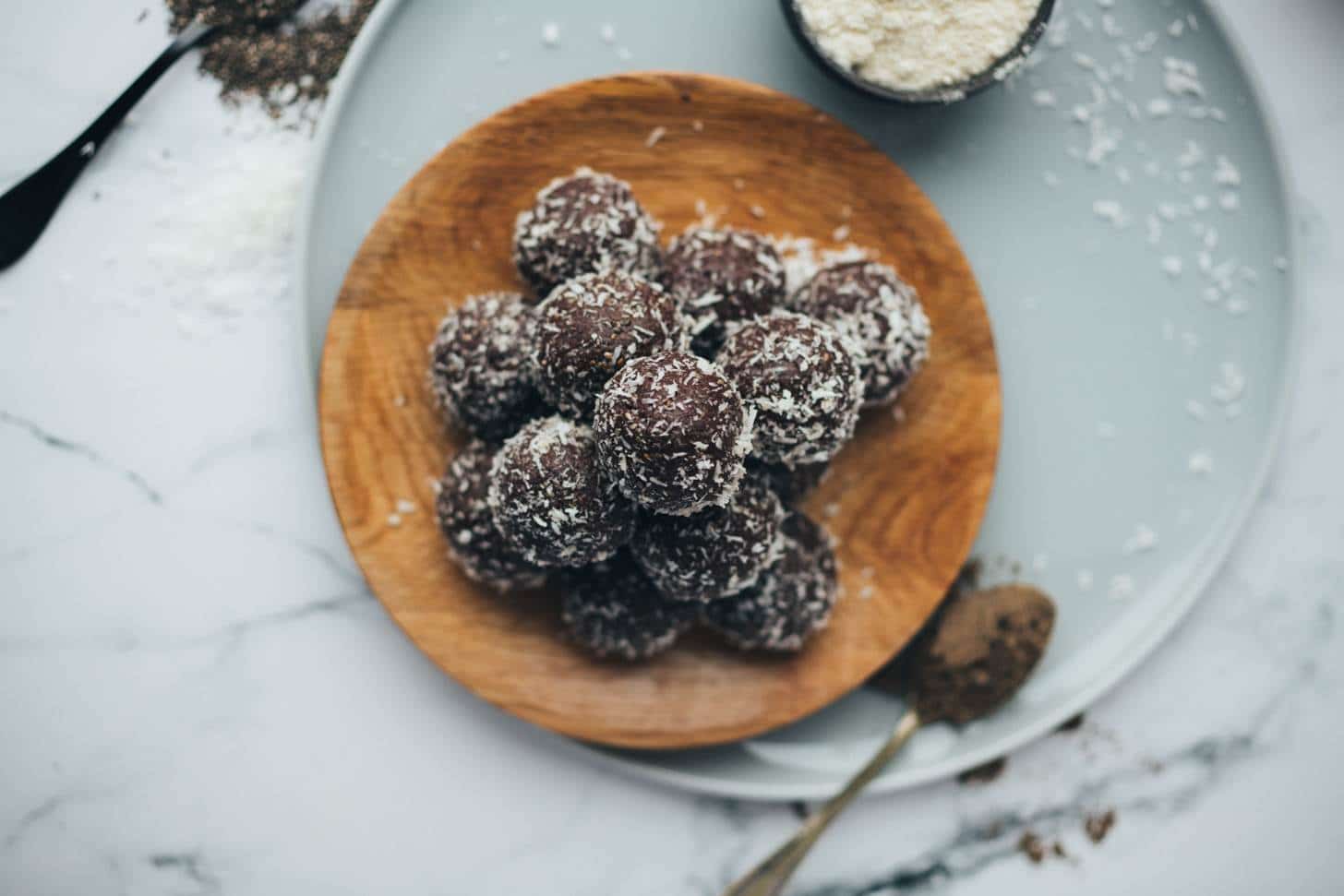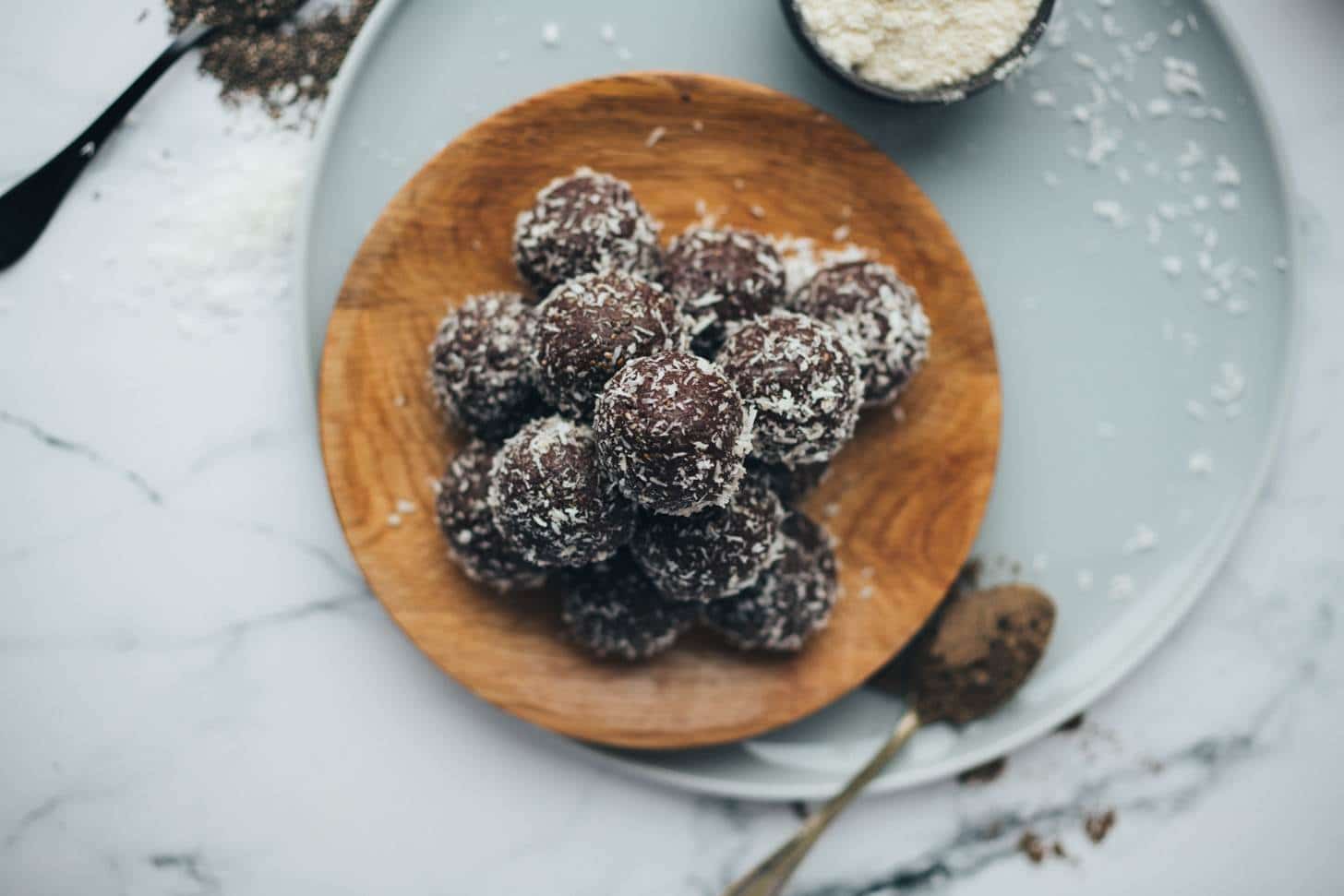 I chose a version with coconut flakes and cocoa for this recipe.
Raw cacao because it's so delicious and full of healthy antioxidants. Raw cacao powder is one of the foods with the strongest antioxidant effect of all, acting up to 100 times stronger than broccoli. In addition, the consumption of raw cacao can boost the production of the happiness hormone serotonin. Well, would you like a portion of good humor? But that's not all because the powder is one of the best sources of magnesium and iron (7.3mg per 100g). Ideal for this recipe, since it is a raw snack is not heated. Thus, all valuable micronutrients are preserved without exception.
What else can you find in these delicious Bliss Balls ? Protein and fiber rich almond flour, coconut flakes, a pinch of salt and? Superfood! I decided to use guarana, why? The Holidays are over and for many the everyday life starts again. Here, a healthy energy boost can't hurt. Guarana has the advantage over coffee that it contains more caffeine, but it acts more slowly and for up to 6 hours. In addition, it does not discolor the teeth, as is the case with coffee. You can save yourself the next bleaching in any case.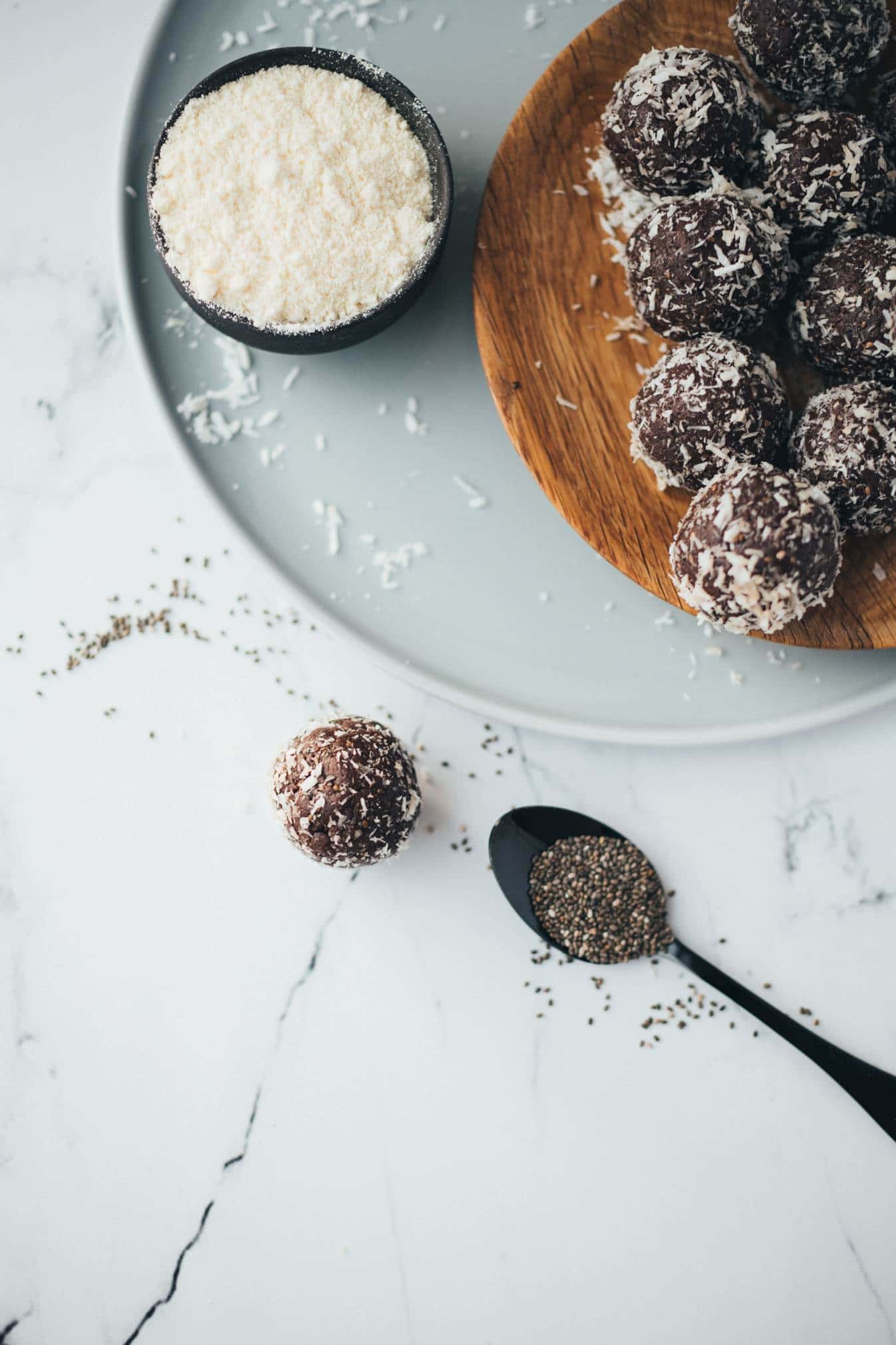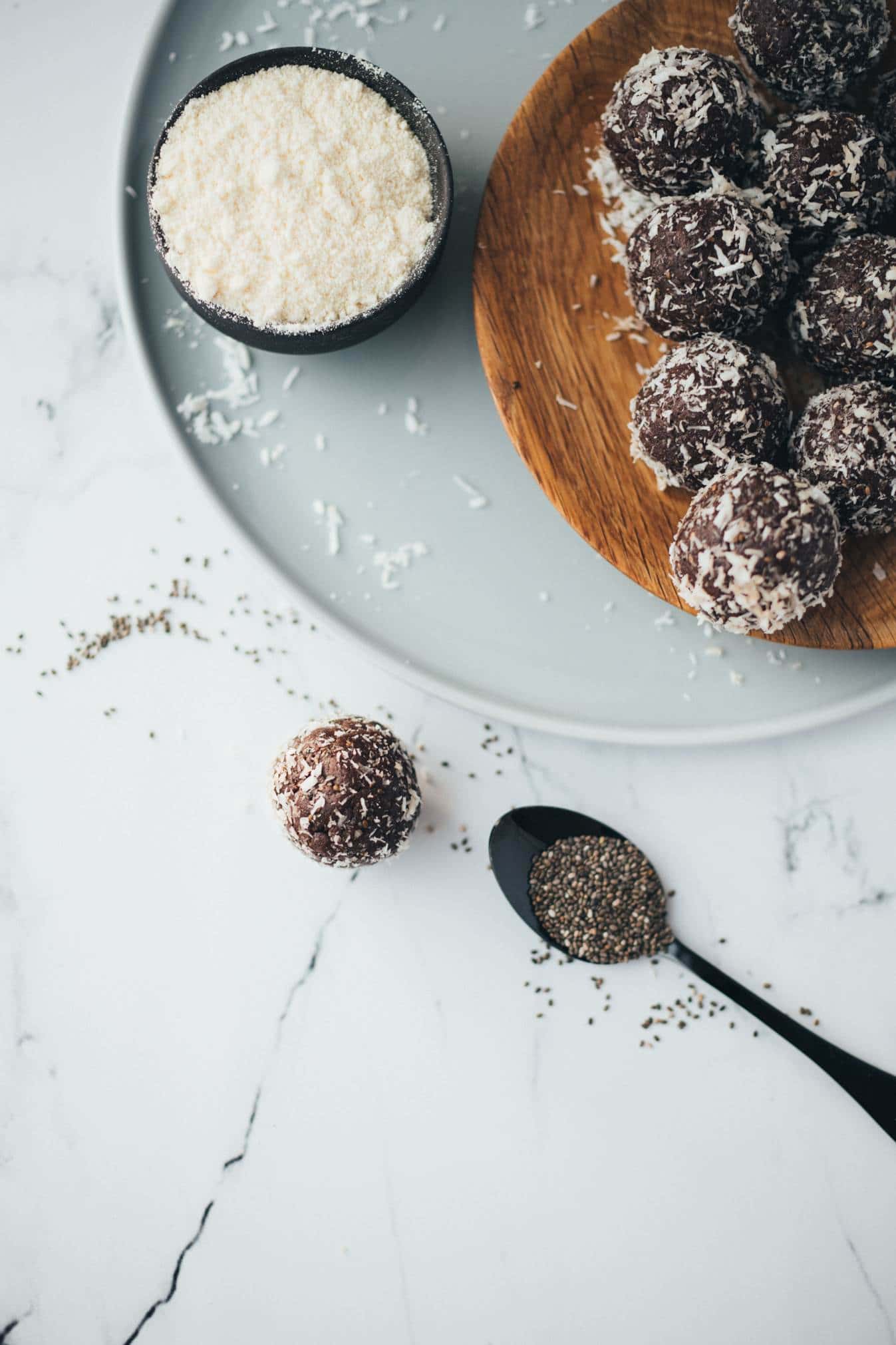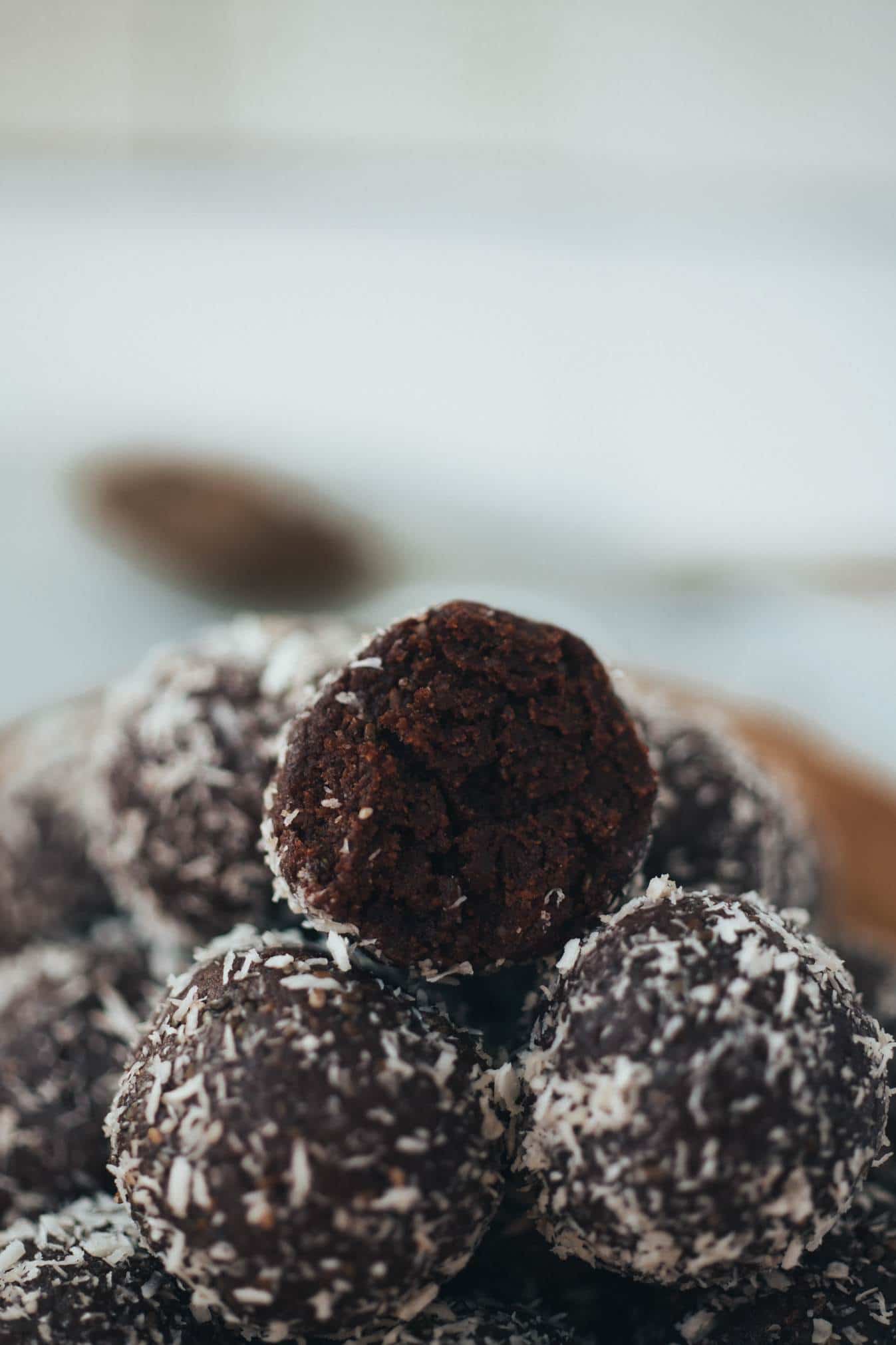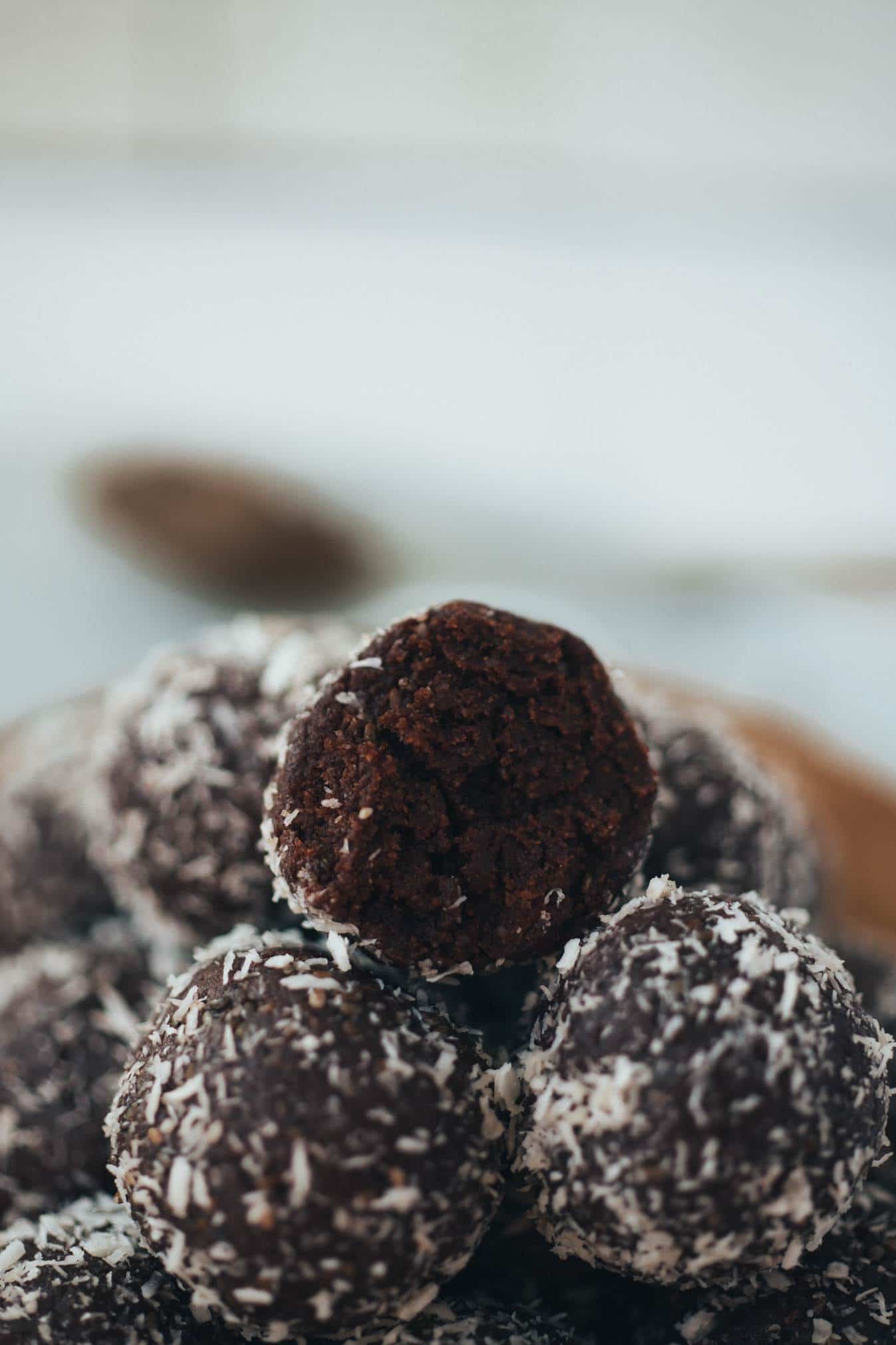 I find the Bliss Balls especially because I can take them with me everywhere. They have, so to speak, already a permanent place in a tiny resealable box in my purse and have often "saved my life. In endlessly long meetings, before or after sports or simply as a small vegan snack in between.
Get started with these delicious, versatile Bliss Balls . I hope you enjoy the reel and of course about a review at the bottom of this page. If you post a picture, use the hashtag #veganevibes.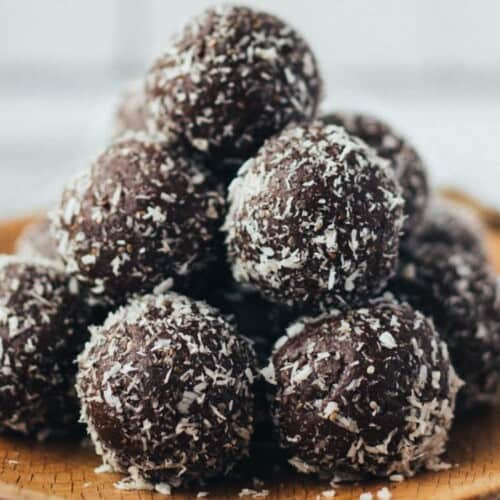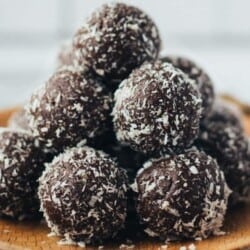 Chocolate Coconut Energy Balls (15 minutes!)
Extremely delicious Bliss Balls for the perfect energy in between, vegan and gluten-free. Chocolatey, fruity, with a fine coconut note and an extra portion of fiber thanks to almond flour.

AUTOR: VEGANEVIBES
Anleitung 
If dates are very hard, soak in hot water for 30 minutes and strain before processing. For high quality Medijool dates, this step can be ignored as the dates are usually soft enough.


For the dough add all ingredients in a food processor (I use my MagiMix here) or high-powered blender and mix until a uniform dough is formed. This should be nice and sticky, but not too dry.

288 g Medjool dates,

96 g Almond flour,

60 g Coconut shavings,

40 g raw cacao powder,

3,5 g Chia seeds,

15 g Guarana,

1 Pinch sea salt,

30 g Coconut shavings

With wet hands, form 14 balls weighing about 30g (an ice cream scoop is also recommended here) and roll in the coconut flakes. enjoy!


Place remaining balls in a resealable box and store in refrigerator or freezer. In the refrigerator they last about 1 week, in the freezer up to 4 weeks.

Notizen
NOTES /HELPFUL ACCESSORIES:
Nährwertangaben
Serving:
2
Piece
Calories:
146
kcal
Carbohydrates:
20
g
Protein:
3
g
Fat:
8
g
Saturated Fat:
4
g
Sodium:
3
mg
Potassium:
222
mg
Fiber:
4
g
Sugar:
14
g
Vitamin A:
30
IU
Vitamin C:
0.1
mg
Calcium:
34
mg
Iron:
1.1
mg