Chocolate and blueberries is one of my favorite combinations, fruity and chocolaty at the same time. What more do you want? "Do they look cool" said at least my husband and immediately stole a handful from the set. Ok, that wasn't so bad this time either because I made double the amount. But the next time he has to stay good again. Today is extremely bad weather, but I'm still super happy because …
Chocolate Blueberry Energy Balls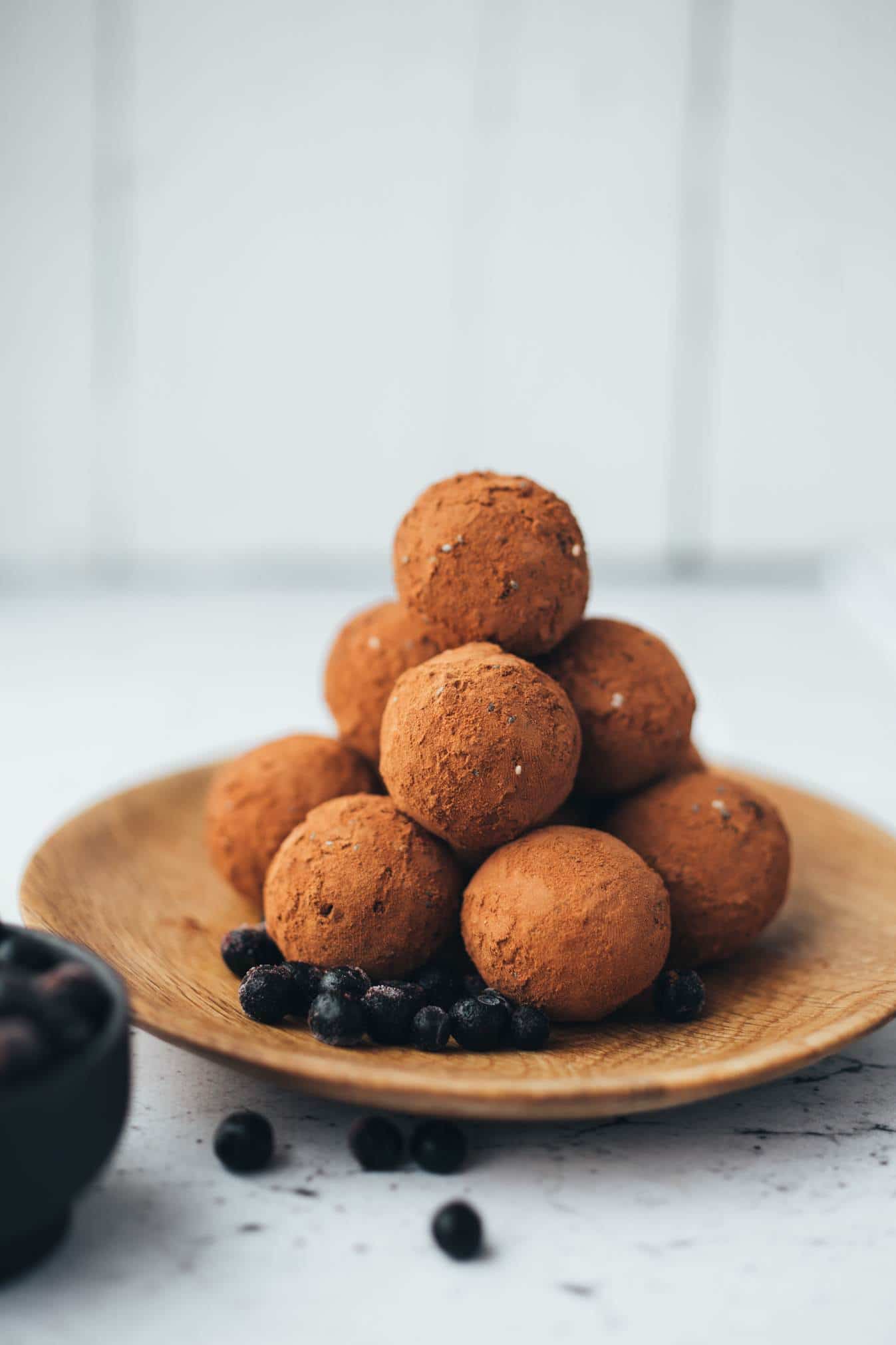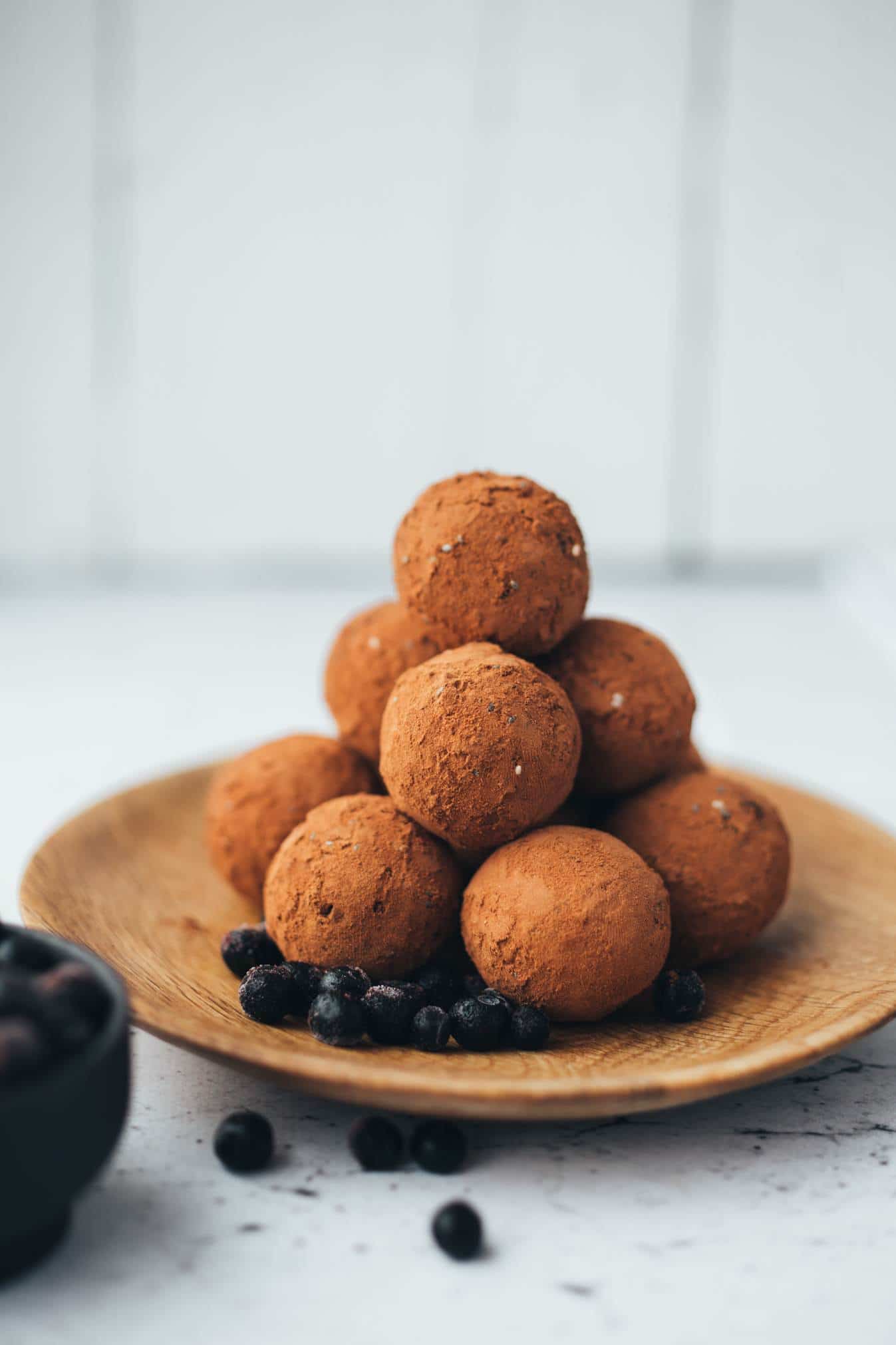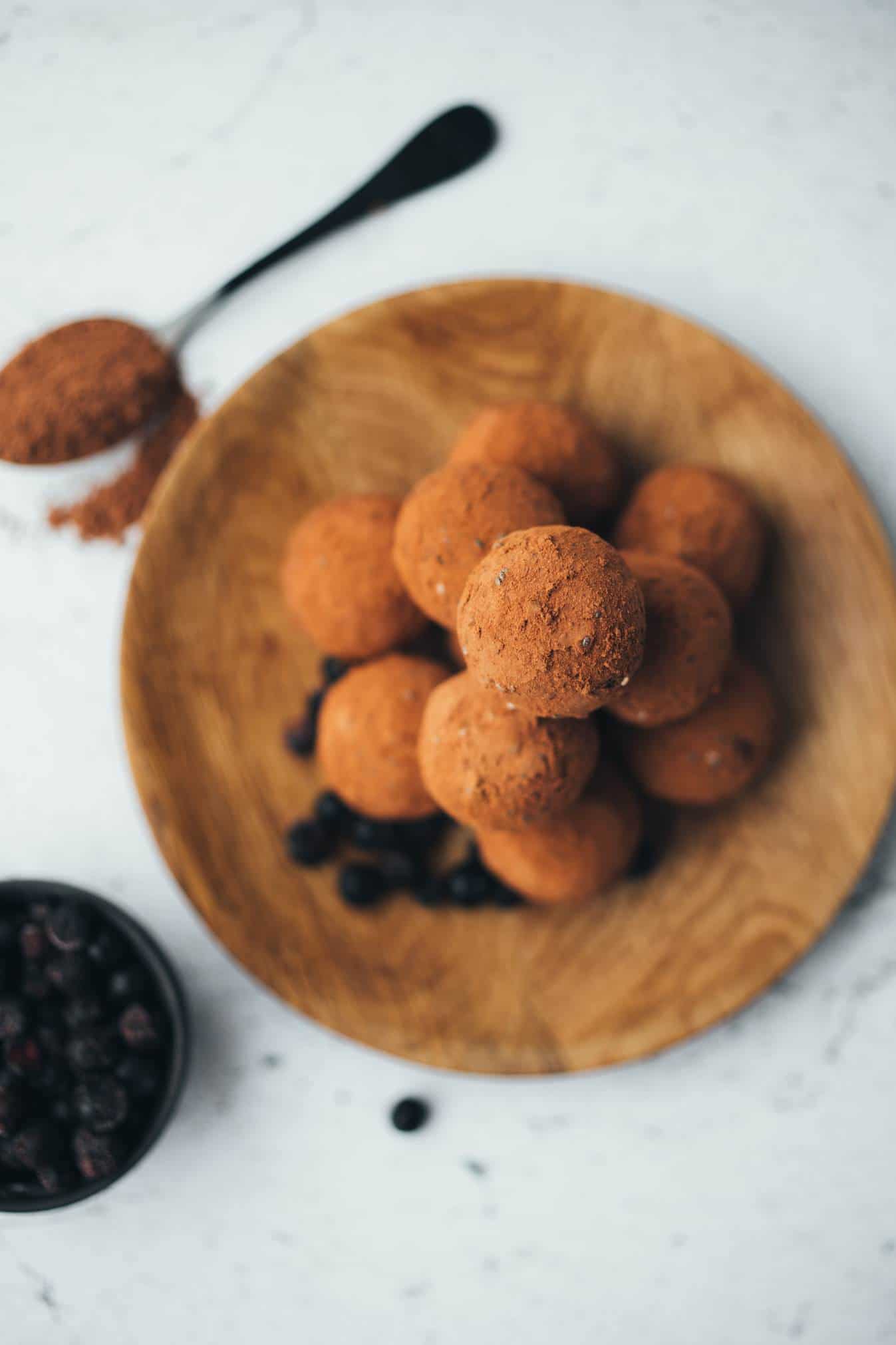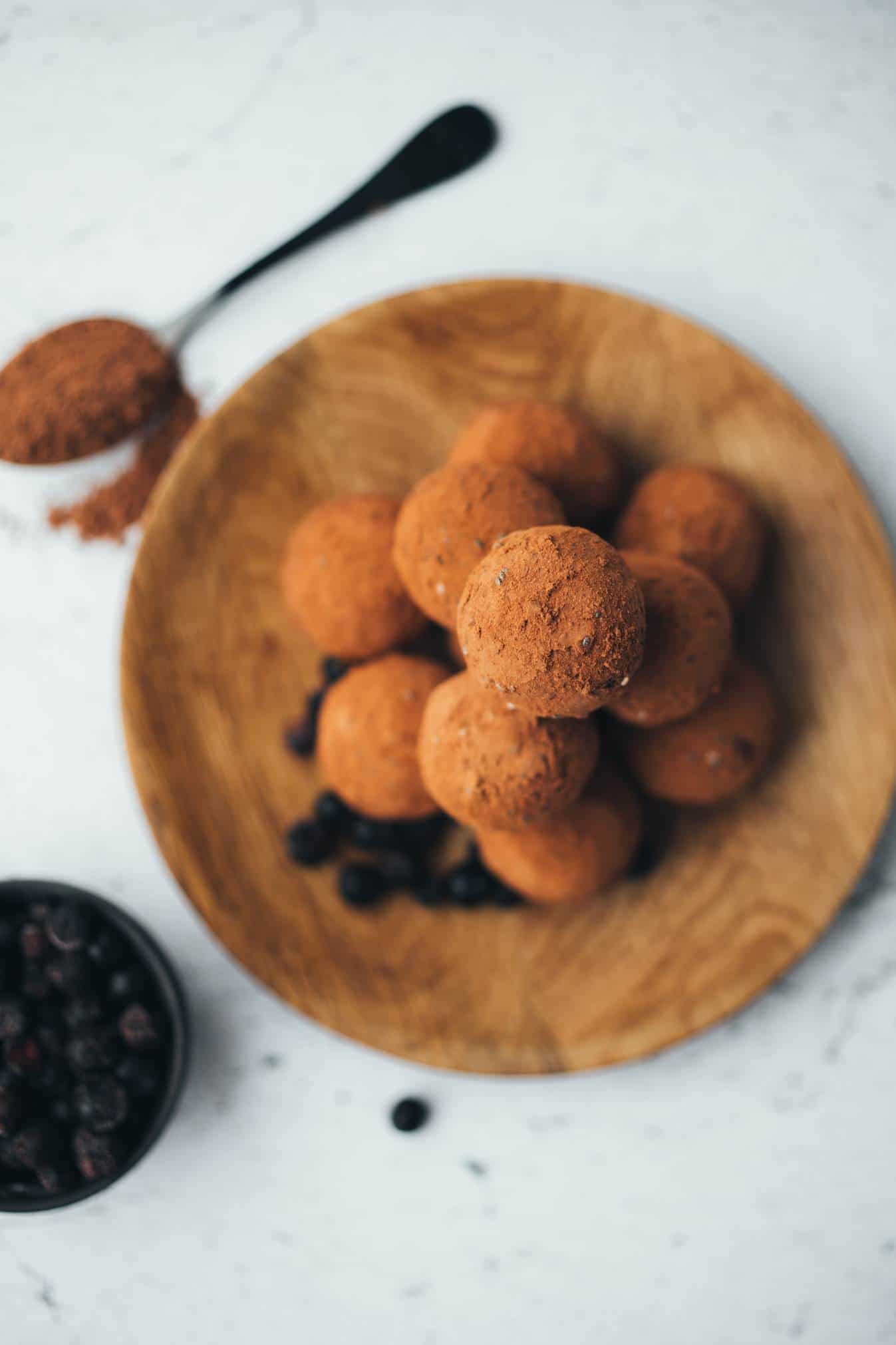 … I'm going to be a mom and no I'm not having a baby, ok almost, it's going to be a Husky puppy . My husband and I have and decided to take in 2 huskies. The first litter of the breeder of our trust came on January 5, 2018 and Yesterday on January 18 the second. Believe it or not, I felt my Kaya being born tonight. Oh yes, I wanted to write about Bliss Balls about…
Bliss Balls are small healthy lifesavers
How many times have I resorted to unhealthy snacks out of desperation? It would be so easy if you consistently made sure you always had something with you. Bliss Balls provide you with a concentrated load of nutrients, on the spot, when you need them.
In this version, I made sure that the energy balls become as healthy as possible. Chocolate is also included, but in the form of raw cacao that has been slowly fermented and not heated above 42 degrees. In this original form, cocoa is incredibly healthy, rich in antioxidants, iron, zinc, magnesium and tryptophan. What is that supposed to be? Tryptophan is:
an essential amino acid
Precursor of the happiness hormone serotonin
Precursor of niacin (vitamin B3)
In addition to raw cacao, I pack frozen blueberries, shredded flax seeds, sesame seeds, almonds, dates, lemon juice and coconut flour into the balls. The combination is just incredibly delicious and ensures that your mood rises even on gloomy days.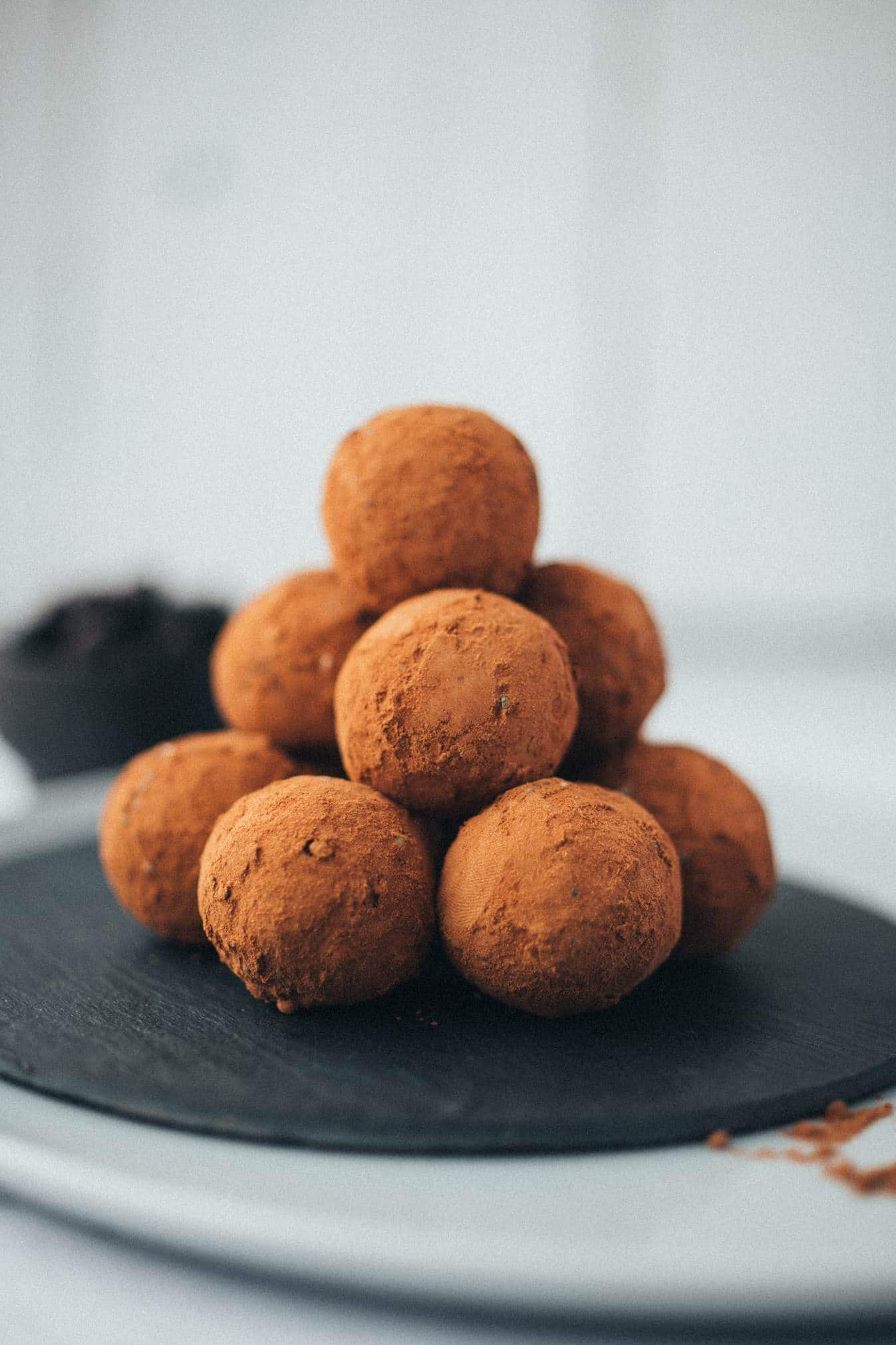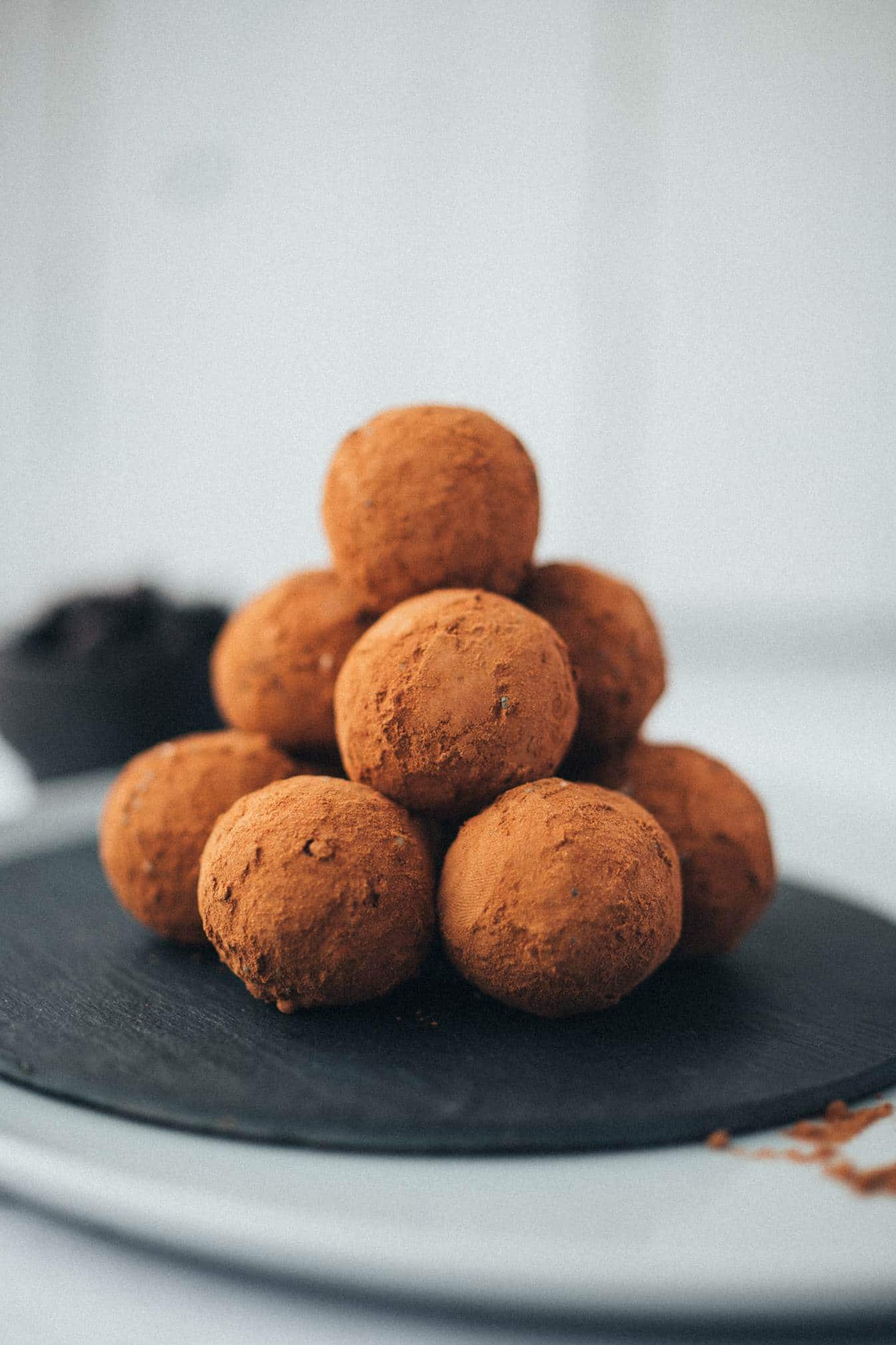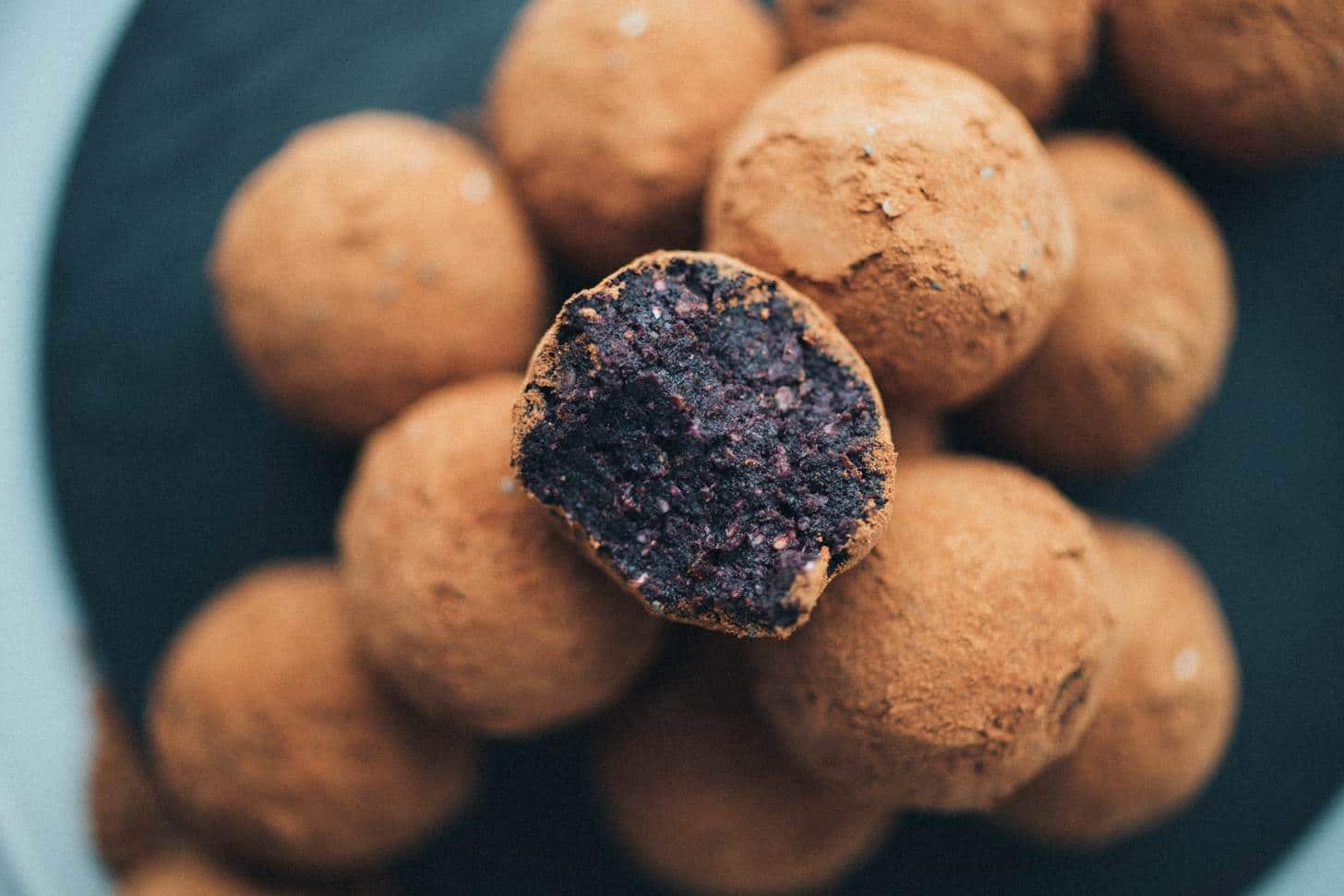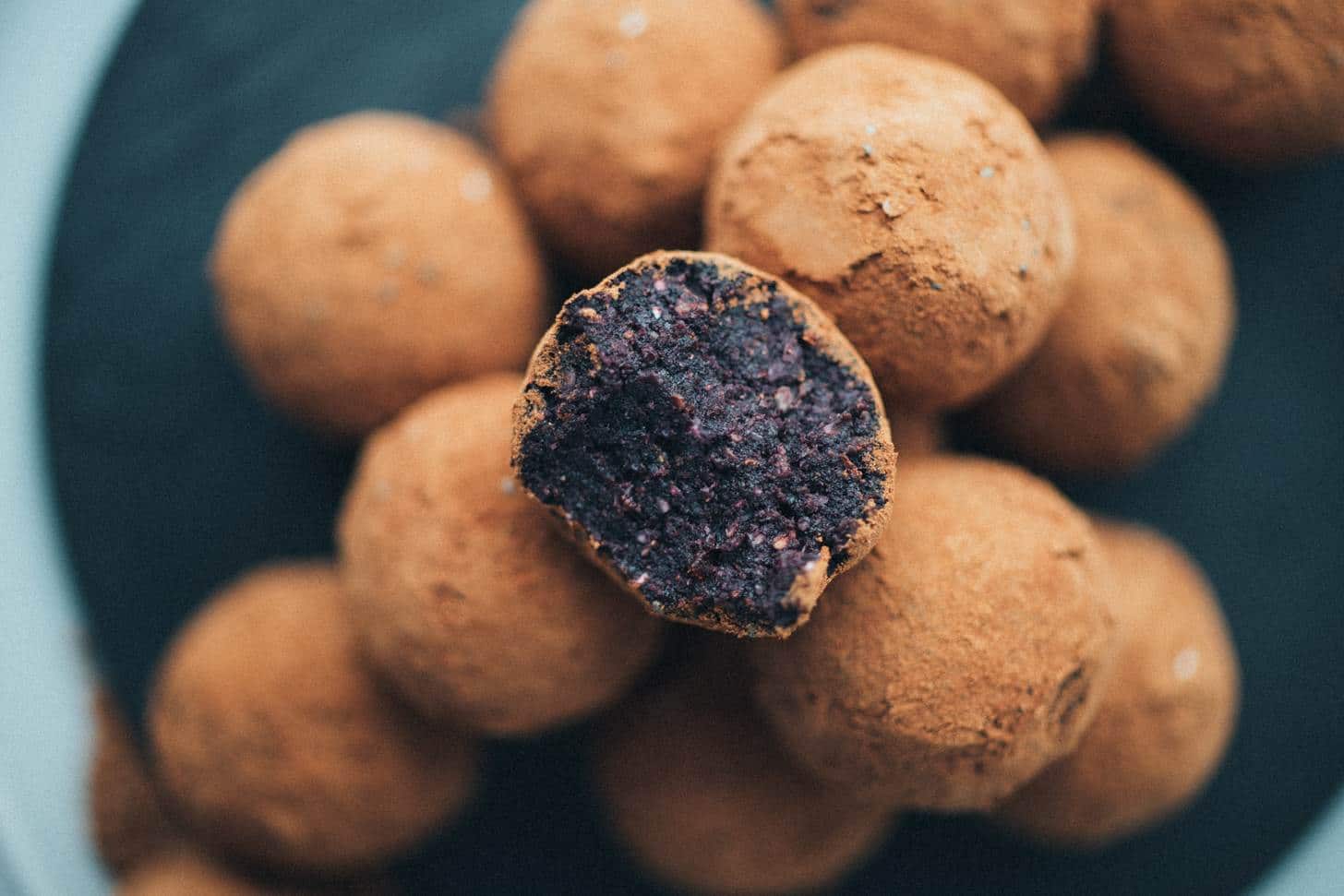 Another little tip about the processing of dates. I have a very powerful MagiMix which I find perfect for making Bliss Balls. If your blender is not that powerful, then I recommend soaking the dates in approx. 30 minutes in boiling hot water, drain and then process. This saves the blender a lot of power and the Bliss Balls succeed more easily.
Of course, the small, delicious power balls also get a healthy coating. I mix raw cacao with hemp seeds, which add another plus of nutrients. The mild nutty tasting seeds have a particularly high content of amino acids, vitamins A and E, as well as omega-3 and omega-6 fatty acids in an ideal ratio.
Chocolatey and fruity, Bliss Balls go perfectly with a cup of coffee, Immune Booster Latte , Chocolate Chia Smoothie , hot chocolate or golden milk . Yummy!
The Chocolate Blueberry Energy Balls (15 minutes) are:
fruity
chocolatey
Full of healthy micronutrients
Naturally sweetened
Quickly made
Let's go with this dream from Blueberries and Chocolate . I hope you enjoy the reel and of course about a review at the bottom of this page. If you post a picture, use the hashtag #veganevibes.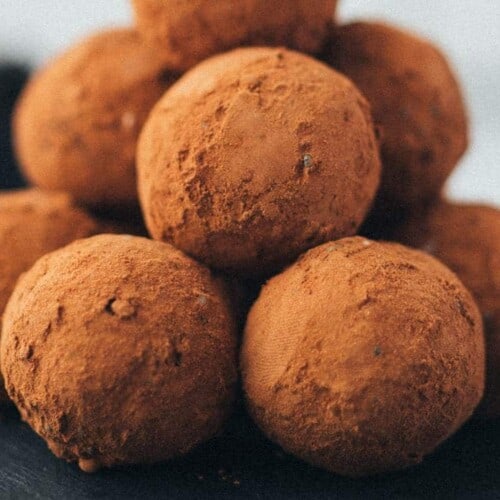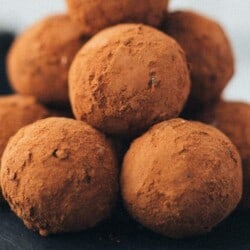 Chocolate Blueberry Energy Balls (15 minutes!)
Extremely delicious, fruity-chocolatey Bliss Balls for the perfect energy in between, vegan and gluten-free. Pithy, fruity, chocolaty, rolled in healthy raw cacao and raw hemp seeds.
AUTOR: VEGANEVIBES
Anleitung 
If dates are very hard, soak in hot water for

30 minutes

and strain before processing. For high quality Medjool dates, this step can be ignored as the dates are usually soft enough.


For the dough add all ingredients in a food processor (I use my MagiMix here) or high-powered blender and mix until a uniform dough is formed. This should be nice and sticky, but not too dry.

120 g Medijool dates,

48 g Coconut flour,

20 g Almonds,

78 g frozen blueberries,

19 g Flaxseed meal,

19 g Sesame,

7,5 g Lemon juice,

15 g raw cacao powder,

½ tbspn Lemon peel,

1 Pinch sea salt

With wet hands, form 12 balls weighing about 25g(an ice cream scoop is also recommended here) and roll in the cocoa mixture. enjoy!

Place remaining balls in a resealable box and store in refrigerator or freezer. In the refrigerator they last about 1 week, in the freezer up to 4 weeks.

Notizen
NOTES /HELPFUL ACCESSORIES:
Nährwertangaben
Serving:
2
Piece
Calories:
78
kcal
Carbohydrates:
12
g
Protein:
1
g
Fat:
3
g
Sodium:
9
mg
Potassium:
125
mg
Fiber:
3
g
Sugar:
7
g
Vitamin A:
15
IU
Vitamin C:
0.9
mg
Calcium:
32
mg
Iron:
0.8
mg