Carrot Salmon finally gives me the answers I've been looking for for so long. What do I do, please, when I'm really in the mood for Fish have? Hmmm, go to the supermarket and buy a salmon substitute? Yes, certainly a possibility, however, you can also do it yourself quite simply. New Year's Eve is virtually before the door and you can not early enough the appropriate appetizers in mind. Admittedly, I was always a little skeptical about whether that tastes good with Carrot . But then I was even more surprised when I tasted the result. The creamy cashew cream cheese is definitely the perfect combo. Are you ready?
Carrot salmon meets cashew cream cheese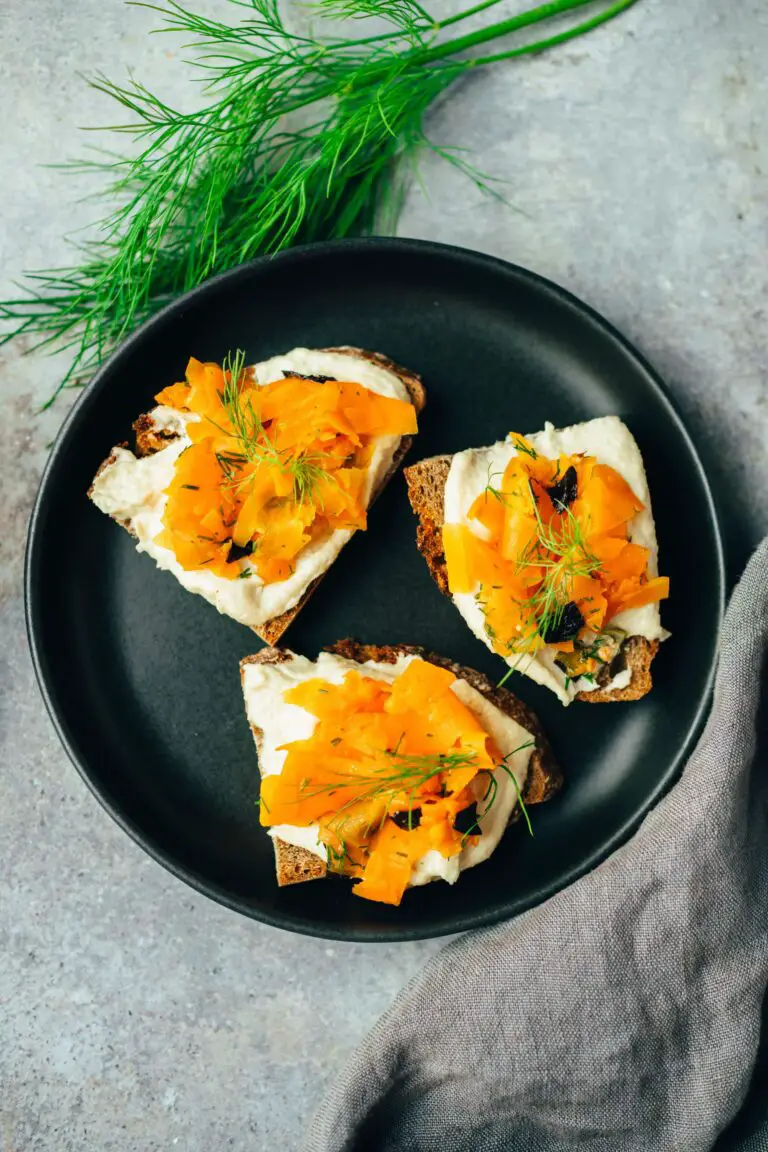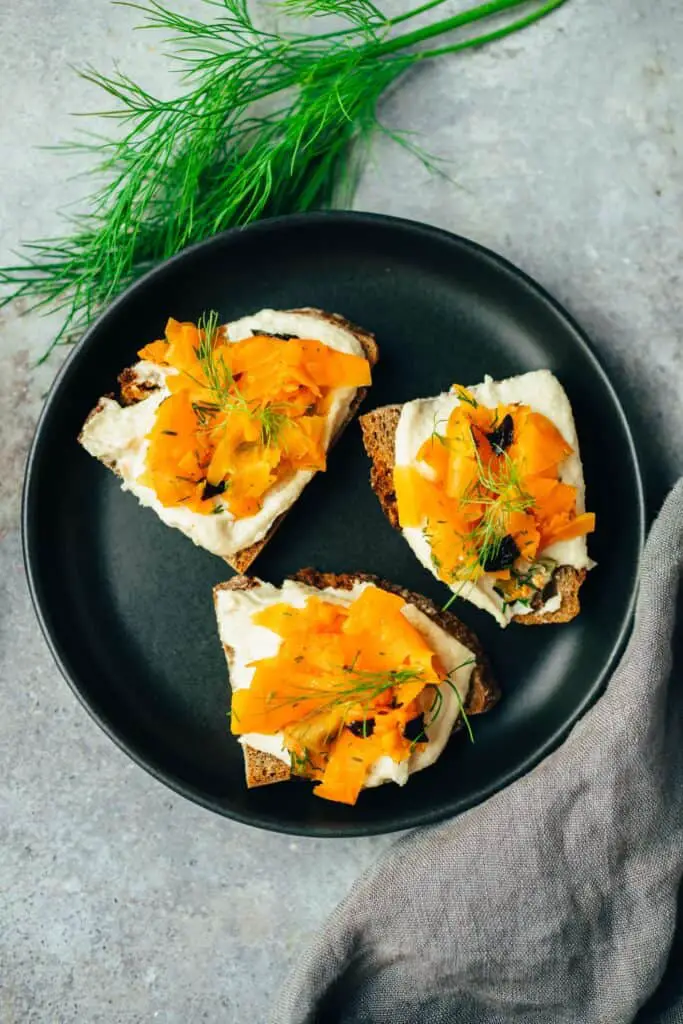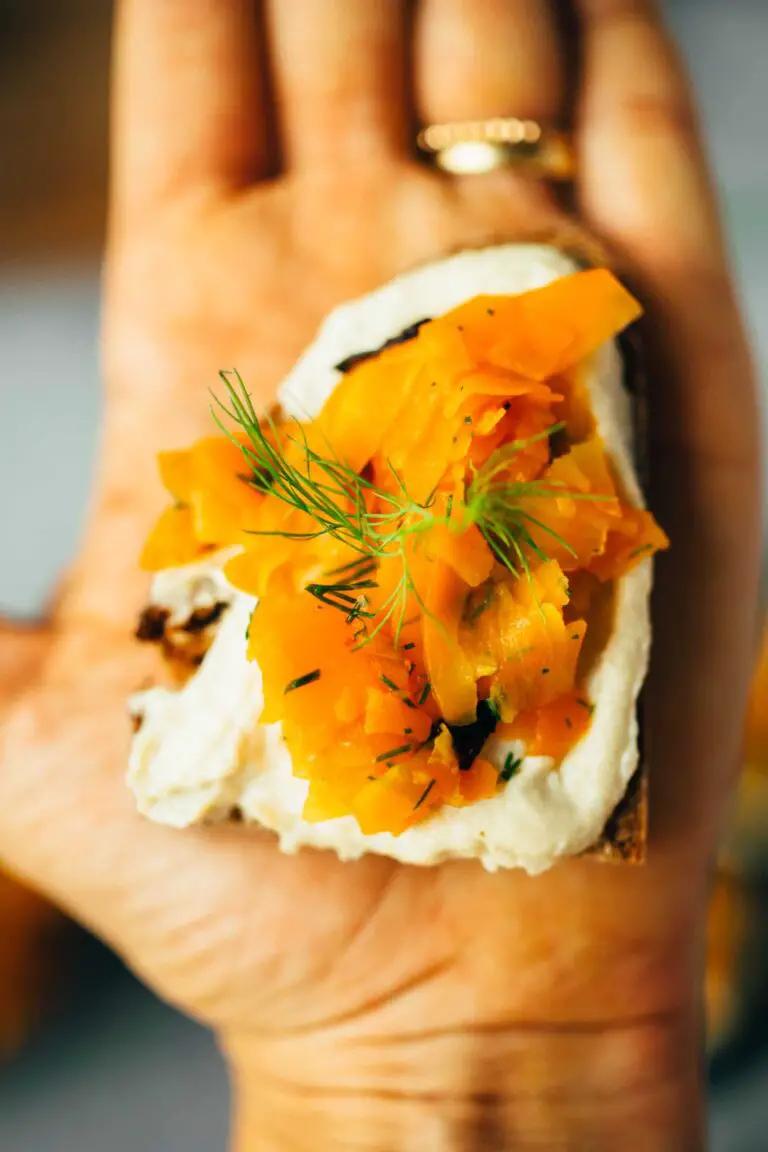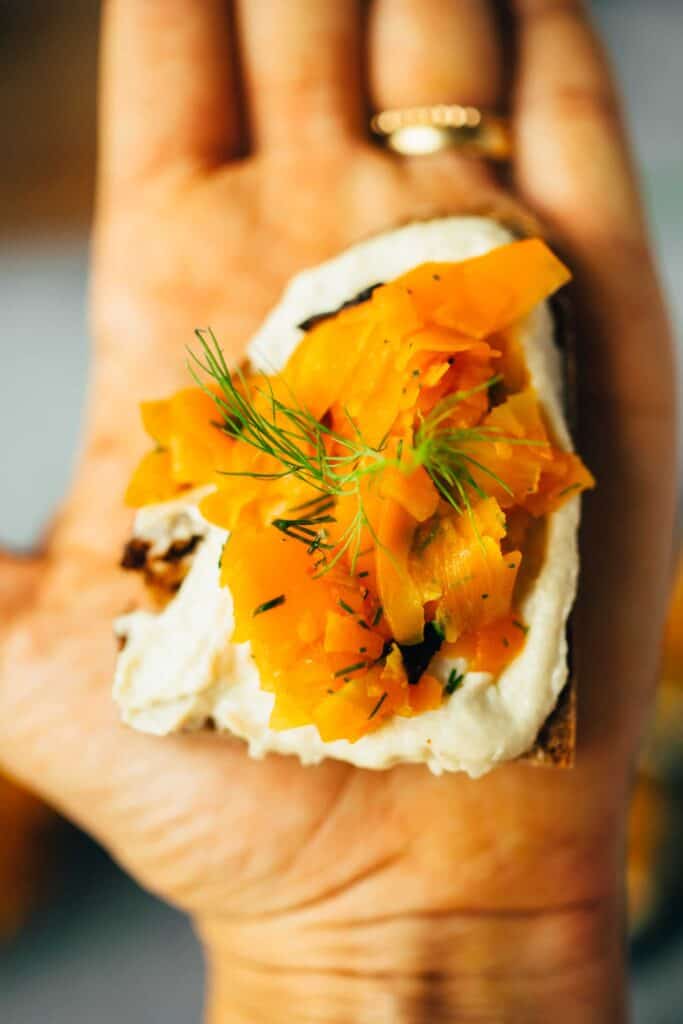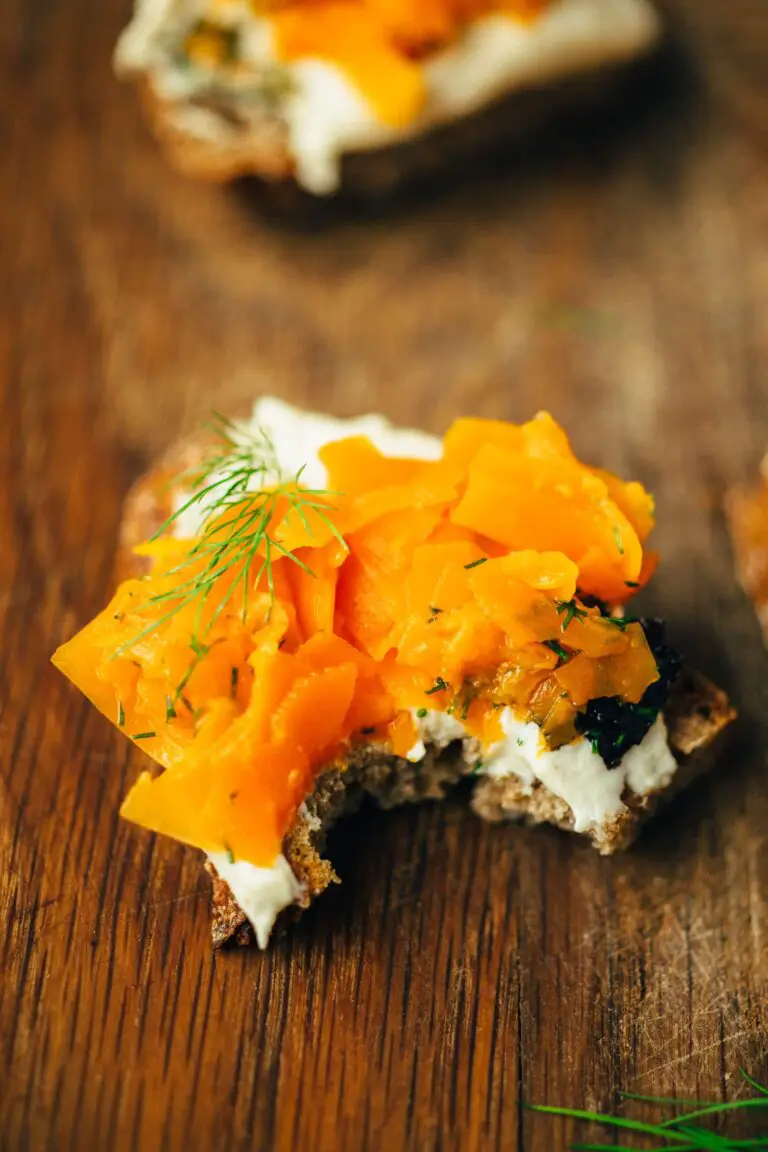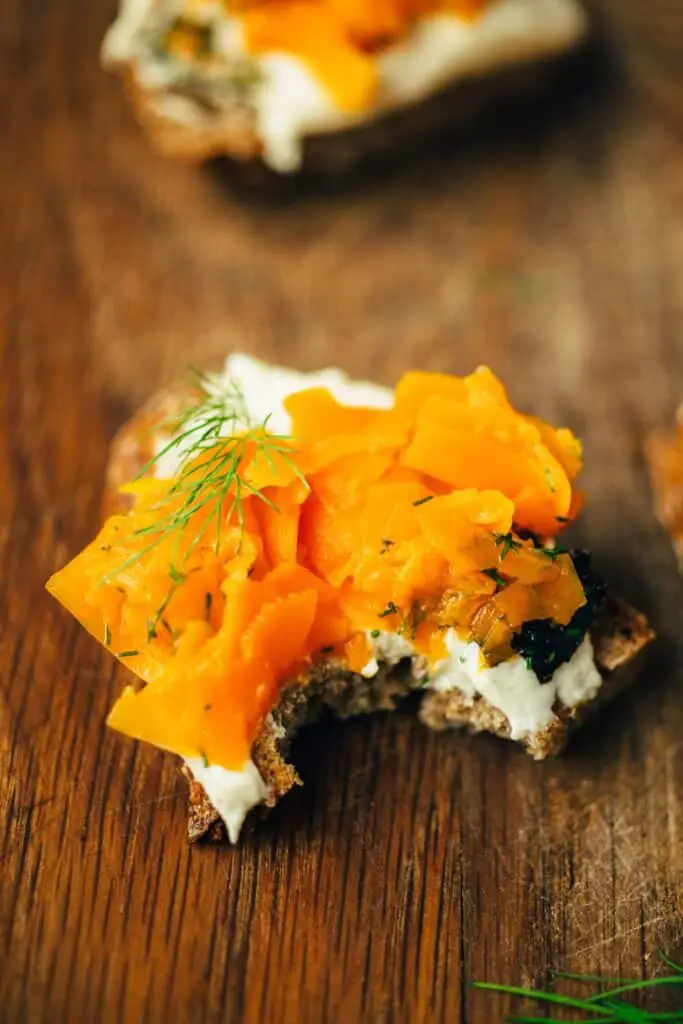 Some of the not or not so long Vegan ask the question, why do you have to replace salmon? This is a similar question to why Vegan a Meat substitute "need" or why make a sausage that is not meat? My answer is always very simple, because it tastes good and because everything is allowed. Especially with the Fish I have two personal answers as to why I am very happy to do without it. First, there are now great microalgae oils that cover the omega-3, DHA and EPA needs wonderfully and secondly, the oceans are unfortunately increasingly polluted. My favorite product, which I use regularly myself, I have linked here ( https://amzn.to/34HNXxp ). Note: I purchased this product myself and have no affiliation with the company.
It's vegan appetizer time – carrot salmon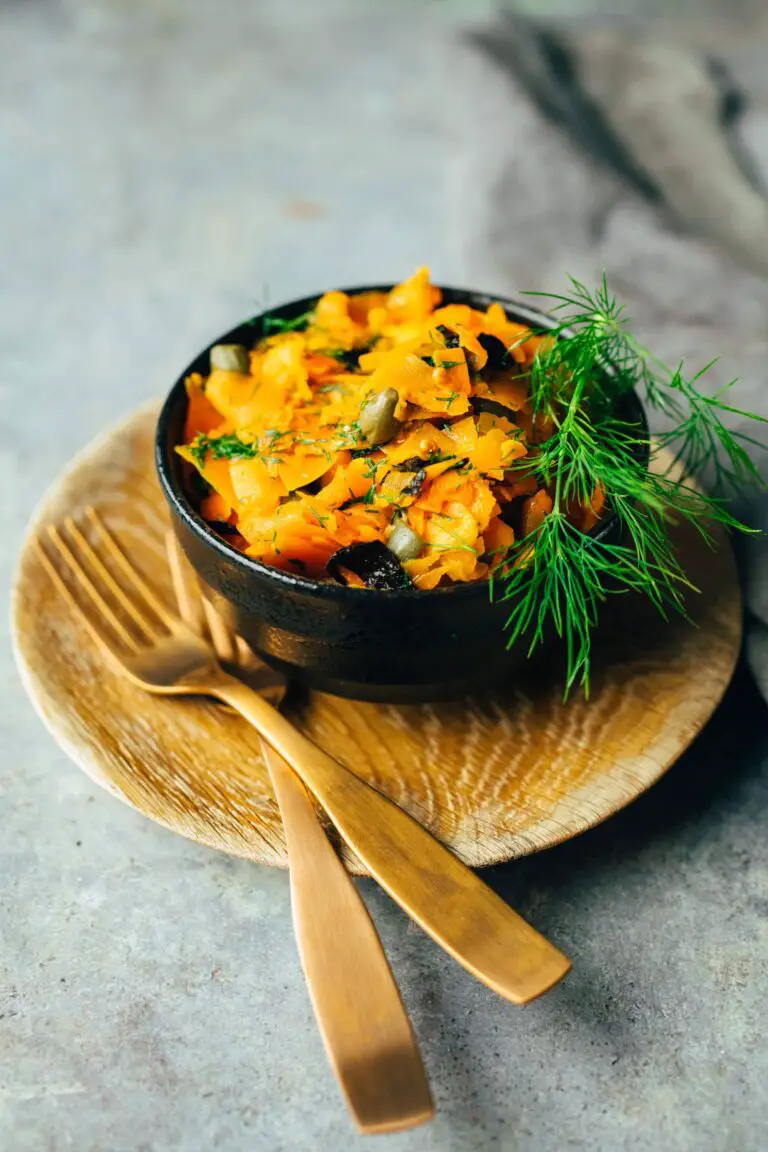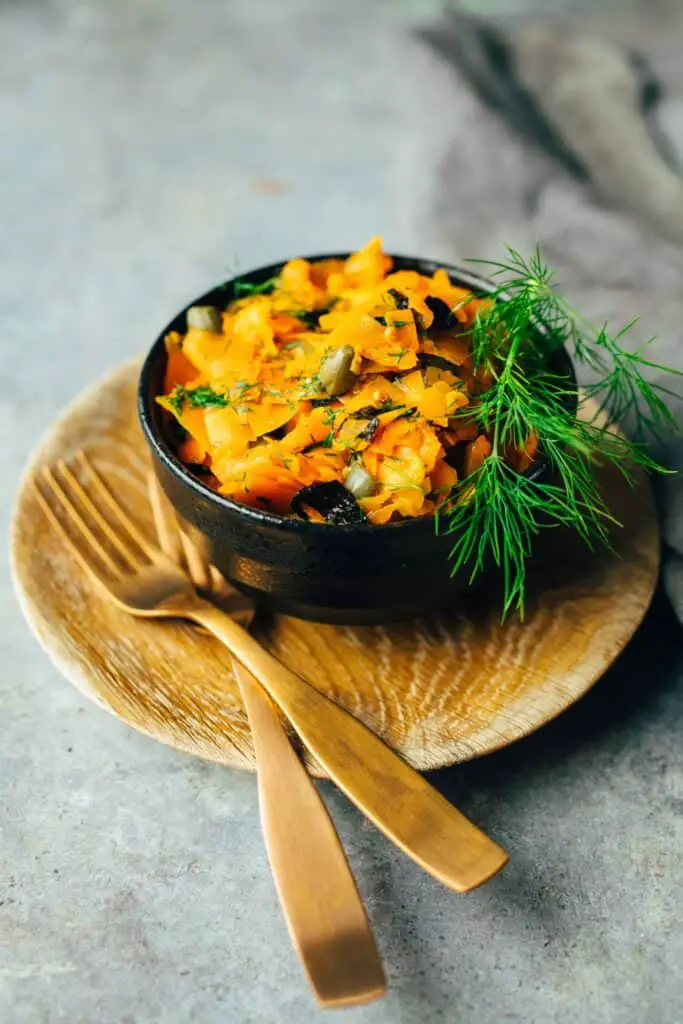 Let's get to the essentials, today's recipe. It is really very simple to implement:
PEELING THE CARROTS: These are very finely "peeled" with a vegetable peeler, so that fine slices are obtained. This is done using the whole carrot (see video).
COOKING: The carrot slices are then cooked in boiling salted water for 3-4 minutes, strained and rinsed with cold water.
MARINATING: This is followed by marinating in olive oil, lemon juice, caper stock, capers, fresh dill, nori leaves and salt. If you like smoked salmon, add a dash of liquid smoke.
DONE: After the carrots have steeped in the broth for an hour (or even overnight if you like), they can be eaten immediately.
TIP: Depending on how firm to the bite you want the "salmon" to be, you can vary the cooking time of the carrots. At 2 minutes they are still a little crunchier, at 4-5 then already well soft.
The only thing missing is the cream cheese, which could not be simpler. Soak cashews , together with lemon juice, nutritional yeast, Vegetable milk and salt in a powerful blender to a fine cream. Depending on which blender is used, like a sip of Vegetable milk to it. That's it!
New Year's Eve vegan? Oh yes, I'm coming.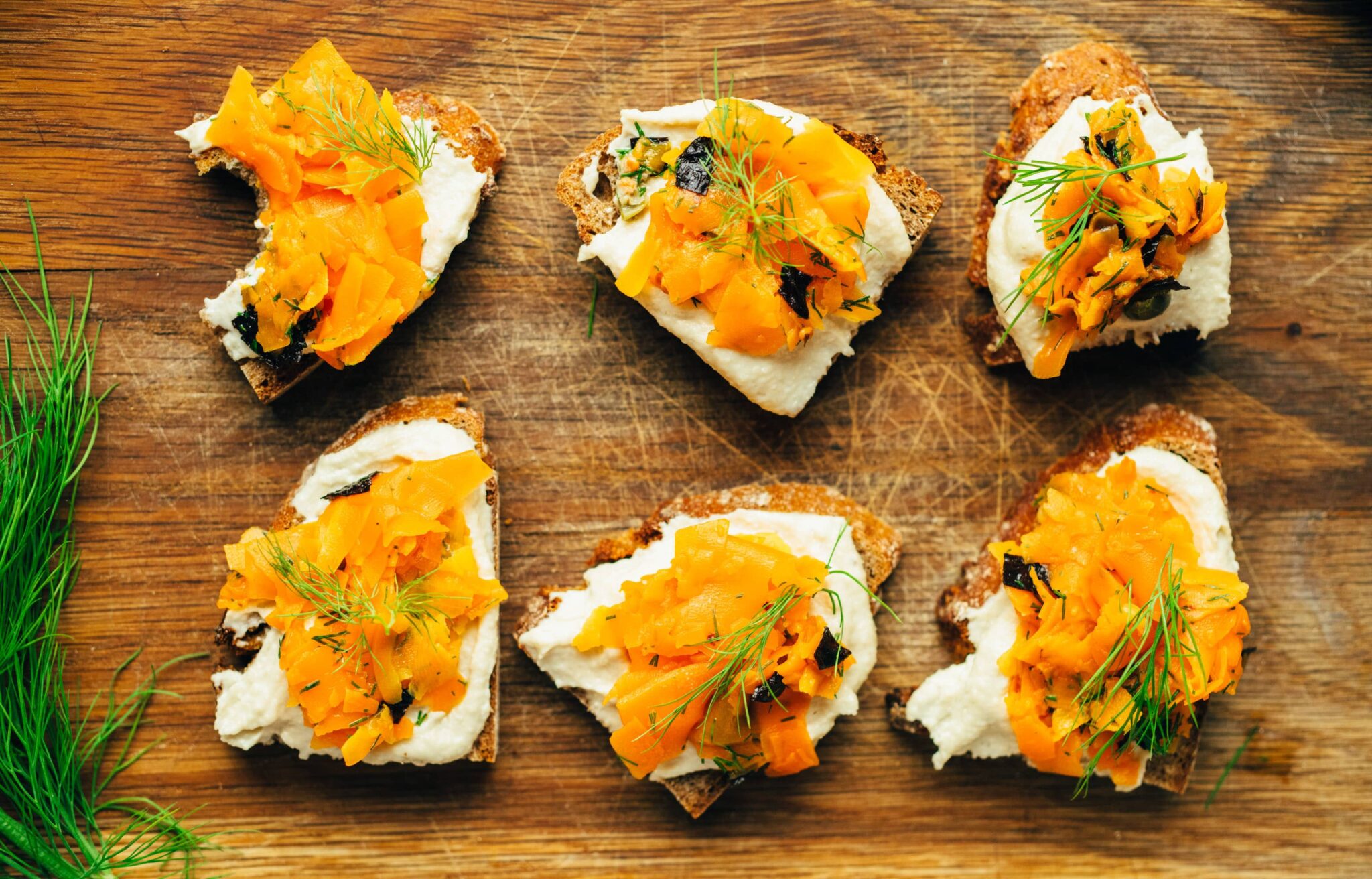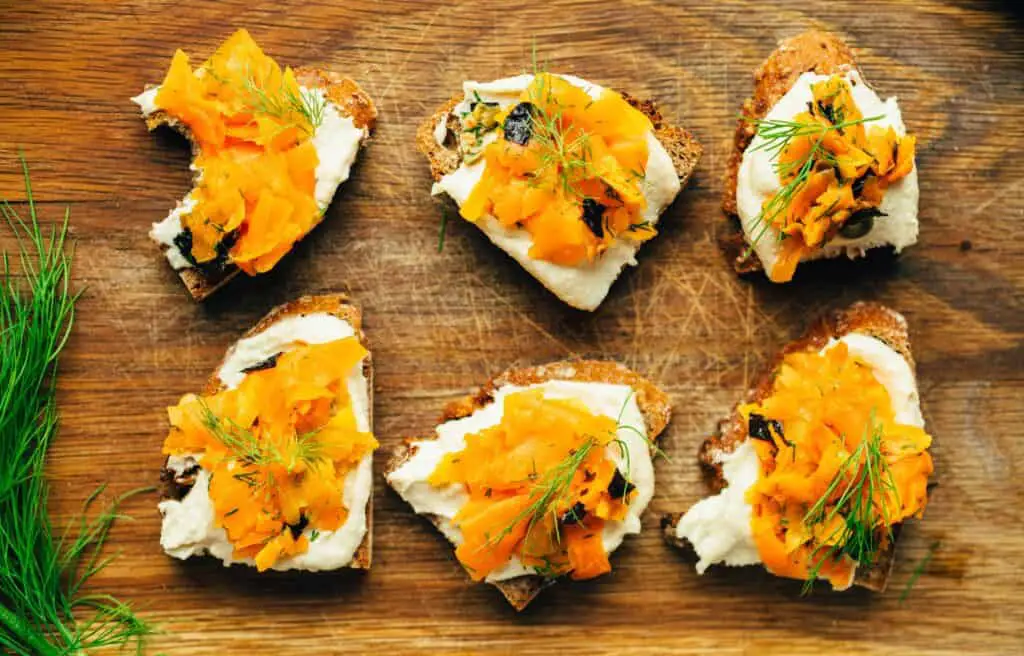 Especially on a fresh sourdough bread or one you have made yourself made bagel the combination of cream cheese and salmon is particularly fine. If you want to serve appetizers you can also use small slices of brown bread as a base. Maybe you are still looking for tips for a complete W eihnachtsmenü ? Then I recommend you my E-Book or click through the recipes with the hashtag #Christmas or #Winter .
The carrot salmon on cashew cream cheese is:
aromatic
simple to be produced
filling
Good combinable
Extremely tasty
I wish you a lot of fun with the re-cooking and of course I am happy about a review at the bottom of this page. If you post a picture, use the hashtag #veganevibes.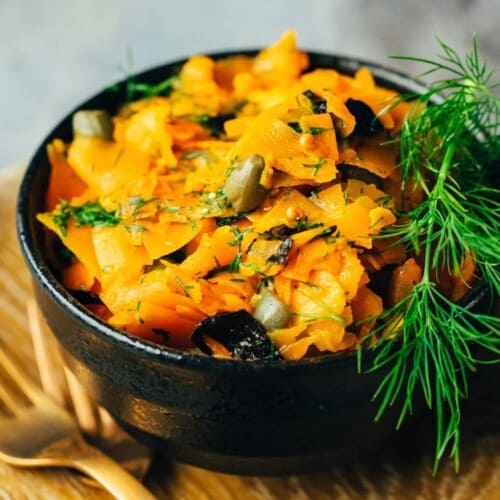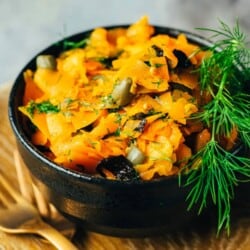 Carrot salmon on cashew cream cheese
Fine carrot salmon on creamy cashew cream cheese. Goes wonderfully with crusty sourdough bread, bagels or hearty brown bread. Especially suitable as appetizers on festive occasions.
AUTOR: VEGANEVIBES
FOR THE CARROT SALMON:
4

Piece

medium carrots

A handful of fresh dill

washed and chopped, alternatively 1 tsp dried dill

½

Sheet

Nori alga

cut into small pieces with scissors

30

ml

Lemon juice

15

ml

Olive oil

can also be omitted if oil-free

15

ml

Capers pickling water

15

g

Capers

halved depending on size

A strong pinch of salt
FOR THE CREAM CHEESE
17

g

Yeast flakes

15

ml

Lemon juice

50-100

ml

Plant milk

alternatively water

A strong pinch of salt

optional 1-2 tablespoons vegetable yogurt
TO SERVE:
Lemon

quartered

Fresh dill
Anleitung 
For the CARROT LAKE "Peel" carrots into fine slices with a vegetable peeler. See video. CAUTION: Vegetable peelers are very sharp, please work carefully.

To make the marinade, place all ingredients in a shallow dish or bowl with a raised rim and whisk once until well combined. Set aside.

A handful of fresh dill,

½ Sheet Nori alga,

30 ml Lemon juice,

15 ml Olive oil,

15 ml Capers pickling water,

15 g Capers,

A strong pinch of salt

Bring pot of water to boil, add a pinch of salt and add the carrots. Stir once and cook for

2-4 minutes.

Strain and quench with cold water.

Immediately add to the marinade and stir until the carrots are well mixed with the broth. Cover and let marinade for an hour (or overnight).

In the meantime, prepare the FRESH CHEESE make. To do this, place cashews, lemon juice, yeast flakes and salt in a high-powered blender and blend until a fine cream is formed. Pour in vegetable milk little by little, but always make sure that the cream stays nice and firm. Set aside.

A strong pinch of salt,

250 g Cashews,

17 g Yeast flakes,

15 ml Lemon juice,

50-100 ml Plant milk,

optional 1-2 tablespoons vegetable yogurt,

A strong pinch of salt

Slice open sourdough bread, bagel, or brown bread, spread thickly with cream cheese, and top with carrot salmon. Serve with fresh dill and lemon and enjoy.

Store carrot salmon and cream cheese in an airtight container (separately) in the refrigerator for a maximum of 3 days. Best fresh.
Nährwertangaben
Serving:
1
Portion
Calories:
405
kcal
Carbohydrates:
23
g
Protein:
14
g
Fat:
32
g
Saturated Fat:
5
g
Sodium:
118
mg
Potassium:
498
mg
Fiber:
3
g
Sugar:
5
g
Vitamin A:
193
IU
Vitamin C:
5
mg
Calcium:
41
mg
Iron:
5
mg