What a week! Once again, the construction site is in the foreground and I'm cooking on the "back burner". On the one hand, I'm pretty annoyed because I can't be as creative as usual. cooking as usual. On the other hand, I take the opportunity to make simple Basic recipes recipes, such as these delicious whole grain bagels. I did the final shoot yesterday and (please don't laugh) my husband and I ate them all in one sitting. Do not ask! But then they can't be that bad, can they?
Vegan bagel vibes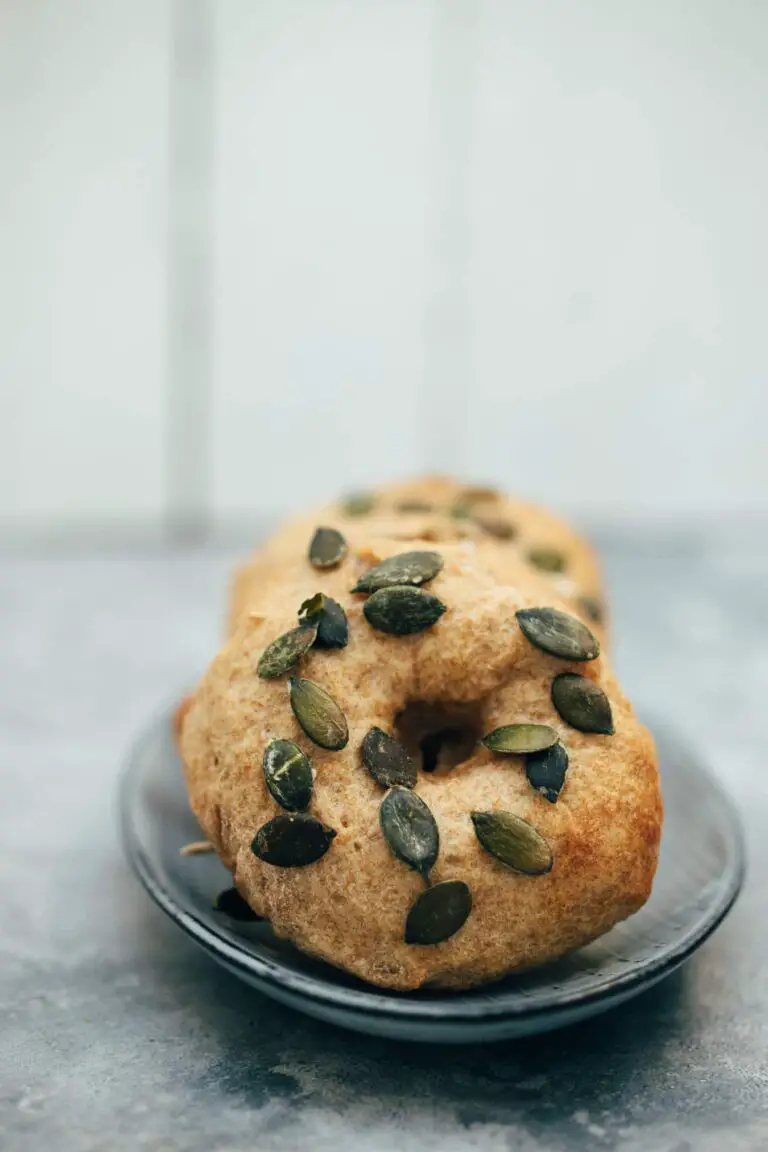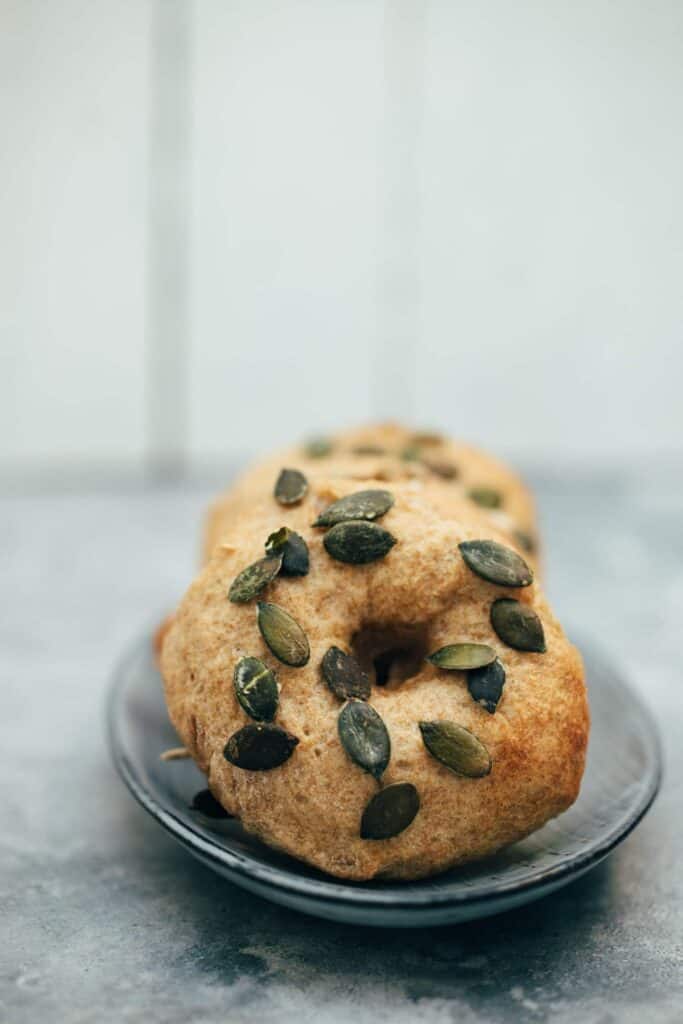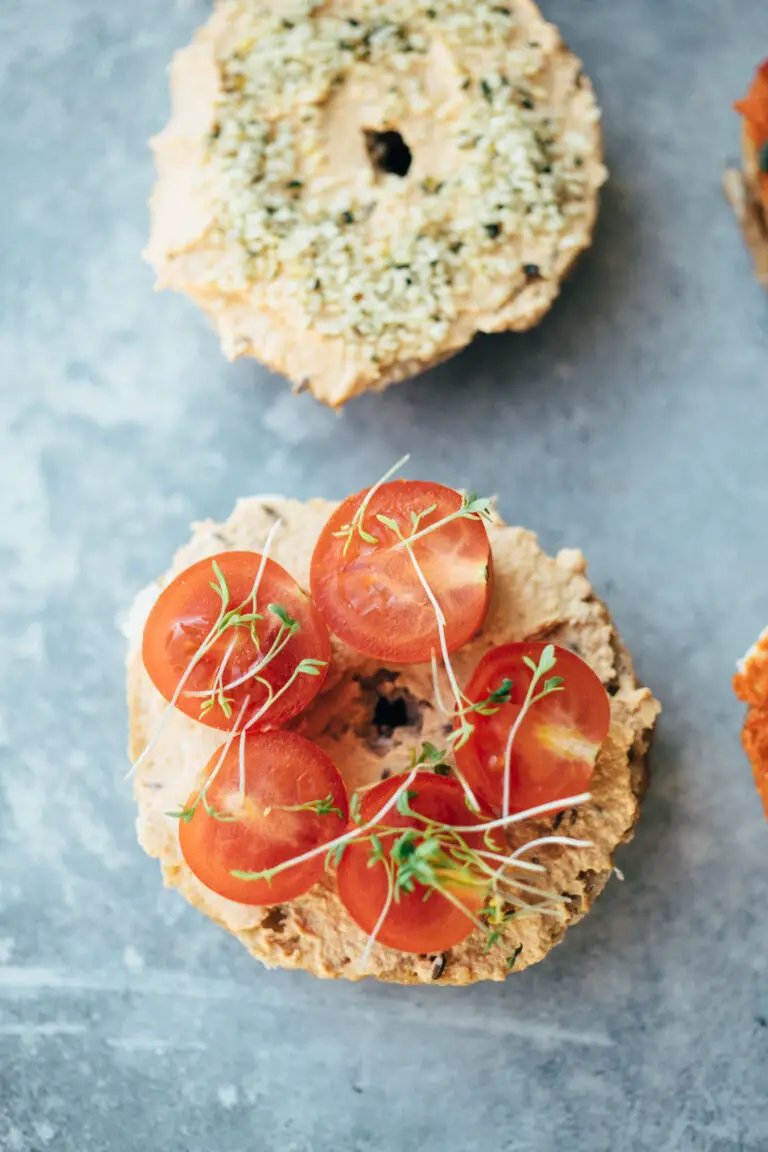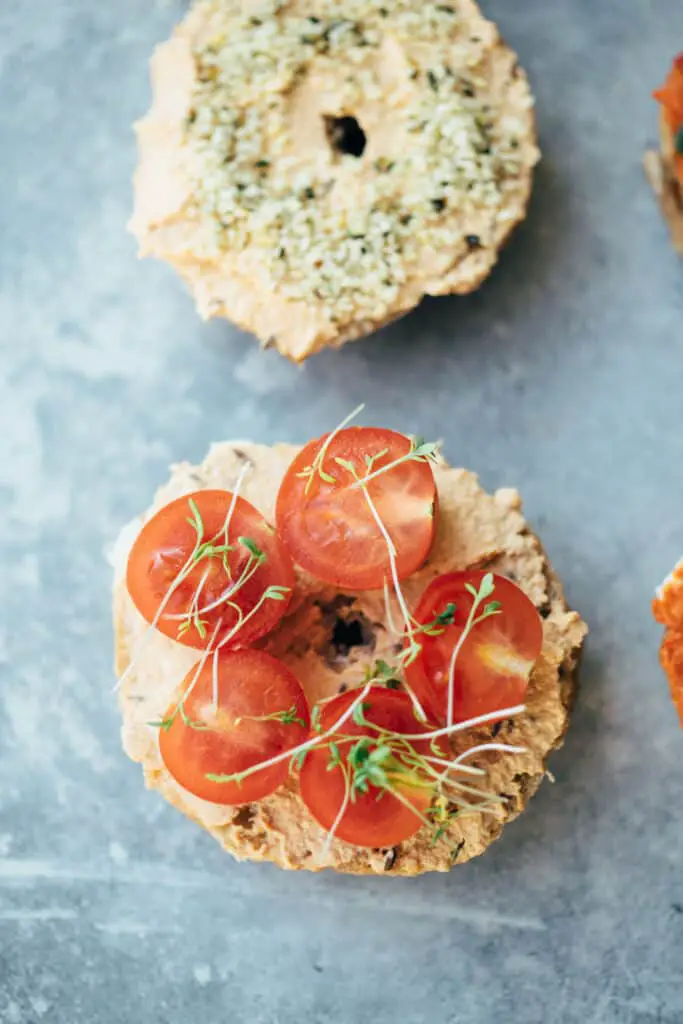 Bagels are just something really great. In Regensburg, there is also a wonderful bagel store that I love above all else. But what actually makes a really good bagel? He should definitely have a hole (joking aside), be soft and fluffy. A great taste it must bring, especially with a slightly sweetish Grade.
Our today's Recipe definitely provides you with everything you expect as a bagel lover. The dough is a mixture of whole spelt flour, spelt flour, water, maple syrup, dry yeast and salt. Sounds simple, doesn't it? It is!
Bagel up my Life!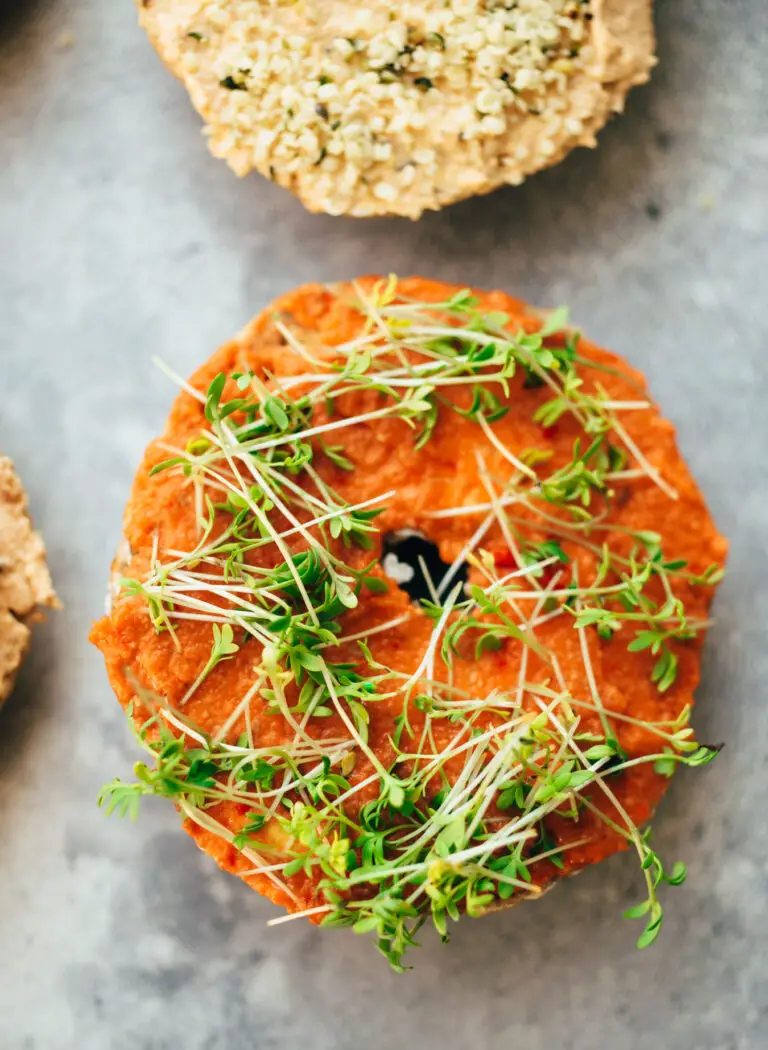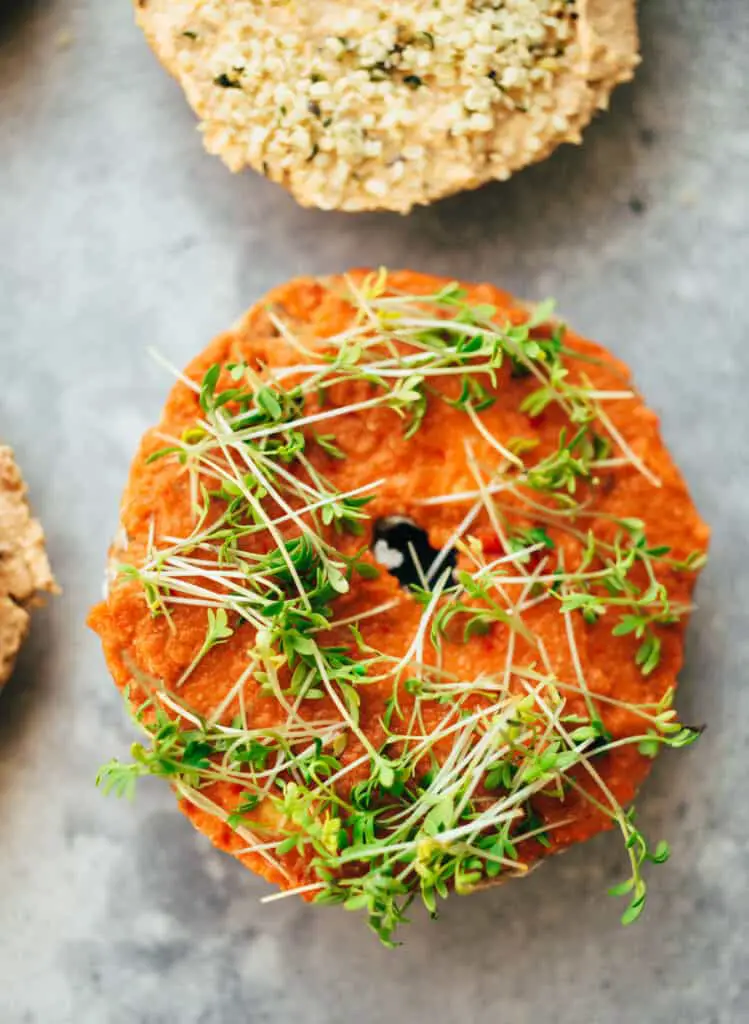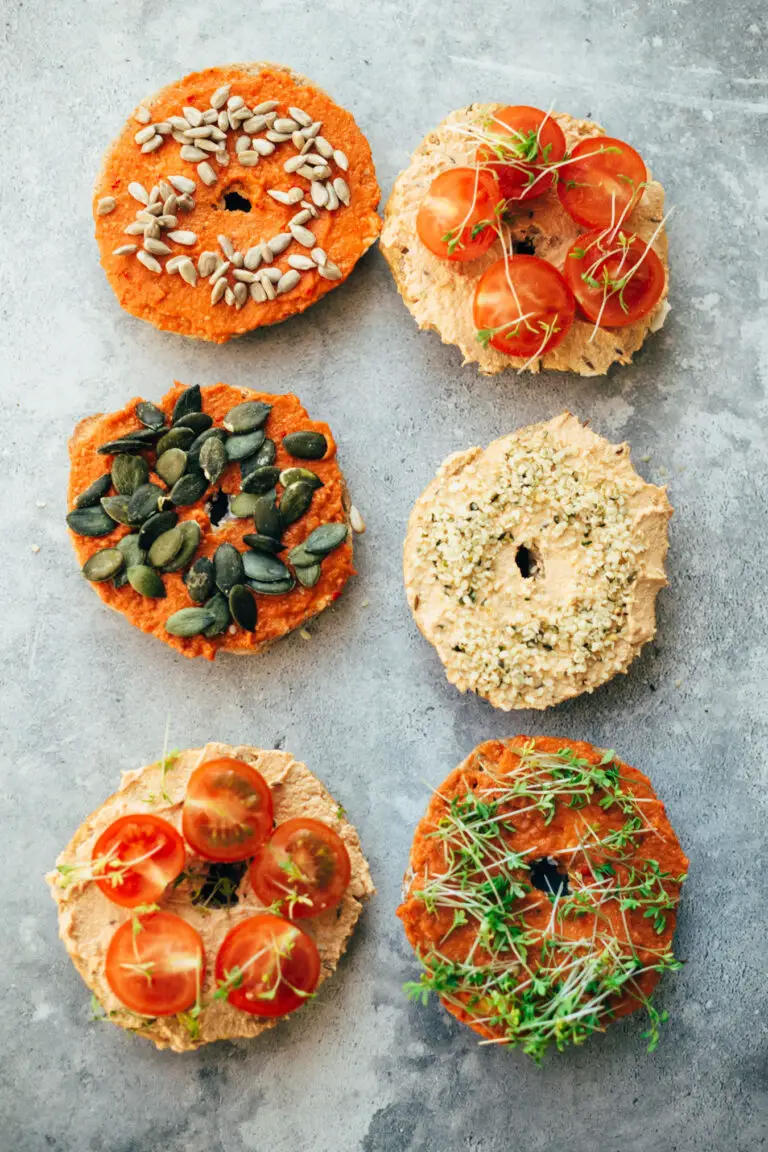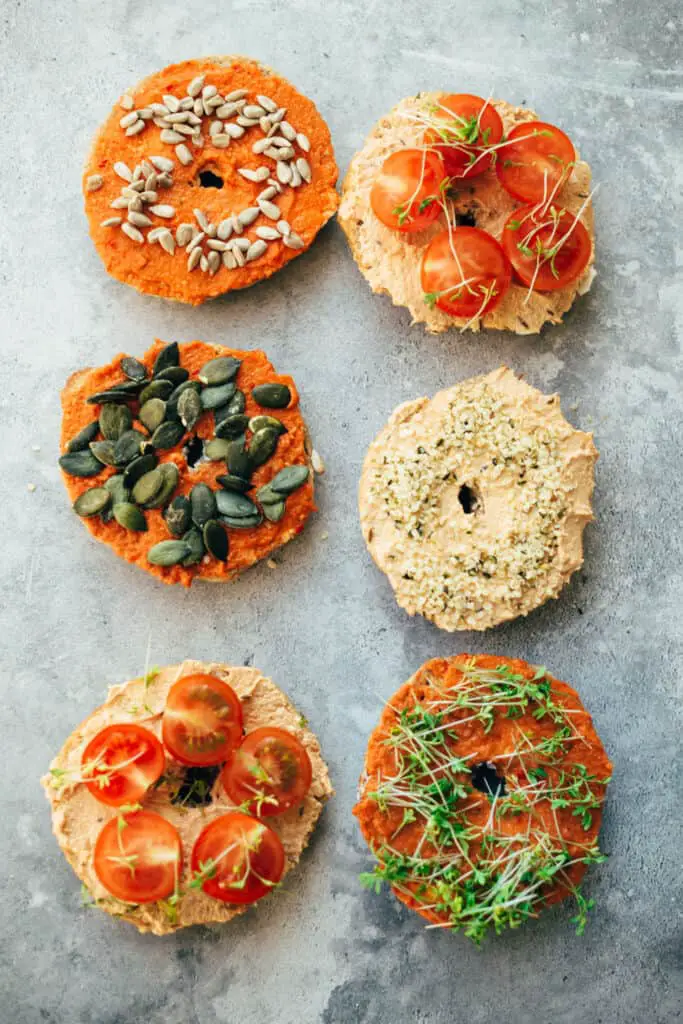 The preparation is also quite uncomplicated and requires only a small intermediate step. Here the ready formed bagels are blanched in hot water with some maple syrup and get a really nice soft crust. Then they go soaking wet on a baking sheet and immediately in the oven. The result can be seen and, of course, proven immediately.
I love using spelt flour, especially whole spelt flour, because it contains lots of healthy fiber and high-quality protein. In addition, essential vitamins, such as vitamins A, B2, B3, B6, C and E. A gluten-free Bagel version I have unfortunately not yet found, do you have tips and suggestions? Then feel free to let me know below in the comments.
So, now I have some good news and some bad news for you. Which one first? The good thing is that it's ready to go now and the bad thing is that the Bagels very likely will not last long. Attention danger of addiction!
The simple vegan bagels are :
Outside soft
Inside fluffy
versatile occupiable
filling
simple to be produced
I wish you a lot of fun with the Nachbacken and look forward to a review at the bottom of this page. If you post a picture, use the hashtag #veganevibes.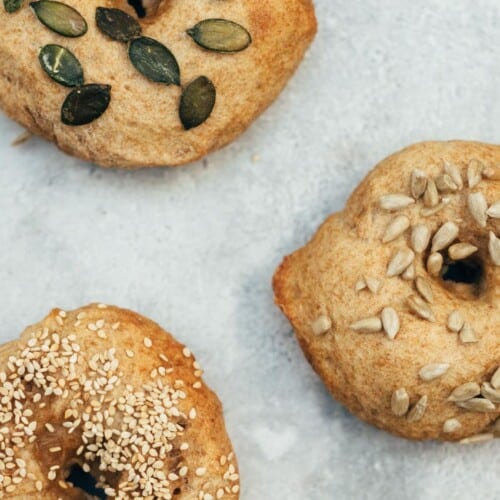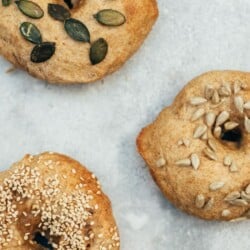 Simple vegan bagels
Simple vegan bagels made with healthy spelt flour. Fluffy, soft on the outside and full of healthy vital substances. Perfect for breakfast, topped creatively or simply plain with a little vegan margarine.
AUTOR: VEGANEVIBES
FOR THE BAGELS:
320

ml

lukewarm water

necessarily lukewarm so that the yeast is activated

2 ¼

tbspn

Dry yeast

30

ml

maple syrup

1

tbspn

Sea salt

500

g

spelt flour (I use 2/3 fine light flour type 630 and 1/3 wholemeal spelt flour)
FOR PRE-COOKING THE BAGELS:
TOPPING (optional at will):
Anleitung 
In a large mixing bowl (optional food processor) first put the water, along with the dry yeast and maple syrup. Stir on low speed or by hand until everything is combined.

320 ml lukewarm water,

2 ¼ tbspn Dry yeast,

30 ml maple syrup,

1 tbspn Sea salt

Add flour and stir until a uniform dough is formed. The dough should come away from the bowl when stirred with the dough hook. If working by hand, the dough should be firm enough to form into a smooth ball.

500 g spelt flour (I use 2/3 fine light flour type 630 and 1/3 wholemeal spelt flour),

3 Liter Water,

30 ml maple syrup

Cover (I use a tea towel and a lid) and place in a warm, but not too hot, place where there are no drafts. The dough should still be able to breathe (do not cover too tightly), as the yeast needs heat and oxygen to rise. Let rise for

1 hour

.

At the end of the baking time, preheat the oven to 200 degrees and line a baking tray with wrapping paper.

Bring a large pot with 3 liters of water to a boil and dissolve 2 tablespoons of maple syrup in it.

Transfer the dough to a floured work surface and knead again with your hands. Make into a roll and divide into 8 equal portions. Shape into a round ball with your hands. Form a hole in the center with your thumb and set aside. Repeat process until all bagels are formed.

Carefully place all the bagels in the boiling hot water at the same time and cook for

3 minutes

. Fish out with a spatula and place soaking wet on the baking paper.

Sprinkle with desired seeds to taste.

Place in oven and bake for

20 minutes

until fluffy and golden brown.

Remove from oven, cool completely and top as desired.

Flaxseed,

Pumpkin seeds,

Sesame seeds,

beet hummus,

Liver sausage spread,

Sunflower seeds

Store covered in a bread basket or box at room temperature for up to 3 days.
Nährwertangaben
Serving:
1
Bagel(s)
Calories:
271
kcal
Carbohydrates:
50
g
Protein:
8
g
Fat:
2
g
Sodium:
65
mg
Potassium:
16
mg
Fiber:
8
g
Sugar:
4
g
Calcium:
16
mg
Iron:
3
mg