Whoof you likes Beet ? I have made the experience that many first seek the distance when they see the red tuber. So the question arises, why is that? I like beet really like because it is so versatile and colors everything nice and pink. That's why I'm adding them to the hummus today, so it doesn't look so boring anymore. Maybe you can convince the toughest opponents of the tuber in this way? At least try it once, please!
Beet in hummus?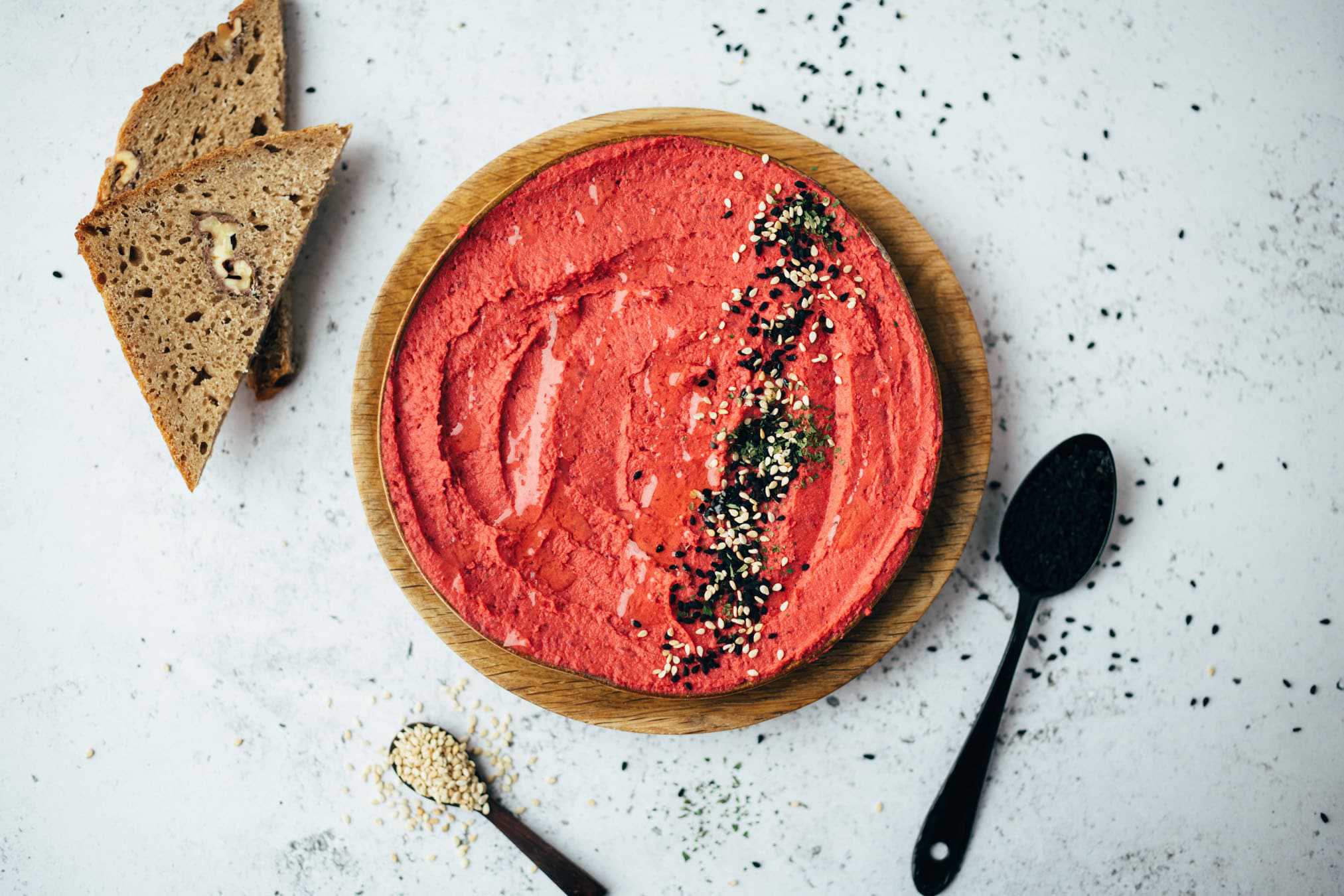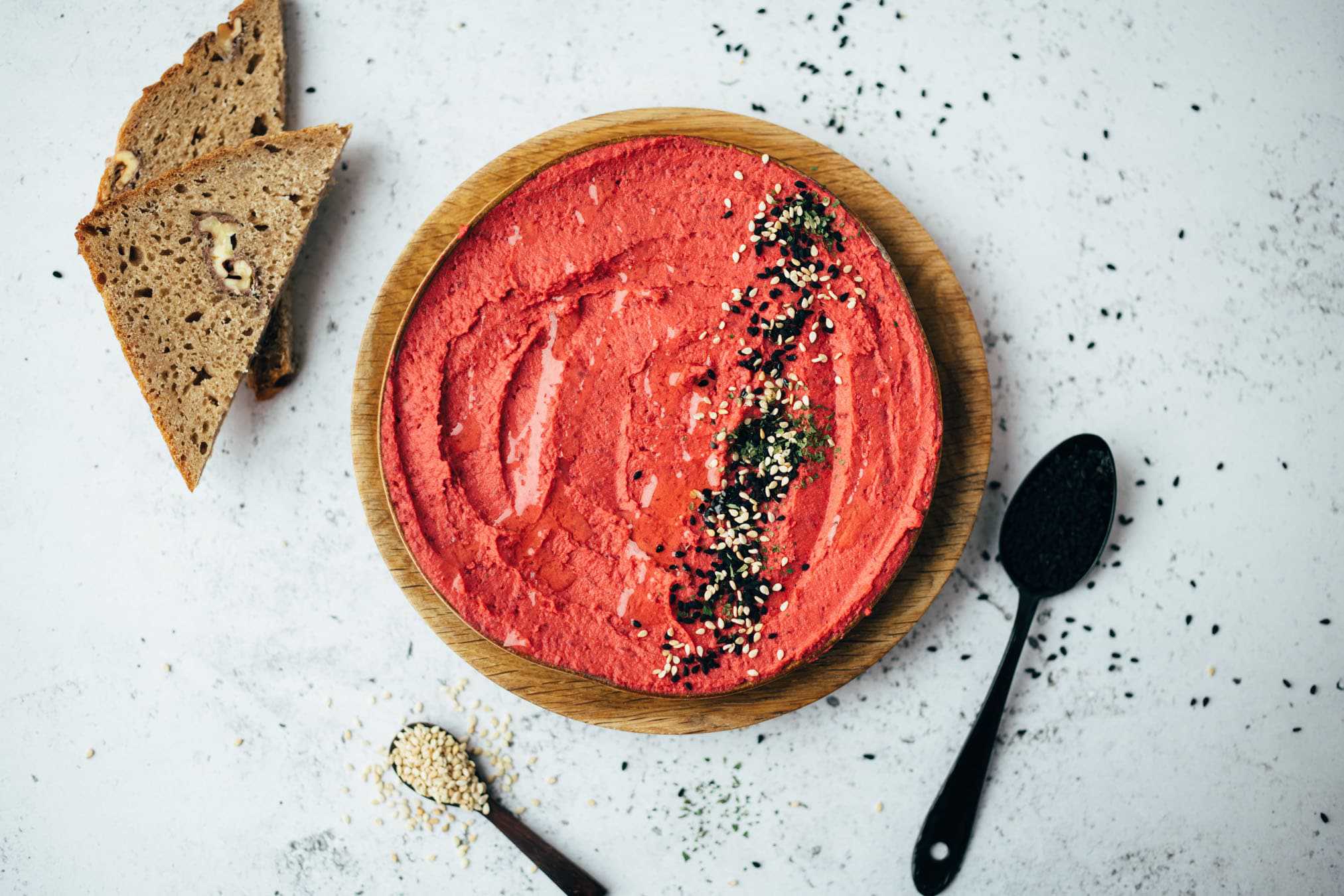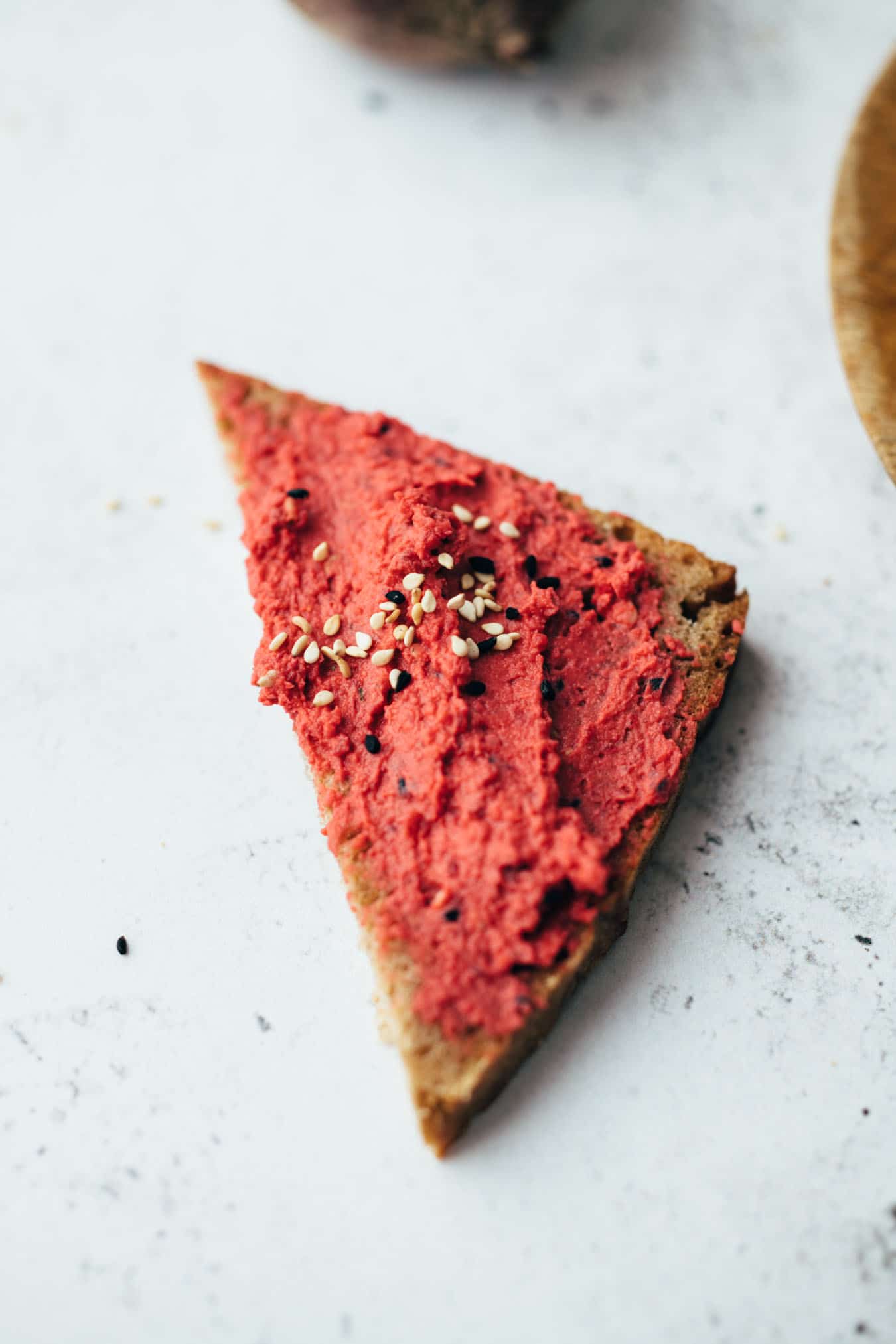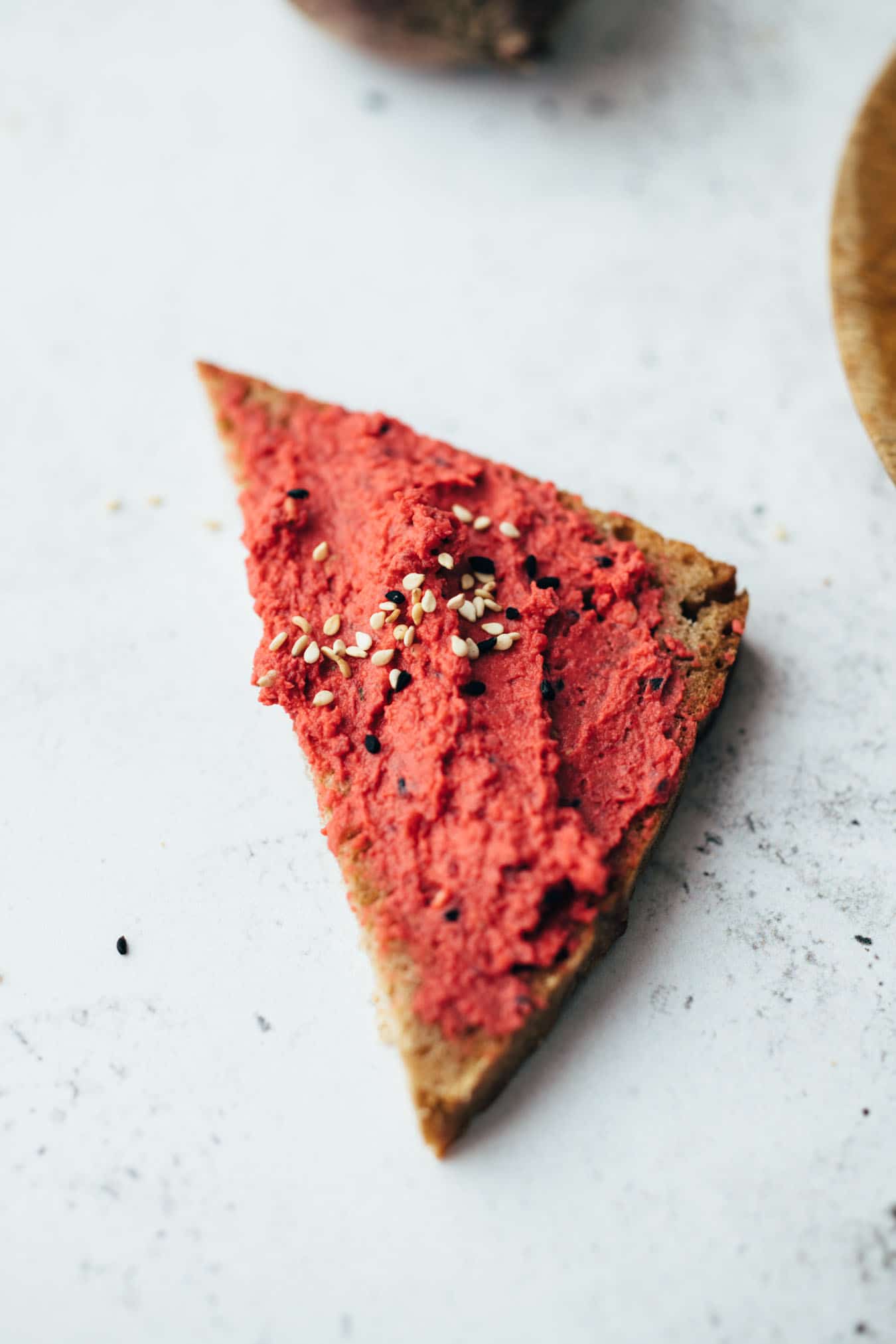 For the Hummus we need the classic ingredients, Chickpeas , tahini, lemon juice, some lemon zest, garlic cloves, salt, pepper and olive oil. The Red beet is first roasted in the oven with a little olive oil, salt and pepper. When it's nice and soft, then it can all go into the blender together. The only question left is the side dishes. Here I stand especially in winter on a good sourdough bread. Otherwise, any kind of raw vegetables are also particularly suitable, especially Carrots or cucumber sticks. Yummy!
What is the best way to roast beet?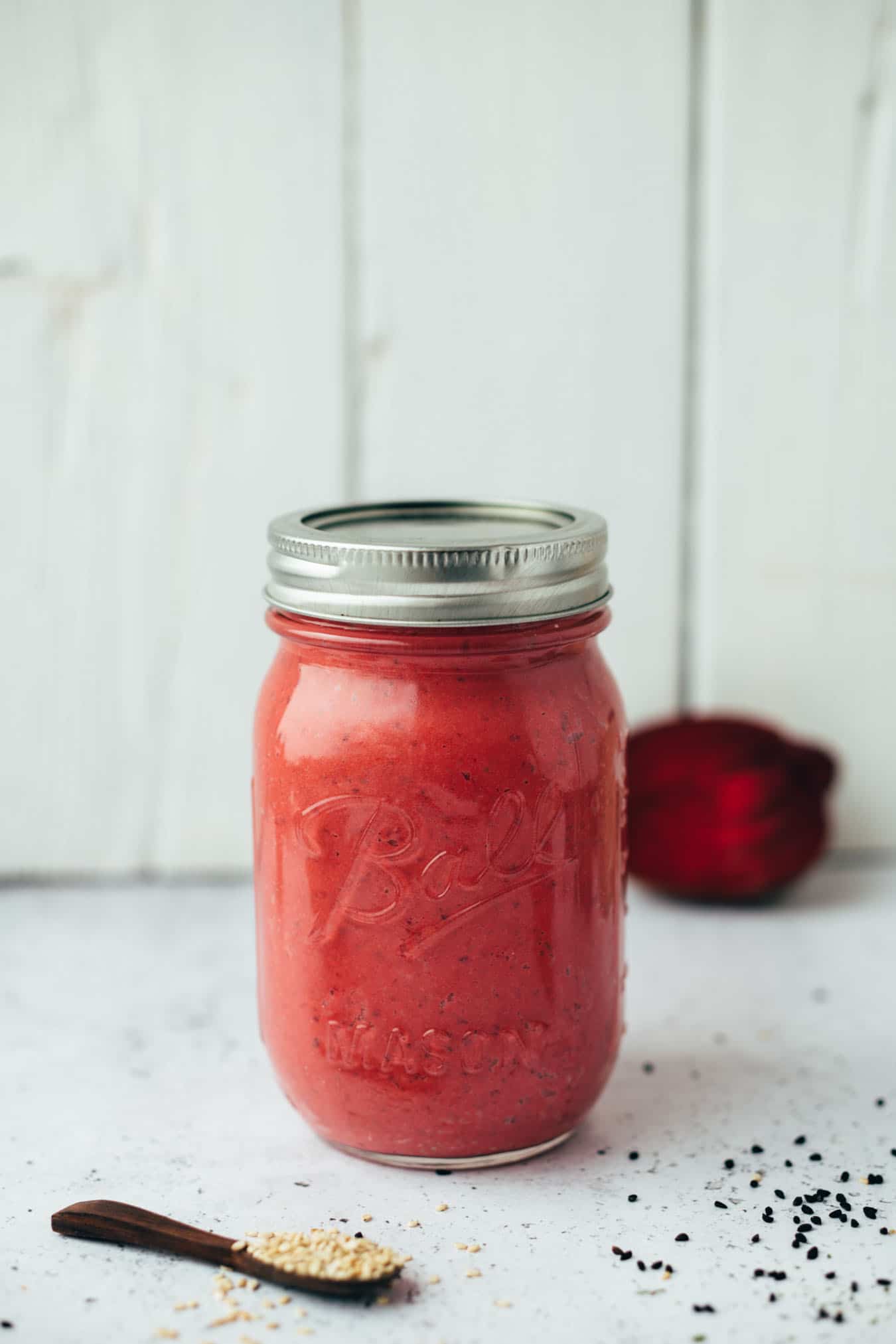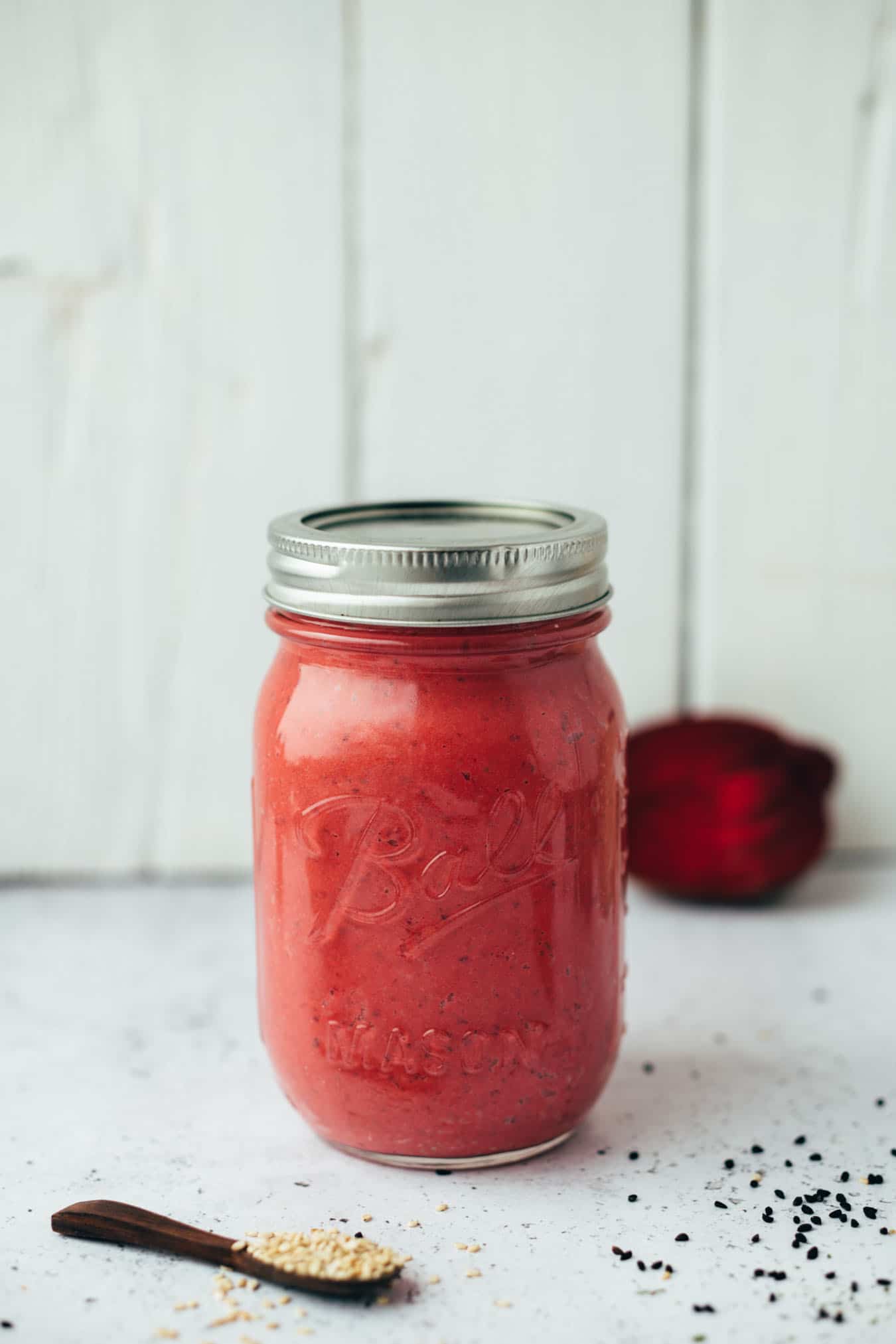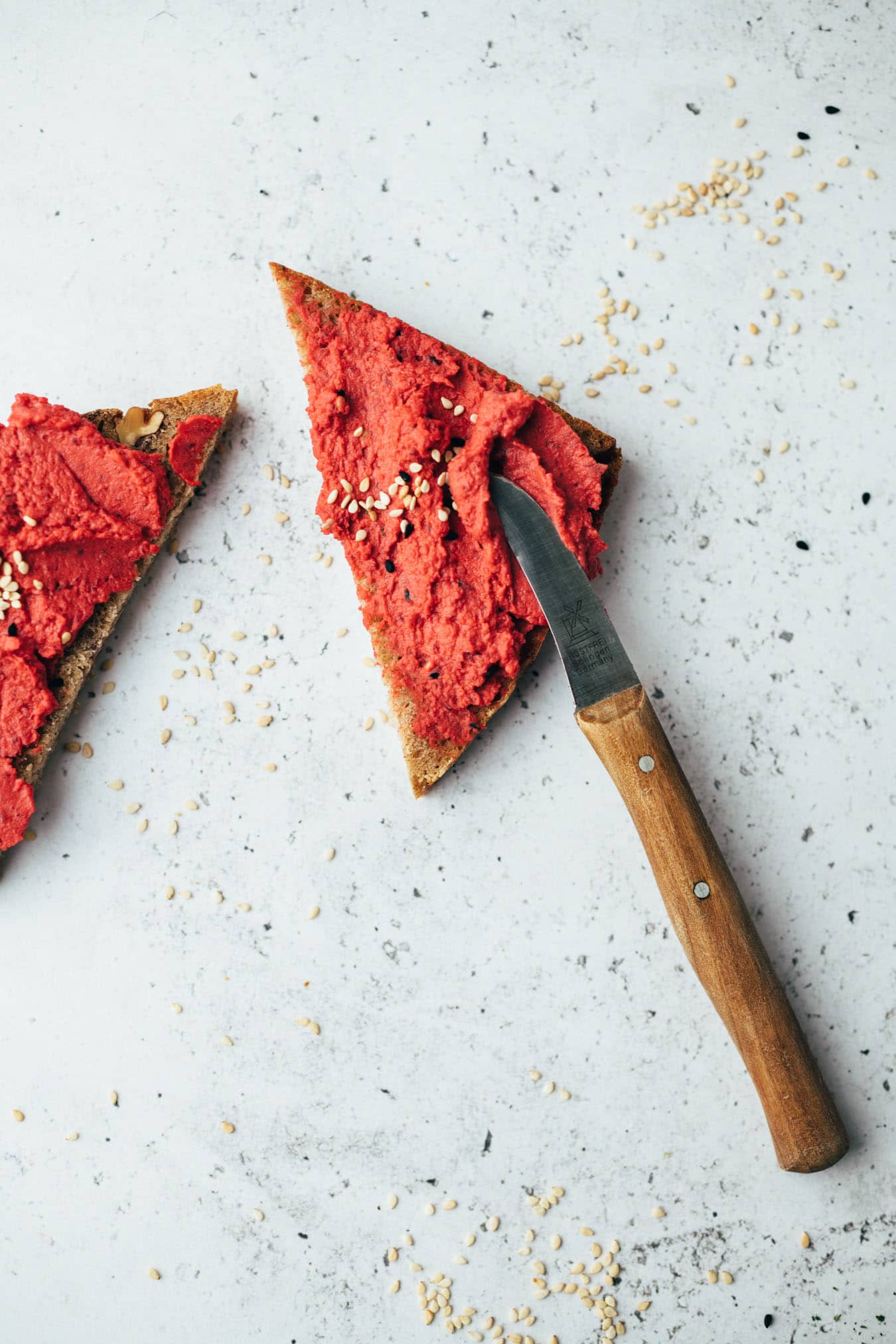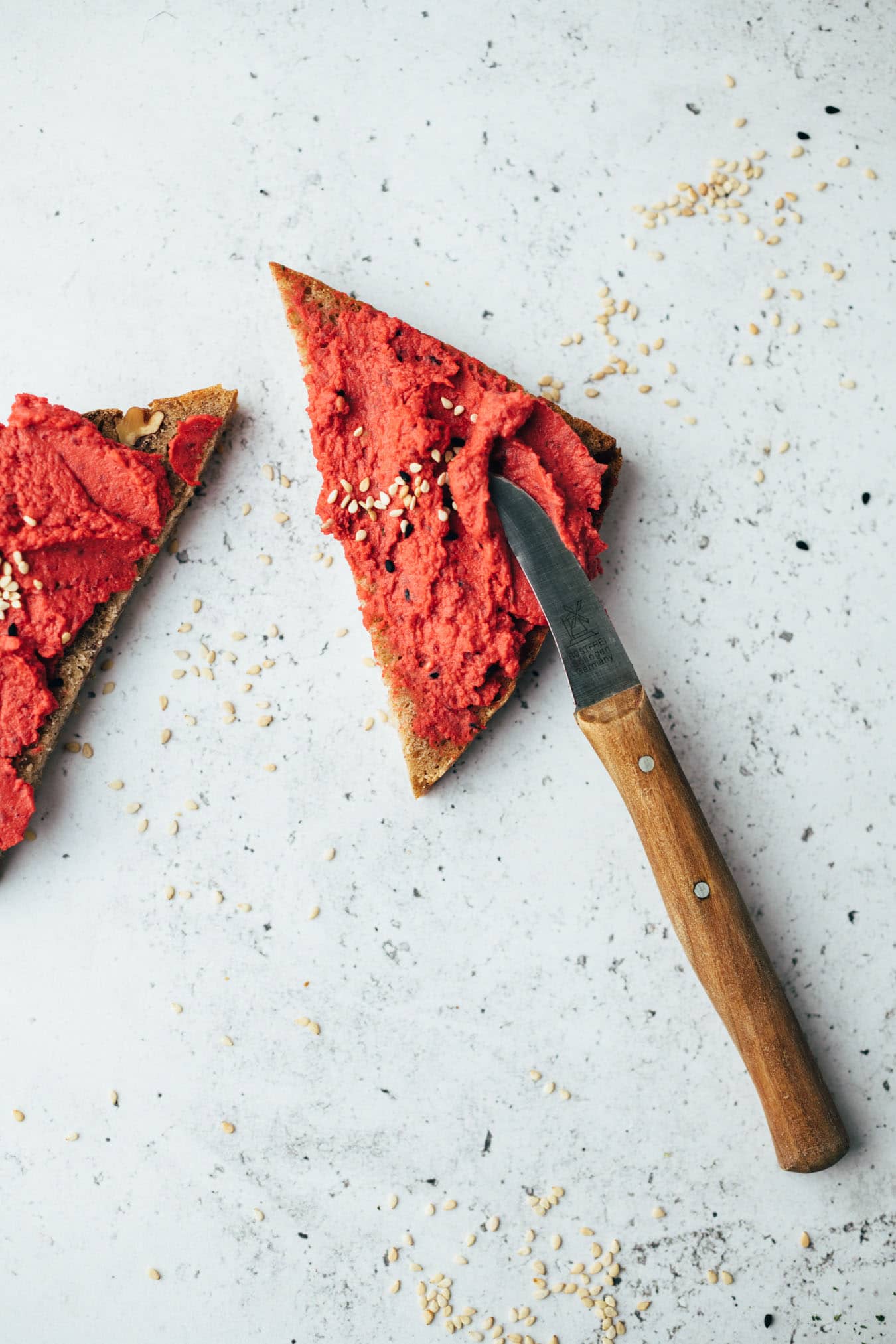 Best done in the oven with a little olive oil. I always roast a few more beets right away to make the effort worthwhile.
Here's how:
Wash or brush beet once and remove coarse dirt from it
Cut off leaves and lower tips
Cut large beets in the middle again
Rub with a little olive oil, add salt and pepper to taste on top
Preheat oven to 200 degrees, place beet in a heatproof roasting pan and cover
If you don't have a roaster, wrap the tubers in aluminum foil (I know this isn't the most environmentally friendly method, but it's the quickest way to get them through) and place on a baking sheet
Put in the oven and bake for 50-60 minutes
Pierce once with a fork and test whether the beets are already soft
When ready, remove from oven and allow to cool
You can use the rest of the beets for a wonderful Salad use. Simply place in an airtight container in the refrigerator.
If you want to use ready cooked beet, feel free to do so. This also works, but the cooking does not produce such nice roasted flavors.
Do I need a blender to make it?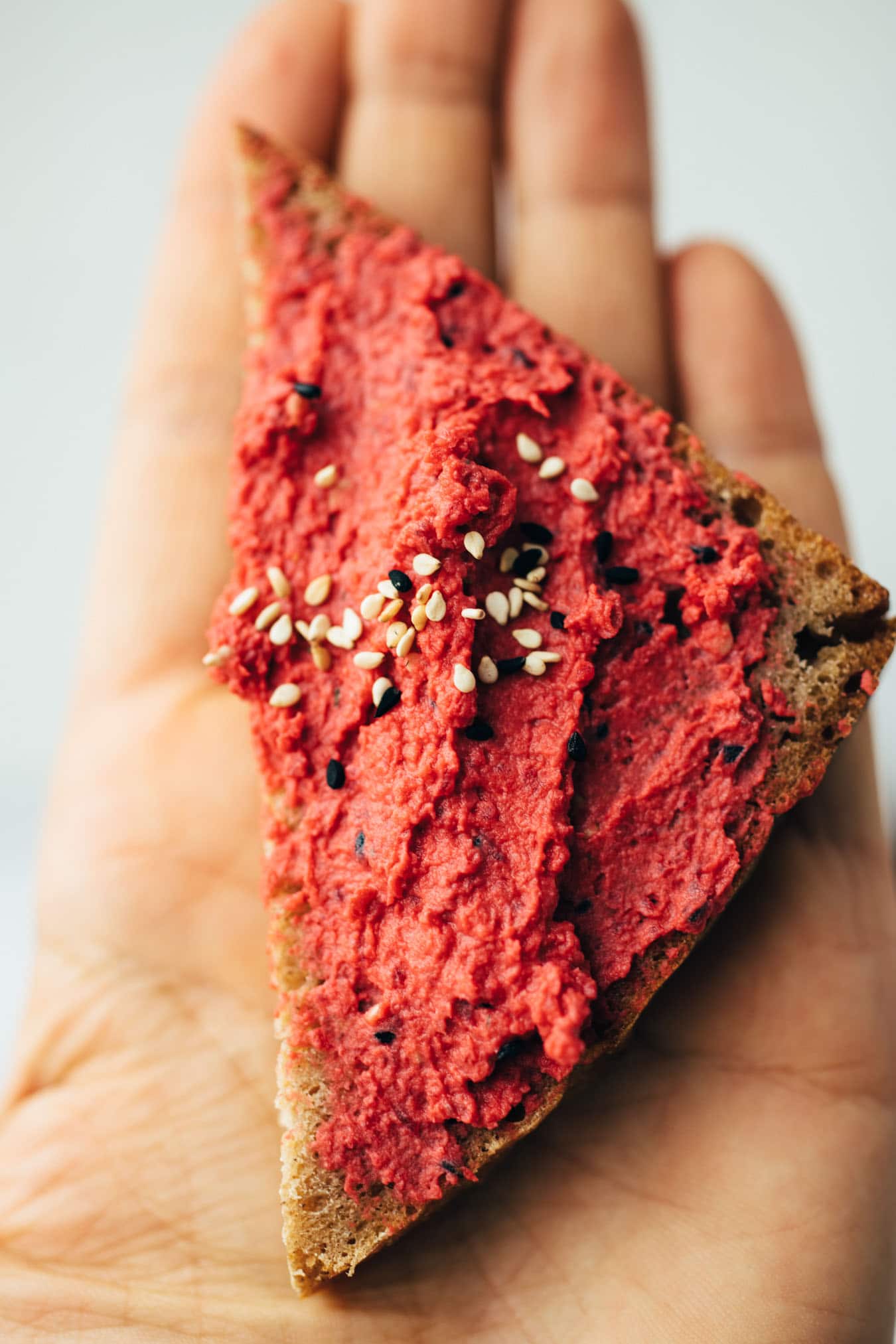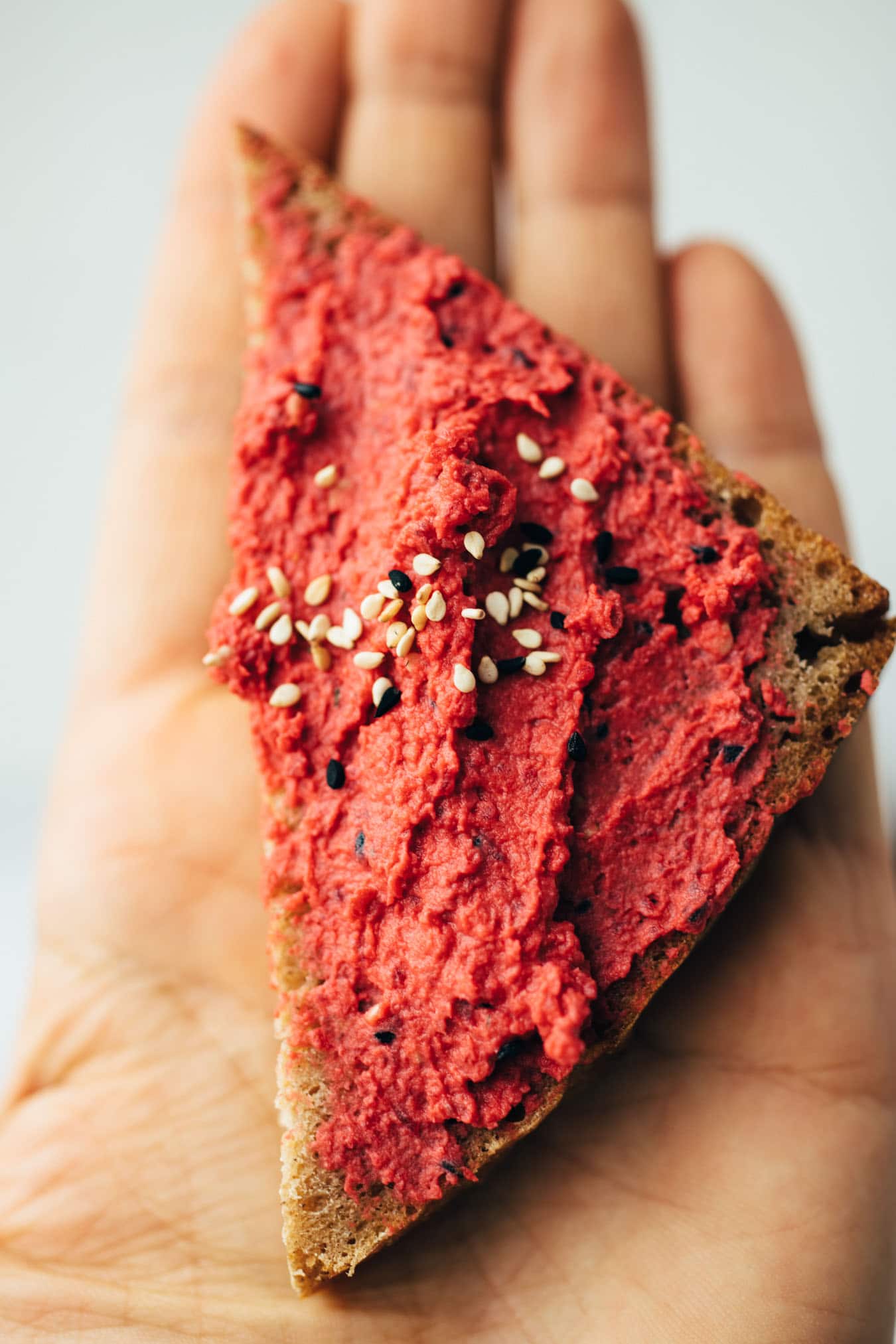 I use here my Magi Mix(advertising since brand name, but bought myself), because it can process everything really well without the addition of liquid. When using high-powered blenders, you often need a little more liquid to make them work really well.
Oh yes, here's a little tip for refining. Dill. The herb just goes wonderfully with the earthy vegetables.
Are you ready for this delicious, healthy hummus? Then I look forward to a review at the bottom of this page. If you post a picture, feel free to use the hashtag #veganevibes.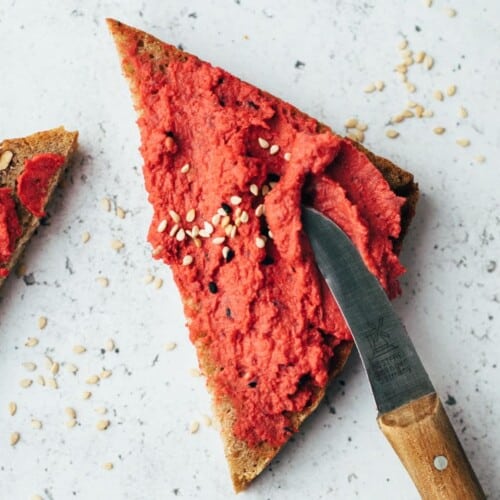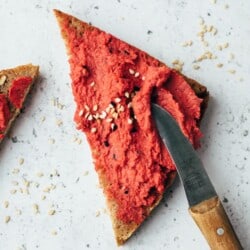 HOW TO MAKE beet hummus yourself
A versatile, oriental-inspired dip with a pleasant, earthy note from beetroot. Perfect as an appetizer, side dish to a bowl or just as a snack.
AUTOR: VEGANEVIBES
One medium beet

roasted in the oven

425

g

Chickpeas cooked

or a glass

60

ml

Lemon juice

3

Piece

Garlic cloves

pressed, alternatively use 1.5 tsp garlic granules

80

g

Tahini

45

ml

Olive oil

Some fresh dill or ½ tsp dried

Optional: ½ freshly grated lemon zest or dried

30

ml

Optional. Apple juice

Provides a fruity note
Anleitung 
Preheat oven to 200 degrees.

Roast beet in oven according to instructions above in text and let cool.

Place all ingredients in a blender and blend until uniform in size.

One medium beet,

425 g Chickpeas cooked,

60 ml Lemon juice,

3 Piece Garlic cloves,

80 g Tahini,

45 ml Olive oil,

Some fresh dill or ½ tsp dried,

Salt to taste,

Optional: ½ freshly grated lemon zest or dried,

30 ml Optional. Apple juice

Taste and season if necessary.

ALTERNATIVE (without blender): Press beet through a hair sieve (with a spoon).

Pour into an airtight jar and store in the refrigerator, or use and enjoy immediately!
Nährwertangaben
Serving:
250
ml
Calories:
1586
kcal
Carbohydrates:
138
g
Protein:
52
g
Fat:
98
g
Saturated Fat:
13
g
Sodium:
60
mg
Potassium:
1665
mg
Fiber:
36
g
Sugar:
22
g
Vitamin A:
170
IU
Vitamin C:
33.1
mg
Calcium:
321
mg
Iron:
16.1
mg