Wild blueberry chia jam is really a dream. Right now I am doing Anthony William 's 3-6-9 liver cleanse and there is no provision for this fine jam. However, Sunday is the last day and on Monday I will dive right into this beauty. It is quickly made and consists of a few ingredients that you can get in any well-stocked supermarket. I must confess that I have never taken a cure before in my life. Once I tried to go on a diet and failed a few hours after starting it. The good thing about this cleansing cure is that you can always eat your fill. I certainly wouldn't have gone through the regimen all by myself either, so I'm glad I'm doing it in a guided setting with @verbundeninkiel. Stay tuned for more updates.
Wild blueberry chia jam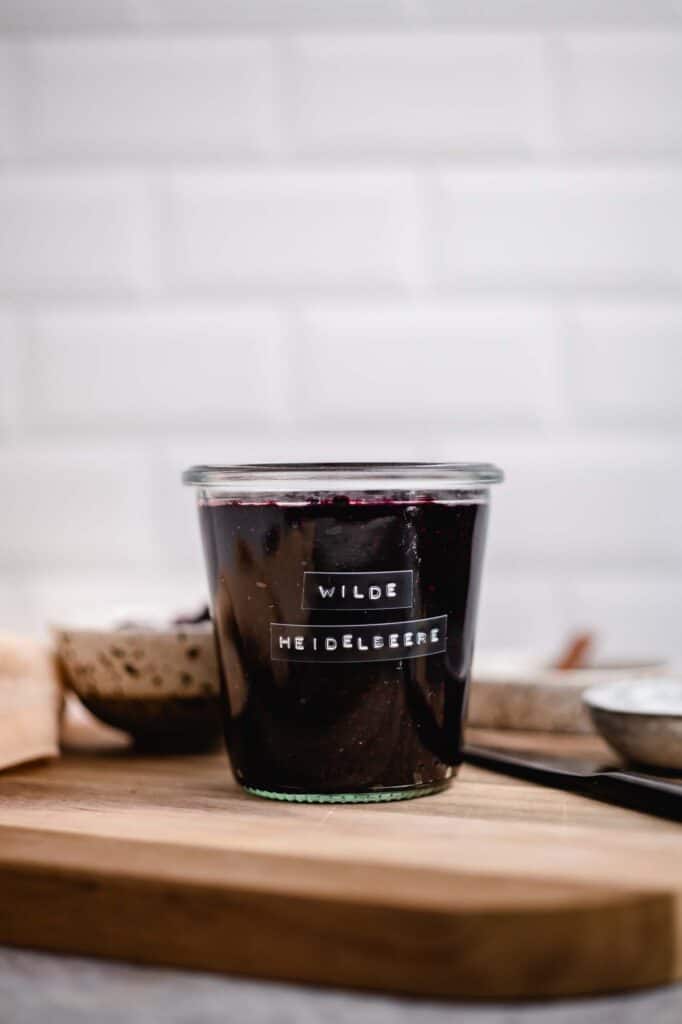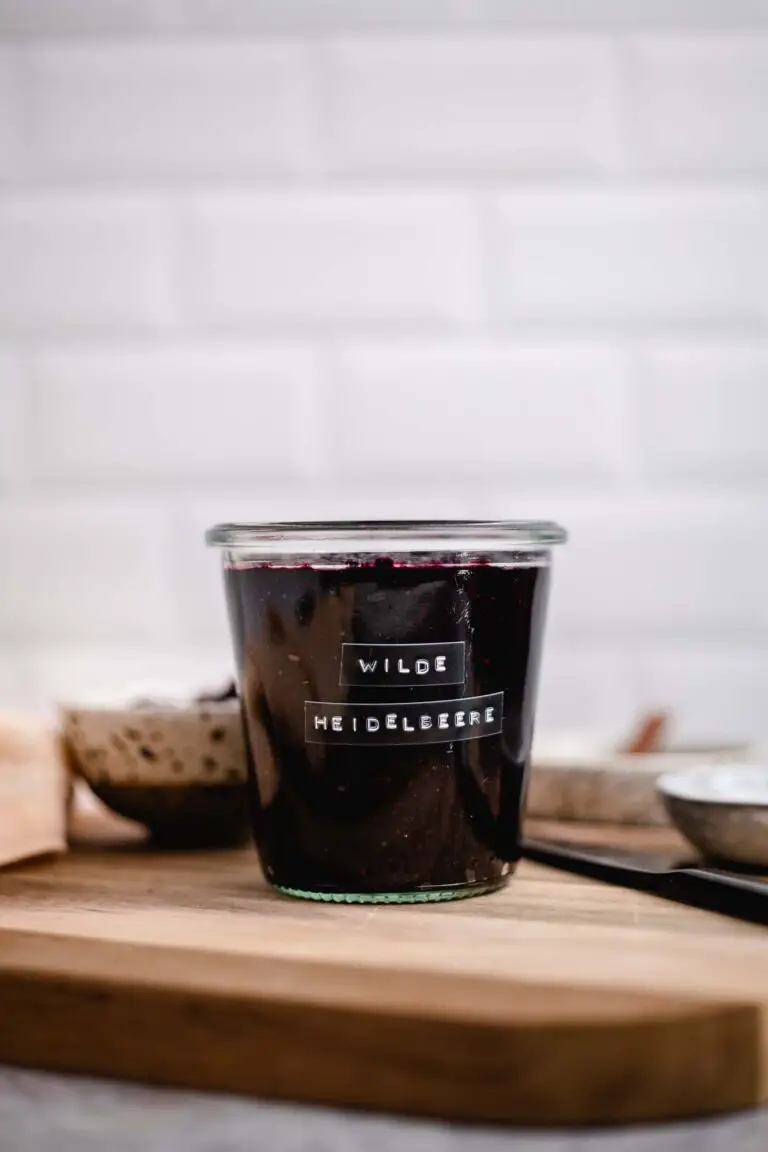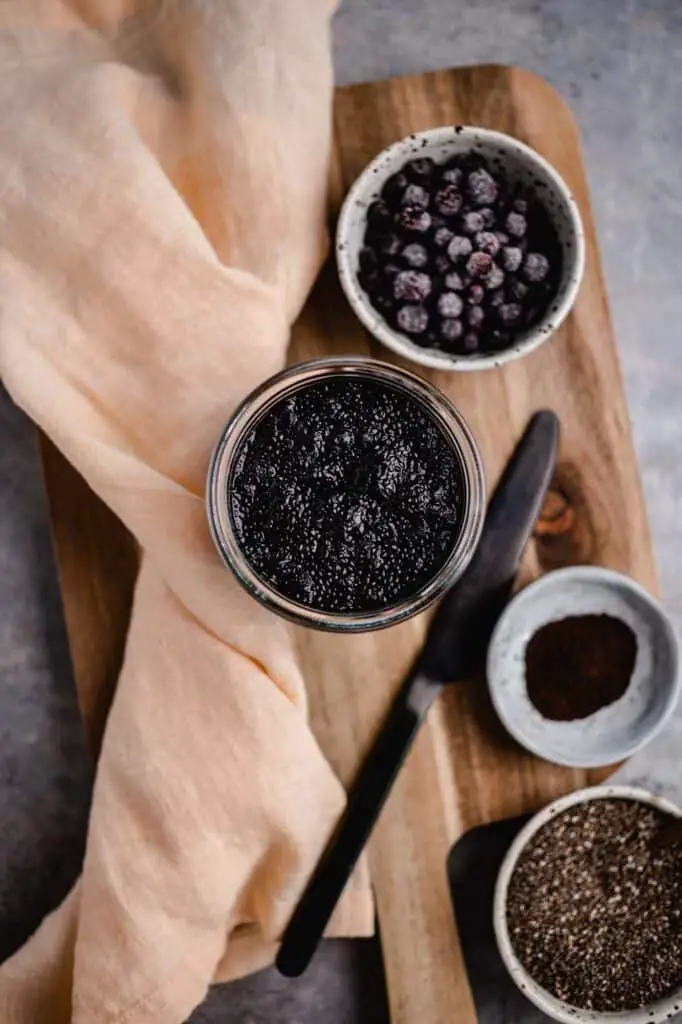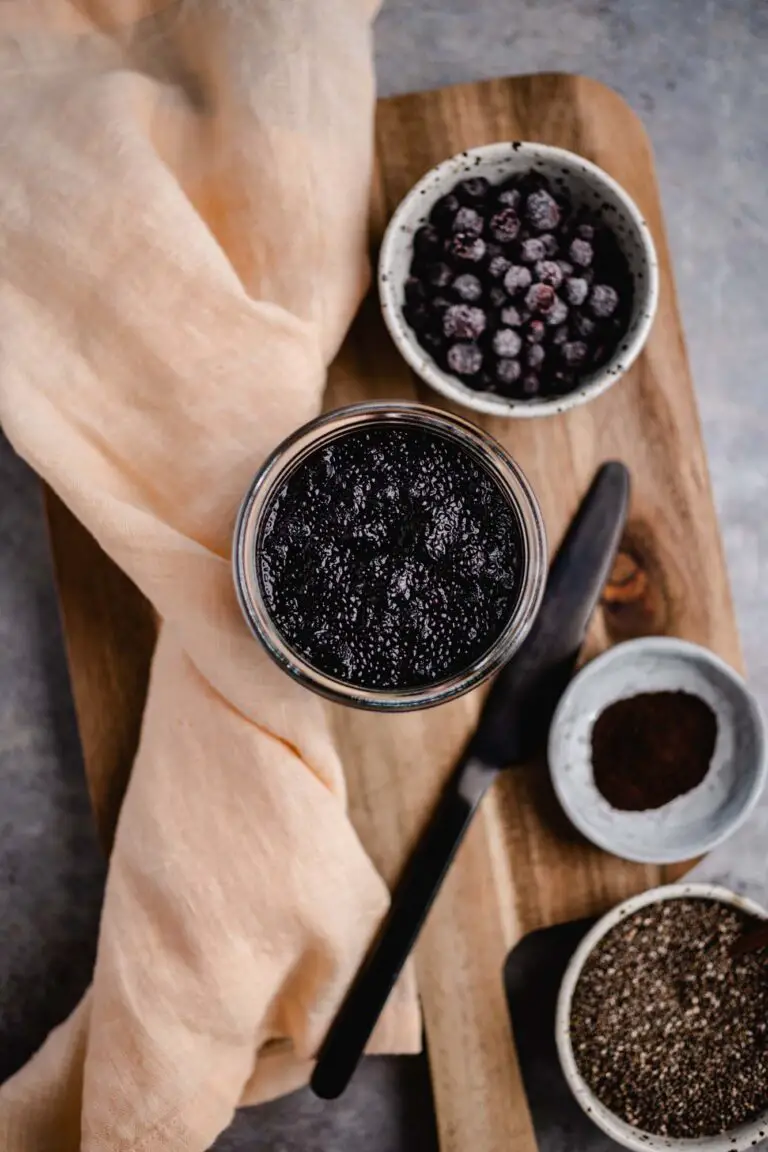 The last few weeks I have harvested so many blackberries, it has been truly amazing. We have some very old shrubs here in our garden and they have yielded tremendously this year. The many kilos that I harvested were also immediately processed or frozen by me. Since it has rained a lot the last few days, the harvest is now over as the last berries on the bush are starting to get a little mushy and overripe.
Anthony William recommends eating wild blueberries every day and that's when I got the idea to make a jam out of them. Conventional jams are often not so really healthy and are made with preserving sugar. In classic galantine, again, animal waste is utilized and that's really not what we want in healthy plant-based cooking. That's where chia comes in, as it's a wonderful way to bind a variety of dishes, like our jam today. It's super easy to make, frozen blueberries, maple syrup, chia seeds, lemon juice and bourbon vanilla. This is all boiled together for 10 minutes until the berries have collapsed and the mixture thickens. Ready!
TIP: If you can't get frozen blueberries, feel free to use other berries of your choice. Fresh or frozen, it doesn't matter.
How healthy are actually wild blueberries?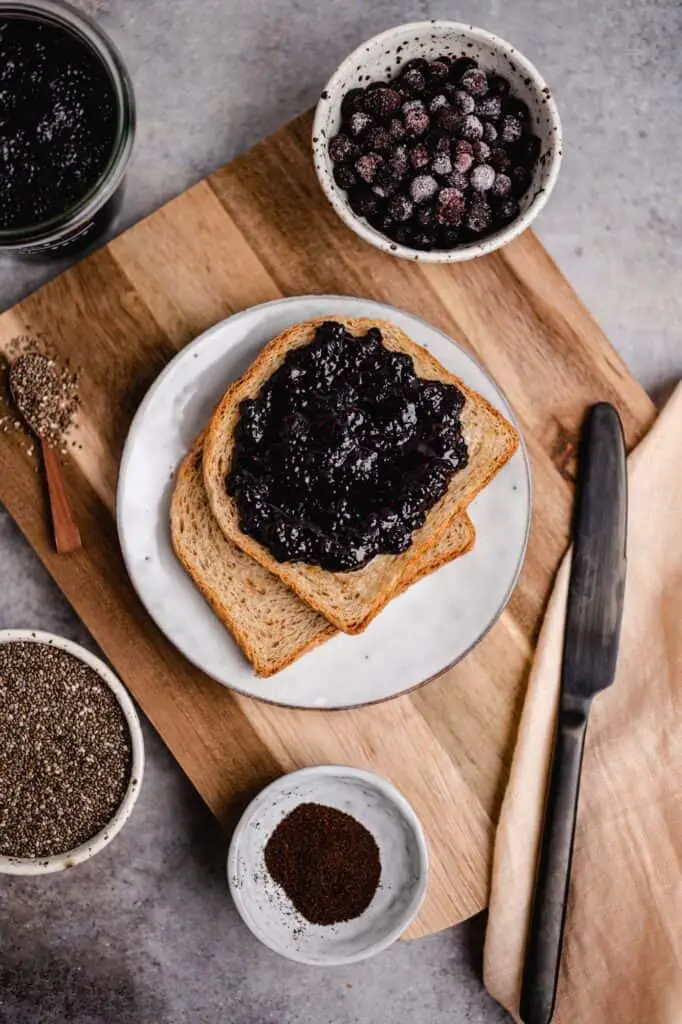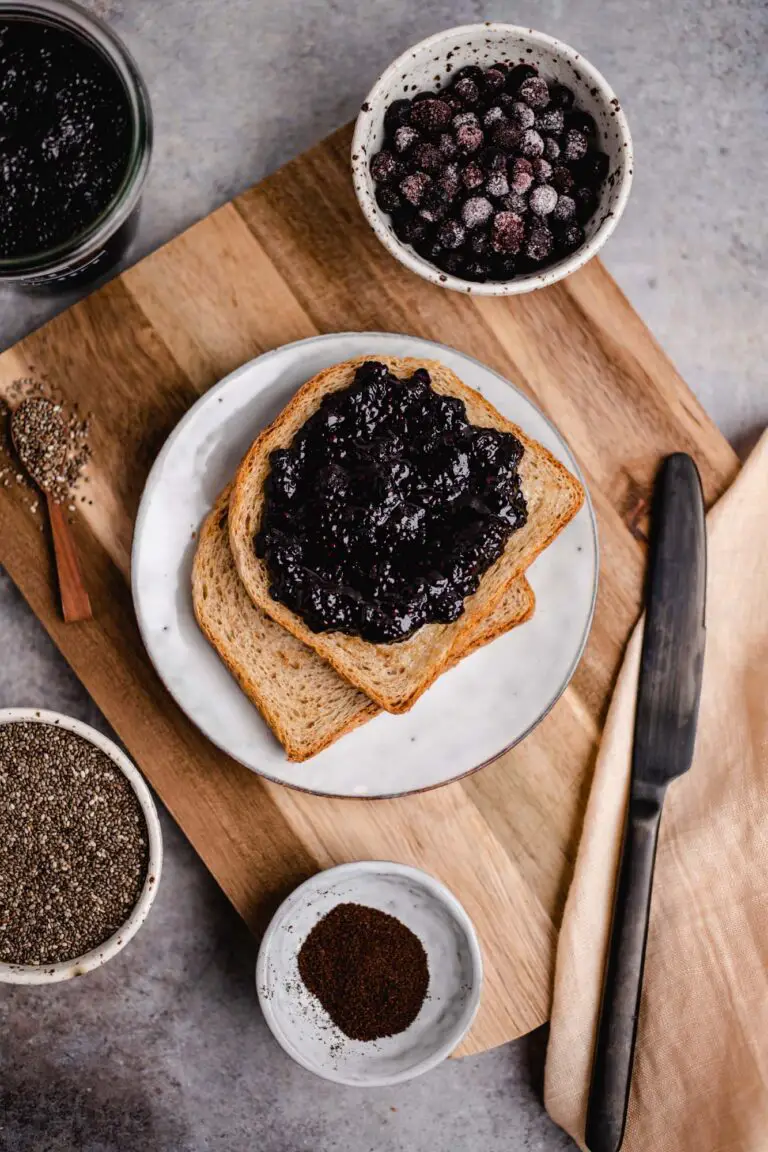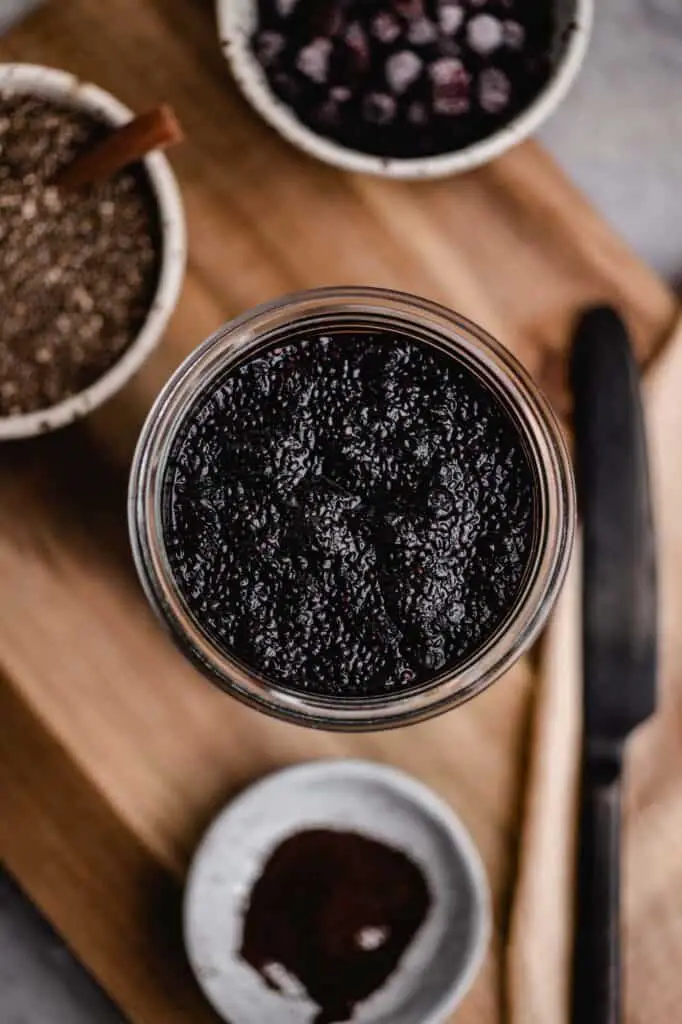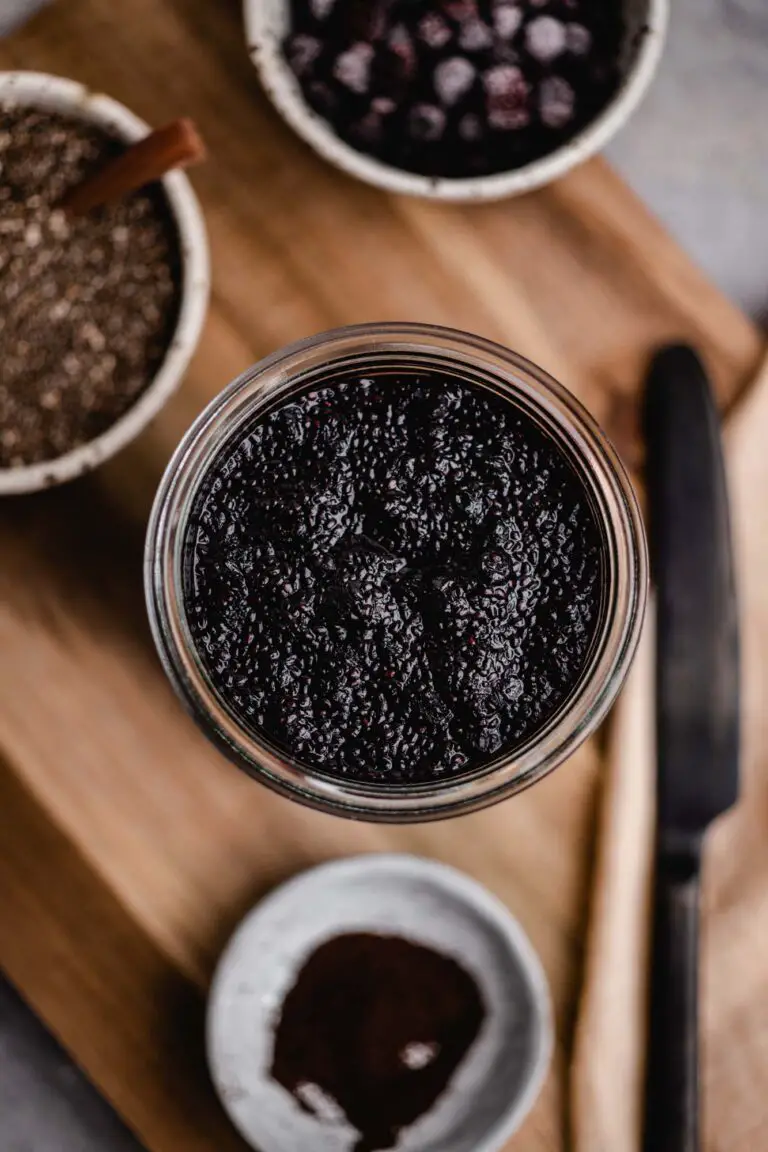 This question can be answered in two ways and meadows. One is the scientific answer and the other comes from Anthony William:
According to Anthony William, wild blueberries are the most adaptable fruit in the world. They are also the most powerful liver cleanser and detoxify heavy metals from the body. These statements are not scientifically proven, however, millions of people achieve very good healing successes with the method of him.
Wild blueberries contain a lot of healthy substances such as anthocyanins, vitamins (especially C & E), fiber and tannins, which are very healthy
TIP: I buy wild blueberries in a well-stocked supermarket in organic quality. Otherwise, you can also order them on the Internet. For the preparation of smoothies, wild blueberry powder is also a very good alternative.
The jam is perfect on a slice of sourdough bread or toast, in yogurt, or as a topping to your favorite granola. Here are some bread variations that go well with today's jam:
Wild blueberry chia jam:
Pleasantly sweet
Light acidity
versatile
Simply made
Very healthy
You love wild blueberry chia jam as much as I do? Then I look forward to a review at the bottom of this page. If you post a picture, feel free to use the hashtag #veganevibes.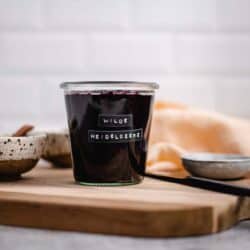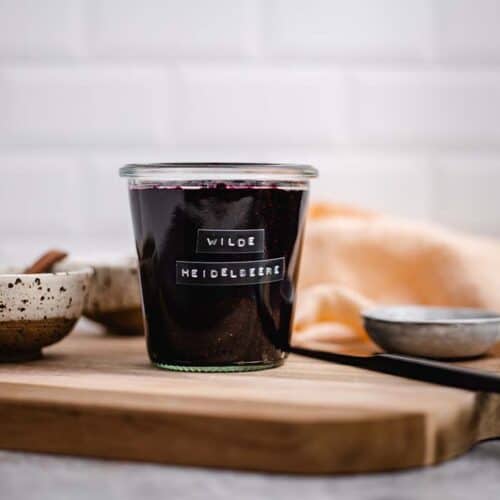 Wild blueberry chia jam
Quick, vegan jam made with wild blueberries and healthy chia seeds. Naturally sweetened with maple syrup and boiled down in a flash. Super easy to make, perfect on a piece of sourdough bread, in yogurt or as a granola topping. Vegan, gluten-free, oil-free, naturally sweetened and Anthony William compliant.
AUTOR: VEGANEVIBES
350

g

fresh or frozen wild blueberries

alternative other berries of choice

125

ml

maple syrup

60

g

Chia seeds

15

ml

Lemon juice

¼

tbspn

Bourbon vanilla

ground
Anleitung 
Sterilize dessert glasses, i.e. briefly bathe in boiling hot water. Caution the glasses become very hot and you burn easily!

Wash wild blueberries and place in a small saucepan with maple syrup, chia seeds, lemon juice and bourbon vanilla and heat until mixture begins to simmer.

350 g fresh or frozen wild blueberries,

125 ml maple syrup,

60 g Chia seeds,

15 ml Lemon juice,

¼ tbspn Bourbon vanilla

Simmer over medium heat for about

10 minutes

, until the berries break down and the liquid begins to thicken.

Pour into small, sealable jars.

Store leftovers in an airtight container in the refrigerator for up to 1 week or freeze in small portions (e.g., in an ice cube mold) and thaw as needed.
Nährwertangaben
Serving:
1
Portion
Calories:
159
kcal
Carbohydrates:
32
g
Protein:
2
g
Fat:
3
g
Saturated Fat:
0.4
g
Polyunsaturated Fat:
2
g
Monounsaturated Fat:
0.3
g
Trans Fat:
0.01
g
Sodium:
5
mg
Potassium:
152
mg
Fiber:
5
g
Sugar:
23
g
Vitamin A:
37
IU
Vitamin C:
7
mg
Calcium:
98
mg
Iron:
1
mg