Roasted pumpkin hummus is the answer to all who are looking for autumnal recipes. Currently, I could make delicious recipes with pumpkin all day. Pumpkin scones, pumpkin pie, or a quick pumpkin oven dish. I would suggest you type the keyword pumpkin into the search once and you will realize what I am talking about. Today I thought we could make a very special hummus. A variation with roasted pumpkin, sounds great, right? I'm still blown away, because the pumpkin gives the hummus a very special flavor note. Let's enjoy getting started together.
Roasted pumpkin hummus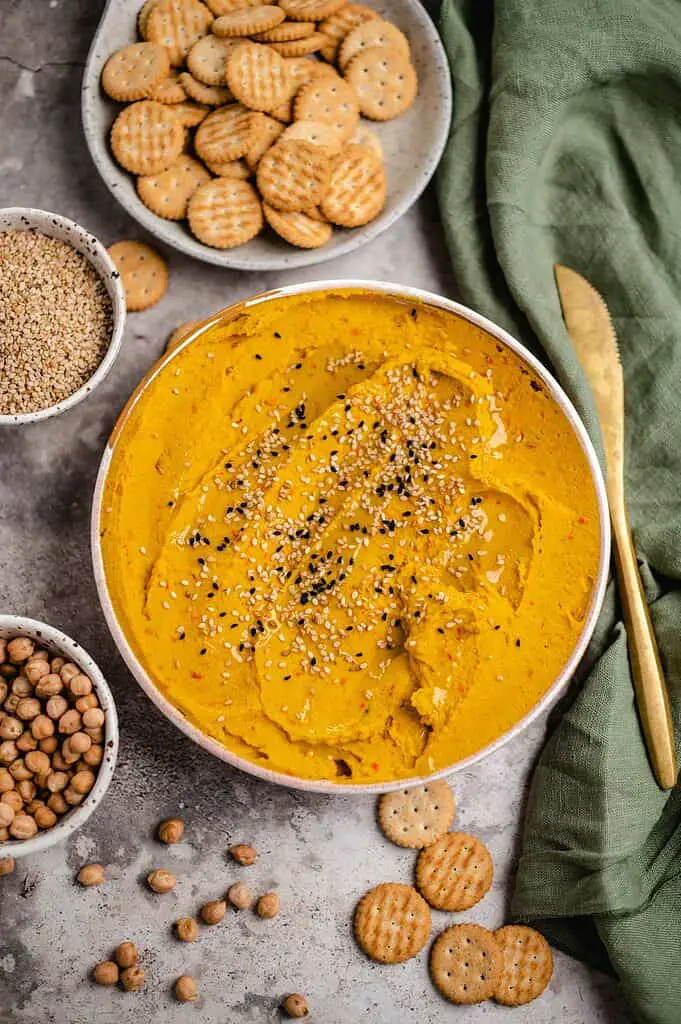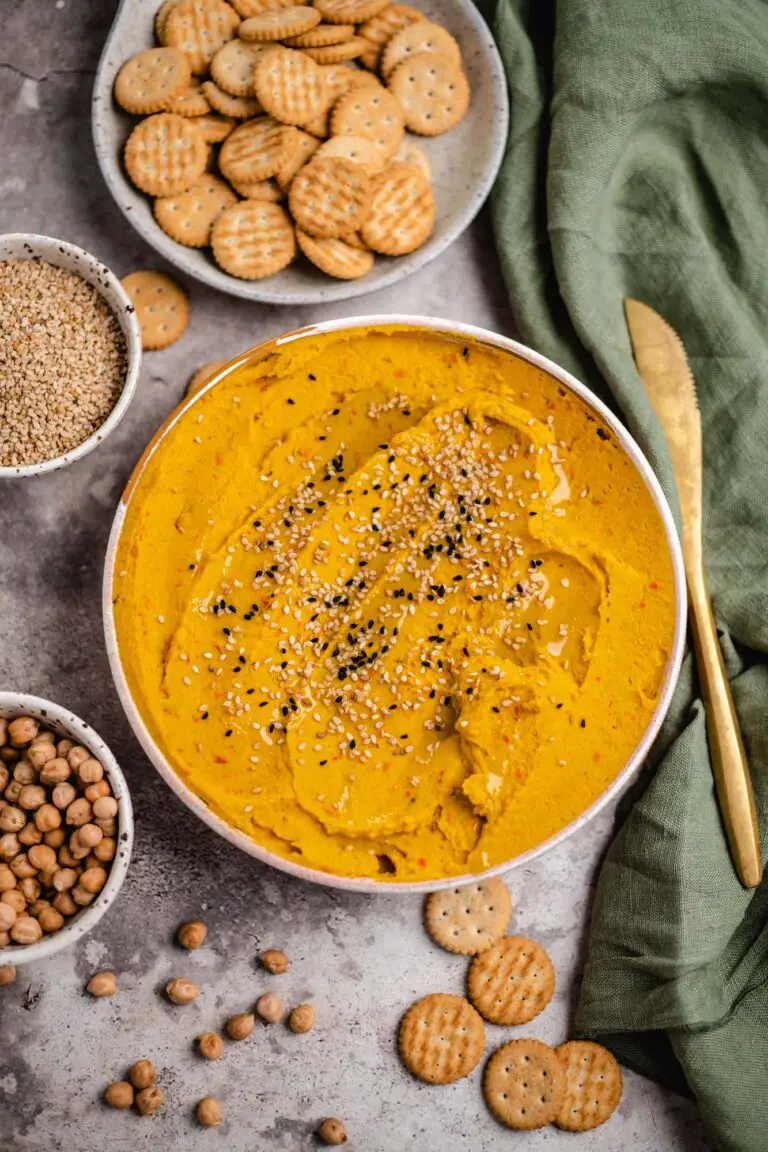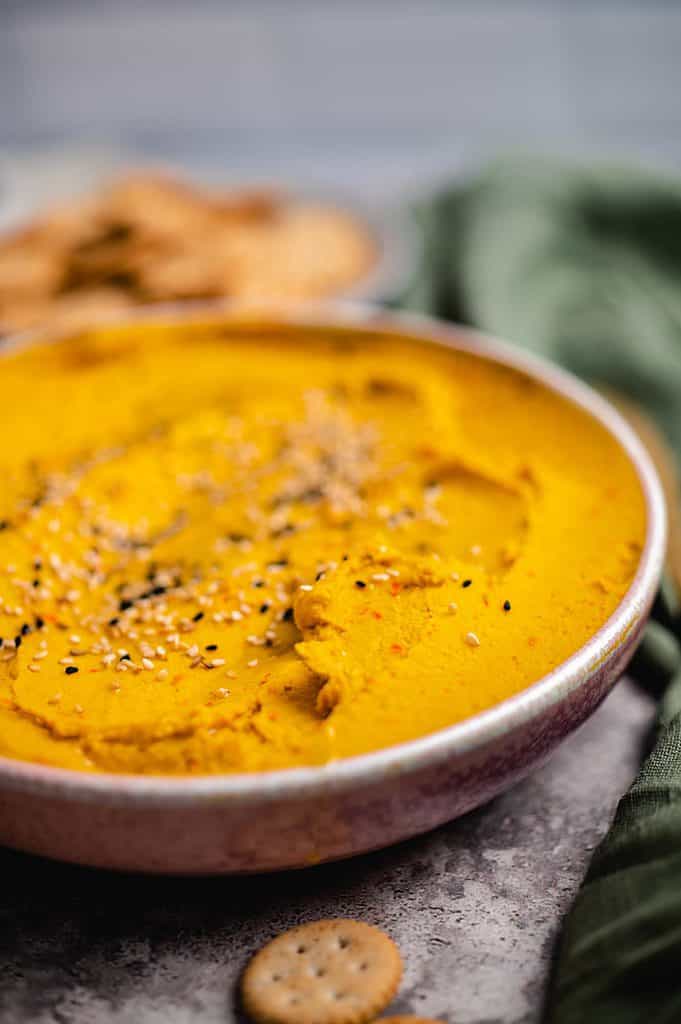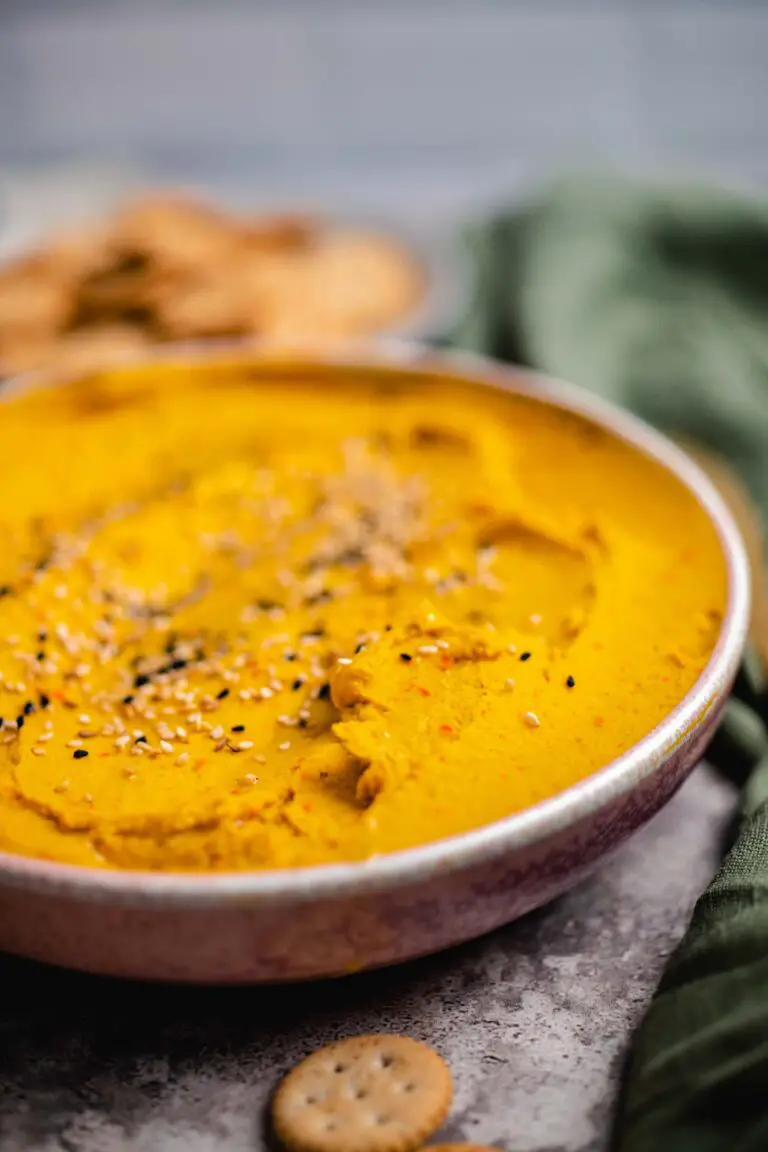 The preparation of the hummus is done in two simple steps. First we roast the pumpkin in the oven, along with coconut blossom sugar and cinnamon. This gives it a very fine touch. Then it's on to the ingredients for the hummus. Chickpeas, olive oil, cumin, tahini, garlic, salt, lemon juice and water. To this is added the roasted pumpkin and is processed into a fine paste. I love the slight orange color that comes from the pumpkin. At the very end, I taste the hummus again and it is served.
With chickpeas, there is always the question of whether to buy them ready-made from a can or a jar, or to make them yourself directly. I make them myself from time to time, however, in everyday life I still like to resort to a can. I pay attention to a good organic quality and always rinse the chickpeas very well. If time permits, I leave them in cold water for an additional 30 minutes and then rinse them. Experience has shown that they are easier to digest this way.
TIP: If you want to cook legumes yourself on a regular basis, I recommend a pressure cooker. This reduces the cooking time by about two thirds. Always soak chickpeas overnight and discard the soaking water. Place in pressure cooker and cover with water. Cook and ready!
Quick vegan hummus with pumpkin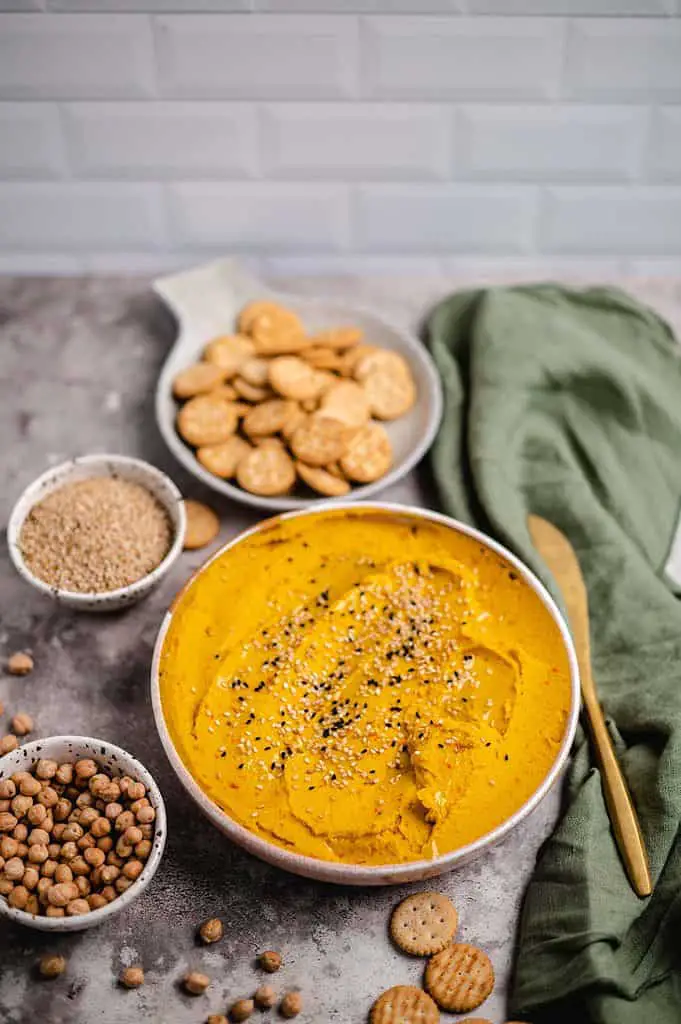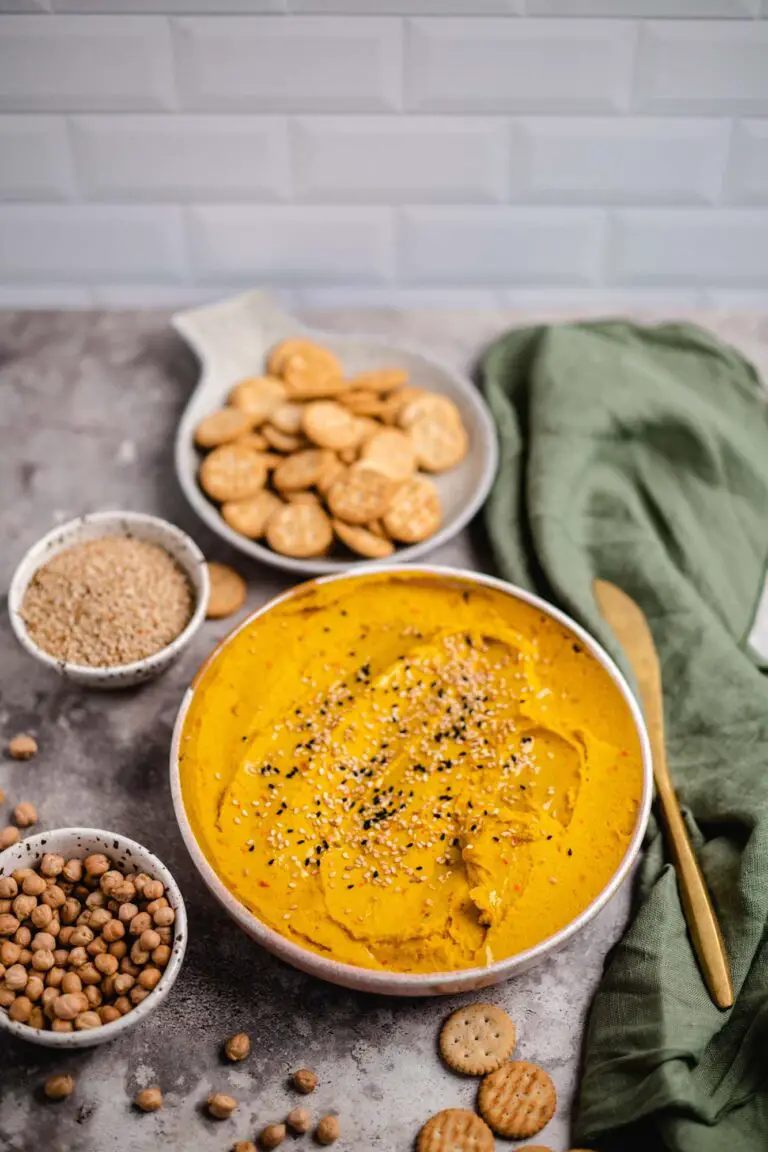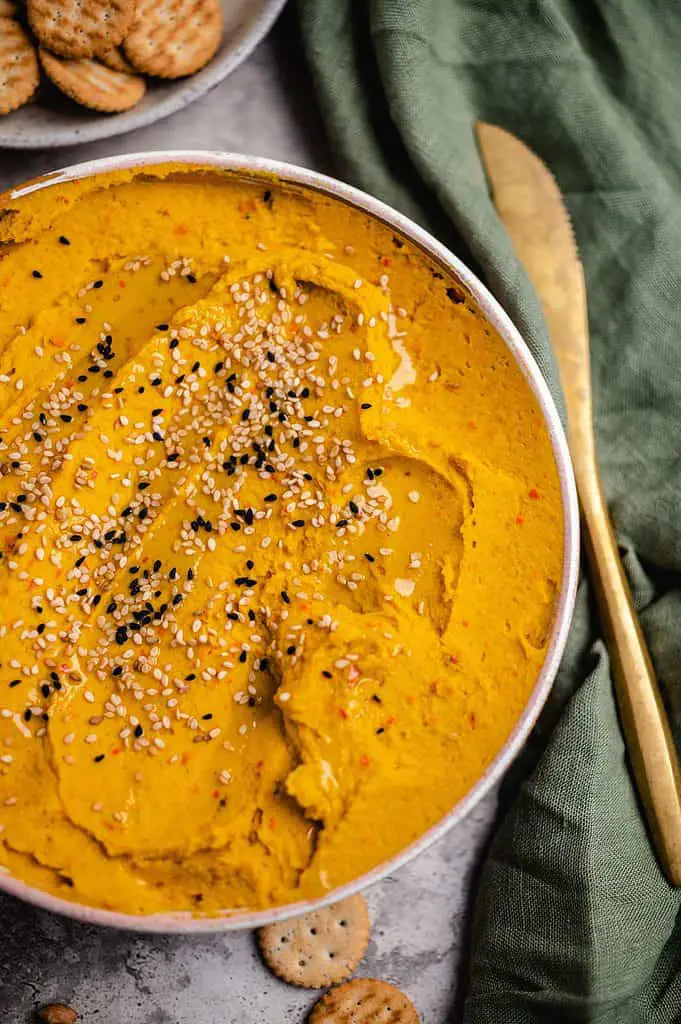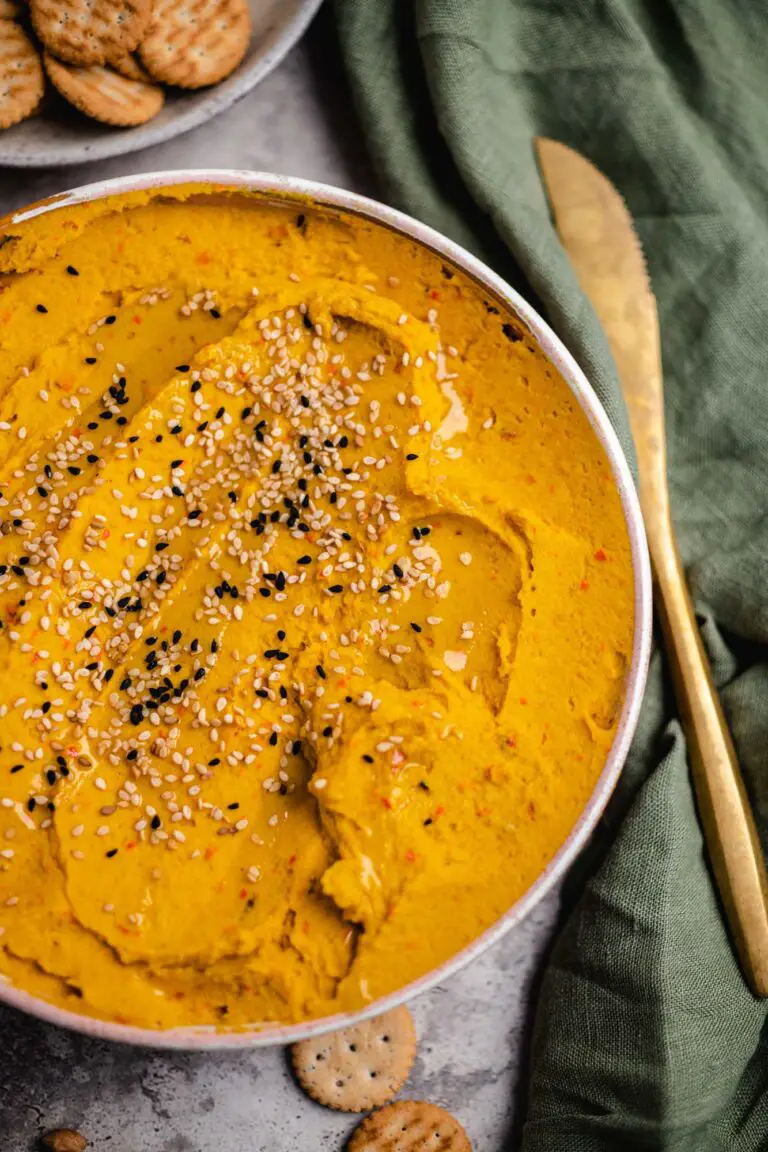 You may have noticed that I explicitly state that many dishes are vegan. Vegan hummus, for example. Funnily enough, feedback then comes if I did not know that hummus is always vegan. Wrongly thought, because in many conventional hummus products from the supermarket are dairy products. This is not the original recipe of a hummus, but milk ingredients are very popular mixed in with all kinds of foods. In this case, it is worth paying attention to the Vegan label . With our homemade hummus, of course, this can not happen to you.
Finally, a quick tip on how to make the hummus. I use my Magi Mix because it works really well without the addition of liquid. When using a high-powered blender, a pestle makes sense to get the most out of the hummus without adding extra liquid.
If you are looking for a different hummus or spread recipe today, I have the following suggestions for you:
Roasted pumpkin hummus:
creamy
aromatic
High fiber
versatile
Quickly made
Are you ready for this delicious, healthy hummus with pumpkin? Then I look forward to a review at the bottom of this page. If you post a picture, feel free to use the hashtag #veganevibes.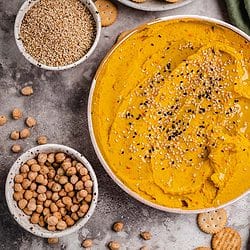 Roasted pumpkin hummus
Fine vegan hummus made from roasted pumpkin, fine chickpeas, tahini, lemon juice and cumin. Perfect as a quick dip for raw vegetables or as a topping to a salad. Vegan and gluten free.
AUTOR: VEGANEVIBES
FOR THE HUMMUS:
425

g

Chickpeas cooked

drained and washed thoroughly

45

ml

Olive oil

1

tbspn

Cumin ground

45

g

Tahini

1

tbspn

Garlic granules

or 2 cloves of garlic, pressed

1

tbspn

Salt

60

ml

Lemon juice

125

ml

Water

¼ cup
TOPPINGS:
Light sesame seeds

Dark sesame seeds

Olive oil
Anleitung 
Preheat oven to

180

°C

convection (

200

°C

upper-lower heat) and line a baking sheet with a permanent baking mat or baking paper.

FOR THE PUMP Place Hokkaido pumpkin pieces, coconut blossom sugar, olive oil and cinnamon in a bowl and mix well. Spread evenly on a baking sheet and place in the oven. Bake for 35 minutes until the squash pieces are nicely browned and soft. Remove from the oven and let cool briefly.

200 g Hokkaido pumpkin,

1 tbspn Coconut blossom sugar,

1 tbspn Olive oil,

½ tbspn Cinnamon

FOR THE HUMMUS provide a blender. Add in chickpeas, olive oil, cumin, tahini, garlic, salt, lemon juice and water and blend until you have a creamy hummus. Taste and season if necessary.

425 g Chickpeas cooked,

45 ml Olive oil,

1 tbspn Cumin ground,

45 g Tahini,

1 tbspn Garlic granules,

1 tbspn Salt,

60 ml Lemon juice,

125 ml Water,

Olive oil

Pour into an airtight jar and store in the refrigerator, or use and enjoy immediately!

Light sesame seeds,

Dark sesame seeds
Nährwertangaben
Serving:
1
Portion
Calories:
238
kcal
Carbohydrates:
25
g
Protein:
8
g
Fat:
13
g
Saturated Fat:
2
g
Polyunsaturated Fat:
3
g
Monounsaturated Fat:
7
g
Sodium:
76
mg
Potassium:
373
mg
Fiber:
6
g
Sugar:
5
g
Vitamin A:
483
IU
Vitamin C:
9
mg
Calcium:
58
mg
Iron:
3
mg