Vegan hummus, very simple and classic as a base for many dishes that make your mouth water. I think at this point we do not need to talk separately about how healthy legumes? I have neglected them for far too long in my life, ignoring them in favor of other promising foods. There is a brief overview of the health benefits of legumes and chickpeas later in the text. I have become a die-hard fan of legumes of all kinds and try to incorporate them into my diet daily. A well-known proponent is Dr. Michael Greger, who even advised to three daily servings of legumes. In any case, I hope to provide some inspiring recipes on this blog that are fun and healthy. But now have fun making this wonderful hummus.
Vegan hummus classic and healthy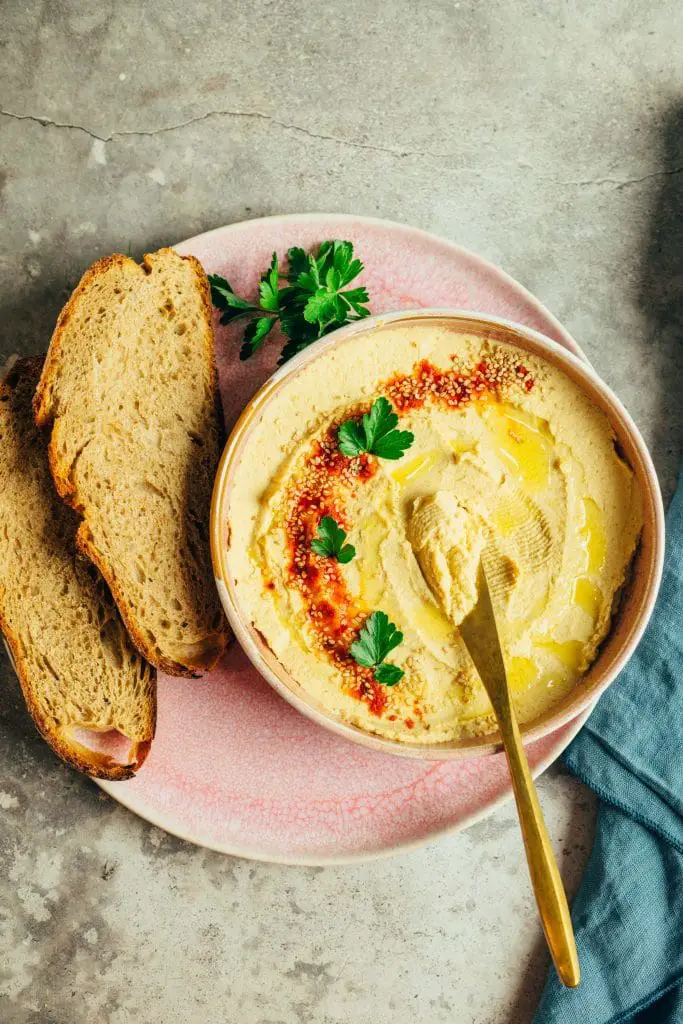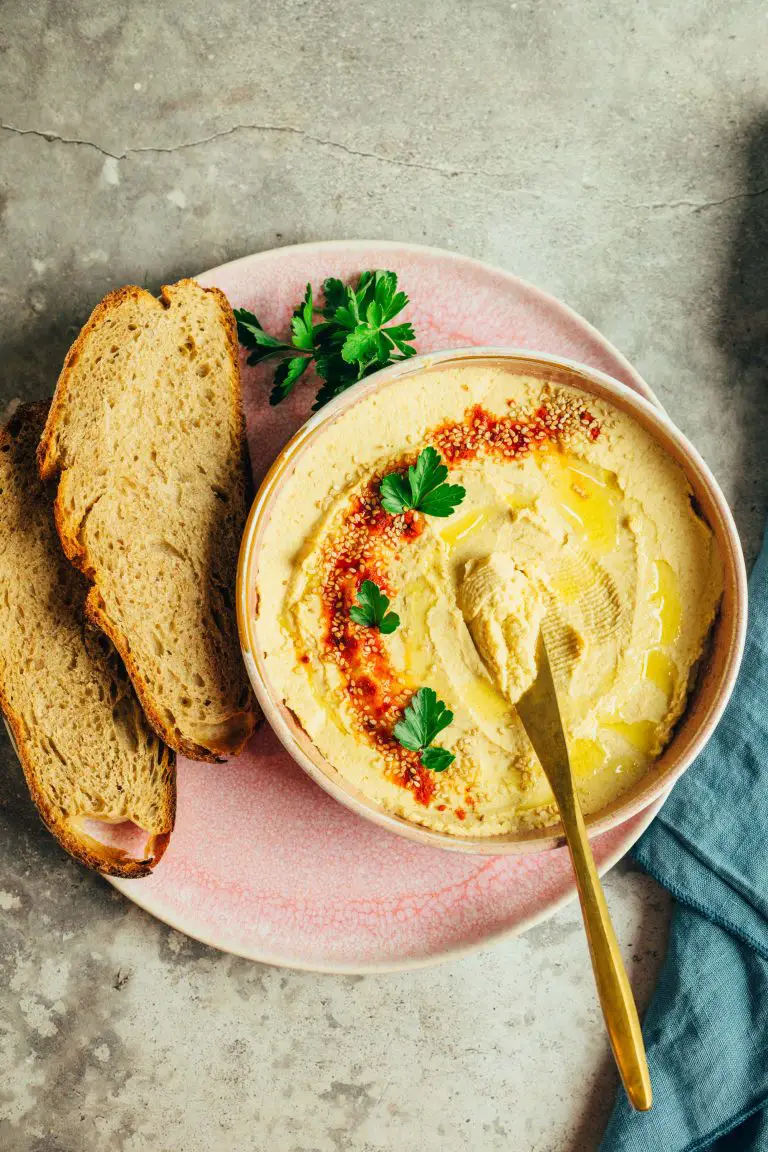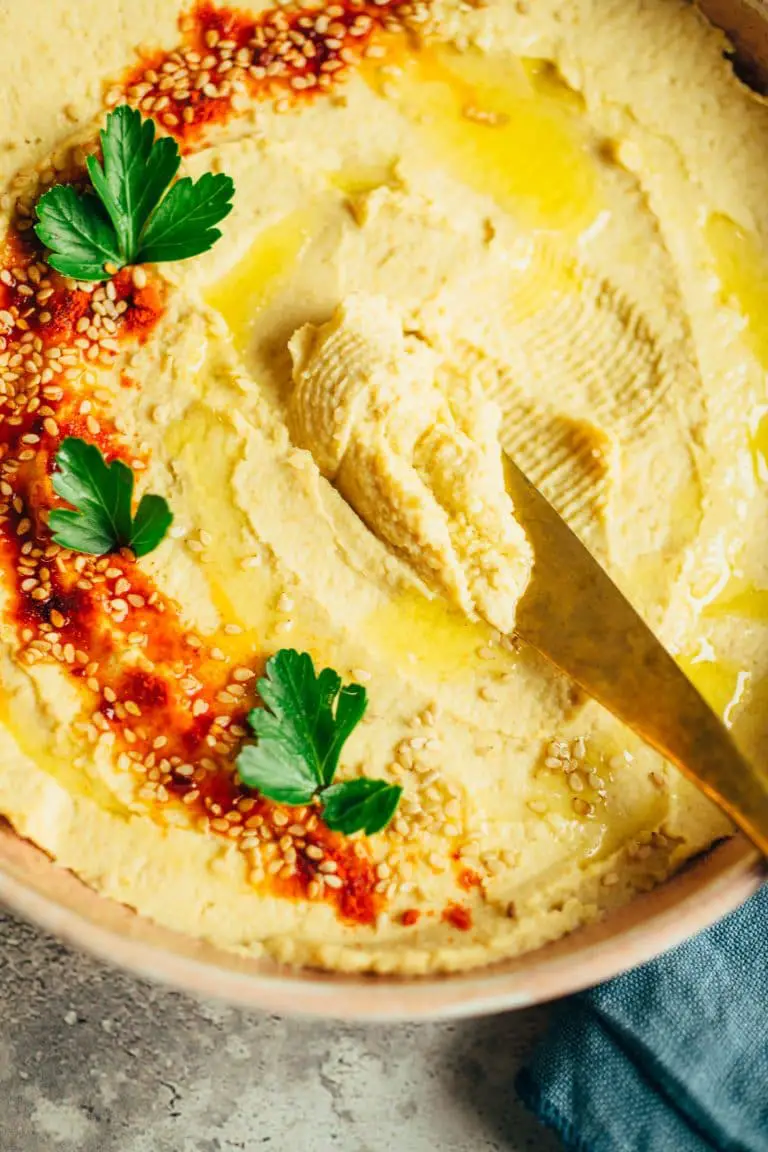 The list of preparation is short and crisp. I like to use ready-cooked chickpeas from a can when things have to go fast. Otherwise, I have discovered the preparation in the pressure cooker for me. The preparation takes a little longer due to the prior soaking, but the cooking time is done in no time thanks to the clever system of the pressure cooker. Anyway, the home-cooked chickpeas taste a tad better, in my opinion.
Note: I have long believed that buying food in cans is not particularly environmentally friendly. However, when I researched a little deeper, I quickly realized that this was not true. While a large amount of initial energy is required to produce cans in the first place, they are incredibly easy and efficient to recycle. Food cans can be recycled an infinite number of times without loss of quality. For this, however, they must be disposed of according to type. It is best to collect in a separate container at home and take to the recycling center. So in the future, the guilty conscience of using food cans will be eliminated.
Is hummus always vegan?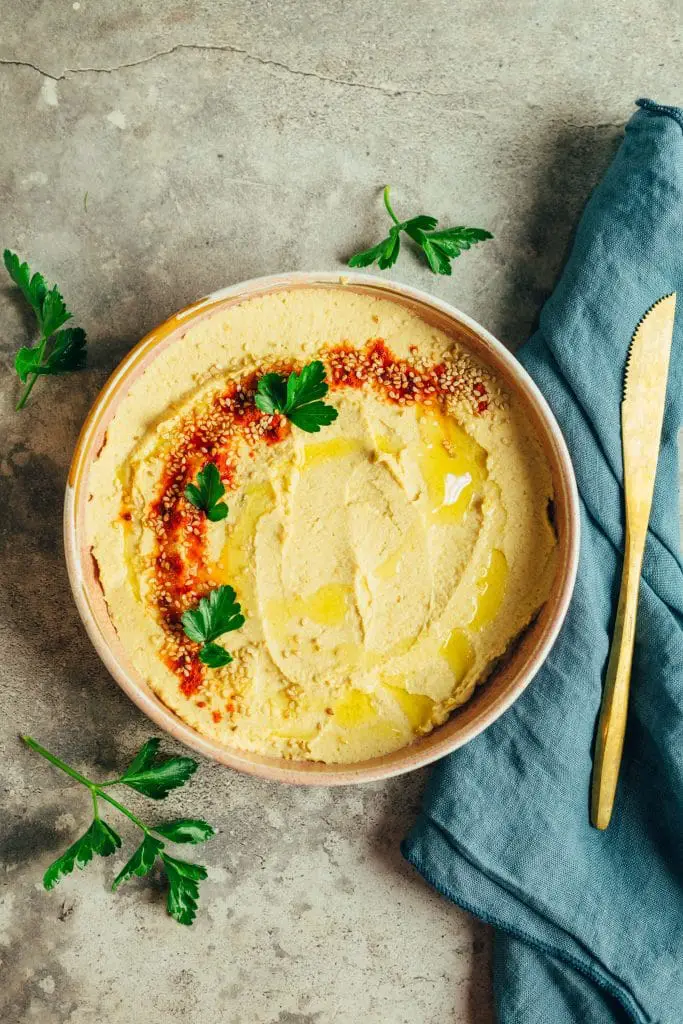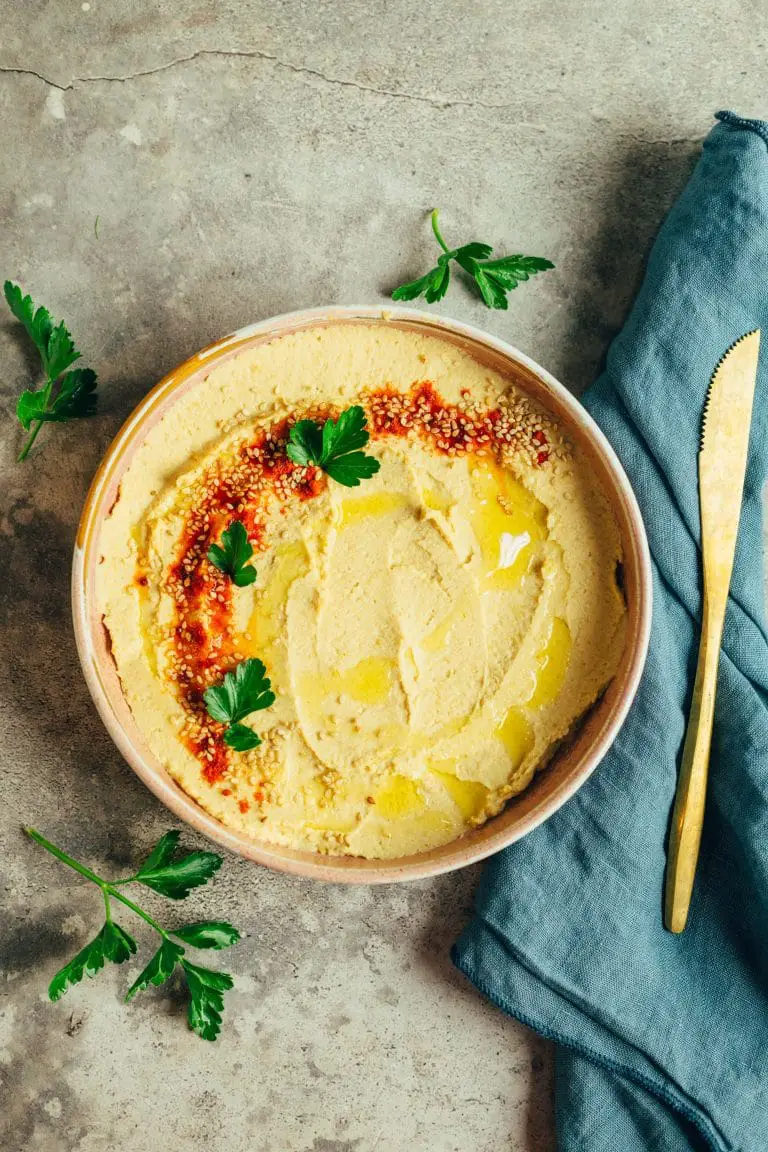 One question I've heard a lot is whether hummus is always vegan. My answer is yes and no, because it always depends on whether you know what's in it. If you make a hummus from your own recipe , hummus is vegan. But if you resort to an industrially manufactured product, then it's not safe. Often numerous additives are used, which do not necessarily have to be vegan. Here the vegan label is suitable as a reference point, or a close examination of the ingredients.
What's in hummus?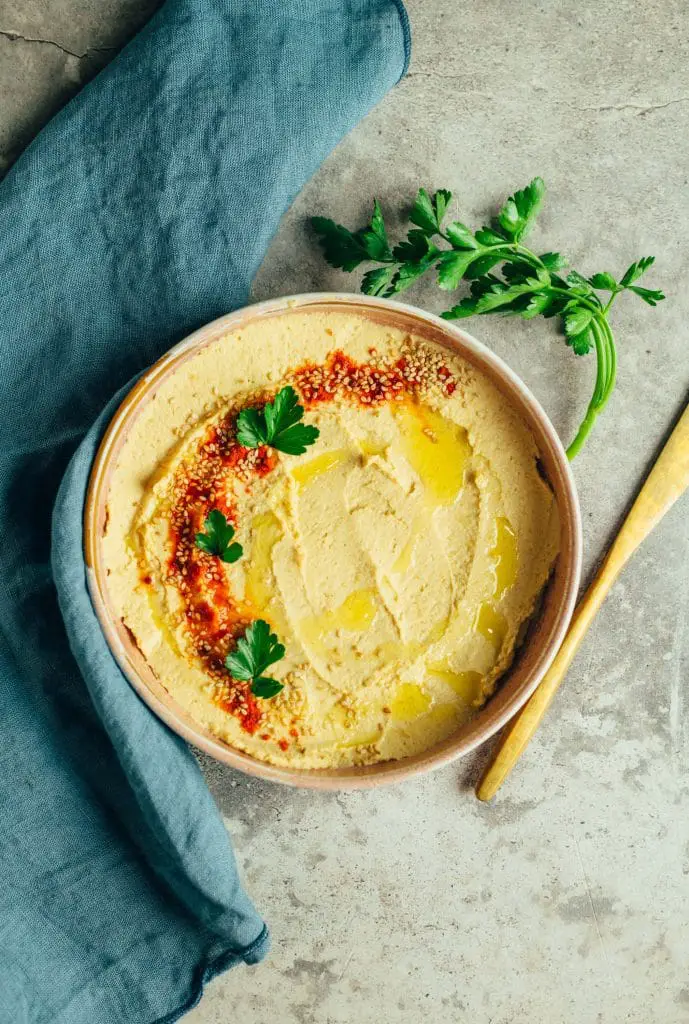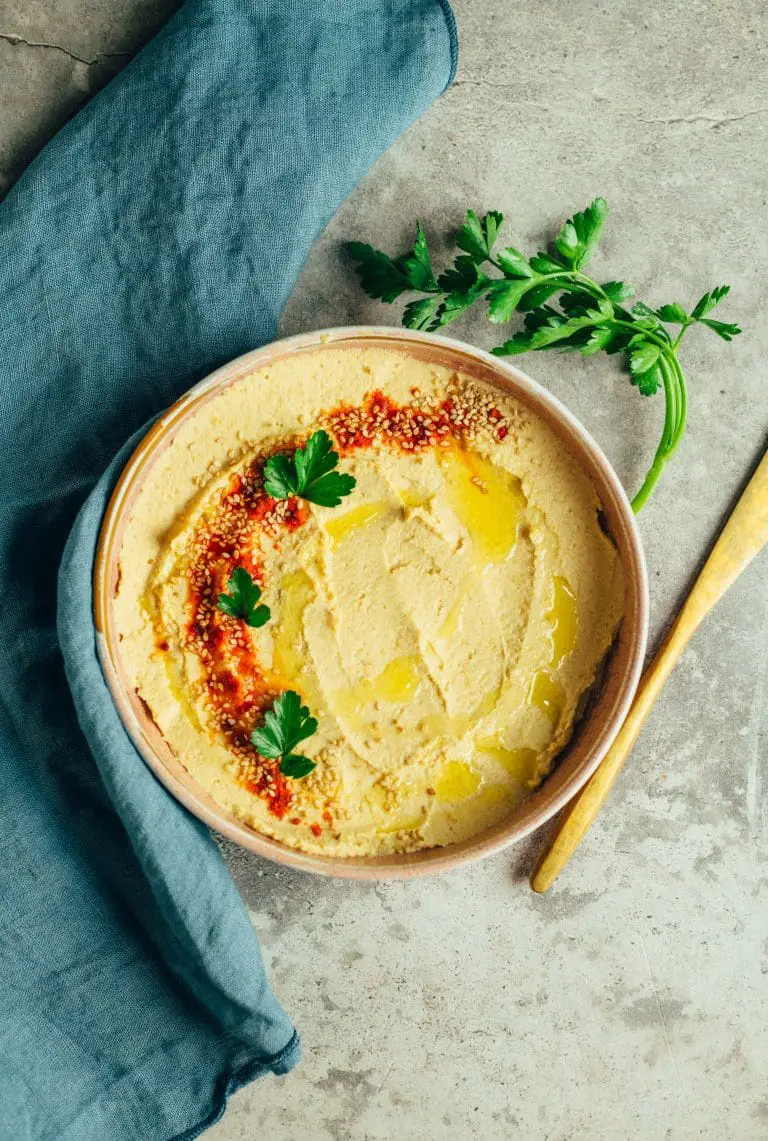 Let's move on to the ingredients, chickpeas vegan, tahini, lemon juice, garlic (fresh or granulated) , cumin and salt. Optionally, paprika powder and dried parsley can also be used. Suitable toppings are sesame seeds, olive oil and fresh parsley greens.
I use my Magi Mix here because it can process really well without the addition of liquid. When using high-powered blenders, you often need a little more liquid to make them work really well.
Finally, let's move on to the topic I touched on in the intro above. It's all about the health benefits of legumes, and the fiber in particular stands out to me. According to the federal government's National Consumption Survey II, two-thirds of men but three-quarters of women are below the guideline level. In addition, the study clearly shows that the proportion of plant-based components in the diet is far too low. Meat and dairy products contain very little fiber, which is exactly why it's so important to include high-quality plant foods like legumes in your diet.
Here is an overview of the fiber content of the TOP 10 legumes:
Kidney beans 8.3g
White beans 7,5g
Peanuts 7,1g
Red beans 6g
Green peas 5g
Chickpeas 4.4g
Lenses 2,8g
The values refer to 100g in the cooked state.
Vegan hummus classic (10 minutes):
creamy
Spicy
High fiber
versatile
Quickly made
Are you ready for this delicious, healthy hummus? Then I look forward to a review at the bottom of this page. If you post a picture, feel free to use the hashtag #veganevibes.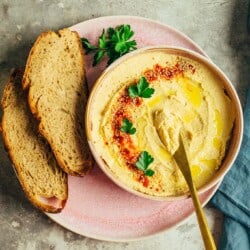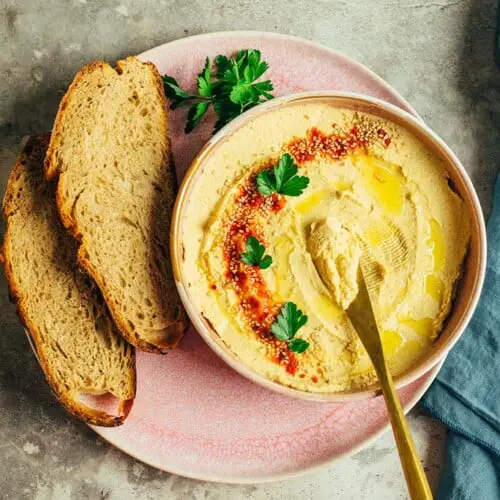 Vegan hummus classic (10 minutes)
Classic vegan hummus made with fine chickpeas, tahini, lemon juice and cumin. Quickly made and very versatile in vegan cuisine. Perfect as a quick dip for raw vegetables or a side dish for oriental dishes. Vegan and gluten free.
AUTOR: VEGANEVIBES
TOPPINGS:
Fresh parsley

Fresh naan bread gluten free
Anleitung 
Strain chickpeas and wash thoroughly.

Place in a blender with the lemon juice, garlic, tahini, olive oil, cumin and salt and blend on high speed until uniform in size.

425 g Chickpeas cooked,

60 ml Lemon juice,

1 tbspn Garlic granules,

80 g Tahini,

45 ml Olive oil,

1 tbspn Cumin ground,

Salt to taste

Taste and season if necessary.

Sesame seeds,

Paprika powder,

Fresh parsley,

Fresh naan bread,

Fresh naan bread gluten free

Pour into an airtight jar and store in the refrigerator, or use and enjoy immediately!
Notizen
Nährwertangaben
Serving:
1
Portion
Calories:
264
kcal
Carbohydrates:
23
g
Protein:
9
g
Fat:
16
g
Saturated Fat:
2
g
Sodium:
10
mg
Potassium:
281
mg
Fiber:
6
g
Sugar:
4
g
Vitamin A:
31
IU
Vitamin C:
5
mg
Calcium:
56
mg
Iron:
3
mg